Have you ever felt overwhelmed and confused, facing many options when you want to buy something? That's why they say that having too many options is no different than having no options at all. The same goes for choosing a CRO tool to help your online business. So how should you choose? There are way too many options, and Glassbox is one of them.
There's a secret that every online business owner knows, and you should too! Tracking your users' journey throughout your website is the key to increasing your conversion, and there's no better way to do so than using an all-in-one CRO tool!
One of the best tools to help you enhance your revenue and skyrocket your conversion is WatchThemLive. With great features and low pricing, you're guaranteed to reach your desired results. So sign up for free and start your journey today!
In this article, you'll learn all you need to know about this tool, so keep reading!
What Is Glassbox
It's a web analytic tool that allows you to monitor your users' journey throughout your website or mobile app. Glassbox analyzes your viewer's behavior and provides you with data so that you can gain insight into your website's performance. So the next time you see the Glassbox logo, you'll know what that is!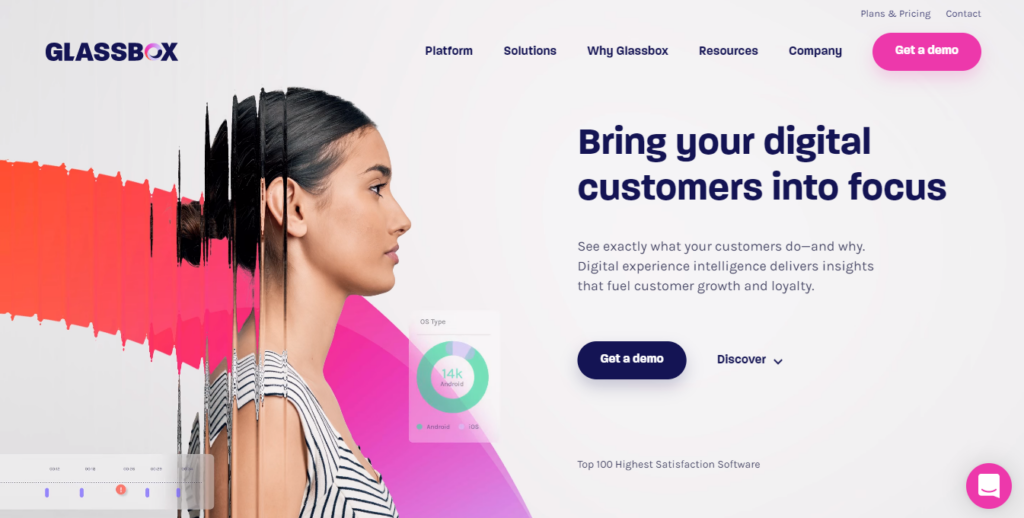 Even though Glassbox claims to have easy and secure features, there's been reports of problems while using this tool. In this Glassbox review, we'll go over all these details and help you make the best decision for your business strategy!
First, let's learn more about the services Glassbox provides. Then you can decide for yourself! So keep scrolling!
Glassbox Features
This tool provides different features that business owners can use to analyze their performance and increase their conversion. Keep scrolling to learn about these solutions.
Session Replay
Glassbox allows you to capture each session of every user. Then you can access a video that shows every action the viewer takes. Going over all these recordings can be time-consuming unless there's a powerful filtering that allows you to find the sessions that matter.
Heatmaps
One of the greatest ways to know which parts of your website are getting more clicks or scrolls is by using heatmap tools. By going over these maps, you can see your user's interactions and clicks. In Glassbox, you can have access to them, but there's not really much information on exactly how many heatmaps you can have.
Analytics
Glassbox seemingly provides different analyses of funnels, products, and overall performance. Though there are different reviews that show these reports are not always accurate. In the following, we'll go over these reviews, so bear with us!
Voice of Customer
This is a new feature that allows website owners to see where their users are having issues after they leave feedback. It allows you to provide better customer service.
Glassbox Pricing
Unfortunately, Glassbox doesn't provide its viewers with a straightforward pricing plan. In order to learn more about each plan's price, you should reach out to them, which is in itself worth thinking about twice.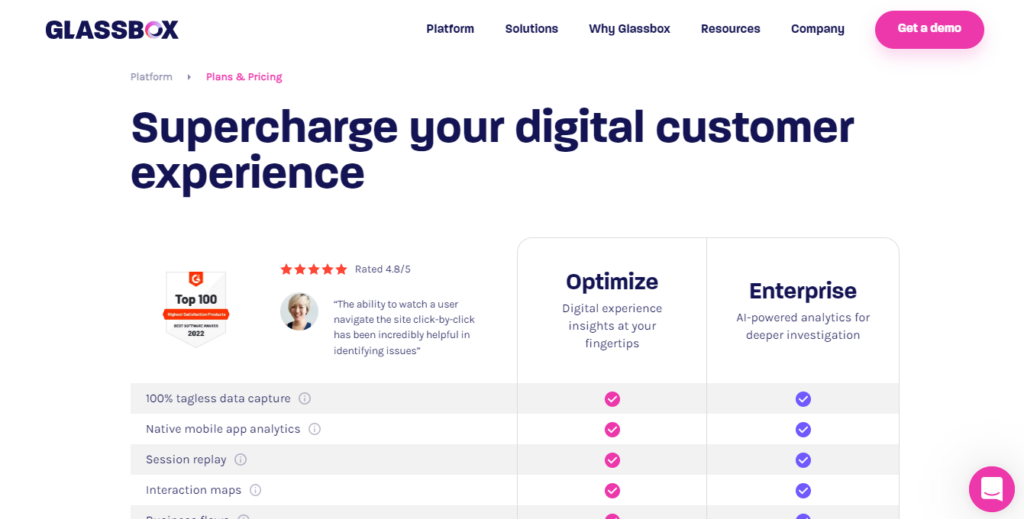 There's also no free plan for users who are not interested in more advanced features or simply want to try the tool before purchasing its services. There are other competitors who provide the same features in their free plan, like WatchThemLive.
Glassbox Reviews: What Customers Say
When you want to decide on which tool to choose, it's crucial to research and find out what users think about the ones you're considering to purchase. The best way to do so is by going over different feedback users leave on review websites.
In this article, you can see these reviews and make a wiser decision!
Issues With Glassbox Session replays
There are many reports about this session replay software being faulty, and users are not satisfied with how it works. As you can see, this user is having a problem loading the session.

Also, here's another review written by a user who can't seem to find the details they were promised by Glassbox in their recordings.

There are many reviews about session replays not being what users expected and are whether slow to load or not really helpful as it doesn't show all the details. Take this user as an example. Even though Glassbox claims to shed light on the 'why' behind viewers' actions, many users can't find this data in their recordings.

Here, you can see another unsatisfied user which can't get the desired data from Glassbox.

Navigation
A bad website design will confuse the users and keep them from navigating through the software easily. This seems to be a problem in Glassbox.
Some users are unsatisfied with how confusing Glassbox UX is. This is an issue that will impact the swiftness of users in getting their desired results.

Reports
One of the most critical factors any behavioral analytic tool must have is the accuracy of the reports. It's a given that there's no use in collecting data and analyzing them if the final result is not valid. Unfortunately, many users are unhappy with this tool due to this issue. In this Glassbox review, you can see what this user thinks about the provided reports.

Here's another review that shows more than a few users are not getting their desired results.

Complex Set Up
Website optimization tools need to be self-service and easy to set up so that users with non-technical backgrounds can use them easily too. But Glassbox users are having problems setting up and using the tool due to its complexity. Take a look at this Glassbox review, for example. It took this user 2 years to learn how to use Glassbox without the help of IT professionals!

This user also finds using Glassbox features difficult and not straightforward.

Glassbox Pros and Cons
There are advantages and disadvantages to every website analytics tool. So, it's important to know and compare them with each other to make the best decision for your business.
Glassbox Pros
It provides Interaction maps,
It has AI-driven visualization,
It has a mobile application,
It provides funnels.
Glassbox Cons
Sometimes results are inaccurate,
Account managers only reach out to you when your contract renewal is near,
It doesn't always help you find the 'why' behind users' behavior,
Documents about new releases are published way after the release, and users get confused and overwhelmed,
It's hard to set up and use,
Some reports take a long time to generate,
There's a learning curve with Glassbox,
You won't be able to use the provided funnels in other reports,
The UI is not easy to navigate,
There are no free plans.
Now that you know all the details about Glassbox, it's time to introduce another CRO tool!
I'm not here to tell you which tool to choose. I simply want to give you insight and help you make the best decision and choose the tool that fits your business best.
WatchThemLive: The Best Glassbox Alternarive
WatchThemLive is a behavioral analytic tool that allows users to monitor each step of the user's journey. Great features and low pricing are what distinguish WatchThemLive from other competitors.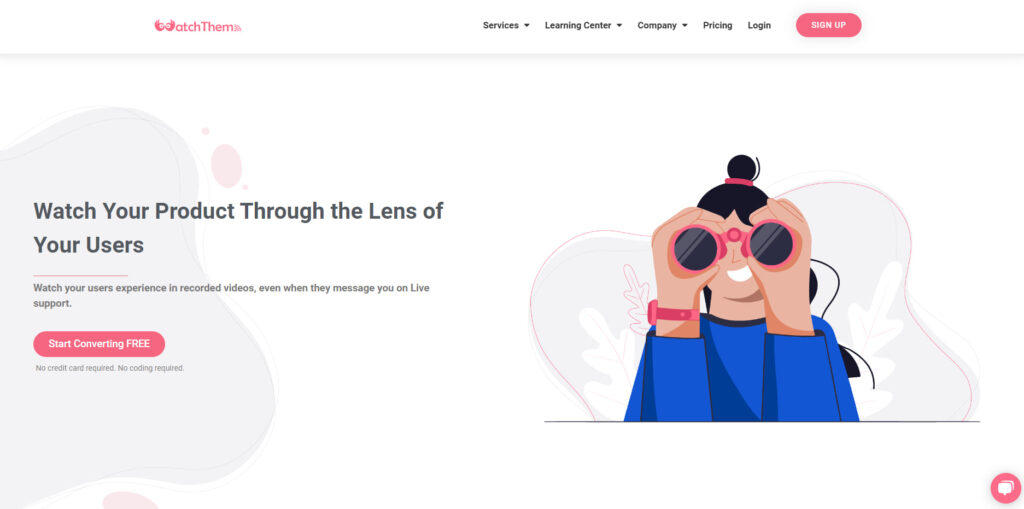 Using this tool will guarantee a drastic boost in your conversion rate and overall revenue. So don't wait any longer and sign up for free!
Let's elaborate more on WatchThemLive and its features so that you can compare these two tools.
WatchThemLive Features
Why do we always recommend WatchThemLive as the best Alternative to all the other tools? The answer is simple! The unique features combined with low prices result in the best CRO tool there is! Let's go over WatchThemLive features to better understand.
Session Replay
The best way to optimize your website and gather information on your users' interaction with your business is by using session replay software. WatchThemLive will allow you to ' watch your product through the lens of your users,' and this will help you gain insight into your customers' interests and desires.
By knowing your target viewers, you'll be able to send a more personalized message and gain their trust and loyalty.
Heatmaps
Want to know which elements of your website look more engaging to your viewers? That's when heatmaps come to your help!
You can see exactly where on your websites viewers click more and which parts are not getting enough attention. By analyzing your heatmaps, you'll know where to put your CTAs and buttons.
Video Testimonials
Ask your users to share their experience with you through a video and express their feelings and thoughts. You can share these videos on other platforms and promote your business in addition to gaining more credibility!
There's no better way to gain the trust of your viewers than showing them how other users are talking about your services. That's why video testimonials are an excellent solution for all online businesses!
Visual Live Chat
Customer service is one of the most essential parts of every online business. Visual live chat apps allow you to fix 100% of your users' issues by accessing their live session replay when they reach you through live chat.
See exactly where and how users are having problems and resolve them in no time!
Analytics
You never have to worry about missing any important data. WatchThemLive gathers all the necessary information and collects them so that you can have easy access anytime you want. By gathering information about your customers, you'll be able to deliver a personalized customer experience!
Goal Tracking
Set your desired goals and keep track of your progress step by step! Gain insight into the path you're in and never lose sight of your final destination. Reach your business's full potential and enjoy the results you always dreamed of!
User Tracking
Keep track of your users' activity throughout their customer journey and keep their company until they convert. Make their journey flawless and easy by monitoring every step they take. Leave no pain point in their experience and flourish your business.
WatchThemLive Pricing
You must be thinking,' all these great features probably come at a high price'. That's not true! WatchThemLive has the most reasonable prices among competitors. By paying only 99$ a month, you can have all the features you need!
Take a look at our pricing page and see for yourself!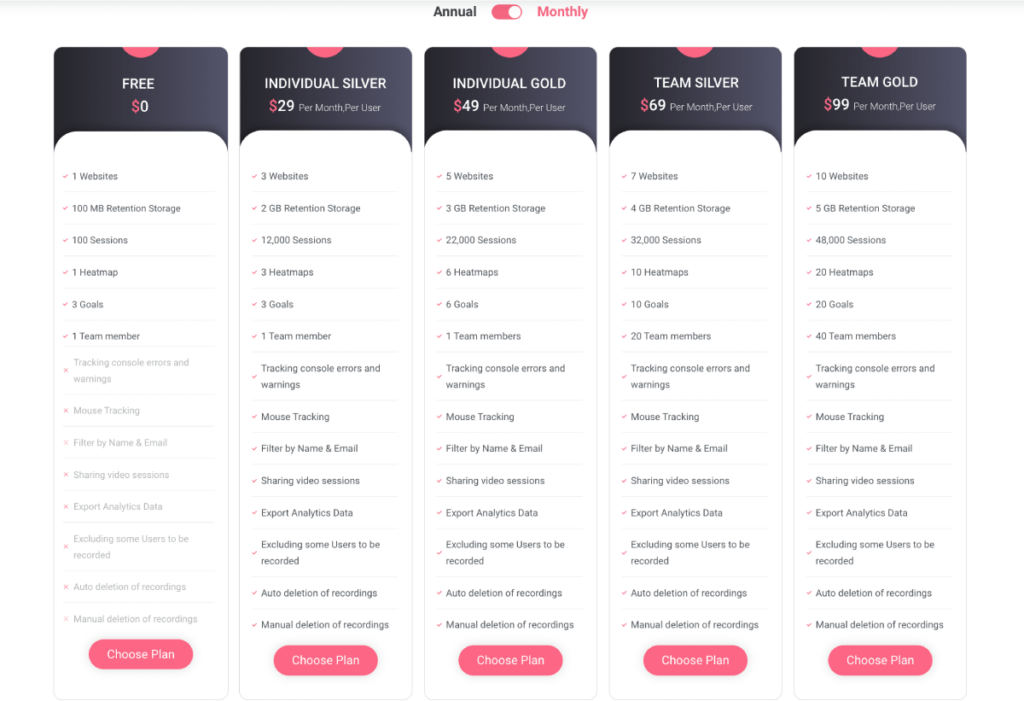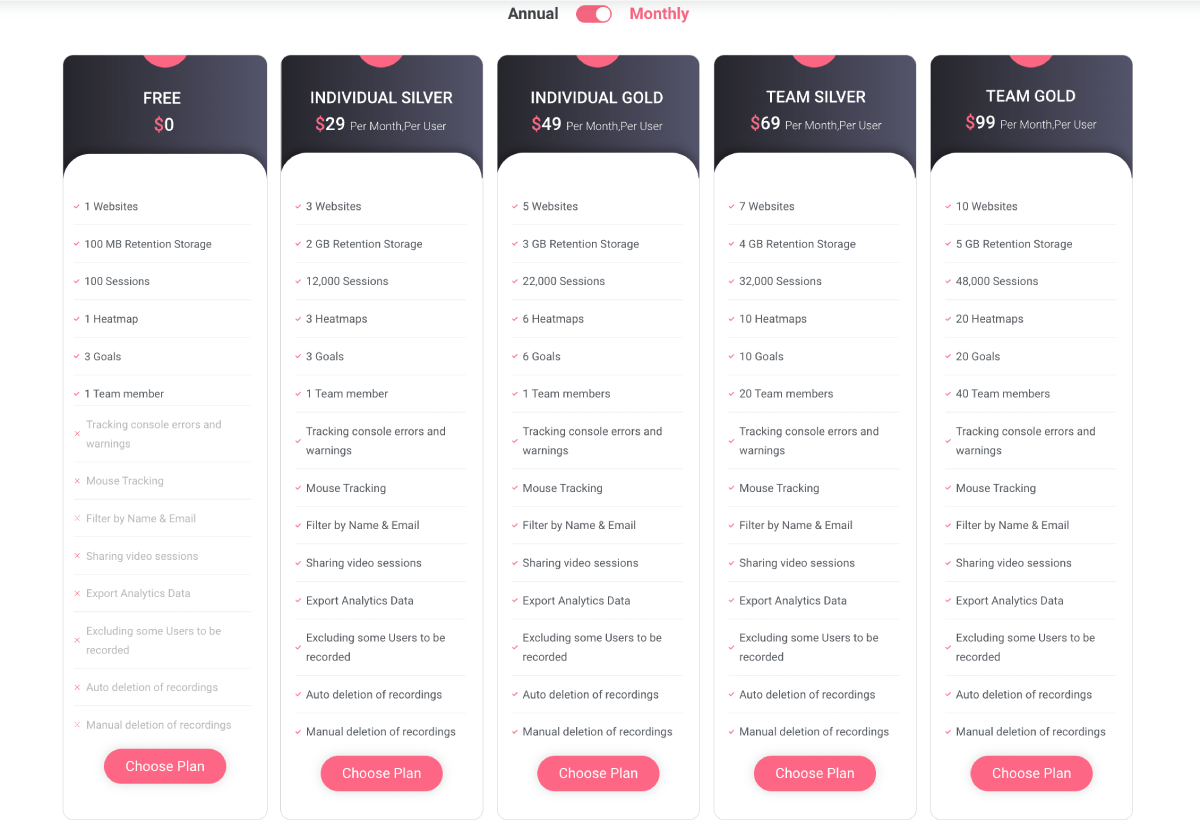 There's also a free plan, and you can use all the features without any payment! Have access to all these great features with just one click, and start your optimization journey today.
WatchThemLive Reviews
There are many great reviews written by WatchThemLive users, and they're all satisfied with their experience. As we said earlier, customer feedback tells us much about the tools we want to purchase. That's why we always take users' reviews seriously and keep thinking of ways to improve our services!
Look at this review left by a happy customer. WatchThemLive has also earned a 4.7 out of 5 stars on Trustpilot!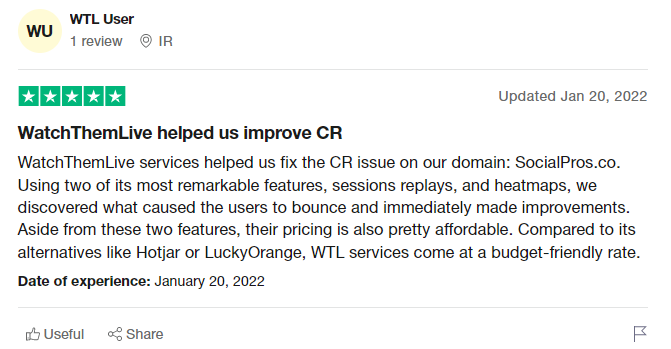 Here's another review that shows users are satisfied and are getting great results using WatchThemLive!

Glassbox FAQs
Now let's go over some questions people have asked about Glassbox to better understand this tool and its function.
Q1. What Is Glassbox Used For?
Glassbox is used for website optimization, and business owners can use it to monitor their customer journey. Behavioral analytic tools help boost your revenue and increase your conversion rate.
Q2. Who Are Glassbox Competitors?
Other CRO tools that compete with Glassbox are WatchThemLive, Google Analytics, Adobe Analytics, and Mixpanel.
Conclusion
In this article, we tried to provide you with answers to all your questions regarding Glassbox and its alternative. Having a CRO tool is a must for every business owner, and there are many services to choose from.
We also introduced WatchthemLive as a great Glassbox alternative by providing all the information about its features, pricing, and reviews.
Online businesses are always improving, and so should you. So sign up now and drastically boost your conversion!