If you are a business owner looking for a tool to improve your customer support, you are on the right track. Live chat apps and services enable you to contact directly with your users whenever they encounter any problem. This feature is a must for every online service.
On top of that, if you have a low conversion rate and feel your customers are dissatisfied, you can add a live chat to optimize your website and create a better user experience.
In today's digital world, there are many live chat services with different features. However, some of them are better than others. Here, we'll discuss 10 top live chat tools to better make up your mind.
If you have no time to read the article, we can give you a quick getaway! WatchThemLive is a behavior analytics tool that has a unique 'visual live chat' feature. This tool lets you watch the user's session when they send a message on live chat. So, you can discover the problem even if the user is unable to explain the problem properly. Interesting right?
But first, let's talk about how using a live chat can help your business and what comes out of it.
What Is a Live Chat
It is a real-time communication channel between a user and customer support. Here is how it works: the user writes their questions in a chat box, and an operator (or a bot) answers them. Therefore, the issue will be fixed ASAP.
Needless to say, a real-time user needs a real-time response. Without live chat, they get confused, so they can't take any steps to complete your desired action. Consequently, it is very important to choose the best tools to not only keep your customers more engaged, but also make them feel heard.
Why Should You Use Live Chat Instead of other Supporting Methods
No one likes waiting. And writing an email response is time-consuming. As a matter of fact, online users can't wait too much to get their response. Believe it or not, 60% of users expect a fast response within a maximum of 10 minutes. So, this option is off the table.
On the other hand, planning a call center with a few operators costs too much for any company. Besides, if you are a website owner, you should know that users might be in different time zones. On top of that, many people don't want to make a phone call, even if it's a matter of life or death! Actually, I am one of them!
So, it leaves us with only one reasonable option; live chat rooms!
Benefits of Using Live Chats
Here are some more reasons why you should organize a chat box on your website.
1. Live Chat Apps Boost Sales
A live chat service can improve your conversion rate by 3.87%. Around 80% of the companies reported an increase in their sales, customer satisfaction, and customer loyalty after using a live chat support service.
2. Live Chat Helps to Optimize User Experience
Obviously, optimizing user experience creates a better user journey. When a user faces a problem on your website, you might think she is a 90-year-old grandma who doesn't know how to click a button. However, when a bunch of users report the same problem, your website probably has a bug.
3. Live Chat Removes Language Barriers
As you know, international websites attract customers from all over the world. Therefore, many users may not be native English speakers. For these users, typing is always easier than speaking. The good news is some live chat software has multilingual features with online translation.
What Makes the Best Live Chat App
There are several factors to consider when choosing the right live chat app for your website. Some of the key factors include:
User Interface: A good live chat app should have an easy-to-use and intuitive interface that allows visitors to quickly and easily access help when they need it.
Customization Options: The best live chat apps should allow you to customize the chat widget to match your website's branding and style.
Integration with other tools: The best live chat apps should integrate seamlessly with other tools you may be using, such as your CRM, email marketing software, or social media platforms.
Multilingual Support: If you have a global audience, it's important to choose a live chat app that supports multiple languages to better communicate with your visitors.
Availability and Responsiveness: The best live chat apps should have high availability and quick response times to provide your visitors with timely and effective support.
Analytics and Reporting: A good live chat app should provide analytics and reporting features that allow you to track metrics like response time, chat duration, and customer satisfaction.
Security: The best live chat apps should prioritize data security and protect your visitors' information with encryption and other security measures.
Overall, the best live chat app for your website will depend on your specific needs and goals. It's important to evaluate different options and choose the one that best fits your business.
After all these explanations, let's walk you through a list of the best web chat software for better customer service. Shall we?
10 Best Live Chat Apps for Better Customer Service
Considering several criteria, we're going to discuss the 10 best services in the marketplace.
#1 WatchThemLive: The Best All-In-One Live Chat Service with Behavior Analytics Features
WatchThemLive is the best way to deliver real-time support by launching its new 'visual live chat' feature. This feature is an advanced unique feature that provides you with ultimate user support. Besides, WatchThemLive is an all-inclusive tool, unlike other ones.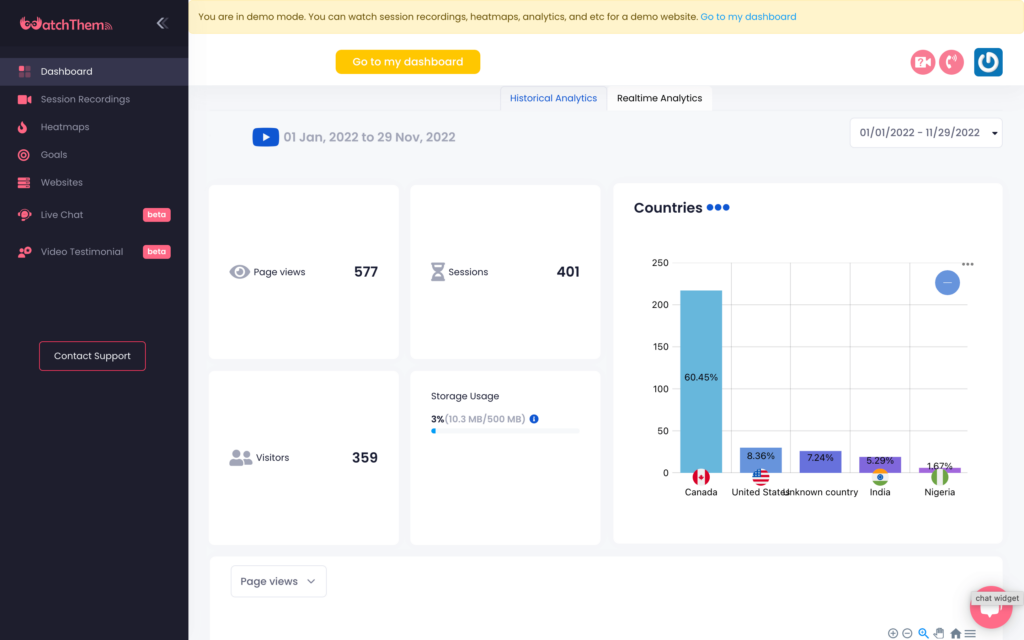 Visual live chat pairs session recordings to your chat box. So, when users reach out for help, your support team can watch the users' session while answering their questions. Therefore, you can track the users' journey to solve their problems and provide them with the best instruction.
WatchThemLive's live chat is a lifesaver for your customer service. This tool makes the job easier, faster, and more accurate. Give it a try and sign up for free!!!
That's all? Of course not!
The visual live chat is only one of the many features of this conversion rate optimization tool. Now, take a look at some of their key features.
Heatmaps,
Session replays,
Console recording,
Conversion & goal tracking,
Page optimization,
User tracking,
Visual live chat,
Video testimonials.
WatchThemLive Features
This behavioral analytics tool provides you with many useful features that help you generate more leads, customers, and sales. Let's get started!
Heatmaps
Heatmaps are graphical data analyzing maps that represent data by using colors on the scale of red to blue. The data provided by these maps give you a good insight into which parts of your website is more engaging for the visitors and help you create more interactions. These data are useful for any digital marketer to boost their conversion rates.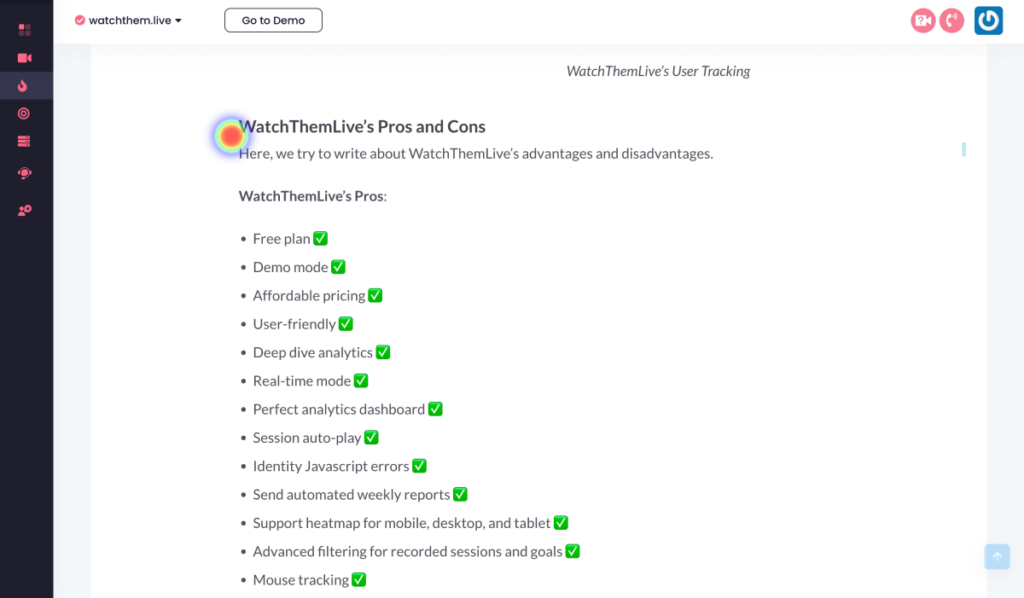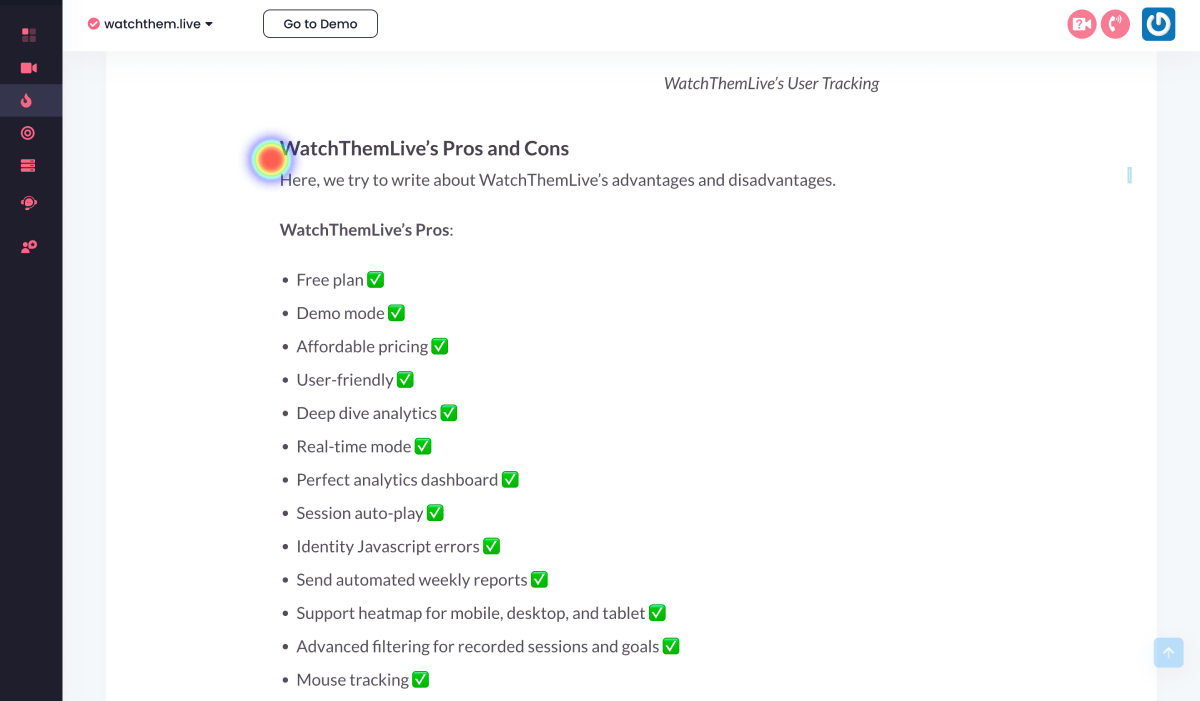 Session Replays
Session replays are video recordings of the users' journey on your website. They not only help you see your website from the customers' point of view but also you can track the user's cursor and fix any trouble they encounter.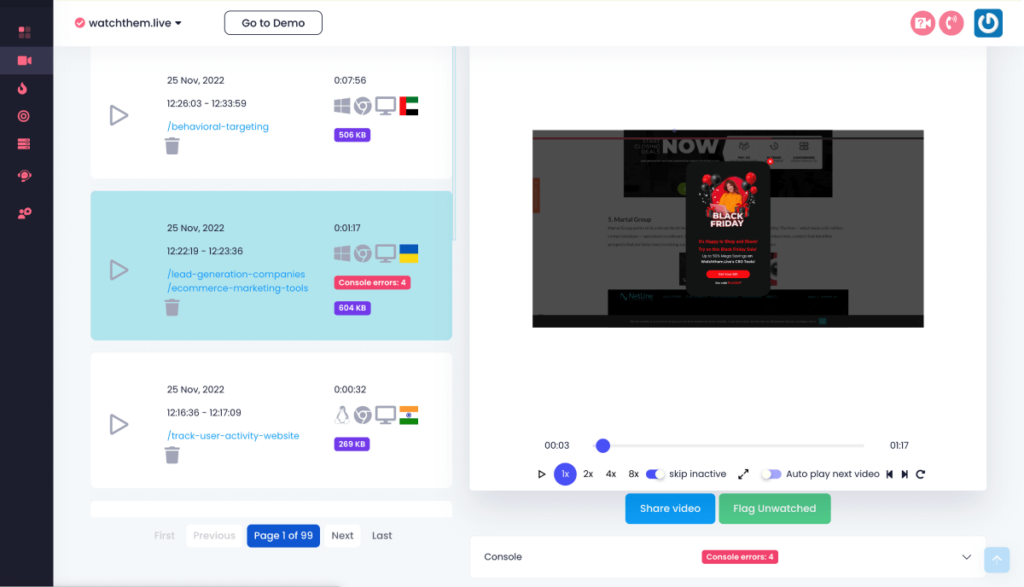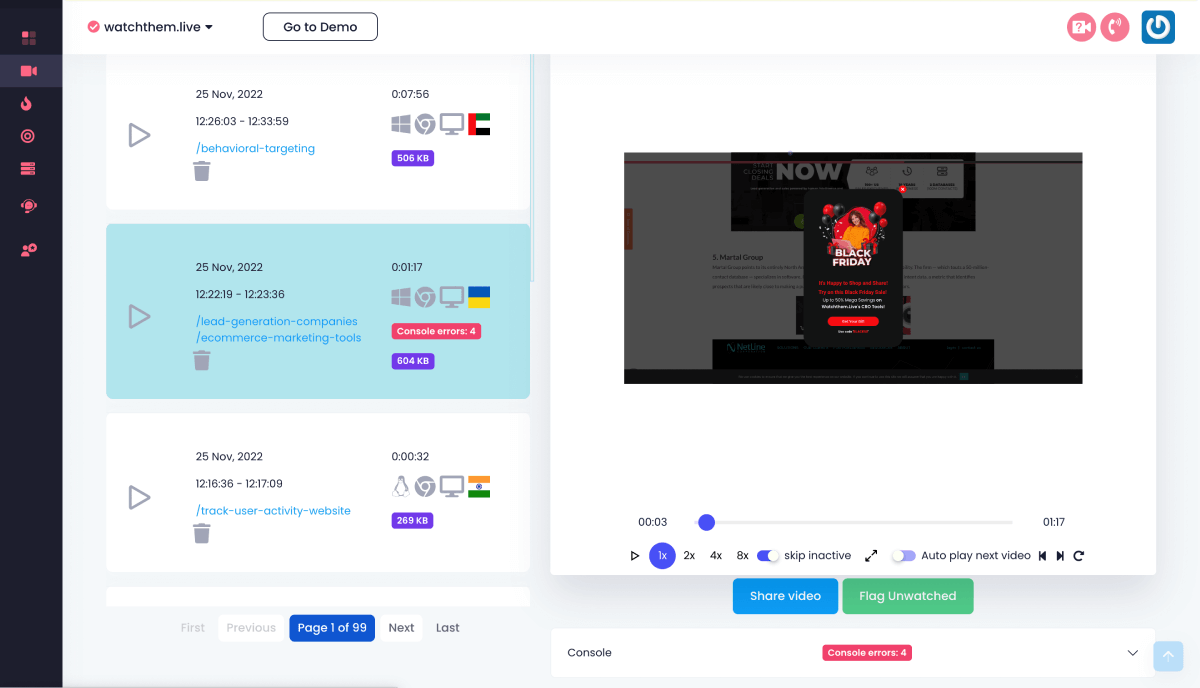 This feature is perfect for you if you want to know how close you got to reaching your desired response. You can set your goal in WatchThemLive and track it and measure your goal progress.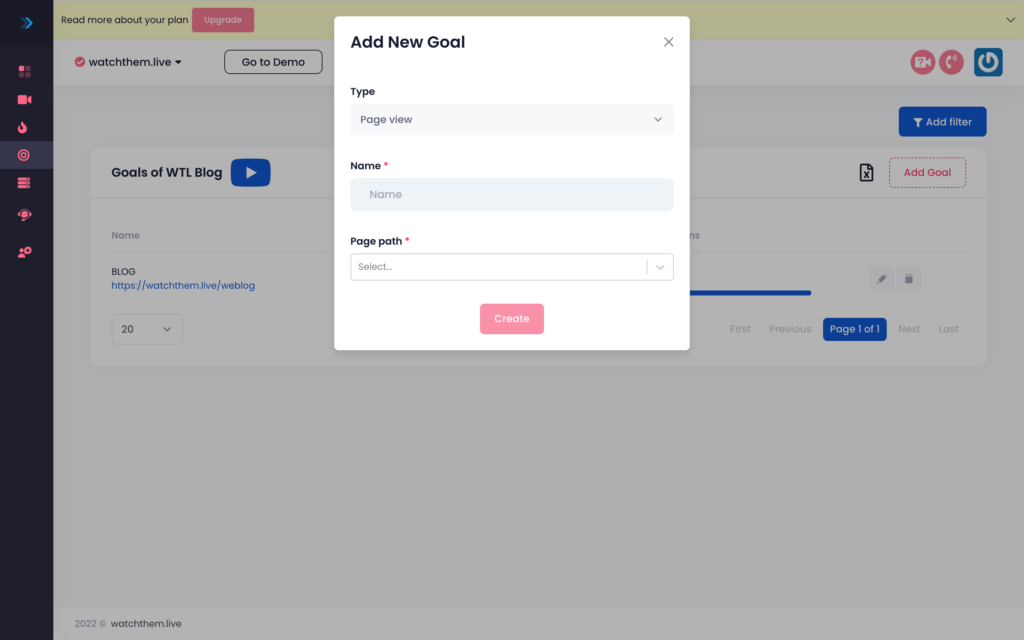 WatchThemLive Pros
Visual live chat,
Demo mode,
Heatmaps,
Session recording,
Page optimization,
Goal tracking,
Real time monitoring,
Video testimonials,
User-friendly dashboard,
Customizable design,
Additional CRO features,
24/7/365 customer support.
WatchThemLive Cons
WatchThemLive's Plans and Pricing
Free Plan: ✅
Individual Silver: $29/mo
Individual Gold: $49/mo
Team Silver: $69/mo
Team Gold: $99/mo
Considering all of this, there is no doubt that WatchThemLive is one of the best CRO tools that grant you a great live chat tool in the marketplace. Give it a shot and sign up for FREE!
#2 HubSpot: A Live Chat in a CRM Tool
Like WatchThemLive, HubSpot is another multi-feature service equipped with a live chat tool. However, in terms of pricing, they are nothing like each other.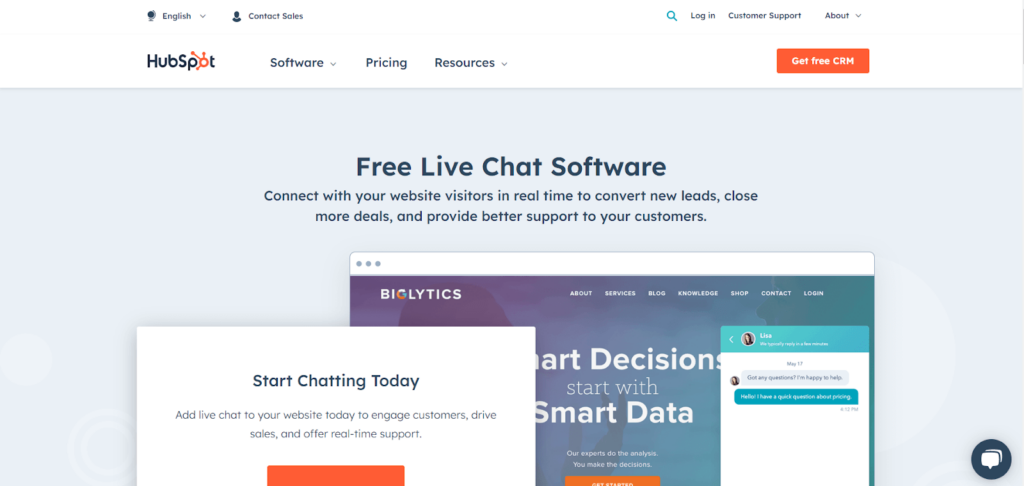 According to their claim, HubSpot's live chat service archives all the conversations, which helps your customer support to find out about the context before starting over any conversation. In addition, you can create targeted welcome messages for different pages on your website to engage the users more.
Moreover, this live chat tool is equipped with a chatbot to save time for you and your customers. However, the chatbot is not the most clever bot in the world and can be used only for common questions.
Another feature of this live chat is customizability. You can customize its colors and logo to align it with your website theme, which is essential for a perfect UX design.
It should be noted that even though HubSpot claims its live chat service is free, you still have to purchase its plans to unlock all features. And if you just need an online live chat, it might be too expensive for you.
HubSpot Pros
CRM features,
Ticketing software,
Easy to use.
HubSpot Cons
Limited features,
Basic chatbot.
HubSpot Plans and Pricing
Free plan
Starter: €41/mo
Professional: €740/mo
Enterprise: €3,300/mo
#3 Zendesk: A Live Chat for Customer Support
What is live chat? Is it anything but a tool for improving customer experience? That's what live chat tools like Zendesk promise to offer.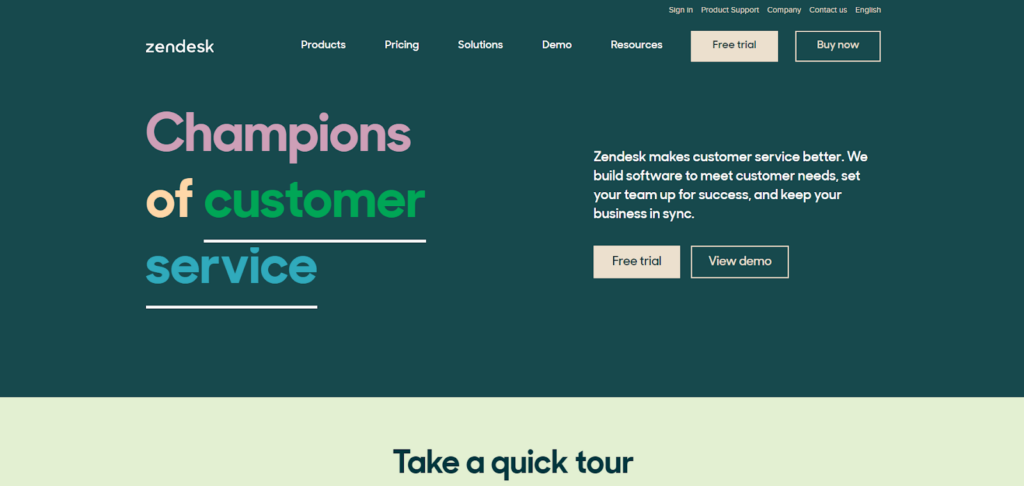 Long response times are the main reason for customers' frustration. But Zendesk promises a 24/7 answer bot and mobile app to aid you in answering your customers faster.
Besides, if their chat feature is as good as they claim, you can send triggered messages to your customers and improve customer loyalty. Reputedly, at the end of the conversation, customers can send feedback about how helpful your support service was.
Furthermore, if you are willing to pay a hefty price for their premium plans, you can use their File-sharing feature. This feature might help your support team to provide better instruction.
Zendesk's live chat room is customizable to match your website design if you go for their Suite Professional plan.
Pro Tip: Before going for Zendesk, you should know that this service is expensive for small and middle-sized businesses.
Zendesk Pros
Real-time analytics,
Chatbots,
Offline form.
Zendesk Cons
No desktop app (available on web app),
Disappointing free plan features.
Zendesk Plans and Pricing
Lite: free
Suite Team: $59/agent/month
Suite Growth: $99 /agent/month
Suite Professional: $125/agent/month
Suite Enterprise: $199/agent/month
#4 LiveChat: A Chat Service That Comes in Handy
This real-time web chat software promises to boost your conversion rates by creating an enjoyable buying experience. How?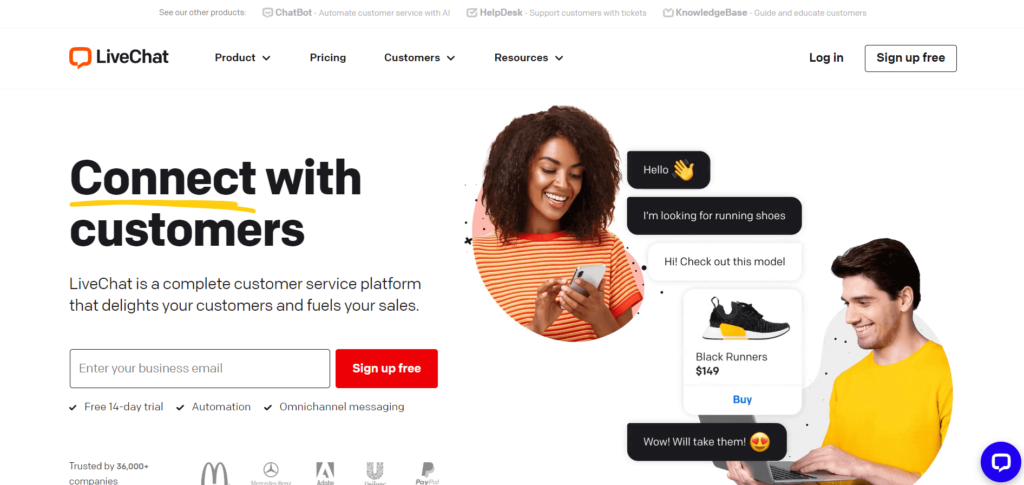 LiveChat claims you can leave a big part of customer support to their chatbots and Al automation. On top of that, this live chat's proactive chat feature allows you to automatically send targeted messages to your customers. Apparently, this service archives chats and allows you to customize the design of the chat box according to your brand.
According to their claim, LiveChat is integrated and flexible to connect with over 200 tools. They also promise to be 24/7 available to provide you with instructions whenever you encounter any problem.
How much does LiveChat cost? Unfortunately, it costs a lot! And its free trial only lasts for 14 days, which is probably not enough for the correct evaluation of the service. So you have no choice but to trust the reviews.
LiveChat's starter plan costs 24/mo, which could be reasonable if it wasn't so limited in features. In addition, if you want to know about their Enterprise plan, you should contact their sales team!
LiveChat Pros
Targeted messages,
Al automation,
Proactive chat,
Available for Windows, Android, IOS, and Mac.
LiveChat Cons
Unreasonable pricing,
No proper reporting on chats,
Limited features on mobile versions,
Occasional lagging during conversations.
LiveChat Plans and Pricing
Starter: $24/mo
Team: $49/mo
Business: $69/mo
Enterprise: requires a call
#5 Tidio: A Live Chat App for Small Businesses
Tidio is a live chat and chatbot service available on both desktop and mobile platforms. Therefore, you can connect all the platforms to Tidio and manage the customers through one channel.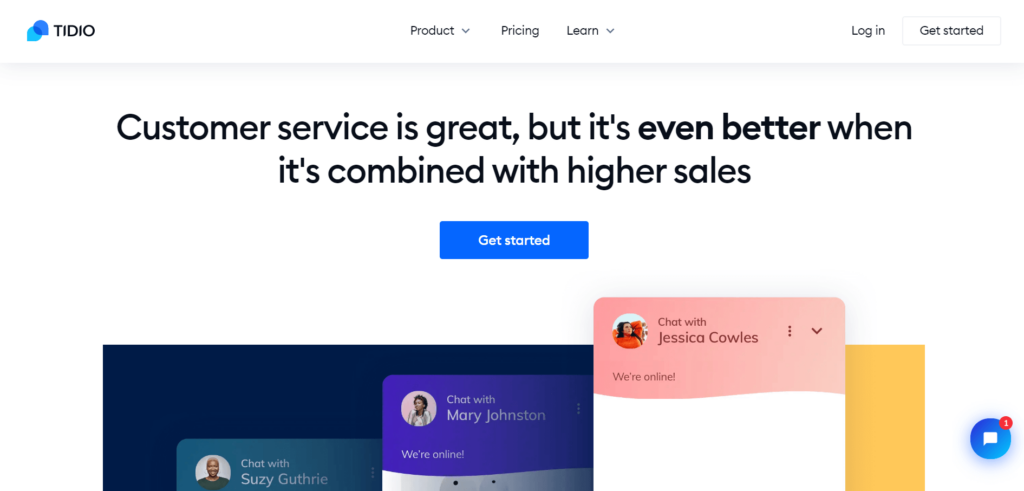 Apparently, Tidio has custom chatbots that help you create an automatic FAQ-style response to speed up your costumes support responses.
On top of that, there are 20+ ready-made templates for its bots. And you can customize everything using its drag-and-drop editor. However, you must be careful during drag-and-drop, or your chatbot will become a mess. After all, bots are not very clever!
This app can be considered a good live chat app for small businesses due to its free plan. However, you should note that the free plan has limited features and is actually more like a simple live chat room.
Tidio Pros
Free plan,
Adjustable and user-friendly dashboard,
24/7 response with chatbots,
Good customer support.
Tidio Cons
Limited features in the free plan,
Lack of analytic tools,
Expensive premium plan,
Tidio Plans and Pricing
Free plan
Communicator: $15.83/mo
Chatbot: $32.50/mo
Tidio+: $240.83/mo
#6 Tawk.to: A Free Live Chat Service
Tawk.to is a chat support service that comes for free. And it's not just a typical online live chat service.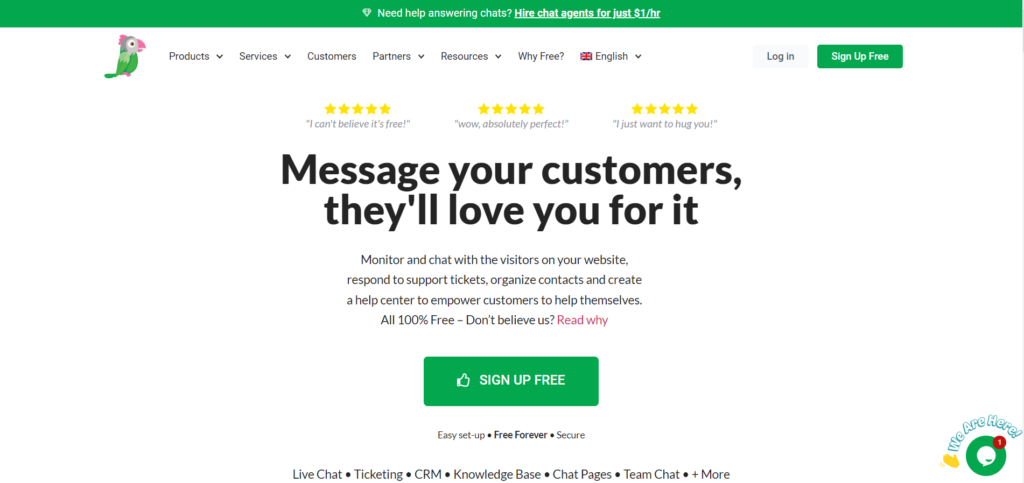 This app lays claim to tracking your visitors. So, you can keep an eye on your customer's journey, monitor what pages they are on, and how often they visit your website. They also archive customers' conversation history and useful information such as their email address, IP address, device information, and location. However, additional charges will be included.
In addition, Tawk.to may be good for cooperation. Therefore, if you have customer support service, you can assign the conversations to different operators and ensure the right person is responding. If you don't have a live chat support service, you can hire a chat agent from Tawk.to just for $1/hr. However, they might provide services as good as $1!
This free live web chat supposedly has an unlimited free plan. However, the free version is very limited. And if you want to add new features like live chat video, voice, and screen sharing, you should upgrade to other plans.
Tawk.to Pros
Unlimited free plan,
Real time monitoring,
Automated triggers,
Customizable design,
Agent to Agent Messaging.
Tawk.to Cons
Difficult navigation,
No chatbot,
Poor customer support.
Tawk.to Plans and Pricing
Unlimited free plan
Branding removal: $19/mo
Video + Voice + Screensharing features: $29/mo
Chat agent: $1/hr
Virtual assistant: $15
#7 LiveAgent: a Useful Chat Service for Startups
Lay claim to its free plan and affordable prices, LiveAgent may be a not very bad option for newly established businesses and startups, to begin with.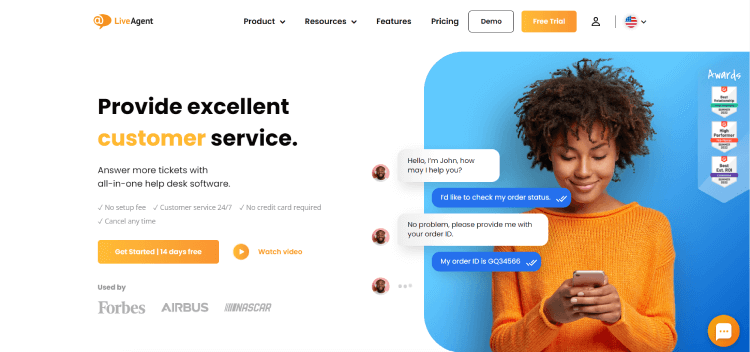 Presumably, LiveAgent pays the utmost respect to its customers; 24/7 customer service, cancel any time, and no sign up fee. Also, they promise to aid you in providing the same for your customers.
When the customers reach out for help, it gets confusing which agent should answer which question. Therefore, a feature like LiveAgent's ticketing might come in handy to save time and provide better answers. You can assign the query to the right person through this feature.
In addition, this live chat promises to increase customer engagement on your website through its proactive chat invitation. Also, they give you limited options to choose the language of your invitation.
Deliver on their promise, you can peek a look at customers' messages while they are typing in the live chat box. This way, you will know the answer before they even express the problem.
LiveAgent Pros
Built-in Call Center,
unlimited chat history,
Proactive chat invitations.
LiveAgent Cons
Additional charging per agent,
No chatbot.
LiveAgent Plans and Pricing
Free plan
Thicket: $15/agent/month
Thicket+Chat: $29/agent/month
All-inclusive: $49/agent/month
#8 Landbot: A Live Chat Bot Builder Service
Landbot claims its chatbot can create a sophisticated online conversation with customers.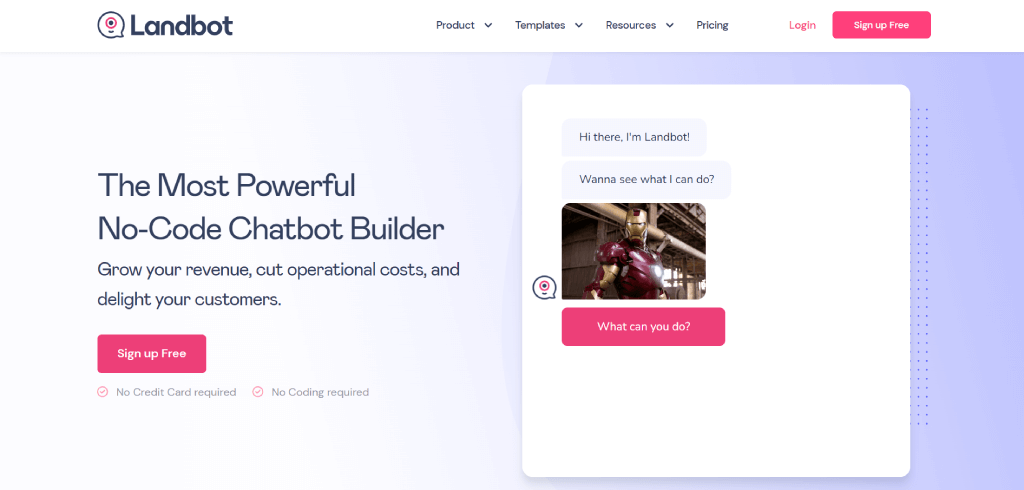 The main purpose of using a chatbot is to save time and energy. Therefore, as they claim, this chatbot builder requires no coding and already has some ready-to-use templates for you. So, you can improve your conversion rates and generate more leads with the least effort. However, this claim is up for debate.
In fact, they added a button in the chat box so that whenever bots were desperate to answer users, customers could talk to a real person by clicking on it.
Some might think Landbot is a free live chat for websites due to its free forever plan. However, its free plan is too limited, even for small businesses with limited visitors. So, in the end, you will either drop it or be forced to pay for a costly plan.
Landbot Pros
User-friendly dashboard,
Automotive lead generation,
Integration with other platforms.
Landbot Cons
No personalization,
No mobile application,
Limited features in the free plan.
Landbot Plans and Pricing
Free plan
Starter: €30/mo
Pro: €80/mo
Business: €300/mo
#9 Freshchat: A Multi-Channel Live Chat
Reputedly, Freshchat is a multi-channel communication app that allows you to communicate on different platforms through a single channel.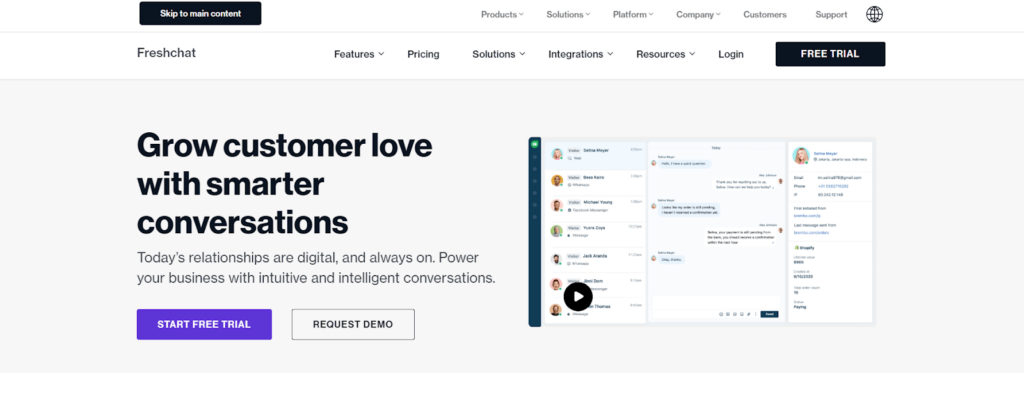 Using this live chat customer service, you can link all your platforms (website, email, and social media) together and communicate with customers through a single channel. In other words, you can answer all the conversations through a unified inbox.
Supposedly, you can create different groups to segment your users and even your agents for better management. When all the data is collected in one place, you can initiate a customer behavior analysis and send targeted messages to create a personalized customer experience.
Moreover, Freshchat is equipped with artificial intelligence. As they claim, you can get the chatbot to do the talking whenever you are away. And you just need to keep an eye on it from time to time.
Freshchat Pros
Multilingual support,
Proactive messaging,
Available in Windows, Android, and IOS.
Freshchat Cons
No auto-correction,
Confusing setup.
Freshchat Plans and Pricing
Free plan
Growth: $15/mo
Pro: $39/mo
Enterprise: $69/mo
#10 Chaport: A Live Customer Support Chat for Beginners
This web chat customer service claims that by using Chaport, you can answer customers almost instantly. Customers might contact you through your website, Facebook, WhatsApp, etc., but there is no need for your support team to switch between platforms to answer them.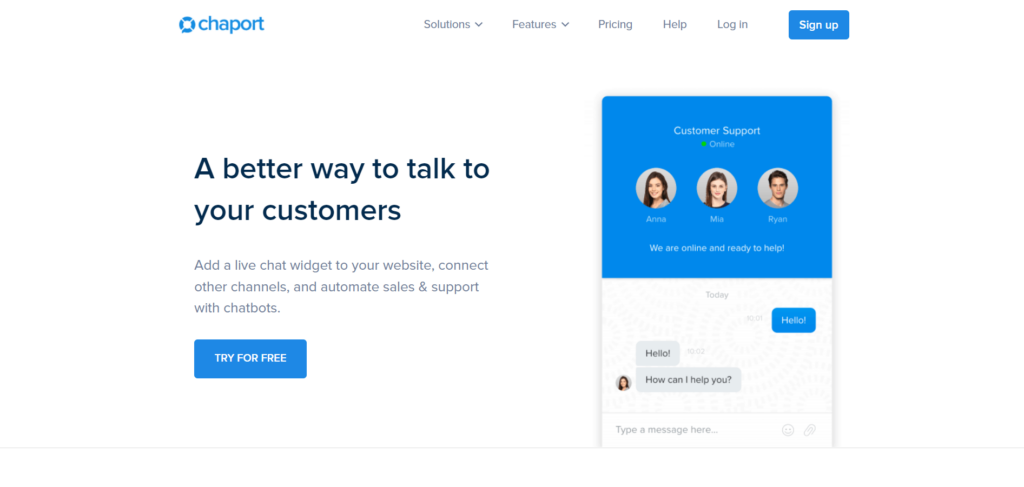 Another feature of this live chat app is its group support. Allegedly, if a customer encounters a problem that needs more than one person to instruct them, the agent can invite others. So they can provide group support.
Apparently, Chaport is equipped with a chatbot. According to their claim, even when you are offline, this live chat support software answers customers' questions and collects feedback for your support team.
However, you should go for its Unlimited plan to use the chatbot. And their other plans (free & pro) can have serious limitations for big businesses.
But there is a better option with more features and better pricing. Click here and see for yourself.
Chaport Pros
Multi-channel,
FAQ bot,
Multilingual chat widget,
Auto-invitation.
Chaport Cons
No data collecting features,
Limited third party integration,
Limited free version.
Chaport Plans and Pricing
Free plan
Pro: $25/mo
Unlimited; $99/mo
#11 Genesys: A Live Chat for Real-Time Conversation
Genesys Live Chat is a cloud-based live chat software designed for businesses to communicate with customers in real-time. It provides features such as customizable chat widgets, proactive chat invitations, chat routing, canned responses, and chat transcripts.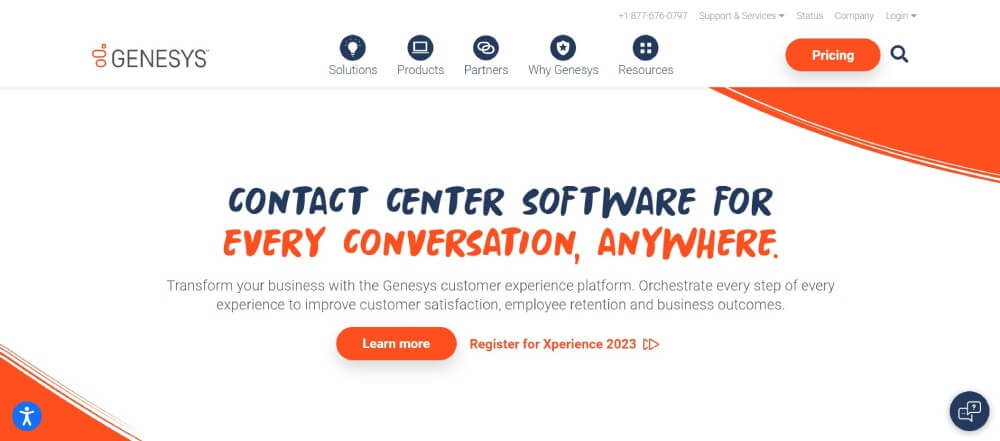 Genesys Live Chat is part of the Genesys Cloud CX platform, which also includes other customer engagement channels such as voice, email, and social media. It allows businesses to offer personalized customer experiences and increase customer satisfaction by providing fast and efficient support.
Genesys Pros
Supportive customer service,
Simple to use.
Genesys Cons
Inaccurate notifications,
Sudden updating that might result in confusion.

Genesys Pricing
Genesys Cloud CX 1: $75/month,
Genesys Cloud CX 2: $90/month,
Genesys Cloud CX 3: $130/month.
#12 Userlike: a Versile Live Chat
Userlike is a versatile live chat software that provides businesses with a range of features to communicate with their customers and visitors in real-time. Its customization options, automation features, and integrations make it a popular choice for businesses looking to provide efficient and effective customer support.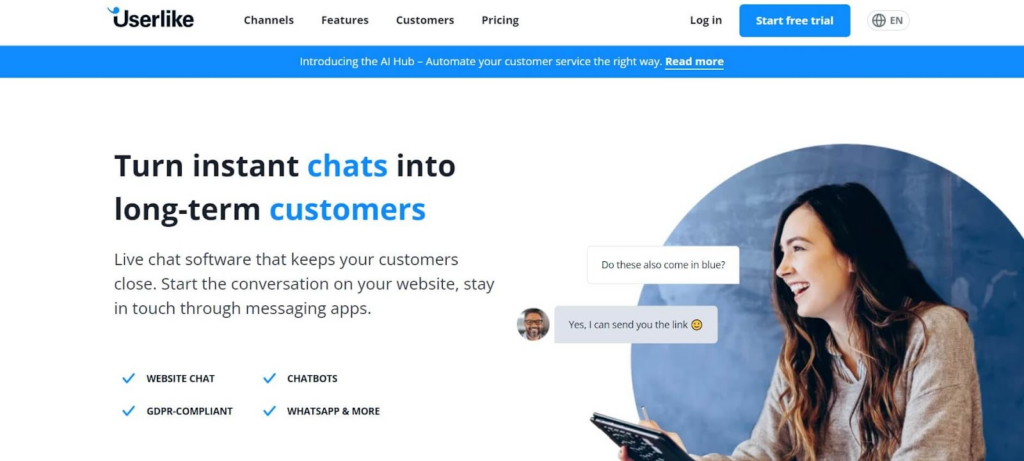 Userlike Pros
Voice call,
Web-based video call for fixing complicated issues.
Userlike Cons
No mobile app,
The platform could use some customization.
Userlike Pricing
Free plan,
Team plan: $90/month,
Corporate plan: $290/month,
Flex plan: Contact sales team.
Live Chat Apps: Final Verdict
As you saw in this article, there are many services that can provide live chat for your website. But, as you have limited time and resources, you should choose the best option at a reasonable price.
Considering everything, we offer WatchThemLive to you. This tool's visual live chat feature allows your support team to watch the customers' session when they message you.
Therefore, you can detect the problem as soon as possible and satisfy your customers.
There is no other live chat app with this kind of capability in the market.
Apart from this, WatchThemLive is an all-in-one CRO tool. WatchThemLive's features include:
Heatmaps,
Session recording,
Goal tracking,
Analytic dashboard,
Page optimization,
Video testimonial (another unique feature).
You can benefit from all of these features, along with its visual live chat, to create a better user experience and improve your conversion rates. WatchThemLive has very flexible pricing plans to satisfy every eCommerce, digital marketer, and UX designer.
The best news about WatchThemLive is that it comes with a free trial. So you can try every feature and measure the results for yourself before purchasing anything.
You can sign up now and start your journey! Feel free to reach us whenever you need guidance, or you can pay a visit to our FAQ list!
Live Chat Apps and Services FAQ
After discussing the top 10 chat services, now is the time to answer some of the frequently asked questions about these online support tools:
Q1. What Are the Benefits of Using Live Chat Customer Services
Real-time support tools and apps deliver a better user experience and create a bond with the customers,
Using a live chat improves your conversion rates by 3.87%,
These apps improve your support team productivity.
Q2. What Is the Best Tool for Live Chat Support
WatchThemLive, with its visual live chat feature, is the best live chat tool. Moreover, It has an excellent score of 4.8 on the Trustpilot website. This tool has the highest score among all live chat services. It's an all-in-one CRO tool as well.
Q3. What Is the Best Free Live Chat App
You should know that free live chats actually don't exist. Even those apps that claim to be free are going to charge you for additional features. However, some live chat services like WatchThemLive come at affordable prices. You can sign up for free and see for yourself.
Conclusion
In today's digital world, you need to have the best tools in the market to compete with other rivals. Therefore we examined many live chat support tools and introduced the top 10 live chat apps to make it easy for you to decide. From now, you can count on WatchThemLive as a great helping hand for your support team. So, don't miss out, and sign up right now.