Customer behavior analytics is a must if you want to thrive in a digital world full of competent competitors. Many marketing and advertising efforts, such as behavioral targeting require precise customer behavior data and analysis.
The most thriving companies have a customer-centric outlook. They are creative companies with high revenues and growth rates. As proof of this, you can look at the statistics of the companies using customer behavior data in their business.
Forbes' list of 100 customer-centric companies reveals many well-known brand names like Apple, Amazon, and DHL. It's good proof of the positive impact of a customer-centric approach.
Surely, customer-centricity strategies would be hard to implement without a deep look into customers' behavioral patterns.
In this article, we would like to discuss the reasons and impacts of using customer behavior analytics. We also provide you with a step-by-step guide on implementing it into your business.
Let's dive in to see the reason behind the significance of behavior data-driven strategies in today's marketplace.
Why Conducting Customer Behavior Analytics Is So Important?
You should conduct customer behavior analysis to be able to predict customer values and optimize and personalize content. Without customer-centricity, how can you enhance retention and provide exceptional customer support? 
Let's jump in to discuss how customer behavior analytics helps businesses:
1. Focusing on the Most Valuable Customers
Customer behavior analytics help you predict customers' value and focus on the most value-generating buyer personas. Only by analyzing the behavioral patterns of customers, you can identify and target the most profitable customer groups.
2. Optimizing and Personalizing Content Marketing Efforts
Optimize content delivery time and channel using customer behavior analytics data. It enables you to present your content when your customers most probably expect and engage with it. Having a good understanding of their lifestyle provides you with valuable data on the place or platform to publish content.
Content personalization is another practical way of increasing audience engagement with a brand. Research indicates that 80% of B2B companies that personalized their content found it very effective, compared to non-personalized content: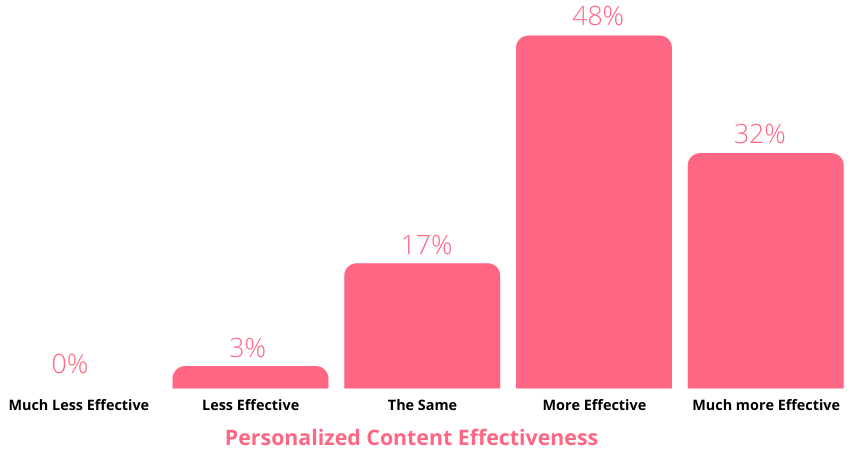 In the same research, some responding companies didn't adopt a content personalization approach. When examined, over 50% reported whether they didn't have access to data or technology needed for content personalization. And that was their reason for not adopting a content personalization strategy.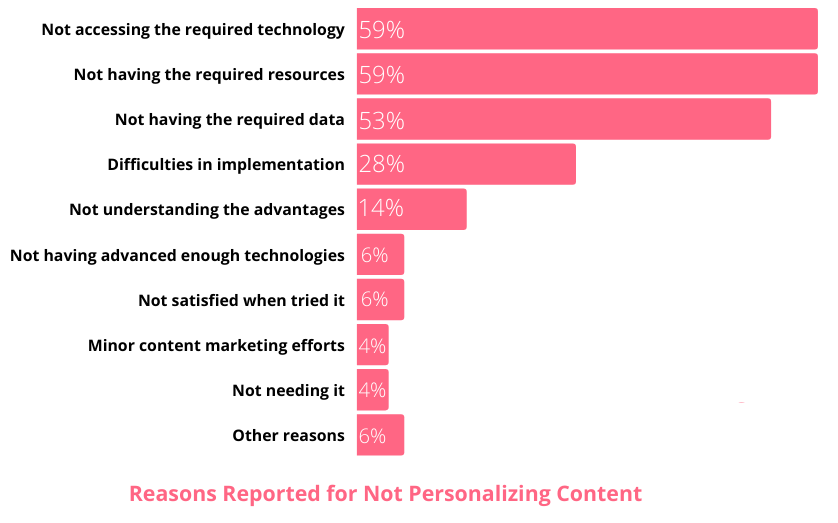 These interesting statistics couldn't emphasize it better the role of customer behavior data in customizing content.
3. Enhancing Customer Retention Rate
Customer retention rate should be tracked as an important marketing metric. You can improve this metric by acknowledging your customers before they leave you for a competitor.
While it's essential to acquire customers, it's more imperative to keep them happy and engaged. By distinguishing positive and negative consumer traits, a behavior assessment will assist the staff in lowering the churn rate.
One of the advantages of customer behavior analytics is that you understand your customers and their buying habits. Having access to such data makes it easy for you to develop tools and strategies to retain them.
How to Conduct Customer Behavior Analysis?
Customer behavior is influenced by personality traits, social trends, as well as psychological responses. Now that we know the reason for its importance in the business world, let's discuss how to perform it in six easy steps:
Step #1: Audience Segmentation
Categorizing your customer base is a good start for analyzing customer behavior. Try identifying the characteristics of your most valuable customers. These characteristics can include their age, gender, location, interests, and habits.
Step #2: Examine each Group
You should analyze each customer segment's needs and perceived values that result in buying from you. Is it the urgency that matters most to them? Is it the convenience you offer by your eCommerce website? 
Additionally, you can ask customer behavior analytics interview questions from your customers to gather more valid data. Look for similar traits in each group for qualitative customer behavior data.
Step #3: Extract Quantitative Data
Besides the qualitative data collected through interviews, you can distribute a customer analytics behavior questionnaire to gather quantitative data.
You can also extract stats from your blog subscribers and social media channels' insights. Also, if you have built your eCommerce website on Shopify you can use customer behavior analytics in Shopify to extract data.
Step #4: Compare Different Data Types
Look for recurring trends in your customers' behavior patterns by comparing qualitative and quantitative data. Use the data sets as a guide in each stage of your customer journey. Analyze your data based on customer experience in each stage and for each customer segment.
Once you did this, you can find trends and patterns in their traits and obstacles they face in each stage. It's important to have a special focus on your valuable customer segment, the ones who generate most of the revenue for you.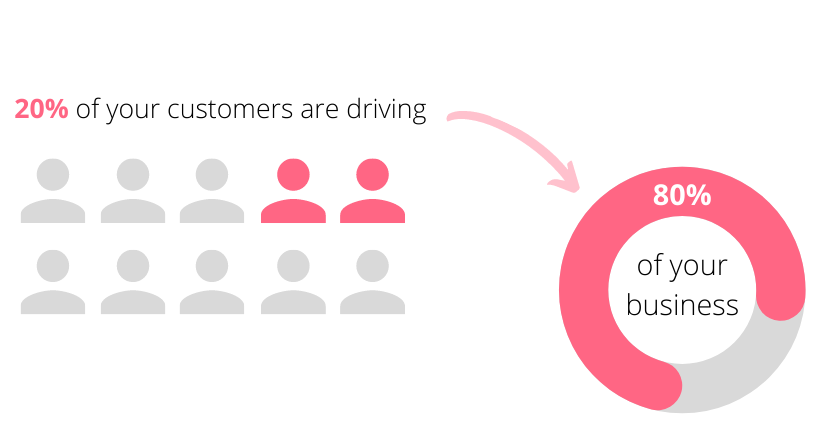 Step #5: Test your Analysis in a Campaign
Now that you have an idea of what each customer segment needs, it's time to make use of the data. You can apply your findings to customize your next campaign for various customer groups.
As mentioned earlier, you can apply customer habits analytics to deliver content on the most suitable channel.
Moreover, test your analytics and ask your customers to check how they are experiencing the new changes. Use the session replay service of Watch Them Live to observe changes in user interaction with your website in real-time.
Step #6: Analyze the Outcomes
You'll certainly want to see how the modifications succeeded after you've given them enough time to evaluate. To assess the impact of the new campaigns, use metrics such as conversion rate and CLV. It is important to regularly review the findings because emerging technology, politics, and events affect customer behavior.
What Platform Can Help with Customer Behavior Analytics?
Watch Them Live is a great tool that can assist you with conducting customer behavior analysis.
This platform empowers you with functional tools to check visitor behavior and engagement on your website. It's an easy-to-use platform that offers the following customer behavior analytics features:
Session recording is a useful feature of WTL providing you with valuable qualitative data on visitor behavior. What gives you a better idea of customer behavior than seeing how they behave on your site?
The live replay feature reveals a lot about their behavior and how they are using your website right now!
Heatmaps show you the most interesting parts of your website from a visitor's eyes. Place your most important information where gets the most of the attention, it's easy, right?
Website analytics provides you with practical stats and quantitative data. These stats include website traffic, page views, referrers, user segmentation, to name a few.
Goal setting is a great feature on the WTL platform, allowing you to set your conversion goals.
Real-time data offered by WTL provides you with rapid feedback enabling you to react on time and fix issues faster.
$ WTL Pricing
WTL starts free. No credit cards are required to sign up on WTL. It offers 2000 pageviews, 20,000 replays, 3 heatmap pages, and 3 goals to set on its free plan.
Also, it takes 1-2 minutes to sign up and access the dashboard. Then, you can add your website to the dashboard, and access data after embedding the code on your website.
For unlimited pageviews, heatmap pages, and more replays you can upgrade your plan to premium. The premium plans start as low as $29 per month and go up to $399 per month supporting three websites.

Conclusion
Customer behavior analytics can contribute greatly to a company's performance, especially in marketing. Throughout this article, we covered three main questions regarding customer behavior analysis.
First, we discussed several important reasons why it is so important. The reasons include identifying key customer segments, customizing content marketing efforts, and increasing retention.
Then, we outlined the stages required to conduct customer behavior analysis. Briefly, they consist of identifying customer segments, examining them for qualitative and quantitative data, analyzing data, and testing insights.
Finally, for easier access to user behavior data, we introduced the WTL platform that assists with your customer data requirements.