You need both usability testing and A/B testing if you want to increase your conversion rate. Both of them aim to understand customers' needs to give them the best user experience. Businesses often tend to distinguish between these two; however, you should know that they complete each other.
But you're here to know when to use each, right? This article will review usability testing vs. A/B testing, their pros, cons, purposes, alternatives, and best usability testing tools.
But just to give you a heads-up, you can conduct usability tests easily by monitoring user behavior. WatchThemLive is a solution that captures their behavior. We'll explain more about it, so keep reading to find out.
What Is Usability Testing
Usability testing makes understanding users' behavior and needs easy with qualitative data. It allows you to understand what works and what doesn't by interviewing and observing test participants.
According to the usability testing definition, researchers should keep an eye on users and observe how they interact with the website. This way, they collect feedback directly from real users.
These feedbacks help the design team to improve the user experience, which leads to more conversions.
That's exactly the same thing AB testing tries to do. However, it uses different tools to optimize conversion rates.
Keep reading to find out which one is going to be the winner of A/B testing vs usability testing.
How Is Usability Testing Conducted
Since user testing experiments like usability testing require participants, it gives you more accurate data. But you can also conduct it by recording visitors' behavior if recruiting participants is not possible for you.
To reduce the cost of usability testing, you can utilize web analytic tools to collect data from your website's traffic.
You can do this by using session replay software and heatmaps. WatchThemLive offers the best session replays that allow you to see visitors' interactions with your website.
For example, if %30 of people add an item to their shopping cart, but only %10 of them purchase it, it shows that there is something wrong with your purchasing process.
With WatchThemLives' session replays, you can see exactly what the problem is and take immediate action. Watch this video to see how they work:
Don't waste any more time! Sign up here and seize WatchThemLive's free plan now!
Now, let's review usability testing's pros and cons:
Usability Testing Pros
You can make real improvements since the test is based on your target audiences' direct feedback.
Usability testing comes to the rescue when there's a disagreement among team members about what works and what doesn't.
You will have a deeper understanding of the user.
It uncovers different data sources that will help you find more room for improvement.
It doesn't take much time to run the test and get results.
There are no statistical errors in usability testing.
When the prototype is examined through usability testing, the chances of any friction and usability problem in the launched design is reduced.
Usability Testing Cons
The results you get from usability testing are theoretical, and you have to invest lots of time and money.
Since the results are just qualitative, you won't have quantitative data and can't estimate the revenue of your findings.
Participants might behave differently in their own natural habitat than during usability testing. What you need is natural interactions because people use your product while doing their daily routines.
The results are based on a few participants' behaviors and not your whole target audience. So, it might not apply to all of your customers.
Usability testing won't tell you how to fix the issues exactly. You have to find solutions by interpreting participants' words and behavior.
Participants might not pay as much attention when they are completing a task just for the sake of usability testing. For example, if they're purchasing a product for real, they put all of their attention into it.
The results might not be very accurate since some people only participate in your test for the sake of money.
Usability Testing Purposes
In a nutshell, it's run to uncover problems in a design. Usability testing improves your design by tracking visitors' behavior. You can understand so much from the way users interact with your website.
For example, you can see if users can't find your 'contact us' button because it's not placed in a good place. After that, you are able to implement changes that will result in faster and easier task completion.
All in all, usability testing gives UX designers a way to test their designs and get feedback. Whether users' feedbacks are positive or negative, they are always going to help the design get better.
Now that we have explained what usability testing is, it's time to introduce you to the best service for performing it. Are you ready? Let's dive right into it!
Best Usability Testing Tool
How can you be sure your website is performing as it should? The best way is to ask people to interact with your website and report their experiences. However, this method is going to cost too much for eCommerce usability testing.
So what should you do? Abandon usability testing and search for user testing alternatives? Of course not! There are plenty of free usability testing tools out there to measure the performance of your website. Here is our favorite option.
WatchThemLive: Best Tool for Usability Testing
WatchThemLive is a feature-rich conversion rates optimization and usability testing service that provides you with everything you need to improve your website UX design.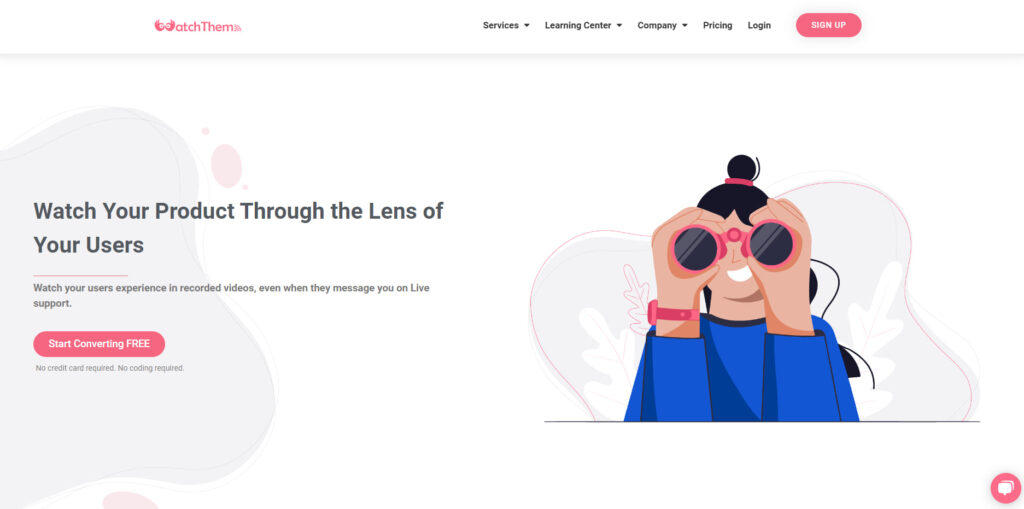 This platform will give you a complete database of your visitors' behavior. Therefore, you can make data-driven decisions for ease of use, learnability, and efficiency of your website.
WatchThemLive is equipped with many features, including:
Heatmaps,
Session replays,
Video testimonial,
Goal tracking,
Analytic dashboard,
Visual live chat.
All these features help you create a better user experience. We'll explain more to make it clear.
Session Replays
Session recordings are video playbacks of users' journeys on your website. With the help of WatchThemLive's session recording, you can understand the efficiency of your website by watching the user journey from the customers' point of view.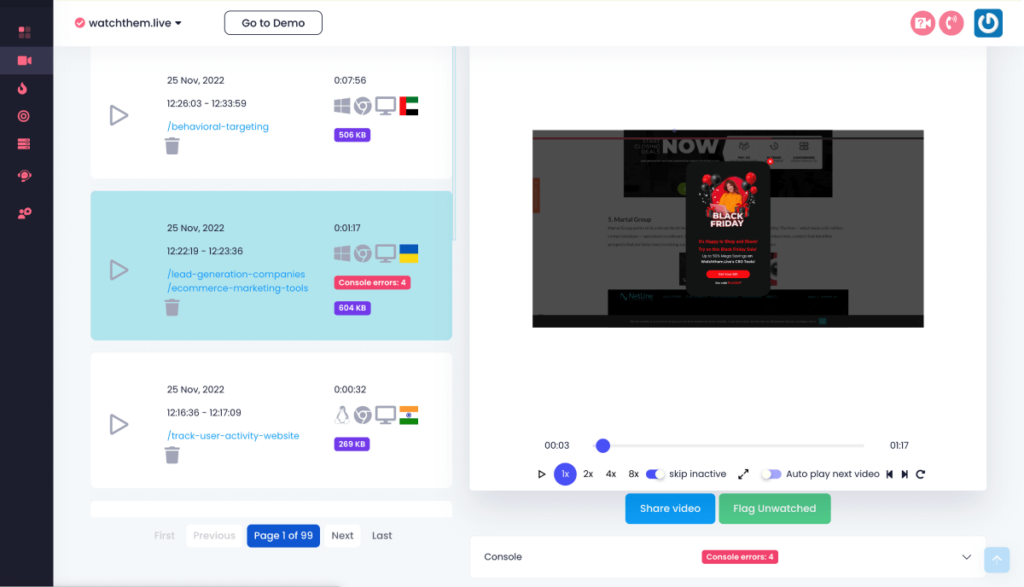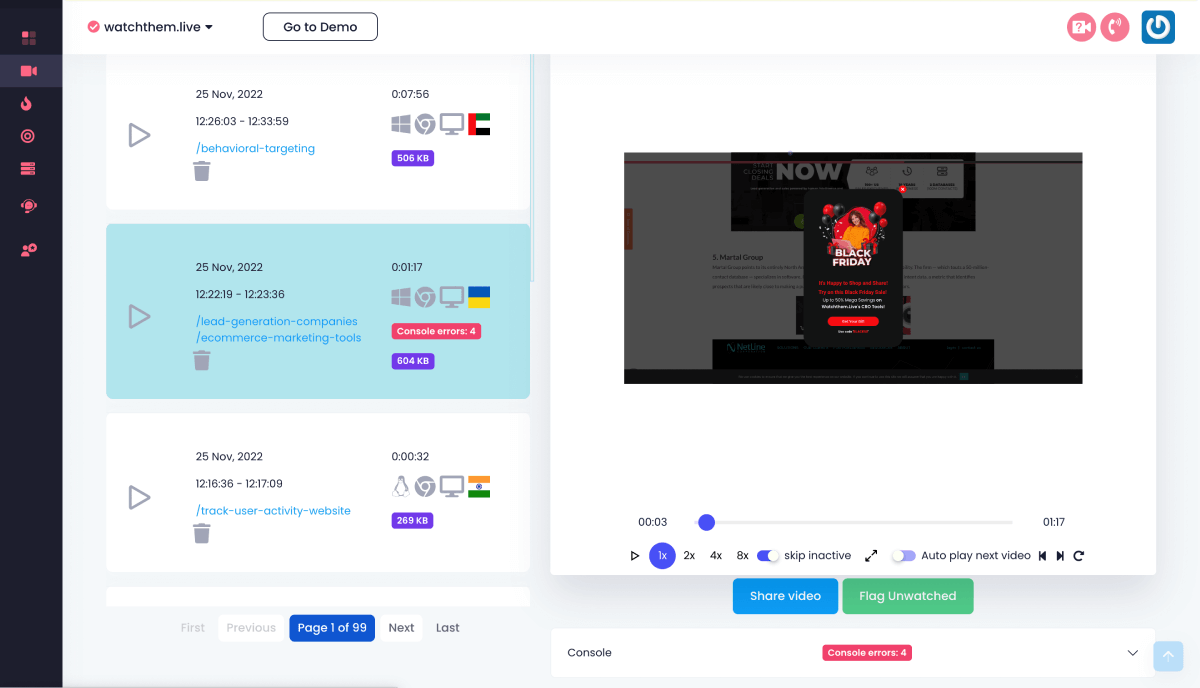 Therefore, you don't need to ask people to visit your website and perform specific tasks. The exact same data will be available to you with session replays.
Sounds interesting? It gets even better.
Video Testimonial
Do you want to be at the top of your game? Then, use video testimonials for collecting feedback.
This feature has ready-made forms for your questions. You can customize the form and choose where and when it should pop up. For example, when customers decide to buy your product or when they want to leave your website.
Then, they can click the record button and answer the questions. This way, you have direct feedback from customers. Which is the main purpose of usability testing.
Heatmaps
Visualized data are always easier to digest compared to numeric ones. Website heatmap tools enable you to track website visitors and their activities through colors.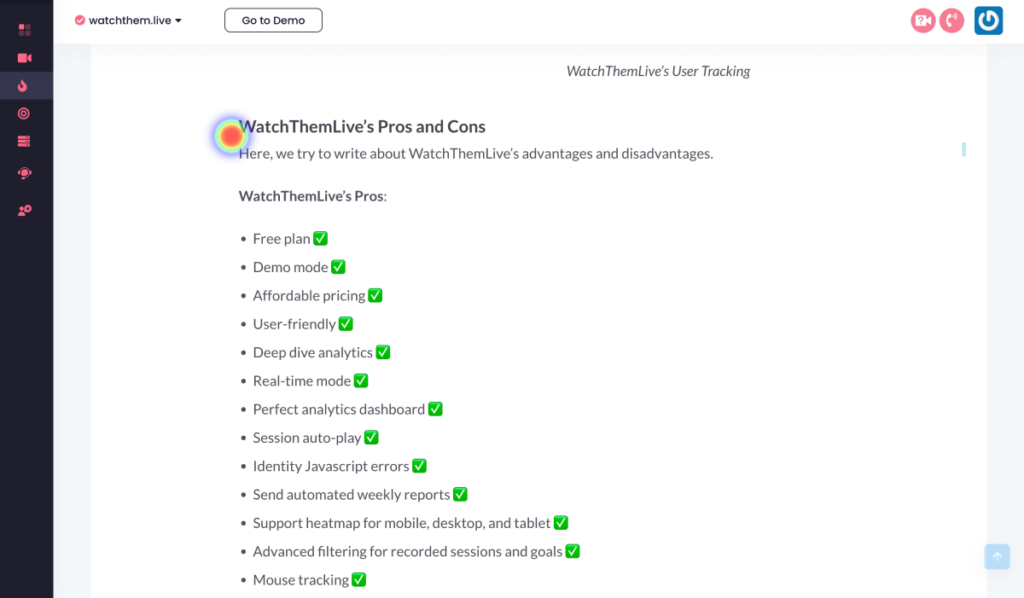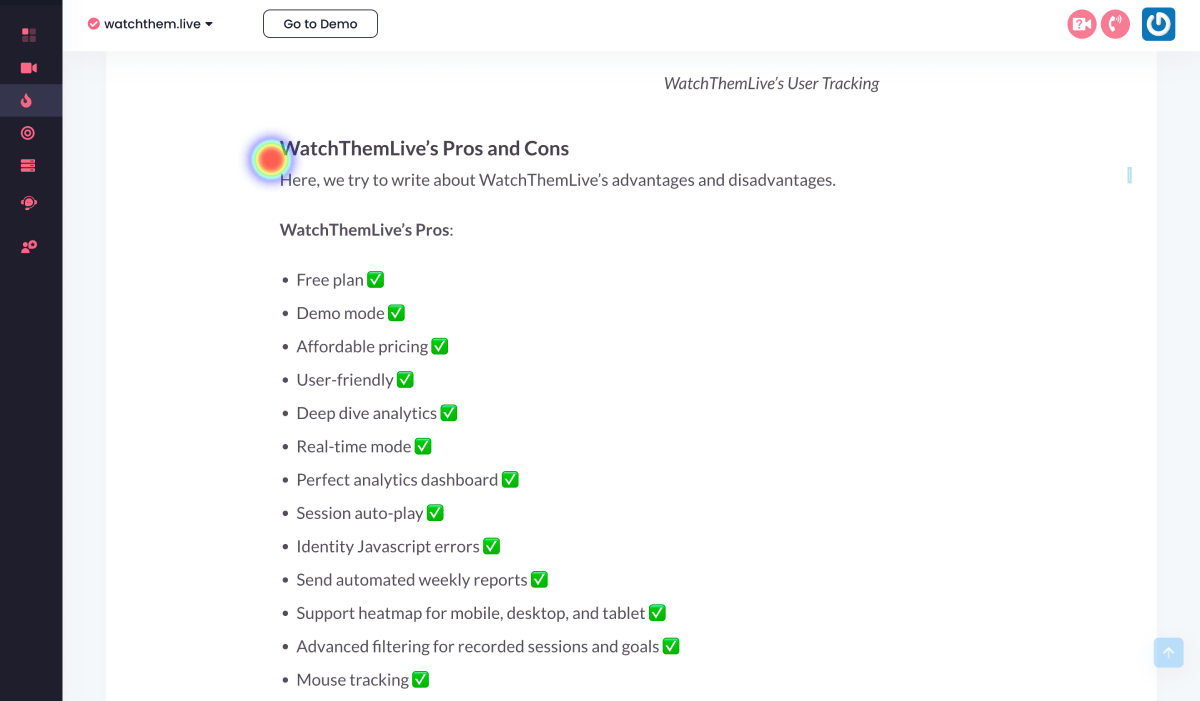 Therefore, you can understand which areas of your webpage are more interesting for users and which parts need to be improved.
WatchThemLive presents you with all kinds of heat maps, including:
Scroll maps
Click maps
Mouse-tracking heatmap
Eye-tracking heatmap
WatchThemLive Pricing
Despite its amazing features, WatchThemLive has a free plan and very affordable prices:
Free Plan: ✅
Individual Silver: $29/mo
Individual Gold: $49/mo
Team Silver: $69/mo
Team Gold: $99/mo
So what are you waiting for? You can sign up for free just with a few clicks.
What Is A/B Testing
According to A/B testing definition, it's a user experience research methodology that compares the functionality of two different versions of your website. While A/B testing, a portion of traffic is sent to version A, called control, and the rest to version B, known as the variation. After that, you can see whether your changes were positive or not by using statistical analysis.
Below you can find the pros and cons of ab testing:
A/B Testing Pros
You can see which version is working better easily by the number of conversion rates.
You are able to monitor the number of clicks, conversion rates, etc.
It allows you to test all of the elements of your website.
A/B Testing Cons
You need new ideas to implement in the latest version, and choosing between these ideas, not knowing which one of them might work better, is a hassle. If you have lots of traffic, you can conduct several tests, but they can all perform equally, and you won't discover the most impactful design element. Therefore, it's possible that you won't get any results.
Since A/B testing is quantitative, you can't understand the reason why users choose what they choose.
You need a large number of visitors for statistically accurate data.
It takes a lot of time to conduct A/B testing since you have to test different ideas.
There is a high chance of facing statistical errors while running an A/B test.
You're not considering user behavior; only your assumptions are being tested.
A/B Testing Purposes
A/B testing compares two versions of one website to see which one performs better. For example, your goal is to drive more conversions, and for this purpose, you want to know whether a video performs better on your landing page or an image. Now, run an A/B test to see which one is having more conversions.
All in all, the purpose of A/B testing is to increase conversions and sales, reduce bounce rates, improve content engagement and reduce cart abandonment.
Usability Testing Vs. A/B Testing: When To Use Each
In a nutshell, you run usability testing when you want to know the 'why' behind users' actions. Meanwhile, A/B testing is used when you want to know what performs better on your website.
For example, you have set a goal to attract more visits for a product category and increase the conversion rate. You're wondering if a horizontal menu or a hamburger menu would perform better in helping you reach your goal? You run an A/B test to see which one gets more attention here.
On the other hand, designers use usability testing when they want to know why visitors are behaving a certain way. For example, you want to know if your customer journey map is smooth enough. Can customers complete tasks hassle-free? Is there something that distracts them from going down your funnel? This means that you are tracking users' interaction with your product.
AB Testing Vs Usability Testing: Which One Is Better
The real answer is they have a complementary relationship. So, you can't replace one with the other. User research requires both usability testing and A/B testing simultaneously.
In usability testing, you obtain qualitative data, but A/B testing gives you quantitative data about the number of people who completed a task successfully.
Now that you know when to conduct usability testing and A/B testing, you should know that the best results are achieved when these two work together. First, build your website based on user behavior, then run A/B tests to see which designs work better. When you combine both qualitative and quantitative data, you'll see real growth.
Alternatives To A/B Testing
A/B testing won't work properly without a large number of users, so what can you do instead? We will review the alternatives to A/B testing here:
1. User Experience Research
With user experience, you are able to collect both qualitative and quantitative data. The good thing about user experience research is that there's no need for lots of traffic and controls. You can monitor user behavior by using software such as session replay.
By using a behavior analytics tool such as WatchThemLive, you will have access to detailed analytics about users as well as session recordings. For example, you can see the number of their sessions, events, device, country, browser, and so much more. Knowing this information helps you provide a personalized experience for your customers.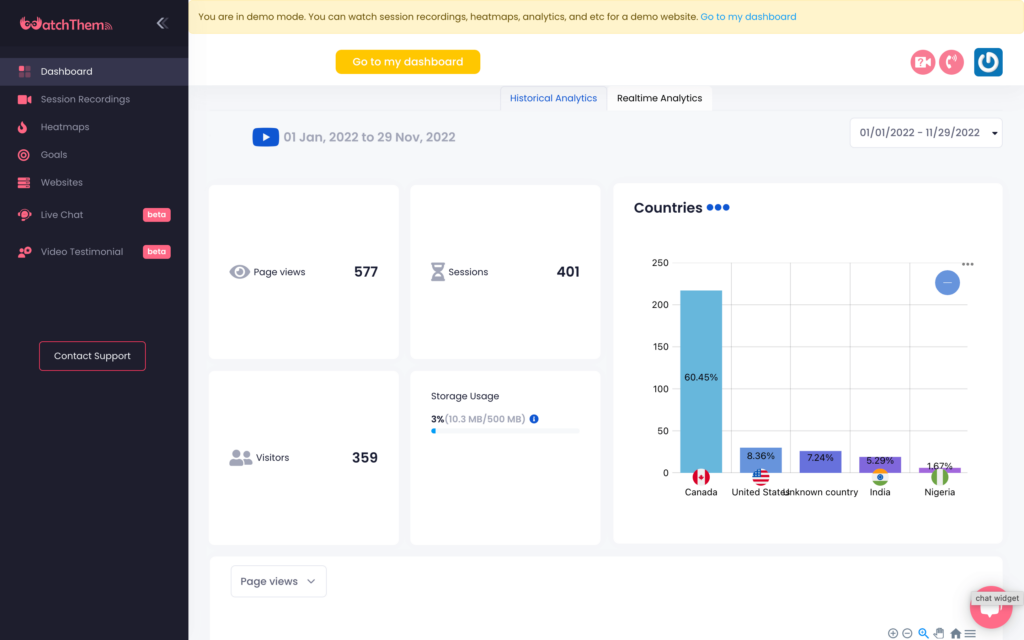 What more could you be asking for? Sign up now and see what's next!
2. Customer Interviews
Interviews can provide more in-depth data than surveys since you can include open-ended questions. Customers who regularly visit your website and have already gone down through your funnel are the best ones to interview.
3. Polls/Surveys
Surveys are an A/B testing alternative that lets you gather user reviews and engage them easily. However, if your survey is boring, you won't get many results as a lot of people won't participate. You can utilize survey software to speed up things.
Top 3 Tools for Usability Testing and A/B testing
Before wrapping everything up, let's introduce you to the three best user analytics testing tools.
#1 WatchThemLive: The Best Testing Tool
We've already mentioned everything about this CRO tool except for its goal-tracking feature.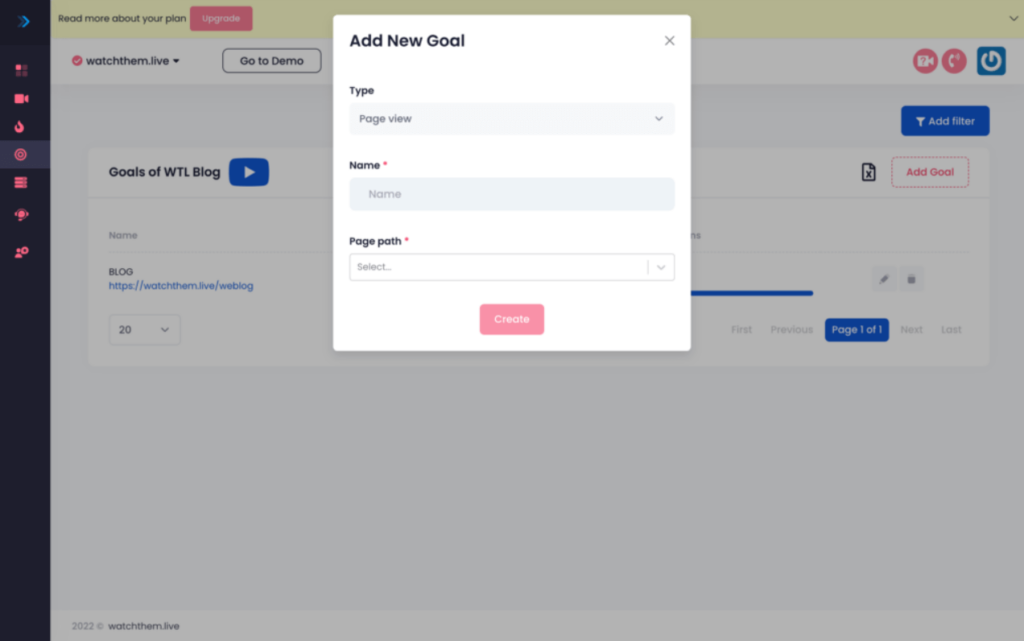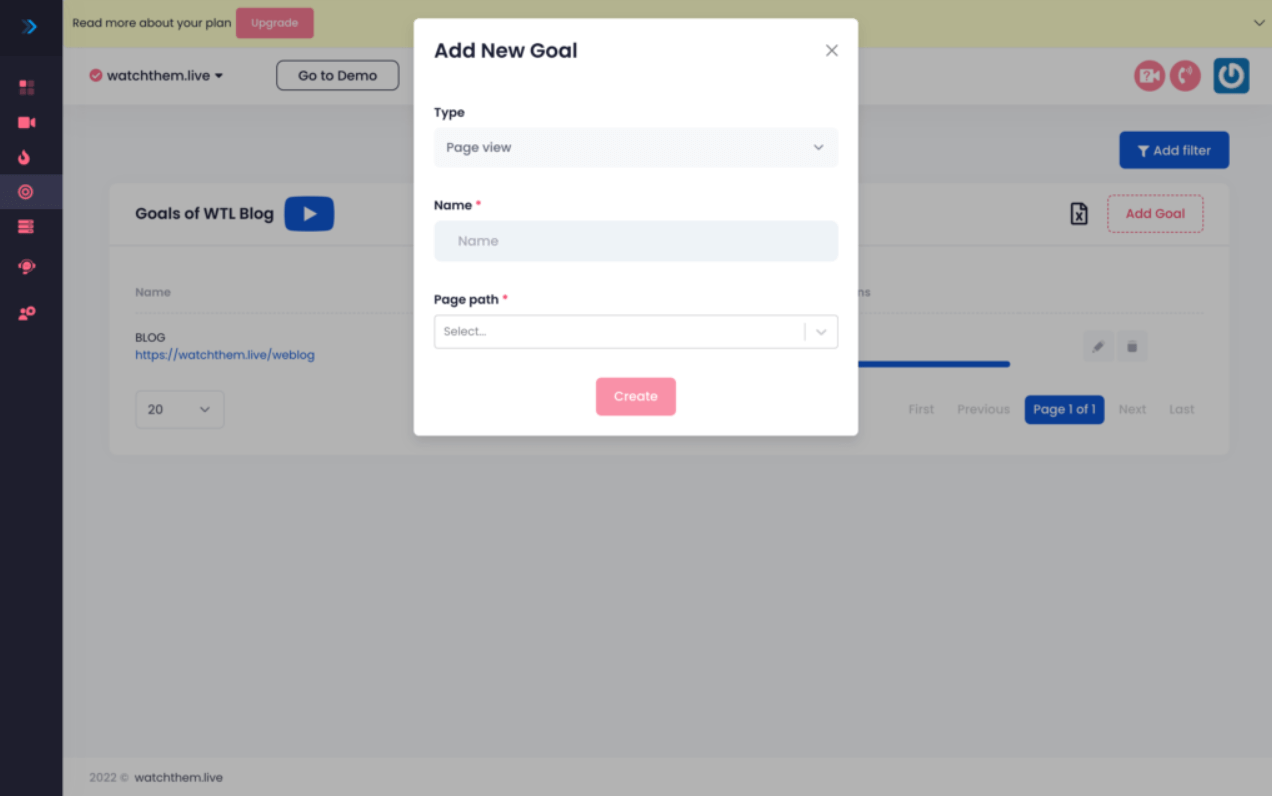 WatchThemLive's goal tracking is perfect for AB testing. It enables you to measure the success of your marketing campaigns.
You may want the users to sign up for your website, click on a link, or share your article on social media. It's necessary to track these goals to measure how many people are completing them.
This feature, along with the aforementioned features of WatchThemLive, turns it into the best option for any kind of performance testing.
Sign up right now and start your free journey.
#2 Optimizely
This service claims to improve website UX through a/b testing. Optimizely testing tool, like other CRO tools, wants to help you increase revenue.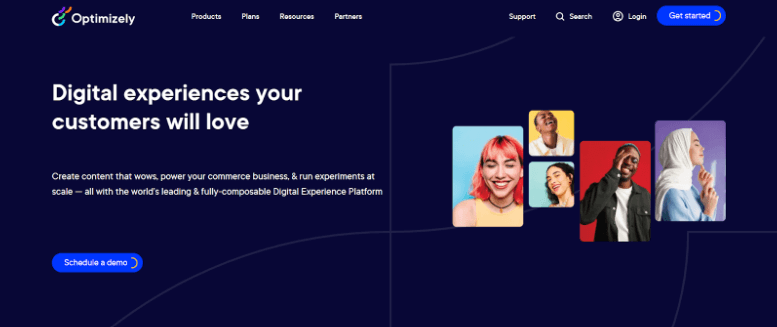 However, Optimizely's main features include website personalization and A/B testing. It can get the job done for A/B testing. But, it might not be enough to be called a perfect usability testing tool.
The other thing you should consider is Optimizely pricing. This platform is too expensive. You should pay around $ 50,000 for its basic plans. Which is too much for most businesses.
#3 VWO
This Indian-based company enables you to run multiple tests and analyze users' behavior. According to VWO reviews, this service allows you to eliminate guesswork from website optimization.

This platform tries to give you an insight into what needs to be improved on your website. VWO features include:
A/B testing,
Multivariant testing,
Visual editor,
Heatmaps.
Everything seems fine about VWO until you decide to buy their service. Their prices are nowhere to be found. The platform is focused on enterprise plans. So, you have to call their sales team to know how much it will cost. And according to VWO reviews, it's not the most affordable service in the marketplace.
Usability Testing vs A/B Testing FAQs
Now that we discussed everything about this debate, it's time to answer some of the frequently asked questions regarding this matter.
Q1. When You Shouldn't Use A/B Testing?
If you run A/B testing when your website doesn't have high traffic, the results aren't very accurate. This method of testing requires a large number of visitors. Therefore, when your website isn't big enough, you are just wasting your time and resources.
Q2. What Is the Purpose of A Usability Test?
It's a research method that allows you to track how customers interact with your service. So you can understand which parts need to be improved. Therefore, we can conclude that the main purpose of usability testing is to improve user experience.
Q3. What Is the Difference Between Preference Testing and A/B Testing?
During a preference test, you are asking the users what is their preference. Users are usually shown two variables and asked directly which one seems more interesting. On the other hand, during an A/B test, half of the users see design a, and the other half see design b. And the winner will be measured based on which design has created more engagement.
Q4. User Testing VS Usability Testing: What Is the Difference?
Although the terms might be used interchangeably, there are some differences between them. User testing studies whether customers are seeking your product. While usability testing measures how easily customers can use the product.
Conclusion
In the end, whether you decide to choose usability testing or A/B testing solely depends on the question you have. Do you need the answer to how much? Conduct A/b testing. Do you need the answer to why? Conduct usability testing.
With usability testing, you're monitoring user behavior, but with A/B testing, you're just testing your own assumptions. So it might not be very accurate compared to usability testing. Keep in mind that combining them will do the trick!
Start your usability testing with WatchThemLives session replays now. Sign up for FREE and see their affordable plans.
Good luck!