If you have been looking for a tool to improve your customer experience, you might come across a big name like Optimizely. Therefore you might get confused about whether these analytic tools are worth your investment.
Being in an eCommerce market means you must be equipped with the best CRO tools and services to keep your sales high and satisfy your customers. That's why you might think going for the most famous options is a good idea.
Therefore, in this article, we'll discuss everything about Optimizely and conclude whether you should purchase it or go for better alternatives. Yes! There is another powerful service with extra features and better pricing.
WatchThemLive is an all-in-one website visitor tracking and behavior analytic tool that provides you with everything you need to optimize your customer experience. You can sign up for free and try it for yourself.
What Is Optimizely
As the name implies, Optimizely is an online platform aiming to improve websites' performance, mostly through A/B testing and personalization.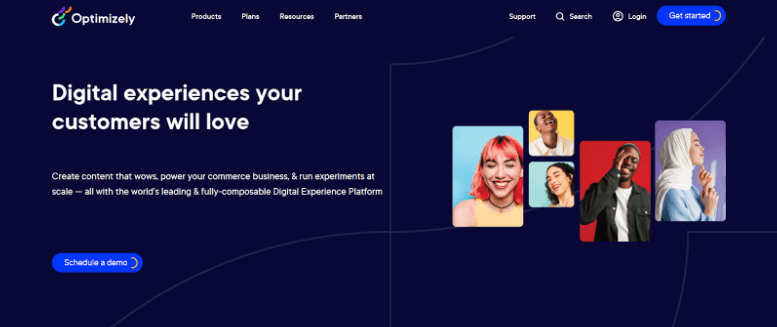 The company was founded in 2010 and was acquired by Episerver in 2020. The merging of the companies was a turning point for both. Optimizely's acquisition by Episerver replaced guesswork with evidence-based information in digital marketing.
Less than a year after, Episerver announced that they are rebranding 'Episerver Optimizely.' Then, they decided to drop 'Episerver' and call it just 'Optimizely.'
It's worth mentioning that till 2014, the company had a free plan along with two additional Silver and Gold plans to meet the customers' needs. But today, it's not free by any means. In fact, if you want to know about Optimizely pricing, you have no other way but to call their sales team. Or keep reading this article!
We will return to Optimizely plans and prices very soon. But, Let's talk about its features first.
Optimizely Features
Even though this platform is a website optimization service, it's too incomplete to get the job done single-handedly. Don't get me wrong! They are probably good at what they offer. But the point is you need more than that to reach your goal.
Anyways, let's take a look at Optimizely features:
A/B testing,
Website personalization.
Optimizely A/B Testing Feature
The company owners introduce Optimizely as one of the best usability testing tools in the marketplace. In fact, they started this platform as an A/B testing tool. And, bit by bit, they evolved it.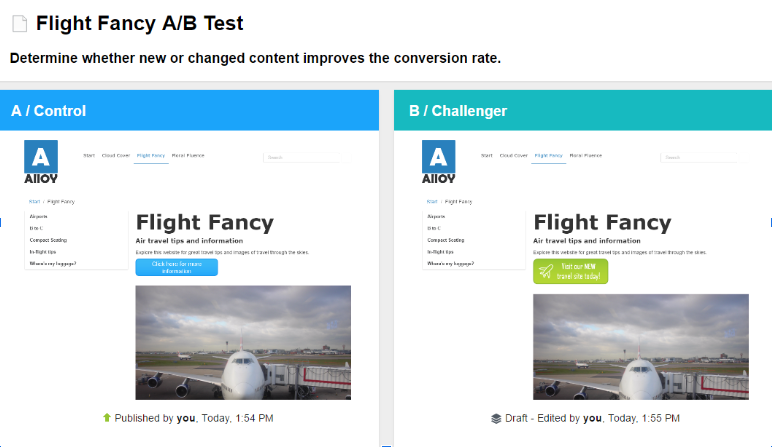 As you probably know, A/B testing is a method of comparing two versions of the same variable to each other. The point of A B testing is to find out which version is more successful to reach your conversion goal.
Fortunately, Optimizely has already predefined some conversion goals for you to use while performing a test. However, if you want to set customized conversion goals, you need to contact Optimizely developers to set them for you.
Besides, the company promises these data are useful to improve your websites and apps, which nobody is opposed to. But the problem is that if you don't have a team full of experts, the data will be too confusing for you.
That's exactly what this user disliked about Optimizely's A B testing.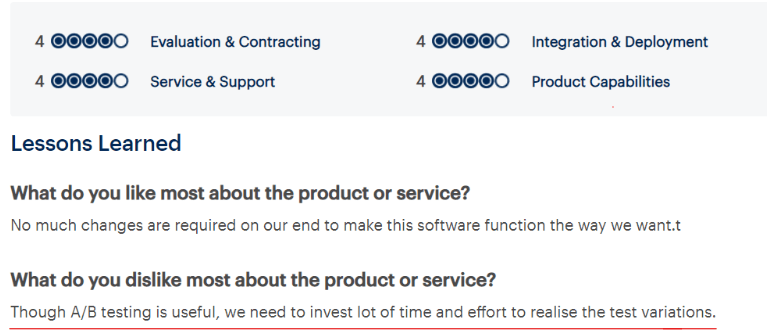 However, it seems like they are not the only ones. A lot of people complained about the amount of time and effort they have to spend to get Optimizely running.

If you are a non-technician person planning to buy Optimizely, please consider you might be overwhelmed by its sophisticated features. You need to have some knowledge of programming language to use this service.

By now, it should be clear to you that A/B testing is a useful feature. But, Optimizely A/B testing feature is overqualified for small and medium-sized businesses.
Optimizely Website Personalization
Website optimization tools allow you to optimize your website according to customer behavior. Such a feature is available in Optimizely. However, their feature works differently from other personalization tools. Let us explain to you how.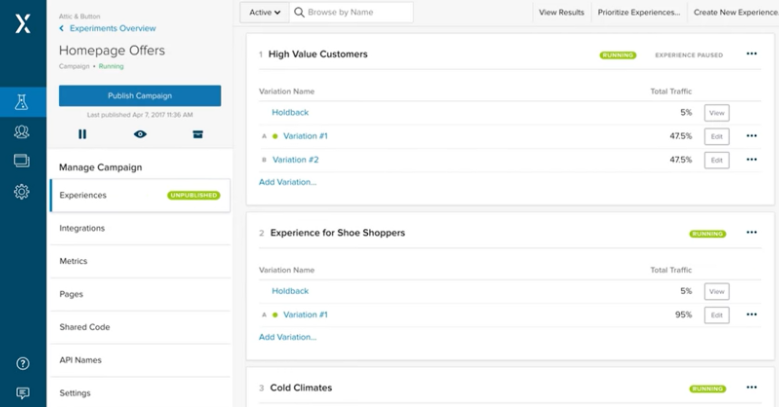 They claim that Optimizely Website Personalization feature investigates what pages your customers visit on your website. Then, it changes your home screen accordingly. This feature can be useful in creating a personalized experience for your customers.
To clarify, imagine you are searching for a warm jacket on an eCommerce website. Then, the personalization system identifies you as a customer looking for a dress. Consequently, the system modifies the website according to what you're looking for. Therefore, more winter dresses will be presented to you on the website.
However, we discovered something shady about this feature while examining Optimizely reviews. Because the number of people who used this feature was very low, very few people talked about it. But why was this feature so underused?
We realized that you need a large database to execute this feature. Besides, if your website doesn't have high traffic, the feature won't result in a noticeable improvement in customer satisfaction and conversion rates. In addition, you need professional developers to execute this feature.
So, website personalization is not suited for many companies. In fact, it just adds an extra fee to your bill.
Now that you have learned about the features of this service, it's time to talk about Its price and plans.
Optimizely Pricing and Plans
It's impossible to find out about their prices through their website. Therefore, you have to call their sales team if you want to know about Optimizely pricing. But why are they so secretive about their prices?

Well, it might be because the service costs too much that people won't pay for it unless they talk to a salesperson.
Optimizely creates custom packages for its enterprise customers. They design the service according to customers' needs. Therefore, requesting more features drives the price up. And these features are suitable only for websites with very high traffic to be economically justified.
Anyway, we are going to tell you about Oprimizely's most reasonable package. So, you won't be shocked if you call them.
How Much Does Optimizely Cost
According to Capterra, the platform will charge you at least $50,000 annually for its basic plan. And can go as high as $300,000 a year, based on your desired features. Besides, there is no monthly plan available.
Optimizely is focused on companies that can pay hefty prices. If you want to add anything to your plan, you should pay for it upfront.
In fact, the high price of the platform is mentioned in most Optimizely reviews.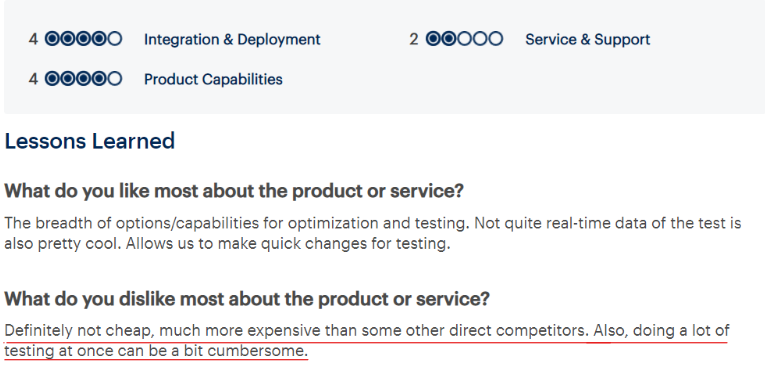 Here, another user complained about how much they have increased their prices over the years.

So if you are planning to purchase Optimizely, you should ensure it's suited for your brand.
But how can you be sure if it's the best option for your brand? We are going to help you make up your mind. Shall we continue?
Is Optimizely Worth it
There is no short answer to this question. Optimizely is more suited for companies that are already advanced and want to improve themselves more. So, if your company is not as big as Dolby or eBay, you must consider a few things before going for Optimizely.
You should look into what your needs are. Do you need a tool to perform A/B testing on your website? If that's the case for you, first consider how big your testing project is.
Optimizely's sample size calculator is only good when you have an advanced testing program. But if you are not going for bulk action during the year, we do not recommend this service. Why?
Because it's going to be too costly. And its plans' limitations will restrict the results of your tests unless you go for its Enterprise plan. This means you are willing to pay at least $87,000 upfront.
On top of that, you must dedicate a lot of time and effort to designing the testing features. Unless you have a team of IT engineers and developers, you can't get the most out of this service.
Are you looking for a way to improve your website conversion rates?
This service is more like another platform for collecting data rather than analyzing them. Imagine you ran an A/B test and controlled the data with Optimizely sample size calculator. Now what?
You need to hire a business analyst to put the data to use. Otherwise, It's like you have the ingredients but don't know how to cook.
How much is your budget?
As we mentioned earlier, you must pay a lot to use Optimizely services. And that's just the beginning.
Even if you can afford thousands of dollars for this tool, you'll need some experts to use it. This service relies on web development and IT skills. So, if you don't have enough time and energy to do everything yourself, you need to hire a few people to help you.
After that, you need specialists to monitor the data and analyze the results. After all, a tool is as good as the operators using it.
Is your bank account big enough to cover all that?
Before concluding whether Optimizely is worth it, let's examine its pros and cons to give you more insight.
Optimizely Pros
It's a well-known name in the market,
It has an A/B testing feature,
It promises to personalize the user experience for your customers.
Optimizely Cons
The platform is not clear about its prices,
Optimizely is too expensive for most businesses,
It has limited features for CRO,
Requires experts to run the tool,
Needs an academic team to analyze the generated data to get valuable results,
Limited integration with other services, including Shopify and Salesforce,
No chat support for customers,
No phone call support except for the Enterprise plan.
Final Verdict on Optimizely
This service aims to improve and personalize the digital experience based on A/B testing. However, it's very limited in features to finish the job all by itself. In fact, Optimizely provides you with a tool to run an A/B test. But the rest is up to you.
Therefore, you need a team of developers, IT managers, data analysts, and web designers to benefit from the tool properly. And remember, before all of this, you must pay at least $50,000 just to buy Optimizely with the least features.
Besides, this service lacks some of the most important CRO tools, such as heatmaps, session recording, goal tracking, and visual live chat.
But don't worry! Those features along with many other useful features are present in Optimizely alternatives like WatchThemLive. You can Sign Up for free and see for yourself.
According to Optimizely reviews and based on our research, we can safely say that due to its high purchasing and execution cost, Optimizely is not suited for small and medium-sized businesses. And it lacks a lot of vital features to improve customer experience.
Are you disappointed? It's still too soon for that. We have the best alternative to
fill Optimizely's shoes for you. Let's waste no time and get down to business.
WatchThemLive: The Best Alternative for Optimizely
WatchThemLive is an all-in-one CRO tool that boosts your website conversion rates by analyzing users' behavior. Therefore, this service is equipped with multiple useful features that enable you to collect data about customers in a user-friendly environment.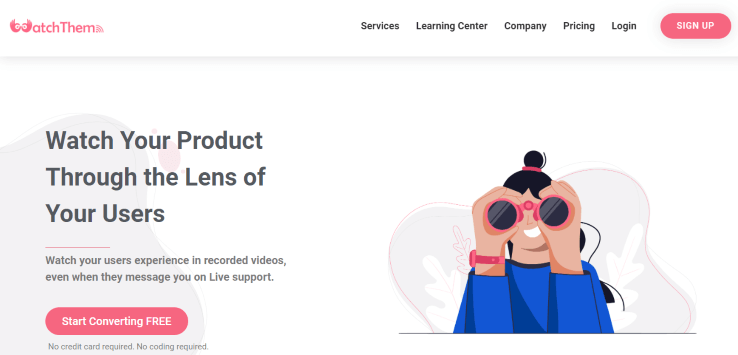 Want to know which design was more popular in your A/B testing? Or how successful your recent advertising campaign was? WatchThemLive's event tracking tool helps you to detect the success of your marketing efforts.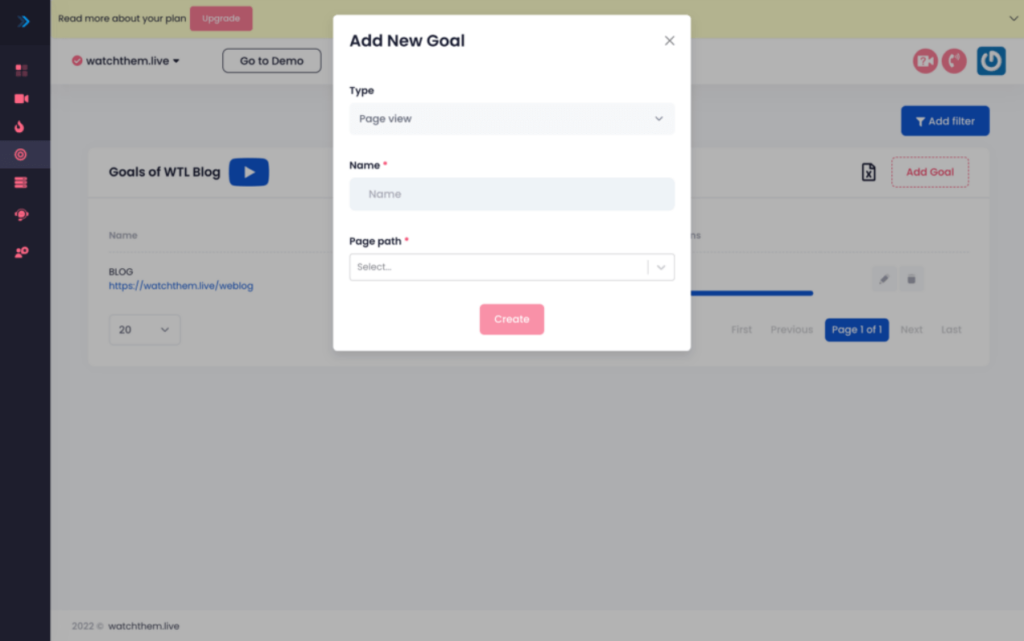 You can set your goal without writing a single line of code in WatchThemLive. The only thing you need to do is to go to WatchThemLive's goal tracking section and set a goal for your web page. Easy right?
WatchThemLive Features
This behavior analytic tool presents all these amazing features in one package:
Conversion & goal tracking,
Analytic dashboard,
Heatmaps,
Session replays,
Console recording,
Page optimization,
User tracking,
Visual live chat,
Video testimonials.
Now, let's take a closer look at this CRO tool's features and decide whether it is worth a shot.
#1 Heatmaps
Want to know which parts of your website are more appealing to your users? Heatmap tools like WatchThemLive allow you to identify which areas of the web page got more attention.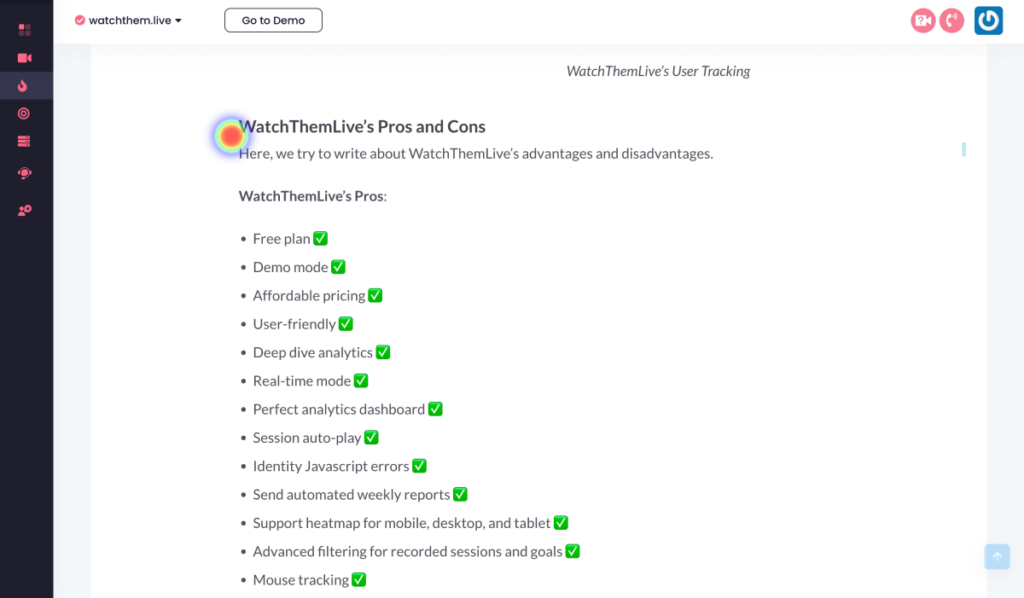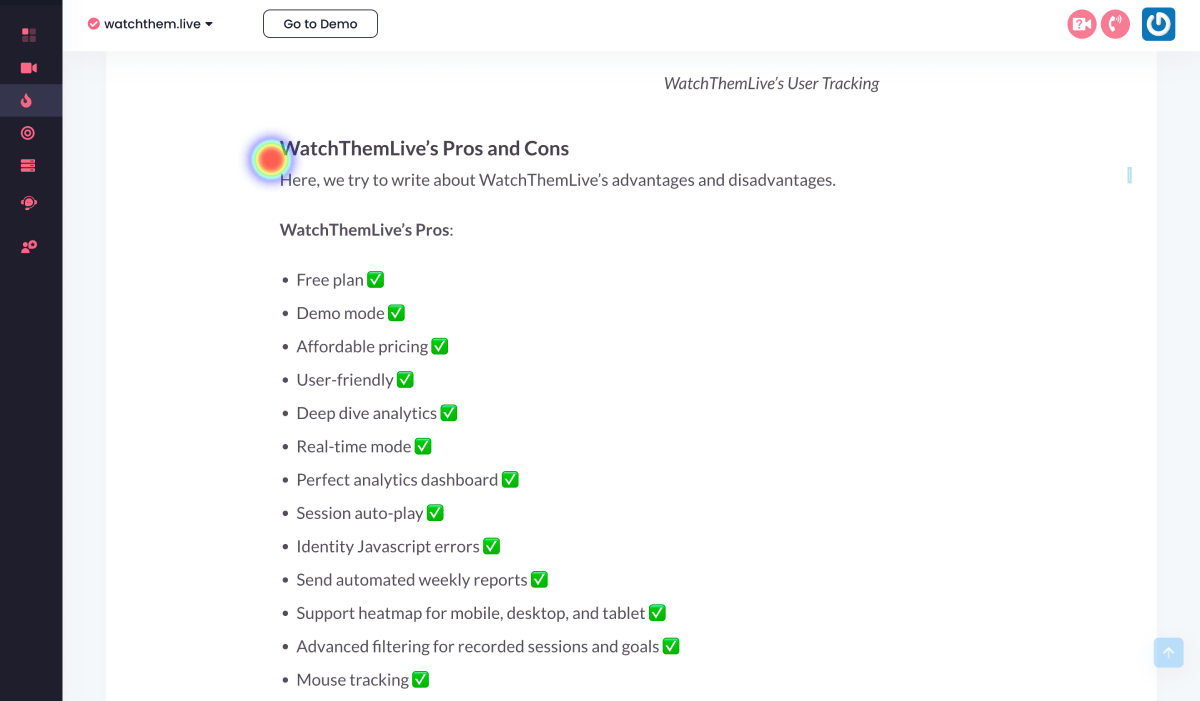 But why is this so important? With this information, you can identify which areas are more suited for CTAs and which areas need to be improved. Also, web developers and UA/UX designers can use this tool to analyze the users' interactions.
#2 Session Recording
WatchThemLive's session recording is a video recording of the users' actions on your website.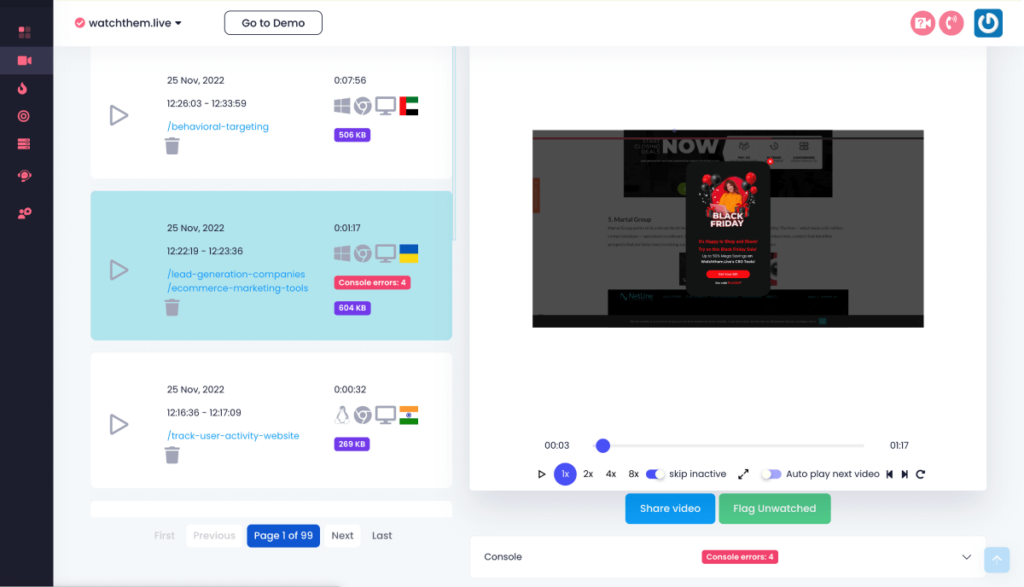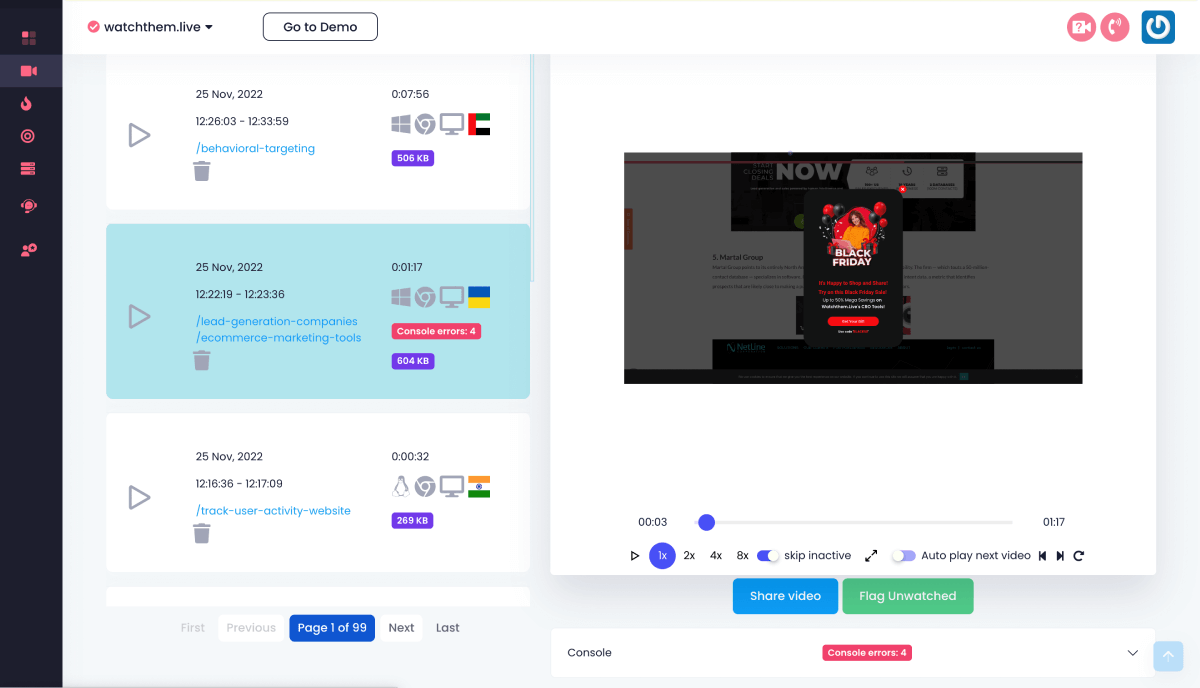 This feature enables you to watch users' journeys through their points of view. Therefore, you can understand their behavioral patterns and improve customer experience.
The best part about session replays of WatchThemLive is that you can categorize the sessions based on their locations, names, emails, screen resolution, devices, etc. This way, you can have a more organized database.
#3 Visual Live Chat
When your customers reach out for help, it gets so frustrating if they can't explain the problem properly. However, with WatchThemLive's visual live chat, that's never going to happen.
This feature pairs your customers' session recordings to your chat box. So whenever the customers send a message, your support team can watch the users' recordings and detect the problem in a few seconds.
With the aid of this unique feature, there is no need for the customer to explain the problem. Because you can directly see what is holding them back.
WatchThemLive Plans and Pricing
Free Plan: ✅
Individual Silver: $29/mo
Individual Gold: $49/mo
Team Silver: $69/mo
Team Gold: $99/mo
Additionally, WatchThemLive has a 4.8 score in Trustpilot and has satisfied hundreds of business owners from all around the world. You can also sign up for free and join the community!
Optimizely Review FAQs
Now, let's answer some of your frequently asked questions about this service.
Q1. Are Episerver and Optimizely the Same?
Yes, they are! Following the acquisition of Optimizely in 2020, Episerver announced that the combined company will be called Optimizely.
Q2. What Is Optimizely Used for?
This service is mostly used for running A/B tests on apps and websites. However, website personalization and content management are the other capabilities of this service.
Q3. How Much Do You Have to Spend on Optimizely?
Unfortunately, the company's pricing is nowhere to be found on its website. However, it's not gonna be less than $50 thousand, according to some websites. If you wish to know how much their services are going to cost, you should call their sales team.
Conclusion
In this article, we discussed everything about Optimizely, including its features, pricing, pros, and cons. Moreover, we pointed out some of the important features this service lacks. And after studying Optimizely reviews, we concluded that this service is too expensive for many companies. Also, it requires a lot of time and skills to be perfectly executed.
In the end, thanks to its many features and better prices, we suggested WatchThemLive as the best alternative for Optimizely. This service has a free trial, so you can test everything before purchasing. You can sign up for free and start your trial right now.