For long-term success, it is essential to optimize your website continuously. One of the best strategies to attract visitors and increase conversions is constantly changing your website as your customers are changing. Therefore, website optimization tools can be a great help in achieving this goal.
Consider it taking your website to the next level. You've already put in the effort to create a website; now it's time to optimize what you've got to stay ahead of the competition and achieve iterative growth. This can be done by multiple methods, such as designing more engaging landing pages, optimizing web pages load time, analyzing your customers' behavior with website visitor tracking tools, etc.
There is lots of room for improvement that website owners, web designers, or web developers can carry out by optimizing their websites. This includes every aspect of the website, such as the site's speed, architecture, and conversion rate. It's practically impossible to achieve this level of optimization without using tools.
One of the best solutions to optimize your website and meet your visitors' needs is WatchThemLive. Sign up for WatchThemLive for FREE and get started.
Now that we have a wider view of the subject let's dive into it for more details.
What Is Website Optimization
The process of improving your user experience (UX), accessibility, and search performance and making modifications to enhance traffic or conversions is known as website optimization. You need to track some website performance metrics to measure all of these aspects.
In addition, there are multiple types of website optimization tools that can be used to improve your website, such as:
Search engine optimization (SEO) tools,
Page performance enhancement.
Note that some of the tools we will discuss fall into more than one of these categories.
Why Is It Important To Use Website Optimization Tools
You already know what website optimization tools are and how they may assist you in improving various aspects of your website's performance. You will gain valuable insights by using them.
Here are some examples of how website optimization tools might help your website:
Increasing your website speed,
Improving your SEO copy's quality,
Optimizing images and your content,
Allowing usability tests to be used to experiment with interface improvements.
Your efforts, however, should not stop here. After you've optimized your website once, you'll need to stay competitive and engage with your audience regularly.
Due to the frequent updates to search ranking algorithms, you will always have competitors who may outrank you based on their keywords or best-performing content. This is why you should keep optimizing your web pages.
13 Best Website Optimization Tools
As a website owner, you must use tools that fulfill your needs and suit your budget. Here we will introduce some of the best tools for small and big businesses so you can choose between them according to your desires.
1. WatchThemLive – The Best Website Optimization Software
WatchThemLive analytics is a multi-purpose tool that can collect vital user data. The page optimization service provided by WatchThemLive is one of the services we focus on here.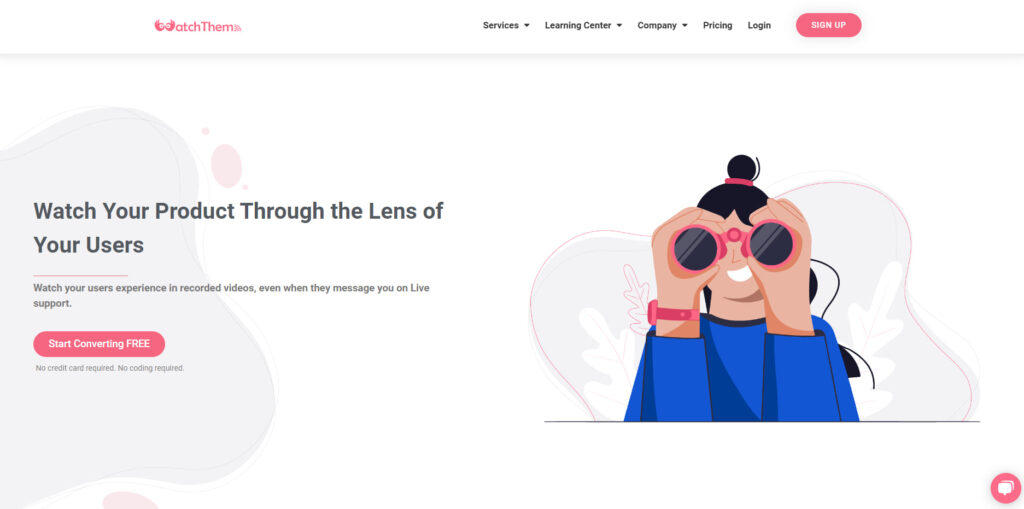 It's not always necessary to drive more traffic to increase sales. You can double or even triple the revenue with the same number of visitors. However, it's necessary to study users' behavior and pinpoint what's holding them back from converting.
WatchThemLive is a user behavior tracking tool that monitors every action users take on your website. This service is the number one tool for optimizing conversion rates. If you want to improve your website conversions, reduce cart abandonment and deliver a better user experience, you need WatchThemLive.
Along with improving conversion rates, you can use WatchThemLive to optimize your website's UX design. Do you wonder how? Keep scrolling to find out.
How Does WatchThemLive Help You with Website Optimization
The first step in website optimization is detecting the problem. You need to know what is wrong with your website so you can resolve the issue. WatchThemLive is perfect for this matter.
Session Recording
This service will give you all the information you need about your users' actions. You'll be able to see what they do while on your website with session recordings and figure out where your website's flaws are. As a result, you can make informed decisions and reduce your user drop-off rate.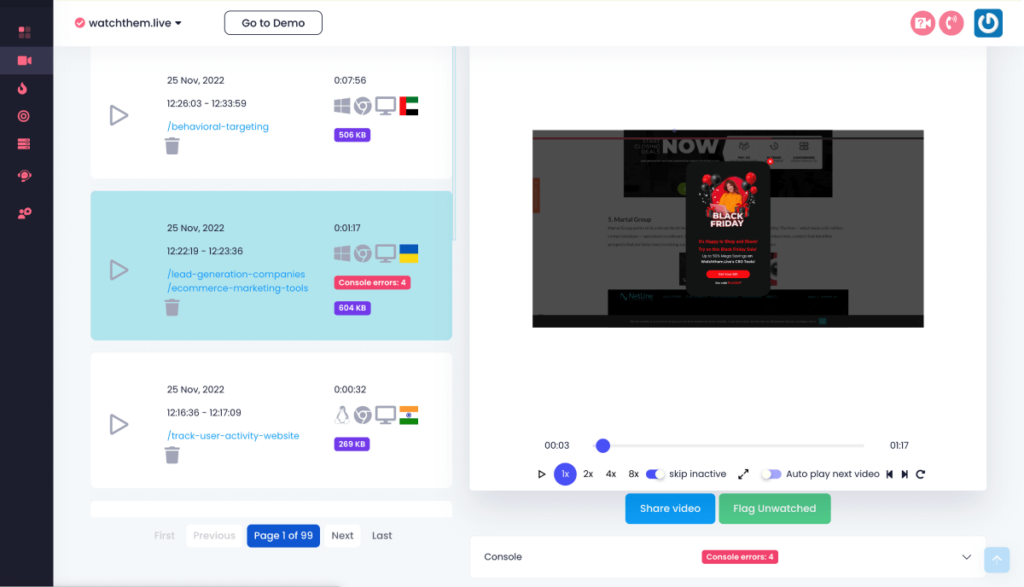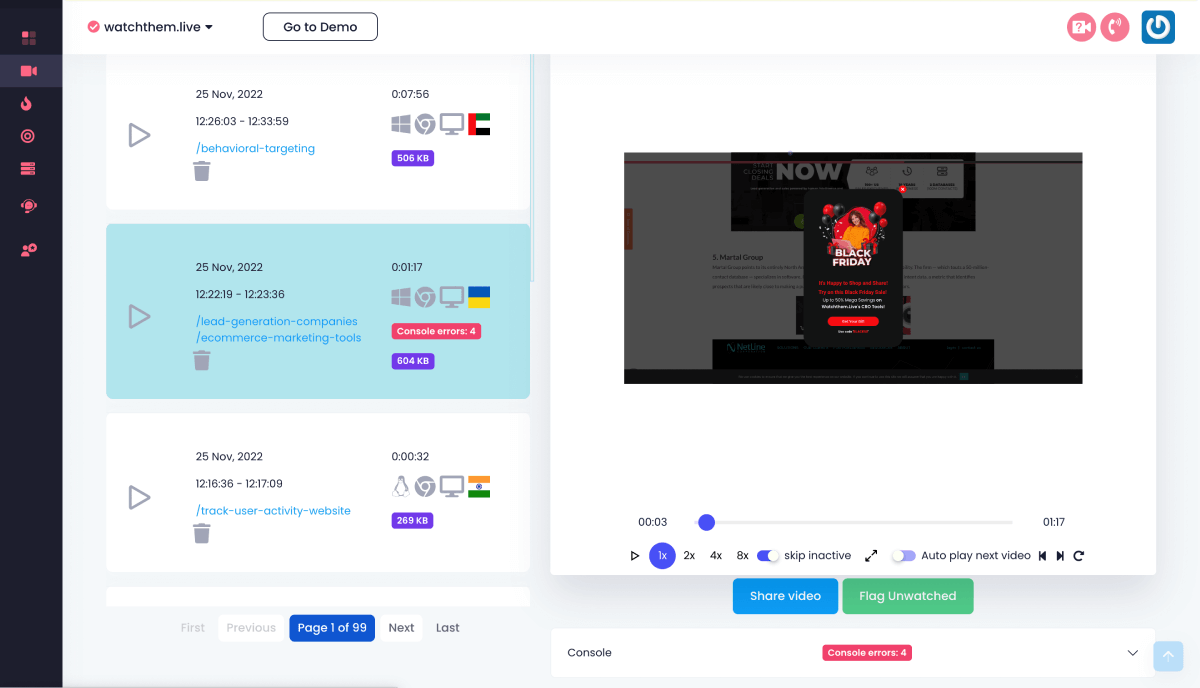 Heatmaps
In addition, WatchThemLive provides you with a powerful heat mapping tool. Heatmaps give you comprehensive data about which areas created more engagement and which areas need to be optimized.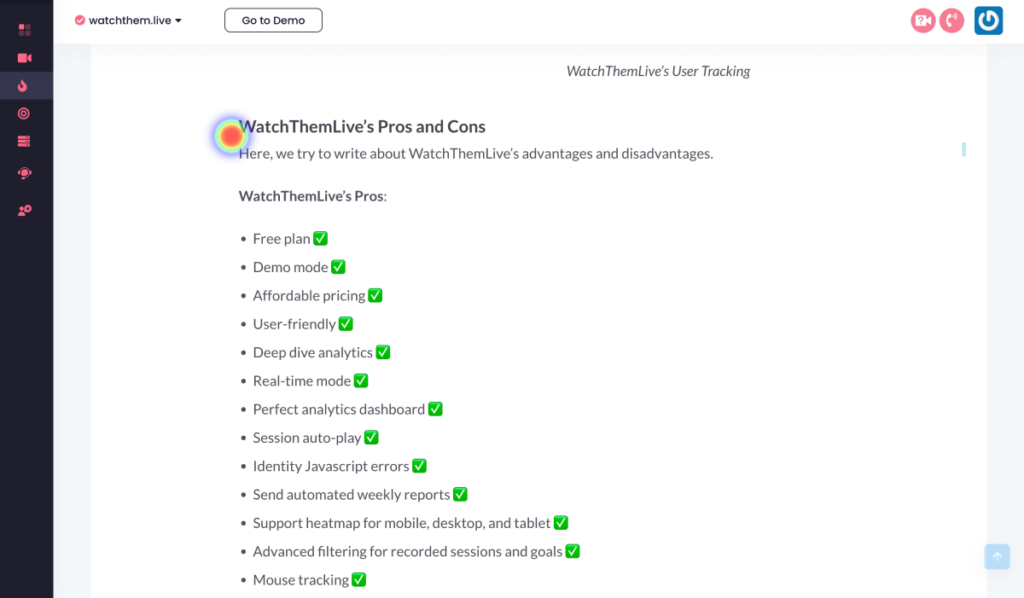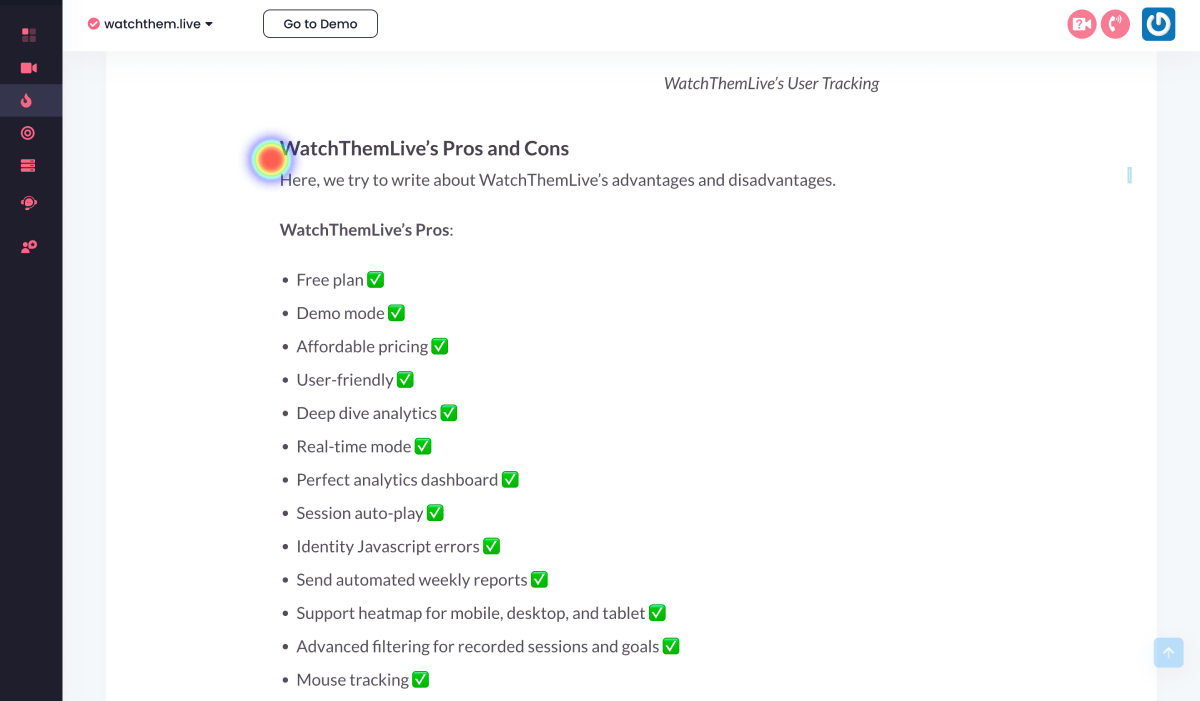 Goal Tracking
After making some changes to your website, tracking how much you have progressed is essential.
WatchThemLive's goal tracking and analytics dashboard determine if the customers have taken the desired actions. This way, you can measure the success of your website optimization strategies.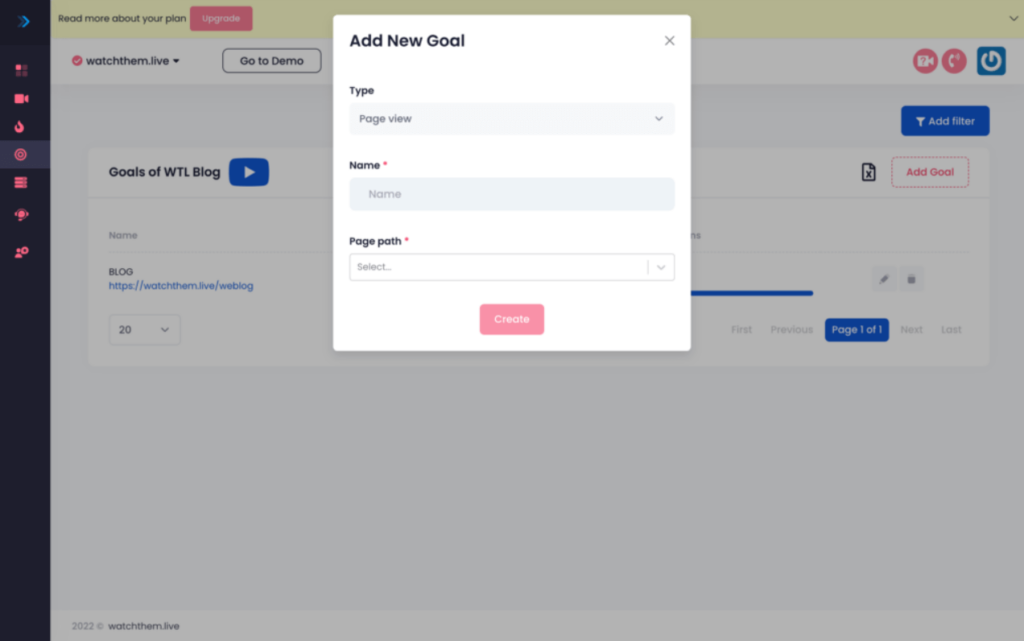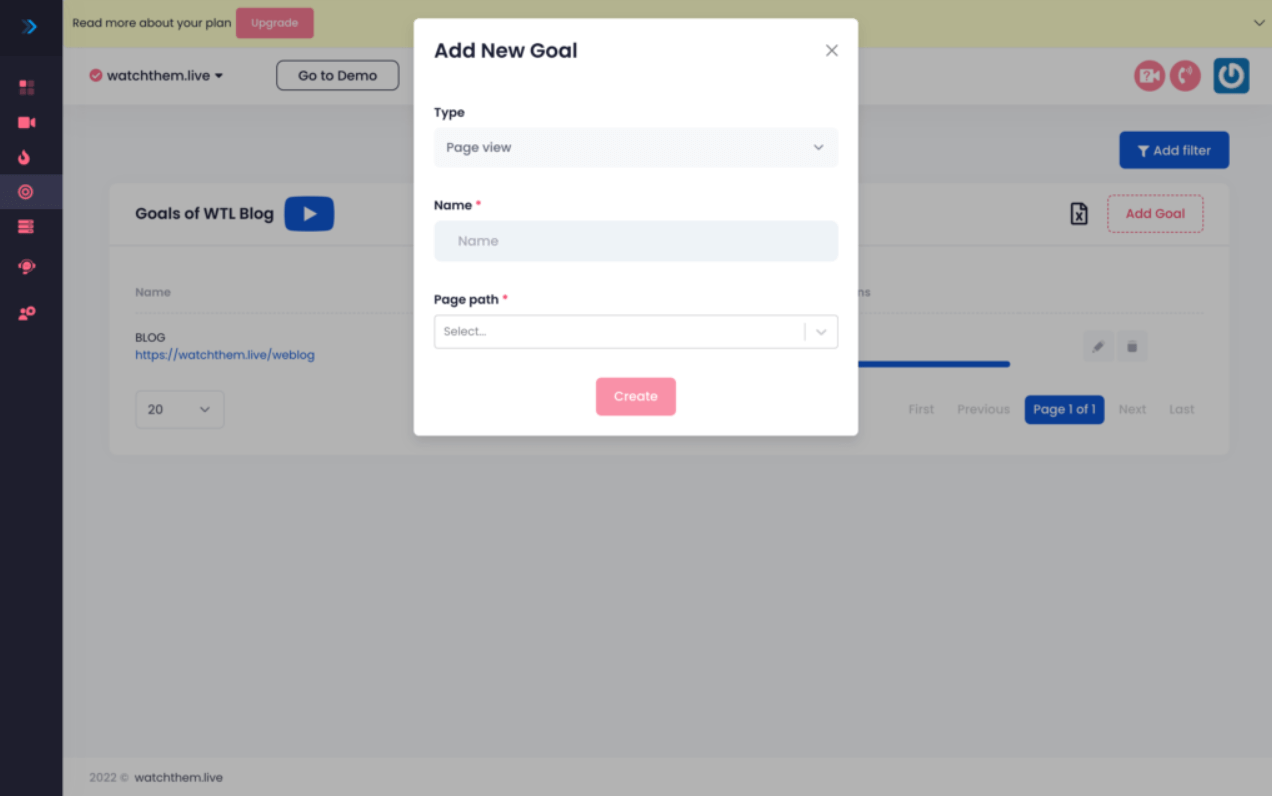 WatchThemLive Features
Here is the list of all WatchThemLive features that you can enjoy for optimizing your website.
Heatmaps,
Session recordings,
Analytics dashboard,
Goal tracking,
Video testimonial (on-site survey),
Visual live chat feature.
WatchThemLive Pros
Goal conversion tracking,
Easy-to-understand insights via its web analytics feature,
Heatmapping tool,
Page optimization features,
Easy-to-navigate interface,
Free plan and demo mode.
WatchThemLive Pricing
Free plan: ✅
Individual Silver: $29/mo,
Individual Gold: $49/mo,
Team Silver: $69/mo,
Team Gold: $99/mo,
You can see all features of paid packages here.
WatchThemLive is the right solution if you need a great service to optimize your website and increase your conversion rate at the lowest price. You can sign up here and make a significant improvement to your website.
2. SE Ranking
The first tool we introduced was a CRO tool. But this one is an SEO platform. Both of these website optimization services are required for a successful eCommerce.
SE Ranking is an excellent all-in-one tool that will help you optimize your website for the best performance. It allows you to research and choose the most suitable keywords for your pages.
After you optimize your website for the keywords you've chosen, SE Ranking allows monitoring of your rankings. You can also get keyword forecast traffic and see the main competitors for those keywords.
Speaking of competition, you can research other websites to find out what you're missing out on and reoptimize your site to deliver the best results.
Many more tools, such as Website Audit, On-page Checker, etc., can help you analyze and optimize your pages to increase organic traffic.
SE Ranking Pros
It's an all-in-one tool,
SE Ranking offers accurate ranking tracking,
There's a multifunctional competitor research,
You can get a detailed website audit,
It provides you with necessary tools for website optimization.
SE Ranking Cons
API is only available with the most expensive plan,
It's only free for 14 days, there's no free plan,
It doesn't provide user behavior analytics tools.
SE Ranking Pricing
You can get a 14-day free trial and choose a plan that suits you.
Essential: $31.20/mo,
Pro: $71/20/mo,
Business: $151.20/mo.
3. SmallBizSEO – A Multiuse Web Page Optimization Tool
As the name suggests, SmallBizSEO is another SEO page optimization tool. And they claim to be one of the good ones.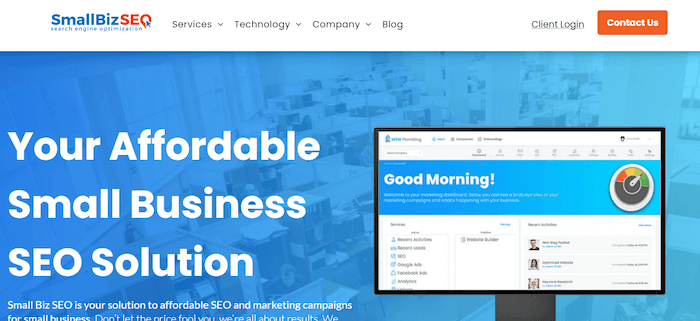 SmallBizSEO is more than just a website optimizer software. It offers a collection of tools that you can use. One of the most common complaints among SEO specialists is that they use too many tools and must export and import data between them. SmallBizSEO completely solves this problem.
You can streamline your marketing activities and optimize your website using every tool you need on one platform.
SmallBizSEO Pros
Keyword rank reporting,
Social media optimization tools,
Drag-and-drop website designer.
SmallBizSEO Cons
They are not clear about their pricing.
There is no customer review about them.
SmallBizSEO Pricing
You have to contact their team for pricing.
4. Screaming Frog – A Web Auditing Website Optimizer Software
Identifying issues related to SEO along with running paid search campaigns is what Screaming Frog does on your website.
Screaming Frog is a website optimization tool with many features despite its odd name. The Screaming Frog SEO Spider is a desktop website auditing tool that can detect broken links, evaluate page titles, extract data, and create XML sitemaps.
Screaming Frog Pros
It integrates with Google Analytics and Google Search Console.
You can easily export the data.
It quickly crawls websites.
Screaming Frog Cons
It constantly updates itself and you have to wait for it to finish before you can use it again,
It doesn't include API,
It has a very complicated UI design,
If you want to work as a team, you have to pay additional $185 per each new user,
It doesn't run in the cloud.
Screaming Frog Pricing
Free plan: ✅
Paid plan costs $185/user/year.
5. VWO – A Testing and Website Optimization Tool
Enough with SEO optimization services. Now, we are going to discuss VWO, a visual website optimizer service that helps you optimize your website through running multiple tests and personalization.

Website optimization tools such as VWO help you collect data for your website optimization strategies. You can experiment with new ideas through A/B, multivariate, and split testing. And track customers' responses through heatmap & session recording.
One of the best methods to optimize your user experience is through improving your website's personalization. VWO Personalize plan equips you with some features like visual and code editor to deliver a personalized user experience.
However, their plans are only affordable for large companies. In fact, there is a lack of transparency in VWO pricing plans, which is very unusual for large companies like them. For their prices, you have to call their sales team. But why? Maybe the price is too much that nobody is going to pay for it unless they talk to a real person?
The only thing we are sure of is that VWO is mostly focused on enterprise customers that are very serious about their business. Therefore, they are too restricted about their cancellation policy. Once you have signed up for them, it's very difficult to cancel your plan.
If you want to make sure whether VWO is a suitable website optimization software for your business, check this comprehensive VWO review.
VWO Pros
Data analytics features like heatmaps and session replays,
Personalization features,
Easy to set up.
VWO Cons
Showing different results for the same tests compared to Google Analytics,
Lack of mobile preview option,
Consusing pricing plans,
Lack of transparency with their pricing,
No free plan.
VWO Pricing
14 days free trial,
You have to contact them for pricing.
6. GTmetrix – A Speed Tester Web Page Optimization Software
Optimizing a website isn't just about CRO or SEO. A big share of it is related to website performance and load time.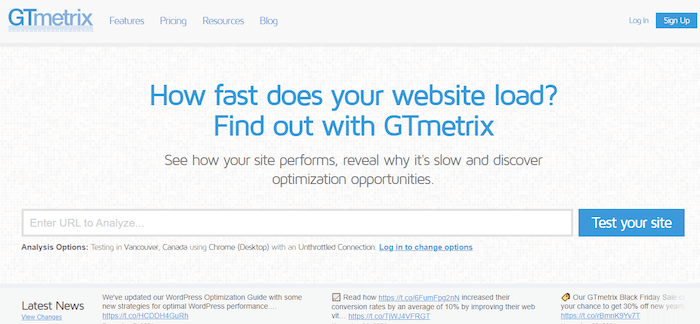 GTmetrix is web page optimization software that shows you how well your site operates, why it's slow, and where you can improve it. You can test your pages by considering a variety of factors, including what regions your customers are from, their browsers, and also connection speeds.
GTmetrix reports break down your page's performance. Lighthouse metrics, audits, and numerous analysis options are all included in their reports. This can help you a lot in your decision-making.
GTmetrix Pros
Speed test results are very detailed.
It has a detailed analysis report.
GTmetrix Cons
With the free plan, you can only test the desktop version of Chrome, and if you want to see reports for other devices, you have to buy the paid plan.
GTmetrix Pricing
This platform has two types of plans, individual and team, with three different types each.
Individual:
Free plan,
Solo: $10.67/mo,
Starter: $$21.25/mo,
Growth: $42.50/mo.
Team:
Champion: $63.75/mo,
Team: $170/mo,
Enterprise: $450/mo,
Custom: depending on the features you desire.
7. Ahrefs – One of the Best SEO Website Optimization Services
If you have been in the digital marketing business or read some articles about SEO and web optimization, you have probably heard about Ahrefs.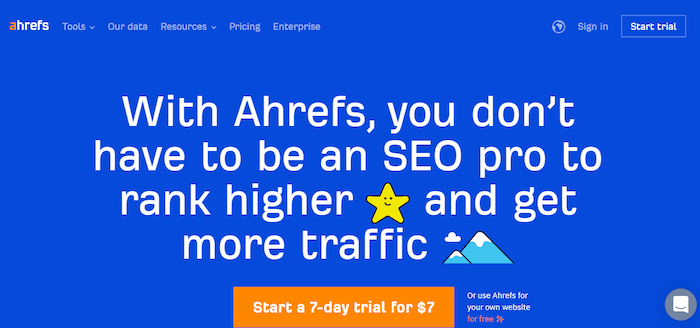 Ahrefs is a site optimization tool that provides fantastic on-page tools. Even if your website runs JavaScript, their site audit will go over your website for over 100 of the most frequent SEO mistakes and present a list of fixes that you can implement.
While it may not be as powerful as dedicated on-page tools, they have many users that use its tools for optimization, making it an obvious choice for simple and rapid optimization.
Ahrefs Pros
Unlike most other tools that only perform keyword research for Google, Ahrefs allows you to do this for several search engines such as YouTube, Amazon, Bing, etc.
It provides almost all the tools you need for SEO, such as backlink analysis, site auditing, and keyword research.
You can find broken internal and external links.
Ahrefs Cons
It doesn't support mobile devices.
It has a smaller link index compared to its competitors.
Ahrefs Pricing
Free trial: ✅
Lite: $99/mo,
Standard: $199/mo,
Advanced: $399/mo,
Enterprise: $999/mo.
8. Pingdom – A Website Performance Optimization Platform
The ideal time for a website load time is 3 seconds, or 2 seconds if you have an eCommerce site. Anything longer results in users leaving your site even before visiting your landing page. Therefore, you should pay extra attention to your website performance.
Pingdom is a SaaS-based website speed optimization tool that monitors website performance to deliver a better digital experience. With Pingdom, you can view your website's performance and evaluate visitors' experience in real-time.
In addition, Pingdom's page speed monitoring let's you know when and why your website is slow so you can fix the problem as soon as possible.
Although Pingdom is an advanced speed test software, its capabilities are limited to website speed optimization. It can't help you with conversion rates optimization, UX design, or SEO. for more information about Pingdom, you can check this Pingdom speed test review.
Pingdom Pros
Real user and synthetic monitoring,
Transaction monitoring,
End-user experience monitoring for performance troubleshooting.
Pingdom Cons
Pingdom Pricing
Pingdom has a tiered pricing structure. You can subscribe for either synthetic monitoring or real user monitoring or both of them. The pricing for each plan starts at $11/month. However, their starting plan is too limited for any business.
9. Moz – An On-Page Site Optimization Tool
Moz is another on-page optimization tool you can enjoy to spread your website all over the internet.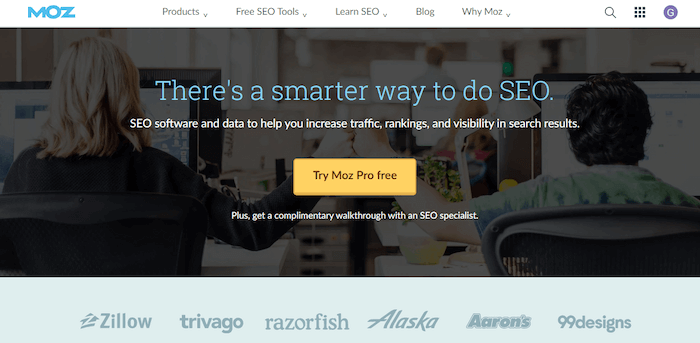 Moz, undoubtedly one of the most well-known names in the digital marketing world, provides a fantastic on-page tool called page optimization.
If you have a Moz Pro subscription, you can use this feature through MozBar, their toolbar, which allows you to analyze pages right away without having to log in and copy the URL. They also provide other tools, such as content analysis, that check your content for SEO mistakes.
Moz Pros
It has excellent site crawling tools,
It supports SERP analysis,
It tracks the crucial website and SEO metrics.
Moz Cons
It doesn't have a mobile app,
Its UI is not as intuitive as competitors'.
Moz Pricing
Free trial: ✅
Standard: $99/mo,
Medium: $179/mo,
Large: $299/mo
Premium: $599/mo.
10. Google Search Console (GSC) – One of the Free Website Optimization Tools
Measuring the success of your optimization efforts is as important as making them. Therefore, you need a powerful website optimization tracking tool like Google Search Console.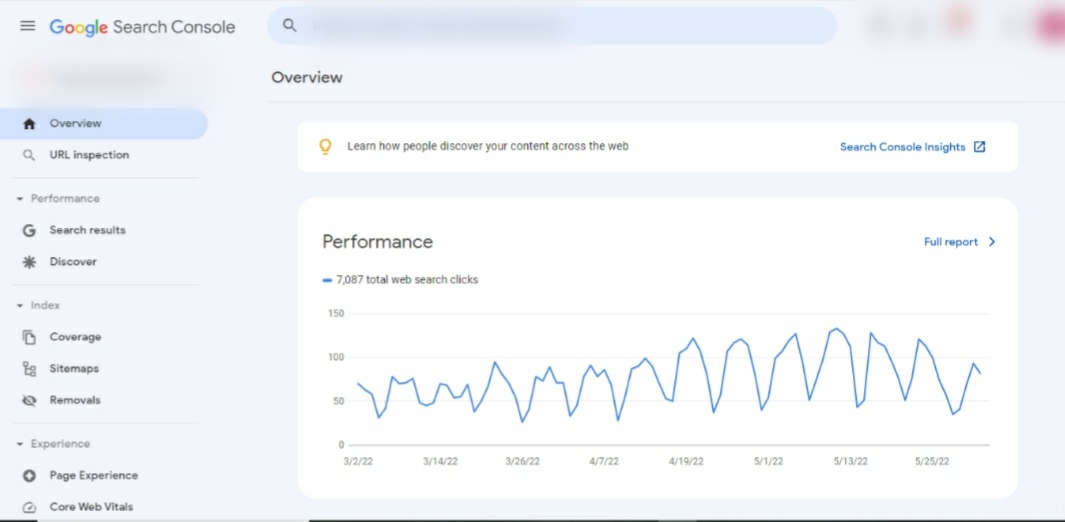 Google Search Console, or GSC, is one of the free website optimization services that allows businesses to analyze their website's performance.
With GSC, you can understand the amount of your traffic, keyword impression, CTR and measure SEO performance. To use GSC, you should simply sign in with your Google account, add your website to the tool and verify site ownership by installing an HTML code.
Google Search Console Pros
Since GSC gathers data directly from Google, the information it gives you is more accurate than other SEO tools.
It easily identifies your website's issues.
It's easy to track your website's links and growth using this tool.
Google Search Console Cons
Submitting an HTML sitemap is impossible,
Sometimes the average position report is not accurate.
Google Search Console Pricing
11. Yoast SEO – A WordPress Plugin Website Optimizer Software
Yoast SEO is a handy web optimization tool and WordPress plugin that helps you understand if you cover all the SEO principles while publishing a blog post.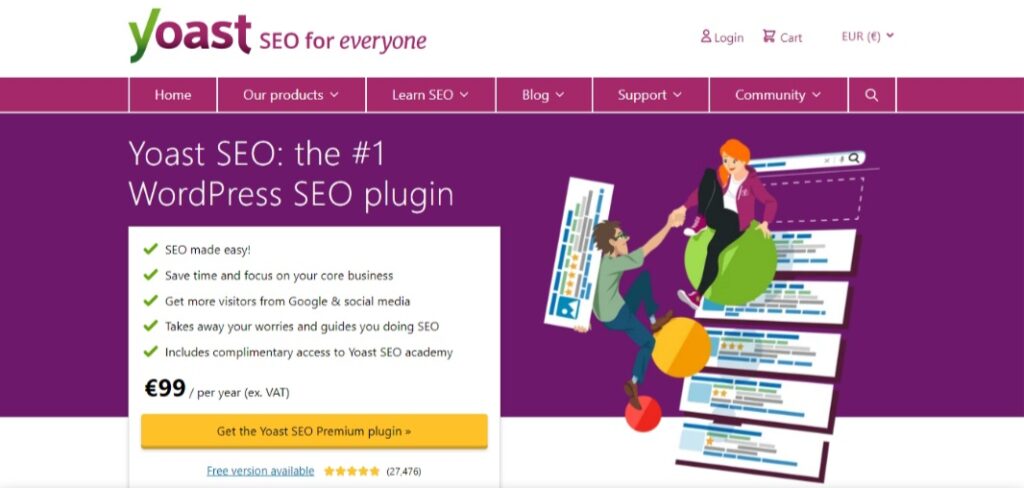 Yoast SEO gives you a readability score that tells you if your article is easy to read or not. It also provides an in-depth analysis of your posts' performance.
For example, it tells you if you're using enough of your main keyword to get ranked on Google. It also checks your article, paragraphs, sentences, meta description length, title width, if you're using internal or external links, and more. To use Yoast SEO, you should install the plugin on your website and activate it.
In addition, Yoast made integration with Shopify. So, you can install the app and optimize the SEO on the Shopify store. However, Yoast SEO is not free for Shopify and costs $19 per month.
Yoast Pros
It is a user-friendly tool,
It has a Shopify integration,
It also works as an SEO proofreader.
Yoast Cons
Yoast doesn't consider search intent. Sometimes it only scores you for the exact keywords and not its variations.
More tutorials are needed.
Yoast Pricing
Free plan: ✅
Yoast SEO for Shopify: $19/mo,
Yoast SEO Premium: $99/mo.
12. Optimizely – Web Optimization Software
Running multiple tests for creating a smooth user journey is one of the common methods of page optimization.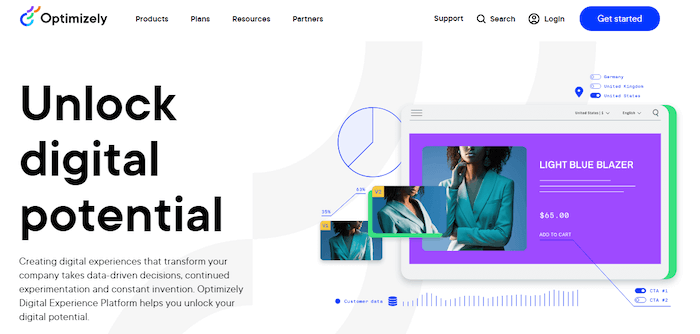 Optimizely claims to be one of the world's most popular digital experience platforms. This service allows you to test different aspects of your pages to improve conversions.
This is a critical component of improving your revenue, and companies like IBM and Salesforce use this platform. You are promised to increase your revenue from the same amount of visitors by raising the conversion rate of your sales pages. They provide various tools for your website optimization, such as A/B testing.
For a complete guide on its features, pricing, and alternatives, read this Optimizely review.
Optimizely Pros
You don't need developers to run tests,
You can run tests within 5 minutes.
Optimizely Cons
They change their pricing constantly.
Redirect tests are hard to set up.
It's unreliable for making changes to a test that's already running.
Optimizely Pricing
You can try their Welcome package for free.
For premium packages, you have to request pricing from their site. But, their starting package is going to be around $50,000 a year.
13. PageSpeed Insights – A Free Website Optimization Tool for Comprehensive Insight
Google PageSpeed Insights gives you the ability to make informed decisions about improving your website's performance. The recommendations provided by the Google PageSpeed test are based on the latest industry best practices for both mobile and desktop web performance.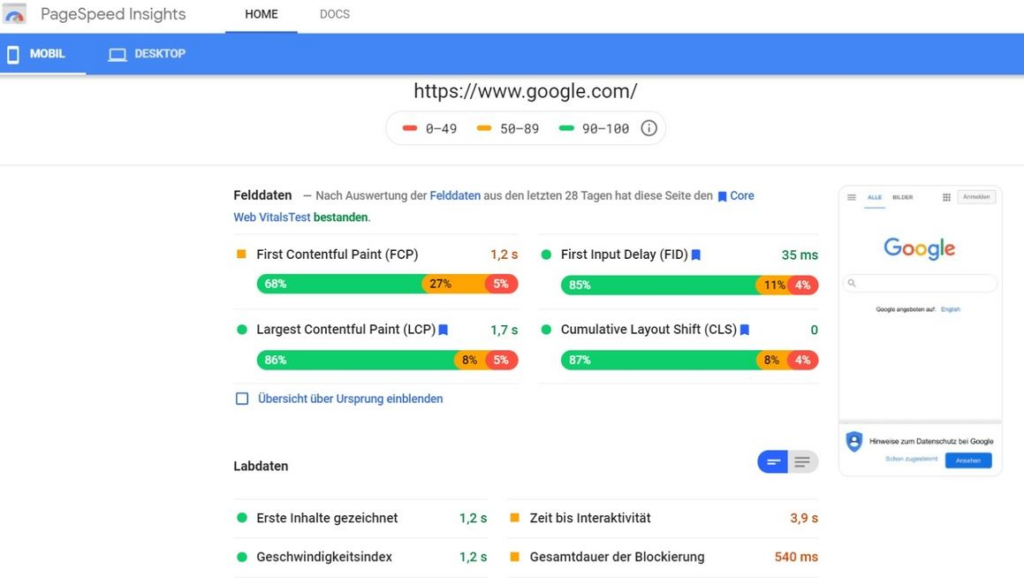 With advanced data visualization, filtering, tagging, and snapshot technology, Google PageSpeed Insights provides a comprehensive solution to help you increase your website's search engine ranking, enhance its performance, and improve users' browsing experience.
PageSpeed Insights Pros
Desktop and mobile analysis,
Providing users with helpful tips to improve performance,
Data visualization features.
PageSpeed Insights Cons
Occasional obscure advice
UI may be overwhelming for non-tchnical users,
PageSpeed Insights Pricing
Google PageSpeed Insight is a free website optimization tool that allows you to make up to 25,000 queries a day.
Different Types of Website Optimization Services
We already introduced you to the top twelve website optimization tools and mentioned how these tools can help you create a better website. Here, we are going to categorize them according to the services they provide. This way, it's easier for you to decide which service is more in line with your needs.
Let's waste no time and get down to business. Shall we?
Conversion Rates Optimization Tools
Boosting conversion rates translates into higher revenue. In other words, you need to turn your website's visitors into potential customers to increase sales. That's exactly why CRO tools exist.
Therefore, we searched every corner of the internet and found the best CRO tools to optimize your website.
Web Page Speed Optimization Platforms
If your website doesn't appear fast enough, your customers will move on to another website for whatever they were looking for. And just like that, you have delivered a bad user experience. In addition, search engines like Google use page load time as a parameter to determine search engine rankings.
All of this shows the importance of speed test tools in website optimization. Here, is the 4 popular website performance tools to help you improve your web page load time:
GTmetrix,
Pingdom Speed Test,
Google PageSpeed Insights,
Sematext.
Looking for more advanced performance testing options? Check out the best Performance Testing Software for websites and mobile apps.
Search Engine Optimization Software
A big part of our list was dedicated to SEO checkers and tools. These tools help you to find a better position in search engine results and consequently find more visitors through:
Keyword research,
Analyzing website content,
Managing backlinks,
Tracking website traffic.
There are hundreds of SEO platforms in the market and all of them claim to be the best. We already mentioned some of them in this article. Here we gathered them all in one place and added some new names.
SEMRush,
Ubersuggest,
Google Analytics,
SE Ranking,
Screaming Frog,
Ahrefs,
Moz,
Google Search Console,
Yoast SEO.
UX Optimization Tools
A great user experience increases the chance of converting leads into customers. So, you should pay a lot of attention to your website's UX design.
There is no general method for optimizing website UX. However, with the right UX optimization tools you'll get a full picture of what's happening on your site. You can run multiple tests and analyze users behaviour. Then, by analyzing the data, you will understand what works better for you.
Popular UX services for website optimization:
Sketch,
Adobe XD,
WatchThemLive,
Optimizely,
Maze.
Website Optimization Tools FAQ
Before finishing this article, let's answer some of your frequently asked questions. Shall we?
Q1. What Tools Help Optimize a Website?
Website optimization is a broad subject. But in a nutshell, every software that tries to optimize page speed, search engine, conversion rates, accessibility, and user experience can help you with site optimization.
Q2. How Important Is SEO on Web Page Optimization?
SEO is the main channel to attract more customers to your website. It makes your website more visible to prospects and generates high-quality organic traffic. Therefore, it's the first stage in website optimization. SEO should be optimized at three levels:
Technical SEO,
On-page SEO,
Off-page SEO.
Q3. How to Optimize Your Website for the Right User Intent?
Generating targeted traffic from interested customers is possible only through considering user intent. For that purpose, you should pay extra attention to on-page SEO and internal & external links.
For keyword optimization and on-page SEO using a web page optimization software such as SE Ranking, Yoast SEO, or Ahrefs, is very helpful.
Q4. How Can I Optimize my Website Speed?
To optimize website speed, compress images, minimize HTTP requests, reduce server response time, use caching, minimize code, enable Gzip compression, and use a Content Delivery Network (CDN). These steps can significantly improve website loading times and enhance the user experience.
Conclusion
As a startup, your responsibility is to ensure your clients have the greatest website experience. You should ensure that any site you design is optimized for SEO, page speed, site architecture, and conversion rates. Here in this article, we went through some of the best websites for this matter. You must consider your needs and choose one of them for the time being.
Any business needs an analytics tool like WatchThemLive to help them understand users' interactions with their website. Sign up and snag your FREE plan now.