If you are a webmaster, you know how the visual representation of your website's data is important. Marketers and webmasters use data visualization to understand numerical data more easily. Furthermore, visualizing data facilitates data analysis; therefore, it takes less time.
In this blog post, we will take a look at the importance and different types of visual representation for analyzing website data. We will also discuss how it can help you to improve your website.
Read on and find out all you need to know about visual representation for optimizing your website.
What Is the Importance of Visual Representation of Data?
Visual representation helps us better understand quantitative data by using visual elements such as charts, graphs, colors, etc. This is because our brains can process visual information more easily.
By visualizing your website's data, you can notice trends and patterns that are hard to recognize using numerical data. It helps you figure out more quickly what changes and improvements you need to make. Graphical representation of data also enables you to design more effective strategies and make better decisions.
Data visualization is especially helpful if you have to deal with a large amount of data, as analyzing it is more time-consuming.
Even if you can successfully gain insights from your data without visualizing it, explaining them to others wouldn't be easy. Using visual representation methods is an excellent way to communicate data analysis more effectively.
What Are the Types of Visual Representation of Data?
There are many types of visual representation, and each can help you differently. Here are some of the most popular data visualization techniques.
1- Line Charts
Line charts are one of the most straightforward types of data visualization. They display changes and trends over time. You can use a line chart to present the number of clicks your call to action has received over the past week.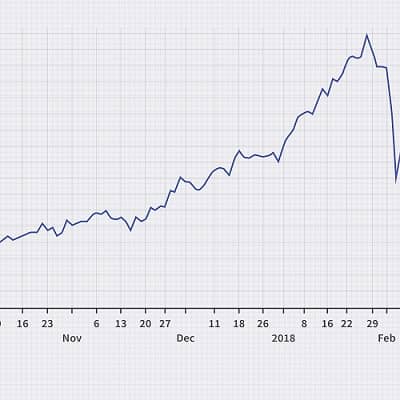 Image credits: apexcharts.com
2- Bar Charts
Bar charts show information over time like line charts. But they are more useful when you want to compare different variables across time. For example, a bar chart can help you compare your shopping cart's abandonment rate on different devices.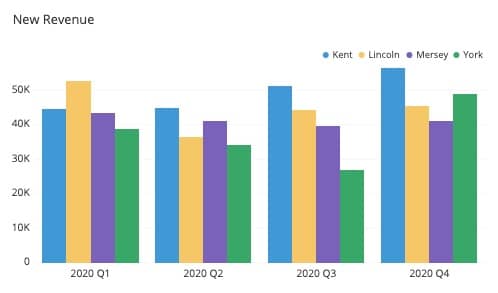 Image credits: chartio.com
3- Heat Maps
Heat maps are one of the most powerful ways of visualizing a website's data. They provide marketers and webmasters with valuable information about user behavior. Moreover, they are simple and easy to understand.
Heat maps visualize data using colors, and they enable you to track users' activity, such as clicks, taps, scrolling, etc., throughout your website.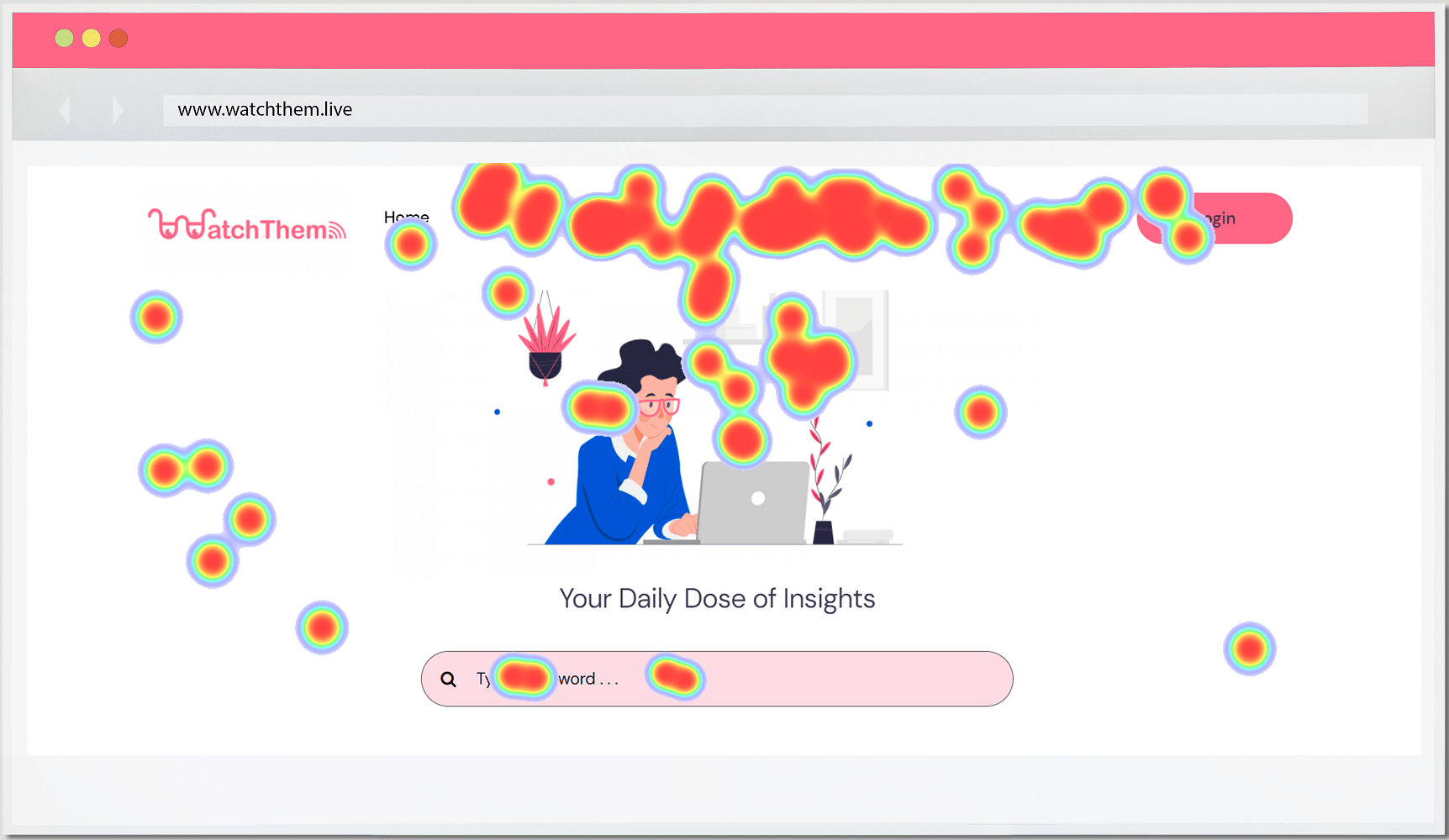 Heat mapping can help you in many ways, such as:
It gives you a comprehensive understanding of your audience.

You can understand your website's issues more quickly.

The information helps you create a better user experience.

It's an excellent tool for usability testing.
Find out more about heatmaps here: Heatmaps: The Complete Guide
Are you looking for data visualization tools to create heat maps for your website? Watch Them Live offers a heat mapping service that provides you with click maps. With the click maps, you can measure the effectiveness of your CTAs, track micro-conversions, eliminate distractions, and so much more.
WTL also offers other useful features like session replays which is another excellent way to track your website's visitors.
Want to try out Watch Them Live heat maps? Check out the plans here and choose the one that best suits your needs.

4- Scatter Plots
Scatter plots present the value of two variables with points. They help you find correlations between the two variables and see how they are distributed. Scatter charts are used to identify trends. They are also very handy when it comes to detecting outliers in your data.
You can use a scatter plot to show the relationship between your website traffic and the week of the day, for example.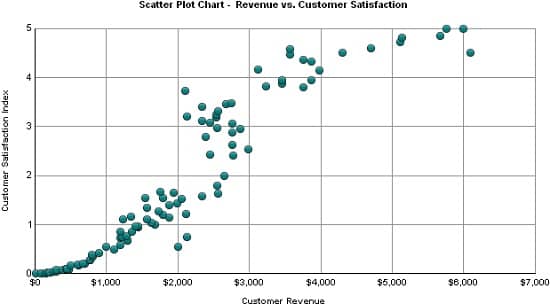 Image credits: www2.microstrategy.com
5- Bubble Charts
Bubble charts are a three-dimension scatter plot in which bubbles are used instead of points. The bubbles have different sizes that present the third variable on the chart. The important thing about bubble charts is that they can display different values in one chart.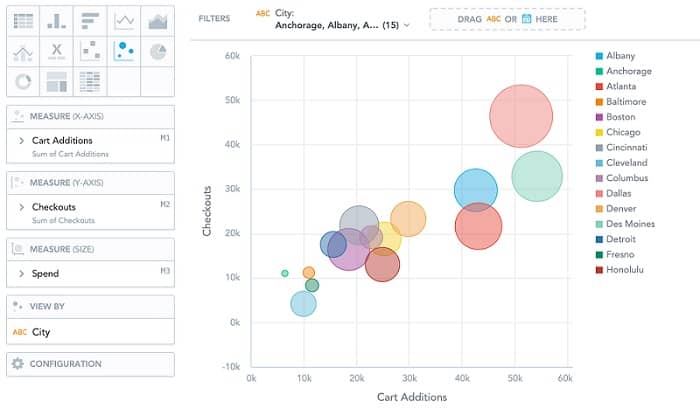 Image credits: gooddata.com
6- Pie Charts
Pie charts are usually used for the visual representation of numerical proportions and percentages. However, this type of data visualization is not suitable for comparing data. You can use a pie chart to demonstrate your website's bounce rate on different devices.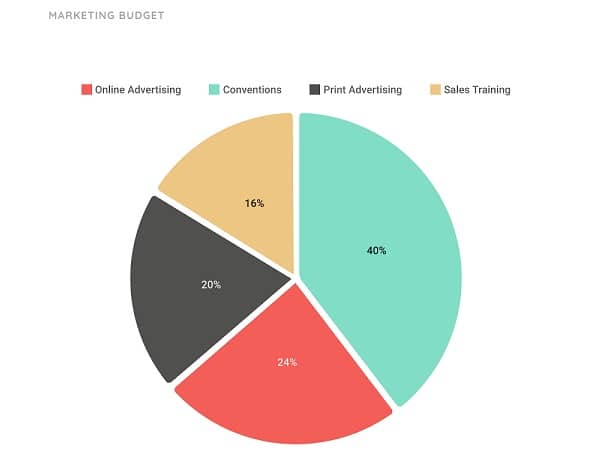 Image credits: moqups.com
7- Funnel Charts
Funnel charts are a visual representation of the steps in a process, usually the sales process. They are a great way to identify problems and barriers and understand how to optimize the sales funnel.
Each stage on the funnel shows a percentage. Generally, the first stage has the highest percentage, and each stage gets smaller than the previous one. So, the funnel chart helps you figure out at which stage a significant reduction of data happens.
Funnels are very easy to understand, and by looking at the shape of the chart, you can quickly understand if the process is working well or not. 
Here are some examples of the data that you can visualize by funnel charts:
Conversions

Marketing campaign effectiveness

Shopping cart performance
Related Article: Funnel Analysis: The Complete Guide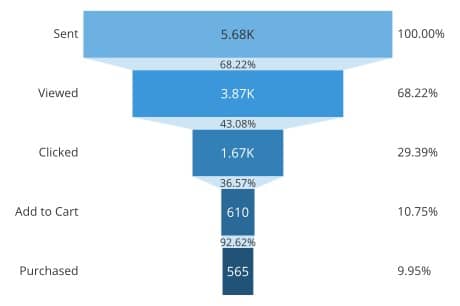 Image credits: chartio.com
Conclusion
Today, visual representation of data is helping many website owners improve their websites. Data visualization makes information much more understandable. Therefore, you need less time to analyze your website's data. You will be able to detect problems more quickly and take action as soon as possible.
There are many methods to visualize your website's data, and we introduced the most important ones in this article. Make sure to use these data visualization techniques to get the most out of your website.