Any marketer knows that to survive in the current competitive atmosphere, they need a smooth conversion funnel and robust digital marketing strategies. The sales funnel, or the conversion funnel, is the most straightforward path that guides the users toward their destination and helps them convert into customers. If you want your users to move from the awareness stage to the purchase stage, you need sales funnel software.
In this article, first, we help you understand what a sales funnel is. Then, we'll introduce the ten best sales funnel tools that will help you be in charge of all of the stages users go through so you can optimize your conversion rates.
One of the best sales funnel software is WatchThemLive. This tool is a behavior analytics software that helps you monitor your users' buyer journeys and improve the sales funnel using session replays. Sign up here and snag your free plan!
What Is A Sales Funnel
Before talking about funnel tracking software, you need to know what a sales funnel or conversion funnel is. A visual representation of the customer's journey from the moment they enter your website until after they finalize their purchase is called a sales funnel. This monitoring process illustrates how visitors first turn into leads and then into customers. And what sales stages they go through during this transition. Here is an example of the steps potential customers go through on an eCommerce website.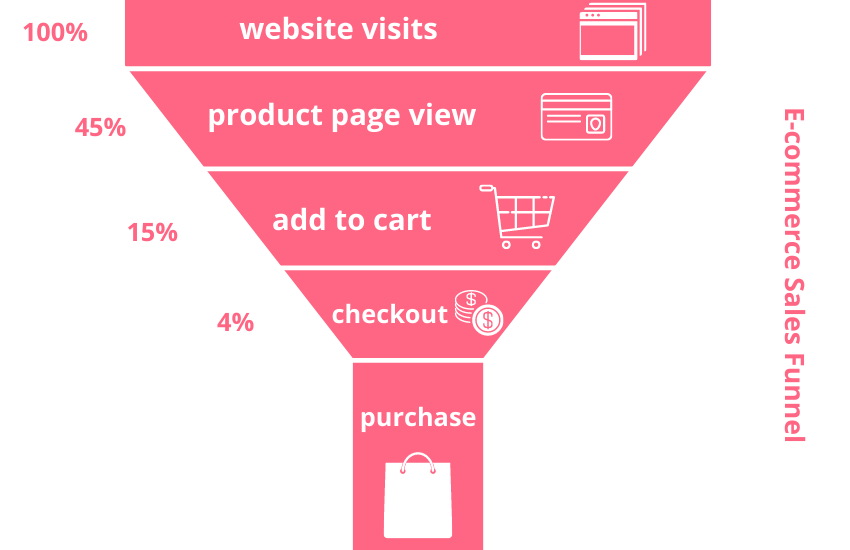 It's very painful when customers enter the marketing funnel but leave without buying. With the right sales funnel, you can prevent customers from dropping out of the funnel during customers' journey. And by tracking website visitors, you can understand why some of them didn't buy from you. Besides, you'll realize at which part of the funnel they gave up on you.
Different Parts of Sales Funnel
In the digital marketing industry, understanding the different stages of the sales funnel enables you to acquire the best marketing tactics and approaches to create a stronger connection with the customers.
Any typical marketing funnel usually consists of three main parts:
Top of Funnel (TOFU)
During this stage, customers become aware of the fact that they need a product or service. Therefore, they are going to search for the material to meet their needs. This stage is also called the awareness stage.
At the top of the funnel, marketers should utilize all the available channels, such as blog posts, social media, webinars, etc., to expose their products and generate leads.
It's necessary for business owners to know how many leads they have generated in this stage of the sales funnel. Therefore with goal tracking, they can measure how successful their marketing approach was.
So, a sales funnel software like WatchThemLive, equipped with a goal-tracking feature, is a lifesaver. Waste no time signing up for WatchThemLive because it's totally FREE!!!
Middle of Funnel (MOFU)
The consideration stage of the buyer's journey or middle of the funnel is when you give the users enough reason to consider you as a serious option.
Every marketing activity that keeps the leads interested in your business is part of the MOFU marketing strategy, including:
Highlighting what makes you a better candidate compared to other competitors,
Creating a direct channel of communication (you can use a live chat app for this purpose)
Email marketing,
Creating comprehensive how-to guides.
The middle of the funnel acts as a lead qualification filter in the marketing sales funnel.
Bottom of Funnel
The conversion or decision-making stage is where the users decide which brand they should buy from. Whether your marketing strategy resulted in a win or loss will be determined here.
If your lowest part of the marketing funnel isn't optimized, you'll lose many high-quality leads. And all your marketing efforts are gone with the wind.
Therefore, creating a successful sales funnel requires careful planning along with utilizing the best sales funnel builder in the marketplace. Offering free plans and discounts can be part of your marketing strategy at BOFU.
What Is A Sales Funnel Software
A digital tool that helps businesses measure the sales funnel metrics and keep an eye on users while they are navigating the website is called sales funnel software.
In other words, Sales funnel software is a term that refers to tools that track, monitor, build and facilitate a business' sales funnel.
These sales funnel tools allow businesses to watch their buyer's journey and gather actionable insight instead of relying on guesswork.
These platforms also facilitate this process by automating or creating assets such as sending follow-up emails or payment getaways.
Marketing Funnel Automation
One of the simplest ways to turn prospects into leads is by creating an automated sales funnel marketing. Does the term sound new to you? Don't worry, it's simpler than you might think.
An automated marketing funnel is a decorated form of a sales funnel. Marketers, with the aid of funnel-building software tools, add automation to the funnel so everything moves smoothly.
An example of an automated marketing funnel would be when someone signs up for your website. The customer might have already researched your product, or they are just curious to learn more about you. In either case, the person is interested in whatever you are offering.
Therefore, you should give them more reason to put one step further towards purchasing from you – leading them from the top of the funnel to the middle of the funnel.
So what should you do? You can use automated sales funnel software to email the users about all the features you'll offer and how to use them as soon as they sign up. Then, you can set the tool to notify them whenever you are having a marketing campaign or offering a discount.
However, marketing automation tools can do much more than sending emails. Integrating automation tools with behavior analytics software help you deliver comprehensive automated responses. But that's the story for another time.
Now, it's time to dive deep into the list of the best sales funnel tools to boost your website's conversion rates. Shall we?
Best Sales Funnel Software
Now that you know how important your sales funnel is, let's see the best paid and free sales funnel software.
1. WatchThemLive: The Best Free Sales Funnel Tool
WatchThemLive is a behavior analytics tool that provides the best features to track and monitor buyers' journeys. Collecting such data is essential for building an effective sales funnel.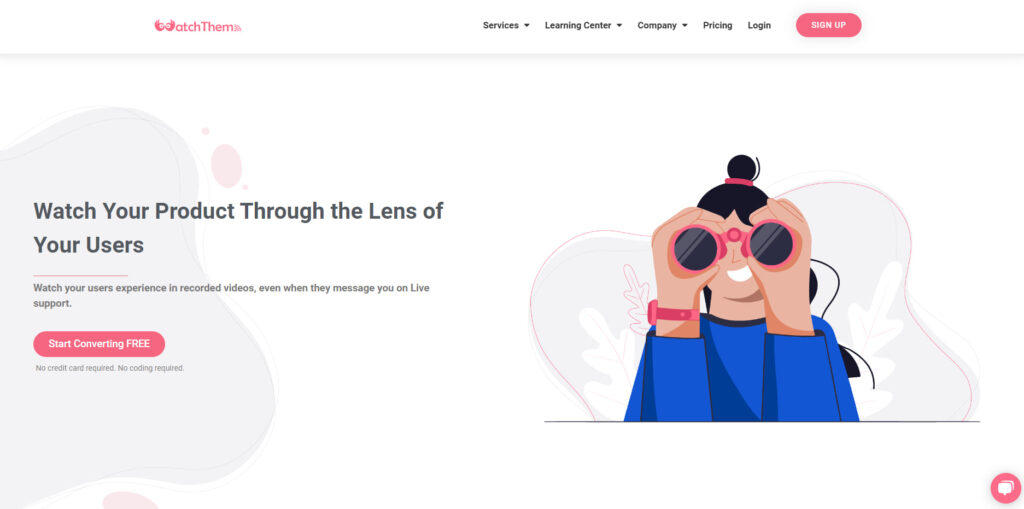 Following users' behavior allows you to identify users' pain points, funnel leaks, favorite types of content, etc. WatchThemLive does this using several features:
Session recording,
Heatmaps,
Visual live chat,
Video testimonial,
Analytic data,
Goal tracking.
All these features are useful in creating a top-notch sales funnel.
Session Replay
Also known as session recording, a session replay software records visitors' interactions with your site like a CCTV.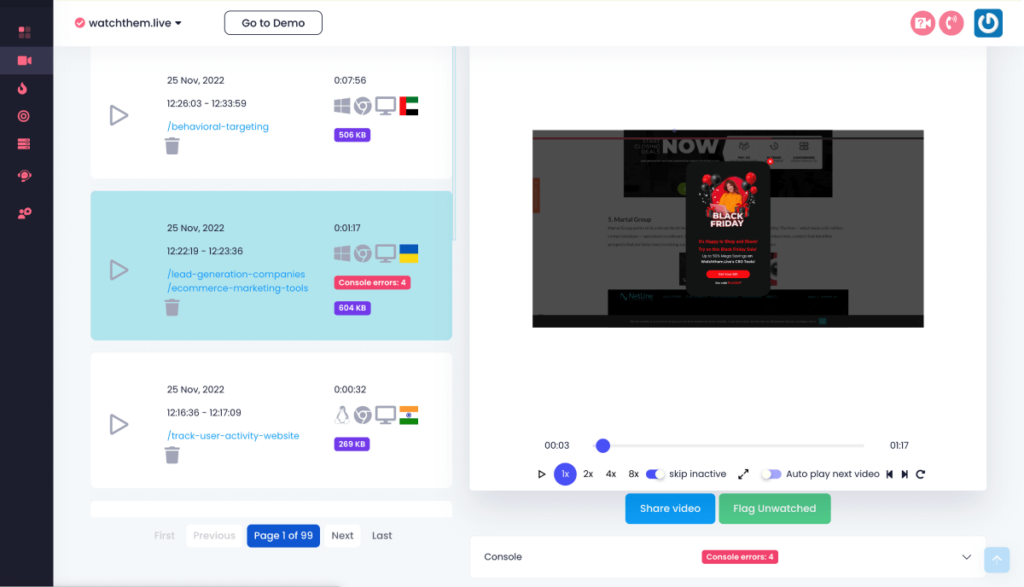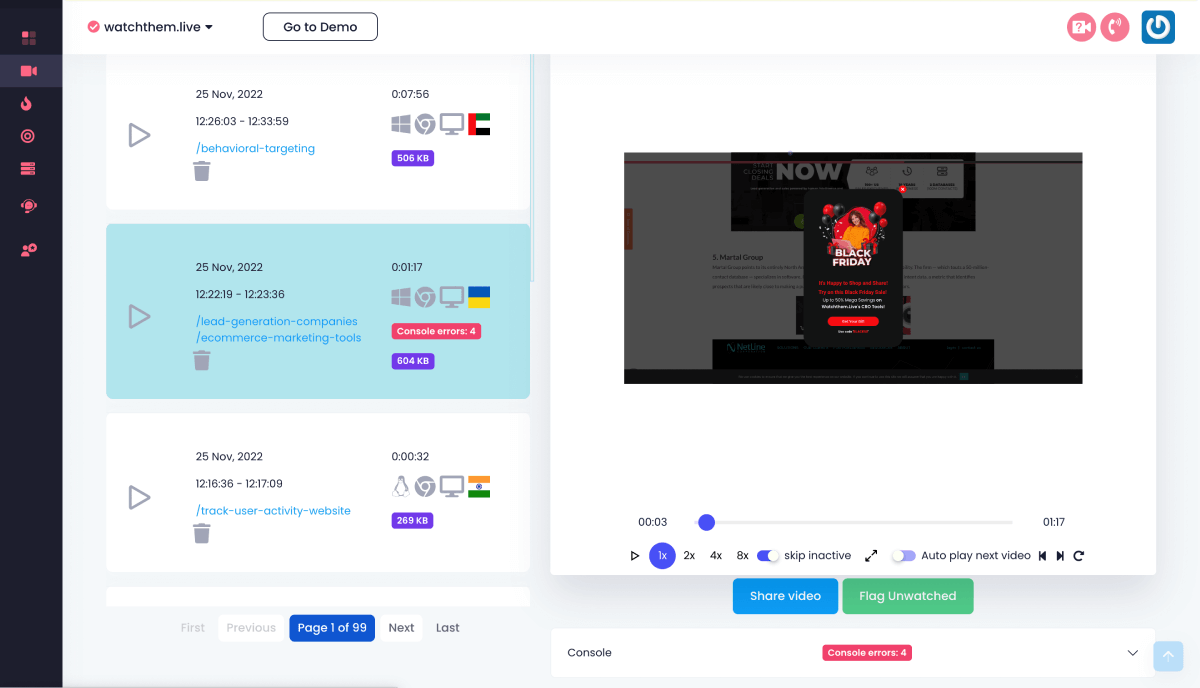 Using this tool, you can understand how users navigate your website and what holds them back from buying your product. This feature is extremely useful in the middle and bottom of the sales funnel.
For example, a visitor comes down to the purchase stage, but leaves after clicking the shipping button. After watching the replay of this user's journey, you might find that your shipping price is too high, your check-out page design is too complicated, or it takes too much time to send the item.
This way, you can find all of the users' pain points and make a smooth, error-free sales funnel.
Watch this video to learn how they work:
Heatmap
Visualized data is always easier to analyze compared to numeric ones. Therefore, WatchThemlive offers heatmaps for visual representations of data.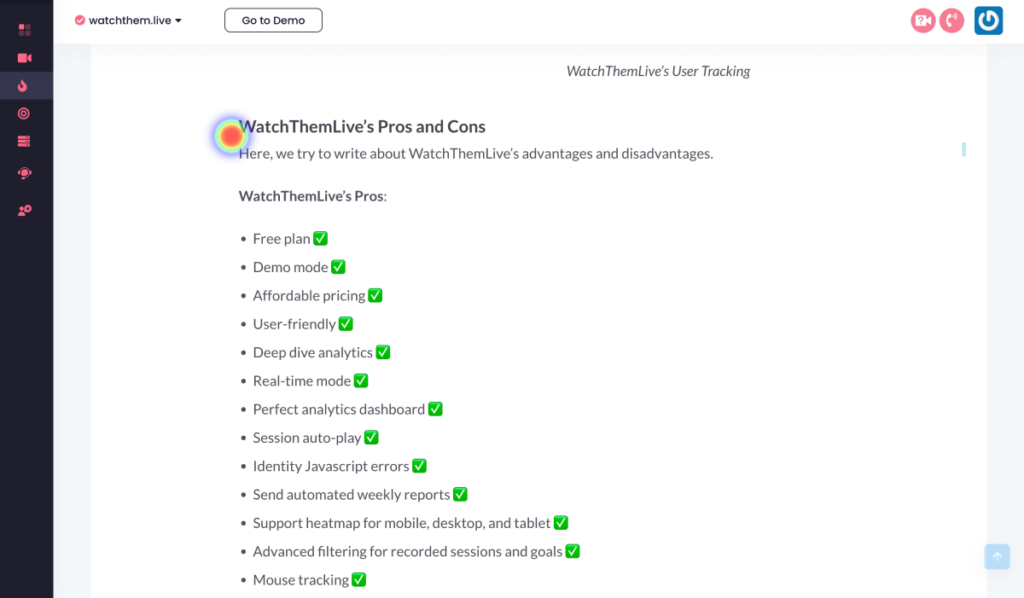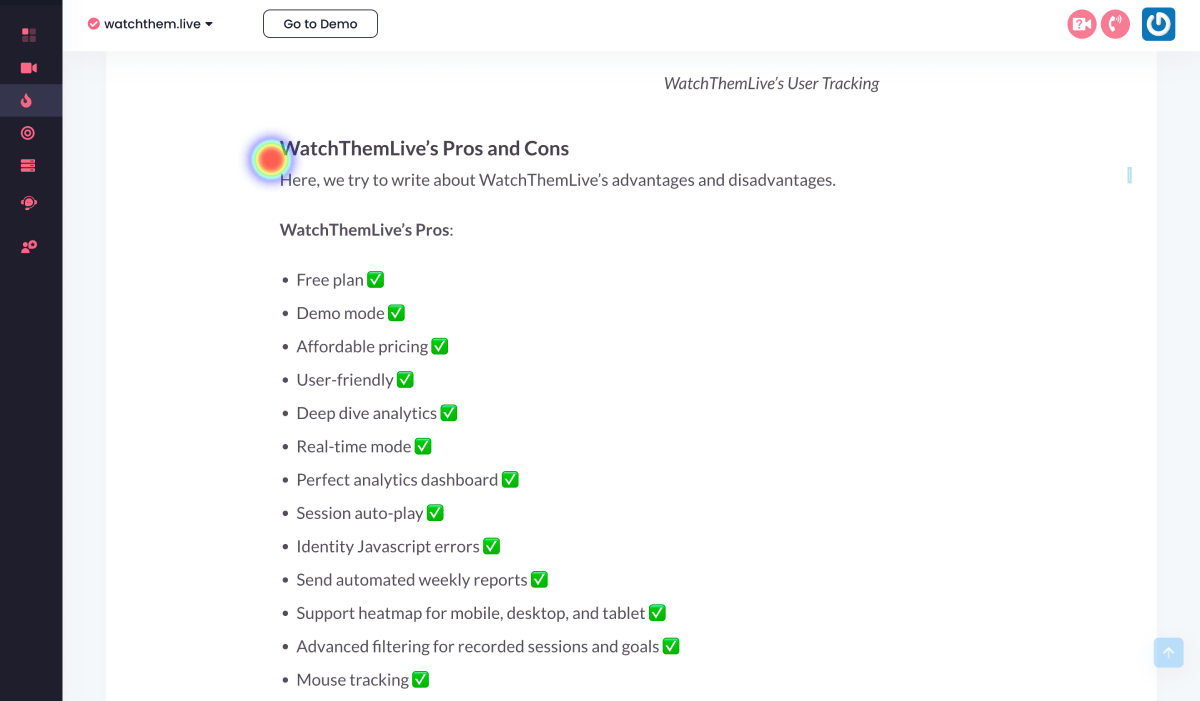 Website heatmap tools are crucial for building smooth sales funnels. With the help of heatmaps, you can understand which of your buttons is getting the most clicks. This way, you're able to determine which one of your articles are more engaging so you can write more of them and create more awareness with your blog posts.
Besides, heatmaps give you insight into what elements on your webpage may distract users from what really matters.
Visual live chat
We already mentioned how live chats help with the marketing funnel. Now imagine what a live chat equipped with session recording can do!
WatchThemLive's visual live chat pairs the user's recording with live chat. So, whenever users reach out for help, your support team can watch the session recording and detect what was the problem. Even if the customer can't explain it properly.
Video Testimonial
Do you want to add more credibility to your brand? WatchThemLive's Video testimonial collects, edits, and publishes testimonials and video reviews of your customers on different platforms.
Write your questions in the ready-made forms and choose when they should pop up on the customer's screen. Then, they just need to click on the record button and answer your questions.
Around 77% of customers frequently check out online reviews before purchasing a product. This statistic shows how valuable these testimonial videos can be.
We chose WatchThemLive as the best sales funnel software because it has a free plan as well as very affordable paid plans.
WatchThemLive Pricing
Free plan: ✅
Individual Silver: $29/mo
Individual Gold: $49/mo
Team Silver: $69/mo
Team Gold: $99/mo
What are you waiting for? Start your FREE plan with a few short clicks!
2. GetResponse
This autofunnel software is an email marketing tool and sales funnel builder that automates sales funnel functions for businesses.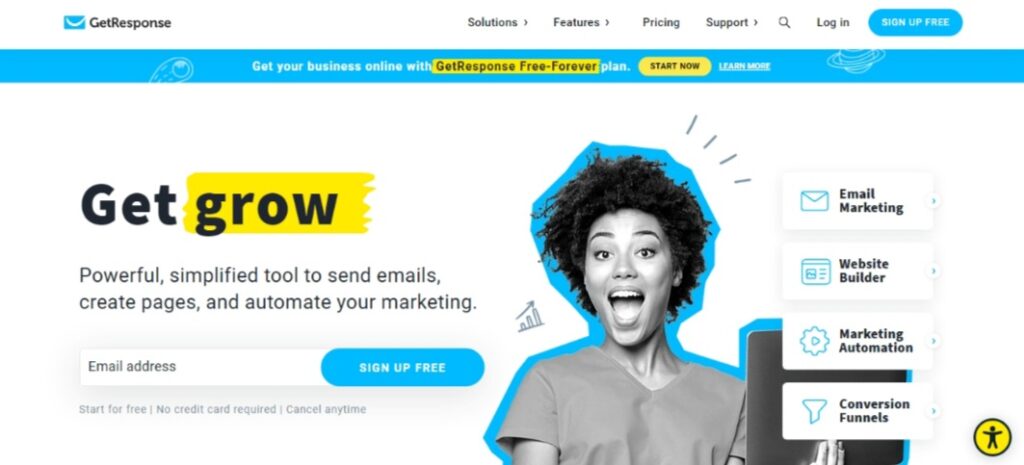 GetResponse conversion funnel (formerly known as autofunnel) uses several features such as autoresponders, form builders, surveys, and landing pages to build your conversion funnel.
It also allows companies to promote and sell their products through GetResponse or integrate it with their current eCommerce platform, such as Shopify.
They claim that their sales funnel software does 'all the heavy lifting' to help you make more sales. Maybe due to that claim, they thought it was a good idea to make no integration with Google Ads!
Another thing users didn't like about Getresponce was its poor UI design. Navigating through customer segmentation and finding stats is not pleasurable on this platform. And despite repeated reposts, Getresponce didn't do much to fix it.
GetResponse Pros
Drip campaigns,
Making automatic recommendations for upsells,
Sending reminders and offers about abandoned carts.
GetResponse Cons
Sales funnel features are not included in the free plan,
You can't change the split test message template,
Their mobile app is a bit clunky,
The email automation structure is complex.
GetResponce Pricing
Free trial (it doesn't include the sales funnel feature)
Marketing automation (including the sales funnels): $59/month for 1,000 contacts,
E-commerce marketing: $119/month for 1,000 contacts.
3. Kartra
A sales funnel building, and digital marketing platform like Kartra can be a good option to improve your marketing funnel and generate more leads.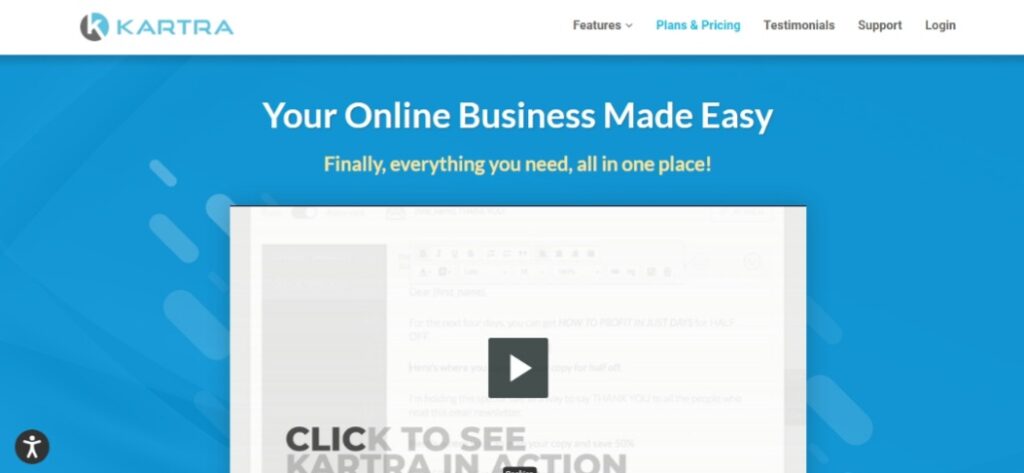 Kartra promisses to help you build your sales funnel using pre-designed templates for landing pages and check-out pages. It also includes a lead database (CRM), email marketing automation, live chat, opt-in forms, and video hosting.
As you can see, Kartra is a feature-rich platform. But, the bad news is you can't exclude some of its features to lover your bills. So, even if you have no intention of using some of its features, you are going to be charged anyway.
Another point you should consider about Kartra is that running this funnel builder tool is a long, complicated, and time-consuming process. Therefore, its 14-day trial is not enough to evaluate this tool properly.
Kartra Pros
Surveys and quizzes.
Tracking email click rates,
Managing sales funnel from the customer perspective.
Kartra Cons
Its integrations need a bit of a workaround,
It's not very user-friendly,
Poor customer support.
Kartra Pricing
They have a free trial for each plan; however, they cost $1 for 14 days.
Starter: $99/mo,
Silver: $199/mo,
Gold: $299/mo,
Platiniom: $499/mo.
4. HubSpot Lead Management
This sales funnel builder platform is a lead management & tracking software that tries to create an effortless funnel and deliver the desired results.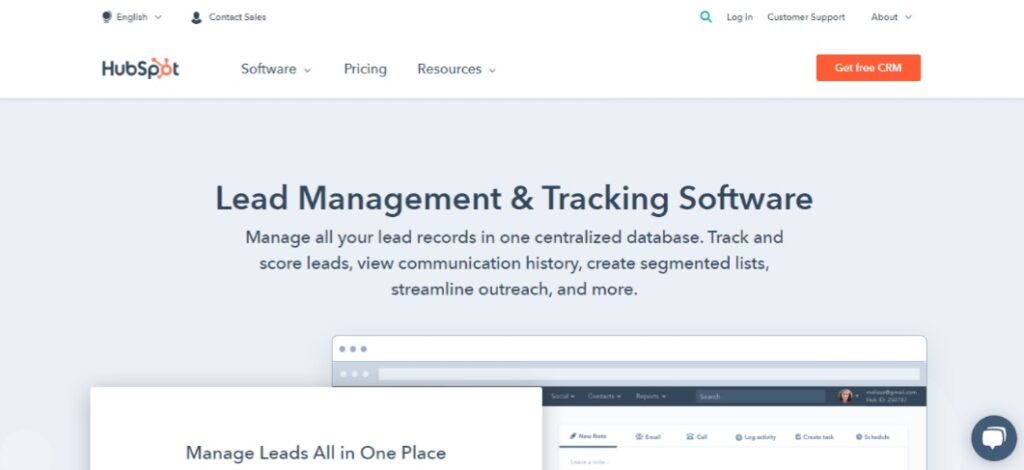 HubSpot includes a set of marketing features for creating sales funnels, such as landing page templates, form builder, and email automation. HubSpot also offers a CRM tool to manage customer relationships.
It also has a free forever plan. But the bad news is HubSpot analytics tools are not available for free and sales hub starter plans.
In fact, some of the features are limited if you are on lower-tier plans. Additionally, some of the features require extra fees, which turn HubSpot into an expensive platform for start-ups and medium-sized businesses.
HubSpot Pros
You can see where each customer is in the buyer journey, create lifecycle stages, and tag leads.
Responsive customer support.
Detailed reporting,
All-in-one platform.
HubSpot Cons
Limited free and starter plans,
Some users reported on G2 about frequent problems with HubSpot's email marketing,
You have to pay a lot if you need omnichannel marketing automation since this feature is very expensive.
HubSpot Pricing:
Starter: $50/month for 1000 marketing contacts,
Professional: $890/month for 2000 marketing contacts,
Enterprise: 3600/month for 10000 marketing contacts.
5. Keap
In the fifth position, we have one of the best sales funnel tools named Keap. However, its poor UI prevents this platform from being in a better position.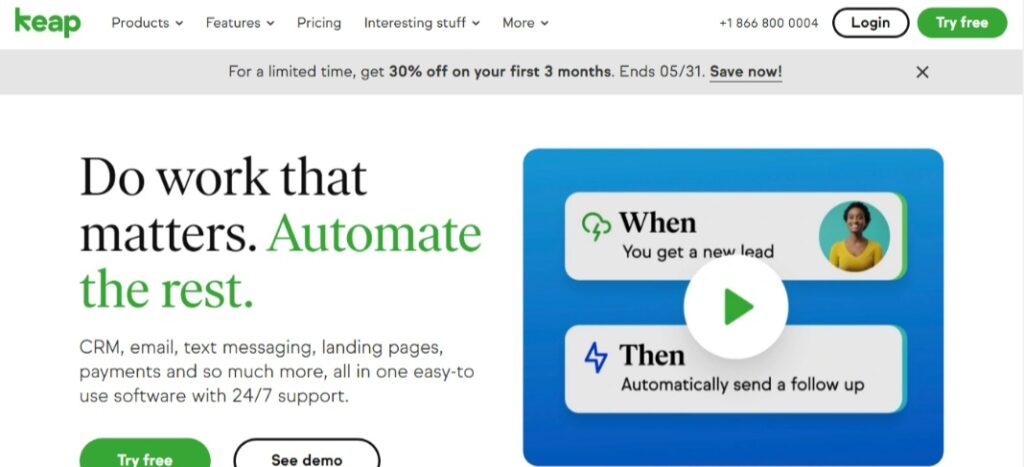 Keap, formerly Infusion, is a cloud-based platform that supports CRM, marketing and email automation, form building, and creating surveys and landing pages. It also allows customers to book a meeting based on their own time schedule.
Keap's automated email follow-up is a very interesting feature. It enables you to reach out to customers when they fill out a form on your site. This feature can increase the chance of turning leads into customers.
Since Keap tries to be an all-in-one platform, it can be overwhelming for many customers. It's very confusing to set up and run the platform leaving you with no choice but to pay for training courses.
Keap's onboarding coaching costs $499.
It's a shame that such a powerful CRM and sales funnel software doesn't have responsive customer support.
Keap Pros
Integration with 2,000 platforms, such as Shopify and WordPress,
Action-based segmentation,
Subscriber management.
Keap Cons
Inflexible email templates. In fact, its email marketing features are not very advanced.
Limited number of users. You have to pay $29 per each additional user if you want to work as a team on Keap.
If someone wants to use all of Keap's potential, they're going to need professional training from demos and customer support.
Keap Pricing
Free plan: 14-day free trial,
Light: $79/mo,
Pro: $129/mo,
Max: $199/mo.
6. ClickFunnels
Looking for an easy-to-use sales funnel program to cover the whole funnel? Check ClickFunnels out.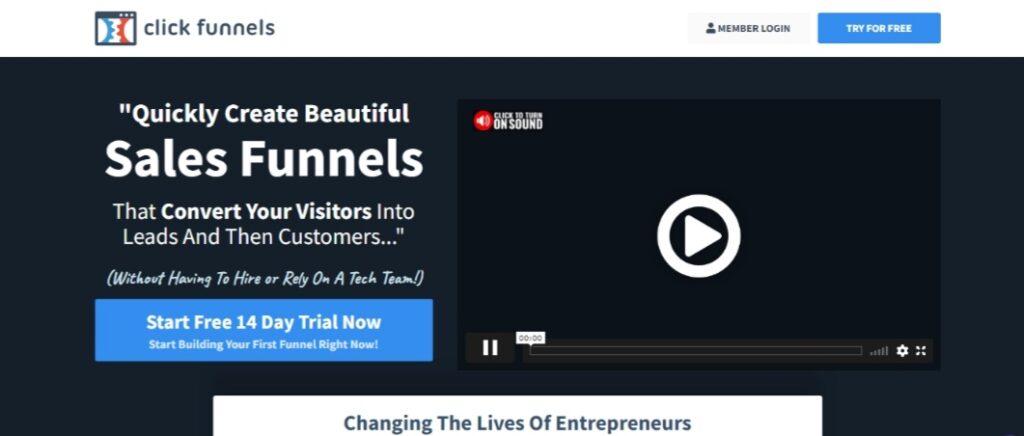 ClickFunnels is not the best sales funnel software in the marketplace. But, it provides a fine solution, suitable for big or small businesses with no coding skills. It helps companies build sales funnels using a landing page editor, upselling, payment collecting, marketing automation, and lead generating.
Its one-click upsell tool can help you offer more products to potential buyers. They promise that this feature will increase your income.
In addition, ClickFunnels offers an analytics tool. Generally, web analytics tools provide you with information about page views, click-through rates, and how your website is performing. However, unless you sign up for its enterprise plan, ClickFunnels' analytic tool generates basic analytics information.
Another limitation we don't like about Clickfunnels is its limited number of pages. You can create 60 pages in their basic plan. So, to design more pages, either you have to delete the previously made pages or upgrade your plan.
ClickFunnels Pros
They have a pop-up editor within the page editor that allows you to see how it will look when published.
There's a help button within the platform that takes you to the knowledge base or connects you to an agent.
They have a "cookbook" feature that offers tutorials for beginners.
ClickFunnels Cons
No free plan,
You can only add one website on its basic & pro plans and 3 websites on the funnel hacker plan,
Their templates are not so great.
ClickFunnels Pricing
Free trial,
Basic: $147/mo,
Pro: $197/mo,
Funnel Hacker: $497/mo.
7. Systeme.io
This service is a free sales funnel software that can help you create an automated sales funnel.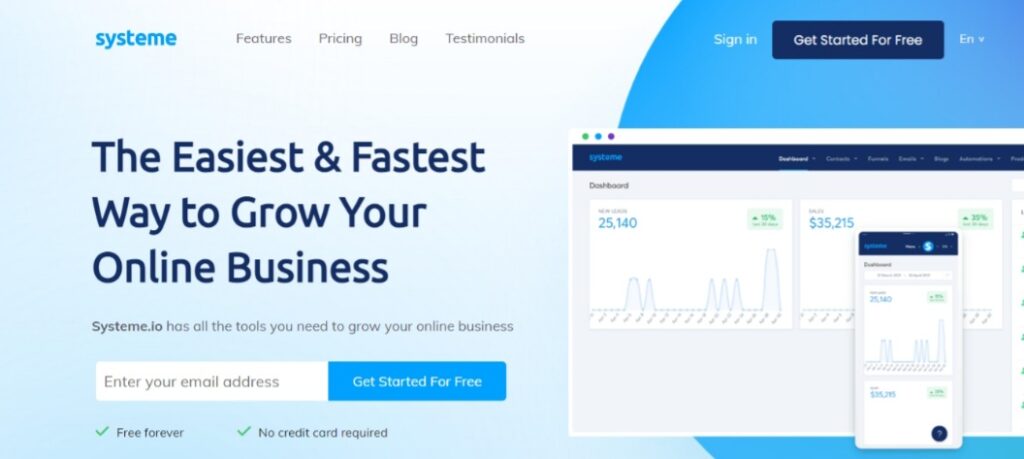 Systeme.io allows businesses to build sales funnels using business automation, autoresponder, landing page builder, and dropshipping services under the same roof.
You can run different campaigns and start newsletters with Systeme auto-response email.
Building online courses, managing affiliate programs, and blogging are other activities that can be done with Systeme.
Overall, Systeme is an acceptable funnel builder software. However, you should be aware that its free and startup plans have serious limitations. You can design just 3 sales funnels, one blog, one email campaign, and one automation rule in Systeme free plan.
Systeme Pros
They offer an 11-page sales funnel template.
Separate dashboards for marketing activities and affiliate marketing.
Suitable for those looking to set up their own affiliate program.
Systeme Cons
Not a very supportive customer service,
Not enough third-party integration.
Systeme Pricing
Free plan,
Startup: $27/month,
Webinar: $47/month,
Unlimited: $97/month.
8. LeadPages
Let's introduce you to a cost-effective, funnel builder software suitable for startups.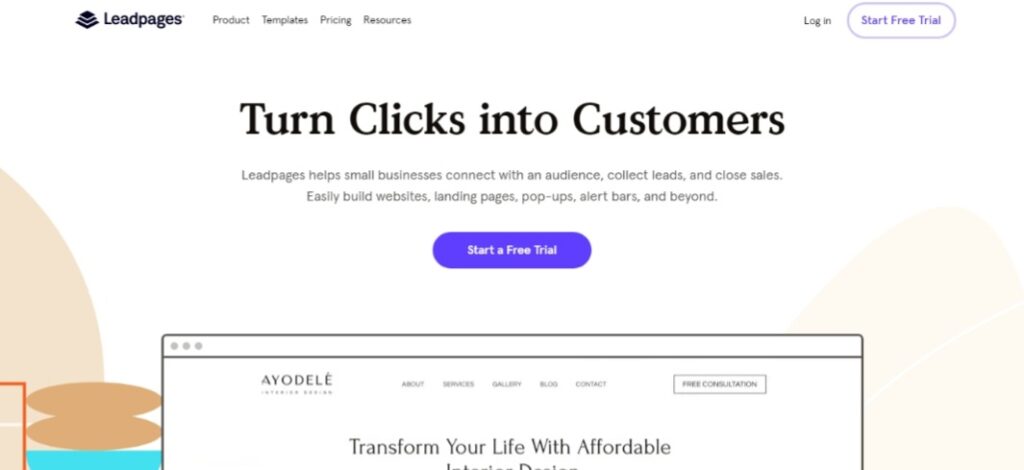 LeadPages is sales funnel software that allows businesses to create converting websites, landing pages, and alert bars. Their templates are fun and engaging. And you can design interesting landing pages with its drag-and-drop tool. In addition, Leadpages has a WordPress plugin to make everything easier for you.
Besides, this platform is easily integrable with many email marketing and webinar services. So, you can run marketing campaigns under one roof.
Despite all these features, LeadPages is not perfect. The reporting feature of this software has some limitations. And as the reviews are saying, the data is sometimes inaccurate.
Even though we mentioned this sales funnel platform is a cost-effective one, all its features won't be unlocked even if you upgrade to their pro plan. So, an additional purchase is required to use all features of Leadpages.
Leadpaged Pros
Learning to work with it is simple,
Drag and drop editor,
A/B testing.
Leadpaged Cons
Poor user experience,
Only two pricing plans,
You can add just one website in its standard plan.
Leadpaged Pricing
Free trial,
Standard: $49/month,
Pro: $99/month.
9. WishPond
Ali Tajskandar, the founder of WishPond, created a sales funnel tool that not only eCommerce marketers but also educational, financial, and hotel & resorts marketers can benefit from.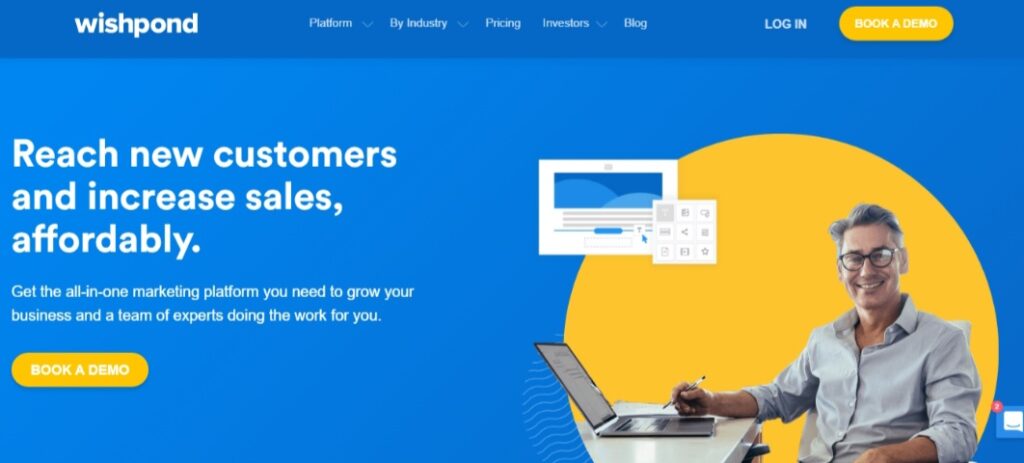 WishPond is a platform that helps businesses build sales funnels by creating landing pages, marketing automation, contests and promos, forms, and pop-ups. WishPond has lots of sweepstakes, landing page templates, and pop-ups for running giveaways.
This marketing platform claims to help you create an automated sales funnel. You can categorize leads based on their activity. And then send personalized responses according to their behavior.
Even though everything seems perfect about WishPound, we noticed something unusual about this marketing funnel software.
There were 29 one-star reviews on g2 for WishPond!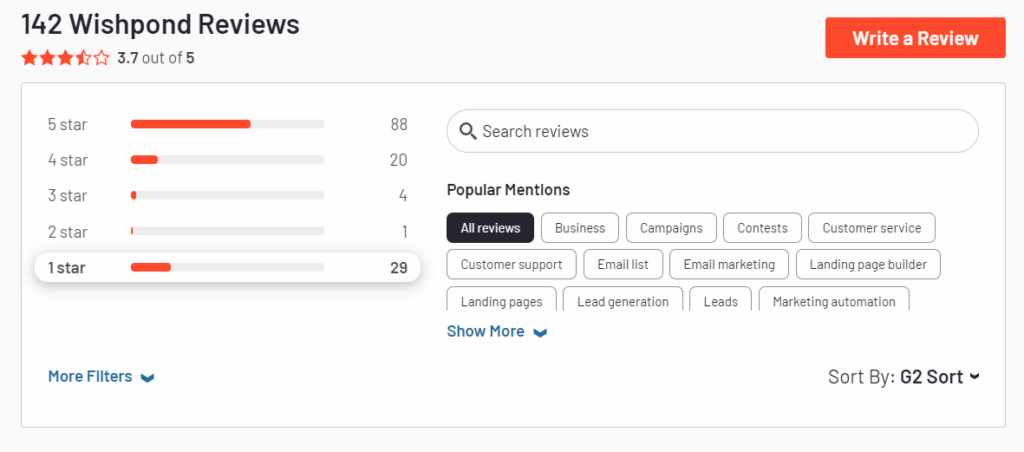 But what was the reason behind so much dissatisfaction?
Lots of users complained about their poor customer service. Some of them even called it 'the worst customer service ever'.
Despite the fact that WishPond is an international company, the time format and the calendar is only available in English and can't be translated. This creates a huge problem for email marketing and marketing campaigns.
Some users reported that even after their cancellation, they were still charged by WishPond's auto payment.
Overall, we can conclude that WishPond is the best example of a bad execution of a good plan. Not paying enough attention to the details made WishPond suffer a heavy loss.
WishPond Pros
Email marketing,
A/B testing,
Integration with other email marketing software,
User-friendly.
WishPond Cons
No visual sales funnel builder,
Poor customer service,
Repeated payment issues.
WishPond Pricing
To start their free trial, you should talk with a specialist.
Paid plans:
Basic: $69/month,
Pro: $99/month,
Growth: $199/month.
10. Kajabi
The last tool we are going to discuss can be considered a good sales funnel software for startups at first sight.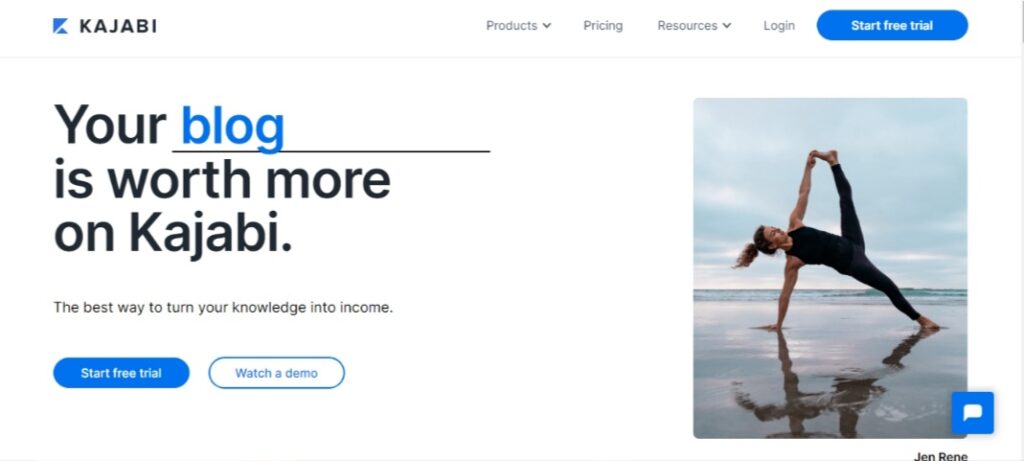 Kajabi is mainly suited for content creators. However, it includes tools for creating sales funnels, such as email marketing, landing page builder, and check-out pages. You can also use Kajabi to automate targeted marketing campaigns, process payments, and access several marketing tools in one single platform.
Thanks to its user-friendly environment, Kajabi is a good option for beginners. Even my 90-year-old grandma can use this tool for her customer journey management!
However, their pricing is not in favor of new and/or small businesses. Their free trial only lasts 14 days, and their basic plan costs $149/month. In addition, you have to pay an extra fee for some of its features.
Kajabi Pros
No coding is needed for building landing pages,
Built-in shopping cart with no transaction fees,
Customizable templates.
Kajabi Cons
Its assessment customization is limited.
Kajabi Pricing
Free trial,
Basic: $149/month,
Growth: $199/month,
Pro: $399/month.
FAQs on the Best Sales Funnel Builders
As we intended to cover everything regarding the best sales funnel software, let's answer some of the frequently asked questions related to this matter:
Q1. How Many Layers Are There in a Sales Funnel?
Usually, a marketing funnel is broken down into six different stages:
Awareness,
Discovery,
Evaluation,
Intent,
Purchase,
Loyality.
Q2. Why Should You Use a Sales Funnel Builder?
A conversion funnel, or sales funnel, covers the whole customer journey from the moment users learn about your product or service till they buy from you. Therefore, designing a sales funnel gives you a vision of your marketing strategy and the stages that need to be improved.
Q3. Who Can Benefit from Sales Funnel Tools?
An interesting point about sales funnels is that they are not limited to eCommerce. Even if you have a local shop in your neighborhood, you can enjoy a marketing funnel. Although the strategies might differ, if you want to boost sales revenue, increase conversion rates, determine sales volume, and have loyal customers, a sales funnel is a good framework to start.
Q4. Is There Free Sales Funnel Software?
There are only two real options among the long list of marketing funnel builders that claim to be free.
WatchThemLive,
Systeme.io.
However, thanks to its features and user-friendly environment, we introduce WatchThemLive as the best free sales funnel software in the market.
Conclusion
Now that you have come this far, you can choose the best sales funnel software solution based on your budget and business needs. You definitely need sales funnel software, so don't postpone acquiring one.
In this article, we introduced ten sales funnel software programs, along with their pros, cons, and pricing, so that you can make the best decision. WatchThemLive is our first choice among the tools we introduced because it enables you to make decisions based on actual user behavior. Sign up and choose the plan that suits you the best.