A great checkout page design is essential for any eCommerce website to prevent losing online sales. The checkout page is one of the most important stages of the customers' journey on your online store. The shoppers might go through all the stages before the checkout successfully, but if you haven't designed the checkout page carefully, you will fail to convert them. 
As the checkout page is where the conversion happens, you must make sure the process is smooth enough to get the most out of your visitors. You should constantly test and optimize your checkout page process to get more and more conversions.
To help you out, in this blog post, we'll discuss some best practices for designing a better checkout page and show some great examples of checkout page design. 
Before we get started, If you are looking to improve your eCommerce website and create a better user experience, you can read the articles below:
What Is a Checkout Page?
Before getting into checkout page design, first, let's see what a checkout page is. This page (or pages) on an eCommerce website is where the checkout process and transaction occur, and you can see the payment and shipping information.  
At this stage, the customer completes their order by choosing a shipment and payment method and entering their payment information.  
There are two types of checkout pages: one-page and multi-page.
1- One-Page Checkout
One-page checkout has become more popular as it speeds up the checkout process and it's more convenient for the customer. This type of eCommerce checkout page design improves the user experience since customers don't have to wait for multiple pages to load. Also, users don't need to navigate back in the browser if they want to edit the information they have entered. 
Designing a one-page checkout is challenging when you want to collect a larger amount of data. The shopper might get overwhelmed by all the information they have to enter and the messy page layout. 
2- Multiple-Page Checkout
Although multiple-page checkout seems less user-friendly, it has its own advantages. This type of checkout page design facilitates collecting data. If a shopper abandons the checkout process at later stages, you still have captured the data they have entered earlier. Additionally, it's easier to create clean and simple page layouts as the forms and fields are divided between several pages.   
Importance of Great Designing
You've done everything right up until the user enters the checkout funnel. Your marketing efforts have paid off, and your website's design and navigation have brought them to this point. Now, they are ready to make a purchase.
However, if your checkout design is suboptimal, all of your hard work will be for nothing.
According to Baymard research, roughly one out of every five shoppers abandoned a basket in the previous quarter. The reason for this was that the checkout process was either very long or complicated. While checkout page abandonment is inevitable, there are steps you can take to actively try to avoid it. The very least thing you can do is to minimize the number of people that abandon the checkout process.
Basically, you don't want to give the customer an excuse to leave. It is best if you use a great layout, don't hide shipping prices, provide payment alternatives, and employ the appropriate CTAs. Everything you do here should be aimed at lowering the amount of time and effort required to finish the checkout process.
Checkout Page Design Best Practices
Here are some great strategies for a better checkout page design so you can create a better checkout experience:
1- Enable Guest Checkout
23 percent of buyers abandon online stores if they have to create a new account. Forcing customers to create an account to complete their purchase is one of the most significant friction points that prevent conversions. That's why you should allow guest checkout if you don't want to disappoint your customers. 
2- Minimize Distractions
It's important to eliminate distractions so that shoppers can focus on completing the payment. Therefore, make sure to eliminate any unnecessary elements from your eCommerce checkout page design. 
An excellent way to identify distractions on your website is using heatmaps. To set up heatmaps on your website, you need a behavior analytics tool such as WatchThemLive. With this tool, you can track visitors' interactions on your website and find out the elements that are distracting them. 
Want to try out WatchThemLive heatmaps? Sign up now!
3- Don't Forget Mobile Users 
Creating a mobile-friendly design is a must, as more than 50 percent of website traffic originates from mobile devices. It's necessary to optimize your checkout page for mobile users if you don't want to lose these customers.
4- Include Trust Signals
Trust signals make customers more confident and secure about buying from your online store. Letting users know their data is safe with you will make them more willing to purchase on your website. 
5- Inform Shoppers of Additional Costs
One of the main reasons buyers abandon their purchase is unexpected costs. Make all the information about taxes, shipping costs, and other charges clear as soon as possible in the checkout process.   
6- Use Form Validation
Don't wait for customers to complete a whole step to notify them about input errors. Let users know as soon as they enter a wrong input. When customers encounter multiple error messages at once, they might get frustrated. 
Checkout Page Design Examples
Now, let's see some of the best checkout page design examples so you can better understand how to develop and optimize yours. 
1- Walmart 
First of all, Walmart allows customers to complete their purchases without signing up.
This eCommerce store has divided the one-page checkout into three sections, so users don't have to fill a single long-form.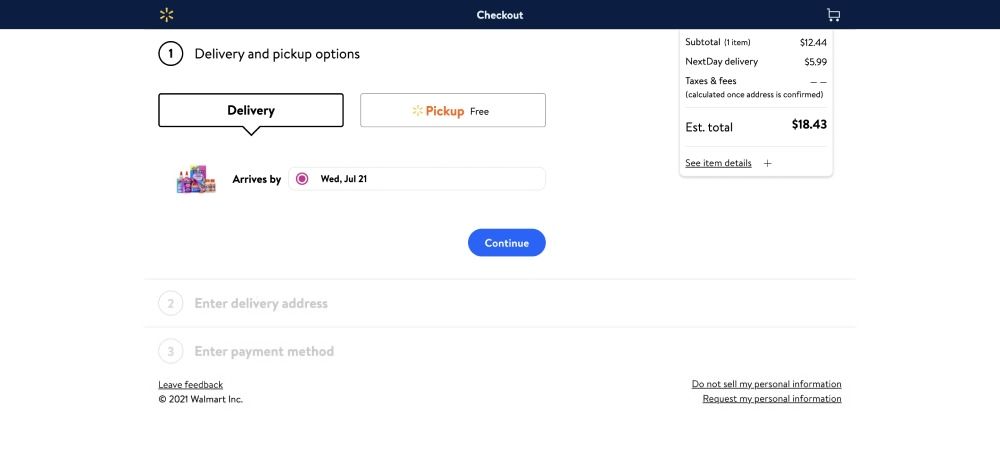 Also, it notifies the customer whenever they enter a wrong input.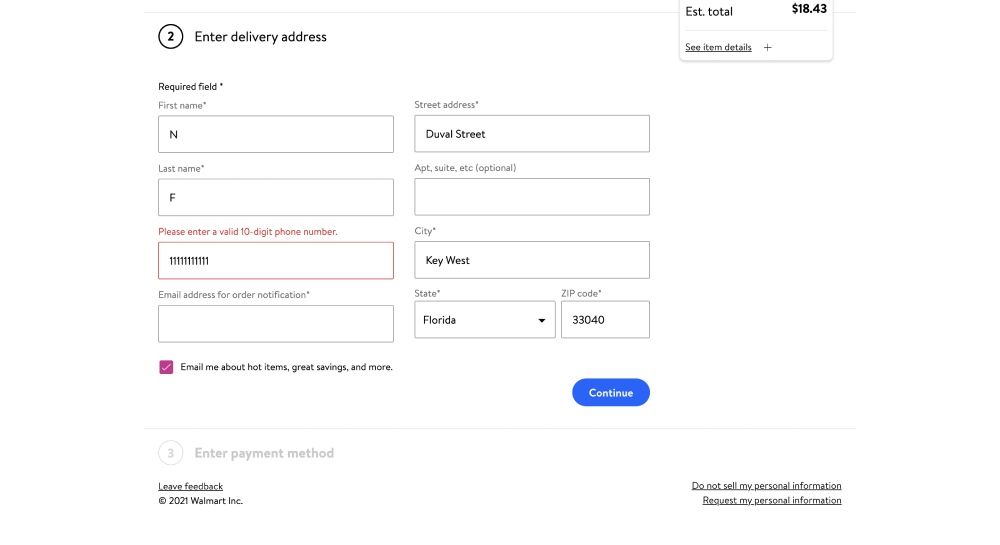 2- Nike
Nike also has a three-step checkout page with a minimal design. Whenever you fill a field, you'll see a green checkmark if the input is acceptable or an error message if not.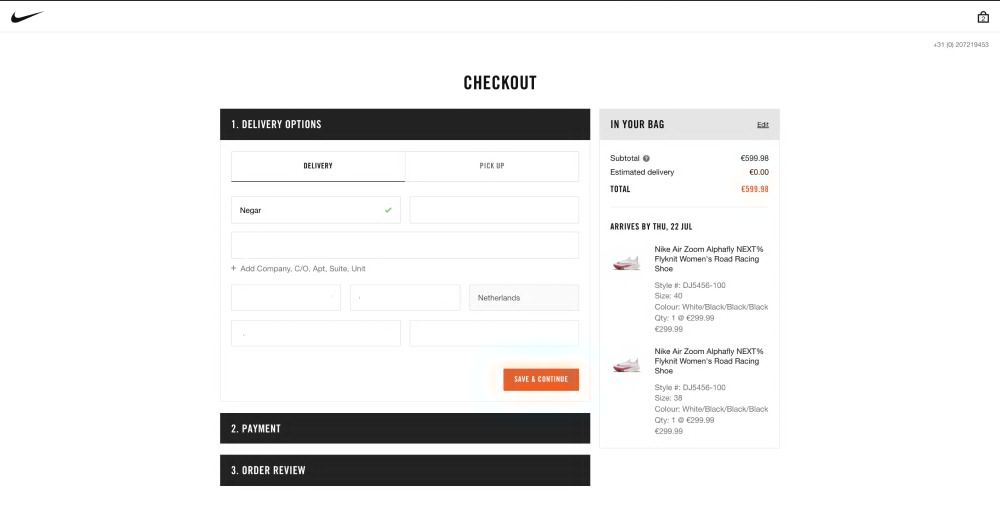 On the payment step, you can select from multiple payment methods, which is a great strategy to increase conversions as it allows shoppers to choose your preferred method.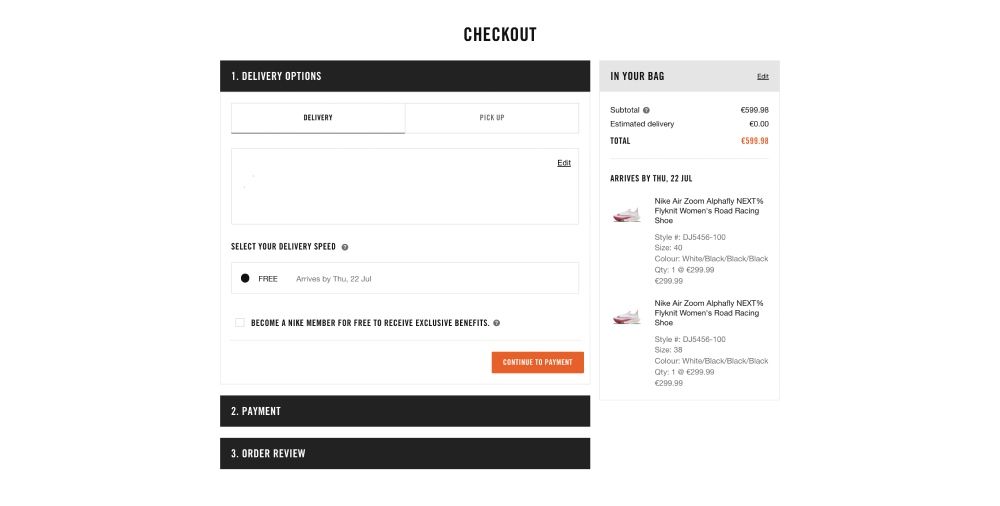 3- Best Buy 
Best Buy is another eCommerce store with a good design that allows guest checkout.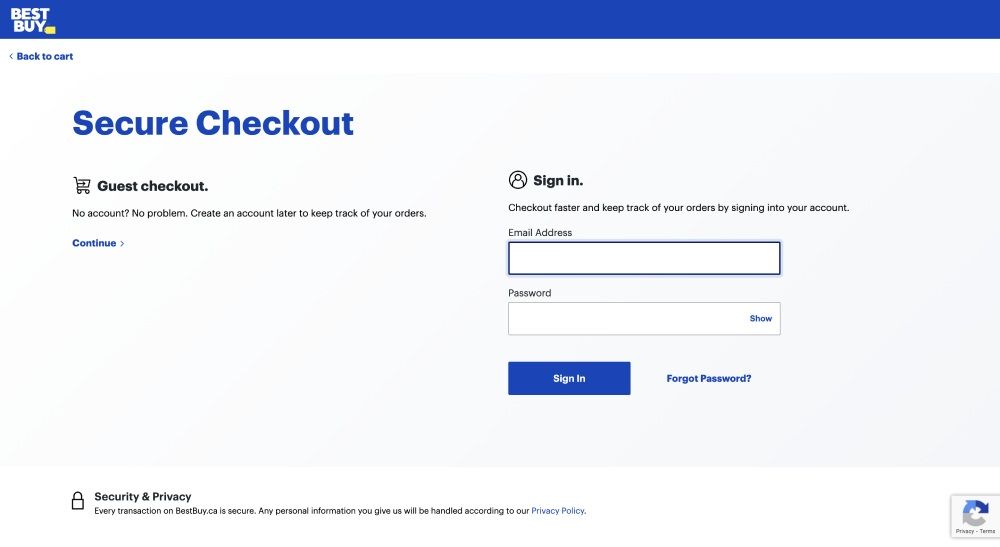 This online store has a multiple-page checkout, and it uses a progress indicator to inform the shopper at which step they are. The progress indicator also enables users to navigate between the checkout steps.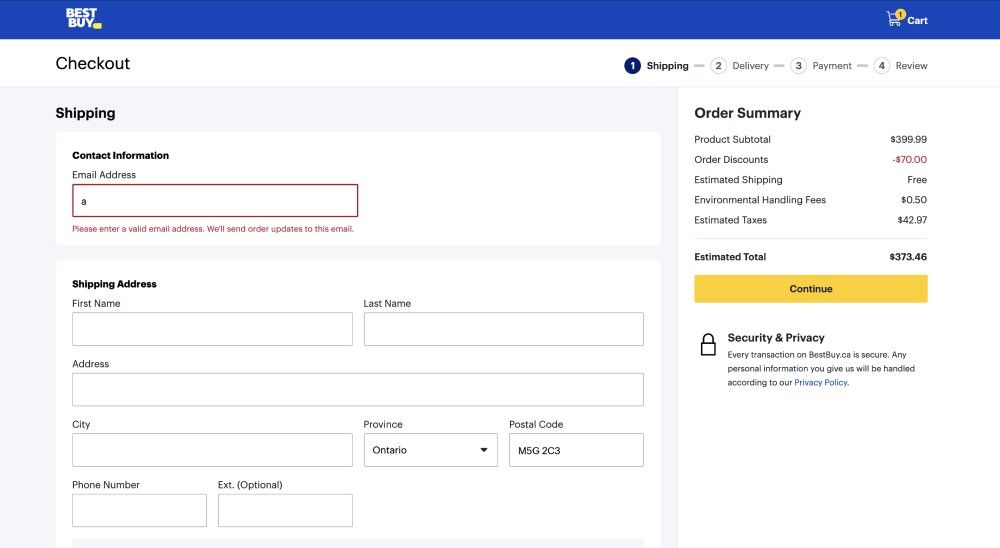 4- ASOS 
Although ASOS enables customers to purchase without creating an account, the guest checkout option is not as visible as the other examples; you can find it on the signup page.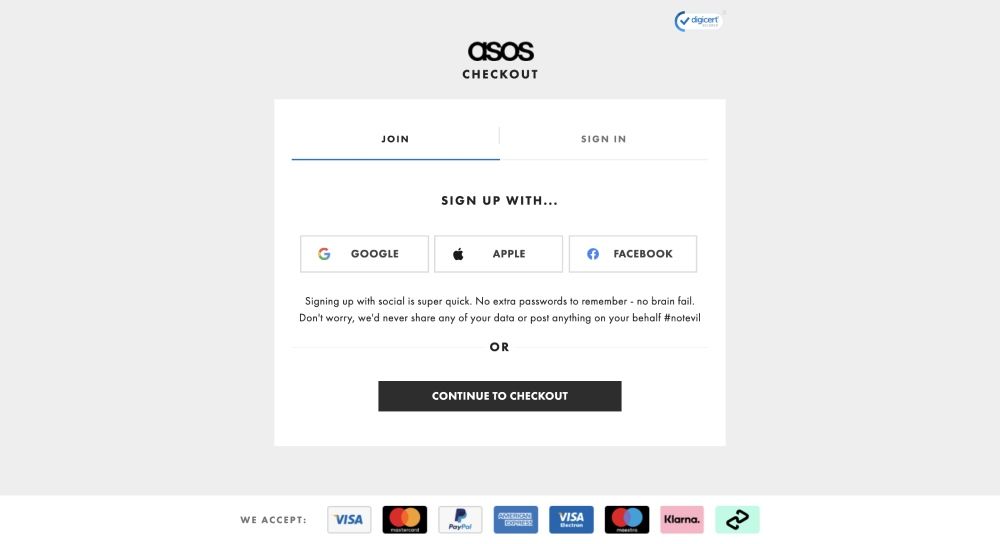 The checkout page design is clear, simple, and user-friendly. The checkout process includes 4 small steps, and all the distractions are removed.
Moreover, you can see a trust signal in the upper-right corner.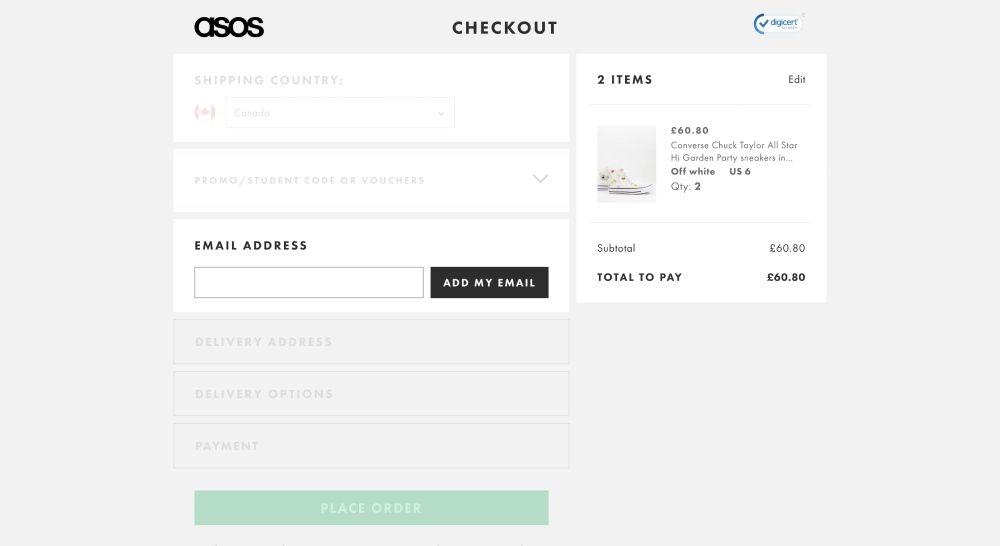 5- Etsy 
Etsy offers guest checkout as the first option to deliver a better user experience.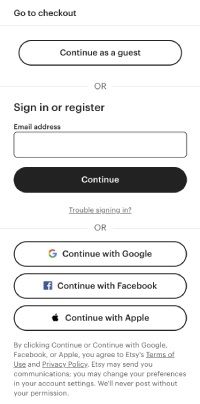 This eCommerce store has a very simple multiple-page checkout process. You can't see any unrelated element to the checkout process to avoid distractions.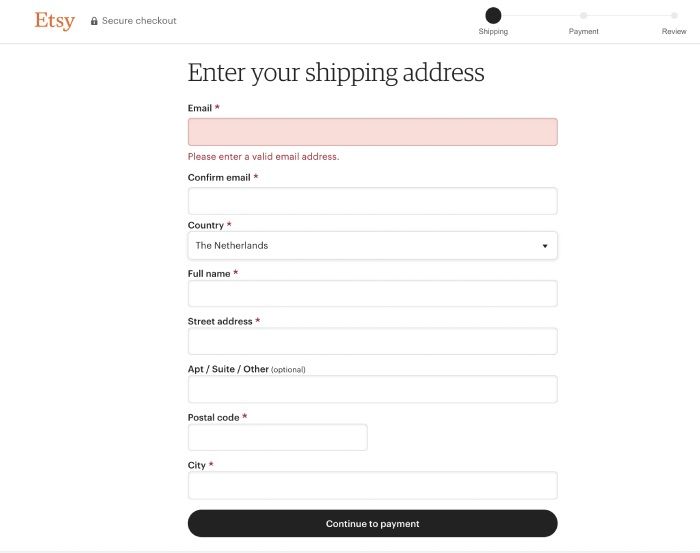 Conclusion
To develop a great checkout page design, you need to understand what your customers expect and test different ideas. Keep in mind to create a smooth and frictionless checkout experience to achieve your desired conversion rate.