Online shopping is one of the most popular things people do on the internet. eCommerce sales continue climbing and show no signs of slowing down. As this market is expected to grow even more in the following years, those who invest in online stores make the right decision.
As an eCommerce store owner, it's critical to appeal to your target audience to stand out from the sea of competitors. Understanding the eCommerce consumer journey is crucial to ensuring this occurs. 
In this article, we will provide every detail you need to know about the customer journey. Therefore, stay with us till the end. 
Are you trying to find the best platform for managing your customers' journey? Sign up for WatchThemLive for FREE right now to see what they experience.
What Is an eCommerce Customer Journey?
The term "eCommerce customer journey" refers to the stages of your client's interaction with your online store. The customer's journey begins the minute they learn about your product or service and continues long after making their first purchase. The journey then continues if you've built a connection with the customer and inspired brand loyalty.
This process is essential since it influences your clients' opinions of your company. These thoughts, which can be positive or negative, are based on their interactions with your online store. If you think of these interactions as a "journey" with numerous stages, you'll be able to devote more time and effort to each one. This will assist you in making the eCommerce customer journey more enjoyable.
What Are the Four Sections of an eCommerce Customer Journey?
The eCommerce customer journey is divided into four basic steps. Each of these phases can be viewed as a component of a larger machine that's the result of overcoming a specific business challenge that eCommerce businesses encounter. Mapping the eCommerce customer journey can assist you in developing a practical approach. This will help your clients progress to the next step with relative ease. 
Let's see what these steps are:
1. Reach
The central part of the "reach" step is making customers visit your website. It could be free or paid web traffic. Visitors who come to your site via a search engine or a link from another website are known as organic traffic. Visitors coming through advertising are referred to as paid traffic.
In the reach stage of the journey, there are a number of obstacles to overcome. You might discover that your website isn't generating enough visitors and you are not able to move them through the customer journey.
There are many ways to increase your organic traffic. Here are some of them:
Concentrate on your SEO
Market your business on Social Media
Make a mobile-friendly website and app
Publish attractive and new content on a regular basis
2. Engage
You must engage visitors once they arrive at your website. This is the second step of the website customer journey in eCommerce. Customers' interactions with your website are referred to as engagement.
Engagement, like reach, has its own set of barriers. Visitors may quickly leave your site (bounce) or just look at a few pages. They might not even add anything to their carts, let alone buy your products. They may discover that they do not enjoy it as much as they anticipated after they get to your website.
Here are some strategies that help you increase your website engagement:
Improve the speed of your website.
Simplify navigation so visitors can easily explore your website.
Design an eye-catching landing page to prevent your visitors from bouncing.
Let them make wishlists, offer them similar products and give out coupons to encourage them to purchase.
Source: amazon
3. Convert
So, you've got your customers' attention; it's time to encourage them to take action and make a purchase
Low conversion rates are a problem for many firms. Some visitors may spend time on your website but never make a purchase. Others may make low-value orders or abandon their shopping cart entirely. Cart abandonment is a significant issue in eCommerce, with over 75% of carts never being completed. All of these concerns must be addressed in order to increase conversions. Focus on visitors who never make a purchase, customers who place small orders, and carts that have been abandoned.
Here are some ways to  overcome these problems:
Make your prices low enough to encourage your visitors to purchase.
Larger orders mean more revenue. Offer them similar items and products that come only with purchasing a big set of products. 
Make your checkout process as simple as possible. No extra steps are needed at all.
Let them know the shipping price and taxes before proceeding to checkout and don't surprise them with additional costs.
4. Nurture
You've reached out to customers, engaged them, and encouraged them to convert. The consumer journey, however, is not yet complete. You must now take care of the connections you've made.
Customers that never return are a challenge for many firms. There are also many visitors who don't create an account and purchase through guest checkout. Moreover, some businesses complain about the lack of online reviews. All of these are problematic because they destroy your capacity to build long-term consumer loyalty. While new consumers are always welcome, it is your current customer base that will genuinely assist you in growing your business.
Let's see what we can do to solve these problems:
Make your connections stronger. Keep in touch with your customers. It can be through email or any other channel.
Invest in word-of-mouth marketing. It's essential to have good reviews on social media. Let your customers speak for you. 
Encourage your customers to register on your website. This way you can make them more offers and bring them back. 
How Do I Create a Customer Journey in eCommerce?
Well, we talked about each step of the eCommerce customer journey and some ways to improve each one of them. But something is missing. You need a platform to help you in this matter. It can't be done without using dedicated software. This is where WatchThemLive will be a savior.
WatchThemLive has lots of services to offer you. But here, we want to talk about their session replay service. Obviously, a service that can track every movement of your visitors when they are on your website is super beneficial. You can see your customers' journey through their own eyes. This will help you understand your website's flaws and strengths. Therefore, your decision makings will be more informed and there will be less guessing. 
Make sure to sign up for WatchThemLive's free plan and use it to see how it helps by yourself.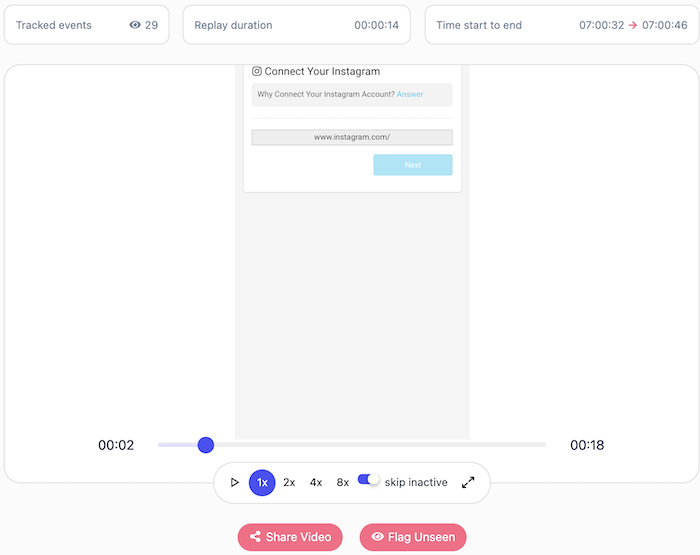 Conclusion
In this article, we went through each and every step of the eCommerce customer journey and discussed their importance for businesses. These steps were to reach, engage, convert and nurture. Each one of these steps requires its own attention. This is why using a behavior analytics platform is beneficial. We suggested you WatchThemLive because of its pricing and powerful features.