Your existing customer base is undeniably a goldmine full of opportunities to grow your business. Unfortunately, sometimes businesses overlook these precious customers, focusing resources on converting new customers.
You have already convinced your existing customers to buy from you once, so why not try to win their loyalty, keeping them coming back again and again. As you have once earned the trust of these customers, it's much easier to encourage them to buy your products or services again.
In this blog post, we'll take a look at why marketing to existing customers is important and why you should invest in them. So, read on to find out how to increase sales with your existing customer base.
Why Are Existing Customers Important?
If you still have a slight doubt about the value of your existing customer base, knowing the fact that getting new customers costs 5 times more than nurturing your existing ones may clear it up.
Now, let's see what some other reasons are that you should consider existing customer marketing:
1- Increasing Revenue
By building strong relationships with your current customers, they will be much more willing to return and buy from you. And fewer resources are needed to get repeat customers than to acquire new ones as you don't have to prove yourself to an existing customer.
If you are not putting effort into marketing to existing customers, you are really missing out. There are many strategies you can implement to generate more revenue from existing clients, including upselling, cross-selling, offering upgrades and add-ons, etc.
2- Increasing Retention Rate
You don't always need to find new customers to bring in more profit. By keeping your current customers satisfied, your customer retention rate will increase, which in turn increases your profits.
You should remind your existing clients about your products or services and show how they can benefit from them. This way, you will keep your business at the top of the customers' minds. Also, it's necessary to provide your audience with educational content. And remember that by personalizing your message, you will be able to generate better results as customers are expecting more tailored content from brands.
3- Increasing Customer Lifetime Value
Customers who stay loyal to your brand for a long time have a higher lifetime value. Why are customers with a high lifetime value important? These customers are valuable to your business as they are generating revenue without you paying for acquisition costs.
A first-time customer is far less profitable than an existing customer because of the costs of acquiring them.
You must make sure your acquisition costs are less than your average customer lifetime value. If not, it might mean your sales and marketing strategies are not effective enough, so you have to reconsider them. Try to build a customer retention strategy so you can increase your average customer lifetime value.
4- Gaining More Customer Advocates
One of the biggest advantages of customer marketing is that each existing customer has the potential to become your brand's advocate.
By keeping your customers satisfied with your products or services and how you treat them, you will encourage word-of-mouth recommendations. 96 percent of customers who have had a satisfying experience with a business are more likely to talk about it with friends and family.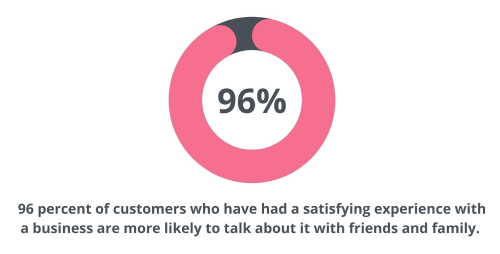 Keep in mind that customer advocacy is a powerful tool to boost sales as people tend to trust referrals from friends and family more than brand advertising. More importantly, customer advocates promote your brand at no cost.
What you need to do is to give priority to your existing customer base, then you will see how a stream of new customers comes to you without any acquisition costs. And these new customers already have gained a good impression of your business, making them more likely to become loyal to your brand.
How Do You Handle Existing Customers?
Now, let's take a look at some of the best strategies to get the most out of your existing customer base:
1- Understand Your Target Market
Conducting customer behavior analytics will help you generate more opportunities from your existing customers. It enables you to better understand who your customers are and what they need. There are many ways to gain a better knowledge of your customers, such as:
Social media listening

Performing competitive analysis

Using behavior analytics tools
Using a behavior analytics tool, such as Watch Them Live is an excellent way to collect qualitative data about your customers. Qualitative data can give businesses helpful insights into customer experience and how to improve it.
With WTL's heatmaps and session replays, you can easily discover your customers' needs and create a better experience for them. For example, you can use heatmaps to find out what content your audience is more interested in so you can create more of it. Or you can use session replays to see how customers navigate through your website and see what problems they are facing.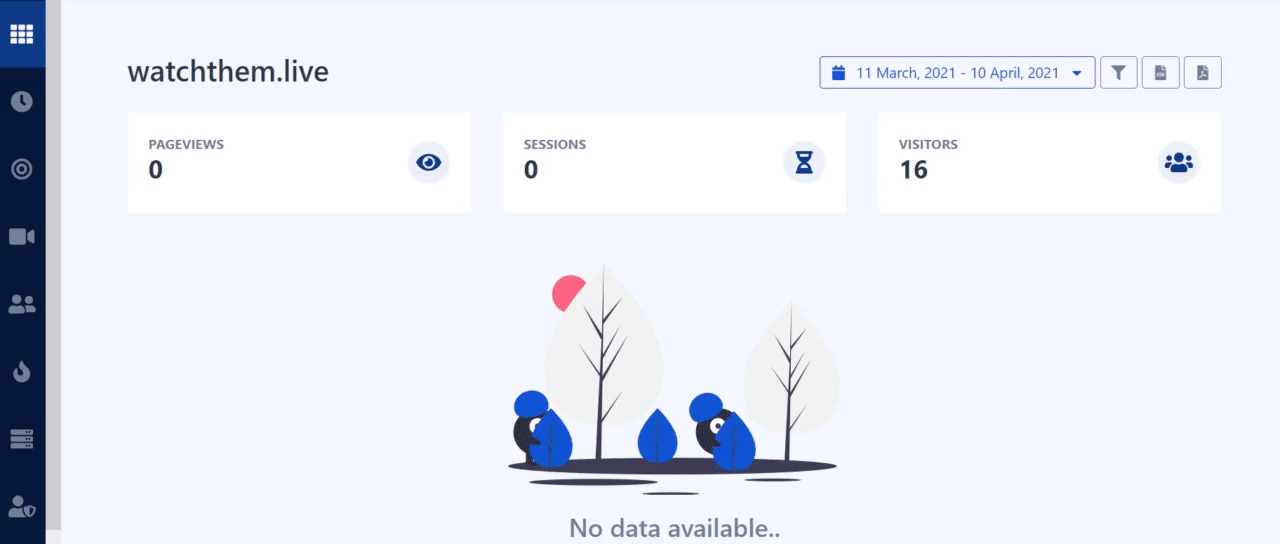 Try out Watch Them Live now and find out how to keep your customers coming back! Choose the plan that suits you best and get your free trial.

2- Provide Value
Adding value to your customers and educating them about your products or services is an excellent strategy to keep them interested in your offer. Here is what you can do to keep your existing customer base engaged:
Regularly sending newsletters

Creating informative blog posts
By educating your customers, you will earn their trust, and you can position your brand as a thought leader. This way, you can be sure they will stay with your business for a longer time.
3- Stay in Touch
It's necessary to stay in touch with your current customers and track post-purchase behavior after they make their first purchase to build stronger relationships with them. If customers don't feel a connection with your brand, you can't count on them to stay loyal. You should try to understand their problems to offer the right solutions.
Send your customers personalized messages based on previous interactions with your business and inform them about new products and updates that are related to their past purchases. It's also a great idea to give your customers a sneak peek behind the scenes as it helps them to better know your brand and feel more connected.
4- Upsell and Cross-Sell
One of the best ways to leverage your existing customer base is upselling and cross-selling. Since you already have gained their trust for making the initial purchase it is much easier to convince them to spend more using these strategies.
Pay attention to what customers are currently buying and offer them related products that would benefit them. And explain how the things you are recommending will further help them.
5- Deliver Great Customer Service
Great customer service is essential to increase sales with your existing customer base. Failing to meet your customers' expectations is a surefire way to lose them to your competitors.
You need to develop customer-centric strategies to establish lasting relationships with customers and show them you really care for them. You also have to make sure to handle their complaints effectively.
By providing good customer service, you will be able to build up an army of loyal customers.
Lego is an example of a brand that offers excellent customer service. You can even find a missing-pieces service on the customer service page on their website. They also send a personalized apology whenever they deliver a missing piece.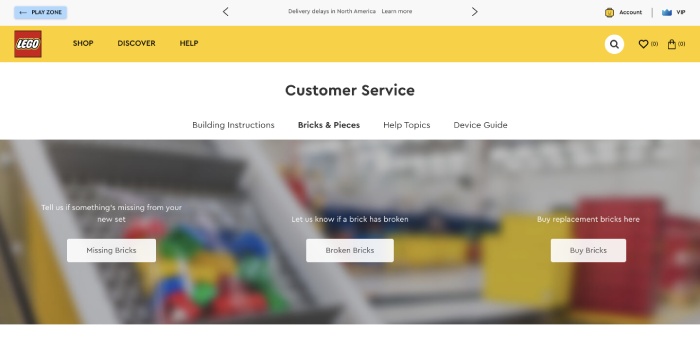 6- Develop a Customer Loyalty Program
Creating a loyalty program is a great way to encourage your existing clients to keep buying from you. With these programs, you reward the customers for purchasing from your brand, and the more they buy from you, the more rewards they will get.
7- Get Customer Feedback
Collecting customer feedback not only allows you to better understand your audience but also helps you improve your products or services. Customer feedback will help you identify what your customers need to improve their experience.
Deezer is a great example of collecting customer feedback. This music streaming website has created Deezer Community where users can talk about different topics including the problems they face with the service. By launching this forum, the company can obtain users' feedback while keeping them engaged.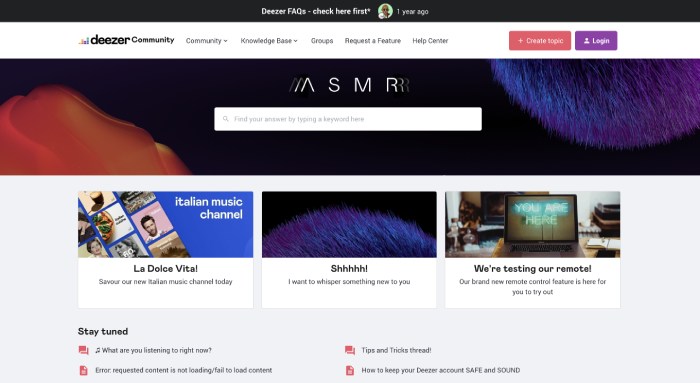 Conclusion
Your existing customer base is a valuable treasure you must cherish. The more you care about these customers, the more revenue you will be able to bring in.
Marketing to existing customers will provide your business with plenty of opportunities that are much harder to generate with new ones. Therefore, prioritize your precious existing customers and try to build long-lasting relationships with them to boost sales.