It's important to obtain user feedback, but why? If you don't allow your customers to share their negative experiences with you, they will talk about them with friends or family or post them on social media. This is how some businesses begin to lose their customers without knowing the reason.
Can this be avoided? Yes, you can prevent this by asking for customers' feedback and providing customer service as best as possible. Therefore, you don't need to worry about customers spreading their complaints.
Collecting user feedback can help you create a better customer experience to increase customer loyalty. And the good thing about loyal customers is that they will promote your brand and bring in new customers.
Continue reading to find out the best ways to collect user feedback on your website.
Why Is User Feedback Important?
It takes a lot of time to gather user feedback and analyze them, but it has many advantages for your business. First, user feedback can tell you exactly what needs improvement.
Since customers are the ones who are using your products and services, they can inform you about issues that have been hidden from you. Users' feedback helps you understand what you should focus on to improve your products and services.
Paying attention to customer feedback means that you care about them. Customers would appreciate this and keep returning to your eCommerce website.
How Do I Get Feedback from Users?
Below you'll find some of the best ways to collect accurate user feedback on your website.
1- Surveys
Surveys are a great way to collect user feedback and determine what you're doing right and what needs to be changed. You should consider the time you send out your surveys to increase the survey response rate.
The best times to display a survey are immediately after a purchase, a few months after it, and when a customer abandons your products or services.
Displaying a survey immediately after a customer makes a purchase is one of the best moments to ask about their experience since they can clearly remember it. They are also more likely to answer and give feedback. You can display your survey as a pop-up on your website or send it as an email. However, pop-ups usually attract more attention.
You should send out another survey some months after a customer has made a purchase. For example, send an email asking your client to share an experience with your products or services and report issues. You can also send surveys a few months after releasing new features and updates.
After a customer abandons your products or services, it's necessary to collect user feedback to determine whether there were any issues. This is essential to keep further customers from leaving you.
These are some tips to help you make your surveys more effective:
1- To collect more specific data, try to provide some open-ended questions.
2- Keeping your surveys short encourages more people to answer.
3- Explain the purpose of the survey and how it helps you improve your products and services.
4- Minimize distractions for clear CTAs.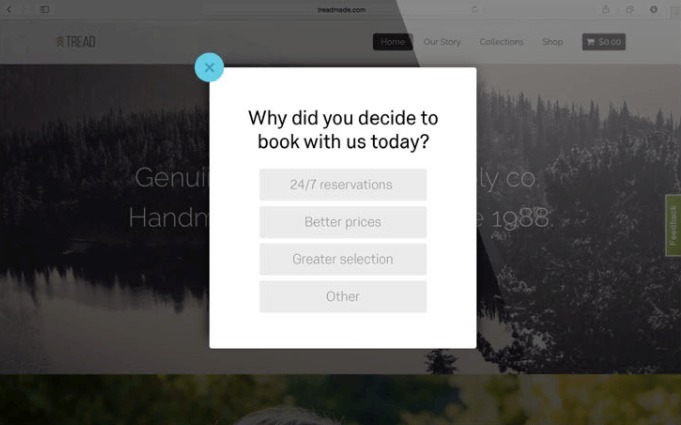 Image credits: qualtrics.com
2- Live Chat
Live chat is an excellent way to collect customers' feedback on your website. Additionally, it can benefit your business in many other ways. Today, many companies use live chat on their website to humanize customer support and gain their customers' trust.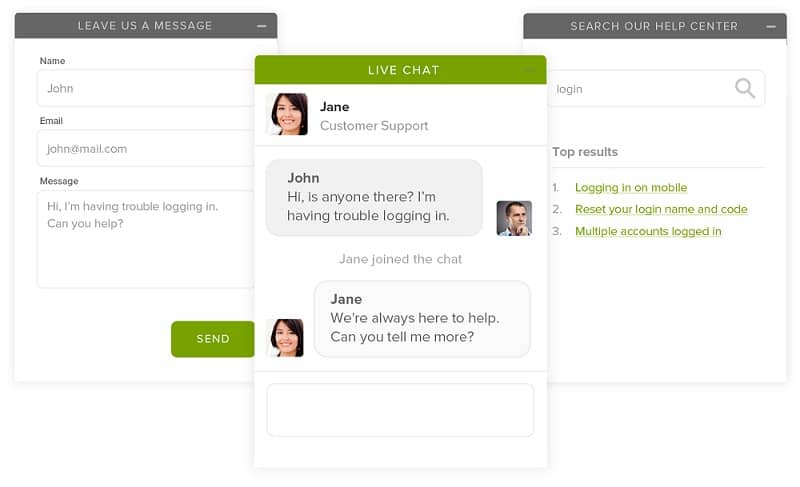 Image credits: zendesk.nl
Using live chat, you can obtain user feedback in real-time. Also, customers prefer direct communication because it's more convenient, and the feedback they give you would be more accurate.
This valuable tool helps you quickly identify issues and the problems customers have encountered, so you can fix them. When customers know you are there to help them, they are less likely to abandon your website if a problem occurs, reducing the abandonment rate.
Depending on the customer's experience, live chat allows you to ask specific questions. Moreover, you may get more responses from live chat than other ways of gathering customer feedback, such as email surveys.
Live chat would be more effective on the essential stages of the customers' journey through your website so you can figure out how to improve them.
3- Incentives
You certainly know the power of rewards. Even a small reward can make people more motivated. So, why not use this power to encourage customers to give feedback? Offering incentives is an excellent strategy to increase your response rate. The incentive can be a coupon, discount, free product sample, or anything you can think of.
You can even personalize incentives for your customers based on the segment they belong to so they would be more effective.
It's an excellent idea to offer incentives on social media websites to get user feedback. As a result, social media content has higher visibility and attracts more people.
4- Monitoring Website Analytics
There are other ways to collect user feedback rather than asking for them. Tracking your website's analytics is one of them. This information can show you which web pages are engaging customers or causing them to abandon your website.
You can get help from a behavior analytics tool like WatchThemLive. This tool offers a set of useful analytics besides heatmaps. For example, you can monitor page views, user sessions, referrers, and user segmentation with our analytics (countries, devices, languages, UTMs, screen sizes, page visits.) This data gives you a complete understanding of your audience.
The heatmaps help you easily understand your website's analytics by visualizing it. In the blink of an eye, you'll be able to tell what's drawing customers' interest and what's not. There's no easier and quicker way to find out how to improve your website.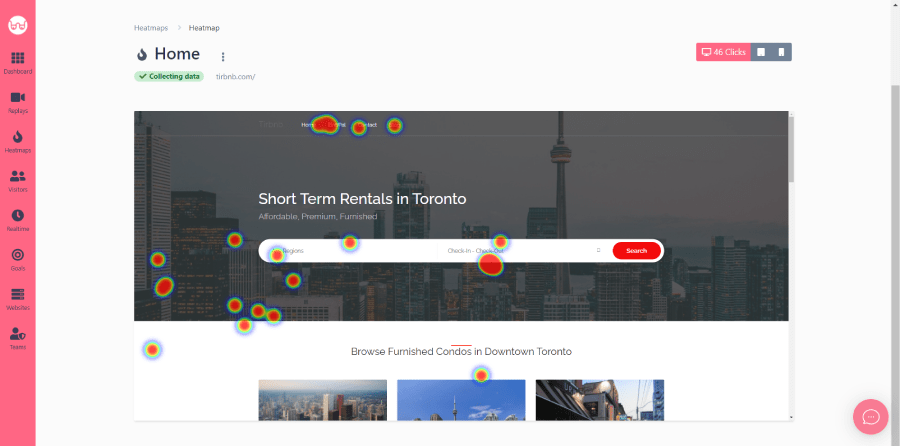 Want to try out WTL heatmaps? Sign up now and get your free trial!
5- Monitoring Customers' Journey
Website analytics provides insightful information on your customers' behavior. But have you ever wanted to see things through the customers' eyes so you could understand their exact experience? If your answer is yes, I'm glad to tell you it's possible.
WatchThemLive offers a session replay feature to watch customers' experiences on your website. You can obtain more accurate data by following users' journeys. All the customers' actions on the website are captured in session recordings. As a result, you can easily find your website's problems that make your customers unhappy.
Try out WatchThemLive session replays now! Sign up and start watching what your visitors are doing.
6- Interviews
By interviewing your customers to get user feedback, they understand how much you value them and their opinions.
Even though it takes a lot of time, it's an excellent way to understand what you need to do to improve your products and services.
Conclusion
It's important to collect user feedback to find out how to develop your products and services.
Besides that, listening to your customers makes them happier and increases their loyalty, which leads to more sales.