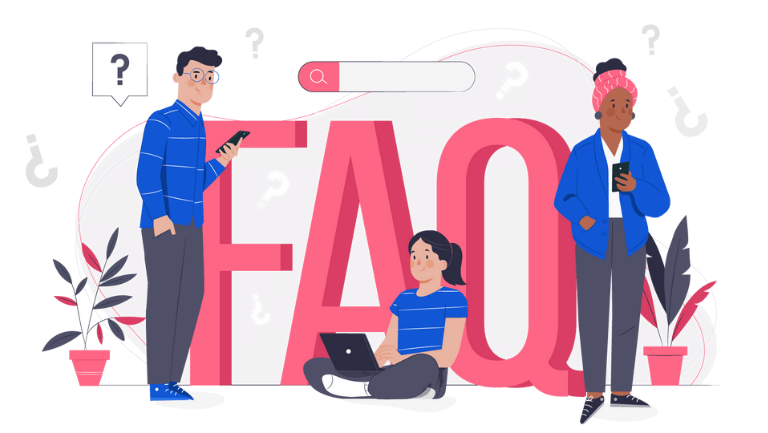 Frequently Asked Questions
About WatchThemLive
Are there any limitations if I'm from a certain country?
We are glad to say NO! You can use WatchThemLive from anywhere you are in the world.
Can I whitelabel WatchThemLive?
Sadly, no. You cannot whitelabel WatchThemLive.
Does WatchThemLive have (or plan to have) a mobile app?
Unfortunately, we do not have or plan to have a mobile app. WatchThemLive is going to stay a web app.
Does WatchThemLive have a public roadmap?
Yes! You can see what we have already done and what we are up to at 
our Trello board
.
Does WatchThemLive have an affiliate or referral program?
Yes, we have! You can get a 20% commission for all the payments made by a user you refer. You can simply go to your dashboard and from the top right side, click on your profile, and then "Referral." Now, all you need to do is copy your referral link and share it with your friends. Keep in mind that the people you refer must use your referral link to sign-up and upgrade their plan. For further information, head over to our referrals page:
https://watchthem.live/affiliate-program/
How does WatchThemLive compare to competitors?
We offer a fantastic all-in-one app that gives you all you need. There are many features WatchThemLive provides you with, such as session recordings, heatmaps, web analytics, user tracking, page optimization, goal tracking, and most importantly, visitor profiling. Visitor profiling puts all the data of a given user inside a folder. This way, you can easily access and analyze all the data in one place. WatchThemLive is also greatly cost-efficient, while most of our competitors are too expensive.
How many hours does your support take to answer?
We are usually very fast. Our customer support team checks the emails and the live chat throughout the day, so you should have no problems contacting us.
What languages does WatchThemLive support?
Unfortunately, we only support English at this time. However, we are working on updating this, and we plan to support Spanish.
Features
Can I download raw data from WatchThemLive's web analytics?
Yes, you can. You can export all your data to CSV or PDF.
Can you see the number of clicks on a webpage? Or is it just where the visitors clicked?
Both! You can see how many clicks/taps and where they have happened on a webpage.
Do you send automated weekly reports?
Yes, we send you automated weekly reports via email so that you know what is happening on your website. However, you can turn this off manually if you do not need it.
Do you support mobile heatmaps?
Yes! We represent 3 types of heatmaps for the pages you specify: Desktop, Tablet, and Mobile.
Does WatchThemLive support cross-device tracking for heatmaps and session recordings?
Yes. When you specify a website for session recordings or a page for heatmaps, all the data will be tracked from all devices separately (desktops, tablets, mobiles).
Is there an "Advanced Filtering" option for the recorded sessions or the data gathered?
Yes! You can filter the visitors, goals, recorded sessions, and the data our web analytics tool provides by many factors and also a combination of them. Web analytics and goals factors include: Country Code, Screen Resolution, Browser Language, Operating System, Device, Browser, Path, Page Title, Referrer Host, UTM Source, UTM Medium, UTM Campaign. Visitors and session recording factors include: Name, Email, By Page, Country Code, Screen Resolution, Browser Language, Operating System, Device, Browser.
Getting Started
Can I redeem all the codes I buy under one account/email for now and then spread them out later to client accounts as they become available?
No, you cannot.
Do you have any case studies or example sites that use WatchThemLive?
Is there a demo I can check out?
I'm using a third-party service (e.g., a webinar service). Is there a way to track the users' watching experience on a site that's not mine?
No. You need to have access to the website, whether directly via its HTML code, via Google Tag Manager, or any CMS of your own choice.
What gateway/payment connections are available?
You can use PayPal and Stripe to purchase your plans.
What Is a Redemption Code?
Redemption codes are short codes that you can use to change your plan (for both upgrades and downgrades).
Where can I find tutorials or demos about using WatchThemLive and its different features?
Privacy
Setup
Can I Access WatchThemLive's API?
Of course! You can go to your dashboard, and then, from the top right corner, click on your profile and then the "API" button. You can also read our
API documentation
 for further information.
Can I exclude certain IP addresses, e.g., myself and my team members, from being tracked and recorded?
Yes, there are two possible ways to opt out yourself or specific users: 
Just go to the Replays tab from the left side of your WatchThemLive panel. Then, click on the copy symbol under the Excluded Users and send the link to the user. You can learn more

here

. You can also watch

this video

for a detailed tutorial on how you can do this.

All you need to do is to go to the websites tab and click on the edit icon for the website you want to exclude IPs. Enter the IPs you want to exclude in the "Exclude IPs" separated by commas. Then, click on update.  Now, these IPs won't be tracked anymore.
Does WatchThemLive deal with WordPress membership plugins like Memberpress, where the checkout page has a unique reference added each time?
The first part of the URL is always the same, so you can find out which page has been visited, but the final part is always unique.
How Long Does It Take to Receive Data?
While session recordings take less than a few minutes, our heatmaps take almost a day to be uploaded and ready to analyze.
Is it possible for me to upgrade my product or plan later?
Yes. You can go to your profile, go to the Plan tab, click on renew/change plan, and proceed to upgrade your plan later on.
Is it possible to only track and record specific pages instead of the entire website? If so, does the monthly pageview threshold only apply to pages that are being tracked/recorded and not the website's overall pageviews?
You cannot record your entire website because you need to set up each domain as a new website so that you will track and record each page separately. The monthly pageview limit applies to the total of sessions you have recorded on all added websites.
What other tools integrate with WatchThemLive?
WatchThemLive integrates with MyURLs.bio. This only brings it closer to an all-in-one tool for all your needs.
When we add a domain, does it work for the entire domain, including subdomains?
No. You need to add each domain as a separate website to track its data.
Why Is My Website Not Verified?
There are only three possible explanations for this, and both are easy to fix, so you don't need to worry at all.
Make sure that you have successfully inserted your tracking code inside the header of your website. You can also visit our step-by-step guides if you need more help.
Now, you only need to make sure that your browser's cache is cleared. 90% of the time, this is the issue with websites not getting verified. For this, simply press Control+Shift+R while visiting your dashboard to clear your cache.

If your website is built on WordPress, you might need to deactivate the cache plugin you are using to get your website verified.  These plugins include W3 Total Cache, WP Rocket, WP Super Cache, WP Fastest Cache, Comet Cache, Cache Enabler.

After your website is verified, you can activate your cache plugin again.