We know that website visitor tracking is the most efficient marketing technique in today's marketing world. Session replay tools are necessary components of making your company visible on the internet. It enables you to see how real users are interacting with your website and lets you set a clear goal for the analysis.
Moreover, it aids in the analysis of data and the conversion of data into actionable insights for improving your customer experience and growing your business. However, to use them in the best way possible, you need a complete session replay guide. Fortunately, we have prepared it for you.
Here, we are writing about the greatest website analytics session replay tools for 2022 that every internet online business owner should employ for a certain purpose. This guide includes a list of the best session replay tools that can simply help you increase your website traffic and improve your company's functionality.
On top of that, if you're looking for a sharp-eyed to see any cracks in your sales funnel, WatchThemLive has your back. But first, let's see how session replay software works and what kind of data it will provide you.
What Is a Session Replay Software
Session replay, also known as screen recording, is a video captured in real time by session replay tools. They offer the exact replication of a user's actions when they are visiting your website or web application. This means you experience what users experience. Session replays recreate users' actions like mouse movements, clicks, page views, scrolling, tapping, and so on.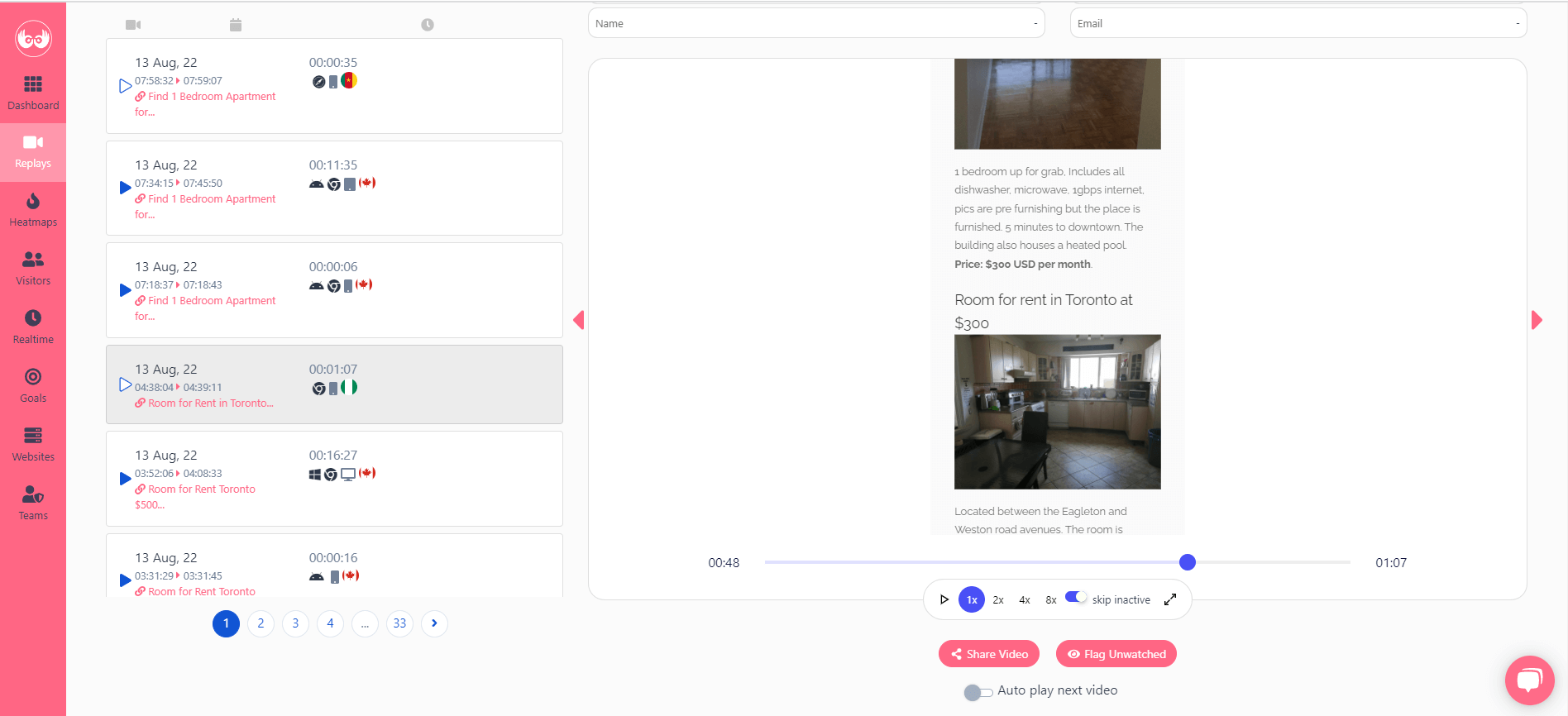 Traditional research methods are time-consuming to set up, difficult to execute, and often prohibitively expensive. In the process of increasing your conversion rate, you are going to need a powerful tool. This tool must provide you with useful, detailed information about your website's visitors.
Additionally, it should not be limited to one service and must provide real-time data. WatchThemLive does all this! Not only does it offer you fantastic session recording software, but it also grants you detailed heatmaps, page optimization, and many other services.
How Does Session Replay Work
Website recording, being one of the top user analysis tools, is well worth the hype it gets. This is because it essentially lets you observe how real users interact with your website. You can monitor where they click, how far down they scroll, and if they end up precisely where you want them to be.
The outcomes of such data gatherings can give you a wealth of information. The following are some of the things you will learn after assessing your research:
How users interact with your

navigation

menu,

Whether your CTAs are appealing enough,

How long does it take for the page to load,

If everything functions properly,

If it takes too long for people to accomplish a task,

How users navigate your website and where they get lost or confused,

If all of the key pieces are clickable and easily accessible,

Where the user's attention is drawn to and where it is drawn away.
As you can see, session replay software is one of the most powerful tools for analyzing user activity. However, you must first choose the best software.
There are so many options available. However, not all of them are functional and user-friendly, though. Let us walk you through a list of the best session replay tools to assist you in conducting user research and perfecting your website.
The Best Session Replay Software for Your Business
Although goals of every business are different, all of them try to stay profitable. There are different tools out there in the market that can fulfill almost any needs your business has. Consequently, we're here to help you make up your mind and choose the right tool based on your specific goals and needs. Let's start with the following:
1. WatchThemLive – The Best Easy-To-Use Session Replay Software
Imagine if you could have a binocular vision to see what your users are doing on your page. That's exactly why WatchThemLive's session replay feature was born. WatchThemLive for sure is one of the best tools for website visitor tracking that offers many opportunities to boost your conversion rate.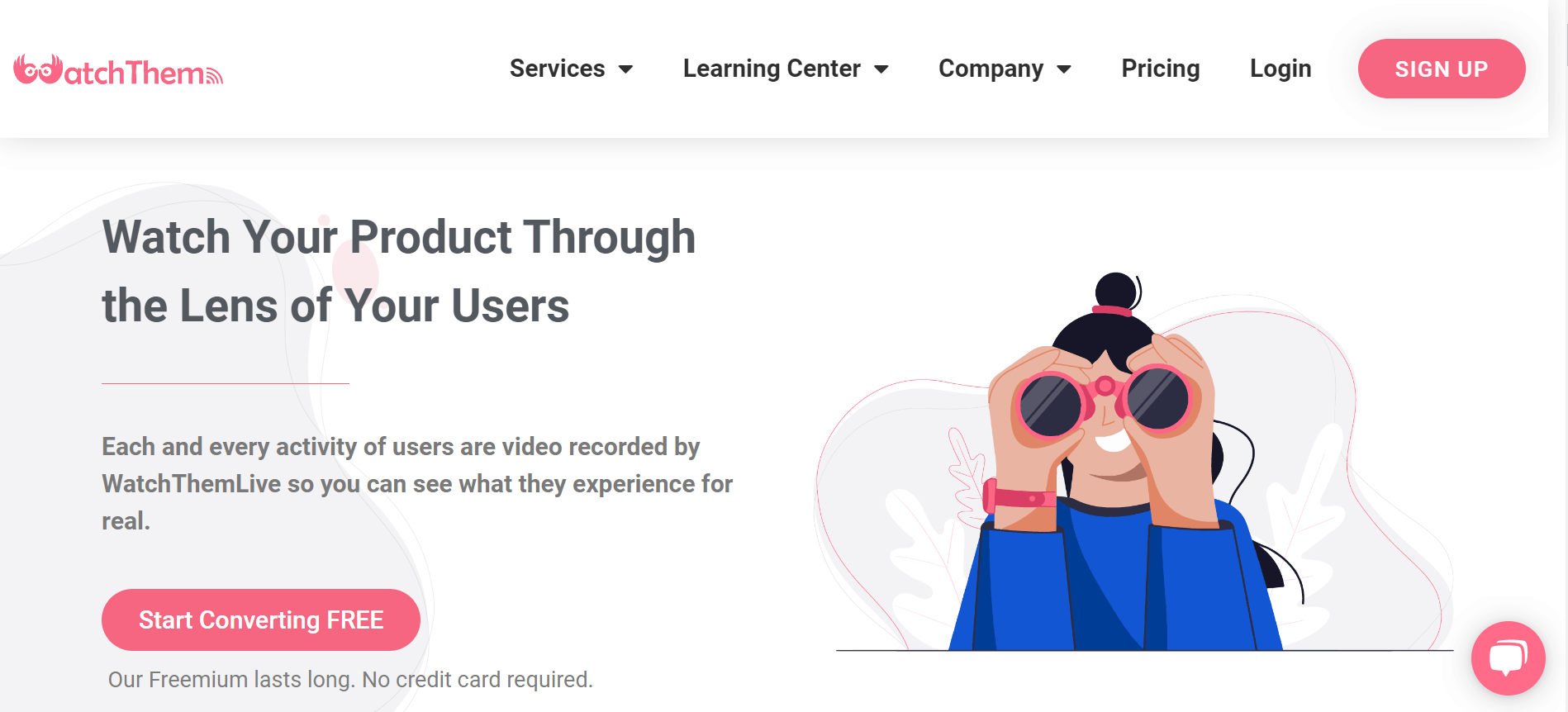 By using our session recording software, you will be able to track every movement of your website visitor. This gives you the edge you need in the market. All you need to do to use our service is to sign up on WatchThemLive and take the steps below:
Enter your email address and set a password to sign up.

Confirm your email and login

Now, you have access to your dashboard. So add your website to collect data from your website.
And everything is done. Of course, your information security is our main priority.
After using our session replay software, you will be able to optimize different aspects of your website to fulfill your customers' needs. The best part of using WatchThemLive is you can filter sessions by name, email, page, country code, device, etc. For example, you can monitor a special customer's journey to find out how the customer interacts with your website and solve their problems.
Furthermore, it offers all the features you need to optimize your customer journey, including
Heatmaps,

User Tracking,

Web Analytics,

Goal Tracking,

Page Optimization,

Browser Console Recording.
Not convinced? Let's take a close look at some of its features:
Heatmaps
If you want to know what makes people tick, just take a look at their heatmaps! A website heatmap is the perfect analytical tool for marketers and website owners who can't be bothered to actually look at their site data. These handy tools can provide all sorts of insights into how people behave online, making them invaluable for anyone who wants to sell anything online. WatchThemLive's heatmaps make complex data easy to understand with the help of warm and cold colors.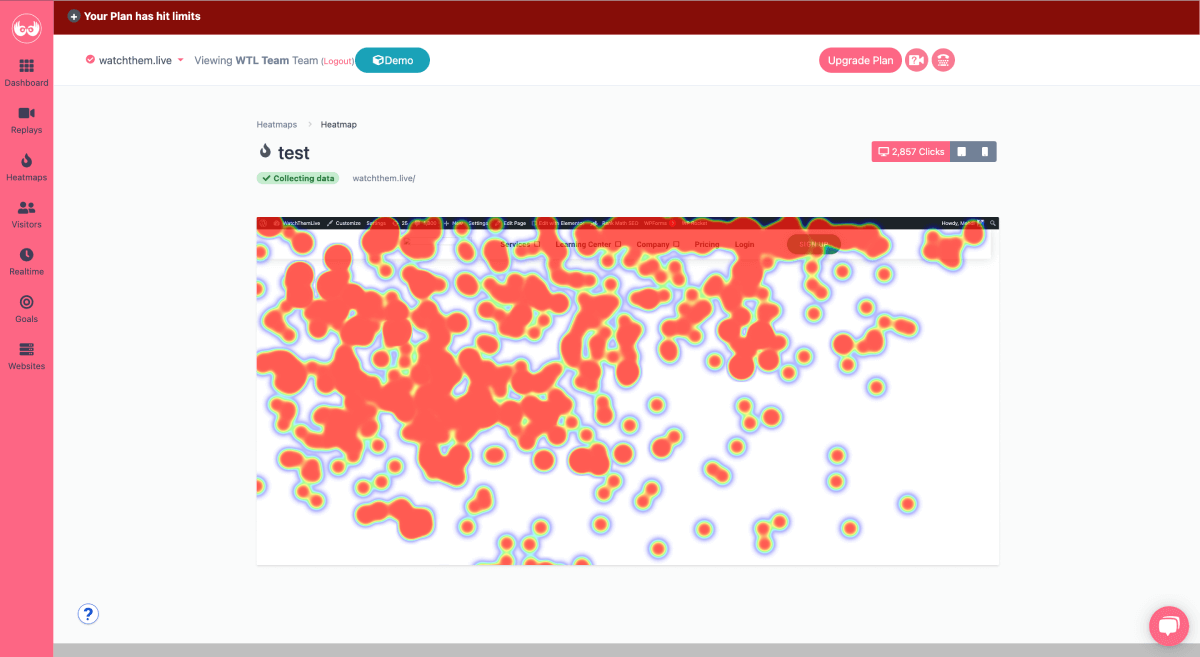 Web Analytics
Website analytics is the process of binge-watching Netflix and eating an unhealthy amount of delivery food because you're too lazy to cook. WatchThemLive has a very simple analytics dashboard that enables you to understand your target market better. This dashboard contains nine widgets, including:
Pages,

Referrers,

Countries,

OS,

Devices,

Browsers,

UTMs,

Screen Resolutions,

Browser Languages.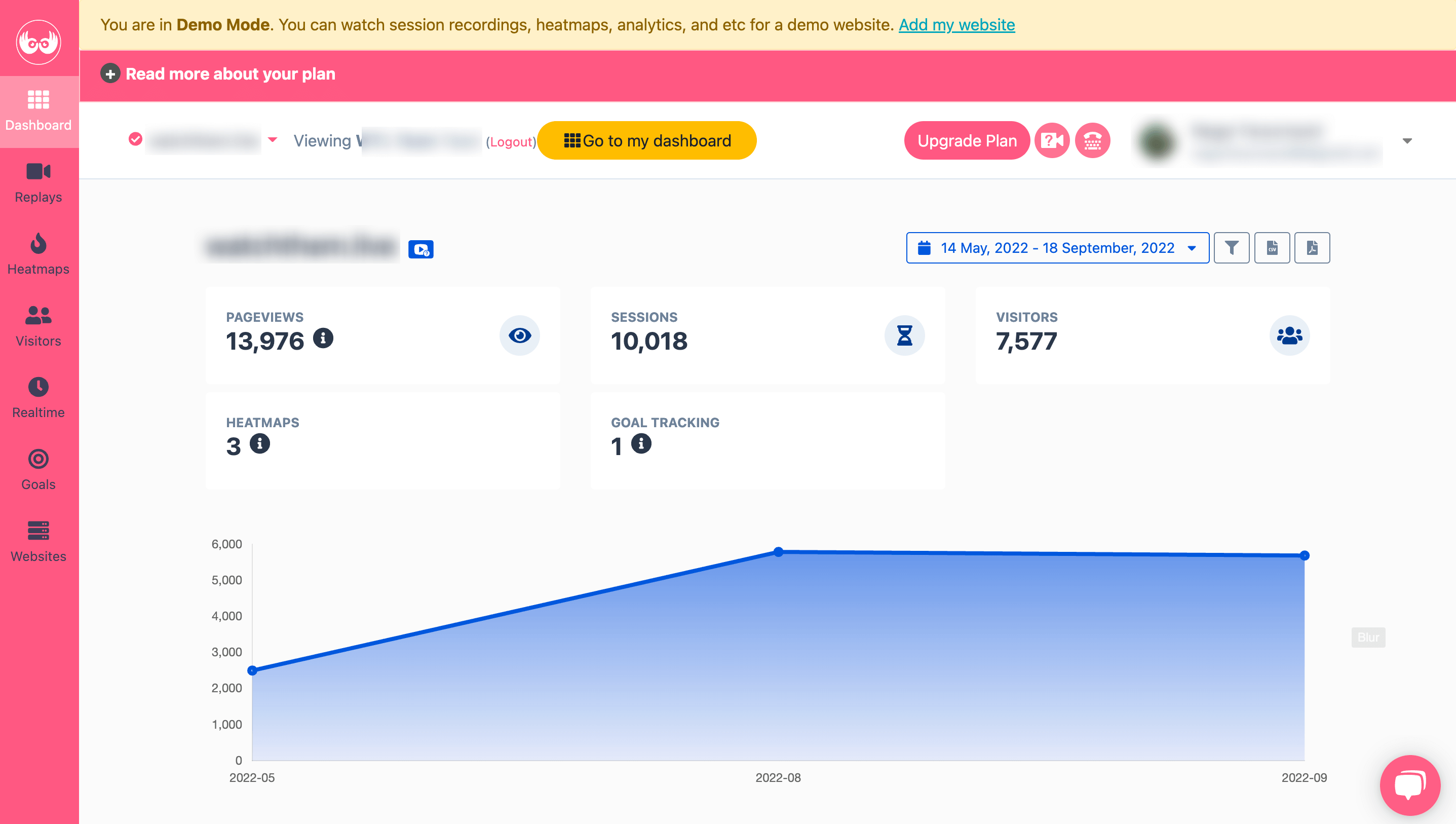 Lastly, WatchThemLive's pricing package is very affordable. It gives you the freedom to choose your own plan by offering a free plan to make a better decision.
WatchThemLive's plans and pricing:
Free plan: 1,000 session video recordings
Individual Silver: $29/ 10,000 session video recordings per month
Individual Gold: $49/ 20,000 session video recordings per month
Team Silver: $69/ 30,000 session video recordings per month
Team Gold: $99/ 60,000 session video recordings per month
So, if you are eager to make a fantastic change in your customers' service, sign up right now and start using our services.
2. UXtweak – Watch Visitors' Activities in Detail
UXtweak is a multifunctional UX research platform designed for usability testing. It claims that you can improve the usability of your website from prototypes to production in order to find and fix issues with your product before release.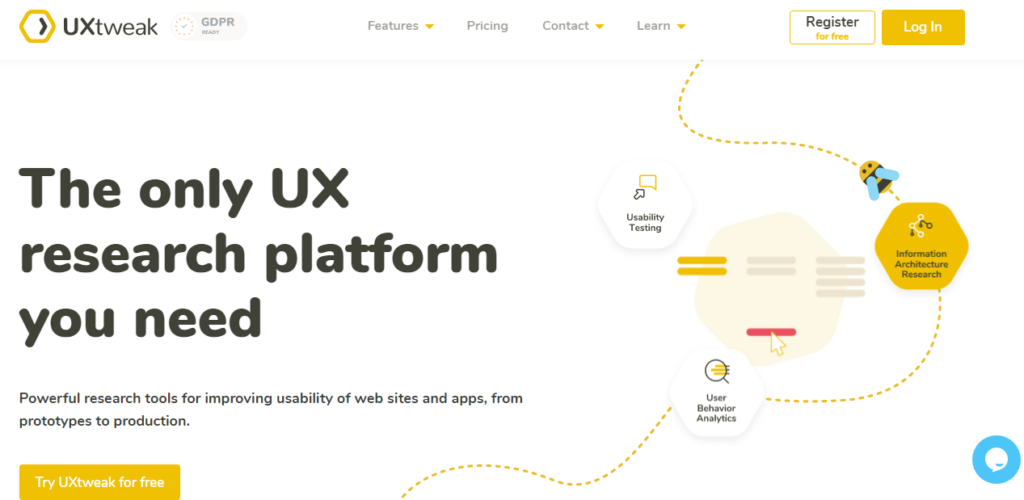 UXtweak offers a behavior-tracking tool called Session Recording, which allows you to watch what users are doing on your site. You can easily find users who meet certain criteria or act in a specific way. Session recording captures everything – every page, click, mouse movement, scroll, and all dynamic changes on the site. With pixel-perfect session playback, you'll see your website exactly as your users do.
UXtweak Session Recording features:
Session recording

Heatmaps – Click, Move, Scroll and Tap

Smart Search – filter according to any event carried out by the user (over pre-set 40 filters)

Activity Tracking – simple set trackers and monitor in real-time

Analytics
But UXtweak is not only a visitor tracking software, it offers a full suite of other UX research and testing tools to help you improve the UX of your products at any stage.
UXtweak's Cons:
Some of the features are a bit hidden and need to take time to snoop around.

Although the tree/card sorting allowed users to be using both mobile and desktop, there isn't a way to filter the result.

The toolbar at the side of the dashboard is ambiguous for a new user who has no idea about each icon.

It has no installation instructions.

Because UXtweak is a complex software, it would be better to add more hints to the administration.
UXtweak's Pricing: Free forever plan; paid plans with access to all 12 tools start at $80/month
3. SiteRecording – Record Real Actions of Visitors
Siterecoridng is an advanced website recording software that offers customer journey mapping, session recording, mouse and click tracking, usability testing, etc.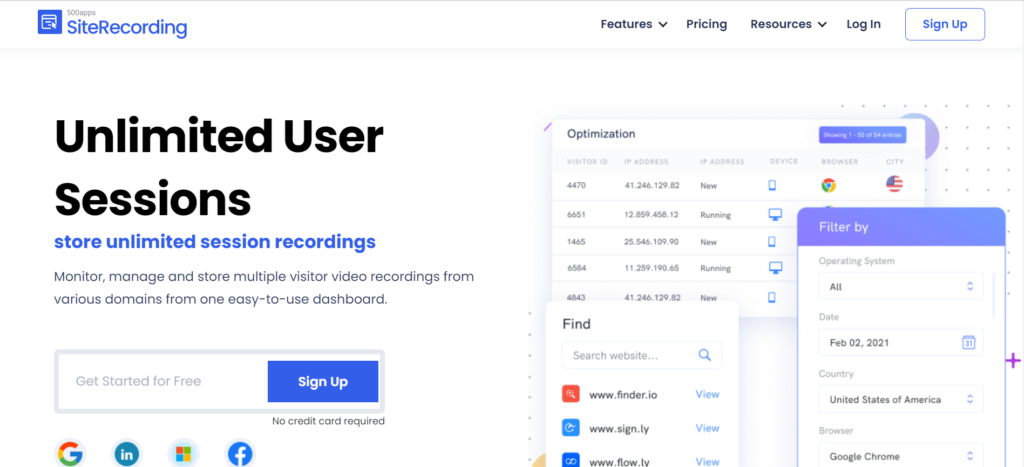 Apparently, this tool can track clicks, taps, mouse movements, form fills, and scrolling depth on your website. If so, you can make smarter digital decisions and improve your website's user experience.
SiteRecording not only enables you to play-back recordings but also enables you to control and share them with your team members. But it takes so long to upload data.
SiteRecording's pricing: It has one pricing edition that costs $14.99. 14-day-trial is also available for each plan.
4. Reactflow

– Get Real Qualitative Insights

Wondering why your calls to action are underperforming? By using session replay tools, you can watch your users' experience and realize why they miss your CTAs.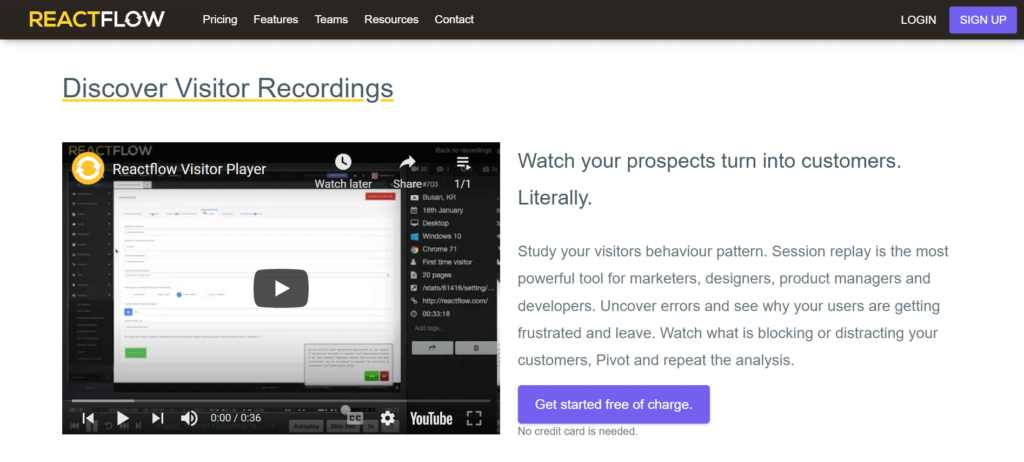 Reactflow identifies why your visitors aren't becoming customers and ensures a smooth sales funnel for a faster return on investment. According to users' reviews on different review platforms, it seemingly allows you to add and remove tags to recordings and leave comments on them. These all aid you in understanding, solving, and producing great flows.
ReactFlow's plans and pricing:
ReactFlow provides an individual plan and a business plan. ReactFlow's business plan starts at $19.99 to $3699.99 per month. Also, its individual plan is $19 per month.
5. Plerdy – Inexpensive Web Session Replays
Plerdy is a cloud-based marketing solution that can assist you in improving the conversions and usability of your website.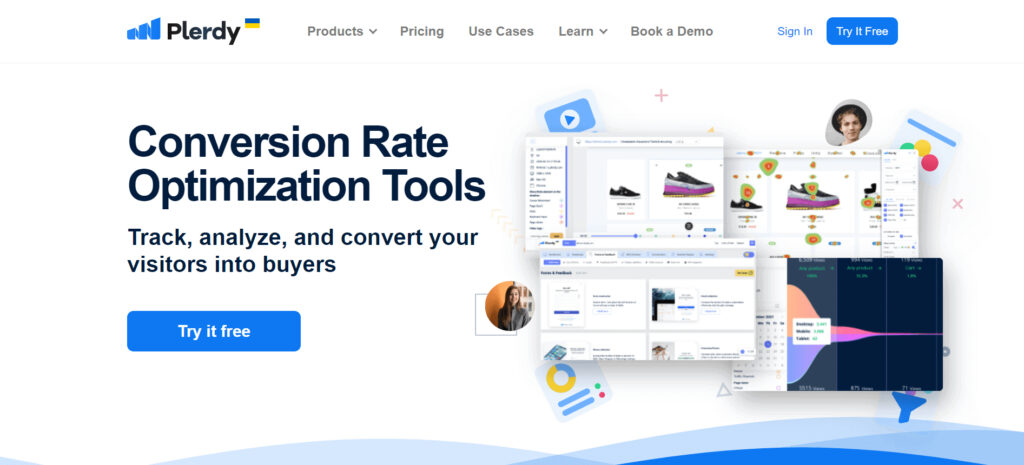 Besides the session replay software, you can use their pop-up software, which presents three survey options, including Net Promoter Score, open-ended questions, and emoji reaction reviews to fulfill the unmet needs of your customers.
Plerdy claims it records user sessions anonymously to ensure data confidentiality in its company, but this is just one side of the story. When a customer sends an email to your customer support and asks for help, how do you want to find the right video session among those anonymous video recordings?
Plerdy's Cons:
There is no explanation about status signs in the SEO audit.

Sometimes it takes so long to upload data. So you need to reopen the pop-up window several times.
Plerdy's plans and pricing:
Free plan: 100 video sessions

Start: $23/mo, 1,000 video sessions

Business: $47/mo, 2,000 video sessions

Premium: $79/mo, 10,000 video sessions
6. VisitorLAB – A Cost-Effective Site Recording Tool
As a website owner, if you want to increase your conversion rate, using a good session replay tool is the best way. With the help of VisitorLAB's session replay and website heatmaps, you can monitor mouse movements, clicks, and scrolling of users.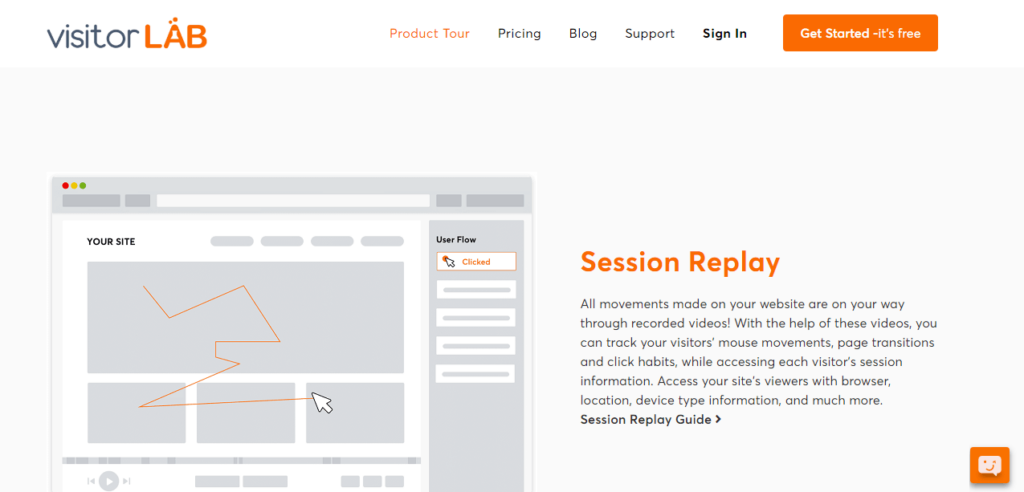 Unfortunately, Visitor LAB's session replay is no great shakes. Indeed, there's room for improvement.
But, this tool asserts that it can handle user-side Javascript errors and identify specific browser problems. If you want to know more about your users' technical details, Visitor LAB's error detection errors can help you.
VisitorLAB's plans and pricing:
Free plan: 2,500 session video recordings

Starter: $19 per month/ 7,500 session video recordings

Premium: $35 per month/ 25,000 session video recordings

On-Prem: Contact
7. Livesession – The Essentials for Successful UX
Livesession is a web analytics software with session replays that gives you details about how people use your product and makes UX optimization a more straightforward task.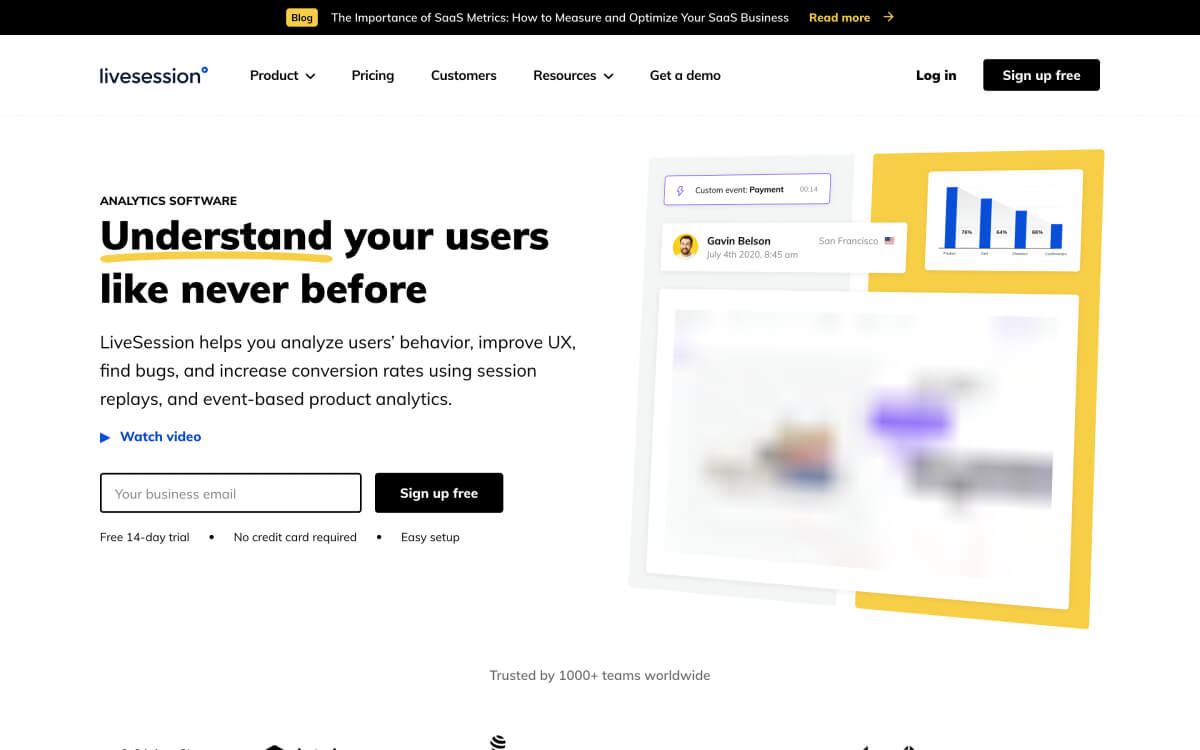 Moreover, you can find more engaging sessions without having to watch all of them. While watching a recording, you can select any particular element of your website and see how it's used.
A customer journey is a path your visitors take when exploring your website. In LiveSession, you can watch and analyze your customers' journeys. This might help you improve the sales funnel in your store.
LiveSession is not free but is not as expensive as some other platforms, making it an acceptable option for our list.
LiveSession's Cons:
There is no possible way to watch the session live.

It would be great to be able to have a year of data retention.

There is no option to skip recordings without any clicks.
LiveSsession's plans and pricing:
Free plan: 1000 free sessions

Basic:

€65 monthly for 5000 sessions

Pro:

€99 monthly for 10000 sessions

Enterprise: custom/ starts from 100000 sessions
8. Browsee – See Each Minute Detail with Session Recordings
Browsee lets you prioritize your needs and lists your pages based on that. It also allows you to block pages and patterns for session recordings.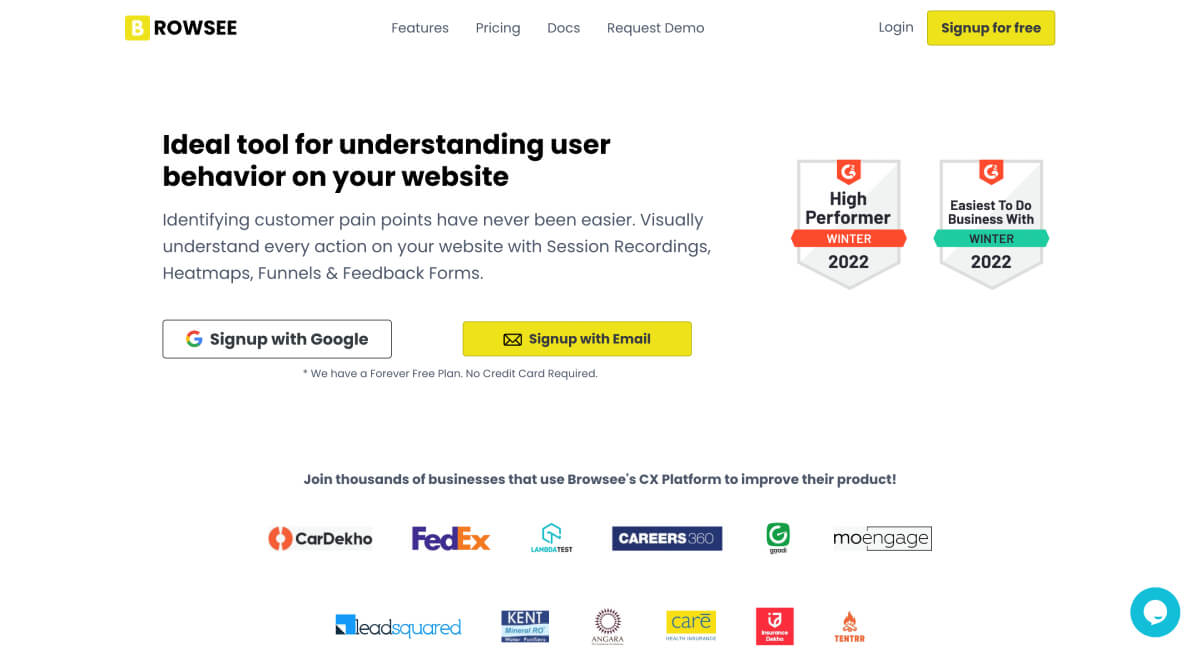 Apparently, you can search for the sessions you want to watch based on the search query and AI tags on sentiments (rage clicks, error encounters, confusion, and high engagement).
Browsee applies the following tags to user sessions based on the activity:
Network issues

Javascript errors

Frustration clicks

Repeat pages

Brocken links
You can not only filter your sessions by UTMs, referrals, devices, and a lot more measures but also identify users to help success teams see why a user is not converting.
Browsee's free plan provides 1500 recordings per month, it also offers:
Starter: $12, 4000 recordings per month

Plus: $32, 10000 recordings per month
9. Lucky Orange – See What's Stopping People from Converting
Analyzing user behavior, visualizing the customer journey map, recording problems and bugs, and concentrating on specific user concerns all lead to a better UX.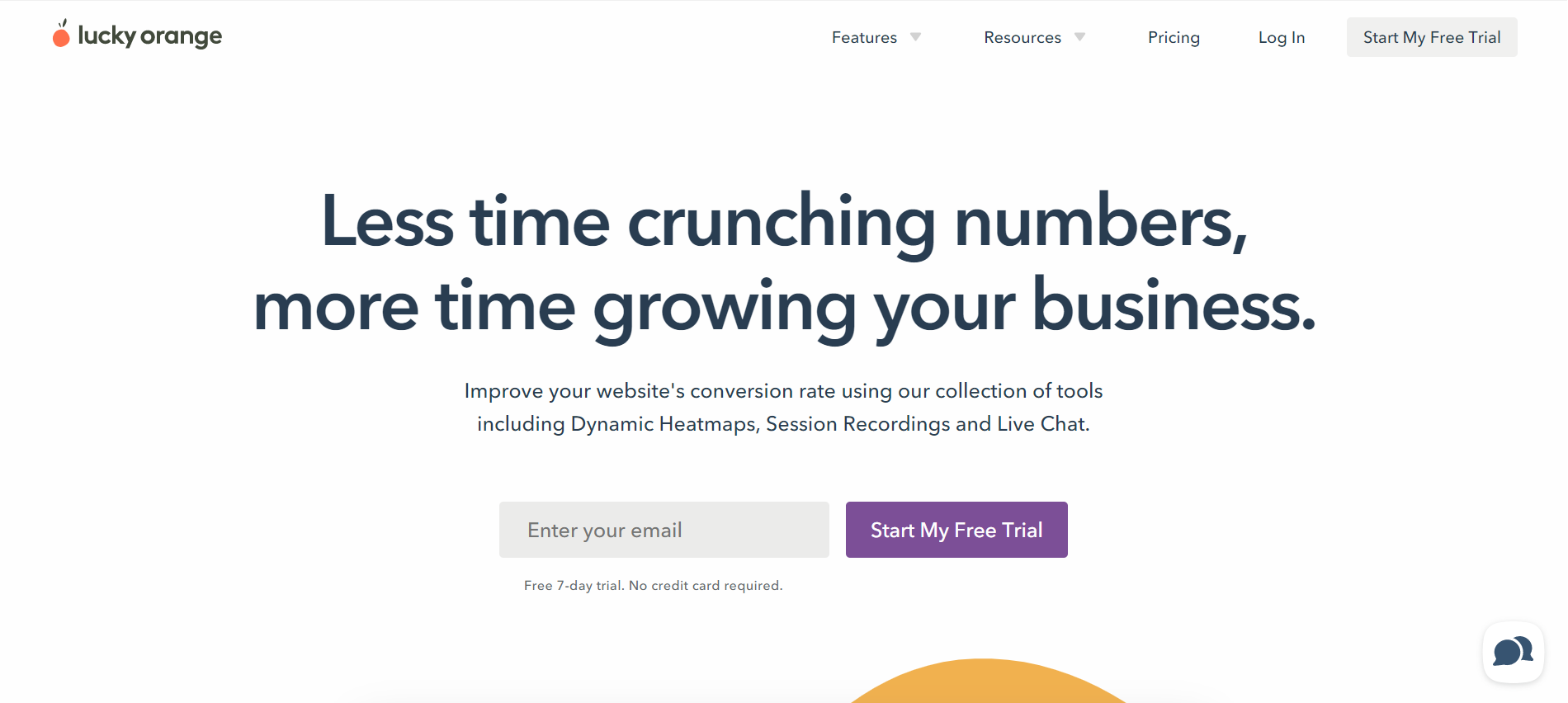 The live session recording is reportedly less than perfect. When you sign up on Lucky Orange, the session recordings menu looks professional. But there's a problem, session recordings highly depend on behavior analytics, and Lucky Orange is seriously lacking.
Moreover, Nobody likes waiting; Lucky Orange has delayed loading session recordings, which takes too long to load.
You can filter session recordings by visitor data segments, including:
High cart value or abandoned cart,

Traffic from a certain source or UTM parameter,

Customer or Member ID,

Rage clicks or surveys completed,

New or Returning Visitors,

Go to a Visitor Profile to view other recordings or contact information for that person.
The real-time analytics dashboard displays the number of your website visitors and keywords, regions, and even user languages. You can also create separate dashboards for different teams and dashboards.
Lucky Orange has a free plan, but it also offers:
Build: $18

Grow: $35

Expand: $70

Scale: $150

Enterprise: Book a call with them
10. UXCam – Record Sessions with Zero Instrumentation
UXCam's session recording software includes all screen views and events and integrates easily with full security compliance. UXCam claims you can easily set it up within 30 minutes because it needs no instrumentation or tags. But according to reviews on Captera, long session recordings often don't get recorded.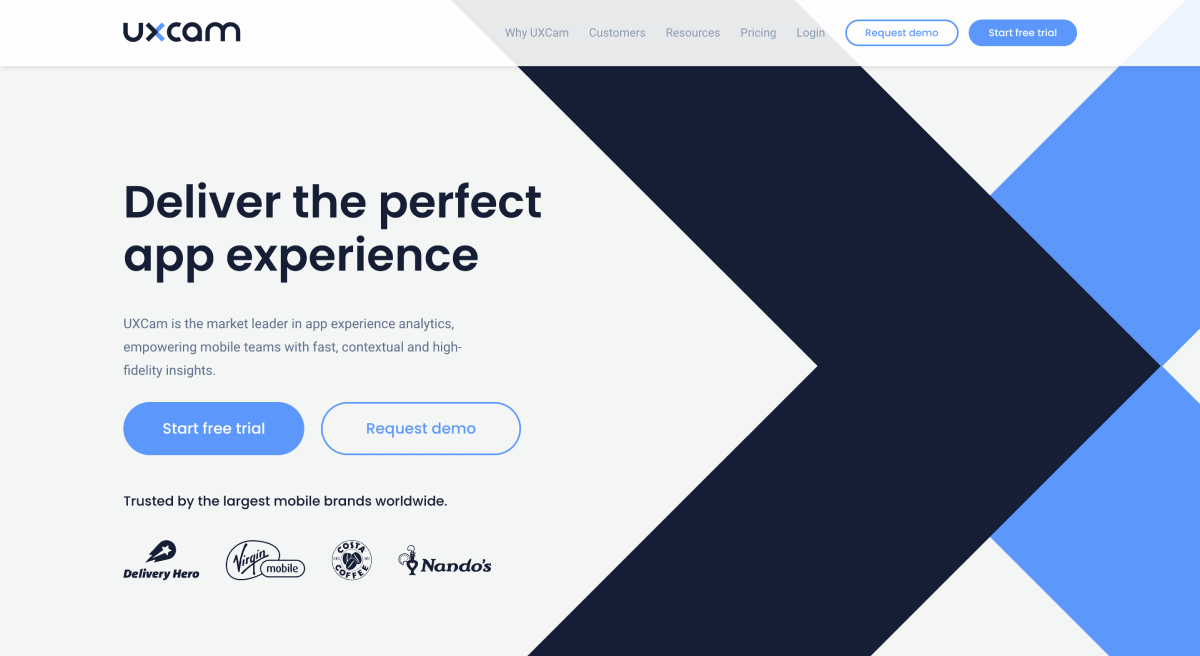 It also declares that you can tag your team members and take notes on issues and problems to find solutions. UXCam helps you find crash sessions by using filters.
According to their claim, this tool also allows you to create multi-step funnels in seconds and group them based on device or user properties.
UXCam's plans and pricing:
Free plan: 10000 monthly sessions.

Growth: No pricing information; you must request pricing.

Enterprise: No pricing information.
11. Inspectlet – Watch Individual Visitor Behavior on Your Site
Inspectlet is a web heat mapping tool that provides heat maps, session recording, and form analytics.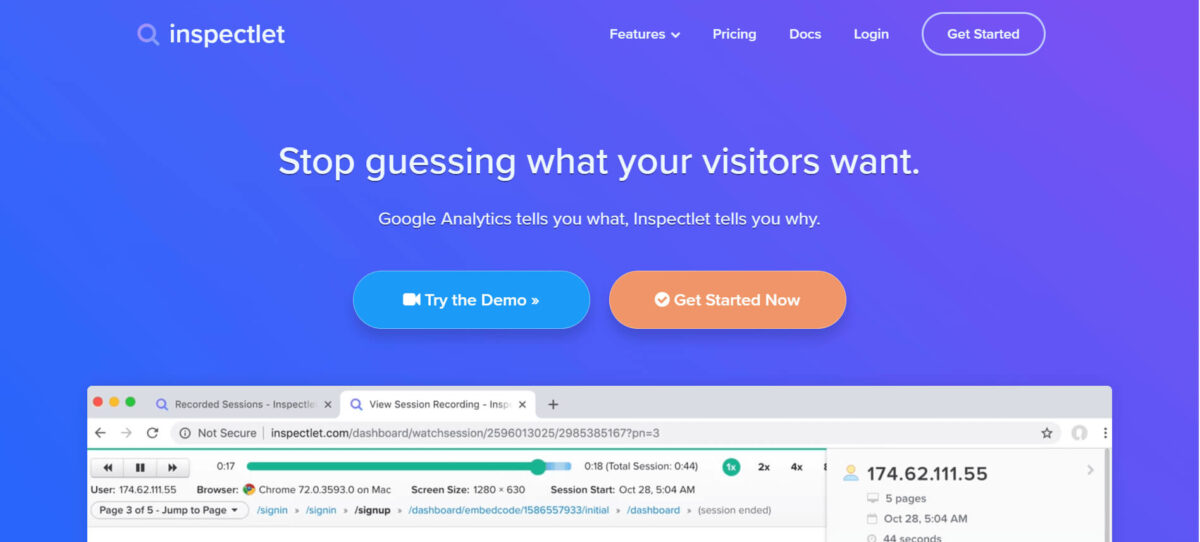 Inspectlet's session replay tool lets you see every mouse movement, scroll, click, and keypress on your website. It also provides filtering capabilities that help you narrow the search parameters and quickly find all matching sessions. But sometimes, not all sessions are recorded.
If you want to know how much time your users spend filling out forms and input fields, you can use Inspectlet's hesitation report to realize whether your users are engaged or hesitating.
Inspectlet's plans and pricing:
Free plan: 2500 recorded sessions

Micro: $39/mo, 1000 recorded sessions

Startup: $79/mo, 25000 recorded sessions

Growth: $149/mo 50000 recorded sessions

Accelerate: $299/mo 125000 recorded sessions

Enterprise: $499/mo 250000 recorded sessions
12. Logrocket – Reproduce Every User Session with a Pixel-Perfect Replay
Logrocket is a cloud-based and on-premise logging and session replay software that promises to debug the most difficult bugs that only sometimes happen.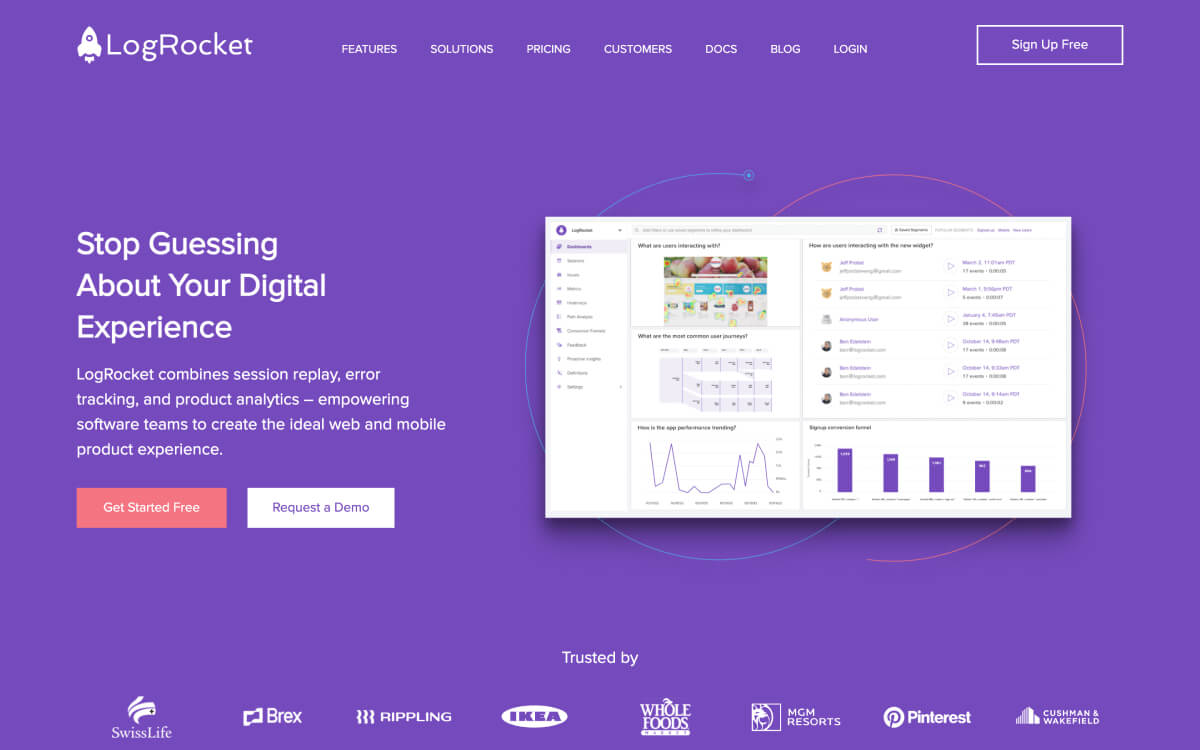 LogRocket's session replay tool helps you figure out what happened on your website and lets you jump right into debugging. But the problem is sometimes sessions load very slowly. It may even crash your chrome tabs if your recorded session is large. Logrocket also allows you to apply different filters to segment sessions by performance, user ID, custom event, URL, etc.
Furthermore, you can build custom funnels, time series charts and tables, and more to visualize and analyze your customer journeys.
Logrocket's plans and pricing:
Free plan: includes 1000 sessions

Team: $99/mo, starting at 10000 sessions

Professional: $500/mo, starting at 25000 sessions

Enterprise: contact them
Sadly, Logrocket's professional plan is too expensive for startup businesses, and there is also a bit of a jumping price in their pricing package to get features like heatmaps.
13. Heap – Get Full Context on Every User Action
If there's a high drop-off in a funnel and you don't know how to find it and stop losing conversion, Heap's session replay tool can give you a hand.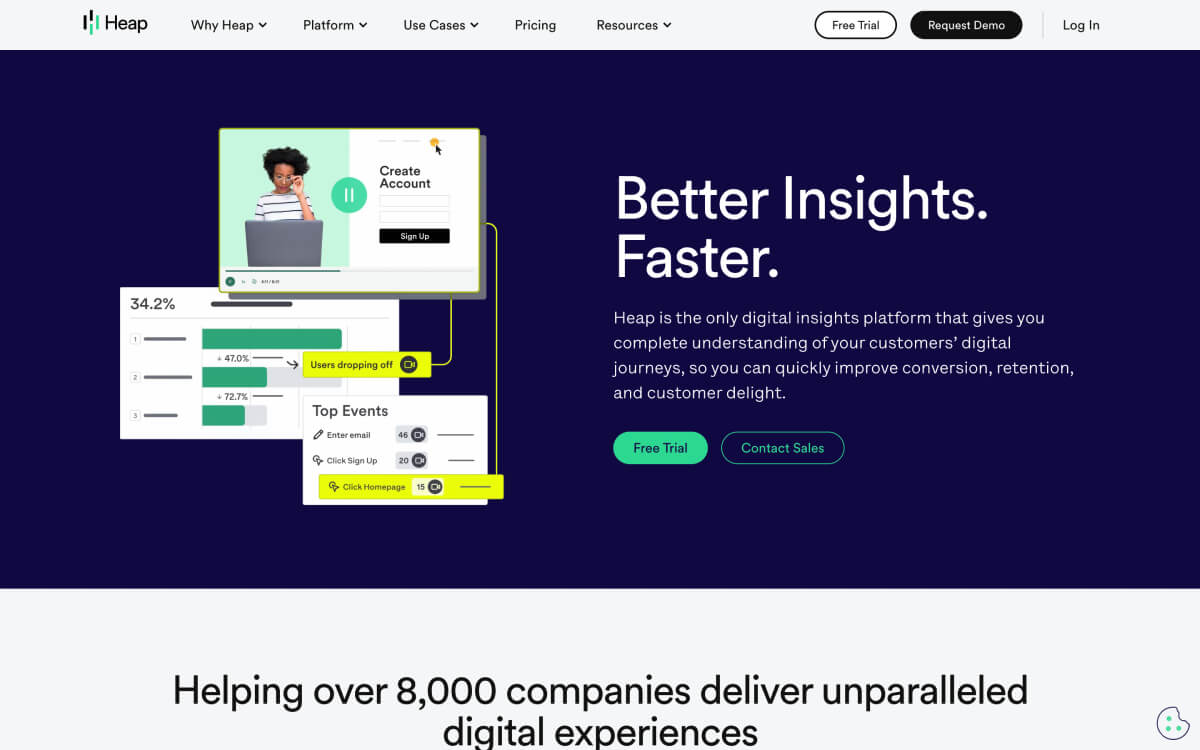 According to their claim, you can track events and set up funnels to understand every single thing users do. You just need to build a funnel and watch sessions to eliminate the friction in your funnel.
Supposedly, Heap's illuminate lets you understand what happens in every stage of your funnel and generates top events tables that illustrate every step your users take to complete your desired action. So you can analyze their path and get data in a simple, comprehensible way.
Besides its all useful features, it takes time to learn how to use Heap, especially for novice users, because of the way reports are structured.
In addition, Heap's pricing package is not clear and makes users confused.
14. Capturly – Fast and Secure Session Replay Software
Capturly lays claim to record every click, mouse movement, scroll, and form fill. You can also filter sessions by page URL, events, date, and more.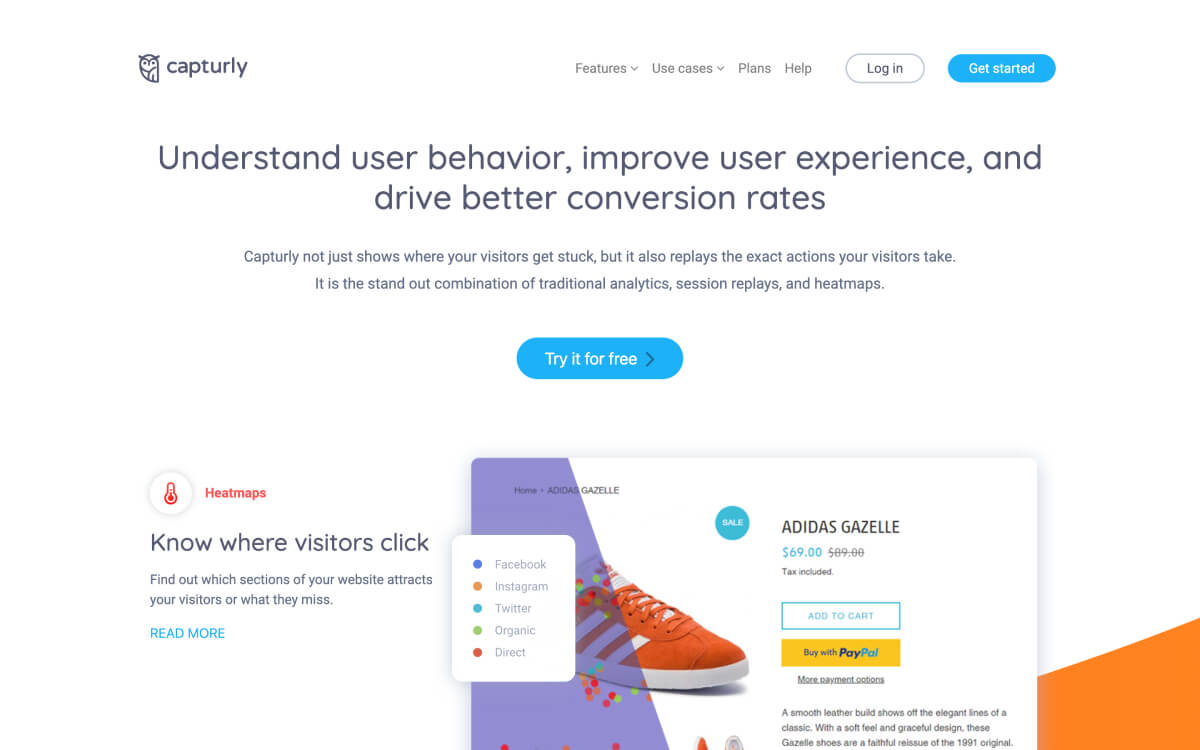 Alongside its click heatmaps and scroll heatmaps, Capturly claims that you can segment heatmaps by different colors. So you can probe and handle the missing data. Segment heatmaps also help you understand which referrers bring the most active visitors to your website and you can easily check the traffic source.
Capturly's plans and pricing:
Free plan: 1000 recorded sessions

Lite: Starting at $23 per month, 5000 recorded sessions

Growth: Starting at $63 per month, 15000 recorded sessions

Custom: Contact them
15. SessionStack – Enhance User Adoption with Session Replay Tool
This is the last session replay software from our list. SessionStack is a digital analytics platform that helps you analyze customers' digital experiences.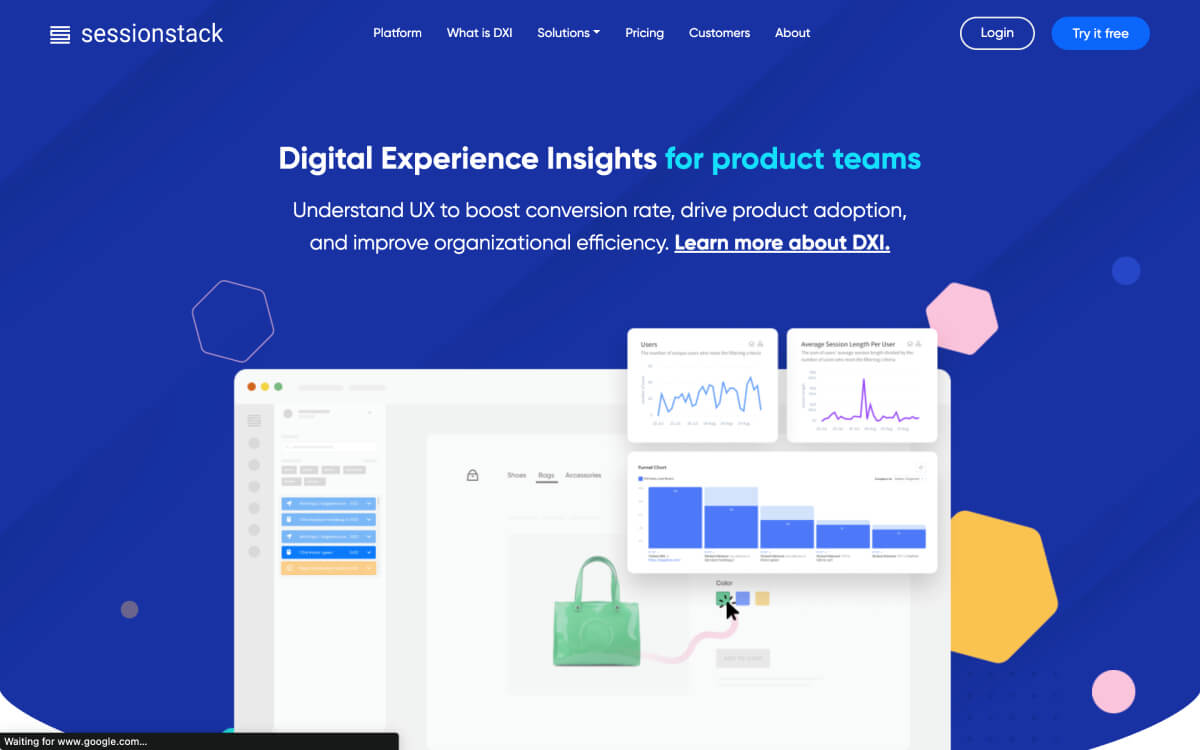 SessionStack's session replay feature is similar to other tools, but the latest SessionStack release includes User trends and Contextual Filters.
It also enables you to download and share recordings with your colleagues. Allegedly, you can use SesionStack's Dev tools to navigate the console and find all the errors and warnings in the sessions.
SessionStack's plans and pricing:
Launch: $89/mo, 1000 user session

Scale: $224/mo, 10000 user sessions

Pro: $449/mo, 25000 user sessions

Enterprise: Contact them, unlimited user sessions
FAQs on The Best Session Replay Software
Now, let's answer some of your frequently asked questions about the session replay software.
1. Does Google Analytics Have Session Replay?
Google Analytics is a popular web analytics service used by millions of website owners and developers. Although it has many features, one thing it does not have is session replay. Session replay is the ability to record and watch a user's session as they experience it. This can be useful for identifying website errors with ease or for understanding how users interact with a site. There are some third-party tools that offer session replay, but they are not part of Google Analytics.
2. How Does Session Replay Capture User Experience?
User experience can be captured through session replay, which allows developers to see how users interact with their products. This information can be used to improve the user experience by understanding what users are struggling with and where they are getting stuck. Replay tools work like closed-circuit cameras on your website. They store data from users' interactions with your website, including how they navigated to different sections within a page, how long they stayed, and what they clicked on while they were there.
3. How Do I Track User Activity on a Website?
There are a few ways to track user activity on a website.
Use tools like Google Analytics and search console.

The use of server logs which contain information about the requests made to a server and can be used to track what pages are being accessed

The use of cookies which are stored on a user's computer and can be used to track their browsing activity.

Through different types of heatmaps.

With the help of click tracking (recording which elements on the page users click) and s

croll tracking (recording where users scroll on a page).

View session recordings of users as they use their site.
Conclusion
In this article, we tried our best to provide you with the best session replay tools that exist on the market. First, we gave definitions and technical information about website tracking and session replay. Then, we discussed software in the market that helps you record your users' sessions. In this case, you can rely on WatchThemLive for all your business needs. Make sure to sign up!