The customer journey and customer experience are two important concepts in business. They are often used interchangeably, but they actually have different meanings. The customer journey is the path that a customer takes from awareness to purchase. It includes all the steps and touchpoints along the way. The customer experience, on the other hand, is the customer's overall impression of your brand. It encompasses everything from the first time they see your ad to post-purchase follow-up.
Note: To create the best customer journey and customer experience you need to understand your customers. Understanding your customers' behavior and their preferences requires making use of a behavior analytic tool. WatchThemLive is here to give you a hand. Read on to see how!
What Is Customer Experience?
Customer experience (CX) is your customers' total impression of your brand as a whole, all through the journey, they take, including customers' first contact with your brand, the purchase process to post-purchase follow-up. A good customer experience will bring you loyal and repeat customers, and obviously, a bad experience will result in customer loss.
A bad experience doesn't end in a single customer taking his business elsewhere; that one person can talk hundreds of people out of your business. In the contrast, a good experience can promote your business and bring about loyal customers and valuable marketing assets.
What Is a Customer Journey?
The dictionary says a customer journey is a set of interactions that a customer has with a brand in buying a service or product. In other words, a customer journey is the complete interaction roadmap starting from brand discovery to purchasing and beyond. In customer journey, unlike the customer experience, the focus is not only on transactions and customers' feelings after every interaction. The focus is also on using a strategy to gain insights of the customer's experience all through their buying process.
Customer journey has two important objectives, one is to measure and evaluate the way you take care of your customers, and the other one is, how you can enhance and cause delight in their future experiences. Great products, a praiseworthy website, and an excellent customer service team is the perfect mix to capture clients, still, having all, an unhappy customer will probably seek competitors. Try to keep your customers happy and satisfied.
You can simply keep customers happy by providing them with a good customer experience at each touchpoint in the journey. It can lead to loyal customers and eventually it builds brand loyalty.
Customer journey is a map of unique interactions each customer has with your brand, and it varies from person to person. What causes the differences is the path each customer takes. All the stages are supposed to familiarize your brand with a customer and leave a memorable impression.
What Is a Customer Journey Map?
A customer journey map is a diagram that illustrates the steps your customers go through while engaging with your company. It provides an understanding into the needs of potential customers. The information enables companies to improve customer experience, get better conversion rates, and eventually boost customer retention.
Why Is Customer journey Important?
The customer journey is defined as "the whole interactions an individual has with your brand, product or services". It actually seems simple, but it's really much more complex. According to Salesforce, 80% of customers care about their experience as much as they care about the products.
From the time a customer gets to know your product until the purchase is done, the customer is going through the buyer's journey. Customers might see ads, speak to customer service representatives or attempt to check out on this journey. These steps affect the customer's action, and the key here is understanding all the positive and negative points, in order to have a more advanced plan for the future.
To do so, you can make use of behavioral analytic tools and get valuable information about the process and its consequences on customer interactions. It allows a business to plan and prepare to drive customers towards a sale. But how? Using session replays is a wise choice; you can see your website visitors' screen captured, and every single thing your visitors do including the mouse movement and clicks. Session replays enable you to find what makes your customers drop off, what is distracting them, and what needs to be improved. Basically, you can watch their whole journey.
WatchThemLive has the best session recording software in the market. Watch the video below to learn more about WatchThemLive session replay feature.
Considering everything, knowing and understanding customer journey is not enough. You need to visualize this journey into a diagram and use it as a resource; this way it can function the best.
How Are Customer Journey and Customer Experience Different?
Are you wondering about the difference between customer journey and customer experience? Here's a quick rundown: customer journey maps the customer experience. In other words, customer journey is focused on the steps that customers take during their interactions with a company. On the other hand, customer experience is the sum total of all those interactions. It's important to note that both concepts are closely intertwined because the steps in a customer journey can heavily influence the overall experience.
With that being said, there are still some key differences between customer journey and customer experience. For one, customer journey is more linear in nature. They typically involve six distinct stages: awareness, interest, consideration, purchase, retention, and advocacy. Customer experience, on the other hand, is more cyclical.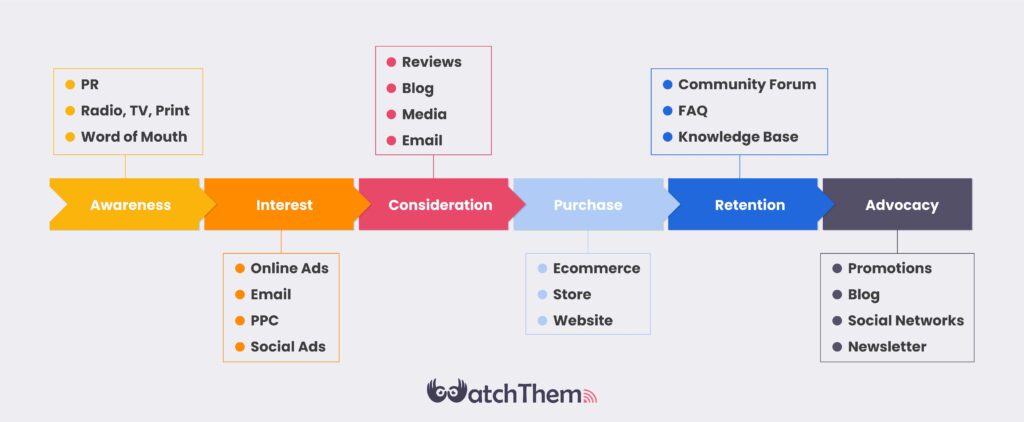 A brief review of what we have learned:
1- Customer journey is a strategy that describes customers' interactions with a brand.
2- Customer experience is the way customers are related to a brand in all steps.
3- Having a great customer experience requires a customer-centric approach.
4- Customer journey and customer experience are both critical for converting leads to advocates.
5- Collecting your customers' feedback enables you to create a clear vision of how they feel about each transaction.
An Example of Customer Journey and Customer Experience
To understand their difference better, let's review an example of customer experience and journey. Imagine there is a clothing store that you are a big fan of. When someone asks you the reason you always go there, you probably say because this store has the best collections and all the different kinds of clothes you are happy to wear. However, you don't like their customer service because the customer service representatives are rude, or they are not answering your questions and are not helpful at all.
This means your customer experience is bad at a particular moment of your customer journey. You might get fed up with this bad customer experience as this is happening every single time, and as a result, you would start reviewing other alternatives and eventually, stop going to your favorite clothing store.
As a business, you should never assume that because you have the best clothes collection, the best food, or the best ice cream in the area you can keep your customers loyal forever. You need to build a customer journey strategy around your customer experience in order to come up with a clear vision of customers' pain points and joys.
Conclusion
The customer journey is the way customers progress across your businesse's touchpoints. Awareness of your customer journey enables you to uncover critical obstacles and this can lead to customer experience improvement. You are in charge of your customer's experiences, you should make them feel better and safer while interacting with your staff, system, and products. Optimizing your customer experience and customer journey will significantly increase customer satisfaction and loyalty, and simultaneously it decreases the churn rate.
Using a behavior analytics platform is really helpful for getting the result you want in a shorter time. Our suggestion is WatchThemLive, because of its powerful features like user tracking, which provides you with session replays and heatmaps. Sign up for FREE and see for yourself.