Today, many businesses are using third-party tools to save time and increase efficiency. One of these tools is a website heatmap. A heatmap tool can help you collect data more effectively and make more informed decisions. However, not all businesses can afford to pay for these tools, or they may just want to test them first. That's why they might decide to use a free heatmap tool.
Although Google Analytics heatmap is one of the free website heatmap tools, it only provides a simple click heatmap that may not meet your expectations.
This blog post has compiled a list of tools that offer free heatmaps. So, if you are wondering what the right free heat map tool for your business is, read this article to find out.
If you don't have time to go through the whole list, we provide the perfect opportunity for a quick getaway to try out the best website heatmap free tool. With WatchThemLive free heatmaps, we help you find the most clicked area of your website and the mouse movements. This way, you can put your important content and CTAs there to drive more conversion.
Why Have Heatmaps Become Popular
Visualized data are much easier to understand compared to other types of data. That's why data visualization techniques such as heatmaps have become very popular.
A heatmap provided by CRO tools helps you track website visitors and their activities through colors. The warmer colors indicate higher user engagement, while the cooler colors indicate lower engagement.
Digital marketers and UX designers use website heatmaps to determine which areas of web pages users interact with more. This way, they can identify areas for improvement and optimization opportunities. Heatmapping can help them improve their website design, reduce bounce rates and drop-offs, and increase conversions.
There are various types of heatmaps and each visualizes a specific user action. Types of website heatmaps include:
Click maps
Eye-tracking heatmap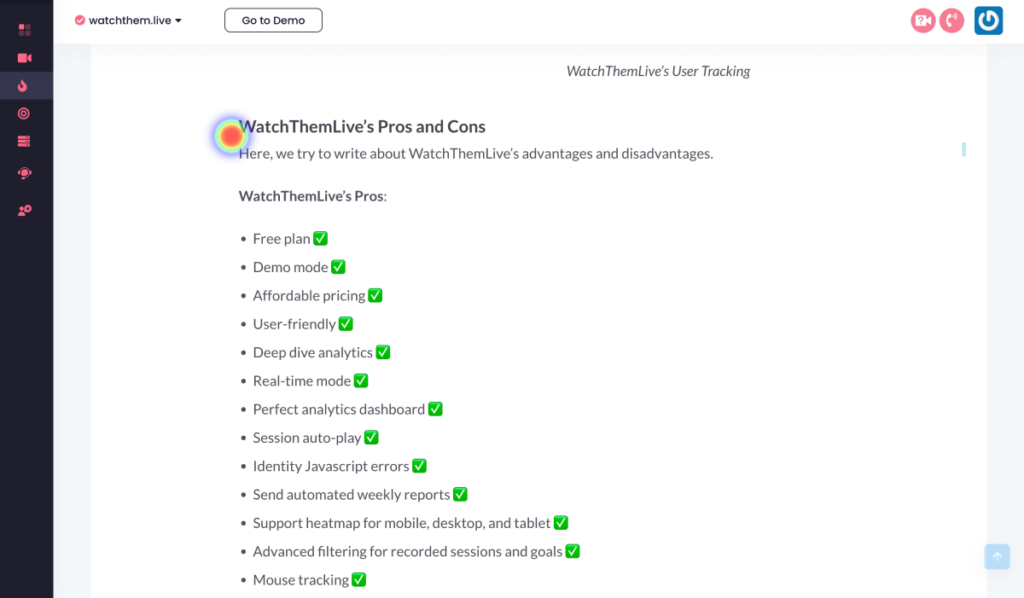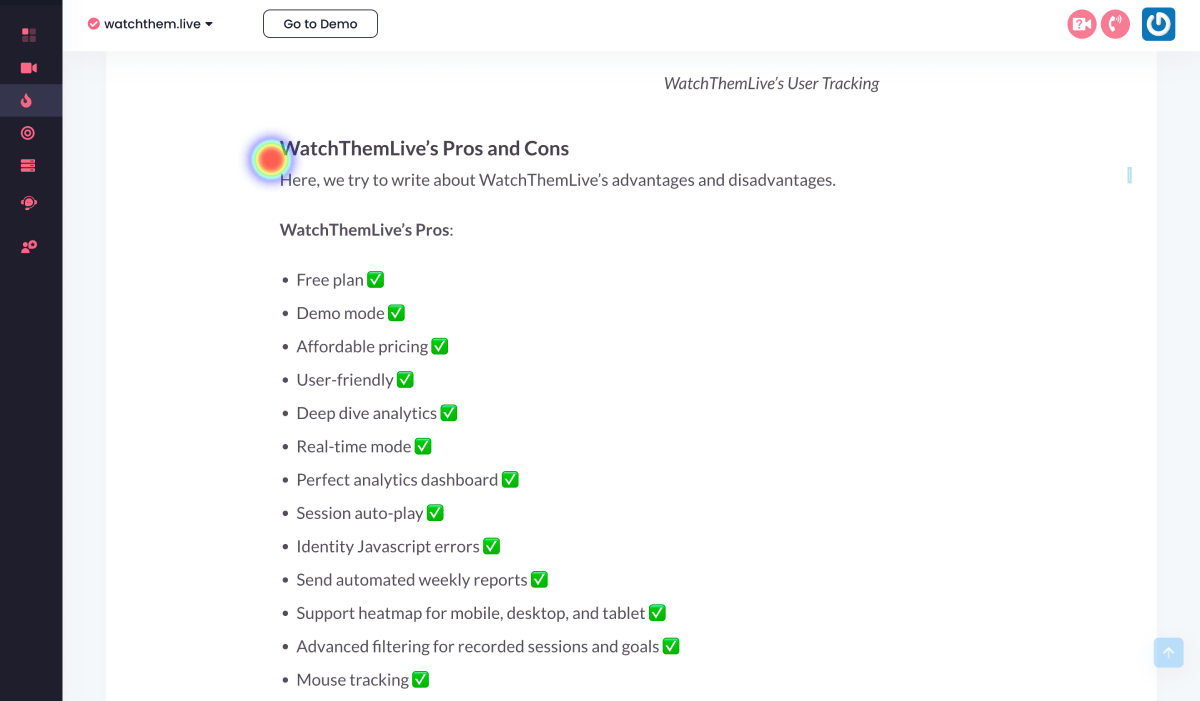 Why Should You Use A Website Heatmap Tool
Now that you know what a heatmap is, it's time you learned why you need it to enhance your business. Using a free heatmap tool, you can improve your website based on your visitors' needs and expectations. Heatmaps can give you valuable insights such as:
Which areas of your website are attracting more attention,
Where to put your important content,
What elements are popular or unpopular,
What might be distracting users from CTAs ,
What's the ideal page length,
What are user experience issues.
These insights will help you improve your content, redesign your website, run more effective A/B tests, optimize the user experience, etc. Heatmap software help boost your conversion and is also a great way to find out how to increase your conversion rate.
What Is The Best Free Website Heatmap Tool
Now, let's be honest. There is nothing more enjoyable than free stuff! It also applies to any optimization tools. Who doesn't want to save a couple dollars? I know I do!
So let's find out some of the best free heatmap tools. As there are many tools, it's not easy to choose the right one. To help you out, we have listed some free heat mapping tools that can help you improve your website or app.
1- WatchThemLive : The Best Webiste Heatmap Tool
WatchThemLive is a behavior analytics tool that offers heatmaps on its free plan. With WatchThemLive's heatmaps, you can track users' clicks and taps. In addition, you can monitor users' interactions with buttons, links, images, and other elements. This way, you can optimize your web pages and calls to action to increase conversions.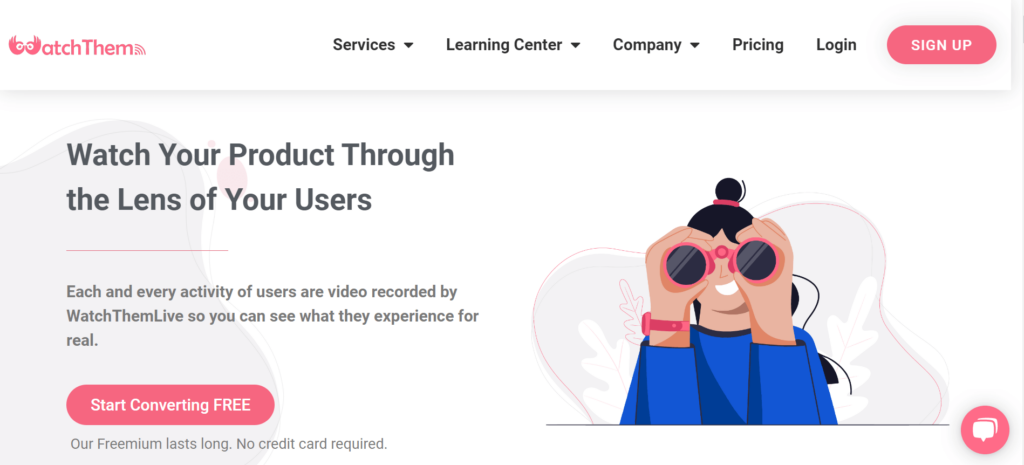 Moreover, it offers mouse tracking software which helps you identify parts of your website that distracts your users from completing your desired action. The good news is that WatchThemLive provides you with many more features, including:
Session replay,
Website analytics,
Conversion and goal tracking,
User tracking,
Page optimization,
Console recording,
Visual live chat,
Video testimonials.
All these great features are free of charge once you sign up for the free plan! Using this tool, you will understand your users to create an optimal user experience.
WatchThemLive Key Features
Here are more details about WatchThemLive's features:
#1 Session Replays
This feature allows you to keep your eyes on your users' screen and track the path they take on your website. You can see all their activities, such as scrolls, clicks, taps, mouse movements, etc. So, you can easily identify any pain points in your conversion funnel and fix them right away!
Good news for developers: WatchThemLive's console recording enables you to watch and troubleshoot all the errors that happen on your users' browsers and share the issues with your manager.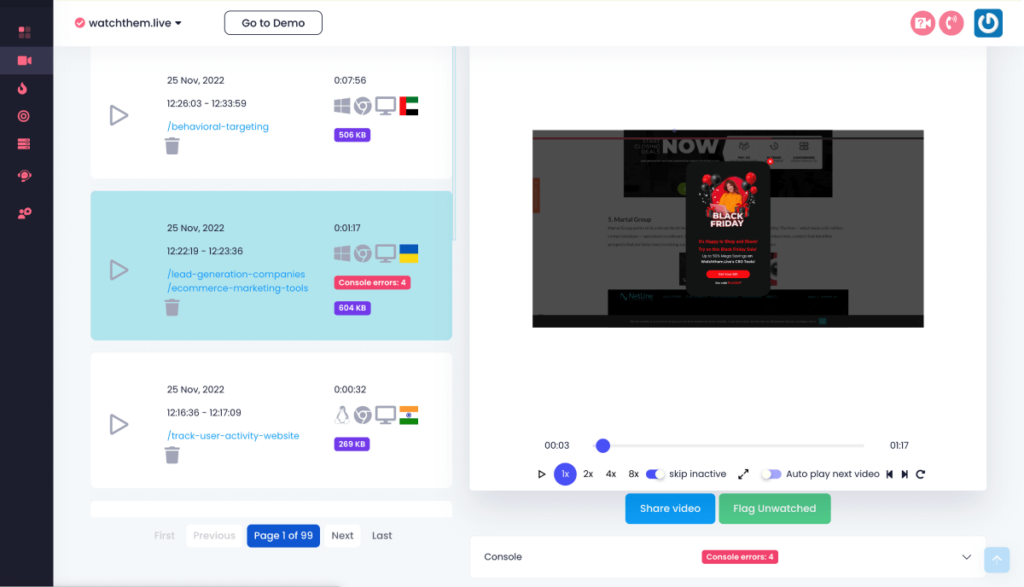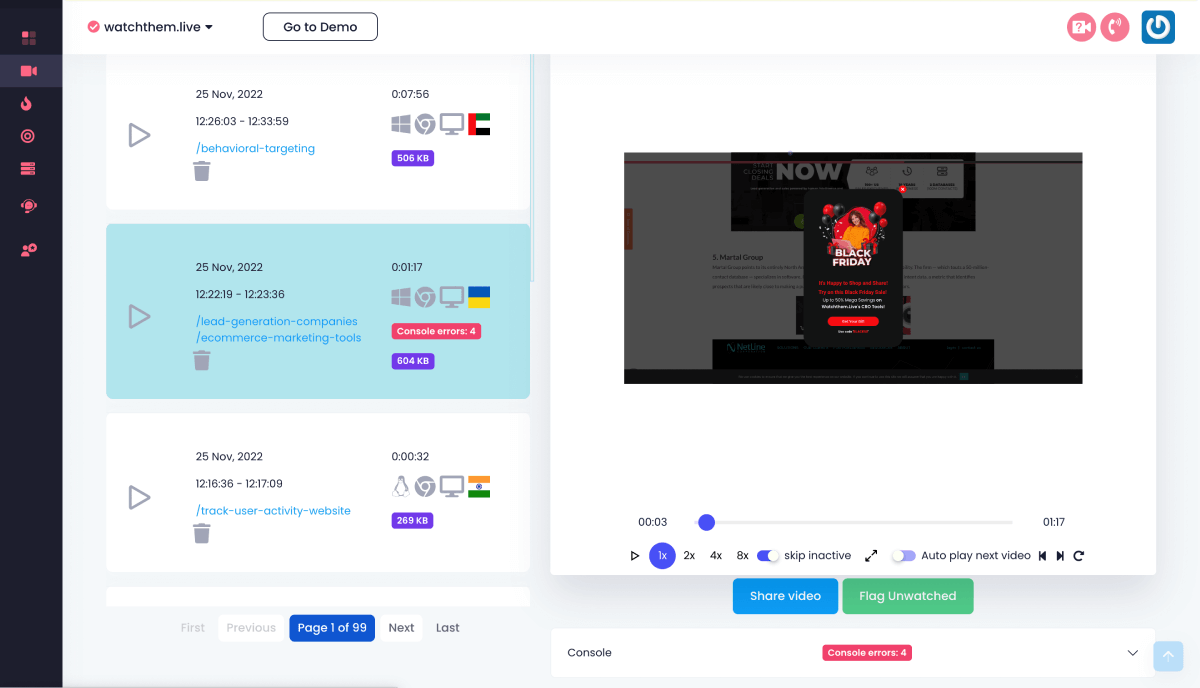 #2 Advanced Filters
Wouldn't it be great if you could create a list of customers who have difficulty adding their website and installing the tracking code? WatchThemLive enables you to filter your data by name, email, page, country code, etc. So, you can handpick the recordings and watch their journeys. This way, you can identify bugs that need to be fixed and smoothen their sign-up process.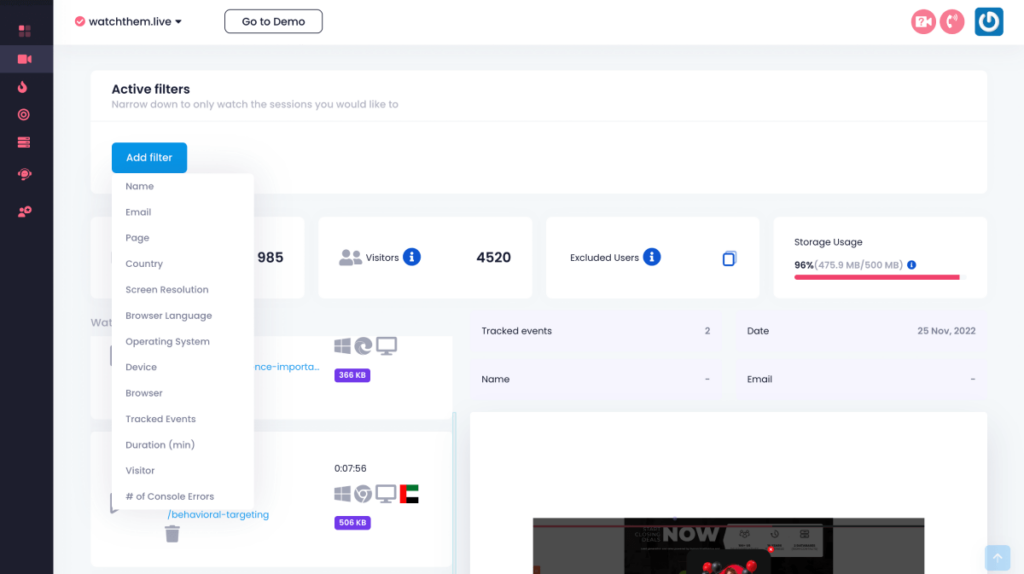 #3 Website Analytics
Are you afraid of using CRO tools because you have no prior knowledge of data analysis? I bet you've never seen a dashboard like that of WatchThemLive! In addition to the simplicity that makes it user-friendly, this platform gives you deep analytics data through page views, user sessions, referrers, and user segmentation (countries, devices, languages, etc.). This information allows you to harness your data and use it to identify new opportunities.
#4 Video Testimonials
Although you may not be aware of it, many companies use fake testimonials on their websites. The growing problem of fake reviews being left on local and product-search sites is misleading clients and impacting the purchase decisions they make. Still, would you rather buy fake testimonials?
I think the answer is obvious. WatchThemLive's video testimonials enable you to not only collect your customers' feedback, but also share them on your landing page. But how? First, set up several questions you want them to answer. Next, they should press the record button and answer the questions while recording themselves. That's it! It's amazing, isn't it?
#5 Visual Live Chat
Are you having difficulty solving your customer's problem? Is live chat not enough for you to solve their issues? WatchThemLive is great for pairing your live chat with session recording! So, you can talk to your visitors in real time and watch their journeys to figure out what's holding them back!
#6 Goal Tracking
WatchThemLive allows you to set your desired goals and keep track of your progress so that you never lose sight of your path! Successful business owners use this feature to set goals that align with their niche so that they can build their marketing strategies accordingly.
WatchThemLive Pricing and Plans
Look at the WatchThemLive pricing package to choose the best plan based on your interests and needs.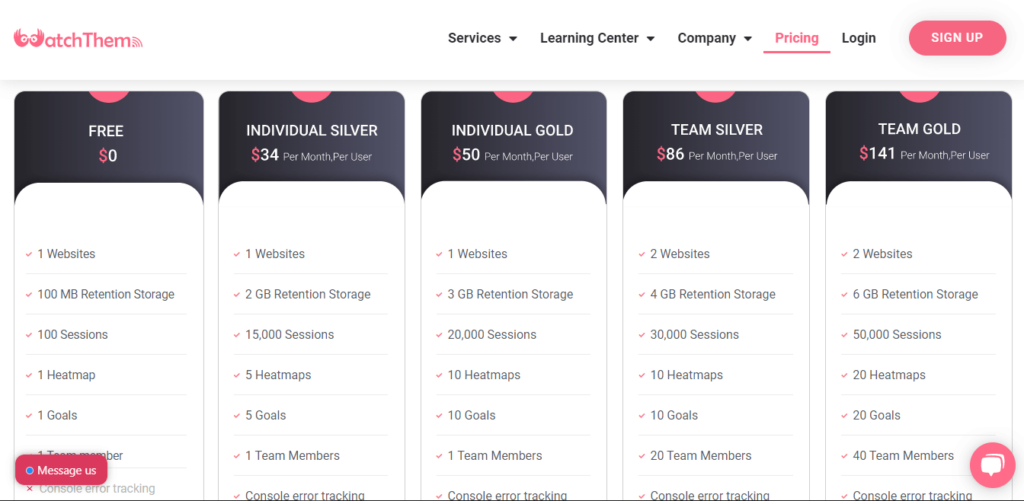 Want to try WatchThemLive free heatmaps? Sign up now and get started!
2- Plerdy: One of the Free Website Heatmap Tools
Plerdy is a conversion rate optimization platform that includes a free heatmap tool for website. This tool enables you to track and analyze users' behavior by recording their interactions on your website. Therefore, you can better understand the reason behind their actions. It includes a click map, hot segments, a scroll map, a mouse hover map, and click sequence and events.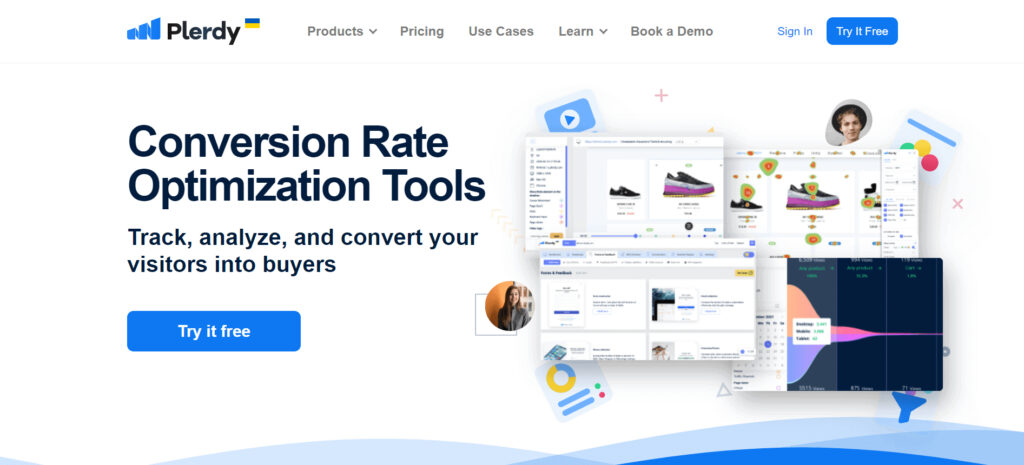 With Plerdy's heatmaps, you will be able to identify the areas of your website with the highest click-through rate, understand users' behavioral patterns, analyze CTA engagement, etc.
Keep in mind that this tool offers only five heatmap reports on the free plan, and it's not a mobile-friendly website. They even apologize to you once you enter their website with a mobile device confessing that they have a 'terrible responsive version'!
Plerdy Plans and Pricing
Besides the free plan, it offers:
Free plan: ✅
Start plan: $32/ mo
Business plan: $64/ mo
Premium plan: $108/ mo
As you can see, Plerdy is a rather expensive tool among heatmap software with similar features, which can be hard for startups or small businesses to afford.
3- Yandex Metrica: Understand Your User's Experience with Free Heatmaps
Yandex Metrica helps you understand users' experiences across your website. The marketing analytics feature includes free click heat mapping, which enables you to find the focal points of your site by seeing what your users are clicking on.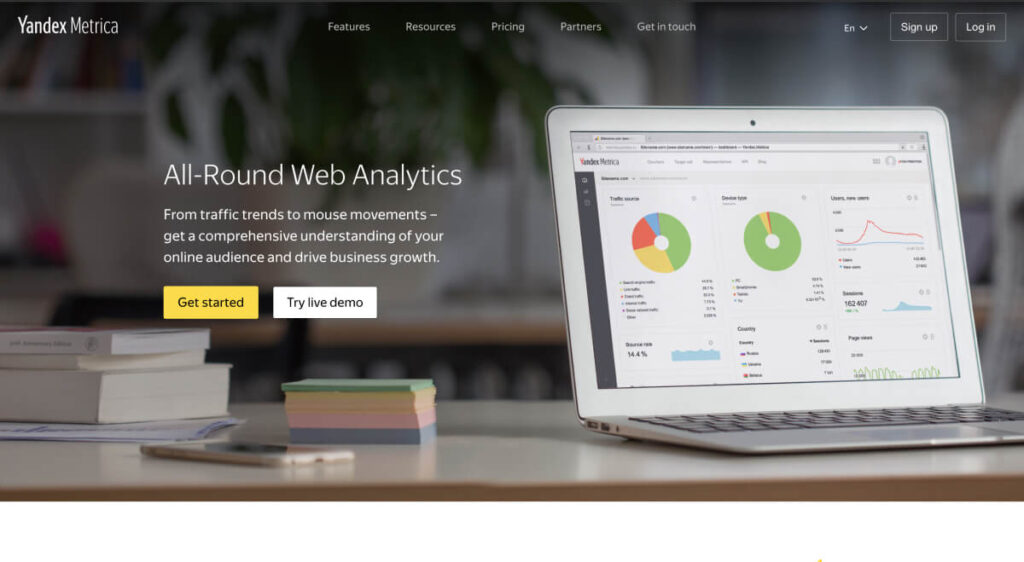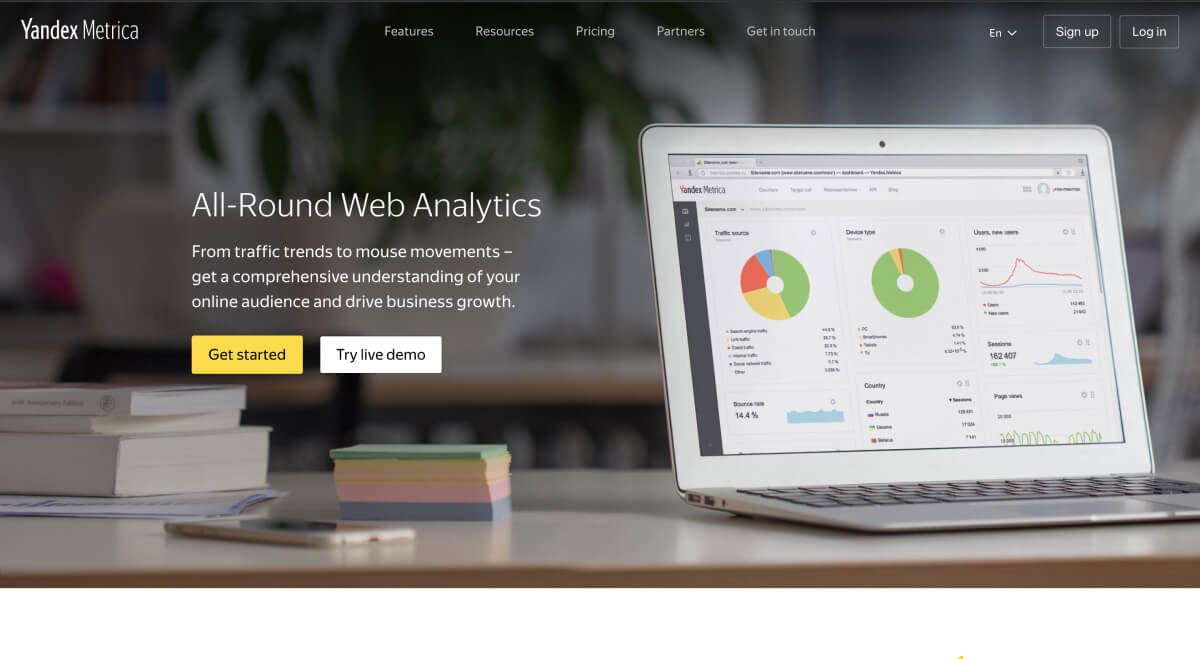 This tool gives aggregated data about users' clicking activity on your web pages. Then, you can find out how to improve the customer experience. You can also identify some UX design issues.
*There is no pricing package on their website because it's an entirely free product.
4- Browsee: Free Heat Mapping Tool to Understand User Behavior
Browsee is another behavior analytics platform with a free plan that includes click, scroll, and attention maps. With Browsee's heatmaps, you can visually understand your website visitors' actions and segment the heatmaps based on traffic types to differentiate how traffic from ads or SEO is performing on your pages.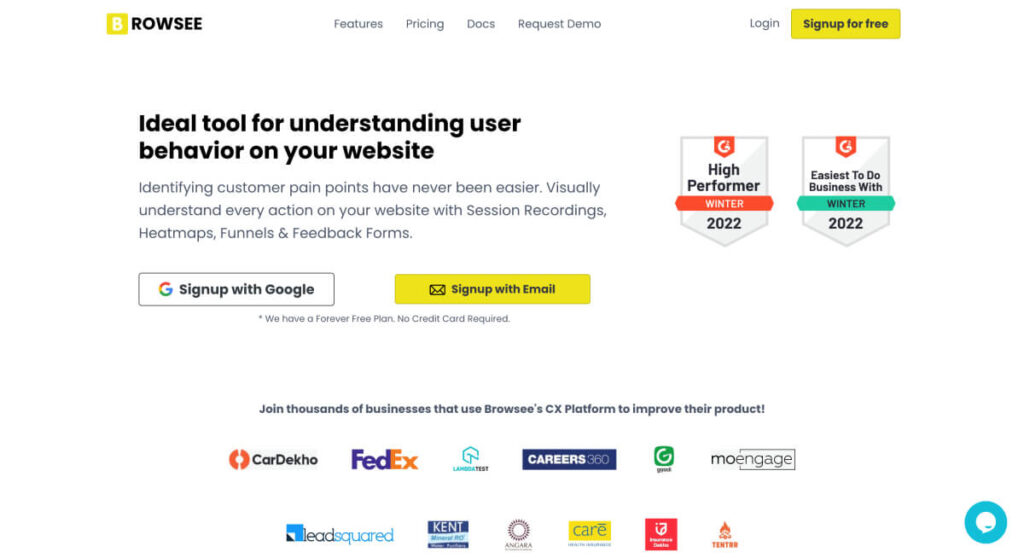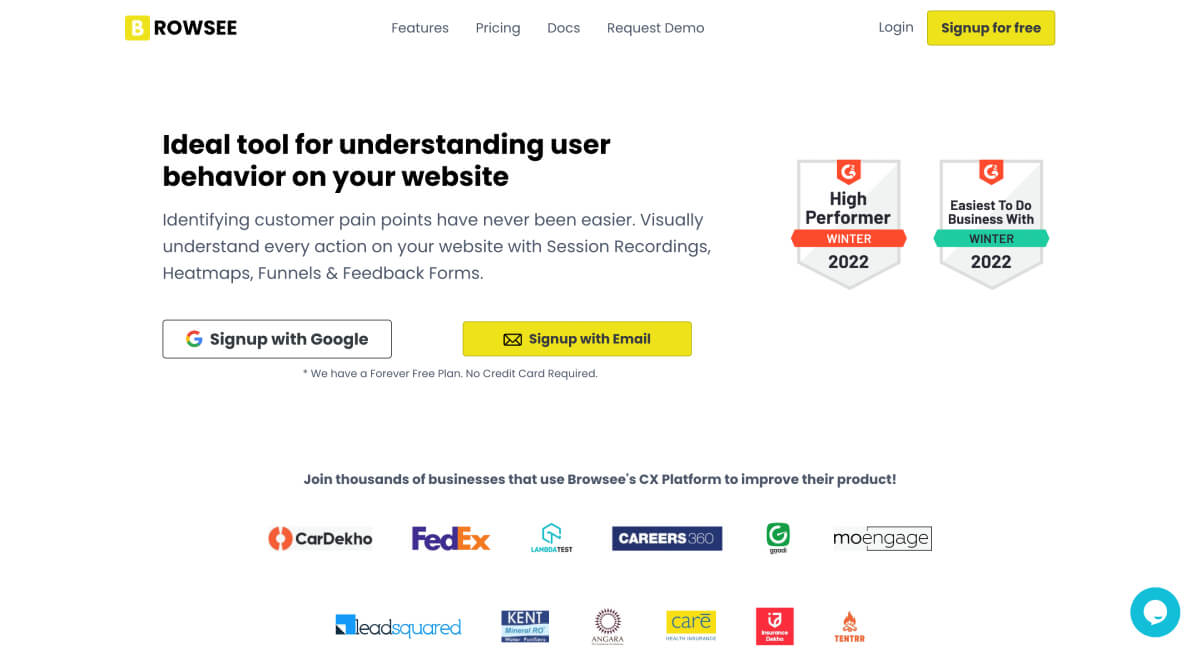 You can determine the unnecessary elements on your web pages in order to remove them. So, you can see which elements users click on and which ones they ignore.
Moreover, it claims that you can find out how to improve user engagement throughout your website and reduce bounce rates.
Keep in mind that their free plan offers only 1 heatmap.
Browsee Pricing and Plans
Its plans and pricing include:
Free plan: ✅
Starter: $19/ mo
Plus: $49/ mo
Pro: $99/ mo
Executive: $199/ mo
5- Ptengine: Improve Your Website with Free Heat Maps
Ptengine is an analytics platform that offers a free heatmap tool. However, you can only create one heatmap with the free plan.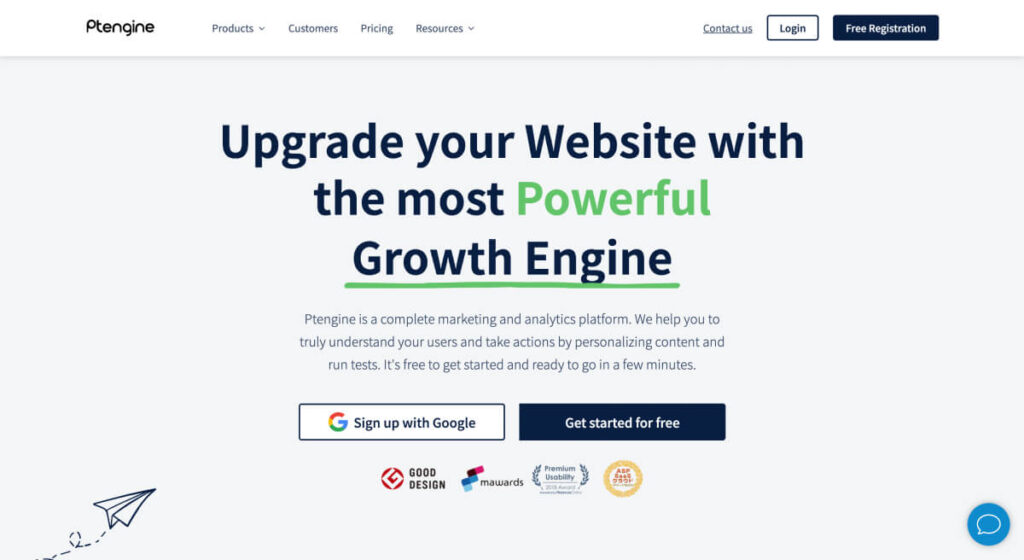 Ptengine's heatmaps work by tracking users' mouse movements on a website. The heatmap is then generated based on where users click and move their mouse the most. This allows website owners to see which areas of their site are getting the most attention and where they may need to make changes.
Ptengine offers two types of website heatmaps: clicks and movement. Click heatmaps show where users click on a page, while movement heatmaps show how far down a user scrolls. Both of them can be customized to show different colors for different areas of interest.
Moreover, it helps you understand users' behavior and see what they are doing on your website to personalize the experience and increase conversions. The heatmaps will also allow you to immediately understand how users interact with your website.
Ptengine Pricing and Plans
Ptengine's free plan offers one heatmap with one-month storage. It also provides:
Growth: Starts from $49/mo
Premium: Contact them
6- ClickHeat: An Open-Source Free Heatmap Software
Now for the 6th platform on our list, we introduce ClickHeat. it's another free heatmap tool, which is an open-source software. Like many other tools, ClickHeat also offers heatmaps. With this tool, you can create click heatmaps for HTML pages.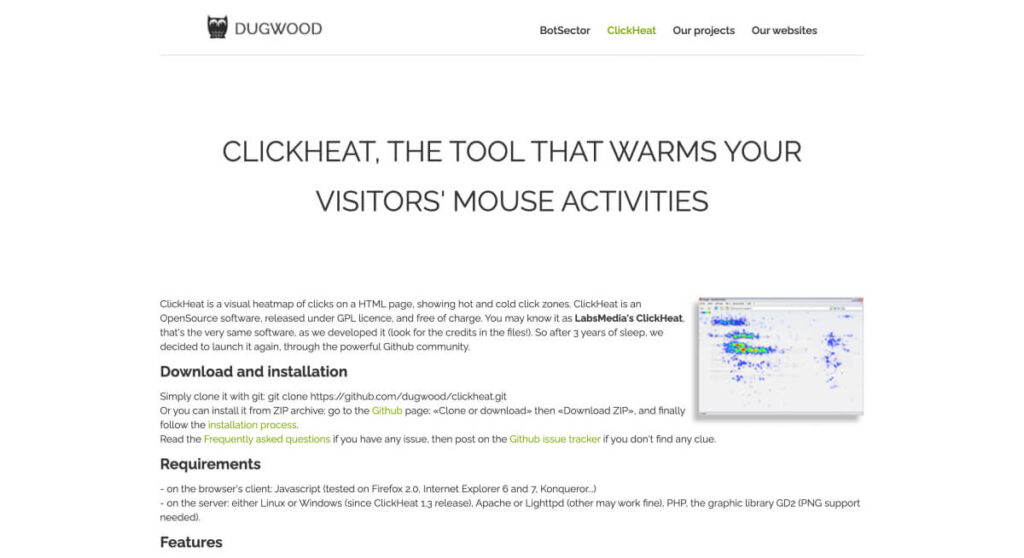 It uses a simple JavaScript code to track cursor clicks and then generates a heatmap based on the data. The heatmap can be used to see which areas of your website are getting the most attention and where people have difficulty clicking.
The heatmap software requirements include Javascript on the browser's client, and Apache or Lighttpd, PHP, and GD2 graphic library on the server. The software is completely free, and there's also a demo available.
* Unfortunately, their pricing package is not available on their website.
7- Heatmap.com: A Real-Time Free Heat Map Tool
Heatmap.com is a free heatmap software that provides real-time data. This tool enables you to see the heatmap directly on your website without needing a separate tab or window, and the data is constantly updated.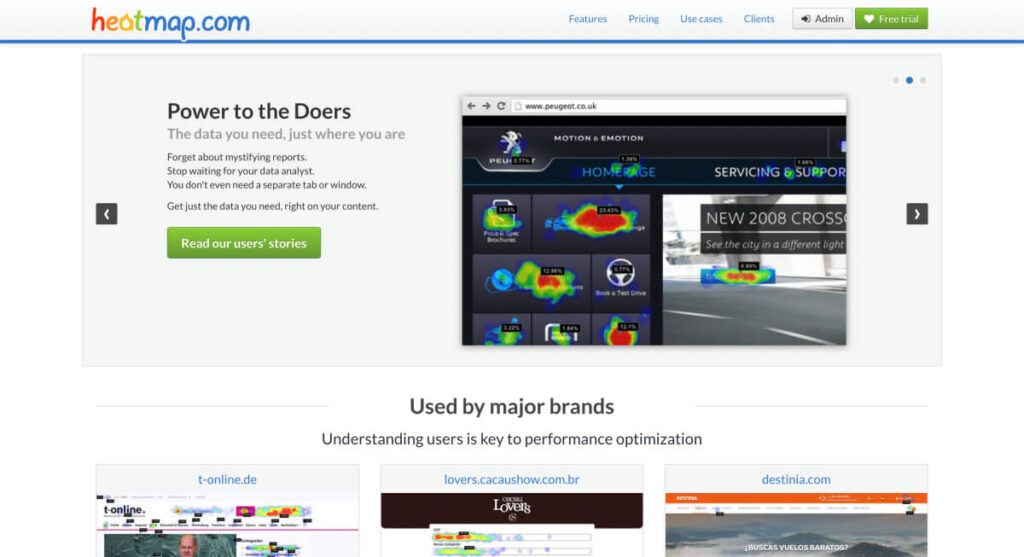 When users visit a website, heatmap.com's software collects data about their interactions with that site. This data includes where users move their mouse, how long they stay on each page, and what device they use.
You have to add the Javascript tag to your HTML code to use this tool. With the free plan, you can only analyze up to 5 pages.
*Heatmap.com's pricing package is not clear.
8- Smartlook: A Free Heatmap Tool to Analyze User Behavior
Smartlook is a heatmap tool that provides three heatmaps in its free plan, and you can see how your users move around, scroll, and click/tap on your website or mobile app.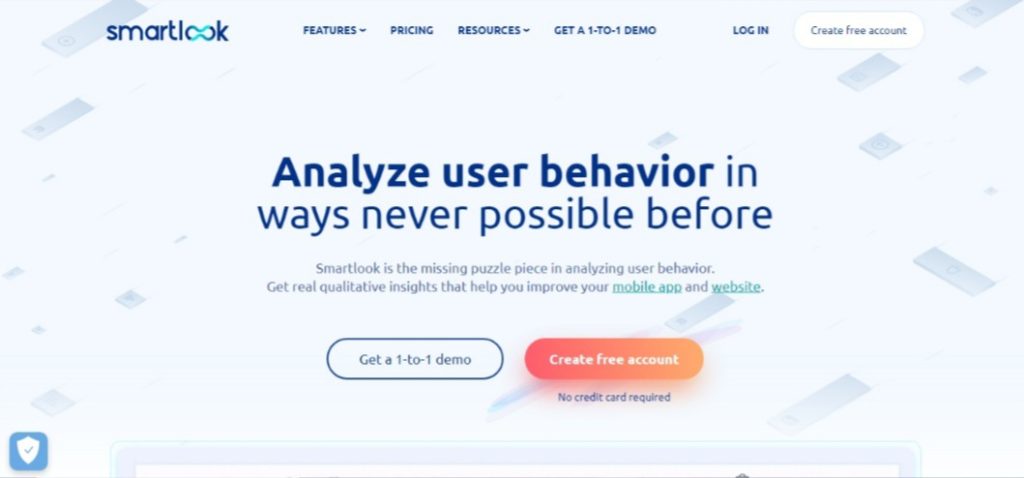 It offers three types of website heatmaps, including click heatmap, movement heatmap, and scroll heatmap. If you want to know how to create a heatmap on Smartlook, first you need to know there are three different matching criteria you can choose from: simple match, exact match, and substring match.
A simple match corresponds to a specific URL. In other words, if you want to track one specific page, this type of criteria can help you because any other parameters beyond the URL will be disregarded.
You can use this match to track a URL with specific parameters. In addition, the heatmap data will come from the exact match for your specific URL, not more. This is great news for those who want to make sure their marketing campaigns are as targeted and effective as possible.
Substring match shows only the part of the URL you need to see the required heatmap! So, for example, if your website is available in a bunch of different languages, choosing this option lets you see the data for all those languages instead of just one.
Smartlook Pricing and Plans
Smarlook offers three website heatmaps in their free plan, it also provides:
Startup: $39/ mo
Business: $111/ mo
Enterprise: Contact sales
9. ReactFlow: Free Discover Heatmaps
As the ninth tool, we looked closely at ReactFlow. ReactFlow's dynamic heatmaps visually represent data on how users interact with your website or app. It includes click heatmap, scroll heatmap, and mouse movement heatmap. They can be used to determine what's working and what's not, identify what's getting more clicks, and understand how far down your visitors scroll on your pages!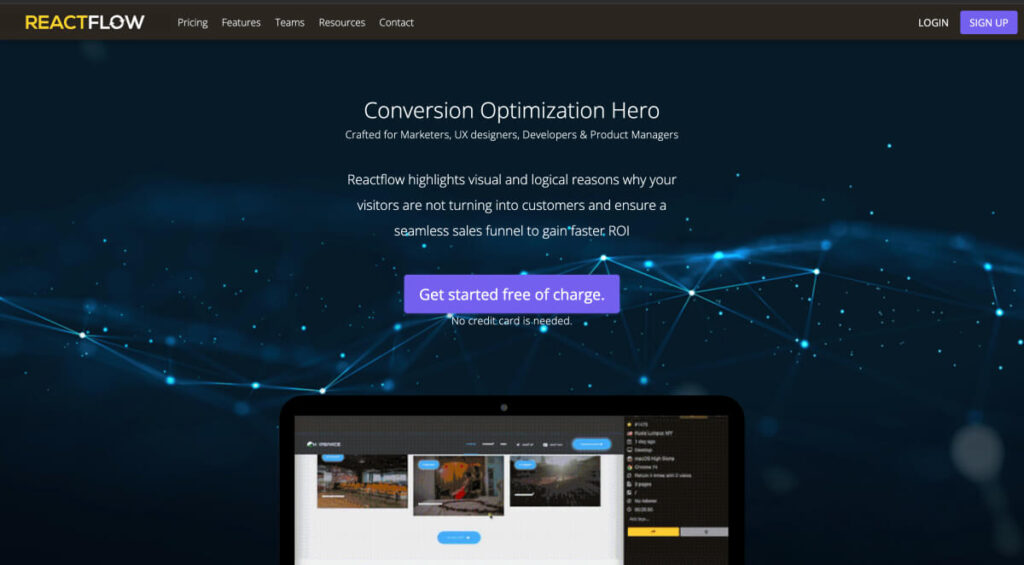 The above information can be useful in understanding what content is most engaging for your audience and improving your underperforming calls to action.
Apparently, ReactFlow enables you to segment heatmaps by desktop, tablet, and mobile. Furthermore, you can group heatmaps together even if they have different URLs.
ReactFlow Pricing and Plans
In addition to its free plan, the pricing for Reactflow starts at $19.99 per month. It has 3 different plans:
Individual: $19.99 per month
Business: Starts from $19.99 to $3699.99 per month
Agents: Contact them
10. CUX: Identify Dead Clicks with Free Heatmap Tool
Another free heatmap tool for website that we took a closer look at is CUX. Like most tools, it has similar basic functions, i.e. heat maps, goal tracking, and recordings.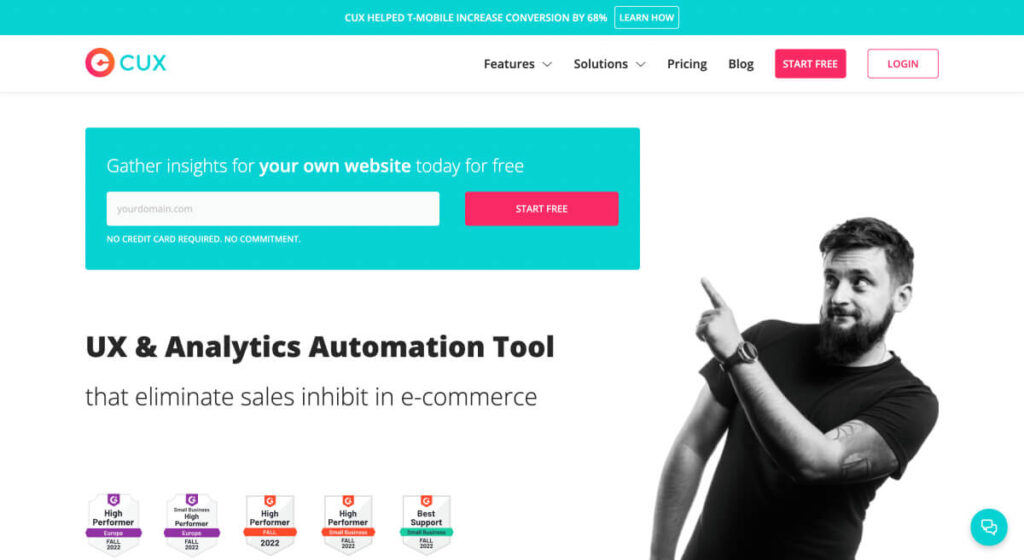 CUX's heatmaps visualization enables you to group heatmaps for different segments of users and analyzes heatmaps for single pages, groups of pages, and single pages apps. Furthermore, results from the heatmap may be filtered by event type, such as clicks, rage clicks, moves, links, or zooms.
CUX Plans and Pricing
Free plan: ✅
Their business plan starts from $79. But the price of their enterprise plan is not mentioned; you need to contact them depending on the chosen package and features.
11. Clarity by Microsoft: Understand Where the Action is with Free Heatmap Tool
This tool offers both click and scroll heatmaps. The former can be shown for a single page or for a group of pages. And the data of the latter will demonstrate at which point users are exiting your site.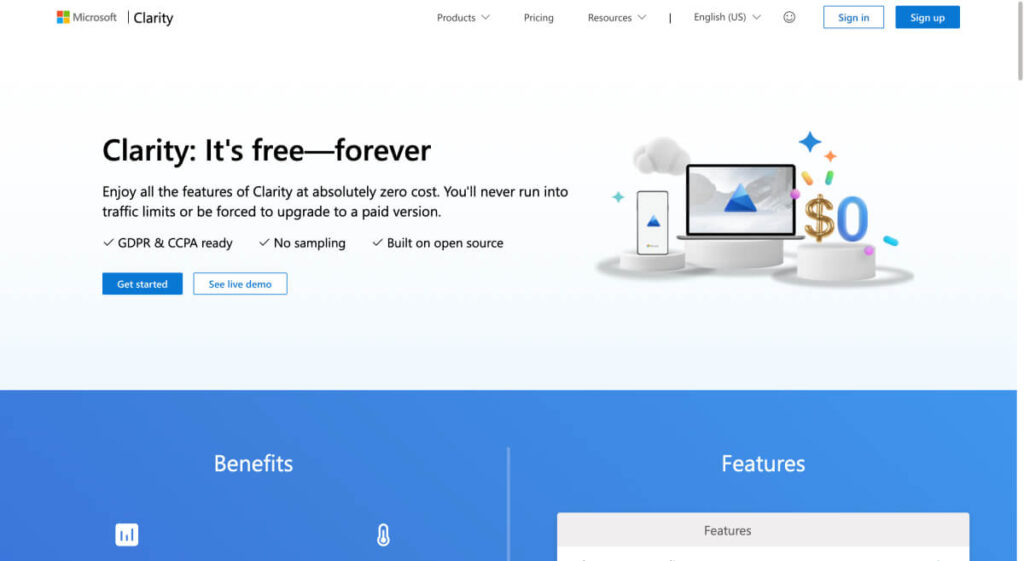 Also, you can compare two heatmaps on the same page to see where users click and scroll.
Besides the session replay tool, Clarity's heatmap enables you to generate instant heatmaps across devices for PC, tablet, and mobile to view and identify your top elements for each page.
Moreover, it asserts that you can investigate how behavior varies between different user segments, time periods, and other applied filters.
*Clarity is a free heatmap tool, and there is no cost at all.
12. Freshmarketer: Discover Your Visitor's Behavior Patterns
Freshmarketer allows you to capture visitor activity on dynamic elements such as pop-ups, sliders, and dropdowns, and enables you to segment visitors' interactions by geography, traffic source, and devices. You can also segment heatmaps' data to make improvements.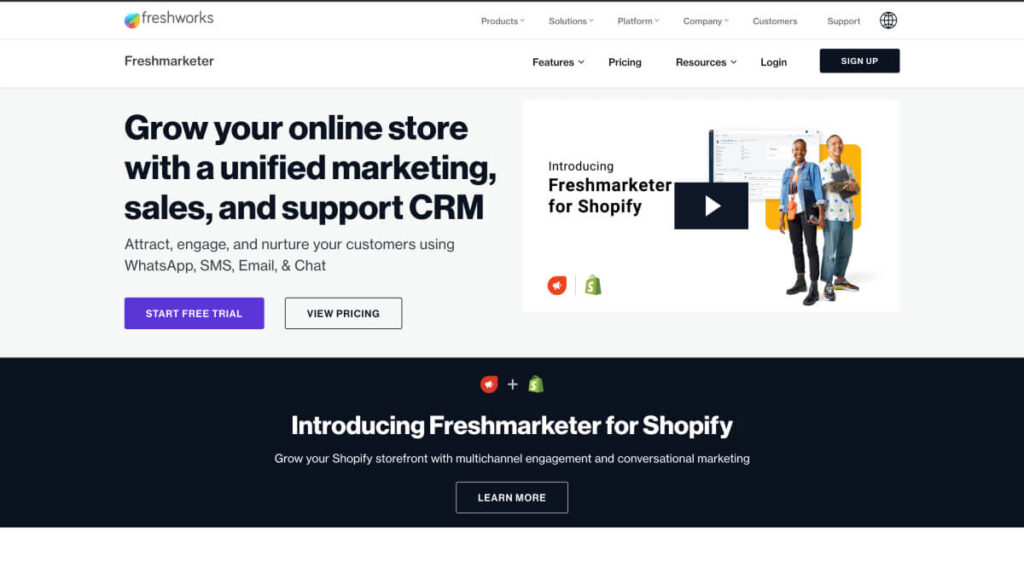 By using the chrome extension and Freshmarketer's web app, you're able to create heatmap and click map reports. So you can collect your heatmap reports on the web application or in the browser extension.
To view Freshmarketer heatmap reports, you can:
View reports on the web application,
View reports in the browser- extension.
Freshmarketer Plans and Pricing
Besides its free plan, it offers:
Growth: Start at $19
Pro: Start at $149
Enterprise: Start at $299
13. Inspectlet: Good Heatmap Tool to Monitor Your Website
With Inspectlet, you can see why your visitors are confused and what their next steps should be. Inspectlet can assist you in visualizing your visitors' movements by eye-tracking heatmaps, finding out how far visitors scroll down on your web page by scrolling heatmaps and understanding where they are clicking by clicking heatmaps.
Finally, you can identify where you need to make changes and keep important elements, and remove distracting ones.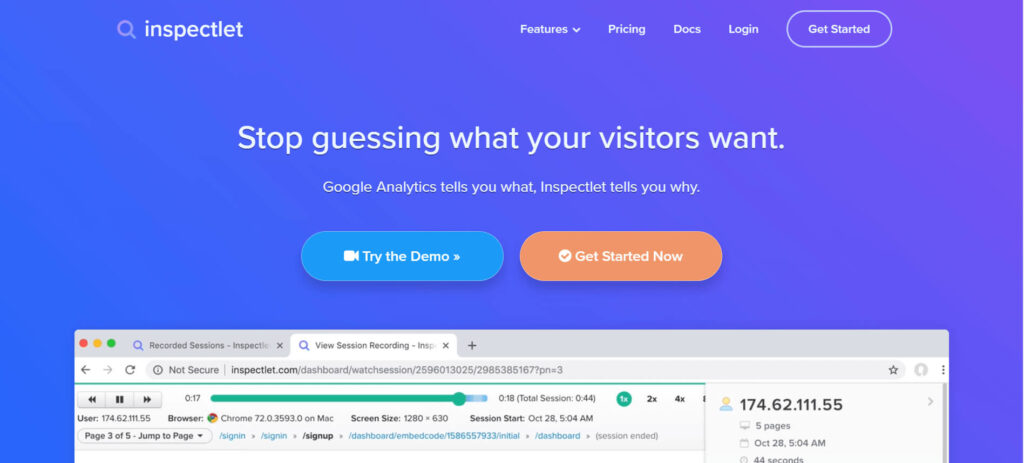 Apparently, Inspectlet has filtering and allows you to find the specific type of visitor that you're interested in watching. It claims that you can tag your sessions and users with a marker like 'pressed-play'.
If you want to know more this tool, here's a thorough Inspectlet review!
Inspectlet Pricing and Plans
Here are Inspectlet plans and pricing:
Free plan: ✅
Micro: $39/ mo
Startup: $79/ mo
Growth: $149/ mo
Accelerate: $299/ mo
Enterprise: $499/ mo
14- Lucky Orange – Heatmap Tool as Dynamic as Your Website
Lucky Orange's heatmaps let you analyze which areas of a page are associated with increased conversion rates, and identify areas that may be impeding conversions with the help of clicks, moves, and scrolls on every element including drop-down, pop-up and hover-over menu.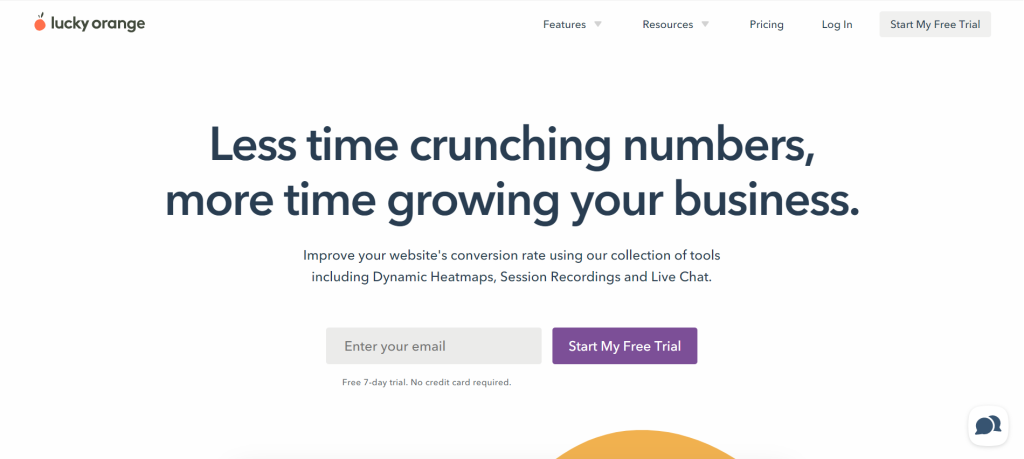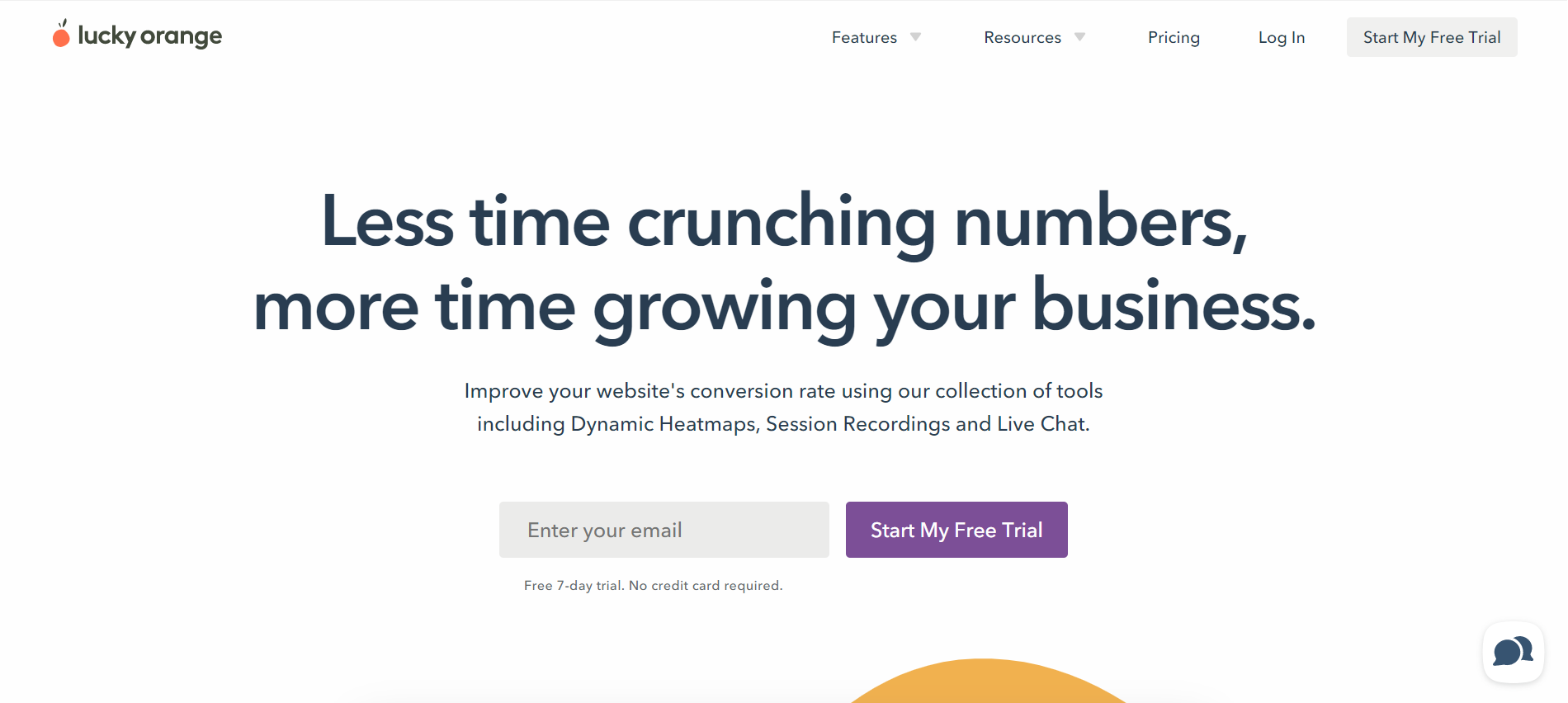 Lucky Orange's Dynamic Heatmaps Include:
Scroll Heatmap,
Click Heatmap,
NO Mouse Movement Heatmap.
Warning: It has a non-transparent billing system that upgrades customers' billing plans without getting permission. Consequently, unless this feature is deactivated manually, it will continue to debit your card.
Lucky Orange Plans and Pricing
Here are what Lucky Orange offers:
Free Plan: ✅
Build: $14/ mo
Grow: $28/ mo
Expand: $58/ mo
Scale: $128/ mo
15- Mouseflow – A Website Heatmap Tool that Analyzes Every Page
Mouseflow is the last heatmap tool on our list. It offers five different types of heatmaps, including click heatmaps, scroll heatmaps, attention heatmaps, movement heatmaps, geo heatmaps, and live heatmaps.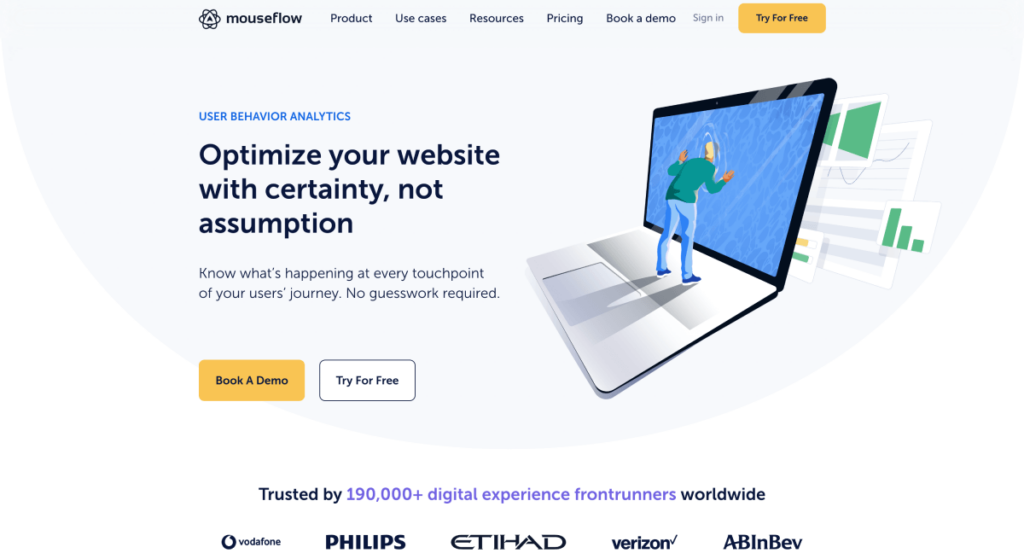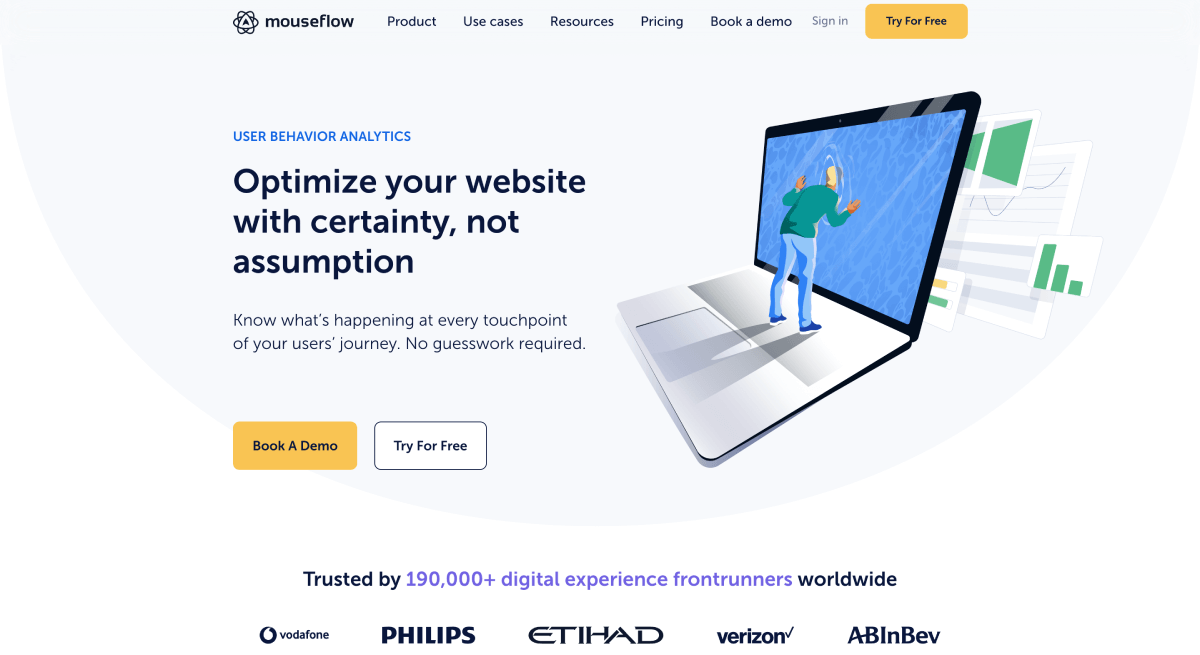 This is great news for larger businesses! You can select the heatmap that best suits your needs and get started. But new startups may be overwhelmed by these heatmaps and prefer other tools.
Apparently, after using Mouseflow's heatmap for a few weeks, you'll understand that it may not show images on the pages. Here is a thorough Mouseflow review that will help you understand this tool better.
Mouseflow Plans and Pricing
The pricing for Mouseflow starts at $31 per month. It has 5 different plans:
Free Plan: ✅
Starter: €31
Growth: €109
Business:€219
Pro: €399
FAQs on Free Heatmap Tools
Now, Let's take a look at your frequently asked questions regarding heatmap software.
Q1. What Is a Hot Segment Heatmap?
Hot segment heatmap identifies different parts of the webpage with the highest click-through rates. The correlation between the color and CTR suggests that online visitors focus their attention on areas of the page that are hotter, and therefore, it would be beneficial to place the most crucial elements in these types of areas.
Q2. What Is the Best Free Heatmap Tool?
You might be confused about choosing the best and easy-to-use heatmap tool as a website owner. With WatchThemLive's heatmap tool, you can 'see' whatever you can't see with your naked eyes like a sharp-eyed eagle.
You can also create heatmaps for each page and share them easily with your team members. The exciting part of using WatchThemLive's heatmaps is their easy installation that lets you set up heatmaps on every single page using just one script.
If you're a digital marketer, UX designer, or eCommerce manager, make sure to sign up because you can:
Increase your conversion rate,
Improve the website's usability,
Discover what satisfies users,
Create 1 heatmaps for free,
Watch 100 session video recordings for free.
Q3. What Is the Best Website Heatmap Tool?
This question has no clear answer. The objective goal of every business is different. But if you can't wait to get started with one of the best heatmap tools, sign up on WatchThemLive now to get instant access to this reliable CRO tool that comes with session replay, console recording, page tracking, etc.
However, if you want an overview of the services discussed in our blog, look at the table below: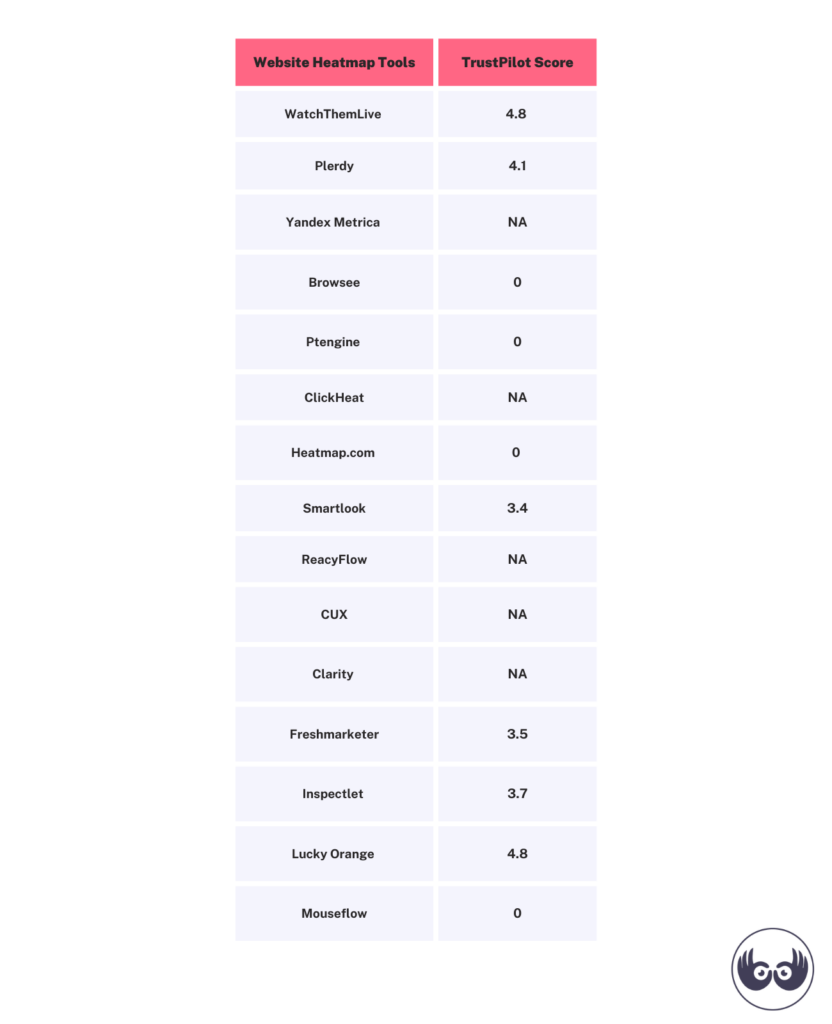 Q4. What Can I Use Instead of Website Heatmap Tools?
The truth is, it's best not to replace heatmaps as they provide great insight into how your users interact with your website. Each feature CRO tools offer has their own benefits that can't be replaced with other methods.
Q5. How Do I Make a Heatmap For Free?
By signing up on WatchThemLive, you can enjoy generating free heatmaps for your website and gain great insight into your customer journey. It's a great free heatmap software with many great features to help you drastically boost your conversion and overall revenue.
Conclusion
These days, using third-party tools such as website heatmap software is common among businesses. However, some companies prefer not to pay for some tools and use free versions.
So in this article, we listed the best free heatmap tools to help you out if you are one of those businesses looking for one.
Our list includes WatchThemLive, Plerdy, Wisdom, Browsee, Ptengine, ClickHeat, Heatmap.com, Smartlook, ReactFlow, CUX, Clarity, Freshmarketers, and Inspectlet. Each of these tools has its own limitations and capabilities, and it's up to you to choose the one that suits your needs.
On this list, WatchThemLive offers a free plan that includes one heatmap. Also, the free plan includes many other features that enable you to gain a deep understanding of your audience to create the best user experience. Sign up and snag WatchThemLive now!