How does Google Analytics heat mapping work? Since Google Analytics is one of the most popular website tracking tools, many website owners would probably prefer Google Analytics heat mapping. This feature allows you to visualize the website's data on Google Analytics and make it easier to understand.
In this article, we will discuss Google Analytics heat mapping, how to use it, and what information it provides. After that, we will introduce a better alternative that can help you optimize your website.
Keep on reading to find out all you need to know about Google Analytics heat mapping in 2021.
What Is Heat Map Analytics?
Before getting into Google Analytics heat mapping, let's see what a heat map is. Heat maps are a visualization of numerical data using colors. A heat map can help website owners to make sense out of their quantitative data straight away.
On a heat map, you can see colors on a scale from red to blue. Red represents the most popular areas of the web page, and blue the least. Heat maps can effectively show you what visitors are doing on your website. They are a great way to facilitate data analysis to identify problems, how to deal with them, and how to optimize your website based on users' behavior.
Related Article: Read more articles about heatmaps.
Types of Heat Maps
There are four different types of heat maps. Each one can give information about a different aspect of your website. Let's take a look at them:
1- Scroll Maps: Scroll maps can tell you the percentage of the users that have scrolled down to any point on the web page. Obviously, the top of the page will be red, and the color will gradually turn into blue towards the bottom of the page, indicating fewer people scroll down till the end.
Image credits: topspot.com
2- Click Maps: Click maps show the percentage of people who have clicked or tapped (for mobile and tablet devices) on any area of the web page. These heat maps tell which elements have been most clicked. Some click maps can even include clicks on unclickable areas.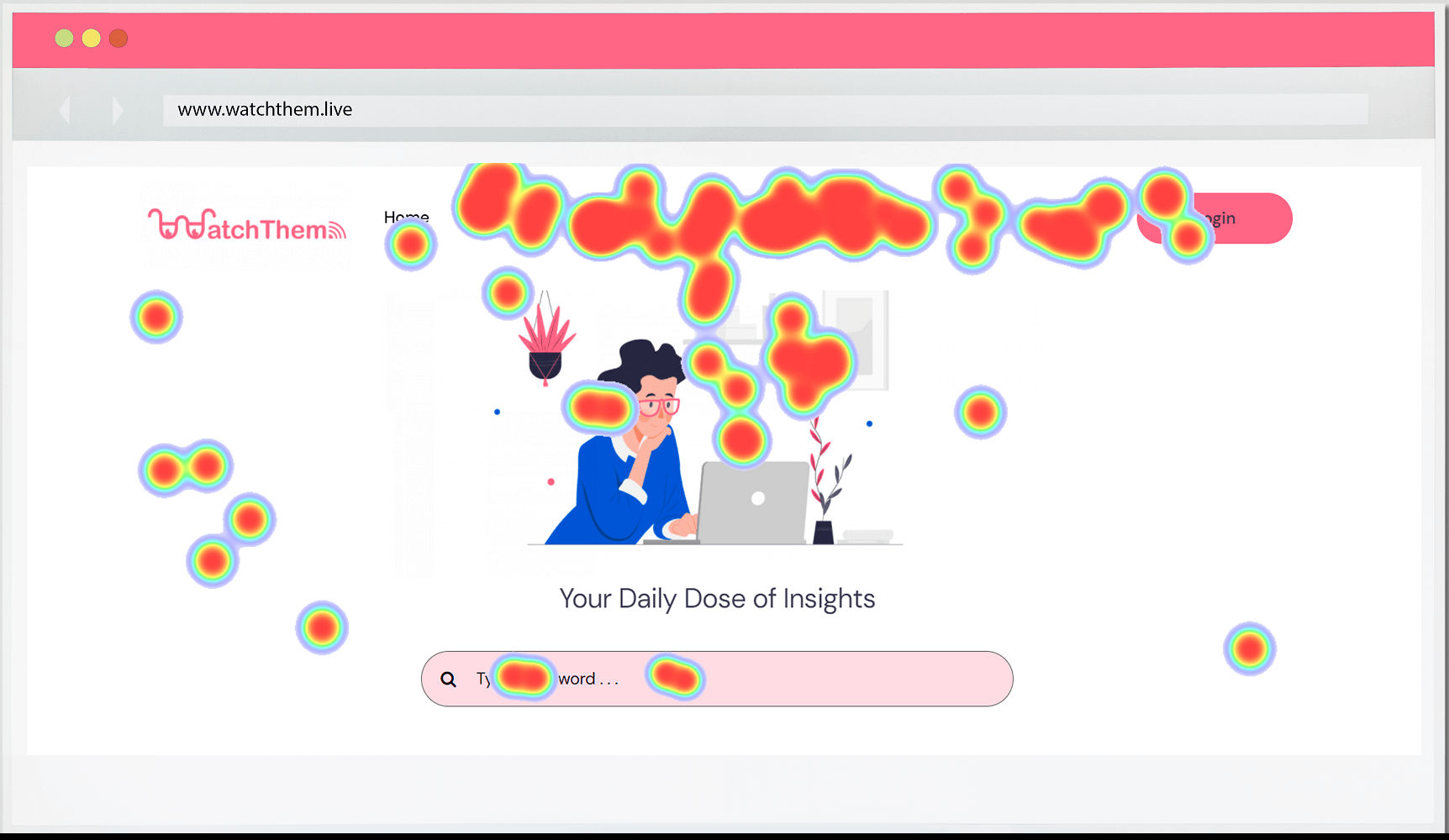 3- Mouse Move Maps: Mouse move maps show the mouse move heatmaps. This heat map can tell you where users are probably looking when they are browsing a web page.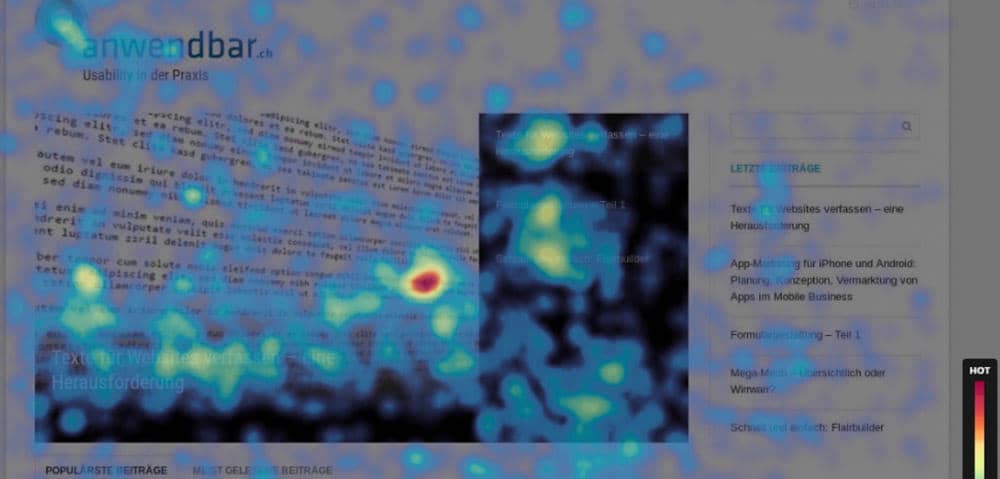 Image credits: anwendbar.ch
4- Device Maps: Device maps allow you to compare your website data on different devices. This is a great way to understand how to design your website for different devices properly.
Image credits: mockingfish.com
Benefits of Website Heatmaps
Now let's see what some of the benefits of using a service such as Google Analytics heat mapping are:
1- Visualizing User Behavior
Heatmaps visualize visitors' on-screen activities on your website. This way, you can better understand your target audience and your website's numerical data. 
2- Seeing What Elements Get Clicks
With click heatmaps, you can see what elements users click on and which ones they ignore. Analyzing click maps help you find out which content is more engaging and what you should improve to attract more attention.
3- Understanding A/B Testing Results
You can set up heatmaps on your test variations to figure out why one is outperforming the other. You can measure the effectiveness of the changes you've made and find out what you should focus on.
Does Google Analytics Have a Heat Map?
Yes, Google does offer a Chrome extension for Google Analytics heatmapping. This extension, Page Analytics (by Google), can be used for the web pages you have added to Google Analytics.

Google introduced this feature so that people could access a visual representation of their Google Analytics data. This feature visually shows you how users are interacting with your website and which areas are more engaging.
Image credits: minwt.com
This information helps you to find out how to improve your website based on users' behavior and, as a result, optimize your conversion rate.
However, the Page Analytics Chrome extension was deprecated in 2017 and hasn't been updated since then. Moreover, if you read the user reviews written after the deprecation, you will understand that it has stopped working for many users.
If you want to try your luck with Page Analytics, below we explain how to get started.
How Do I Use Google Analytics Heat Map?
Let's see how you can use Google Analytics heatmapping. Follow these steps to start using Page Analytics:
First of all, if you don't have a Google Analytics account, you need to create one. After you sign up, GA will give you a code that you should insert on each of your website's pages you want to track.

Now you have to download the Page Analytics Chrome extension.

After installing the extension to your browser, log in to your GA account. You will see the Page Analytics icon in the Chrome toolbar. Click on this icon, and if you see a green tick, it means that Page analytics is connected to GA.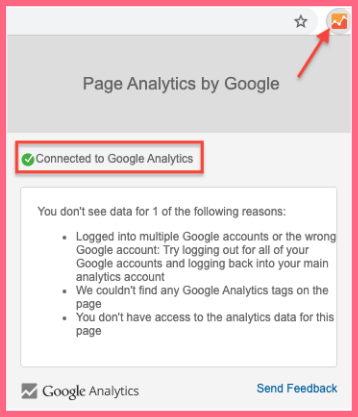 If you successfully follow these steps, Google Analytics will provide the information needed to create heatmaps for tracking web pages.
When you go to your website, you will see scorecards at the top of the page showing some metrics. These metrics include:
Pageviews

Unique page views

Average time on page

Bounce rate

Exit rate
You can also see the number of active users in real-time and an in-page click analysis, which shows where visitors click on that page.
How to Create a Google Heat Map?
To better understand the Google Analytics heat mapping, let's take a look at what else is there on the Google Analytics bar:
Date Range:

The date range menu allows you to select a specific period of time in which you want to see the data. You can also choose to compare two time-frames together.

Bubble Icon:

By clicking on the bubble icon, the percentage of the users who have clicked on each element of the page will be displayed next to it. If you click on each of these bubbles, you can also see the number of clicks.
Color Icon:

If you select the color icon, a color (blue, green, orange, or red) will be assigned to each bubble based on the relative percentage of clicks. Red indicates the most clicked areas, and blue the least.
Click Threshold:

On the click threshold menu, you can choose a threshold for showing the bubbles. You will only be able to see the bubbles for the elements whose clicks are higher than the threshold.
Segments:

This is a list of all the segments you have access to. You can select up to four segments to see their metrics on the Google Analytics bar.
Real-time or all data:

In the real-time section, you can choose to see all the metrics or only the data in real-time.
As you may have noticed, Page Analytics only offers a simple click map. While this data can be very useful, it's not enough for those who plan to use heatmaps to improve their website based on users' behavior. There is more information that can be used to create heat maps. Add to this the fact that Page Analytics is deprecated, and you might want to consider using another service that offers a heatmapping feature. Therefore, we will introduce a great alternative to Google Analytics heat mapping.
How to Create a Custom Google Analytics Heatmap Report?
If you want to use GA heatmap and not other available heatmap software, you might need to design a report tailored to your individual needs.
In the custom menu on the right side of your website, select personalization.

Then, under New Report, type in a title for your report, such as Heatmap.

In the dimensions area, enter the metrics you wish to track as well as the names of the days, weeks, and hours.

You can also add a specific optional section of data that you want to keep an eye on.

After you've completed this, you'll be able to see your report and select a date range from the upper right side.

You can now specify the time period that your heat map should cover. If you just have a limited number of data, choosing a date range with a high amount of data is recommended.
Remember that a heatmap works best with a huge amount of data. For example, when using a heatmap, a page with a higher percentage of views works out better than a page with few views. Small amounts of data produce unreliable results.
A Better Alternative to Google Analytics Heat Mapping
If you are looking for an alternative to Google Analytics heat mapping, here you go. WatchThemLive is a website analytics tool that includes all the Page Analytics features and much more. We are going to discuss this tool's features and how they can help you improve your website in the best way possible.
WTL Features
Heat Mapping:

This tool

provides you with a visual representation of your website's analytics. This straightforward data visualization is the best way to find out the most engaging areas of your website. Here you can learn how to get started with WTL heatmaps.
Session Replays: With this tool, you will have access to users' session recordings. This allows you to see all the on-screen actions each user has performed on your website. These actions include scrolls, clicks, taps, mouse movements, etc. These session replay videos help you to find out what's working well on your website and what's going wrong. With this useful feature, you can exactly see how users are interacting with your website and what is capturing their attention. This is the most effective manner to obtain accurate feedback from users.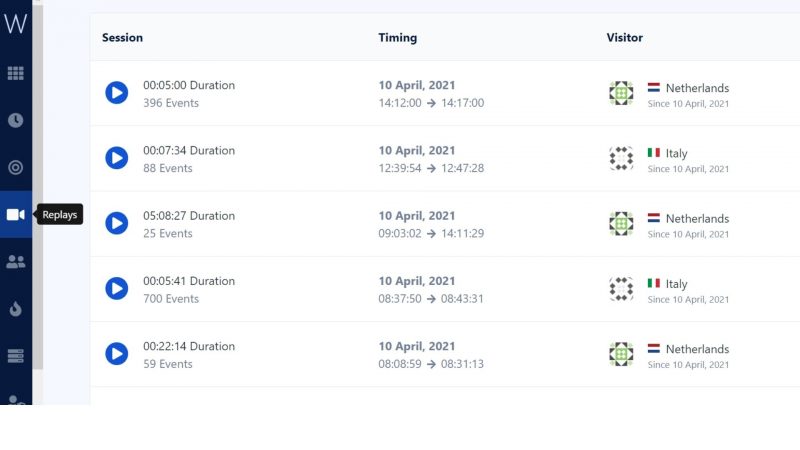 Website Analytics:

This

service offers a set of useful analytics like page views, user sessions, referrers, user segmentation (countries, devices, languages, etc.) This information allows you to obtain a comprehensive and deep understanding of your audience and website viewers.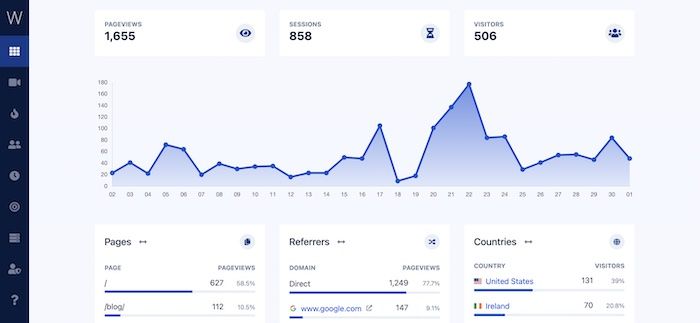 Real-time Data:

This tool

also gives you the option to see real-time data. Having access to online users' data can help you in many ways and provides you with lots of opportunities. For example, if a sudden problem occurs, you can detect and fix it more quickly.
Want to try out WatchThemLive? Check out the plans, choose the one that best suits your needs, and get your free trial!

Why Should You Use WatchThemLive?
Having a deep understanding of your audience is crucial to learning how to improve your website. This tool allows you to track each user's journey through your website and see how they are experiencing it.
Having access to all this data helps you create a better user experience and make better marketing decisions. And you know that improving the user experience leads to a higher conversion rate.
The important thing is that all of this is done without invading your visitors' privacy. Also, keep in mind that all your data will be safe. You will have full control of your information and you can be sure it will never be shared.
Conclusion
Google Analytics heat mapping is a useful tool that can help you improve your website. This feature offers you a visualization of the numerical data on Google Analytics. However, it comes short compared to other available heatmapping tools. It doesn't receive any updates anymore and only provides click maps.
We introduced WTL as a great alternative to Google Analytics heat mapping. It offers heatmapping along with many other features that can help you improve your website more effectively.
Editor's note: This post was last modified on Oct 3, 2021, 2:16