Mouse heatmap is a powerful user behavior analytics tool for tracking visitors' mouse movements and clicks on a website. The data collected from mouse and click heatmaps allow marketers and websites' admins to improve their websites for a higher conversion rate.
This article will explain the definition of a mouse heatmap and why it's essential. We will also introduce a completely free way to create a heatmap for mouse tracking.
Related Article: Scroll Maps: All You Need to Know
What Is a Mouse Heatmap?
A mouse heatmap is a website heatmap that visually represents your visitors' mouse interactions. It can be a mouse click heatmap that tracks the clicks on your website, or it can be a mouse movement (cursor tracking) heatmap representing users' mouse movements.
Since a mouse heatmap visualizes data with colors, you can easily and quickly understand users' activities without getting lost in numbers.
You can discover visitors' frustration points and distractions when analyzing mouse heatmaps. Moreover, a mouse tracking heatmap tool shows visitors' reading patterns and what areas on the web pages are receiving more attention. It's an excellent way to identify the areas on your website that diverts users' attention from important elements.
With these insights, you can better position or design elements on your website to optimize it.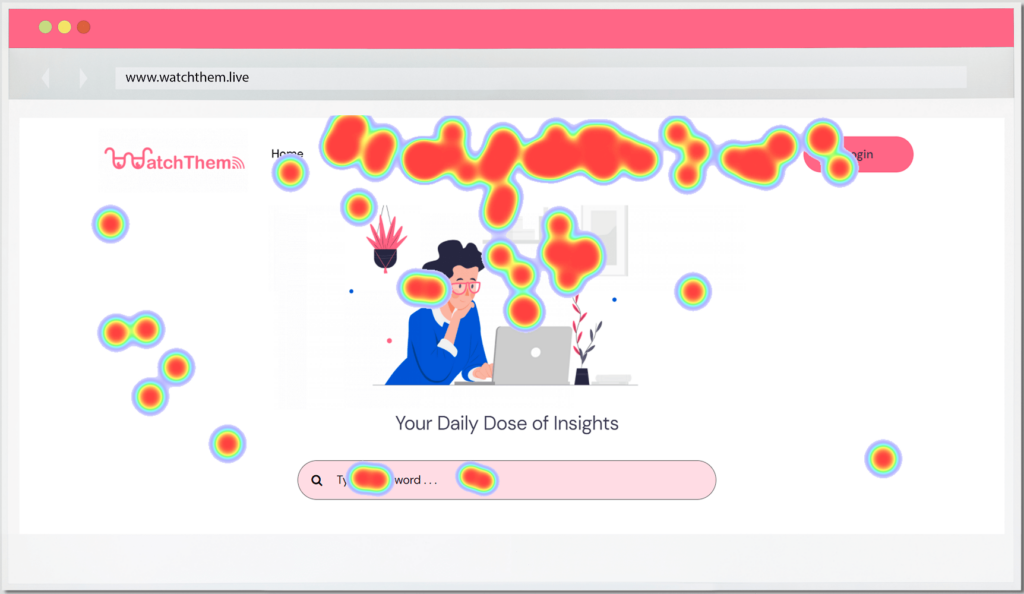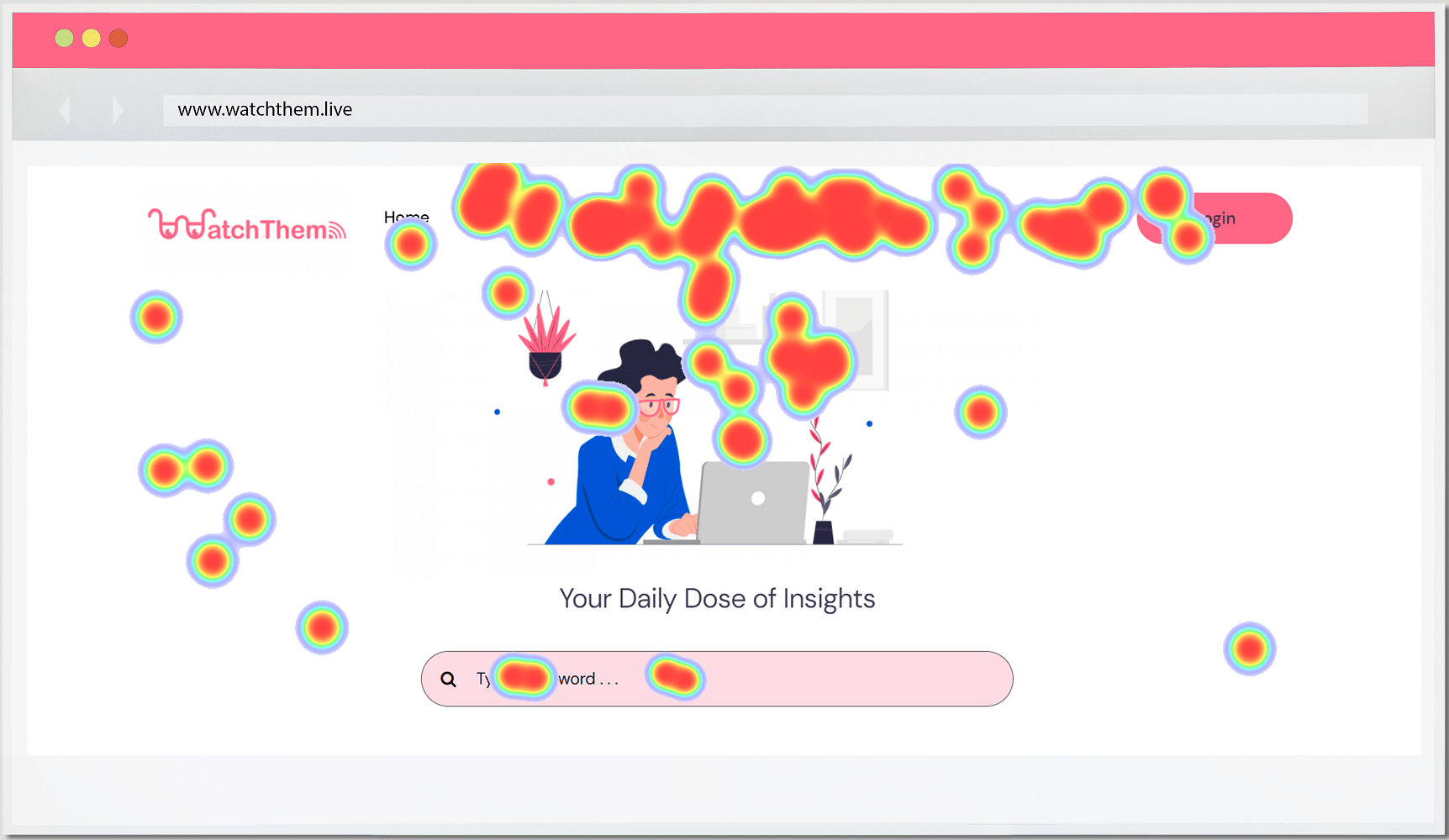 Why Is Mouse Tracking Essential for Websites?
Let's see how mouse tracking using an effective heatmap tool can benefit you:
1- Improve the User Experience with Mouse Heatmaps
The insights a mouse heatmap gives you into visitors' clicks and mouse movements enable you to measure the user experience more effectively. You will identify:
2- Leverage Your Existing Traffic by Identifying Click Zones
Many businesses spend lots of resources on increasing their website traffic. Using mouse heatmaps is a great way to reduce the traffic acquisition cost, as it helps you make the most out of your existing traffic and convert more visitors.
Mouse heatmaps provide you with information that allows you to change your website's design, focusing on your target audience so they will become more interested in what you have to offer.
3. Understand Visitors by Their Mouse Movement Patterns
A mouse movement heatmap shows your visitors' mouse movement while they are browsing your website. It's an excellent way to figure out what people do before taking a specific action. Understanding the process that leads to a user action will let you design strategies to influence user behavior.
For example, you can analyze your landing page using a mouse heatmap to see users' mouse movement patterns before abandoning the page. These patterns will tell you whether any elements draw users' attention but fail to persuade them to take action. Optimizing these elements can encourage visitors to spend more time on your landing page.
4- Use Mouse Heatmaps to Increase Your Conversion Rate
Heatmaps are among the best tools for increasing website conversion rates, and mouse heatmaps are no exception. Here are some of the ways the insights gained from mouse heatmaps can help you to convert more visitors:
Identifying and eliminating distractions and frustration points

Improving website navigation

Evaluating and optimizing your content
For instance, imagine you've added breadcrumb navigation to your eCommerce website. By analyzing the mouse heatmap, you can see how visitors interact with it. If your breadcrumbs are not receiving much attention, maybe it's not visible enough, and you should change the color or position.
Want to know how to increase your conversion rate? Read articles about CRO here.
An Easy Way To Create a Free Mouse Heatmap for Websites
If you are looking for a free way to create your mouse tracking heatmap, Watch Them Live is a great tool for creating heatmaps. Fortunately, WatchThemLive has a free package that offers unlimited free mouse heatmaps for websites. There are only 4 simple steps to create a free version of Mouse Heatmaps:
2. Add your Website to the dashboard
3. Add the created tracking code to your website
4. From the Heatmaps tab on your dashboard, create free mouse heatmaps for your desired pages.
Done! You've created a free mouse heatmap for your website. Let's start collecting data using a free mouse heatmap.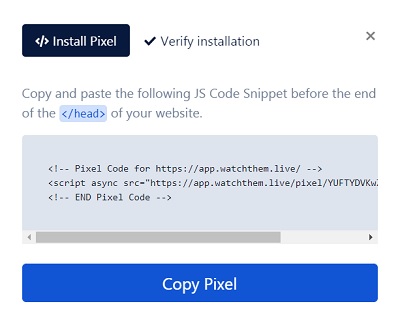 After setting up WatchThemLive's free mouse heatmap, you will obtain accurate data about users' interactions with your website. This data enables you to find the best place for your CTAs, make better design decisions, improve the user experience, and more.

How to Improve Your Website with a Mouse Heatmap?
Now that you know what a mouse heatmap is, the reason admins create mouse heatmaps for their websites, and how to have a free one on your own website,, let's get into more details about using them to improve your website.
1- Redesign Your Website Using the Click Heatmap's Data
An effective mouse heatmap help you understand users' behaviors and find their click zones which you can use to you develop ideas about how to improve your website's design.
Use a mouse heatmap to identify the most and least clicked elements and determine what changes you need to make to get more clicks on significant ones.
Remember, while redesigning your website you must always consider who your visitors are. Otherwise, you might lose your visitors' interest resulting in a lower conversion rate.
2- Improve the Content's Quality by Tracking Mouse Movements
High-quality content is what keeps visitors on your website. A mouse movement heatmap shows how people read your content; it helps you figure out how to improve your content and make it more scannable. It also lets you place CTAs, images, and videos more appropriately.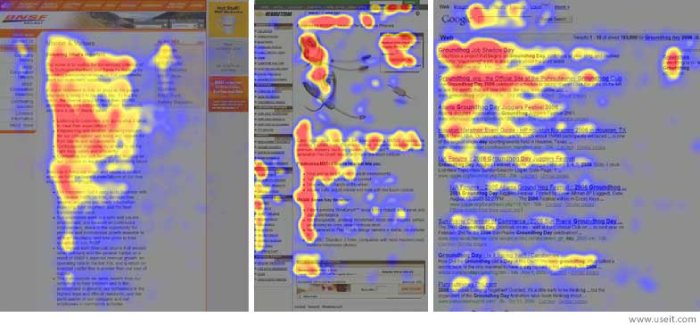 Image source: tubikstudio.com
Related Article: Snackable Content: How to Satisfy Your Audience's Appetite
3- Use Click Heatmaps to Optimize Link Placement
Internal linking is one of the most crucial factors that impact your website's SEO. The more an internal link is clicked, the more valuable it would be. And where you place links on your web pages affects how visitors interact with them.
A click heatmap can help you place the links more effectively to get more clicks.
4- Identify Usability Issues Using Mouse Tracking Tools
Using mouse heatmaps is an excellent way to identify usability issues on your website. You can detect unexpected behavior and discover what prevents users from completing an action. Also, tracking user behavior enables you to find the design flaws you've overlooked.
5- Optimize CTAs by Knowing Their Click Rates
Your calls to action are one of the key factors that motivate your website visitors to convert. With mouse heatmaps, you can see how people are interacting with CTAs. Then, you will optimize them and convince users to take action.
6- An Effective Mouse Heatmap Helps You Reduce the Bounce Rate
Set up mouse heatmaps on the pages with high bounce rates to find out why people are leaving your website. The heatmaps will help you identify user pain points and confusion. This analytics tool allows you to find the problems more quickly, so you would lose fewer visitors.
Bounce rate is a crucial website metric you should always watch. You can read more about essential website metrics here:
Boost Conversions by Tracking These Top 10 Website Metrics
7- Use Mouse Heatmaps to Have a Better Design for Landing Pages
A landing page is where you can turn visitors into leads; that's why it's essential to analyze and improve your landing pages constantly. The insights mouse heatmaps offer can make landing page analysis way easier.

Conclusion on Mouse HeatMaps
A mouse heatmap is a valuable tracking tool that simplifies understanding user behavior on your website by visualizing click zones and mouse movements. Setting up this type of heatmap on crucial pages such as your home page and landing pages helps you get valuable insights into users' mouse interactions to increase conversions.