The conversion rate is simply the percentage of visitors who did what you wanted them to do on your website. "What you wanted them to do" means the goal behind your CTAs (call-to-actions). 
There are various CTA goals on websites. It can be clicking on a button, subscribing to your newsletter, making a purchase, downloading a file, etc.
Conversion Rate is one of the key eCommerce metrics. It is a measurable activity that takes prospective customers one step closer to becoming paying clients. CR determines how effective your marketing efforts are in attracting customers.
Applying useful CRO strategies to your business can boost its performance and profitability. But before discussing the ways to improve CR, let's find out how you can calculate it.
Conversion Rate Calculation
Conversion rate calculation is pretty simple and straightforward. CR is the total number of converted visitors divided by the total number of visitors in a specific period.
CR Formula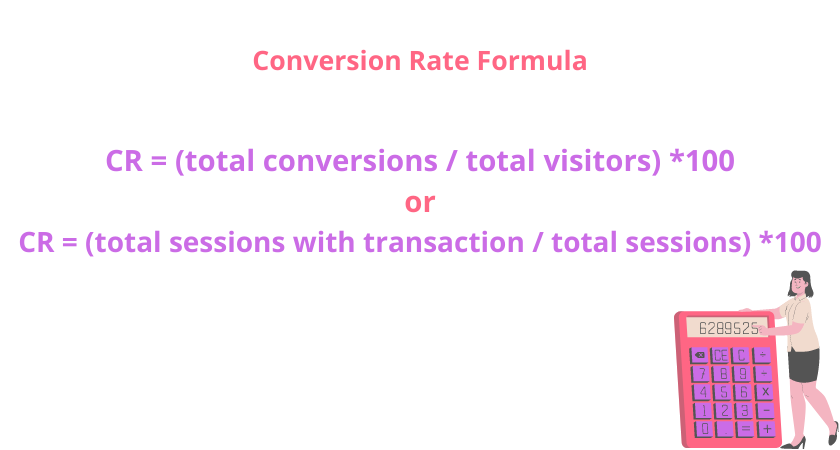 For example, suppose that you have an eCommerce website with 2000 monthly visitors, and you sold 500 products. Then, your CR is 25%.
Also, another CR formula would be the number of sessions with transactions divided by totals of sessions.
Since "session" includes a self-contained shopping "event," it is a better predictor of consumer intent than a single visitor. During a given timeframe, a particular user may visit a store several times. So, each visit represents a chance for online sales.
Is Conversion Rate Important?
Conversion rate tracking helps you to assess the effectiveness of your web pages and apps. Knowing the rate of your users completing the goals that add value to your business helps you to evaluate the effectiveness of your online marketing efforts. Also, they enable you to discover opportunities for improvement.
When combined with other marketing KPIs, CR can be a good gauge of an online store's "health" and competitiveness.
Conversion Funnel
Seeing conversion rate in a funnel-based view is beneficial. It shows conversion rate through the process; from product page, to add to cart, and checkout.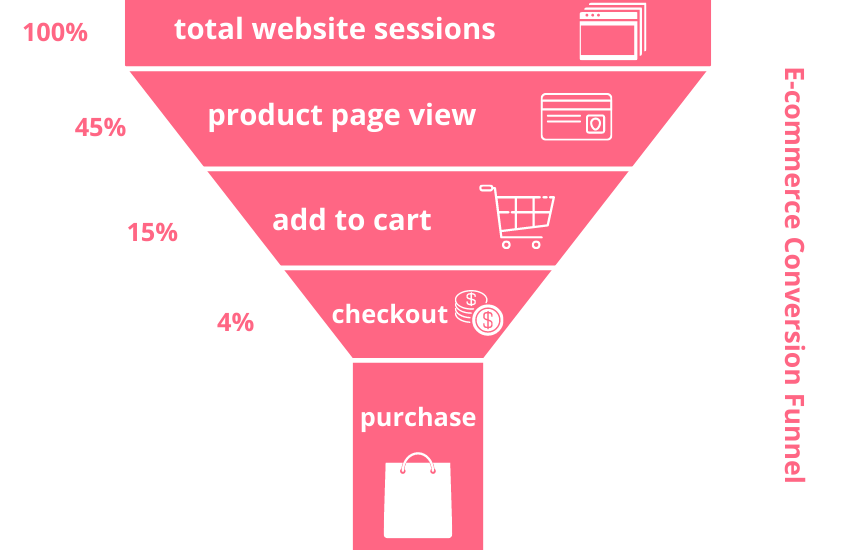 The provided rates are just examples so that you can have an idea of how it works. Product page view session is usually greater than the other micro-conversions. For example, it can be 45%. This reminds businesses that when improving their UX, they should consider conversion to product page visits.
A conversion funnel analysis is a significant tool that every organization should adopt to optimize its operations. You may begin to discover how many of your site visitors are passing through each stage of the funnel. Then, you can focus on the low converting stages.
To make your conversion funnel analysis more valuable you can differentiate it for various customer segments. So, you can have a more detailed view of what needs improvement to boost conversion. Moreover, differentiating conversions based on the following criteria can provide helpful insights:
Channel type CR

Search type CR

Product category CR

First-time/return visit CR

Promotional campaign type CR
What Is a Good Conversion Rate?
Conversion rates vary greatly between sectors and there's no one-size-fits-all CR. So, comparing one business or market to another seldom yield useful insights. For example, a clothing website will almost certainly have quite different metrics than a B2B service provider.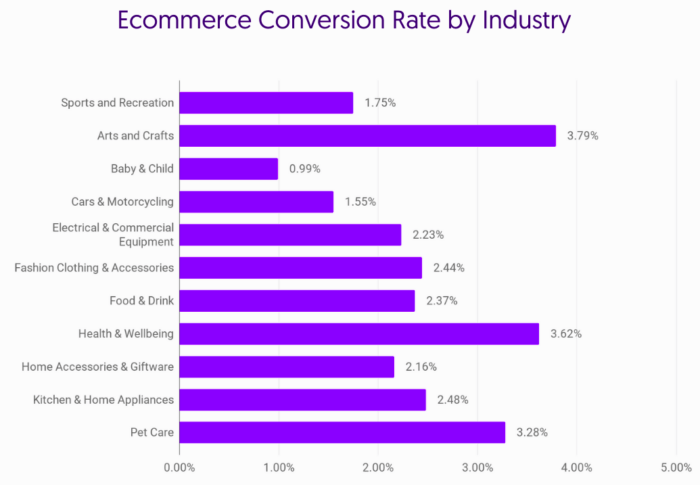 Source: growcode.com
The above chart compares the conversion rate by industry. The broad range in conversion per industry is evident here, highlighting the importance of comparing to related industries wherever feasible. The graph shows that "Arts & Crafts" takes the lead with 3.79%, while "Baby & Child" trails with 0.99 percent.
Conversion rates can also differ among products, devices, countries, and other parameters.
How to Improve your Conversion Rate
Conversion rate optimization is the process of setting goals, assessing CR, and customizing your site or app to maximize it.
There are several improvements, depending on your business and website that might result in increased conversion. That being said, bear in mind that conversion funnel optimization is a continuous process that is never completely "finished."
So, if you want to start your conversion rate optimization (CRO) you can do the following steps:
Focus on a specific area to boost your conversion rate. Generally, you can work on two areas of the product page and checkout experience.

Having a hypothesis believing it can improve your CR in the selected area.

Validate the hypothesis using

A/B testing or multivariate testing

.
A/B testing is vital for guiding the decisions and methods that lead to fully adopted modifications. Because some hypotheses may not result in a favorable CR.
While these strategies are helpful to enhance your CR, you need tools to get insights on your website issues.
Watch Them Live, for instance, has heatmaps and session recordings, which are useful for this purpose. These tools help you understand where needs to be fixed in the following ways:
Session Replay
Session Recordings are solutions to find out what user does with various elements on your website. It is as if you are sitting next to them watching their behavior anonymously and in real-time.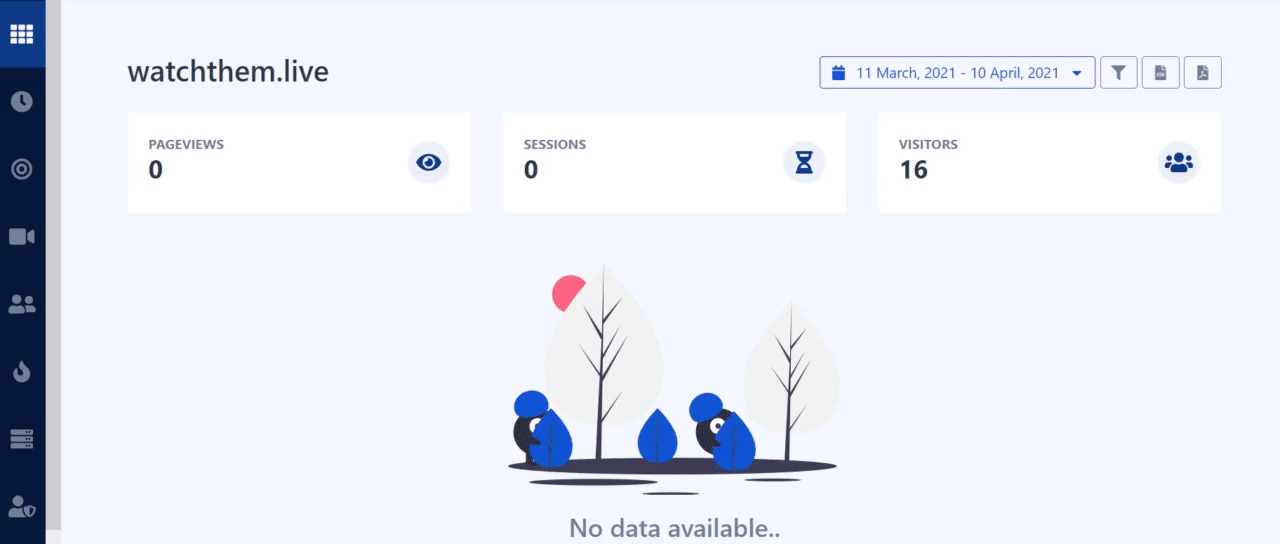 Watching how users interact with your website is a good way to understand what design obstacles they face. Also, it provides you with insights into CRO hypotheses. Then, you can test the hypotheses using A/B testing.
Heatmapping
Heatmapping is a tool to check out where gets the most attention on your designed website. It is great for CRO, as it can give you an idea of focus areas on your website. Get access to its 90-days free trial today!

Conclusion
In this guide, we learned about Conversion Rate or CR and its importance in the eCommerce world.
Moreover, we understood how to calculate CR and benchmark it so that to maximize your revenue. The steps and tools to help you get CRO insights were introduced, as well.
Keep track of this important digital marketing KPI of your eCommerce business success!