What is the usage of visitor tracking, and especially click tracking, if none of these visitors would buy any service from you? That's exactly why you should know how to calculate conversion rate, the magical word that represents the effectiveness of your marketing costs, or in a simpler way, how good you are spending your money. 
In this article, we're going to discuss what your conversion rate is, how to calculate it, and most importantly, how to improve your conversion rate.
Related article: Top 5 CRO Agencies That Do More than Just Analysis (2021)
What is the Conversion Rate?
When we say it's important to know how to calculate conversion rate, it's because the conversion rate shows us the percent of visitors to your website or landing page that converts (aka, do what you want them to do).
This can be different in the case of your business and the goal that you have in mind of a convert, but some of these conversions are:
Making a purchase

Signing up for your newspaper

Filling some sort of form

Creating account

Downloading some content

Upgrading the service
We can group these conversions into two groups:
1. Macro conversions
The main goal of most businesses is to sell their service or product. This will be the main conversion they seek to achieve. 
Any other conversion or action in the way of reaching the main goal that is selling can be categorized into micro converts. Basically, a conversion is a measurable action that progresses a potential customer towards becoming a paying customer in an important way.
How to Calculate Conversion Rate?
Calculating conversion is actually fairly easy. All you have to do is divide the number of conversions you get in a given time frame by the total number of people who visited your site or landing page and multiply it by 100%.
Conversion rate = (conversions / total visitors) * 100%
This is the overall conversion rate, but the beauty is that you can calculate it in any specific area such as:
Overall conversion rate

(how well does your website convert traffic from any source?)

Marketing channel conversion rate

(is Google Ads traffic or Facebook Ads traffic more likely to convert?)

Page-level conversion rate

(which of these pages is better at converting traffic?)

Campaign conversion rate

(did my targeting changes improve anything?)

Individual ad conversion rate

(do I need to change my ad copy? does this ad drive more qualified traffic?)

Keyword conversion rate

(which keywords deserve more budget?)
We can make this list longer and longer and for any specific area of your business and its impact on conversion rate, but it's enough to get the point.
But how do we calculate the conversion rate if the same person converts multiple times? As we discussed above, the conversion rate is the number of conversions divided by the number of visitors. To see what percentage of visitors converted (regardless of how many times they converted), you divide converting visitors by total visitors and multiply by 100%. We typically call this your "click conversion rate".
Click conversion rate = (converting visitors / total visitors) * 100%
Getting Meaningful Data
When we were talking about how to calculate conversion rate the assumption was that the data is relevant. A relevant or meaningful data is the data that has two factors:
1. Time period
has been collected in a period that shows the real information about the business. For example, for a small website that has 100 visitors in a month, we should take a period of 6 months to have some data that we can work with.
2. Number of visitors
If we have a %100 conversion rate we can assume that something is not right. Because the sample can be a visitor and he or she actually converts. But in bigger sample size, the number definitely falls, and that's why we need a big sample size to measure the actual value of our costs.
What is a Good Conversion Rate?
This is a question we receive fairly frequently — and the true answer is that it depends on your industry, how you're defining conversion rate, and the nature of your business.
Here's what Unbounce's report on 64,000 landing pages claims:
"Generally, a 12% conversion rate is pretty good for lead generation landing pages. And by 'pretty good,' we mean you'll be better than about 90% of your competitors." Or if we look at Wordstream's suggestions from Google Adwords, they cite the industry-wide rate to be 3.75%.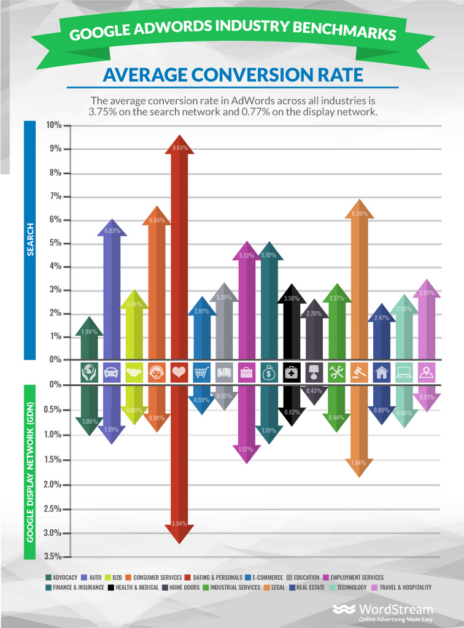 Conversion Rate Optimization (CRO)
Now that we have discussed how to calculate conversion rate and the important factors that make it relevant, it's time to talk about its optimization. Conversion rate optimization is the process of optimizing your landing page and website to produce more conversions from your traffic!
Here are some of the technical things you can do to boost your conversion rate:
1. Use CRO agencies
It's way more efficient to take some help from the professionals than doing everything yourself. One of the best of these agencies is WatchThemLive 
WatchThemLive has heatmaps and session recordings, which are useful for this purpose. These tools help you understand where needs to be fixed.
2. Create a dedicated landing page 
If you are doing any sort of paid advertising (Google Ads, Bing Ads, etc), you should be sending your traffic to a dedicated landing page. There are so many good reasons to do this, but the biggest reason is page optimization. If you're going to pay to get traffic to your site, you want to send them to a page that is designed to sell.
Landing pages are also the easiest type of page to do CRO on. So, if you're still sending your traffic to your homepage, this is the first place I'd start. For more information about landing page creation and testing tools, check out this blog post.
3. A/B Test
The easiest way to start doing CRO is the A/B test. If you've got traffic coming out your ears, you can do some really cool (and complex) multivariate testing, but for most companies, A/B testing is the easiest and most effective way to go.
To run an A/B test, all you have to do is set up two different variants of a page and split your traffic between them. Half of your traffic goes to variant A and half goes to variant B.
Here we discussed some of the ways, for full optimization strategies you can check here: 3 Conversion Rate Optimization Strategies to Consider in 2021
Conclusion
As we mentioned how to calculate conversion rate and the importance of it, it's crucial that we also mention that this is not the only factor that shows the success or failure of your marketing approach, it's just one of many but a very important one.