We, business owners, have all faced low conversion rates. For some of us, it is a constant battle. Some others, however, have found tricks around it. What about you? Have you ever wondered how you can optimize your conversion rates? If so, you must have heard of CRO tools.
Many of them can get the job done. However, having too many options is not any better than having none. So, in this article, I will tell you about the best ones out there.
What Are CRO Tools?
Conversion Rate Optimization tools collect information about your website's visitors. They give you information on how visitors use your website and analyze it for you. Additionally, they spot potential tweaks that could boost conversion rates.
Click here to find out the best strategies you can implement to boost your conversion rate.
You may use these tools to:
Learn why you're unable to convert leads into customers.
Analyze and identify modifications that could improve the site's user experience and conversion rates.
To achieve the maximum conversion rates, test and tweak the modifications you make on your website.
Importance of Conversion Rate Optimization
The importance of CRO can be attributed to two factors.
The first and most obvious reason is the importance of sales.
In other words, even small gains in conversion rate can result in a tremendous increase in overall sales for most digital businesses.
However, if sales are not your primary concern right now, you can easily substitute whatever action goal you have in mind for sales. Whatever your goal is, you'll want to increase the number of people who take action.
The second explanation is a little more complicated, but it's just as obvious. In a nutshell, it is critical because traffic is costly. So, you need to develop a convenient CRO program to cover this problem. 
You probably use Google Ads, Facebook Ads, or other pay-per-click (PPC) platforms to drive visitors to your website. You know how expensive they are. Conversion optimization allows you to convert a bigger percentage of your purchased traffic and increase your Return on Investment (ROI) which in this case is the same as Return on Ad Spend (ROAS).
Regardless of how you choose to drive visitors to your website, there will be considerable fees, and these prices will continue to rise year after year.
3 Types of CRO Tools
CRO tools are generally categorized into these three groups:
Web analytics 
Behavior analytics 
testing tools
We will first explain what each of these means.
Web Analytics CRO Tools
Understanding what's happening on your site is crucial to conversion rate optimization. You won't know where to look for improvements until you know what's going on (or what's going wrong).
Website analytics tools collect numerical and quantitative data about your website and its visitors, providing you with information on website performance metrics such as:
Bounce rate
Sessions
Duration of the session
Typical drop-off or exit pages (exit rate)
These can assist you in finding answers to problems such as:
Are visitors staying on the landing page or abandoning it?
What are the paths that people take on my website?
Where in the sales funnel do people get lost and exit?
Suppose visitors arrive at your landing page but don't convert into leads or customers, In that case, web analytics tools can help you figure out what's going on so you can discover any roadblocks they're seeing.
Behavior Analytics CRO Tools
Understanding why users behave in specific ways on your website is another crucial aspect of conversion rate optimization. You can't give them what they want if you don't know what they want.
User behavior analytics solutions collect qualitative information about how users interact with your website and why they behave in specific ways.
Tools that analyze behavior can assist in answering problems such as:
Why are people abandoning their shopping carts in the first place?
Is it possible for visitors to find what they're looking for?
What is causing visitors to leave the landing page without [completing the next step]?
For example, you may already know that people are leaving your landing page (the what), but you will have no idea how to improve the user experience unless you figure out why they're leaving (the why).
CRO Testing Tools
Testing and monitoring modifications to your site is also an important aspect of conversion rate optimization. Remember, the purpose of CRO is to improve the user experience and the customer journey, not to entirely redesign your site.
CRO testing tools enable you to compare and assess modifications to see which versions convert better once you've identified potential improvements.
Your web analytics and behavior analytics tools, for example, may have alerted you to a high bounce rate on your landing page, which was caused by a poorly-placed call to action (CTA): users were unsure which step to take next, so they left.
In this case, you may test several versions of your landing page to determine which converts better—perhaps with an updated call-to-action CTA or by placing crucial information above the fold.
Top 5 CRO Tools
We have discussed what CRO tools are and explained the different types of them. Now is the time to introduce the top 5 resources you can use to boost conversions for free in 2022.
WatchThemLive
WatchThemLive is an amazing CRO tool that can help you boost your conversions for absolutely FREE. It offers many features, such as:
WatchThemLive's session replays help you evaluate users based on KPIs and metrics. Check the Pageviews, Referrers, Locations, Devices, Screen Resolutions, UTMs, among other useful data, in a period of time.
WatchThemLive's heatmaps help you see the most noticeable areas on each page. By visualizing your user interaction data, heatmaps enable you to improve website usability and conversion. It's a great tool to detect website issues and eliminate distractions on UI.
WatchThemLive's analytics help you watch where users get stuck. Now you can fully understand users' journey through the website. You can locate roadblocks on their way to conversion and provide insights on individual users.
Google Analytics (and GA 360)
Google Analytics is the most widely used online analytics tool, with over 29 million sites using it. It's free to use, but if your website has more than 10 million monthly visitors and you need additional data, you may upgrade to Google Analytics 360. GA allows you to track real-time traffic patterns, traffic sources, and target conversion rates. You may also track typical metrics like sessions and session duration to see where visitors leave and which web pages have the highest bounce rates.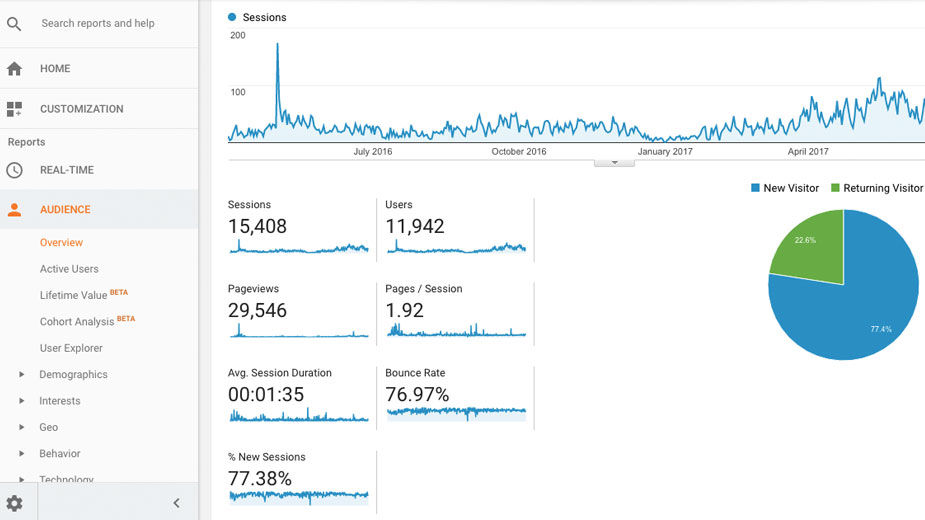 Adobe Analytics
Adobe Analytics collects and analyzes multichannel analytical data in real-time from a variety of sources (your website, email marketing, kiosks, apps, and more). Analyze user flow, track key performance indicators (KPIs), and track conversion rates using Adobe Analytics. Adobe Analytics users love the aesthetically appealing and easy-to-understand information.
Heap
Heap is a real-time online analytics solution that tracks page visits, clicks, form submissions, and change events on a client's site. Heap's strength is that it records user interactions in your app and on your website automatically. Common metrics like sessions, page visits, and form analytics such as form submissions, clicks, and field changes should all be tracked. Recognize how visitors engage with and utilize your website.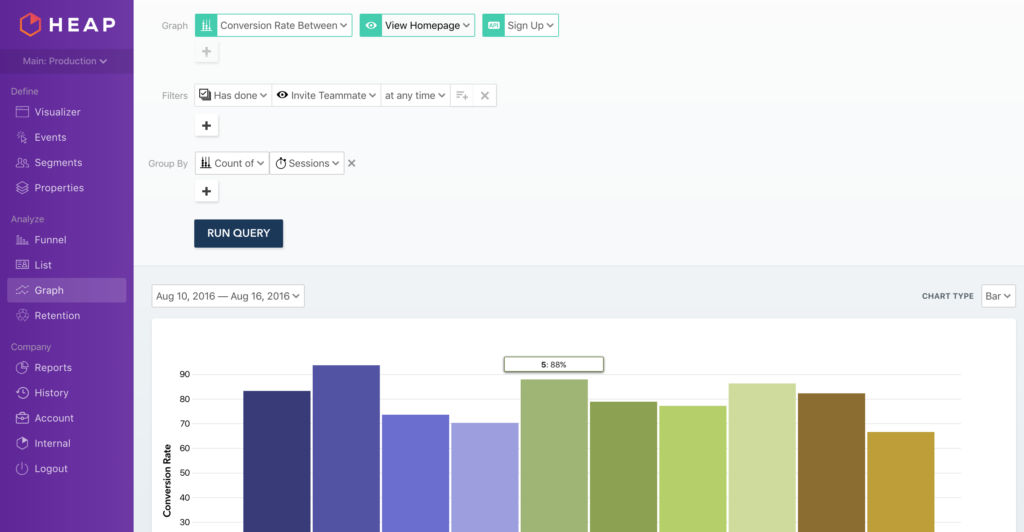 Google Optimize
Google has provided a free website optimization tool created to assist webmasters and internet marketers in increasing conversion rates. This tool is integrated into this testing platform. A/B testing, multivariate testing (MVT), and split-testing multiple versions of web pages and analyzing how each page performs are all possible with Google Optimize.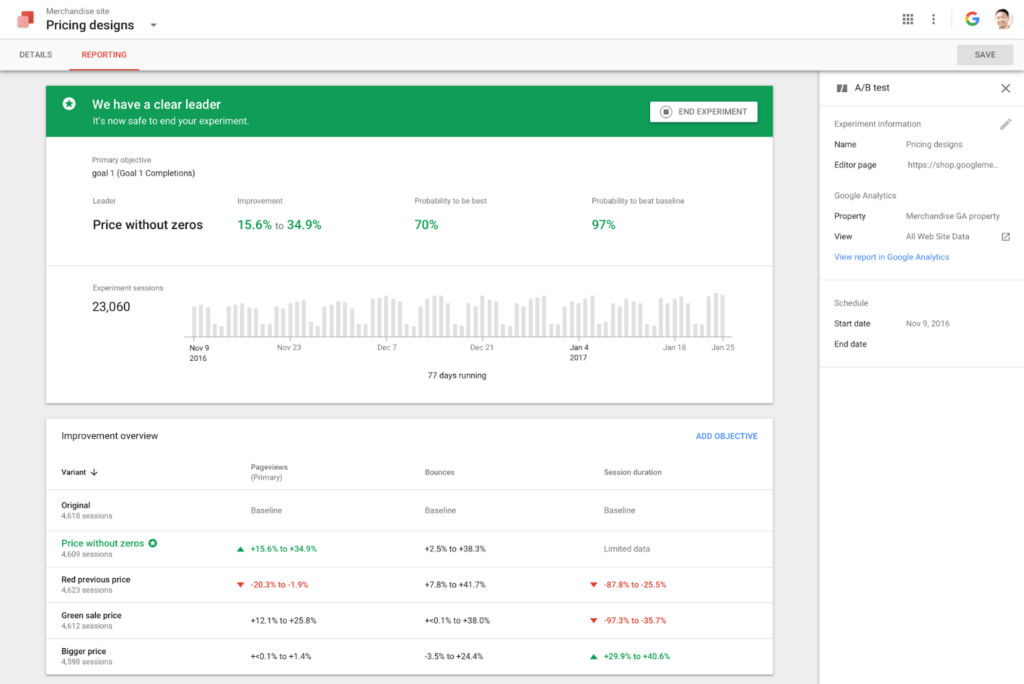 Conclusion
Choosing the best conversion rate optimization software is a crucial step in achieving your conversion rate objectives. However, obtaining industry-standard or even greater conversion rates requires more than one step.
You must understand how and when to utilize these tools in conjunction with a successful email marketing and landing page plan, just as you do with any other technology. I hope that this list of the top conversion rate optimization tools offers you a leg up on the competition.