Creating a conversion rate optimization program is essential for building a successful online business. You must define your goals, know who your audience is, and develop the right strategies to maximize your revenue and conversion rate.
If you're looking for how to design a CRO program, you're about to find out.
In this blog post, we will discuss:
What a CRO program is.

The steps for creating a CRO program.

Best conversion rate optimization practices.
We will also introduce a useful CRO program tool. So, without further ado, let's get started.
Note: One of the best ways to optimize conversion rate is to track user behavior. With WatchThemLive's session replays, you are able to understand why customers do what they do. Keep reading to find out more.
What Is Conversion Rate Formula?
You can calculate CRO by following a simple formula:
Conversion rate = The number of visitors who converted / The number of total visitors x 100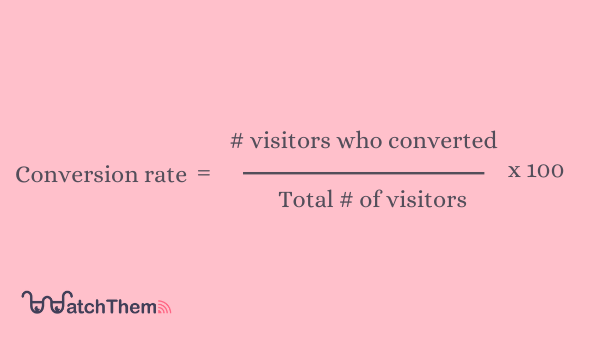 What Is a CRO Program?
A CRO program helps you develop strategies to increase the conversion rate by encouraging your website visitors to take a specific action. This action can be an online purchase, newsletter signup, ebook download, etc.
The purpose of a CRO plan is to optimize all aspects of your business for the best results. The CRO program requires optimizing your website by analyzing its performance and user interaction. You should identify the barriers that prevent your website's visitors from converting and remove them to improve the conversion rate.
What Is a CRO Roadmap?
A CRO roadmap is a type of roadmap that focuses on customer experience and testing CRO plans. For creating a CRO roadmap, you have to gather data about where you are losing traffic and why you're not making enough sales. By creating a CRO roadmap, you're outlining a detailed step-by-step plan based on the data you gathered. It also involves your goals, the time you need to spend on them and the resources they require, and the results you're expecting to gain. Developing a roadmap helps you take the next steps efficiently.
How Do You Make a CRO Plan?
To create an effective CRO program, you need to identify the turning points in your conversion funnel to optimize it. While navigating through your website, visitors go through different experiences that affect their purchasing decision. So, it's crucial to discover the most influential moments in users' journey through your website.
How can you find these important points? First, you need to determine these three things about customers' journey on your website to understand how to optimize it:
What leads users to your website

What prevents them from reaching the conversion goal

What persuades them to take action and convert
These are the fundamentals of a CRO program. By understanding what causes each of these actions, you will exactly know what elements need improvement for more conversions.
Steps of Developing a Successful CRO Program
Now, let's see the steps you should take to design a successful CRO plan.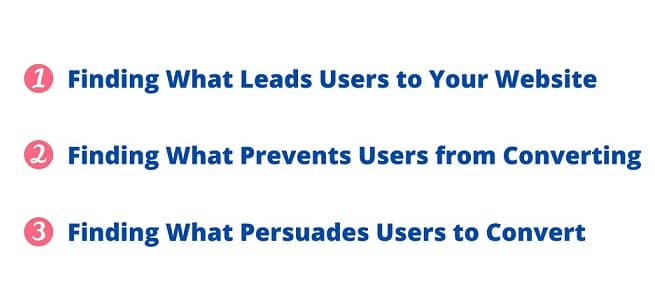 1- Finding What Leads Users to Your Website
Do you know from where people are coming to your website and why? Users can reach your website from different sources, such as:
Google search

Social media

Following someone's recommendation

Retargeting ads
Each of these groups of users has different needs, and you can't treat them the same way. You have to understand each group and its behavior to offer a more personalized experience.
How to find out where visitors come from? You can find this information in your website's analytics. You can also ask visitors themselves when you collect customer feedback which allows you to obtain even more valuable information about your audience.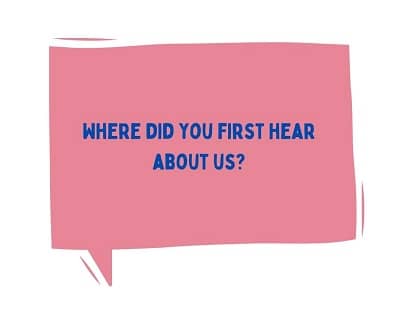 2- Finding What Prevents Users from Reaching the Conversion Goal
If you want to improve your website and provide a better experience, you must know why visitors abandon you. You should constantly be checking your website's performance to make sure everything is working fine. But this isn't enough; you also have to track your user behavior analytics to find the real problems.
To identify the factors that stop visitors from converting, first, you need to find your high-exit pages, where you lose the most users. Then, focus on these pages to find out what's making people leave.
How can you know what elements are driving people away? Here is where heat map analytics come in handy. Use heatmaps on your high-exit pages to see how people are interacting with them. How much are people paying attention to the CTA? Is it eye-catching enough?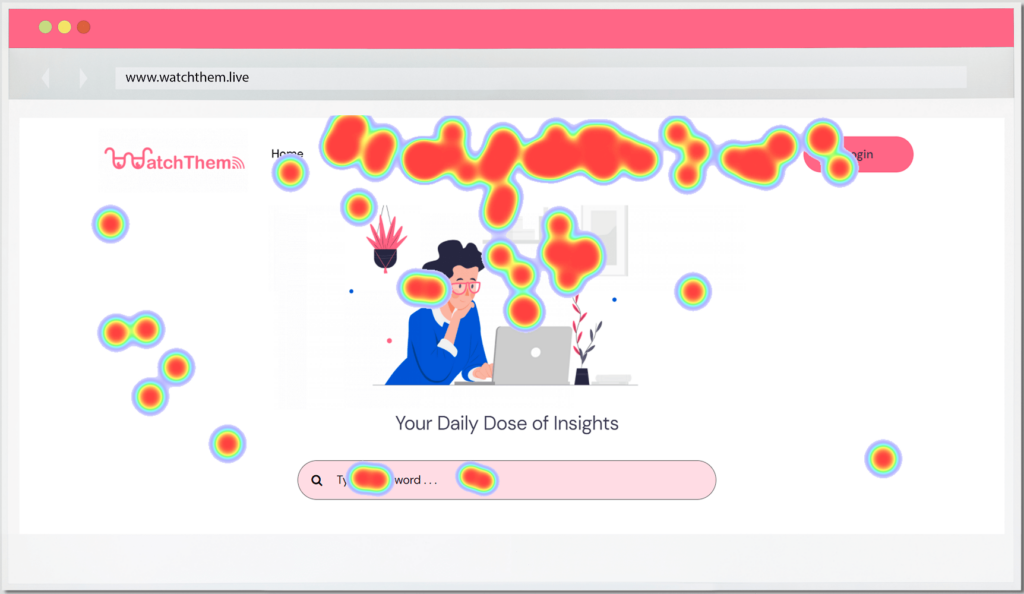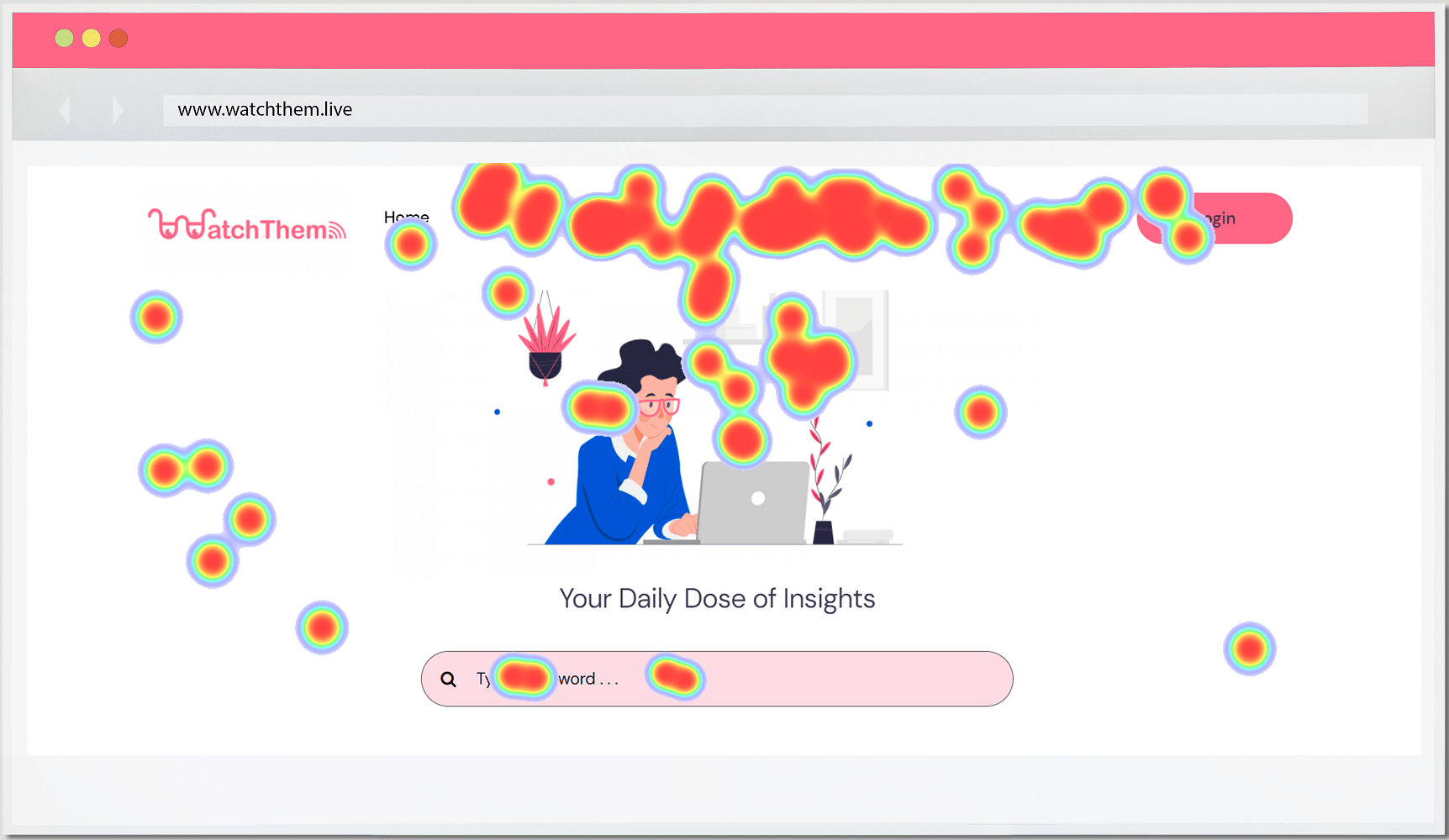 Now you know how people are interacting with these pages. But you also have to understand why they are behaving in a certain way. Is there any way to find out? Of course, you can use another powerful user behavior tracking tool, session recordings.
This tool enables you to put yourself in your visitors' shoes. You can watch how people navigate through your website. By observing all their on-screen activity, you can see the problems they face and figure out the frustration points. This way, you will know exactly what improvements you need to make. Watch this video to see how they work:
Want session replays? Sign up for FREE and see what's next!
3- Finding What Persuades Users to Convert
Finally, you have to figure out what factors encourage your visitors to convert so you can fortify them. Implementing website testing methods is an excellent way to find what's affecting users' purchasing decisions. You should track all the changes you make, even the tiniest ones, to see how they turn out.
Conducting surveys and interviews is another way to understand what makes users convert. This strategy gives you more precise details about the motivating factors. You might even discover things you never expected. Maybe visitors are encouraged to buy from you because of the different payment options on your shopping cart design, but you've never thought about it.
This information helps you realize what users want from you. Therefore, you can boost conversions by meeting their needs.
How Do You Do CRO?
After organizing your CRO program, you have to decide what changes you should make and plan some strategies.
Here are the most fundamental CRO strategies you should employ.
Best CRO Tactics
Optimizing your conversion rate is not impossible. You can increase conversion rates by following simple CRO strategies.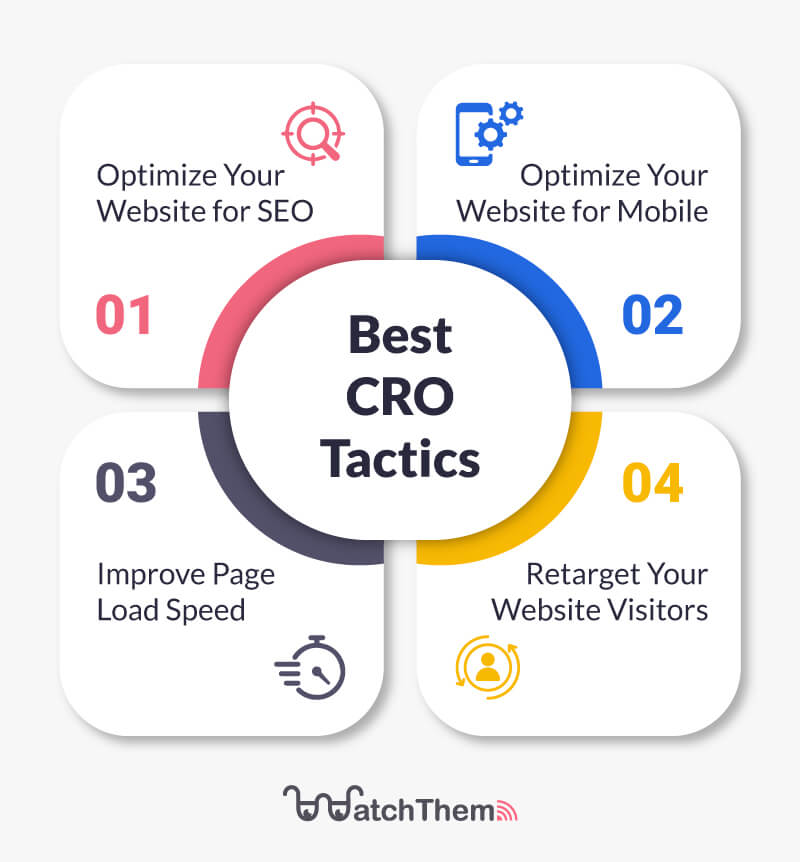 Make sure to apply these tactics if you don't want to fall behind the competition:
1- Optimize Your Website for SEO
Ranking higher on Google allows people to find you much more easily. So, optimize your content and web pages for SEO to get a higher ranking. This way, you can drive more traffic to your website, which will bring you more conversion opportunities.
Improving your SEO takes time, and you might be considering paid advertisements. But, it's not worth it because only 6% of users click on paid search ads. Also, they can be really expensive.
2- Optimize Your Website for Mobile
These days, most users browse the web from their mobile devices. So, if you don't optimize your website for mobile, you will lose a lot of potential customers.
3- Improve Page Load Speed
Your conversion rate can decrease by 7% for a one-second delay in page loading time. Make sure your pages load in a reasonable amount of time; otherwise, people will leave your website immediately.
4- Retarget Your Website Visitors
It's a truth that most people who visit your website won't convert. Here is when retargeting comes into play. This strategy gives you another chance to pique users' interests and persuade them to convert.
5- Update High-Performing Blog Posts
Blog posts are valid sources of driving conversions. If you have blog posts on your website, optimizing them can be a big help in increasing conversion rates. To do this, first, identify blog posts that drive high traffic but have low conversion rates. The problem probably lies within your SEO, your content, or CTA. Next, you want to find articles with high conversion rates but low traffic and update them for SERP. You also need to keep the content relevant and fresh so you can drive more traffic to them.
6- Run A/B Testing on Your Landing Pages
Running A/B testing on your landing pages is another conversion rate optimization strategy. Your landing pages are where your visitors turn into customers, so they are pretty important. With A/B testing, you can test two versions of one element of your website to see which one performs better and drive more conversions.
7- Use Text-Based CTAs
Using CTAs in your articles is an important CRO strategy. However, it doesn't always catch visitors' attention as you expect them to. People tend to ignore banner-like CTAs by habit. So remember to include text-based CTAs in your blog posts and watch how your conversion rates grow!
CRO Program Tools
Using a CRO program tool, such as WatchThemLive, helps you implement your plans more effectively. This tool provides valuable services, including heatmaps and session replays, which we have discussed how they can help you develop your CRO program.
WatchThemLive helps you visualize user behavior and watch visitors' experience on your website exactly as it was.
To use the features, you only need to add a code snippet to your main HTML, and you don't need to worry about any coding.
Boost your CRO program with WatchThemLive! Sign up here and see what's next!

Conclusion
A CRO program is necessary for giving direction to your marketing efforts. It helps you understand what you need to focus on to reach your business goals.
Follow the steps for creating a CRO program mentioned above, and use the right strategies to get the most out of your eCommerce business.
Successful CRO specialists always use session replay software to monitor what their customers do so they can optimize their conversion rate and make the most benefit out of their business. Want to optimize your website's conversion rate? Sign up here and snag WatchThemLive's session replays now.