Shopping carts design plays a significant role in eCommerce Websites' conversion rate. The more user-friendly, the higher your conversion rate will be. The question is, how can you make your shopping cart design more convenient for your users?
The key to a more effective design is having a deep understanding of your customers' behavior. When designing your shopping cart page, your customers' needs should be your priority. This leads to customer satisfaction, and having more satisfied customers means more sales and a higher conversion rate.
88 percent of online shopping carts are abandoned, and this is no joke. So we will give you some useful tips on how to design a more converting shopping cart. Read on and find out how to boost sales.
Related Article: 5 Tips for Designing the "Add To Cart" Button
What Is a Shopping Cart Page?
Before discussing shopping carts design, first, let's see what a cart page is.
ECommerce shopping carts function just like the ones in brick-and-mortar stores. You browse through the website to find the items you want and add them to the shopping cart. Then you proceed to checkout.
Related Article: 5 Stunning Examples of Checkout Page Design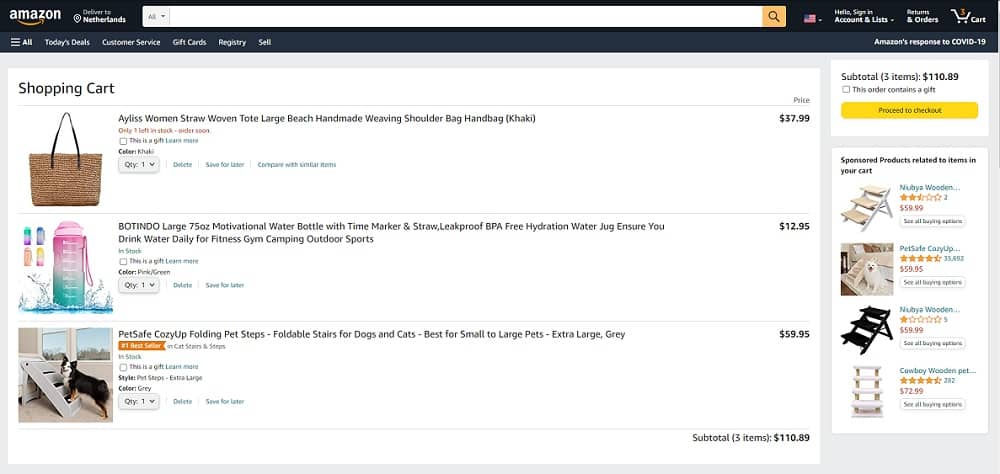 Shopping carts let customers choose as many items as they want and pay for them at once. It saves time and makes the process much easier for users.
On the shopping cart page, customers can see the price and number of each item they have chosen as well as the total price.
The shopping cart page is a critical stage in the customers' journey. Any inconvenience will make users leave your website immediately. Therefore, you must make sure your shopping cart designs fulfill their needs.
Related Article: Shopify Thank You Page Design: How To Perfectly Appreciate Your Buyers
Best Tips for Shopping Carts Design
Below you can find some practical tips for shopping carts design that will help you increase sales.
1- Use a Behavior Analytics Tool
For better shopping cart design, it's an excellent idea to get help from a behavior analytics tool such as Watch Them Live.
This tool can help you track users' behavior on your website. By understanding your customers' behavior and needs, you will be able to design more effective shopping carts.
Let's take a look at the features we offer and how they can help you:
Heat Mapping:

Heat maps display a visual representation of your website's data. They tell you which areas of your website are more engaging. With heatmaps, you can easily find out if important elements on your shopping cart are seen or not.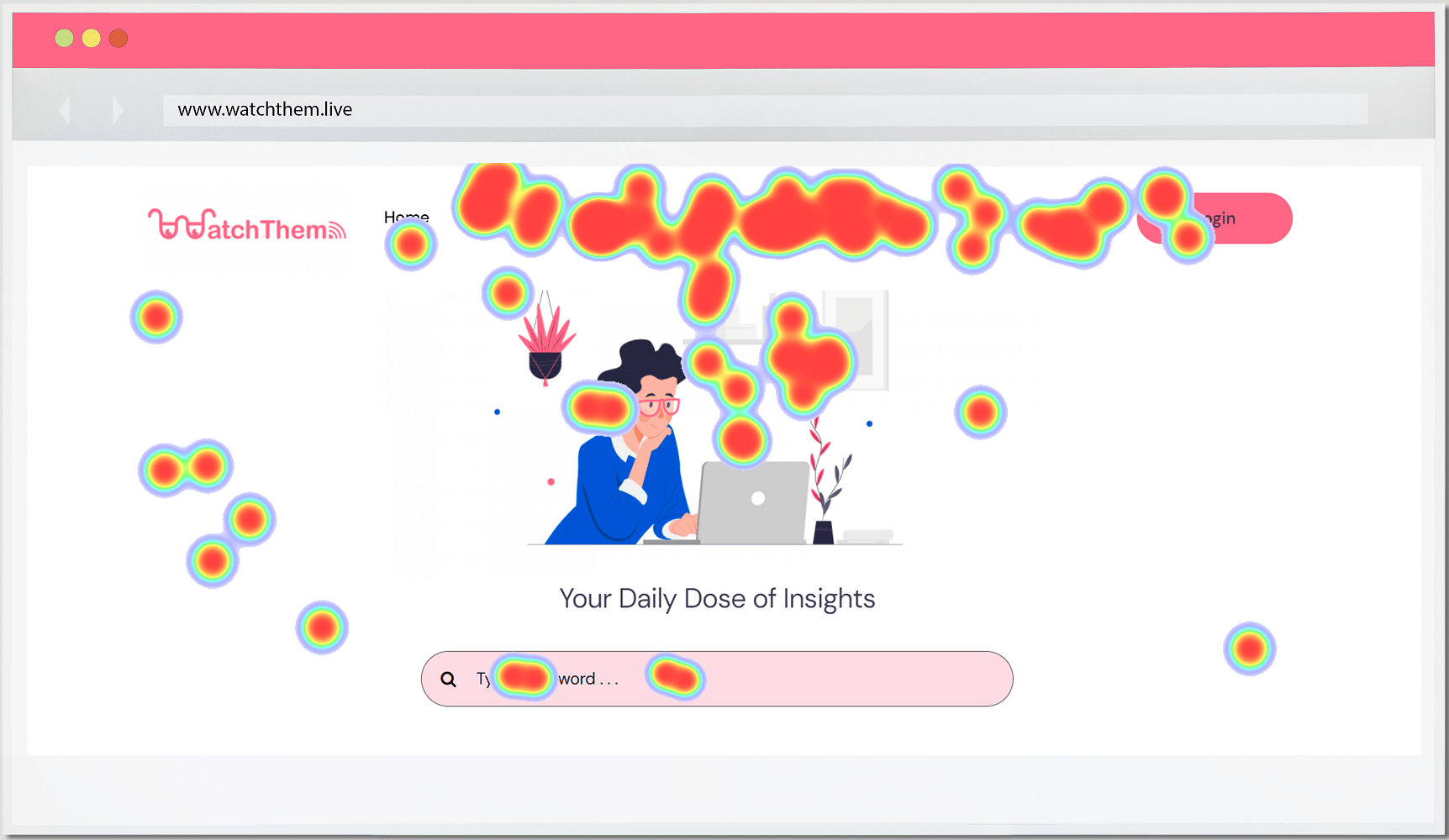 Website Analytics:

This tool

provides useful information that gives you a complete and detailed understanding of your audience. You can design more suitable shopping carts when you better know your customers.
Real-time Data:

This feature enables you to track your shopping cart's performance in real-time so you can identify the flaws in your shopping cart designs more quickly.
Want to see how effective your shopping cart's design is? Sign up to WatchThemLive for FREE and see what's next!

2- Provide Clear Shipping Information
41 percent of customers abandon online shopping carts because of unexpected shipping costs. In fact, it's the main reason for shopping cart abandonment. So it's a no-brainer that giving clear shipping information to customers is the first thing you should consider when designing a shopping cart page.
Make the estimated taxes and shipping costs clear on your shopping cart page. Also, it would be a great idea to inform customers about the approximate time they need to wait to receive their purchased items. All this information helps customers make easier decisions and feel more confident about purchasing on your website.
Amazon is a good example of an eCommerce website with clear shipping information.

3- Make the Shopping Cart Visible
Making customers' shopping carts accessible when they are browsing your website creates a better experience for them. Customers can see and review the items they have added to their cart while they are shopping. If your website doesn't have this feature, users must go to the shopping cart page every time they want to check something.
You can add a menu to your website that enables customers to see their shopping cart and track the changes they make.
Below you can see how customers can access their shopping cart by clicking on the bag icon on Bliss.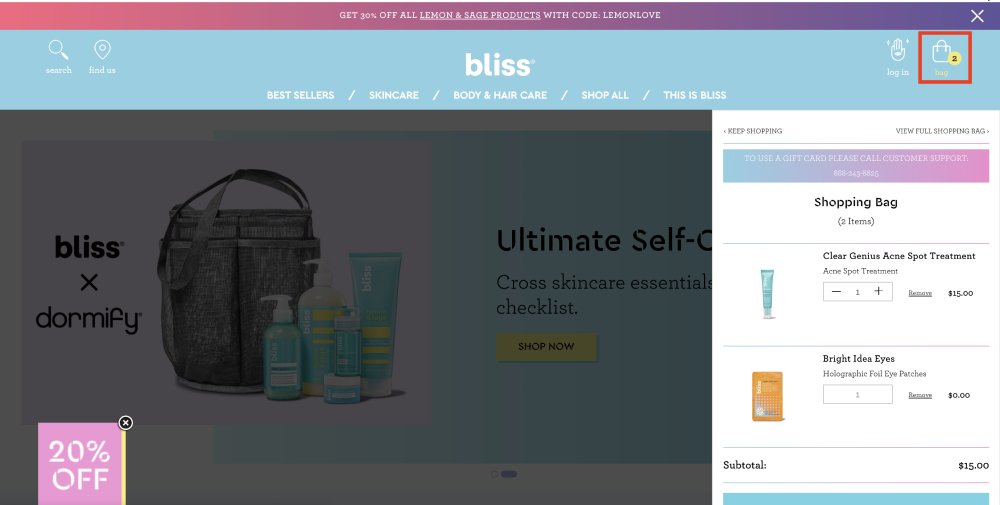 4- Allow Guest Checkout
We all know how annoying it is when you are shopping on a website, then suddenly on the checkout, you see creating an account is required.
The requirement for creating a new account or signing in is a barrier that slows down the purchasing process. Allowing users to purchase without needing to sign up is an excellent conversion rate optimization strategy.
Here you can see how Etsy enables customers to continue as a guest to complete their purchase.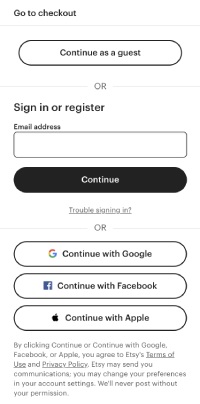 5- Add a Wishlist
Although your customers are happy to buy on your website without creating an account, adding a wishlist where they can keep their favorite items can encourage them to create an account.
Sometimes, users wish to buy more items while shopping on your website. However, they might not have enough money at the moment, or maybe they don't need them right now. A wishlist lets users save items in their profiles to buy them some time later.
Adding a wishlist to your shopping cart's design effectively increases customer loyalty and conversions.
In the example below, you can see that Dress Up lets customers add items to their wishlist.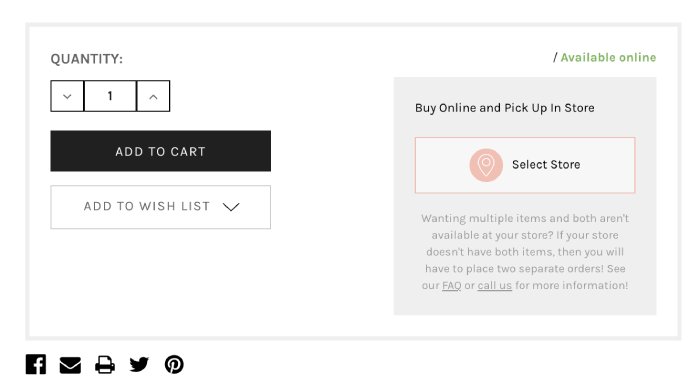 6- Include More Payment Options
Including as many payment options as you can is a sure-fire way of making more users convert. This is because people prefer the payment method they are used to. In fact, some would even leave if their preferred method is not provided.
You should consider offering more payment options, especially if you have an international eCommerce website. Payment methods are different in every country, so try to create a personalized experience for your customers based on their location.
Below you can see how Ryder provides multiple payment options.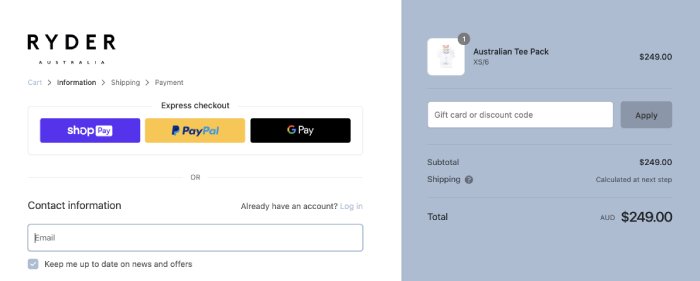 7- Provide Customer Service on the Shopping Cart Page
All reliable websites provide contact information and address details. However, including customer support on your shopping cart page is a great strategy to win your customers' trust and humanize the online shopping experience.
You can offer phone support or a live chat option which can be more convenient. If customers face any problems or have questions about their shopping carts, you are there to help them without long wait times. And by removing online shopping barriers, you will reduce your shopping cart abandonment rate.
Bear in mind that this is also an excellent way to get user feedback on your website.
See how Ambsn.com allows customers to ask their questions on the shopping cart page.
8- Up-sell and Cross-sell
Many businesses use upselling and cross-selling strategies to boost their revenue. In the upselling method, customers are encouraged to buy a more expensive model of the product they want to buy. On the other hand, in the cross-selling approach, the goal is to sell complementary products for what customers are buying.
You've seen "Items Customers Also Bought" or things like that on many eCommerce websites. This is how websites try to upsell or cross-sell customers.
The average order value increases by displaying similar or related products on the shopping cart page. These two strategies can help you make the most out of your existing customers, and it costs less than attracting new ones.
Here's an example of cross-selling on Mahabis. It recommends other items that the customer might also like to buy.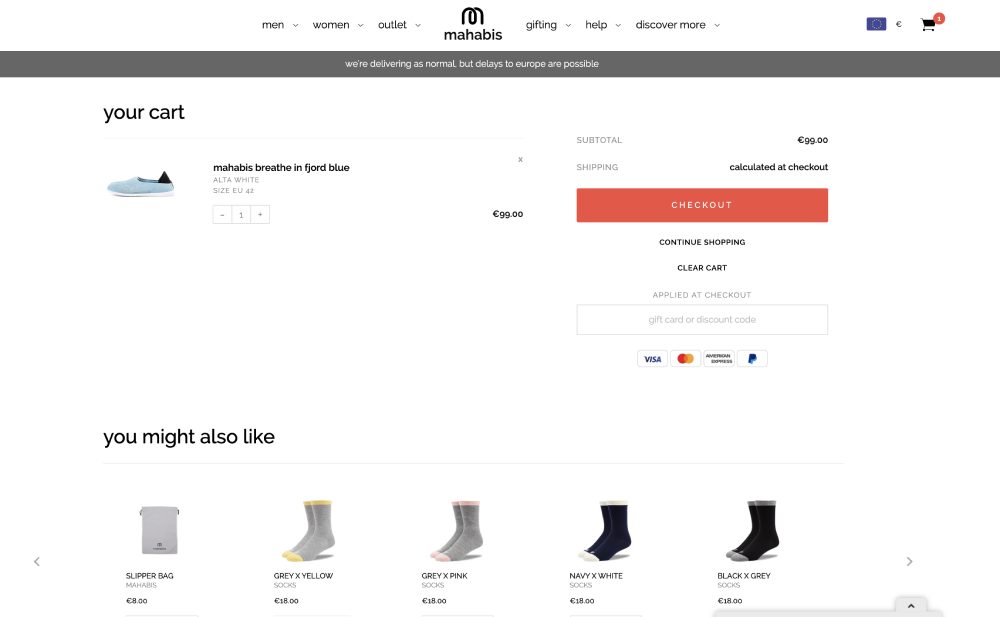 Conclusion
Shopping cart design can affect your conversion rate significantly. There are many ways to optimize your shopping carts. But, first, make sure to obtain a deep understanding of your customers to design your eCommerce shopping cart more effectively.