If you're facing a dilemma and looking for a comprehensible Mouseflow review, you've arrived at the right place. There is no doubt that conversion rate optimization tools pave the way for business owners to collect information about website visitors and meet their needs. But it's hard to maintain a competitive edge because everybody wants to use the best tool in the market. 
With the right CRO tools, any brand owner has the potential to fix a leaky sales funnel and easily boost conversion rates.  
If you're with us so far, it means that you're one step closer to purchasing one of these services for your business.
In this review, we will discuss Mouseflow in detail and mention its pros and cons. Then, we'll introduce WatchThemLive as a better alternative. Therefore, you can make your decision easier and freely pick one according to your business and needs.
But if you have no time to scroll down and want to know which of them is better, we make a quick gateway. Depending on your budget and needs, WatchThemLive would be a better option, especially for startup businesses. Don't waste a second and sign up now.  
What Is Mouseflow
Mouseflow is one of the behavior analytics tools used by marketers to measure and optimize website performance. It helps users gain insights into customer interactions, user behavior, and other important metrics while providing useful feedback to improve the website experience.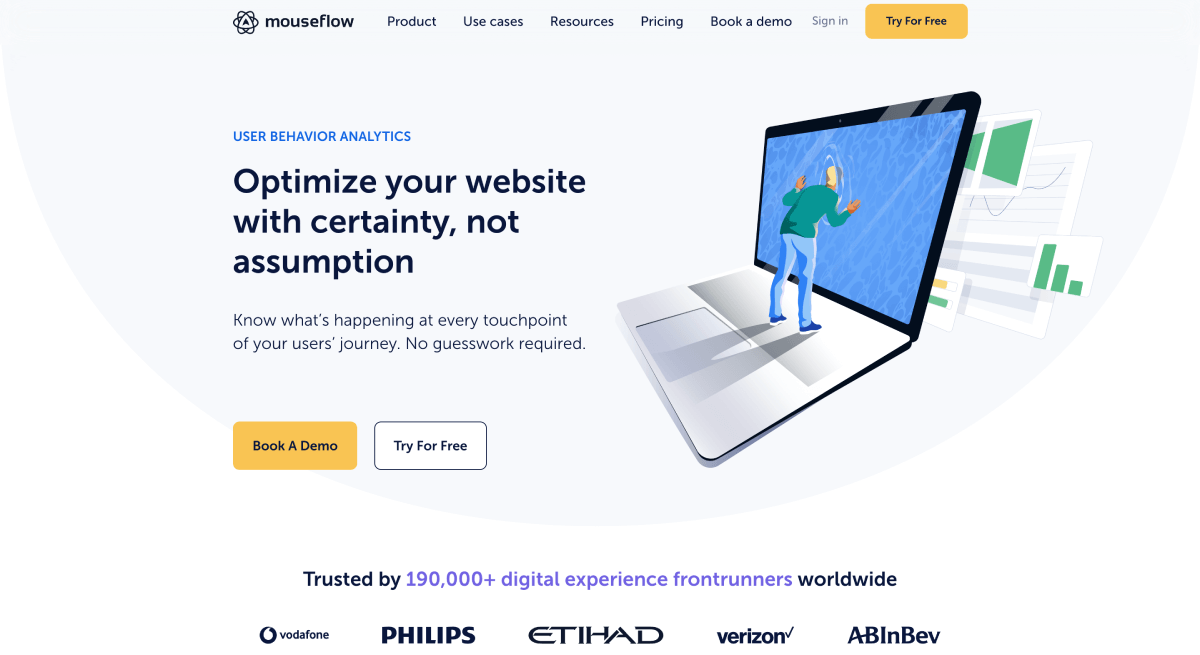 BE PATIENT! In the following, you're going to read more about this tool.   
Mouseflow Safety
Is the service you're using completely safe? This is the most critical question that you should ask when considering analytics tools. 
Safety is a top priority for Mouseflow. They prioritize the usage of reliable and secure data centers to provide a top-tier platform.
When you join Mouseflow, they will store your data in either European (Amsterdam) or United States (Virginia) data centers depending on where you registered. Rest assured that they never transfer or save data beyond the boundaries of Europe. 
Mouseflow Key Features
The top priority of every customer is the features the tool provides. So, it's important to know about Mouseflow's main features. Let's get started.  
Session Replay
Session recording is a useful tool that allows you to see how your users interact with your website anonymously. It's as if you're standing right next to them, watching them how they navigate your website, and click or scroll on it. As we mentioned before, security is an essential factor here and must be guaranteed.
So, how is session replay done in Mouseflow? As they mention on their official website, they are using sampling for their recordings. If you don't know what sampling is, don't worry; here is a complete guide for sampling. But in short, you can think of it as taking a portion of your data for analysis. 
This means you can analyze every visitor who arrives at your website. No matter if they are your favorite person or not. This can make it easier and more time-saving to analyze the data that has been gathered.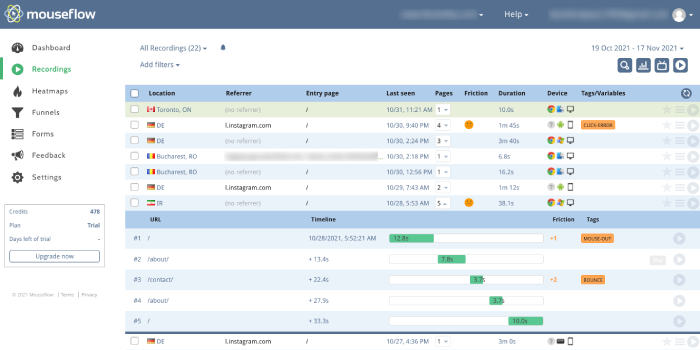 Advanced Filtering
Data filtering offers an effective way of eliminating any information that is no longer deemed necessary. Mouseflow offers four types of built-in filters, including navigation filters, tags and variables, visitor technology, and friction. Let's take a closer look at each of them! Shall we? 
Mouseflow Navigation Filters
In Navigation filters, you can segment your website data by entry page, page visited, and exit page. Each of these filters has its own benefits. For example, if you want to know the last page your user visited, you can filter your data by exit page.  
Mouseflow Tags and Variables 
This tool enables you to filter your data based on tags and variables. You can use either built-in or custom. 
Mouseflow Visitor Technology 
The question is, why do you need to care about your user's device? In today's changing world, where people's taste is constantly changing, as an eCommerce website owner, you need to be updated. 
It has been reported that 62% of smartphone owners use mobile devices for shopping. Knowing your users' devices enables you to fulfill their needs and provide a personalized customer experience. As a result, you can increase your customer satisfaction and boost your sales. 
Mouseflow allows you to filter your data based on the user's device, OS, browser, and screen resolution. So, you can monitor your user behavior and get more information to optimize your website.  
Mouseflow Friction
You can filter your data according to the user friction scores of Happy, Unhappy, and Very Unhappy or use a specific friction event. Mouseflow offers seven distinct events that a user can experience. These events include: 
Click-Rage,

Click-Error,

Bounce,

Speed-Browsing,

Mouse-Out,

Mobility,

Custom-Friction. 
Heatmaps
Another excellent service for examining your website pages is a heatmap tool. You may use this tool to observe which parts of your website receive the most attention from your visitors. 
Speaking of heatmaps, you have a broader range of choices which makes it harder to choose among various behavior analytics tools. Mouseflow, as you can see in the picture provided below, has five different types of heat mapping, including click, move, scroll, attention, geo, and live. This may be overwhelming for small and new businesses but is effective in a larger scheme. You can choose what kind of heatmap you need and get started. It will do all the rest.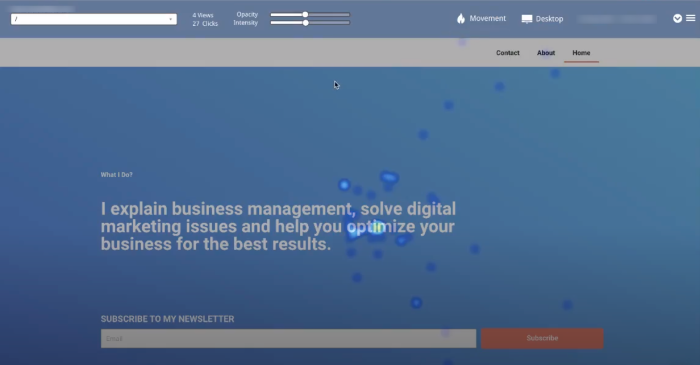 Analytics
As we discussed in this Mouseflow review, all of the above features will provide you with the data you need. After that, it's time for some analysis. 
Otherwise, this data is worth nothing. In this field, any company can say their service is the best because of any reason. Ordinary people don't know much about data analysis. All we see is the result. 
In this case, Mouseflow is left behind. They don't include any analytics feature in their services. All you can do with your data is to collect them by filters such as devices and send them to a third-party company for analyzing them. Clearly, this is not helpful at all.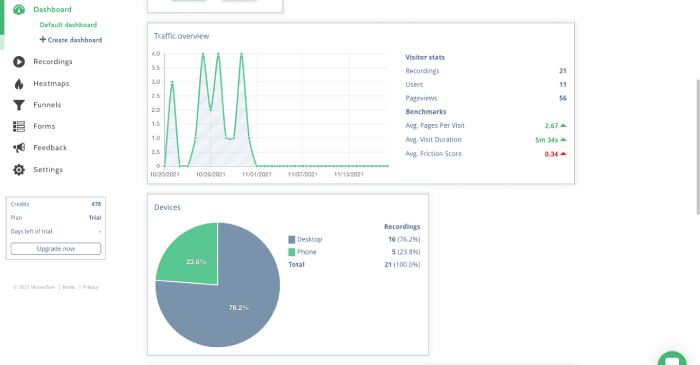 Conversion Funnels
With the help of a conversion funnel optimization tool, you can access valuable data about their customers' journeys from initial contact to purchase. Mouseflow enables you to monitor on-site customer journeys — and watch actual recordings. 
All you need to do is set up a funnel and compare different journeys in order to identify the most beneficial path, channel, referral source, etc. 
Form Analytics
This feature can assist you in tracking how visitors interact with your forms in WordPress and breaking down interactions field-by-field so that you can create a form that is highly satisfactory and ready to be submitted. 
It is supposed to help make the process of optimizing your website effortless by automatically detecting forms on your site and monitoring them. You can quickly incorporate optimization strategies without having to plan months in advance.
Plus, you can identify user session recordings with form interactions, which can be beneficial for gaining insight into the audiences that successfully convert.
User Feedback
The most obvious advantage of gathering user feedback is that it allows you to make informed decisions about the direction of your products or services. Mouseflow enables you to create feedback campaigns for your website visitors. It provides three types of feedback options:
Free text,

NPS,

Multiple Choice. 
WatchThemLive: The Best Mouseflow Alternative
This practical CRO tool can be a better option for small businesses that want to optimize their websites with a low budget.
Up to now, we've covered all the features in Mouseflow. But what makes WatchThemLive different? In this part, we're going to take a look at some of its distinguishing features.
WatchThemLive Visual Live Chat
Live chat is becoming an increasingly popular way for businesses to communicate with their customers. Visual live chat takes this concept one step further, combining the power of real-time communication with session replay. This technology offers numerous benefits to both companies and their customers, allowing them to have more meaningful interactions. 
With WatchThemLive, you can pair your live chat with session replay for an enhanced experience. Furthermore, you have the opportunity to interact with your visitors in real time, allowing you to observe their journeys live and identify any issues. 
WatchThemLive Goal Tracking
When it comes to digital marketing, goal tracking and conversion tracking are essential for business success. By understanding how successful their campaigns are, businesses can make more informed decisions about what works and what needs improvement.
Goal tracking involves monitoring the performance of certain objectives over a given period of time. It helps you measure progress toward their goals and identify any potential blockers that may be hindering success. 
Additionally, goal tracking allows them to focus on developing tactics that will bring in more conversions from existing customer segments as well as new ones.
With WatchThemLive, it is possible to create custom events, such as page views, button clicks, and form submissions, giving you the opportunity to gain valuable insight into the effectiveness of their campaigns and pinpoint areas for improvement.

WatchThemLive Video Testimonials
Video testimonials are a powerful tool for businesses to showcase their expertise and trustworthiness in today's digital world. Customers can learn about your product or service from the comfort of their own homes, enabling them to make informed decisions on whether they should purchase from you. 
They provide an authentic and reliable experience that can help boost customer confidence in your company. Not only will customers be able to hear firsthand accounts of how others have benefited from using your products or services, but they will also be able to see the excitement and satisfaction experienced by those who have already made use of what you offer.
WatchThemLive allows you to present a few questions that you would like to have addressed. Then, your customers will be requested to answer them while creating a video.
Mouseflow Vs. WatchThemLive: an Overview
Are you stuck between choosing Mouseflow and WatchThemlive? In this section, we're going to compare them to help you make up your mind.
Safety
Just like Mouseflow, WatchThemLive only shares or discloses Personal Data as described in the Privacy Policy. It depends on whether you're a visitor or a user. And, of course, we will never send your data out to third-party companies without your permission.
So, both Mouseflow and WatchThemLive are fully GDSR and CCPA compliant. 
Winner? Let me say I'm more sure about the WatchThemLive procedure. 
Pricing
As we proceed in this Mouseflow review, it's time for the critical part of every decision-making journey. In this case, Mouseflow provides a 14-day trial that can be useful for testing. But for business purposes and a little bit more critical projects, it's not suitable at all. That's because of the low number of records. 
Keep in mind that you have to purchase an additional plan for every website you need to add to your project if you have signed up for the free or starter plan.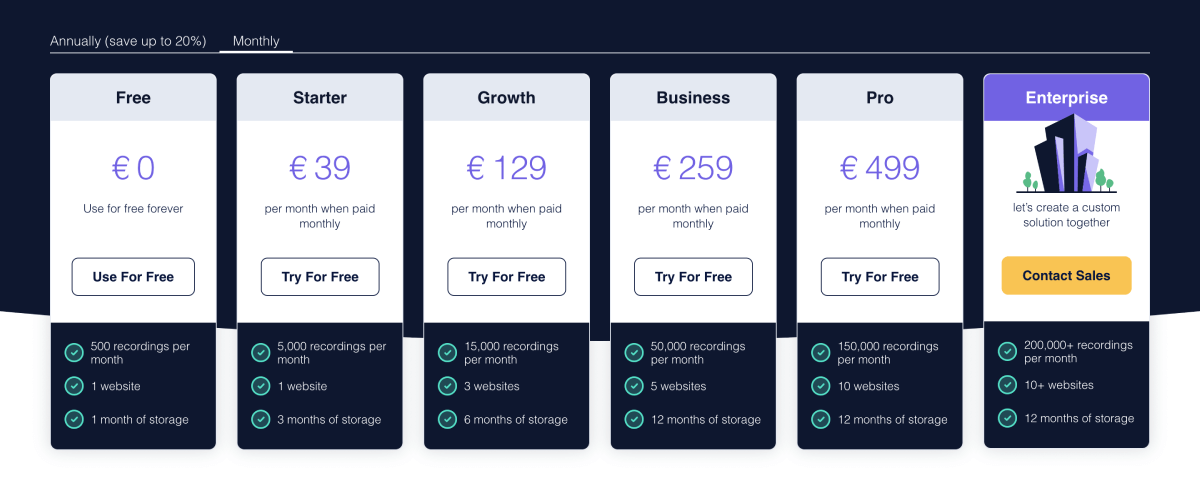 WatchThemLive has less expensive packages and also offers way more than Mouseflow in terms of services. The cost of WatchThemLive is as follows: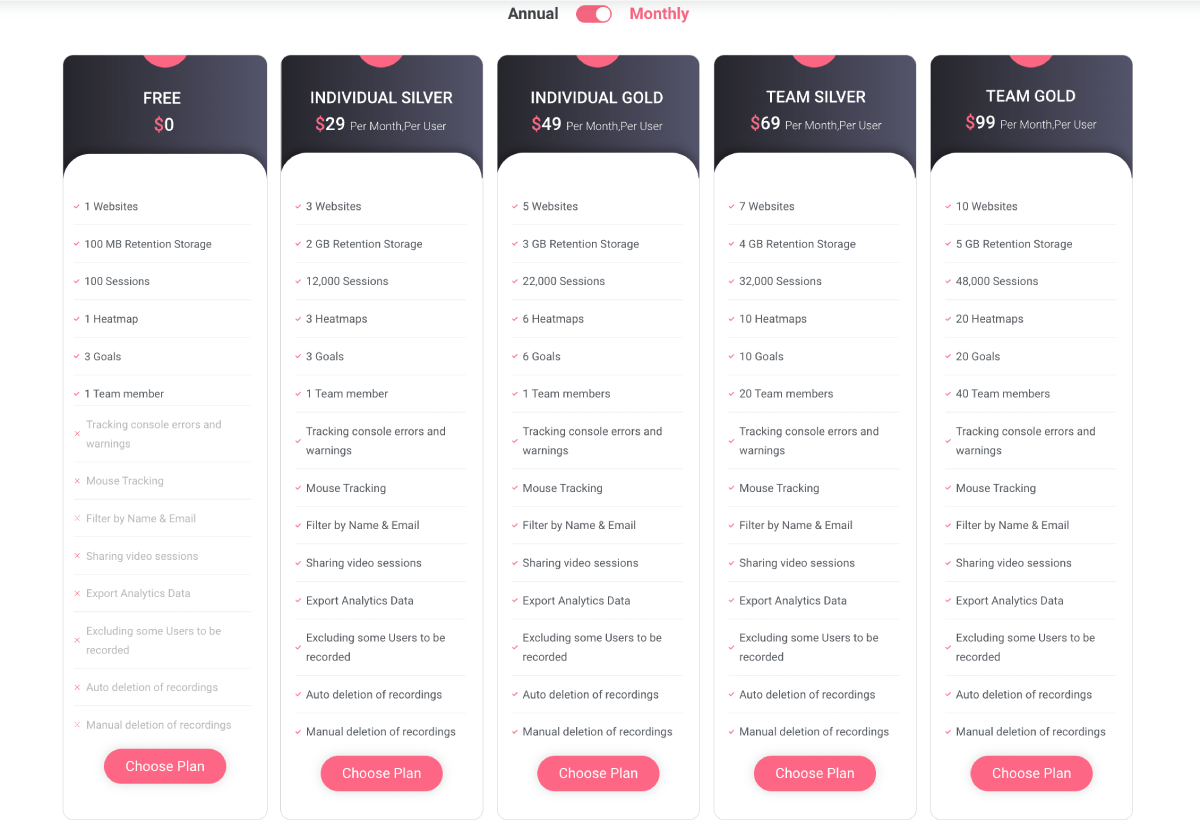 Session Replay
In WatchThemLive, you have the power to choose to use or not to use sampling in your recordings. For example, you are able to choose between multiple filters like URL, country, tags, page count, device, browser, etc. This gives you the ability to manage how you want to deal with your data. 
Nobody denies the benefits of information sharing in your organization. Both WatchThemLive and Mouseflow allow you to download and share recordings with your team members. So, you can solve any problem that can exist.  
The best part of using WatchThemLive's session replay is that your Dev team can use the console recording feature. So, they can easily identify and fix any warnings and errors in your user's browser.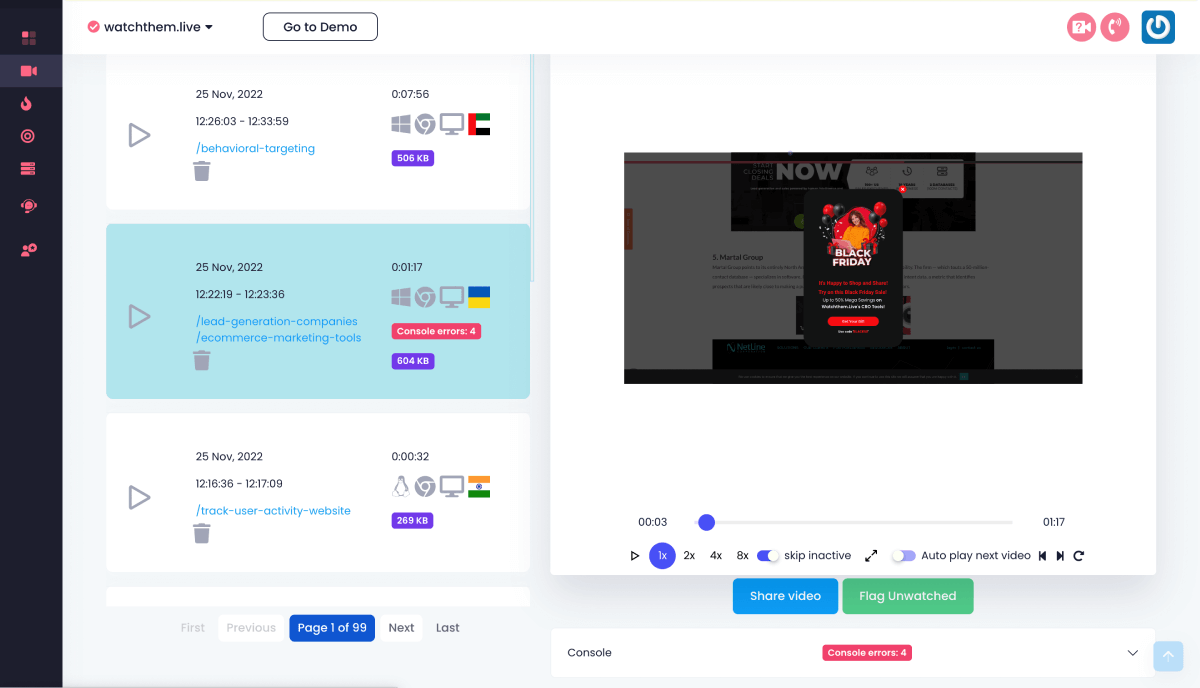 So which one do we recommend?  Of course, WatchThemLive. 
Advanced Filtering
Compared to Mouseflow, WatchThemLive gives you the chance to follow the journey of your client in order to pinpoint the issue. With WatchThemLive, you have the ability to sift through your dashboard's data using a range of filters such as date, name, email address, page, country code, screen resolution, browser language, and operating system.     
Heatmaps
WatchThemLive provides you with a sufficient number of types, including click heatmaps and mouse tracking, to keep its pricing as low as possible. Imagine paying lots of extra fees for tools that won't be used at all. These tools are great, but many companies don't need them at all. 
WatchThemLive heatmap tool will give exactly what you need: Where your visitors' attention on your website is devoted, where to put your essential features on your website, etc.
So, remember to consider your needs and budget. If you are a multinational company with lots of websites and a huge budget, Mouseflow is better for you. Otherwise, our choice is WatchThemLive.

Analytics
WatchThemLive analysis uses the most recent machine learning and AI algorithms to provide you with helpful information. You can give it any form or data and expect the best. If some customers leave, you can watch their session replay to find out why. Or if your website's bounce rate is high, WatchThemLive is there to help you find out the reason. 
Compared to other tools, WatchThemLive's analytics dashboard clears things up. It has nine main widgets, including:
Pages,

Referrers,

Countries,

OS,

Devices,

Browsers,

UTMs,

Screen Resolutions,

Browser languages.

  
Mouseflow Vs. WatchThemLive: Pros & Cons
Now, Let's see some of the advantages and disadvantages of Mouseflow and WatchThemLive. Let's start with WatchThemLive.
WatchThemLive Pros
Free plan ✅

Demo mode ✅

Affordable pricing ✅

Simple UI ✅

Real-time mode ✅

Simple but deep analytics dashboard ✅

Session auto-play ✅

Send automated weekly reports ✅

Support heatmap for mobile, desktop, and tablet ✅

Advanced filtering for recorded sessions and goals ✅

Mouse tracking ✅

Fully CCPA and GDSR compliant ✅

Console recording ✅

Public roadmap ✅

Fast response time by the customer support team ✅

Export data to CSV and PDF ✅

Click heatmaps ✅

Sharing video sessions ✅

API access ✅

Page optimization ✅

Auto deletion of recordings ✅
Mouseflow Pros
Free plan ✅

Different types of heatmaps ✅

Friction score and events ✅

Form analytics ✅

Feedback surveys ✅

Responsive customer service team ✅

Live stream ✅

Funnel analysis ✅

Unlimited tags ✅

Available code tag picker ✅

Advanced filtering ✅

Recording breakdown ✅ 
WatchThemLive Cons
No scroll heatmaps 

No form analytics
Mouseflow Cons
Clunky Screen recording on mobile devices 

Imperfect tracking pixel

Limited features on the free plan

Page-to-page tracking

No goal tracking tool 

Not suitable for startups

Complicated dashboard
Mouseflow Vs. WatchThemLive: Winner?
Although Mouseflow can help well-established businesses with the help of form analytics and conversion funnels, WatchThemLive is a superior alternative to all-sized businesses. Why? Because it can provide you with many distinguishing features that other tools can not. So, WatchThemLive is the right choice for you if you: 
Need multiple search filters on your data,

Want to analyze your data without any need for third-party companies,

Want to make a great customer experience, 

Are low on budget but want a quality product,

Need to have organized user profiles for user tracking goals,

Need page optimization for better revenue.
FAQs on Mouseflow Reviews
Now, it's time to answer some of your frequently asked questions.  
Q1: What Is Mouseflow Used for? 
Mouseflow is a user experience optimization software that helps businesses understand their website visitors and improve digital customer experience. It provides real-time data to measure how customers interact with websites, enabling companies to gain insights into user behavior and make data-driven decisions. 
Q2: Is WatchThemLive Legit?
Of course, WatchThemLive is a legit company, but if you have any problems or change your mind, you can contact their support team. And you'll get your money back. 
Conclusion
This Mouseflow review discussed this behavior analytics tool from different angles, such as session replay, heatmaps, analysis, etc. We also managed to provide you with a better Mouseflow alternative, WatchThemLive. You are the one who must evaluate your company's needs and decide which tool and why you should purchase it. All we want for your business is to grow and flourish.