Why don't I have a reasonable conversion rate? Why is my website not at the top of search results? What should I do to promote my business and improve conversion? What are the best website optimization tools? If these are the questions that have disturbed your mind, keep reading to know the solutions.
Firstly, you should know that even if you offer the best product or service on your site, without a website optimization process your website will not have a good conversion rate. Therefore, your business's sales or success will greatly decrease. So site optimization should be considered one of the regular strategies of any digital business.
But how does site optimization lead to more sales? Improving your website over SEO and conversion rate optimization can bring more users to your website, and as a result, you can convert them into potential and loyal customers.
In this article, we will provide a correct understanding of website optimization services. In addition to defining this concept, we introduce some of the best website optimization tools and services.
If you own a business website, you should learn analytic behavioral tools to improve your website performance and increase conversion rate and revenue. So, without hesitation, click here to optimize your site's user experience as soon as possible so that you don't fall behind your competitors.
What Is Website Optimization
Website optimization uses advanced tactics and controlled experimentation to improve a website's performance to achieve business goals. In this regard, business owners implement A/B testing to experiment with variations on website pages to determine which changes will increase conversion.
Search Engine Optimization (SEO) is one of the most important aspects of website optimization. This aspect focuses on ranking your website pages high in SERPs and enables prospects to find your brand easily. So, by optimizing your website, you can tap into an untapped market without paying for advertising but can increase your conversion rate and grow revenue.
Why Is Website Optimization Important
More than half of the World's population uses the Internet, and most people use the Internet extensively and at any moment. To promote your business, you must launch your website on the Internet and be in search engines' top results. But putting information on your website without considering content management and site optimization is pointless. The crucial thing is that when we talk about website optimization, it is to optimize your site for search engines and real people.
A website is a business's home on the Internet, so don't you think you need to optimize your website in search engines? Keep reading to learn all website optimization tactics and get familiar with webpage optimization services.
Essential Website Optimization Tactics
Instead of overwhelming you with unnecessary information, this guide will focus on vital website optimization tactics that will help you optimize your website in all areas.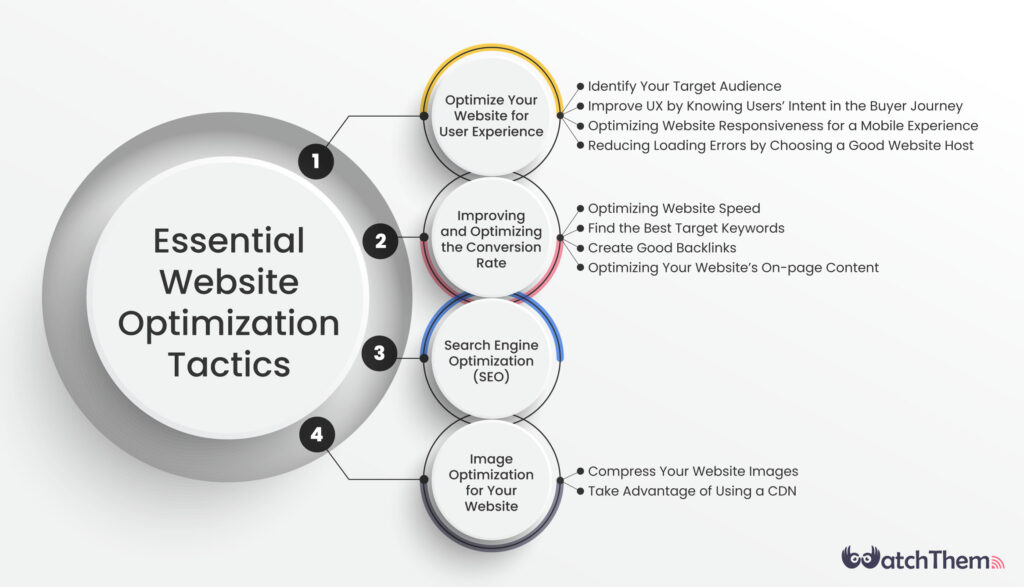 So without further ado, let's dive right in!
1. Optimize Your Website for User Experience
You may have heard that your website's user experience (UX) is essential for site optimization. But why is it so important to optimize the website? As a matter of fact, online customer expectations have changed over the years. When the Internet was at its primitive levels, no one knew what customers expected and needed, but customers have been online for a long time and know what they want from a website.
As customers became more brilliant, search engines adjusted their algorithms and displayed information based on users' intents. The search engines like Google want to give people the best results for their queries. The best result means not only the best answer but also the best experience.
Start by thinking about the purpose of the website. What do you want visitors to do on your website? Buy a product? Then you should optimize your website or the goal of your website to improve UX. Here are some steps to optimize the site for user experience:
Identify Your Target Audience
Do you know your business target audience? If you are pondering this question and don't have a definitive answer, you are probably wasting your budget. Thus, You need to know what you are introducing to whom. You must define your target audience to optimize your website for user experience. By answering the following questions, you can identify ideal customers:
How much do your customers want to spend?
What are their priorities when it comes to communications?
What services do they want?
Improve UX by Knowing Users' Intent in the Buyer Journey
This is a crucial step for site optimization. If you understand your customers' needs and intents, you can create a powerful on-site experience. Your website's content should match their needs and intents to get the traffic rate you are looking for. First, you should outline what they need at each stage and then find the relevant content and keywords that best match each step. By doing so, Your visitors find what they are looking for on your website, which can improve user experience and the website's health.
Optimizing Website Responsiveness for a Mobile Experience
In 2018, more than 50% of internet traffic belonged to mobile operating systems, and this number is increasing daily. As reported by statistics, your website must be ready to be displayed on any device and operating system. Therefore, having a responsive website on laptops and desktop computers is not enough. You must concentrate on your website's mobile version to succeed in the online market as well.
The first thing you need to do is run a mobile usability test. Then resolve any problems that the test turns up. It is necessary to test all your web pages on popular smartphone models to ensure that it adapts to each screen size.
Reducing Loading Errors by Choosing a Good Website Host
Warnings 404, 403, and 401 are among the most common loading errors that we all have and cause users to end their visits to a website. As a result, one of the most critical factors in website optimization is reducing these errors. One of the reasons for this problem is the use of a weak site host. You can change your website host to fix this problem.
2. Improving and Optimizing the Conversion Rate
Conversion rate optimization includes all tasks you can use to create a good customer experience and better interactions with your audience. A good user experience increases customer loyalty and makes users more likely to return and make purchases.
By using conversion rate optimization tools, you can get essential insights into the following things to improve user experience and optimize your website:
Bounce rate
Conversion rate,
Heatmaps
Examining these features will help you overcome your biggest obstacles by identifying and targeting them. In fact, checking audiences' behavior when entering your website, their reactions when faced with the site's facilities and options, viewing surveys and user feedback, and checking the number of times a user enters your website are details that are taken into account.
The Analytics tools such as WatchThemLive can identify your problems, weaknesses, and strengths and plan to improve and strengthen them.
3. Search Engine Optimization (SEO)
SEO is a set of digital marketing techniques that will help you improve your website's ranking in the search engine based on Google's algorithms. Today, people who want to progress on the web and increase their conversion should optimize their website for search engines because it will attract users to the website.
You should observe the following points for your website optimization:
Website speed optimization is one of the most critical indicators of a site's technical performance. If your website takes more than 2.5 to 3 seconds to load, you will risk losing users, and if it takes more than 5 seconds, your website's bounce rate will increase significantly.
Find the Best Target Keywords
Another thing you should take into account when attempting at website optimization is that you should find target keywords that align with your user's intent and use them to be on top of search engine result pages. As you research keywords and optimize content, put yourself in a user's shoes rather than a marketer's. 
What is the best way to do it? You must enter your keyword in the search engine and evaluate the top results. Then, ensure that your content fits with the intent of top results. Checking out your top competitors' websites helps optimize your content by giving critical data.
Building backlinks from highly-ranked websites will improve your website's rank on search results. You can also search your brand's name to find any missing attributions. As you find them, you can ask other websites' managers to build a backlink.
Optimizing Your Website's On-page Content
As you create content, video, podcast, or digital resource, don't forget to consider your target market. It is also crucial to optimize your relevant content for search engines to improve your website ranking and traffic. Here are the recommended ways for on-page optimizations:
Adding relevant images,
Adding keyword-based titles,
Adding relevant keywords and managing keyword density,
Adding internal and external links.
4. Image Optimization for Your Website
Image optimization is creating and publishing images in appropriate dimensions, sizes, and quality. Indeed, image optimization aims to increase the attractiveness and understanding of the concept for readers and search engines.
This strategy works alongside other things, such as tagging images, choosing the proper name for images, and minimizing the number of images the visitors need to load.
Compress Your Website Images
Compressing images is the single best method for image optimization to enhance website performance. This strategy is an essential component of any broader website optimization tactics, and it is crucial to maintain the quality and size of images. If their sizes are too large, they will slow down your website's loading time, and your visitors will not wait for them to load. Consequently, Users erode their trust in your website and brand name if the images are not high-quality.
Take Advantage of Using a CDN
A content delivery network (CDN) helps you improve UX. Web optimization services like CDN can speed up your website loading time for web and mobile site users. Using CDNs makes your website more reliable, even during traffic spikes.
They increase loading speed by providing local servers and distributing traffic to the nearest server. They can also reduce the traffic load of your website's central server, which can remove problems such as DDoS attacks and provide stable access to your website.
Top Website Optimization Tools
Now, if you are looking for the best tools to achieve your goals, follow the rest of our article. The website optimization tools are divided into several categories, and in each section, we have introduced related tools.
Web Optimization Tools for Conversion Rate
Conversion rate optimization is essential because it allows you to reduce customer acquisition costs. Moreover, optimizing your conversion rate can increase revenue, get more customers, and grow your business. The best companies are constantly iterating and improving their sites and apps to create a better user experience and increase conversions. So, you should consider optimizing your site's conversion rate right now.
1. CMS Hub
Hubspot CMS Hub is one of the best-integrated content management systems. This web page optimization service is specially designed for marketers and business owners. It is an excellent web optimization service for small and large companies that want an integrated system. With CMS Hub, marketers and developers can create and manage website pages personalized for different users and optimized for devices and conversion objectives.
Overall, CMS Hub will allow you to build a much more consistent website, and it is straightforward to use. It provides valuable data to update a web page or publish a new blog post as a CMS (Content Management Software).
CMS Hub Pros:
You can tailor what visitors see on your website through the Smart Content feature.
It has responsive Drag-and-Drop templates
CMS Hub Cons:
It does not support eCommerce
Costs are at their highest
The learning curve
Pricing:
Its price starts at $35 (for the Starter package) to $560 (for the Professional plan) and $1,680 (for the Enterprise package) per month.
Website Optimization Tools for User Experience
Do you get negative feedback from your users? Do you want to launch a new product and show it to your customers? Providing an exceptional UX in your business is just like a pleasing arrangement of products on the shelf and proper treatment with customers in the supermarket.
The best way to optimize user experience is to identify users' needs and expectations and simplify their experience from entering your website to making purchases. But how should we optimize the user experience of our website? We will introduce you to the best user experience optimization tools in the following.
2. WatchThemLive
Trying to know why users are abandoning your website? WatchThemLive is a website optimization tool that uses heatmaps, session recordings, and more to track and analyze users' behaviors on your website. This valuable information helps you better understand how your customers engage with your website.
WatchThemLive is also an excellent tool for optimizing UX and tracking user conversion behaviors. It is best for the audience and content analysis and gives you actionable data about user behavior based on features like Website Analytics, Heatmaps, User Tracking, and Session Recording.
WatchThemLive's Pros:
It has a free plan
that Provides annual plans with discounts.
Real-time analytics
Pricing:
WatchThemLive has a free plan that includes heatmaps, team members, and session replays. Its paid projects are listed below:
Individual silver – $29 per month
Individual gold– $49 per month
Team silver– $69 per month
Team gold- $99 per month
3. Google Analytics
Merely offering content on your website will not attract the audience, and the content should be measured in terms of usefulness and usage. In this case, the Google Analytics tool is precious and works very powerfully to gain information about the content your users interact with the most.
Google Analytics shows statistics to understand your website users' behavior better and identify your most visited pages, the content with a high sharing rate, and the time users spend on your website. Using this web page optimization service you can see which content is most popular among users.
Google Analytics Pros:
Easy to set up
It provides out-of-web analytics and the box reports ( You can find four main reports, including Audience, Behavior, Conversion, and Acquisition, on the left side of your dashboard)
Managing multiple properties under one account
Google Analytics Cons:
It provides too much information that overwhelms users
It has some unfamiliar terms that you may Google (such as the difference between metric, dimension, and conversion)
It does not have customer support
Confusing navigation
Pricing: It has a free plan for small to medium-sized businesses. Its free plan has all of the features, but there is some limitation in using some of them in the free plan. for example, it provides limited Multivariate testing. Its paid plan is called "Optimize 360" for enterprises and large businesses with more sophisticated testing needs.
4. Lucky Orange
This platform is a site optimization tool for UX research that optimizes your content. Lucky Orange will give insights into your website visitors' behaviors in several ways to learn more about your visitors, including dynamic heatmaps, session recording, conversion funnels, form analytics, Live view, and surveys.
This valuable information will ensure that your optimization efforts align with your data. It is a good solution that helps you learn why your website visitors are not converting and how your business can grow.
Lucky Orange Pros:
It provides simple surveys, event tracking, and user screen recording
It offers customer support
It captures the activities of visitors in real time, and you can see what they are doing.
Lucky Orange Cons:
It does not work well with single-page applications
Lack of Geo heatmaps (user location heatmaps)
Lack of filtering devices and UTM tags
Pricing:
It has a free 7-day trial for each plan. Lucky Orange's pricing packages start from $14 to $128 per month.
It also has a free plan that contains 500 pageviews, 30-day storage for heatmap and session recording, and 365-day storage for surveys, chat logs, and events. There is also a plan named Enterprise plan, which has a quoted price, and you need to contact its sales team to build a custom plan.
5. Optimizely
Optimizely offers a full suite of digital experience optimization technologies, such as personalization, A/B testing, multivariate testing, and server-side testing. As a web optimization tool, this software is the best option for marketing experts looking to test hypotheses. Many digital marketers turn to Optimizely because it is cheap compared to the features it offers. The product development team also uses Optimizely to get customer feedback and test new designs before bringing the product to market.
Optimizely Pros:
It works with apps written in different languages( such as Java, Python, Node, etc.)
Its customer success managers are great.
There is no need for developers to run tests.
Running tests within 5 minutes
Optimizely Cons:
Its preview mode sometimes has bugs and works poorly.
Redirecting tests are hard to set up
Pricing:
Optimizely has a free plan for small marketing teams. Its other plan is 'Manage' which costs $79 per month for each user. Other plans, including 'Create a plan' and 'Orchestrate Plans', do not have a fixed price.
WatchThemLive vs. Google Analytics vs. Lucky Orange vs. Optimizely: Which One Is Better?
If you're wondering which tool to use for your brand, take a look at the comparison below to make an informed decision.
| Features | WatchThemLive | Google Analytics | Lucky Orange | Optimizely |
| --- | --- | --- | --- | --- |
| Analytics | Yes | Yes | Yes | Yes |
| Session Recordings | Yes | Yes | Yes | No |
| Heatmaps | Yes | Yes | Yes | Yes |
| Live chat | Yes | No | Yes | Yes |
| Dashboard Insights | Yes | Yes | Yes | Yes |
| Visitor Profiles | Yes | Yes | Yes | Yes |
| Surveys | No | Yes | Yes | Yes |
| A/B testing | No | Yes | No | Yes |
| Mobile Friendly (Android-iOs) | Yes | Yes | No | Yes |
| Customer Type | For startups, small to large marketing business | Individuals, Freelancers, Large Enterprises, Medium businesses, Small business | Large Enterprises, Medium businesses, Small business | Small marketing team, Large marketing business |
| Testimonial Videos | Yes | No | No | No |
| Advanced filters | Yes | Yes | Yes | No |
| Goals | Yes | Yes | No | No |
| Trustpilot Scores | 4.8/5 | 3.2/5 | 4.8/5 | 3.4/5 |
| Pricing | A free plan / the paid plan starts from $29 to $99 per month (If you buy the plan annually you will have discounts) | Free plan and also paid plan | Free plan and Free trial/From $14 to $128 per month | A free plan/ Paid plans start from $79 per month |
Website Optimization Tools: Which One to Use
With the help of Google Analytics, you can target your website's ads and know precisely who your site's visitors are and where they are from. It is a web optimization tool for tracking and comparing website traffic and the conversion rate of your campaigns.
However, users across the world have reported bugs when using this tool. Also, many find its platform confusing to use. Therefore, it's probably best to use a service that is bug-free and user-friendly at the same time. According to Trustpilot reviews left by customers, WatchThemLive has proved to be quite a viable option in this regard.
You may ask how about Lucky Orange or Optimizely? let's compare these website optimization tools to help you make decisions.
Lucky Orange offers visual data as heatmaps of how your visitors interact with your site. It provides dynamic heatmaps that show the degree and level of interactions. But there are some important features that this tool cannot offer. Some examples are Geo heatmaps, filtering devices, and UTM tags. Additionally, it loads the page dynamically so if it makes changes to the page, then the reporting will be messy. Moreover, Lucky Orange does not work well with single-page apps.
On the other hand, Optimizely is faster to deploy compared to Google Analytics content experiments. Also, reporting is much easier to generate, so you can save time on reporting, which is a real benefit. However, it is quite pricy and doesn't provide session recording. On the other hand, WatchThemLive is feature-rich and offers all the valuable data you need to optimize your website.
Why WatchThemLive?
Do you need to know why visitors abandon your website? And why don't they convert to customers? So you need to see what happens in the customer journey and what obstacles exist on the customers' journey. Then you can find the friction and resolve the problems to improve the conversion rate. Therefore, you need session recording and user tracking features that WatchThemLive offers as a website optimization tool.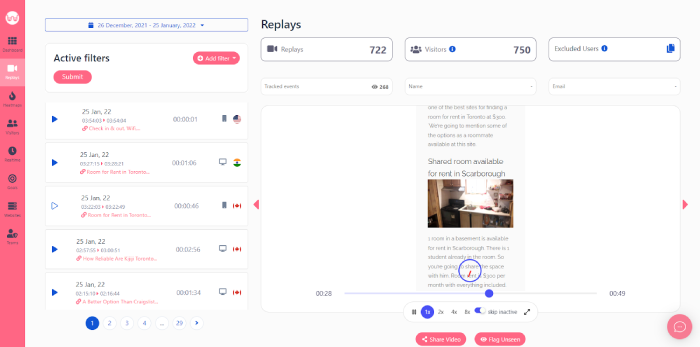 It also provides two other website optimization services called Website Analytics and Heatmaps. Are you wondering how these features help to optimize the conversion rate? Let's clarify the answer to this question with an example.
Imagine you wish to use CTAs on your website. In this case, you should know about the most visited pages and places that get the most clicks, so that you can direct users to your target page. A CRO tool like WatchThemLive can provide you with all this information.
The heatmap feature of this tool shows you which part of your web page has received more clicks. For example, if the most clicks are at the beginning of your web page, it is better to place the CTA at the beginning of the page so that it gets more clicks because, according to the heatmap, it is impossible that the user scrolls to the end of the page to see your CTA link.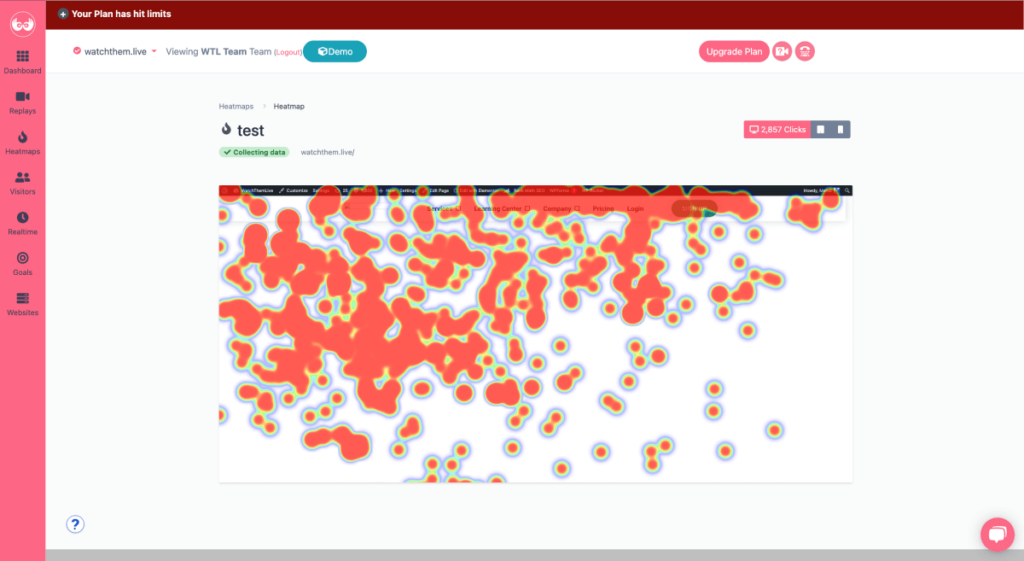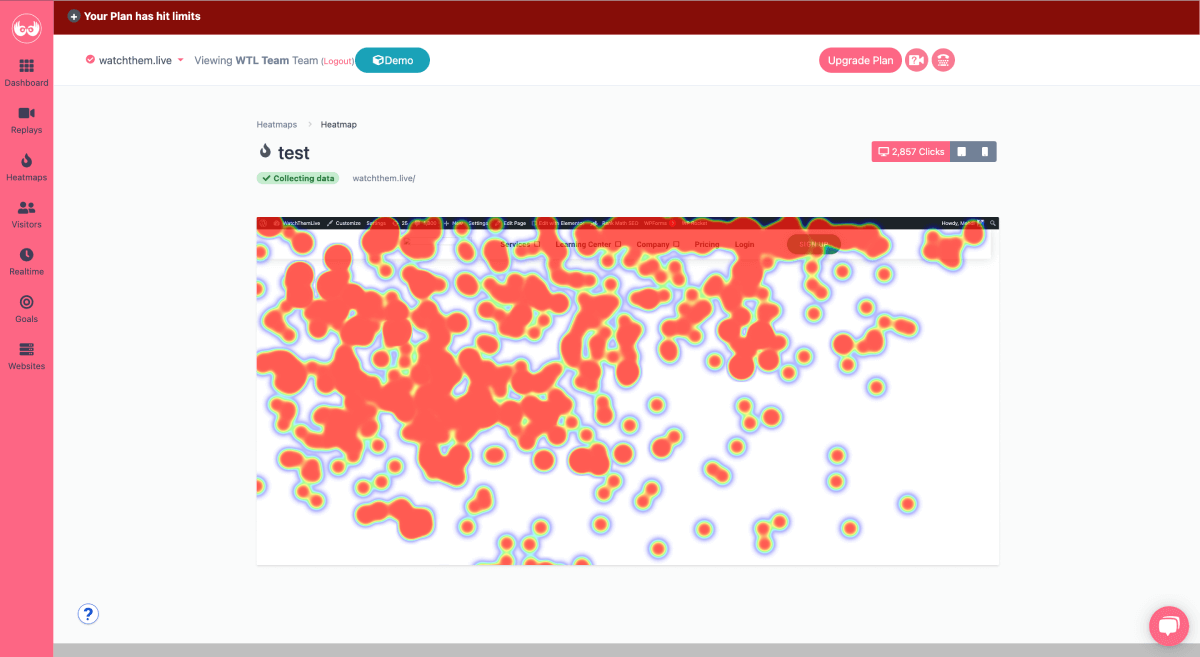 Therefore, if you need to find the deepest driven data from your website analytics, you can use WatchThemLive as a reliable tool.
Moreover, WatchThemLive has a free plan and free trial for each paid plan, so why not give it a shot? Don't hesitate to reach out if you need anything.

Image Optimization Tools
The emergence of image-oriented social networks such as Instagram turned images into a universal language. Since most people always connect better with visual products, image optimization on your website is crucial. It is worth noting that image optimization has become a fundamental pillar of all marketing departments (such as content marketing and social media marketing) and branding activities.
6. Canva
Canva is one of the online image optimization tools for graphic design for blog images, virtual networks, and logos. Indeed this tool can be used to select, edit or create new designs. Using Canva is very simple for all beginners and inexperienced people. Since Creating a good design for your website content makes it more attractive to readers, this tool provides you with a wide variety of suggestions.
Canva has features like resizing, optimizing images, and picking up the right file type based on your needs. Among the mentioned features, there are others, including the ability to create a banner for your website, create professional photo collages, and share edited images on social media. If you sign up for a free Canva account, you can upload files up to 5GB, while the premium accounts can upload up to 100GB. However, the Enterprise members have unlimited storage.
Canva's Pros:
Fast downloading
Super easy to use
It has Web versions suitable for Android and iOS operating systems
Ability to create various visual and infographic content
Thousands of customizable templates
Canva's Cons:
There are limitations with the free version (limitation of the number of templates)
Unable to move one design to another design
Unable to download the "Raw" file
Pricing:
Canva has a free plan with more than 8,000 templates and more than 100 design types and customizes them to your desire. A Pro version is billed at $12.99 per month for a Personal User. To buy a Canva account for a team, you should pay $14.99 monthly for the first five people.
7. Adobe Photoshop
This highly professional and well-known software allows the creation of high-quality images with extraordinary speed. It is one of the few image optimization tools for general and professional users. Features like 3D modeling, typography, design, and layered image editing made this software the best photo editing tool.
Adobe Photoshop's Pros:
There is a lot of guidance.
It is for web and mobile design
Rich set of typography and drawing tools
It is synced to Libraries and Cloud Documents
the most powerful image editor on the market
It is Great for mockups
Adobe Photoshop's Cons:
Lack of perpetual license option
No keyword tagging
Pricing:
Its Photoshop plan costs $20.99 per month, and its Photography plan costs $13.14 per month. You can get a 7-day free trial before buying.
8. Pickmonkey
Using Pickmonkey, you can create attractive images and optimize the quality level of your brand. Even beginner users with no experience can easily use this software. Ease of use made Pickmonkey a popular image optimization tool. It provides pre-built templates and building blocks for creating templates. You can use it to create infographics, themes, photo collages, animation, ads, and thumbnails.
Pickmonkey can be installed on computer browsers and iPhone or Android mobile devices and operates in the Cloud. This tool offers a free version for mobile devices but is not as advanced. It is designed especially for photo editing, so if you need editing features like removing red-eye, whitening teeth, skin whitening, and more, then we recommend PicMonkey.
Picmonkey Pros:
Easy to use
Reasonable price
Free mobile version
PicMonkey Cons:
Slow export
Negligible free web version
There is no typical money-back guarantee. Still, you can ask for a refund in the first two weeks.
Pricing: PicMonkey offers three plans:
Basic plan: $72 billed annually or $7.99 billed monthly (this package has a 7-day free trial).
Pro plan: $120 billed annually or $12.99 billed monthly ( This package also has a 7-day free trial).
Business plan: $228 billed annually or $23 billed monthly
Canva vs. Adobe Photoshop vs. PicMonkey: Which One Is Better?
As mentioned before, it is necessary to optimize your images before uploading them to your WordPress. So if you are a perfectionist and want everything to look best, read the following comparison to find the best tool.
| | | | |
| --- | --- | --- | --- |
| Features | Canva | Adobe Photoshop | PicMonkey |
| Web-based | Yes | No | Yes |
| Transparency | No | Yes | Yes |
| Saving Images | No quality setting, PNG, JPG, JPEG | Full cover over optimization, PNG, GIF, JPEG | Quality setting PNG, JPEG |
| Quick Access to Branded Elements | Yes | Yes | No |
| Syncs Images to Cloud | NO | Yes | NO |
| Pricing | Free plan + paid plans from $12.99 to $14.99 monthly | A 7-day free trial/ paid plan starts from $13.14 to $20.99 per month | Starts from $7.99 to $23 monthly |
Canva provides you a forever free plan and comparing the features and integration of PicMonkey and Canva, the latter can be a slightly cheaper tool than the former. Canva is a better option than PicMonkey; considering criteria like Canva is faster and more stable than PicMonkey, it has more features and better templates (more than 420,000 premium templates) than PicMonkey. The other significant difference between Canva and PicMonkey is the latter does not have a free option or money-back guarantee.
In comparison to Adobe Photoshop, I can confidently say that Canva is a better option than Adobe Photoshop for beginners or non-designers. As you know, Both of them are big giants in image optimization, but I recommend Canva if you are not an expert in editing and designing. To summarize this comparison, my final thought is that Canva is today's winner.
Search Engine Optimization (SEO) Tools
SEO tools make keyword research and data analysis easier. These tools will determine which part of your business strategy needs to be changed. In addition, SEO tools compare your performance to your competitors and the best available opportunities. SEO tools can prepare detailed reports with just one click without wasting time and energy.
9. Ahrefs
Ahrefs is one the SEO tools that help to know competitors, compete with them, and optimize your website for search engines. The Ahrefs database has over 11 billion keywords and has indexed over 400 billion pages. For this reason, it provides maximum data accuracy to its users. Ahrefs identifies the best keywords and increases the ranking of your website in search engines such as Google, Bing, etc.
With the help of this SEO tool, you can find Marketmpetition keywords and increase your website ranking. One of those SEO tools offers hundreds of features such as a website crawler, keyword research, keyword difficulty score, search volume for a particular phrase, and the rank tool. Ahrefs is a complete SEO tool that provides rank tracking, content explorer, and backlink analysis.
Ahrefs Pros:
It is fast, easy to use, and straightforward.
It is a complete search analytics tool.
It has keyword research features for Google, Amazon, and Youtube
Ahrefs Cons:
It does not have a free trial.
It is challenging to get personalized support.
It overemphasized backlinks as the primary determinant for keyword difficulty rate
Pricing:
Ahrefs is structured in four plans:
Entry-level Lite plan at $99 per month
Standard plan at $199 per month
Advanced plan at $399 per month
Enterprise plan at $999 per month
10. Moz Pro
Moz Pro is one of the best SEO tools that provide basic and advanced search capabilities to improve search engine optimization. Its keyword explorer feature can easily take a wide range of SEO data and calculate metrics; for example,it provides a priority score for each keyword. It has other SEO features like link explorer, website crawler, and analyzing the quality of links. This professional SEO tool brings together all you need to optimize your website. Moz Pro is also suitable for small businesses and can analyze and increase your website traffic rate.
Moz Pro's Pros:
Fantastic keyword explorer
It has a chrome extension: Mozbar
It provides useful metrics
Moz Pro Cons:
Moz local needs a separate subscription
Limited technical SEO tools
Pricing:
It offers 4 pricing tiers including:
Standard: $99 per month
Medium: $179 per month ( It is the most popular one)
Large: $299 per month
Premium: $599 per month
If you pay for a subscription for a year, you will save 20%.
11. SEMRush SEO Content template
SEMrush is a leading SaaS platform in online visibility management. This popular SEO software offers various products, tools, and add-ons, such as search tools and market research. It provides features like keyword research, content optimization, local SEO, On-page SEO, rank tracking, content marketing, link analysis, and link building. The SEMrush's data can be combined with links from the Google search console and Majestic to give a complete picture of your backlink profile within its dashboard.
SEMrush Pros:
Provide accurate data
Ability to check the amount of incoming organic traffic and its changes
Excellent API
Analyzing competitors' website performance
SEMrush Cons:
Limited local SEO
Provide unreliable traffic rate
Low technical SEO capabilities
Pricing:
It offers three tiers for the monthly subscription on the website:
Pro: $119.95
Guru: $299.95
Business: $449.95
Ahrefs vs. Moz pro vs. SEMrush: Which One Is Better?
These are all the top three SEO tools in the market. They allow you do keyword research, competitor analysis, and SEO ranking tracking. In this section, we are going to compare them and find out which one is better.
| | | | |
| --- | --- | --- | --- |
| Features | َAhrefs | SEMRush | Moz Pro |
| Keyword Research | Yes | Yes | Yes |
| Rank Tracking | Yes | Yes | Yes |
| Content Analysis and Site Crawl | Yes | Yes | Yes |
| Backlink Analysis | Yes | Yes | Yes |
| Link Building | Yes | Yes | Yes |
| Backlinks Audit | No | Yes | Yes |
| Website Analytics and Audit | Yes | Yes | Yes |
| SEO Content Template | No | Yes | No |
| Free Trial | No | Yes | Yes |
You will not go wrong choosing one of these tools, and you need one of them. They all have slight differences; selecting one tool as the best SEO tool is complex. But regarding the best tools for website owners, I introduce SEMRush and Ahrefs as the best SEO tools on the market based on their features. You may ask why?
Because Moz Pro does not have any dedicated content tools, it will be removed from this competition. When we talk about SEO, Ahrefs and SEMrush are equal, but they have slight differences that make us introduce SEMrush as the winner. Firstly, Ahrefs' Content Explorer cannot beat SEMrush's content toolkit. It offers various features like advertising and content marketing features. Secondly, the price of SEmrush is more affordable than Ahrefs' price.
Top Tools to Speed Up Website
Optimizing your website, you should always check and improve website speed. But which tools should you use, and which criteria should you look for? Website speed tests may vary based on location, environmental influences (such as time of day), and other factors. These issues are why speed optimization tools do not always provide the same results. Different tools may measure website speed differently and use different metrics. That is why we recommend using all of the following tools when testing your website speed and do not just rely on one tool.
12. PageSpeed Insights
PageSpeed Insights is a free tool from Google to optimize your website speed. It analyzes your website to identify how long it takes to load. There are many tools in the market, but only it is free-tool. It also comes directly from Google developers so you can trust its performance and accuracy.
Ultimately, it aims for your website to rank highly in the search engine results pages(SERPs) by optimizing your website speed. By using PageSpeed Insights, you can determine whether your website's loading speed is up to par. This speed optimization tool is very easy to use, you just need to put it in the URL of your website and it will check the site's load time from random servers in various locations, giving you the accurate average of your website's load time.
PageSpeed Insights' Pros:
Completely free
Easy to use and understand the scoring system
Diagnostics and Opportunities give you suggestions to optimize speed
PageSpeed Insights' Cons:
Non-technical users may not know what to do with suggestions
Suggestions overlook basic practices
Pricing: Free
13. GTmetrix
GTmetrix is a speed optimization tool that aims to analyze the performance of your website and provide a list of practical recommendations to improve its quality. This tool allows you to schedule reports daily, weekly, or monthly. To use this tool, you must first create a free account. Keep in mind that the free GTmetrix account is limited to a number of requests per day. It provides the KPI page speed scores as a percentage, and it is also classified according to performance from A to F.
In addition, it uses real browsers during performing tests rather than simulated browsers. Using this web optimization tool helps you understand how your website's speed impacts your ranking. You can also gain reports that break down your web page performance, track your page performance over time, and set up notifications whenever a page underperforms.
GTmetrix Pros:
It has a basic free plan to test out and decide if it is worth paying for upgrading.
Its suggestion dives deeper and is more helpful than Google's free tool
GTmetrix Cons:
It often takes a considerable time to display reports
Non-technical users may not find it easy to use
Pricing:
It has a free version, and its paid version starts at $10 to $42 per month.
PageSpeed Insights vs. Gtmetrix: Which One Is Better?
At first glance, these tools seem to offer similar features. But there are some key differences that explain why one tool is better than another. Here we will help you to choose the best tool according to your needs
| | | |
| --- | --- | --- |
| Features | GTmetrix | PageSpeed Insights |
| Scheduled Page Monitoring | Yes | NO |
| Performance Scoring | Yes | Yes |
| Performance History | Yes | Yes |
| SEO Insights | NO | Yes |
| Device and Browser selection | Yes | Just device (Mobile/Desktop) |
| Running a Speed Test Specifying the Location | Yes | No |
| WaterFall Analysis (e.g., request-by-request visualization of your site speed) | Yes | No |
| Suggestions and Recommendations | Yes | Yes |
| Pricing | A free plan + paid plans (from $10 to $42 per month) | Free |
If you are looking for a web optimization tool to identify and test speed-related issues, then I would recommend you Gtmetrix. Due to the criteria mentioned in the above table as well as detailed information about each issue and its ease of use, Gtmetrix is the best option to optimize your website speed.
GTmetrix can test websites from a device and browser combination of your choice. Using the Device and Browser Selection feature, you can select a device type to gain detailed reports.
In contrast, PageSpeed Insights offers just two sets of results for desktop and mobile. The other specific feature of Gtmetrix is "Test Location," which allows you to run a test specifying the location. But unfortunately, PageSpeed Insights calculate the speed test based on the server location and cannot specify a location.
The last feature that differentiates between these two tools is Waterfall Analysis which offers a request-by-request visualization of your website loading speed. These features determine all the time each resource of your webpage takes to load and how this stands to the overall loading speed. Therefore, GTmetrix provides important information that PageSpeed Insights does not. However, if you need a quick overview with some actionable insights that directly affect SEO without paying money, you can choose PageSpeed Insights.
Website Optimization FAQs
So far, we've fully discussed all you need to know to improve your website and the tools you can use to do so. Now, let us walk you through some of your frequently asked questions.
1. Are Website Optimization and SEO the Same?
Website optimization is a comprehensive process that includes different tactics and actions. One of these techniques is Search Engine Optimization (SEO).
2. Why Do We Need to Optimize Our Website?
Optimization will improve your web performance and increase your conversion rate. In turn, improved performance leads to better ROI on traffic-generating campaigns like web searches and Google AdWords.
3. Does Every Webpage Need SEO?
The answer is "yes" absolutely. Because webpages optimization includes how search engines (such as Google) understand your web pages, if your pages on the website do not provide the necessary information that search engines need to understand, then it will not rank well in results. And finally, you will lose your potential customers.
4. How to Check My Website Ranking?
There are a few simple ways to check the ranking of a particular webpage including Keyword analysis, page optimization, and keyword explorer feature. Using SEO tools such as SEMrush or Moz Pro. This software offers a keyword-tracking feature that shows you the highest-ranking URL for each tracked keyword.
Conclusion
Optimizing your website is a constant process because the way users search and also Google's algorithms are constantly changing. Therefore, you should not leave any friction in the way of the customers. Website optimization in search engines, by introducing your brand to your target audiences and creating credibility for it, will increase website traffic, along with providing measurable results, which will enhance your sales. 
WatchThemLive is one of the best tools to optimize your website conversion rate as mentioned above. Sign up now and give it a try!