Are you one of those who think of search engine optimization ( SEO) and conversion rate optimization ( CRO) as two entirely different strategies? Or do you believe they go hand in hand? As a business owner, you may be confused about which one to prioritize.
As you know, CRO tools are invaluable for digital marketers and business owners who want to maximize their website's potential. Whether you run an eCommerce store or provide services, CRO tools can help you optimize the user experience, reduce cart abandonment, and increase conversions.
Meanwhile, SEO is an essential strategy for businesses looking to increase their visibility online. It involves optimizing a website's content, structure, and links so that it ranks high in search engine results. A well-executed SEO campaign can bring substantial benefits to a business, including increased web traffic and improved brand recognition.

As you see, both of these factors are important. And this article will help you understand how they can effectively work together and impact your rankings and conversions.
Meanwhile, if you're looking for a tool to improve your conversions and optimize your website for search engines and users, WatchThemLive is a behavior analytics tool that enables you to fix your website's pain points and boost your conversion rate. Keep reading to see how it works.
CRO vs. SEO: What Are They
Before we start explaining how they work together, let's start with the basics. SEO (or search engine optimization) refers to the process of boosting your website's organic traffic and sales through major search engines like Google, whereas CRO (or conversion rate optimization) refers to the process of constantly analyzing website performance metrics in order to get more sales. Look at the picture below for a better understanding.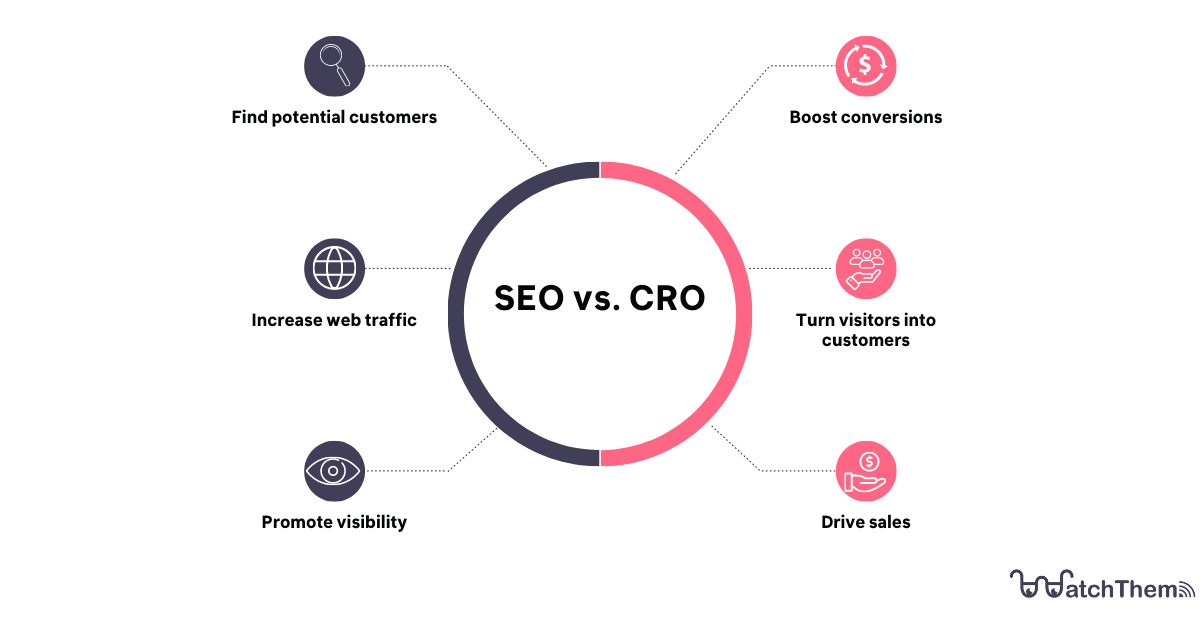 How Do CRO and SEO Work Together
In the world of SEO, every business owner looks to get high site ranks in search results. Ask why? The higher you rank on Google, the more sales you can make because people can find you easily when you appear as the top result on Google.
This depends on many elements of your website. One of the most important elements that can be effective in driving rankings and conversions to your website is content which plays a key role in building your brand value. It enables you to answer search queries and move your customers forward through your sales funnel and connect your SEO and CRO together.
Let's make it clear with an example; imagine your blog posts get few clicks, and they don't appear among the top results. Where do you think the problem comes from? In this case, you have lagged behind your SEO.
Now, imagine your blog posts receive enough clicks, but your website visitors refuse to sign up, purchase, click on a conversional button, or complete your targeted goals. What's the matter in this case? In this scenario, you've worked well on your SEO, but you've probably neglected your CRO.
Are you up for going more into the details?
1. Improve User Experience
When people search for something on Google, it shows some recommendations in order to provide a better user experience. You may be asking how I can get Google to notice my website? If you focus on user intent and create content that matches search intent, you can improve your page ranking and make your site visible on Google. So how can you improve the user experience to improve your site's ranking and get more conversions? Here are some ideas:
Using Calls To Action,
Optimizing your conversion funnel,
Educating leads,
Implementing responsive design,
Creating snackable content,
Improving your website speed,
Gathering feedback,
Improving the scrolling experience.
Delivering a seamless user experience is difficult. You need to build a strong customer relationship and satisfy them to get them back to your website. So how can you create a better user experience? You need to learn how users behave on your website and how they engage with your products.
A behavior analytics tool like WatchThemLive can help you find any problems like poor UX design and drop-off points on your website and fix them easily and fast. Wondering how? It has many features, such as session replay and heatmaps.
Session Replays
Sometimes, you have tested your funnel, but your conversion is still dropping. With session replay software, you can understand how people interact with your website through recorded videos so you can see where they encounter bugs or abandon a page. Ultimately, you can fix them and improve your conversion rate.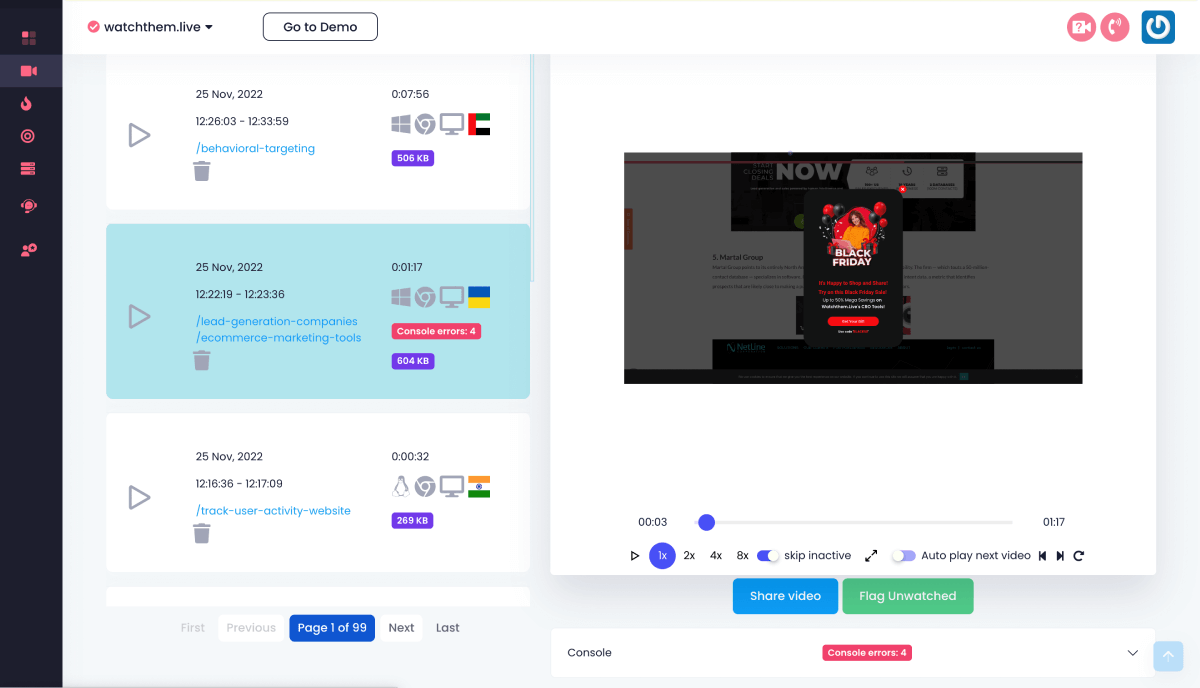 Heatmaps
With heatmaps, you can also identify which parts of your website have insufficient UX design and can distract your users; so a heatmap helps you visualize how visitors interact with your website and enables you to remove your website distractions.
Sign up for FREE and give WatchThemLive's session replay and heatmaps a try.
2. Optimize SEO Content for Search Intent
If you want to attract new visitors, you should focus on creating valuable content that aligns with search intent because the aim of Google is to provide users with relevant information.
In other words, if your content would answer possible questions that people might have, Google can match them with that information. So you can get high-quality search engine results that can highly impact the number of leads and your revenue.
Let's make it clear with an example. If you search "buy fresh flower online", Google shows: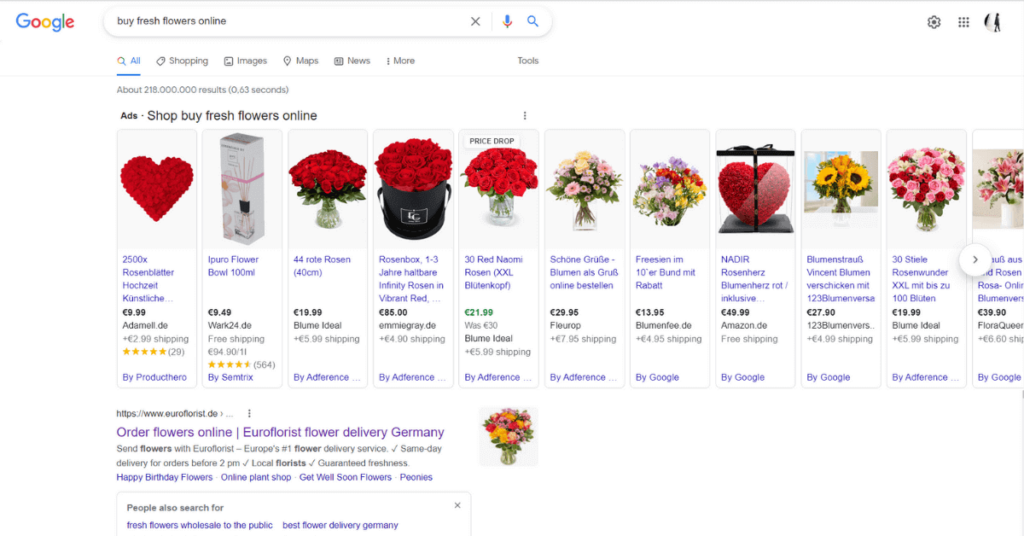 Besides the suggested ads, you can see a product page for ordering flowers online. Content on this page includes:
Prices for each option,
Reviews,
Where to buy near me,
Product descriptions,
Shipping options.
So if your product page content matches with user intent and ranking factors above, Google ranks your website and makes it more visible; so people can easily find your website when searching for something.
3. Optimize Content for Conversions
Besides implementing your CRO skills, one of the most important ways to encourage your leads to take action is to add clear and powerful calls to action. Sometimes, using words such as "click here" is not sufficient to accomplish your goals; instead, you can use strategic CTAs which enable you to guide your visitors through their journey. There are various types of CTAs that you can use on your website: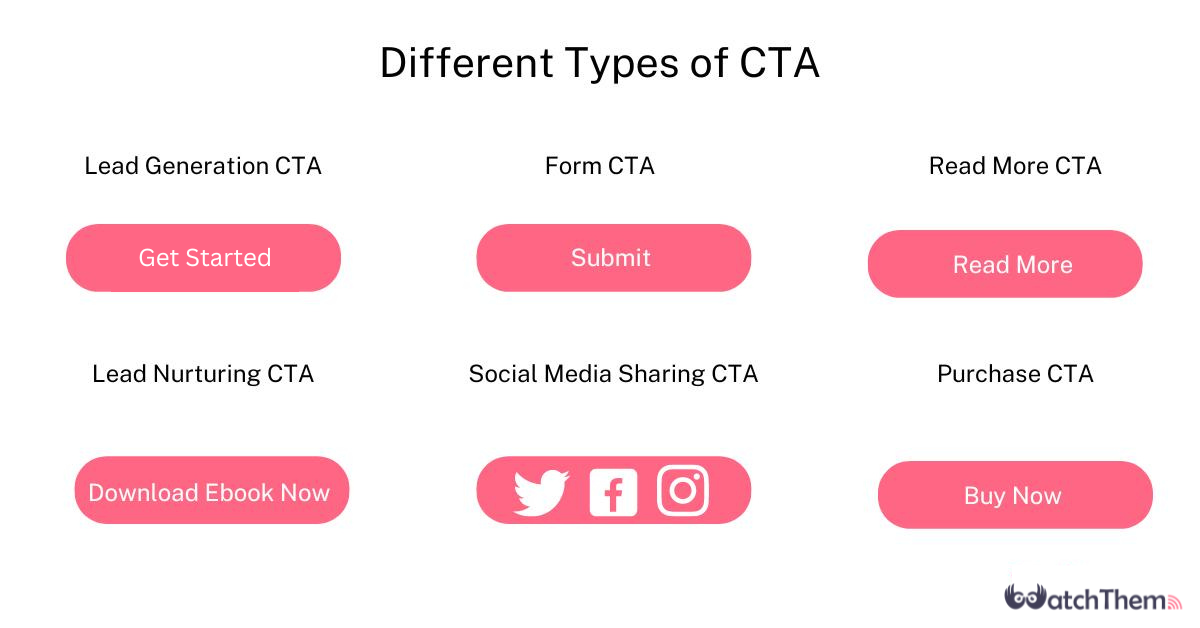 1. Lead Generation CTA
You should try your best to turn your customers into leads because those leads can effectively promote your product or service after becoming your loyal customers. In this case, you need to find the right spot to put an effective CTA. One of the most popular places is at the end of your blog post to guide them to your landing page.
2. Form Submission CTA
When people arrive at your landing page, they can easily become leads if you use an actionable CTA to encourage them to fill out a form, and click on the submit button.
3. 'Read More' CTA
It may be boring for your visitors to read all your customer case studies or blog posts. Using a 'read more' button is a great help because not only does it display the first few paragraphs but also your content won't take up the whole screen on your landing page.
4. Social Sharing CTA
One of the simplest ways to engage leads with your brand is to use a social sharing button that encourages them to share your content with others.
5. Lead Nurturing CTA
When people come to your website, you should nurture them. In the case of nurturing your leads, you can showcase your content in form of case studies, PDFs, whitepapers, and testimonial videos.
People won't spend much time on your website to discover your product or service, so you don't have much time to grab their attention. By using an effective CTA button like "view more features" or "request a demo", you can make it easier for them.
6. Purchase CTA
Purchase CTA is another type of CTAs that is used after lead nurturing on your product page and it is a sales-focused button like "buy now" in order to guide them to your product pages.
4. Optimize Title Tags and Meta Descriptions for a Better SEO
If you want to decrease your bounce rate while improving your engagement metrics, creating an accurate title tag and meta description enables you to rank higher and drive more traffic. So you should explain exactly what searchers expect to find on your pages.
5. Improve Page Loading Time
Page loading time is one of those factors which can impact your CRO process and your Google ranking. From an SEO perspective, it has a negative effect on your website and causes a high bounce rate when people leave your website straight away. It means that your page can't provide a proper answer or satisfy their needs.
Instead, having a low bounce rate means people visit more pages of your website and your conversion rate can be increased. So try to keep your page loading speed between two seconds or lower in order to get.
6. Focus on Macro Conversions
In order to get a higher rank on Google, SEO teams should focus on macro conversions to generate more organic traffic. Micro conversions are those actions that a user takes to reach your goal conversion or macro conversion. A micro conversion can be a newsletter sign-up, creating an account, viewing a product page, or leaving a comment on your website; whereas a macro conversion is the ultimate conversion goal of a business such as a completed sale on an eCommerce site.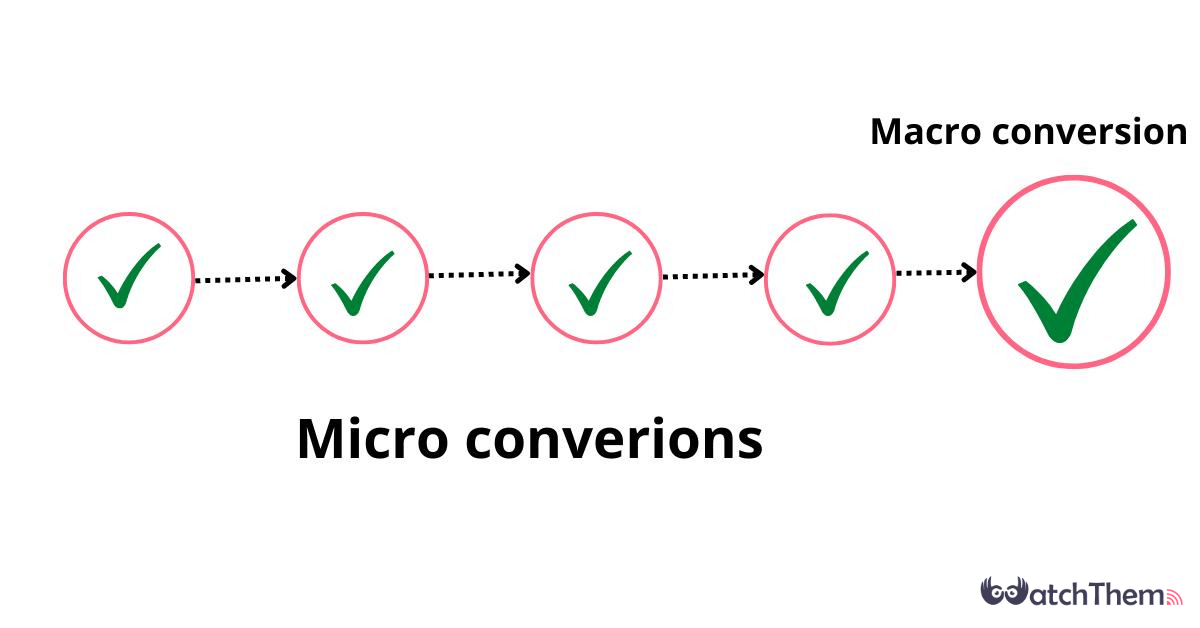 So, if you want to generate more sales and leads, you need to focus on conversion points and try to reduce them in order to avoid confusing your customers and create an effective customer journey.
Related article: Micro Conversion Vs. Macro Conversion
7. Reduce Product Options
Having too many products doesn't mean you can sell them easily. It has become harder because according to the theory of the paradox of choice, too many product variations will create psychological burnouts. So, people may drop off empty-handed.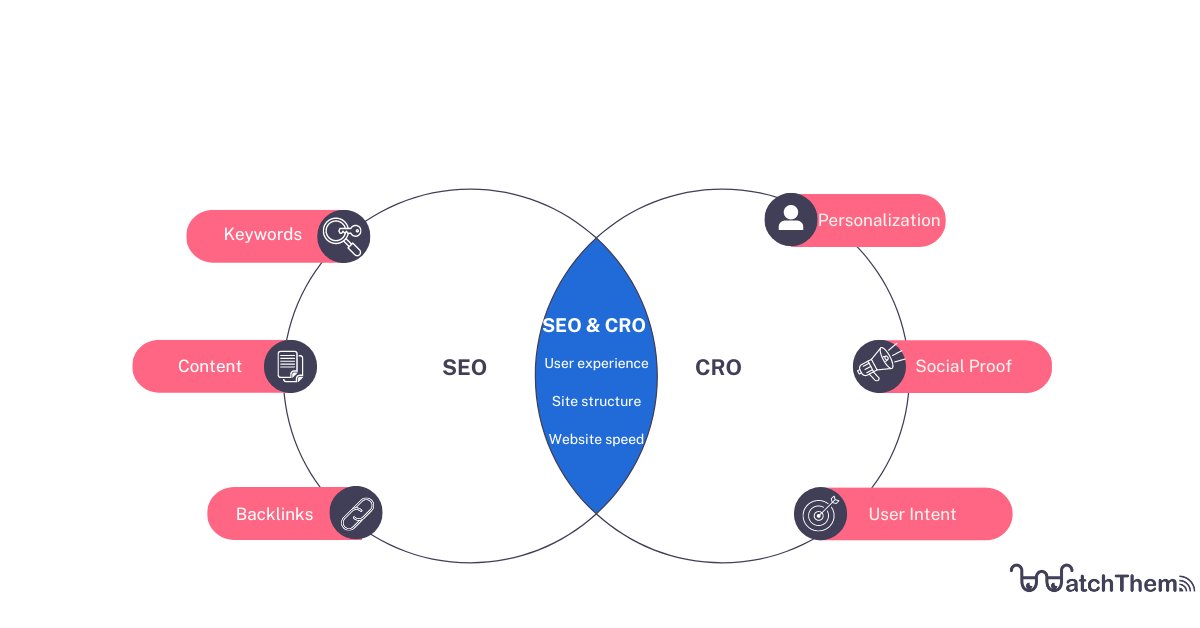 SEO and CRO Best Examples
In this part, we're going to bring some websites as examples that have developed CRO and SEO strategies well.
#1. Amazon
I don't think there's anyone who has not heard the name of Amazon. Amazon has an impressive SEO and conversion strategy that has enabled it to become one of the largest e-commerce companies in the world. By using a combination of keyword research, intelligent search engine optimization, and high quality content, Amazon has been able to drive significant amounts of organic traffic and conversions for its website.
Keyword research is essential for any successful SEO strategy. Amazon takes this seriously by identifying the most relevant keywords that users are likely to use when searching for products or services related to their business. This helps them ensure that their website appears prominently on search engine results pages when those keywords are used.
Additionally, High quality content is also important for improving both SEO performance and conversion rates on websites like Amazon.
As an example, Amazon's shipping is free, and this is the reason that may encourage the visitors. Or it uses high-qualified product images which plays a significant role in attracting the visitors and improving brand loyalty.
#2. Airbnb
The question is what makes Airbnb so successful? Airbnb has become one of the most successful online businesses in recent times. The business model of a company plays a major role in its success. It's simple but unique. The platform enables people who have extra space to rent to connect with those who would like to rent out a flat temporarily. As you see, this is very helpful.
In today's digital world, of course creativity is important, but it is just part of the story. Besides working on their SEO and CRO to stay on the top of the list, they have been very smart in using word of mouth and social media platforms to get more leads.
FAQs on SEO and CRO
As you have already noticed, the relationship between SEO and CRO is closely linked – both serve to increase website traffic with the ultimate goal of driving conversions. By leveraging effective SEO practices, websites will be more visible in relevant searches, which can then result in increased traffic that could potentially convert into sales or leads.
Now, it's time to answer some of your frequently asked questions.
Q1: What Are Three Types of SEO?
There are three main types of SEO: on-page, off-page, and technical.
On-page SEO focuses on optimizing the content on the web pages themselves in order to help them rank higher in SERPs. This includes improving page titles and headings, incorporating keywords into content, compressing images to reduce loading times, adding meta descriptions to pages, and more.
Off-page SEO involves promoting a website through external channels such as social media platforms or other websites' backlinks. This type of SEO helps increase brand awareness among potential customers as well as strengthen website authority with search engines.
On top of that, technical SEO refers to the practice of optimizing a website's infrastructure in order to improve its search engine rankings and visibility. It shows how well google spiders can crawl your website and index your content.
Q2: How to Calculate Conversion Rate Optimization?
Wondering how to calculate conversion rate optimization? Start by tracking the number of visitors on your website over time. You will then have to determine how many completed the desired action. Divide that number by the total number of visitors to get your conversion rate.
You can also use WatchThemLive's goal tracking. Goals are important for personal development and business success. Conversion tracking is an invaluable tool that can help you measure the success of your marketing campaigns and optimize your return on investment. It is a critical part of any digital strategy, as it allows marketers to identify areas where they are excelling and where they can improve. Here are some key benefits of conversion tracking:
Firstly, it enables you to understand the effectiveness of each individual campaign by monitoring how visitors interact with their website. This gives you insights into which channels and strategies are most successful for driving conversions, allowing them to tailor future campaigns accordingly. Moreover, goal tracking helps you understand which customers are most likely to purchase from you and target those users more effectively in the future.
Conclusion
So SEO and CRO work and connect together. We can't deny the importance of CRO, but you can't just rely on your conversion rate optimization to make more sales. To increase conversions and revenue, SEO and CRO need to work hand in hand in order to improve your website and boost your revenue and user experience.
Sometimes, You may think everything is okay but it's not. You tested your SEO and CRO but you still have pain points on your website that you can't find. At this point, WatchThemLive helps you identify and fix them easily. Sign up for FREE.