Most business owners spend a lot of time developing their websites in order to attract more visitors. Their websites should be performing perfectly; otherwise, not only will they lose their returning users, but also lose the new ones. To improve the performance of your website, you can focus on conversion rate optimization (CRO). In this article, we will explain the difference between micro and macro conversions, which are essential metrics for increasing your conversion rate.  
Note: One way to measure your micro and macro conversions is using a tool like WatchThemLive. Keep reading to find out more.
What Are Macro and Micro Conversions?
One of the most important metrics you should consider for the success of your business is your website's conversion. Conversions put emphasis on completing critical actions that users take on your site. These actions can be clinking on a link, signing up for a newsletter, making a purchase, or even watching a video on your site. A conversion can be a micro-conversion or macro-conversion, which we are going to discuss here.
What Is Micro Conversion?
A micro conversion is the first step toward your main conversion goal, which is often called macro-conversion. Micro conversions are related to the small interactions which your users have with your website, such as creating an account or signing up for a newsletter. Remember, micro conversions help users to move forward to a macro conversion.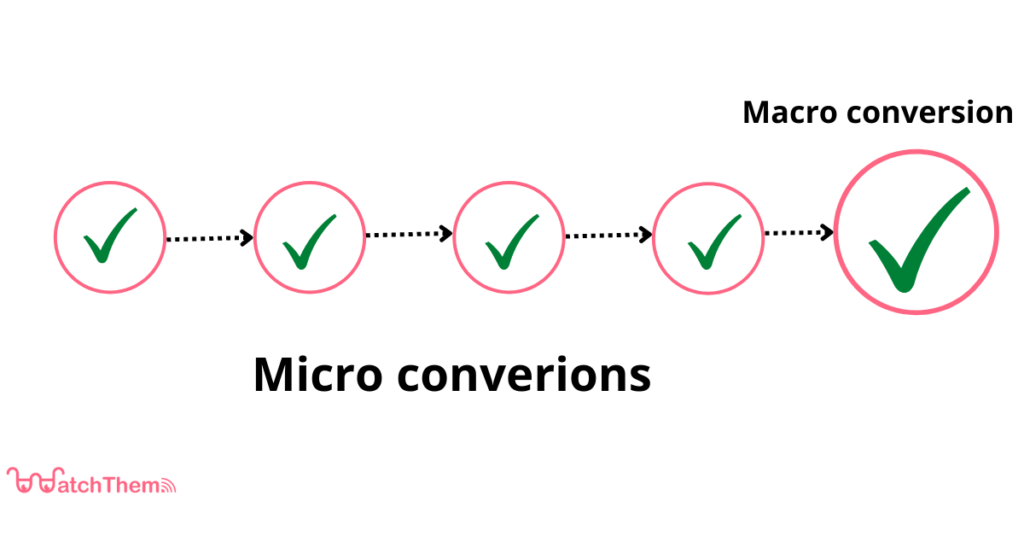 So you may ask yourself, "How can I track micro conversions?" If you're looking for practical tools to measure your micro and macro conversion, we highly recommend using a tool like WatchThemLive.
It is a user behavior analytics tool that helps you measure your conversions using several features.
Goal Tracking
There are some actions like purchasing a product or creating an account that you want your users to take them. With goal tracking, not only you can determine how many visitors have interactions with your website but also identify those who complete those actions. On top of that, you can set and track any goal conversion using WatchThemLive.
Session Replays
Session replays are amazing tools for increasing your conversion rate. They allow you to track every movement of your users. If they have difficulties with your website, session replays help you to fix their problems quickly and prevent them from leaving your website.
Web Analytics
This feature provides you with some useful analytics such as page views and user sessions, referrers, and user segmentation. So if you have a goal conversion rate for any of the above, you can easily measure them. What are you waiting for? Sign up now and snag your FREE plan!
What Does Macro Conversion Mean?
The primary goal conversion of your website is named macro conversion. Macro conversions of your website have a direct impact on a brand or service. For example, purchasing and selling a product on an e-commerce site or subscribing to a web service is considered to be a macro conversion.
Micro Conversions vs. Macro Conversions
Let's clarify the difference between micro and macro conversions with an example. Imagine you want to register on our application. The first step you need to take is using the login button on the top right of our menu, and the last step, which is called macro conversion, is your submission. The whole steps that you take to reach the submission are called micro-conversions.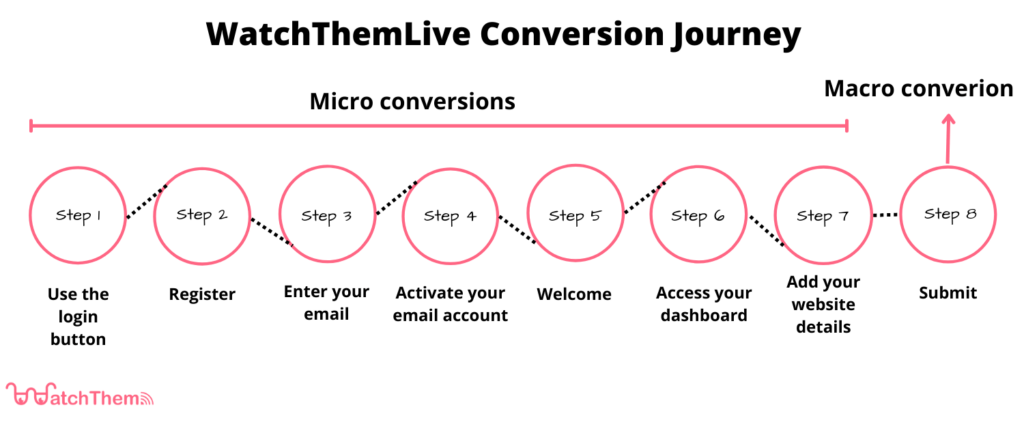 Conclusion
In this article, we discussed macro vs. micro conversions. No one wants to flog a dead horse in the business world. Conversion goal tracking has a positive effect on the success of your marketing efforts. It enables you to understand how your website converts your visitors and also smooth your pathway to success. WatchThemlive is one of the best conversion tracking tools which allows you to track the goal conversions on your website. Sign up for FREE and choose the plan that suits your needs.
FAQ
What Are Examples of Micro Conversions?
Micro conversions are the actions that lead to a macro conversion. Here are some examples of micro-conversions:
– Downloading an e-book 
– Adding an item to a wishlist
– Sharing one of your pages via social media
– Watching a video
– Downloading a resource
– Commenting on a blog post
– Requesting a callback
– Scrolling down a page
– Navigation on a catalog
– Clicking on a search result
– Filling out a form
– Viewing product pages
How to Calculate the Macro Conversion Rate?
For calculating the macro conversion rate, you need to divide the total number of conversions you receive by the total number of site visitors multiplied by 100.
What Are Macro Conversions in Digital Marketing?
Macro conversions are the goal of every digital marketing. When visitors complete their purchases and convert into paying customers, macro conversion happens.