Inspectlet is a website monitoring tool for tracking customers' behaviors. It uses session recording to analyze users' journeys to detect the issues they encounter.
Inspectlet claims to be one of the best CRO tools in the market. it promises to monitor site visits in real-time. And it also offers some additional features like heatmaps, and feedback surveys.
In this Inspectlet review, first, we will give you a brief introduction about the company, then we'll study its features, pricing, pros, and cons. Then, to give you freedom of action, we are going to introduce you to another top-notch behavior analytics tool 😉.
WatchThemLive is a free session recording and replay tool that provides you with advanced heatmaps, session recording, goal tracking, etc. You can sign up with a few clicks and try it for yourself.
How Can Inspectlet Help You
This service is a website visitor tracking tool that lets you check visitors to your website and track how they interact with it. Apparently, with Inspectlet you can visit mouse movements, clicks, scrolls, and keypresses on your site.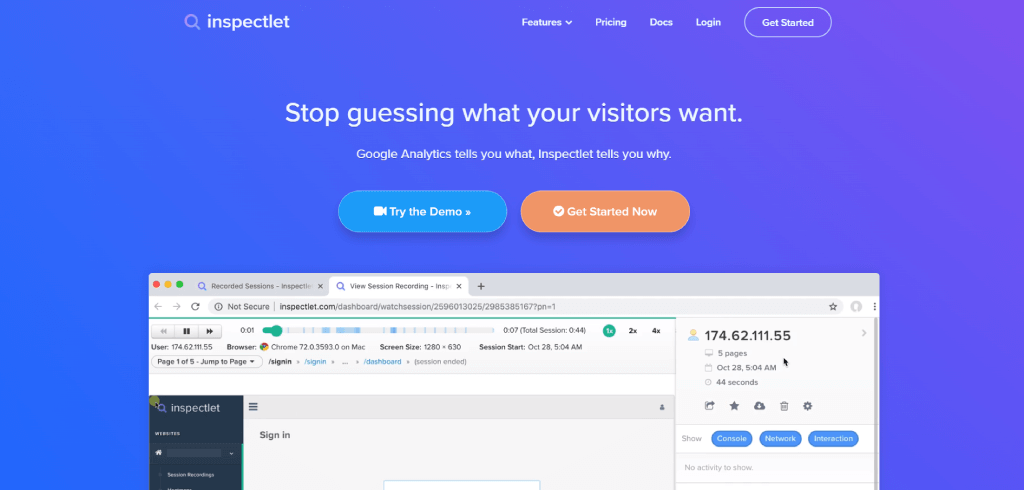 In addition, Inspectlet's session recording tries to record every movement users make on your screen. They promise to improve your understanding of each user's behavior with this feature.
Like many other behavioral analytics tools, Inspectlet also has a heatmap with a cool name! They call it eye-tracking heatmap. Inspectlet claims they can tell you where your visitors are looking and what they are reading. But don't get your hopes high! Because they believe your eyes are looking at the tip of your mouse cursor. This can be true sometimes but isn't always the case.
What Is Inspectlet Used for
Now that you know what kind of information Inspectlet provides you with, let's discuss how you can use it to optimize your website.
Tracking website visitors is the first step in improving website UX design. Inspectlet can be used as a UX analytics tool that allows you to have a glance at customers' activity reports. This helps the designers to understand how users are experiencing the site and what needs to be improved.
Please note that this platform is not going to tell you how to improve your UX design. It just gives you a better insight into users' behavior. And there should be an A/B testing tool among Inspectlet's features that enables you to test new changes. But the rest is up to you.
You may be able to improve your conversion rates with Inspectlet. Of course, it's not a specialized CRO tool, but it has a funnel builder that can be used to optimize conversion rates. You can track customers' journeys and detect when they abandon the conversion process with its sales funnel builder.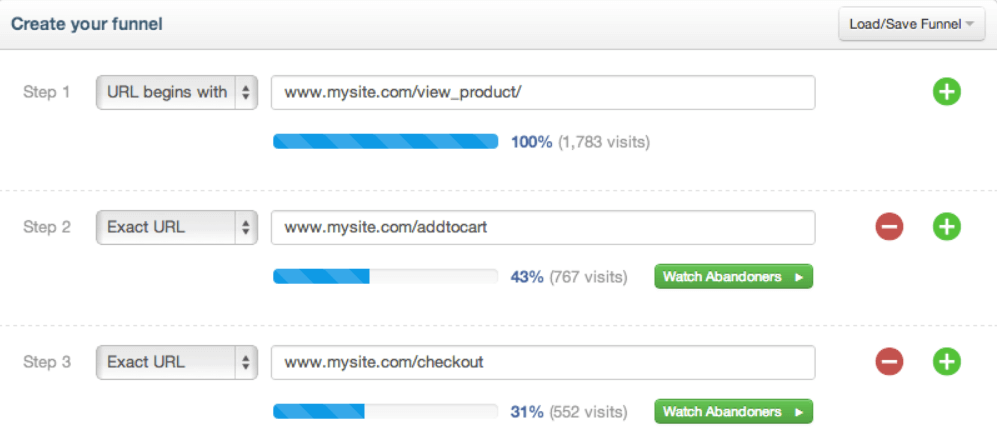 What Are the Top Features of Inspectlet
Most of the features are already mentioned and discussed, but we gathered them all here for you. Based on your plan, Inspectlet can provide you with:
Session recording,
Dynamic heatmaps (eye-tracking, clicks, and scroll heatmaps),
A/B testing,
Form analytics,
Error Logging.
Inspectlet Pricing & Plans
Despite the fact that Inspectlet offers a free plan and a micro plan, this service isn't cheap. And many other programs could perform just like it for a lower price.
Let's take a glance at Inspectlet's pricing and plans. Then we'll discuss them in more details.
Free: 2,500 sessions/month,
Micro: $39/mo. For 10,000 sessions,
Startup: $79/mo. For 25,000 sessions,
Growth: $149/mo. For 50,000 sessions,
Accelerate: $299/mo. For 125,000 sessions,
Enterprise: $499/mo. For 250,000 sessions,
Enterprise: $799/mo. For 500,000 sessions,
Enterprise: $1199/mo. For 1,000,000 sessions,
Enterprise: $1799/mo. For 2,000,000 sessions,
Enterprise: You have to contact them for unlimited sessions.
Too many plans right? The quality and features of Inspectlet's enterprise plans are the same but the quantity increases with each tier. Let's start from the bottom.
Inspectlet Free Plan
Yes, it's free. But as you probably guess, it has many limitations. With the free plan, you can have 2,500 sessions per month. And the A/B testing tool is also limited to 2,500 visitors. You can add one website and the data retention period is just one week.
The worst part is you can't download the sessions for later analysis. And for Inspectlet log-in, your team should use your email and password. Because you are not allowed to add new users. And there is no conversion funnel analytics, form analytics, or targeting controls – 'targeting gives you granular control over which pages and visitors are recorded'.
It's impossible to find any webmaster to be satisfied with a tool that has so many limitations. So the customers have no choice but to upgrade to a larger plan.
Micro and Start-Up Plans
In the case of the number of visitors for A/B testing and session recordings, Inspectlet's free plan might be enough if you have a small website. But the micro plan is not much better than the free plan. Because the features are the same. Only the number of recorded sessions and A/B testing visitors are increased.
There is still no sign of conversion funnel analytics or targeting controls even in the Startup plan with $79/month.
Growth, Accelerate, and Enterprise Plans
Almost all the features of Inspectlet are available in these plans. But the pricing starts at $149/month. Which is the main reason for many users to search for an alternative according to Inspectle's reviews. Other plans are more expensive but provide you with more sessions and more views.
Inspectlet Pros & Cons
Every software has its advantages and disadvantages. It's crucial to weigh up the pros and cons before deciding to sign up for a platform.
Inspectlet Pros
Advanced filtering for session recordings,
Integrable with many content management systems such as WordPress, Drupal, and Joomla,
Excluding visitors via IP address (you can exclude your team so Inspectlet doesn't record them whenever they enter the website).
Inspectlet Cons
Not easily customizable, so you can't configure it according to your desire.
Short data retention period for its free and mid-size plans,
When the number of recording increases searching gets slow,
Its UI design is a bit clunky and needs to be redesigned,
Not very attentive customer support.
Inspectlet Reviews
Checking online reviews offers valuable insight into users' experience who have already purchased a platform. It helps you understand overall customer satisfaction. In the case of Inspectlet, there weren't too many reviews to help us find a clear understanding. But something was repeated a few times in the Inspectlet reviews.
Even though some customers were satisfied with their customer support, in many Inspectlet reviews users complained about their customer service feedback.

It's too frustrating to wait this long for a simple response. So, when you encounter any problem with their tool, it's better to find the solution on your own. Because Inspectlet's support team won't help you much.

They really need to improve their customer service because all the customers deserve a fast and proper response whenever they encounter any problems.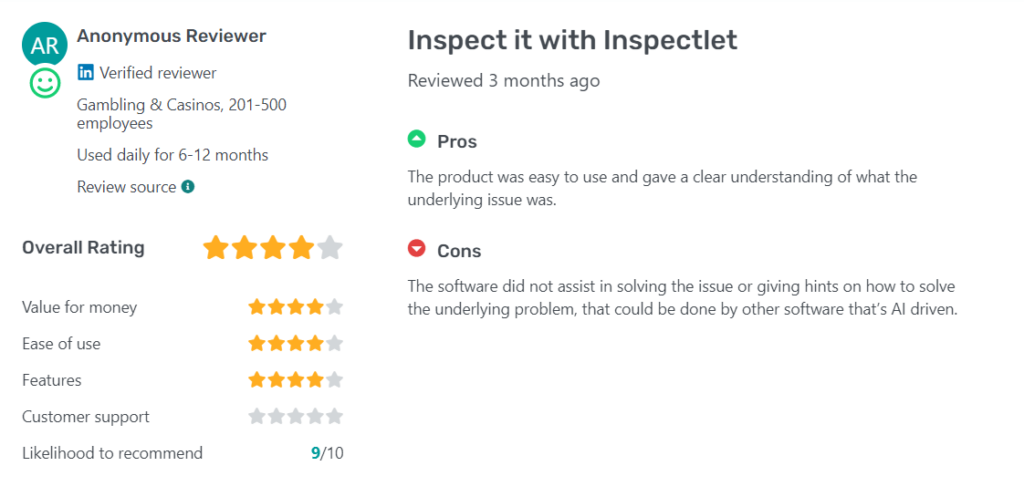 This user didn't have a clear understanding of what kind of service is offered by Inspectlet. They wished for software to tell them what needs to be improved and how. But Inspectlet just generates the customer interaction data. The rest is up to you.
Final Verdict on Inspectlet
A session recording tool, three heatmaps, and an A/B testing tool are the main features of Inspectlet. They claim to be one of the best user behavior analytics tools in the market with over 90,000 happy customers.
However, it's hard to believe they have so many customers. Because they have only 30 reviews on Getapp and 25 reviews on G2. A tool with that many users is expected to have many more reviews on different websites. It's either they are not honest about the number of their customers, or the customers don't care enough to write a review.
Overall, if you don't want to dedicate a big budget to a user-tracking tool maybe you should search for other options. There are lots of other tools out there with the same capabilities as Inspectlet but better pricing.
However, scouting them out and finding the best option can take too much time and effort from you. So, let us pull the weight for you and introduce you to one of the best user experience solutions out there. Are you ready? Let's go!
WatchThemLive: The Best Alternative for Inspectlet
WatchThemLive is an all-in-one user tracker and behavior analytics tool that records every corner of your website without missing the slightest detail.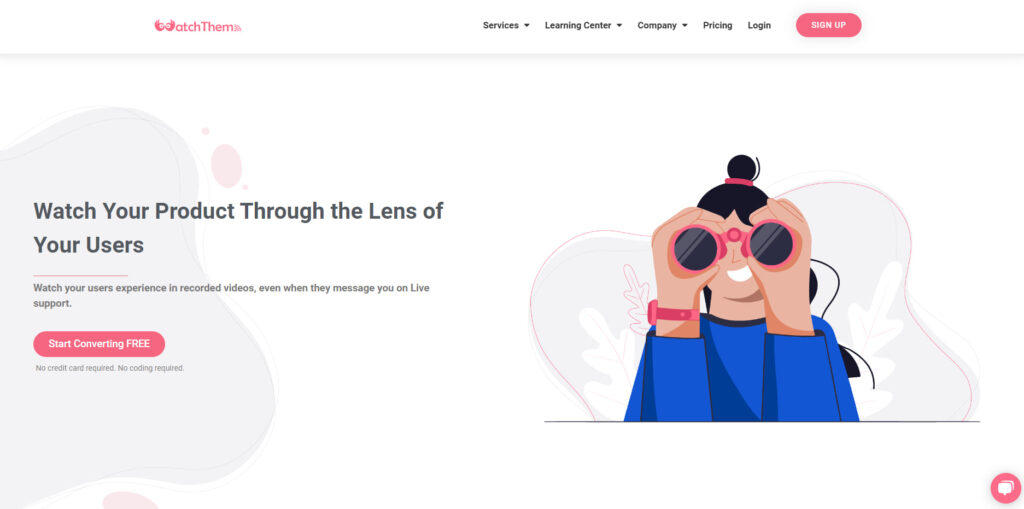 We chose WatchThemLive as the ultimate alternative for Inspectlet because both services almost have the same features but WatchThemLive comes with much better prices. In addition, it offers some unique features, like video testimonials and visual live chat that can't be found in any other app in the market.
WatchThemLive Features
Session recording,
Heatmaps,
Console recording,
Goal tracking,
Deep analysis,
Video testimonials (on-page survey),
Visual live chat,
Visitor profile,
Page tracking.
Since you are looking for a tool to boost your conversion rates, I bet you know what a session recording or a heatmap can do. So, Let's examine what is special about WatchThemLive heatmap and session replay.
Heatmaps (Mouse and Click Maps)
As you know, heatmaps can give you an insight into how to improve your website's web user experience and consequently boost your conversion rates. WatchThemLive heat maps to completely satisfy your needs.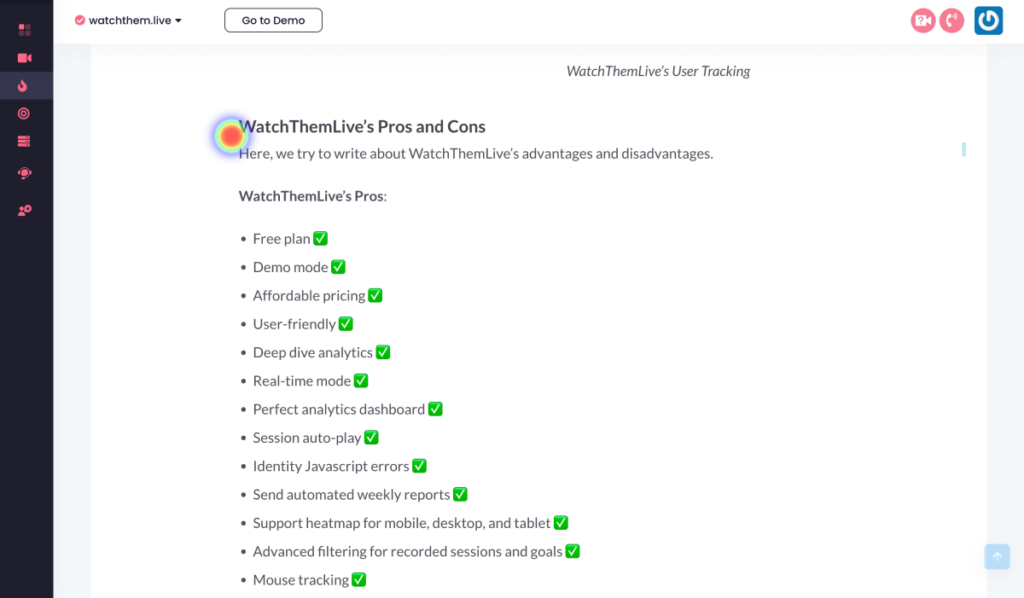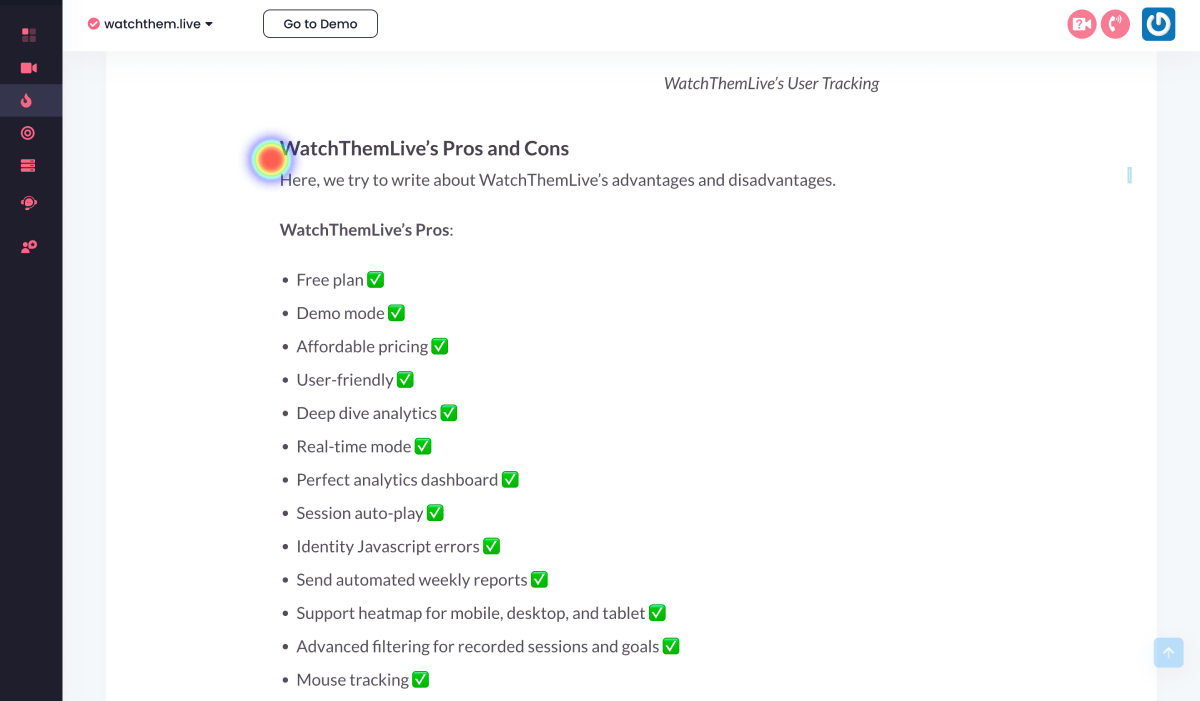 You can detect which parts of your website are more engaging and which areas are left unnoticed. In addition, you can track rage clicks and dead clicks with WatchThemLive's click maps. Plus, you can see how far the users have scrolled down on your web page.
Session Recording
WatchThemLive's session replay records every movement the users make during their navigation on your website. You can see customers' journeys through the customer's browser window.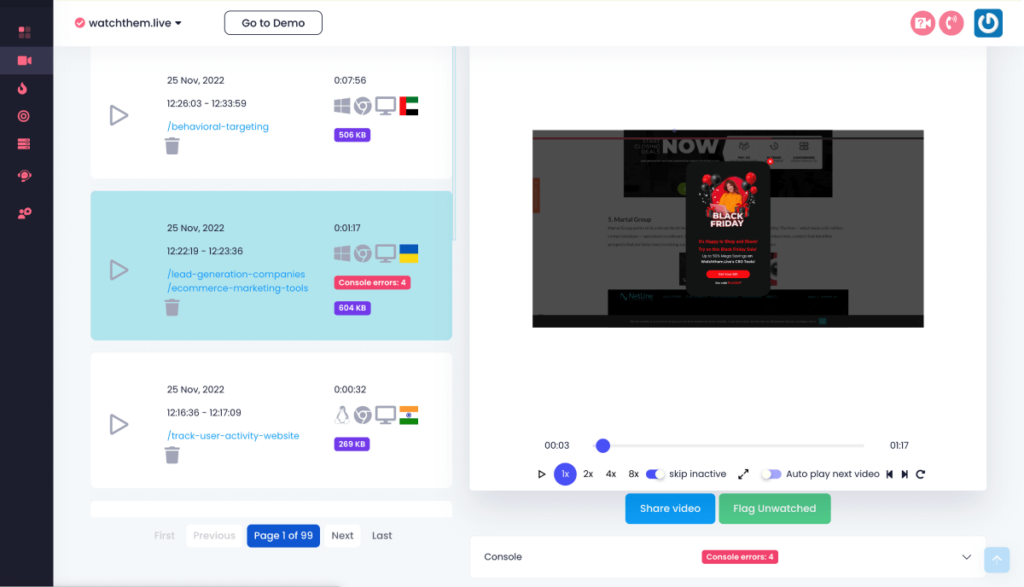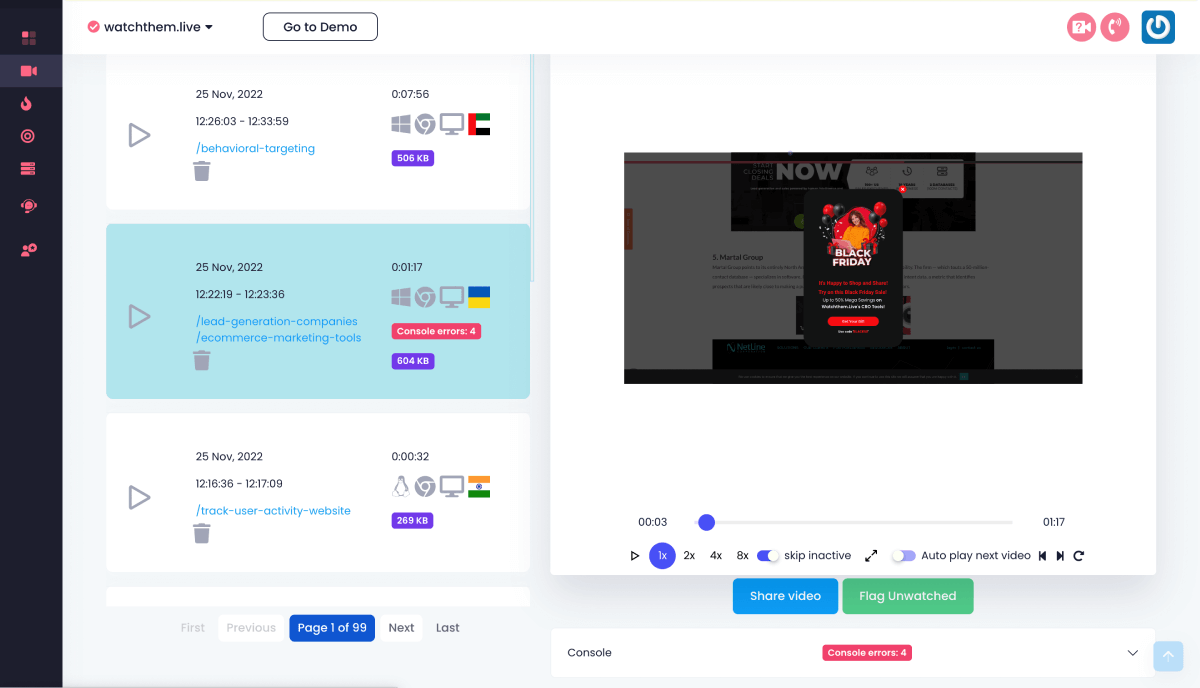 Its advanced filtering enables you to search and categorize sessions effortlessly. You can filter sessions according to the user's location, name, email address, browser, browser language, and device.
With visitor profile feature, you can watch every movement of a given user from the moment they come into your website to the end of the session in a single recording. Besides, with page tracking, you'll observe all the users who landed on a given page in one folder. You can avoid confusion and save a lot of time with this kind of filtering.
Video Testimonial
There is no need to say that social proof drives purchases. And online reviews are the biggest source of social proof. WatchThemLive allows you to represent the reviews in a more engaging way.
With video testimonials, you can create an online form and arrange when and where it should pop up on user's screen. Then, users can click on the record button and answer your questions while recording themselves. After the recording is finished, edit and publish the videos on your landing page, social media, or any pages that you see fit. This way you can increase the credibility of your brand.
WatchThemLive Pricing & Plans
You might think this tool is going to cost a fortune, but WatchThemLive always puts its users first. It offers very affordable prices in addition to its free forever plan.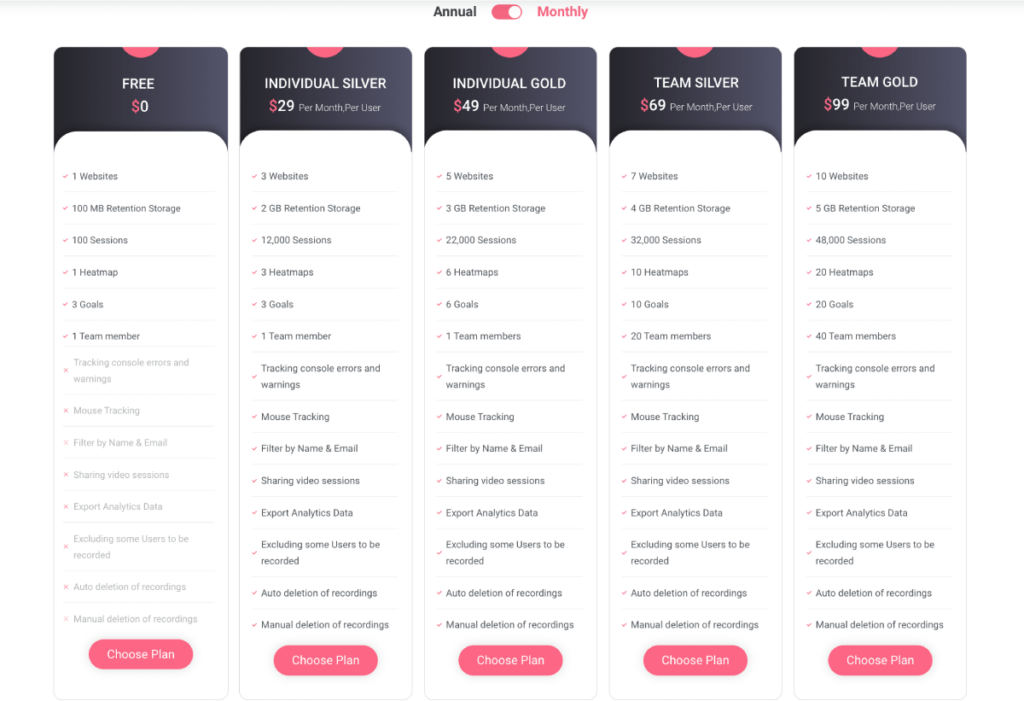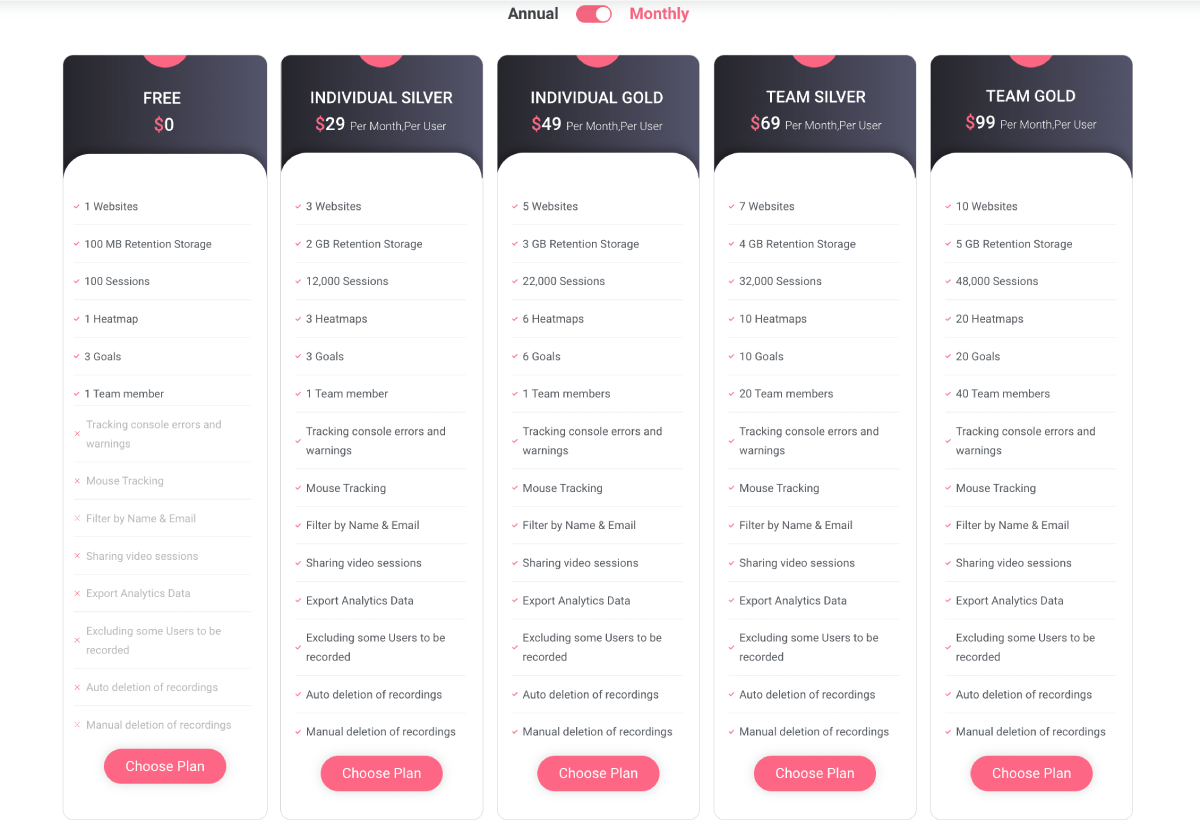 FAQs on Inspectlet Alternatives
To wrap everything up, we are going to answer some of the frequently asked questions regarding this monitoring tool in this section.
Q1. What Is Inspectlet?
Founded in 2012 by Rachit Gupta, Inspectlet is a website session recording and heatmap visualization service, located in Cupertino, California, United States. It's also equipped with other CRO tools such as A/B testing, sales funnel builder, and feedback survey.
Q2. Who Uses Inspectlet?
Every web developer, SEO manager, eCommerce business owner, and website and UI/UX designer can benefit from this website visitor analyzer tool to investigate users' behavior and improve their product. However, if you want to have more detail on users' interactions on your website, there are more advanced tools to satisfy your needs. Read the full article for other tools.
Q3. Is Hotjar a Good Alternative for Inspectlet?
Certainly, Hotjar is a well-known name in the website optimization world. However, deciding whether it's a good replacement for Inspectlet depends on your company. In the case of pricing, both platforms have a free forever plan. And their pricing and limitations are similar to each other.
Therefore, we suggest you consider another website data tracker as the third option. WatchThemLive is one of the best tools for improving your website's conversion rates and can be the winner of WatchThemLive Vs. Inspectlet Vs. Hotjar battle.
Conclusion
Small, medium, or large; business size does not matter when it comes to creating a satisfying customer journey. Every business owner must do their best to keep their customers satisfied. Therefore, it's necessary to keep an eye on the customer and eliminate whatever might cause dissatisfaction for them.
One of the best methods to measure the satisfaction of your customers is using a user behavior tracking tool such as Inspectlet. In this article, we discussed everything about this tool including its features, pricing, pros, and cons. And then we introduced you to the best Inspectlet alternative, WatchThemLive. This platform is totally free and has lots of amazing features that can satisfy every website owner.
So, what are you waiting for? Start your free plan right now!