Despite being relatively new, tools that help us record website visitors have become necessary for almost every marketer. Website visitor recording solutions have also given UX designers comprehensive and accurate insights into improving their key website UX metrics.
Like website visitor tracking tools, they can point out every interaction visitors have with a website and visually show the customer's journey. This is possible by allowing businesses to record, replay, and even save these visitor interactions also known as session recordings.
This technology has become increasingly popular as it offers several advantages to users. It helps you improve customer experience by providing detailed insights into how customers interact with websites. Moreover, it helps you avoid cart abandonment, see where your funnel is leaking, and ultimately, get more revenue!
In this article, we'll introduce some of the best tools to help you record website visitors and stay ahead of your competition. But first, let's cover some basics that are essential to know.
If you're looking for a simple way to collect your data, we highly recommend using WatchThemLive's session replay software. Stay tuned to understand more.
How Website Recording Software Helps You
Before we go over the details, you need to know some basics. Tools that let you view your website through your audience's eyes are known as visitor recording and session replay tools. They help you detect weak points on your website by analyzing the recordings; this understanding allows you to optimize your website accordingly.
Moreover, these tools enable you to optimize your website. You can see where your website's weaknesses are or which parts attract the most attention or clicks. This information can and should be used to improve visitors' experience and is even helpful for those who wonder How to create an effective buyer journey map.
How To Record Website Visitors
When you first consider website recordings, you might assume they'll be challenging to obtain. Despite what most people say, collecting website recordings is a lot easier than you can imagine.
In fact, by just adding a short snippet of code (supplied by the provider) to your website, you may collect online data on every one of your website users.
These recordings are then collected and saved for you to review on short notice. Hence, you can use these gatherings for learning your visitors' behaviors; then you can consider using behavioral targeting methods.
Why Should You Record Website Visitors
You may still be on the fence about using website visitors tools. So, Let's break down some of the critical reasons why you should.
This technology can aid your business with:
1. Visitor Recording Helps Improve Marketing Campaigns
What is the purpose of any landing page? To turn visitors into consumers or, simply speaking, converting them.
If you can monitor how your users interact with your marketing landing pages, you can optimize them to maximize conversion rates.
Any marketing effort that incorporates interactions with your website can benefit from these tools. For example, you might pay for PowerPoint presentations and embed them on your website to increase engagement and time on site. If you want to determine whether this strategy is successful or not, you can record and track users' interactions to see how they navigate your content.
2. Recording Website Allows You to Improve Your Products
When it comes to UI and UX design, recording website visitors is super beneficial. They can also be utilized in the early stages of product development to better understand how clients interact with a particular feature of software or a web service.
As a result, the software or application is created from the ground up with the user's experience in mind.
Without website recordings, your team may create UI and UX that have not yet been user-tested, lengthening the time it takes to find product bugs and issues. And maybe, in the end, it won't satisfy the users because of your lack of information.
3. Recording Website Lets You Easily Solve Website Issues
Many of your website visitors may encounter a problem that prevents them from becoming a customer. We call these problems pain points.
The worst thing that can happen is not being aware of these flaws.
As a result, you'd be in the dark about a problem that's costing your precious budget or revenue. By checking your website recordings, you can identify undetected difficulties harming your business and avoid future losses.
In other words, you will be aware of your website's weaknesses and strengths before things get out of control.
4. Recording Users on Website Enables You to Become Familiar with Your Customers
As we all know, customers are the most important part of every business. Understanding how they react to specific items and products and learning about their taste can enable you to provide personalized customer experience and make the best decisions.
Top 13 tools to Record Website Visitors
Now, you know how recording website visitors benefits you. And Here is our list of the best tools in the market for recording your website visitors:
#1 WatchThemLive – The Best Free Website Recording Tool
When it comes to offering website recording packages, WatchThemLive must be the first on the list.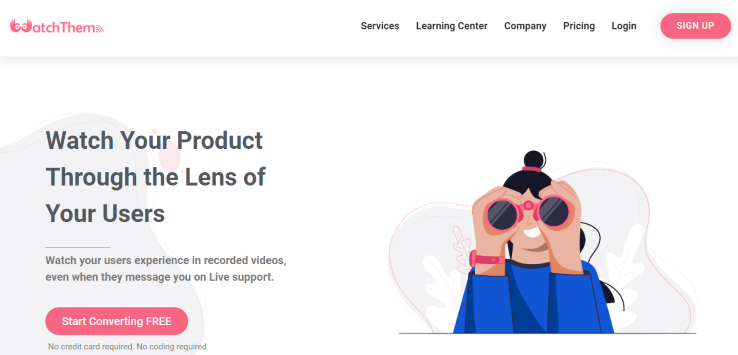 WatchThemLive offers a FREE plan that grants you more than what other options are willing to provide in their paid website recording plans. It allows you to record 100 sessions that help you see how many great options it has.
We try to cover all you need from a website recording tool and maybe even more with constant improvements.
Our Session Replay software will allow you to record website visitors with a great UI and simple-to-follow UX.
What sets WatchThemLive's session replay software apart from other tools is that you can auto-play all sessions back to back. Additionally, its console recording helps your dev team to identify any errors and warnings that occur in your visitors' browser console in no time.
On top of that, WatchThemLive provides you with advanced filtering. You can filter your data and recordings by date range, name, email, page, country code, screen resolution, browser language, OS, device, event type, and session duration.
Another great tool that is also available on our free packages is our website heatmap tool. This tool will let you record user interaction on your website, and know which parts of your website have attracted more attention or have underperformed.
Below are WatchThemLive plans and pricing: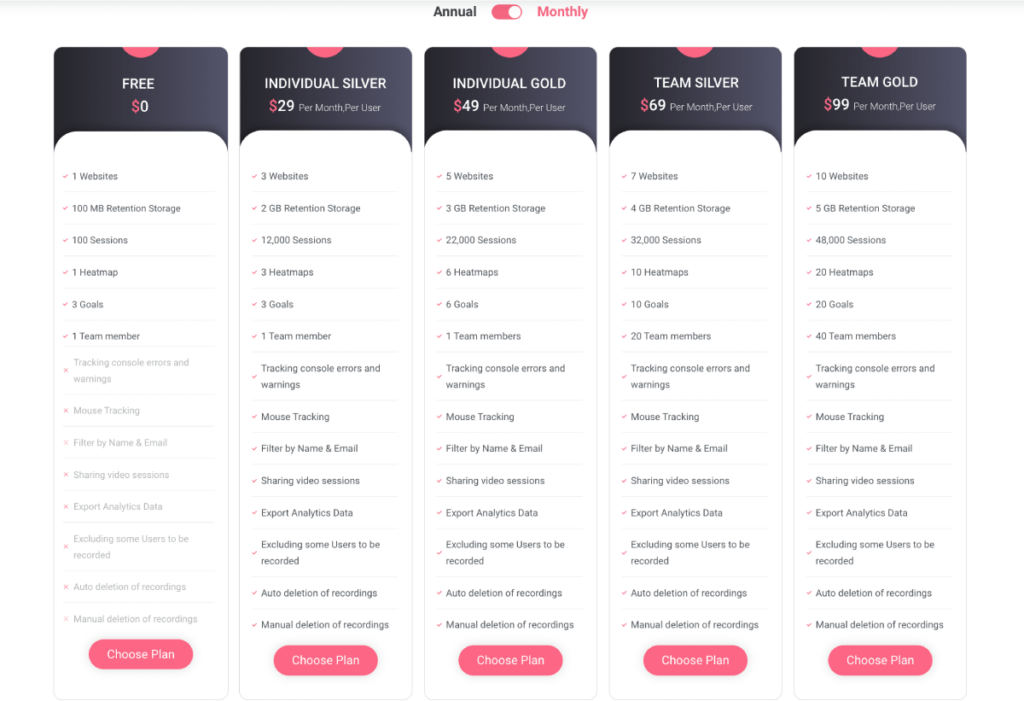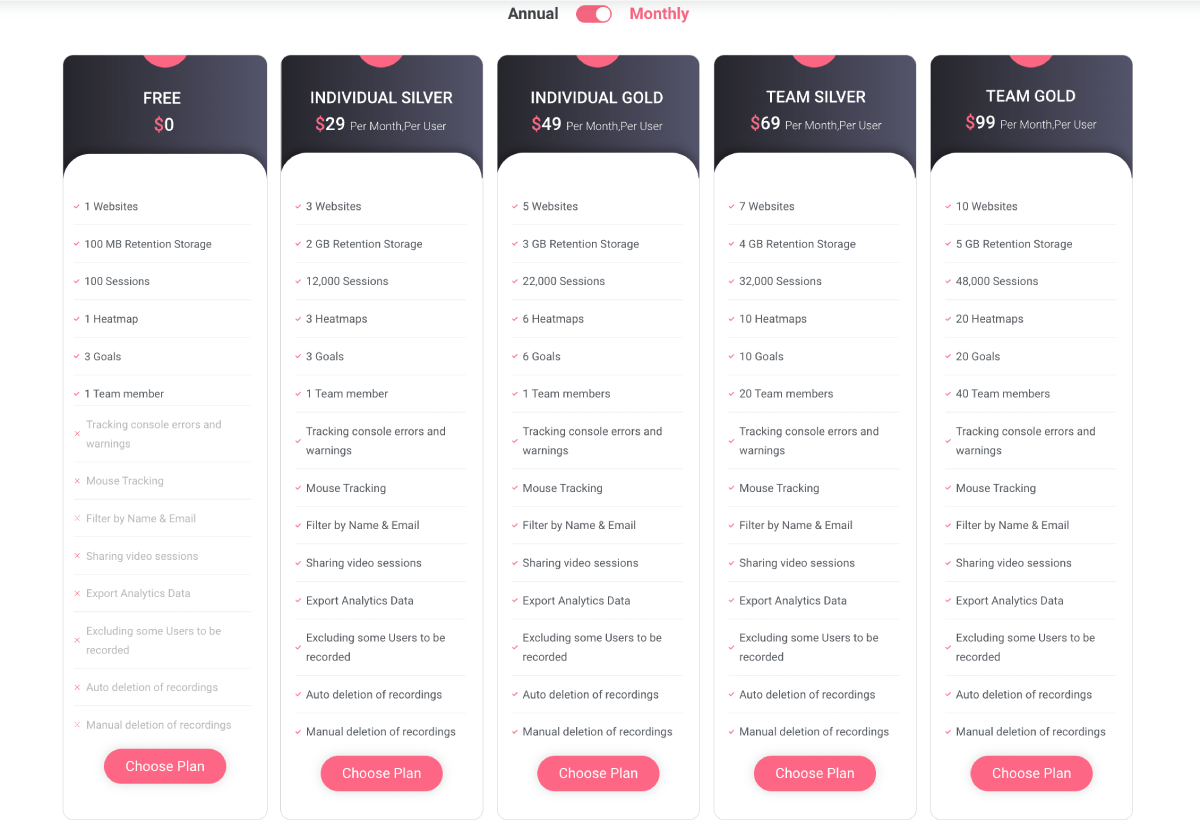 WatchThemLive is a great mixture of business intelligence and powerful analytics. You just need to define your goal and use WatchThemLive's goal tracking and session replay software to understand why your visitors abandon your website. Are they annoyed by the sign-up process or ignoring your CTAs?
Don't miss this opportunity and SIGN UP right now!
#2 Hoverowl – Recording Website Visitors Made Easy
Hoverowl was founded in 2015 by Chris Favarolo. If you're looking for a tool to get a deeper understanding of how your users navigate your website, Hoverowl is another useful brand out there for recording website visitors. They provide multiple features such as heatmaps, mouse tracking, session replay, and so on.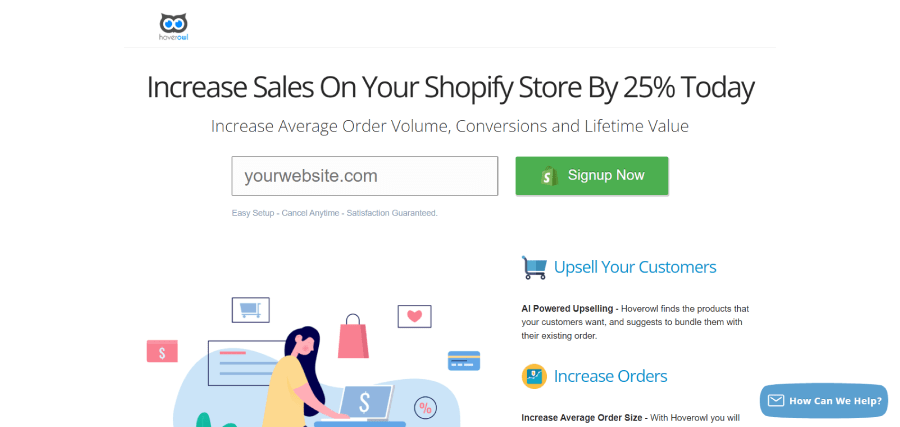 Use session replay software along with heatmap analysis to see exactly where people are clicking and hovering with the mouse. So, you can easily improve your web pages.
Hoveowel offers a free 14-day trial on any plan you want. All the plans are as follows:
Snowy Owl plan – $25 per month or $19 per month (paid annually).
Great Grey Owl plan – $49 per month or $37 per month (paid annually).
Wise Owl plan – $99 per month or $75 per month (paid annually).
Enterprise Owl plan – $249 per month or $187 per month (paid annually).
#3 Lucky Orange – Solution to Website Visitor Recording
They give you a chance for website visitor tracking and session replay solutions as well as heat mapping. Another feature that they provide is form analytics which tells you why people are abandoning your forms.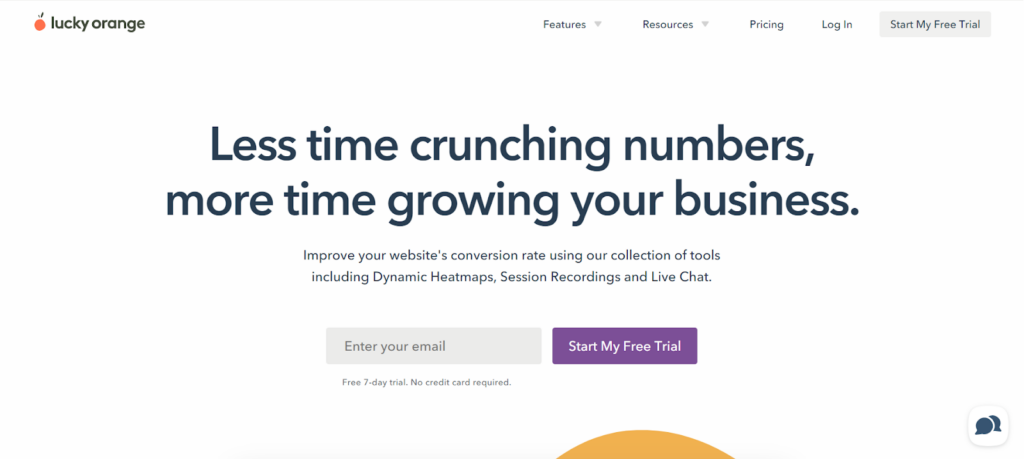 Users can also filter and segment visitor recordings to better analyze their data.
On the downside, you need to know that it has a long loading time that can be annoying while you're watching sessions.
Lucky orange comes with a free plan and a free 7-day trial. Other paid plans include:
Build: $14 per month,
Grow: $28 per month,
Expand: $58 per month,
Scale: $128 per month,
Enterprise: Let's talk.
#4 SessionCam – Simple Visitor Recording
SessionCam can be grouped with the rest of session replay and heatmap tool providers. It is a SaaS-based solution that is now part of Glassbox features. The trait that separates them is the algorithm that SessionCam is using for visitor recording and detecting problems in visitors' experience. This alone will persuade us to put this tool on our top 9 list.
It uses a machine-learning algorithm that automatically identifies areas in which users may be having difficulty navigating your website.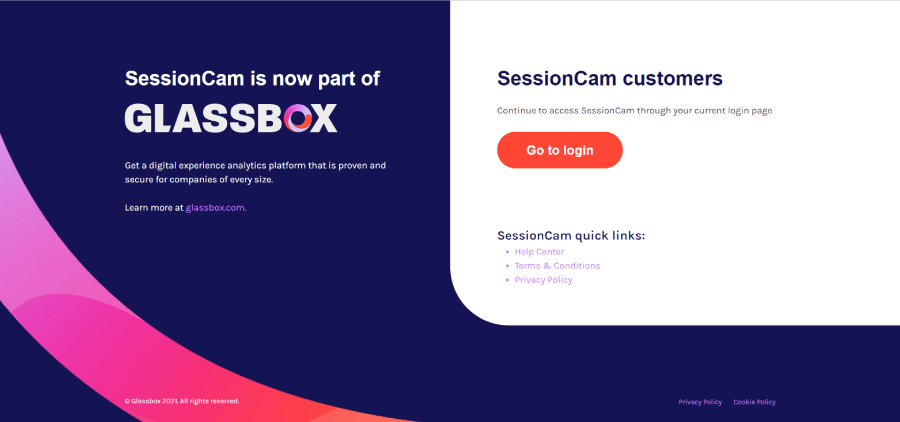 Disclaimer: Putting all the compliments aside, the sessions do not record third-party tools like live chat, surveys, etc.
Unfortunately, their pricing is not clear and they don't offer a free plan. Also, they don't directly say that they have a free trial. You should contact them to understand.
#5 Contentsquare – Record Website Visitors in Detail
This is an experience analytics software that includes a feature to record website visitors. It enables users to visualize how visitors interact with each element of their website with the help of every click, hover, frustration, and intent-driven behavior. They also offer a number of other solutions such as session replay, customer journey analysis, zone-based heatmaps, and much more.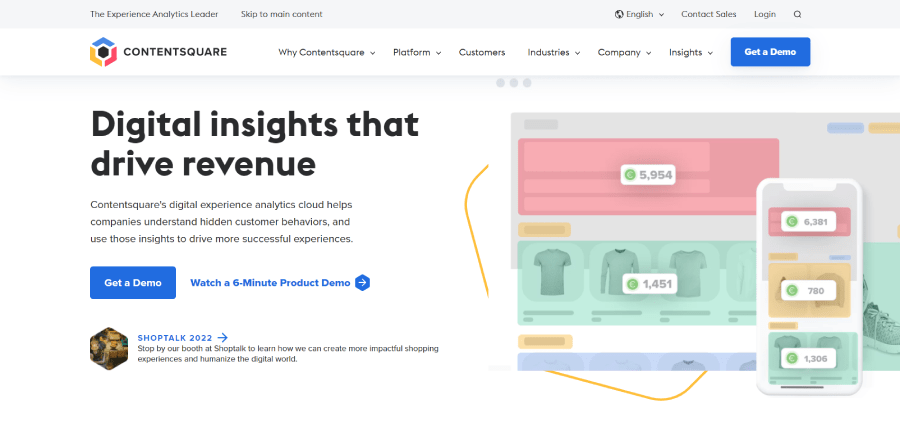 You can also record user session based on specific behaviors, such as checkout completions to investigate which website errors could potentially be having an effect on performance.
Disappointingly, as a non-experienced user, it takes a long time to fully understand and utilize this visitor recording tool, especially the mapping setup. Moreover, their plans and pricing are not accessible on the website.
#6 Mouseflow – Comprehensive Visitor Recording Software
It is one of the older visitor recording software solutions in the market. They provide services like heat mapping, click tracking, session replays, and so on. If you're one of those who are looking for a way to understand how a page is working, you just need to use session replays in conjunction with a website heatmap tool.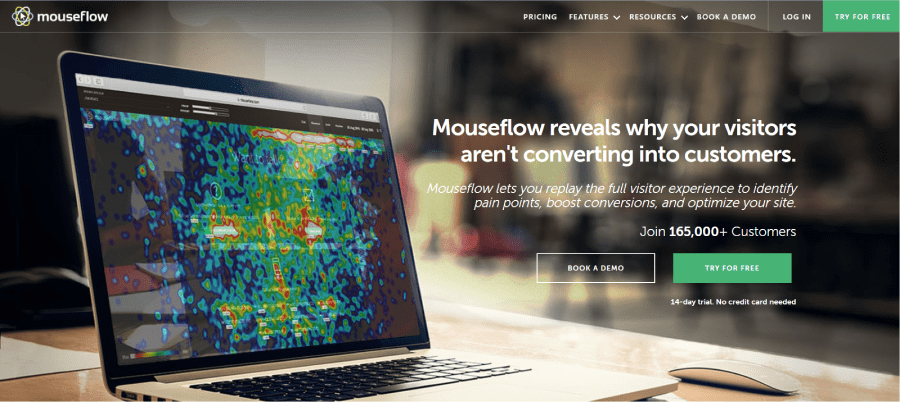 According to their claim, you can integrate Mouseflow with most web platforms. But, you may experience technical difficulties with session recordings on websites that require responsive or dynamic pages. As a result, some clicks may not be accurately measured and the visual representation of data on the screen may not perfectly match up with actual events.
In the following, we're going to talk about its plans and pricing. Mouseflow offers four paid plans, including:
Starter: €31 per month when paid annually,
Growth: €109 per month when paid annually,
Business: €219 per month when paid annually,
Pro: €399 per month when paid annually .
They also offer a free 14-day trial.
If you want to know more about the tool, read this comprehensive Mouseflow review.
#7 Smartlook – Recording Website and More
Smartlook is a qualitative analytics solution for websites and mobile applications that makes recording websites look easy. It promises to help you understand the reason behind your customers' behaviors and get rid of the guesswork. Smartlook provides you with heatmaps, session replays, and event tracking to study user behavior at the micro-level.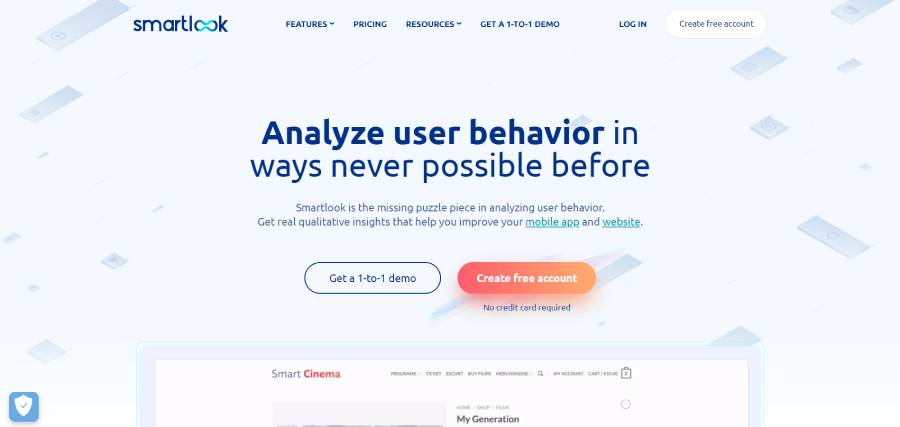 Disclaimer: Although it allows you to filter your data, you can't filter your funnels. And what I didn't like about this tool is that it is not possible to view the interactions between visitors with an iframe when browsing a web page.
#8 Inspectlet – A Website Visitor Behavior Tracking
Inspectlet is another option on our list. It offers you the opportunity to record videos of your site's visitors and gain insight into how they use your site. You will be able to observe each action taken by visitors on your site – mouse movements, scrolling, clicking and typing – so that you can analyze their behavior and make changes accordingly.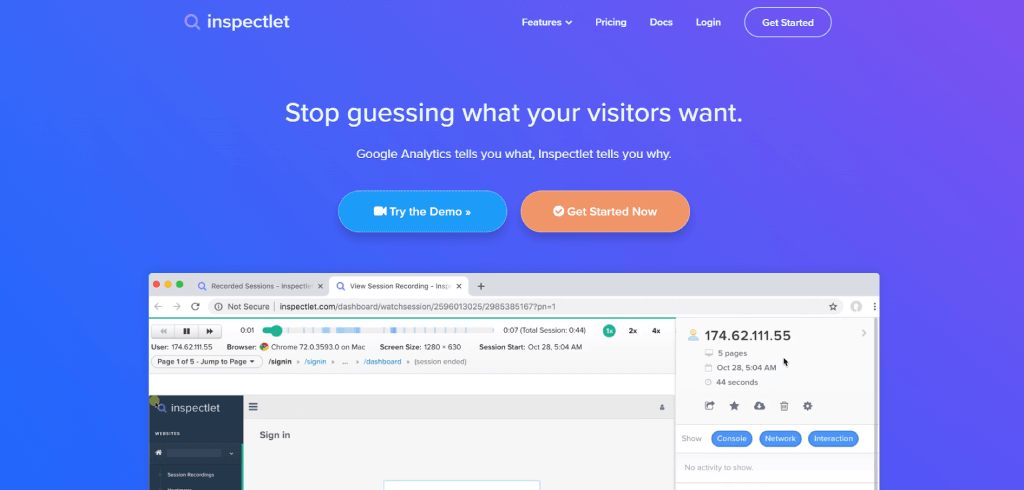 I should say that on rare occasions, there may be temporary issues that appear in their screen recordings. While not ideal, these recordings still give a broad look into how users are interacting with your website.
Inspectlet offers a free plan with 2,500 recorded sessions per month. And paid plans are as follows:
Micro: $39 per month,
Startup: $79 per month,
Growth: $149 per month,
Accelerate: $299 per month,
Enterprise: $499 per month.
You can read our Inspectlet review if you're curious to know more about it.
#9 LogRocket – Session Recording Software
Next on our list of the visitor recording software sits LogRocket; a tool that claims to help businesses create a flawless product experience for their users. This platform provides its users with the ability to perform product analysis, track errors, and record user session on their websites.
LogRocket features include session replay, fronted performance monitoring, product analytics, error-tracking and issue management, and user experience analytics.
If you're considering LogRocket to record website visitors, you need to know a few points before making any decisions. Firstly, LogRocket only allows you to view the recorded sessions for a month. Secondly, Users have reported that these session replays are not complete and some of them are missing. Thirdly, if you're a small enterprise or short on budget, this tool is not a good option for you as it's highly expensive.
LogRocket Pricing and plans are as follows: 
Free Plan – 1000 sessions, 1-month data retention,
Team: $99 – 10,000 sessions, 1-month data retention,
Professional: $500 – Starting at 25k sessions, advanced filters & issues, detailed product analytics,
Enterprise: Needs contact – custom volume of sessions, self-hosted available, advanced features.
If you're curious to know more about this visitor recording tool, you can read this comprehensive LogRocket review.
#10 Crazy Egg – Record Visitors on Your Website
Let's talk about Crazyegg; a conversion rate optimization software that promises to help website owners see the truth behind website visitors' behavior. This platform offers features such as A/B testing, session replays, heatmaps in five reports (including a heatmap, scroll map, confetti, overlay, and list report), traffic analysis, and surveys. 
You can watch website visitors' recording in its 30-day free trial, but Crazyegg offers five different plans as well:
Basic: $29/mo,
Standard: $49/mo,
Plus: $99/mo,
Pro: $249/mo,
Enterprise: Available upon request.
A word of caution: Although rich in features, there have been reports that Crazyegg slows down your site speed to some extent. For more information, you can check our Crazyegg review. 
#11 Glassbox – Digital Customer Experience Analytics
Here's yet another tool for website visitor recording. Glassbox is a digital analytics platform that offers a variety of features, including session recordings, heatmaps, customer journey analytics, and product and funnel analysis. 
Besides a demo, Glassbox offers two plans; the Optimize and Enterprise. Unfortunately, the pricing for these packages are nowhere to be found, and you have to contact them to see how much the services cost.
One thing we're sure of, though, is the fact that many of their services are only available in Optimize plan as ad-ons. This means that you'll be charged extra if you want to add each one of them.
Check out this thorough Glassbox review if you're interested to know more about it.
#12 LiveSession – Record User Interaction on Website
LiveSession is another platform that you can use to record website visitors. This tool promises to help you understand your users and improve the UX of your website. Also, it claims that it can help you boost your conversion rate. 
Features offered by this website recording tool include session replays, funnels, and click heatmaps.
Besides a free plan, LiveSession offers its services in three different packages:
Basic: $65/mo,
Pro: $99/mo,
Enterprise: Available upon request.
#13 UXtweak – UX Research Tool
Last but not the least is UXtweak. This platform is mainly focused on boosting user experience on your website by offering a range of features, including sessions recording software, useability testing, and user behavior analytics. 
UXtweak claims that they're the 'only UX research platform you need'. Ironically, however, user reviews on this tool show that the UX of their own platform needs improving.
If you plan on recording website visitors with this tool and get insights into your users' behavior, you might have difficulty comparing it to other similar platforms as UXtweak hasn't come clean about its pricing on their website.
Website Visitors Recording: Which Tool to Pick (Final Verdict)
A very crucial point that marketers or website owners often miss is that they should be able to varify the data they get from user behavior software through different ways. It's not enough to just record users on a website. Enhancing user experience is more than that.
Therefore, it's best to pick out an all-in-one user behavior analytics tool that can meet every single one of your website optimization needs. WatchThemLive is one of those tools that provide you with everything you need in your visitor recording journey. 
Here's why we recommend WatchThemLive for businesses:
It's GDPR compliant,
Its session replay feature gives you the opportunity to record user interaction on your website hassle-free,
Its click heatmaps allow you to see which parts of your web pages are receiving the least and most attention, 
It offers a mouse tracking tool that enables you to see how the users navigate your web pages, 
It offers you a goal-tracking feature that gives you the chance to calculate the conversion rate of your website as well as track other goals, 
Its website recording tools track down every detail you need about your website visitors and display them visually in an analytics dashboard, 
It offers visual live chat (which is almost non-existent in other similar platforms) to enhance your performance when it comes to customer support,
Besides all these website visitor recording services, it offers a video testimonial feature which gives you the opportunity to collect user feedback in form of video and add to your reputation and brand awareness. 
And finally, all these amazing features come at a very reasonable price!
I think there's no room left for speculation anymore! Waste no time and SIGN UP on WatchThemLive for FREE to guarantee your success!
Recording Website Visitors FAQs
Now that you know the best 9 great tools to record website visitors, let's move on to some of the most important questions in this regard.
Q1: What Is the Best Tool to Record Website Visitors?
When it comes to website analytics, understanding your website visitors is key. Knowing who visits your website and what pages they visit can provide actionable insights that can help you optimize your content and improve your user experience. The best tool for recording this data is a web analytics platform like WatchThemLive.
As previously mentioned, it allows you to track website visitor behavior with ease. You can get detailed reports on page views, time spent on site, bounce rate, and more.
What sets WatchThemLive apart from other tools is that it's an all in one tool. It provides you with whatever you need to provide the best and personalized customer experience.
All WatchThemLive features include:
Session recording,
Analytics dashboard,
Heatmaps,
Console recording,
Advanced filtering,
Page tracking,
Video testimonial,
Goal tracking,
Q2: Can You Track Website Visitors?
Of course, website owners and administrators have the capability of tracking website visitors. This can be done through a variety of tools, such as using analytics tools to monitor visitor activity. By learning about who visits their websites, companies can gain valuable insights and make informed decisions about their marketing strategies.
These tools allow webmasters to track important metrics like length of stay on a page, number of pages visited per session, geographic location of visitors, devices used to access the site, and more. That's why we've compiled a list of great free tools for you to help you make up your mind based on your needs.
Conclusion on Recording Website Visitors
By recording website visitors, you will get tons of useful information that can help you optimize your business for the best results.
We talked about the many benefits of screen capture recording and how online recording and analyzing visitors' behavior on your website can benefit your business.
When it comes to choosing a free website visitor tracking and recording tool, our number one choice is WatchThemLive. They are providing so many features on their free package and also have the most cost-efficient product on the market.
WatchThemLive provides real-time data of your users' actions. Record how they use your product and watch them live! Assess engagement levels and user behavior in seconds. Get the insights you need to design a better user experience and maximize conversions on your web app. SIGN UP right now! It's FREE!