Crazy Egg is a digital analytics tool that allows you to track your visitors. It creates heatmaps depending on where visitors click on your website. As a result, it provides you an indication of where to concentrate your efforts. CE helps you to filter data based on the top 15 referrers, search phrases, OS systems, and so on.
Simply, you place the JavaScript tracker code on your website pages that you want to be tracked.
Crazy Egg tracks your visitors' activity after the code is placed on the sites you are tracking. Then, your servers will generate a report that displays the number of clicks on your website. The reports may be viewed on the dashboard within the Crazy Egg member's section. Seemingly, setting up Crazy Egg is pretty straightforward.
Related Article: Hotjar Review: Does It Suite Your Business Needs?
Crazy Egg Key Features
CE provides a set of insights to shed light on how your visitors are experiencing your site. Here's a list of Crazy Egg services:
Heatmaps are UI/UX analytical tools that help website owners get a valid idea of where their users click most. It provides a clear picture of your users' focus points on your website. Heat map guides you to modify your UI and get the most conversion from your visitors.
Session recording is a valuable CRO tool that allows you to see your users' interaction with your website anonymously. It's as though you stand next to them, observing how they click, scroll, and browse your website.
With the A/B testing tool of CrazyEgg, you can simply choose an element to test ideas. It helps you experiment with alternative headlines, copies, and product descriptions to see which one converts the best.
Crazy Egg's overlay tool adds a plus (+) symbol on the clickable areas of your website. Then, you can click on these marks to check how many people clicked on them.
Confetti report categorizes clicks for you based on referral sources, search queries, and so on. It provides you with click pattern insights and 17 digital marketing metrics to understand your visitors' on-page behavior.
The scroll maps are helpful tools that provide information about how far users scroll down on your website. Crazy Egg allows you to control where visitors leave your website, where to keep them, and where to add more to keep them for longer. This Crazy Egg tool also helps you find your above-the-fold to design your UI accordingly. For those who don't know what does above the fold mean, it's where users see on your site without scrolling.
Instaling Crazy Egg
How does Crazyegg work and how can you install it?
Insert the tracking code of your website into your source code. It will automatically track the user's behavior. The servers create reports that provide you with insights. Work with your dashboard settings to check the reports.
Crazy Egg Pricing
When you want to upgrade to the paid plans they start from $24 per month. Moreover, all Crazy Egg plans are billed annually.
Let's check what is the cost of Crazy Egg software: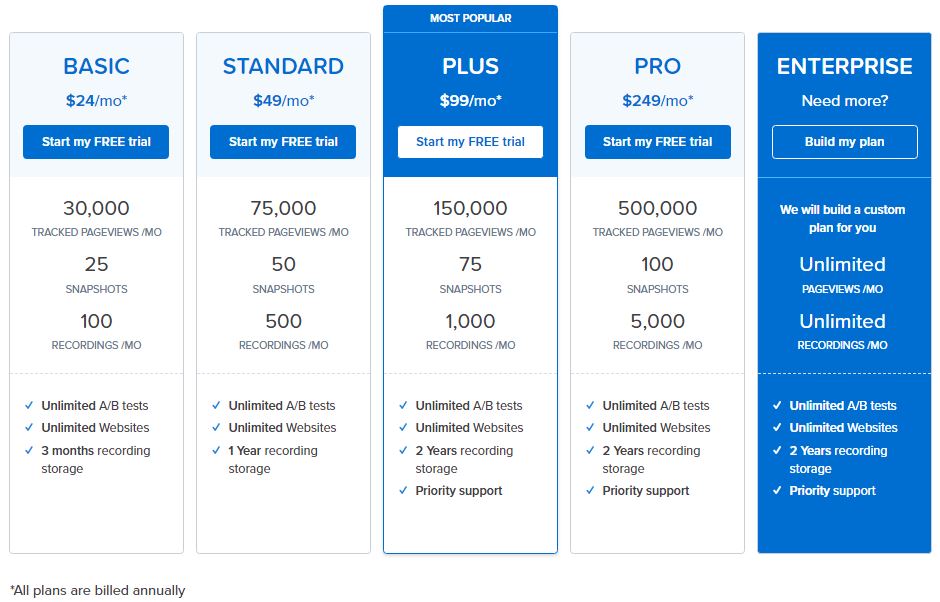 Crazy Egg Review: Pros and Cons
We've checked online Crazyegg reviews and came up with the following pros and cons most mentioned by reviewers. While there are benefits in using CE for analyzing your website visitors' behaviors, some disadvantages are reported by its users. Here are the captured relevant reviews from sites like Capterra, Getapp, and TrustRadius:
Pros
CrazyEgg is easy to use. It's easy to install and get started with it in a few minutes:

It is believed that CrazyEgg has a good UX and UI:

Also, CE allows for customer segmentation based on their referrer, location, etc.:

Seemingly, CrazyEgg integrates well with external software which is beneficial for users:

Cons
According to the Crazy Egg pricing page, its users get billed annually and don't have a month-to-month payment option:

Some reviews have mentioned that Crazy Egg doesn't capture some users in the analytics:

Moreover, Crazy Egg can slow down page load, according to some reviews:

Reviewers reported that customer support was relatively weak:

CrazyEgg Alternative
After reading this review you may wonder what other options you can have instead of Crazy Egg. That's why we'd like to introduce a great CrazyEgg alternative for your analytics needs. Watch Them Live provides similar tools and services to website owners and digital marketers:
Watch Them Live provides similar solutions to Crazy Egg. It's an easy-to-use, easy to install tool for any kind of website. You can sign up and get started with your session recording and heatmap tools in just a few minutes.
WTL's Session Replays are great for observing visitor actions, clicks, and engagements. So, you will have enough data to plan advertising and retargeting campaigns.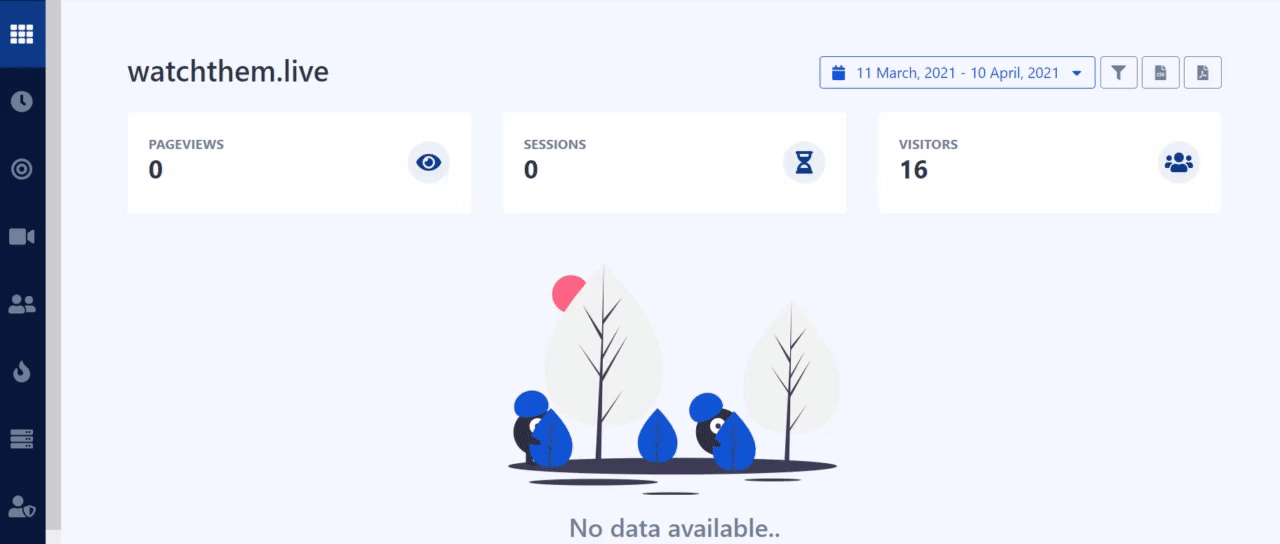 Similarly interesting is the Heatmap tool of WTL which enables you to see which sections of your pages attract engagement.
WTL gives you 90 days free trial compared to 30 days trial of Crazy Egg. Here's the price for Watch Them Live:

Simply, this CRO tool helps you understand how users interact with your website and where needs improvement. You can try WTL right now!

Conclusion
Throughout this article, we reviewed Crazy Egg, which is an online user behavior analytics tool. Considering its features and pricing and online reviews, it can be an effective product for small teams. Though, there are other good alternatives to CrazyEgg such as Watch Them Live.
All these digital marketing tools have relative pros and cons. That's why they should be checked individually based on your unique analytic requirements.