Have you ever wanted to see what your users do when entering your website? This is what a marketing analytics tool like Crazy Egg is supposed to help you with.
This tool allows users to track activities, create heatmaps, and see where visitors click most on your website. As a result, it provides you with an indication of where to concentrate your efforts.
In this article, we're about to have a thorough review of this service and tell you how this CRO tool works.
Then, we'll discuss the features of WatchThemLive, and you'll see why this tool can be an amazing alternative to CrazyEgg.
Now, are you ready to start our journey? Let's dive in.
What Is CrazyEgg
It is a user behavior analytics tool that helps website owners improve the current features on their platform, fix bugs, and test new options to see how well they work.
What Does CrazyEgg Do
Before getting into the reviews, first, let's explain what this tool does. This service lets you watch visitors' activities on your website.
The insights you are supposed to gain from this service will help you understand your audience and then boost your website's conversion rate. To better understand what this platform does, let's take a look at some of its main features.
Crazy Egg Key Features
This platform provides a set of services to shed light on how visitors experience working with your site. Here's a list of Crazy Egg features.
1. Heatmaps
Using CrazyEgg heatmaps, users can see where is clicked more and where is left unnoticed. Heatmaps are UI/UX analytical tools that, by the help of taking snapshots, help website owners know what needs improvement and what needs to be totally changed.
It provides users with focus points in five reports, including a heatmap, scrollmap, confetti, overlay, and finally, list report.

These reports allow users to figure out where to put CTAs and see the number of clicks in each section. In general, heat maps guide you to modify your UI and get the most conversion from your visitors. In the following, we'll provide you with the function of some CrazyEgg reports.
#1 Overlay Report
CrazyEgg's overlay tool adds a plus (+) symbol on the clickable areas of your website. Then, users can click on these marks to check how many people clicked on them.
#2 Confetti Report
Confetti report categorizes clicks based on referral sources, search queries, etc. It also provides click pattern insights and 17 digital marketing metrics to understand visitors' on-page behavior.
#3 Scrollmap Report
Scroll maps are helpful tools that provide information about how far users scroll down on a website. Crazy Egg allows users to control where visitors leave a website, where to keep them, and where to add more to keep them for longer. This CrazyEgg tool also helps users find above-the-fold to design their UI accordingly.
2. Recording
Session recordings can be considered a valuable CRO tool that allows you to anonymously see your users' interactions with your website.
Using a session replay tool, website owners can usually see what motivates their visitors to stay on a page or leave, where they scroll, click, or even give up using their website and exit the page.
3. A/B Testing
With the A/B testing tool of Crazy Egg, you can put two possible options on the table, for example, two types of CTAs or headlines, etc., and see which one works better.
4. Traffic Analysis
Among CrazyEgg features, tracking website traffic is another option. With this option, users are able to see how much every blog, landing page, campaign, etc., bring traffic to a particular website.
5. Errors Tracking
This platform tracks errors and claims to be able to show users which visitors faced bugs and which are the priorities to be fixed. Plus, users can resolve errors or totally ignore them.
6. Surveys
Finally, users can ask for client feedback by creating multiple survey forms and analyze their behavior based on the received responses.
CrazyEgg Pricing
Now let's look at its monthly plans and their pricing. It starts from $24 per month and seems to be billed only annually:
Basic plan – $24 per month
Standard plan – $49 per month
Plus plan – $99 per month
Pro plan – $249 per month
Enterprise plan – customer pricing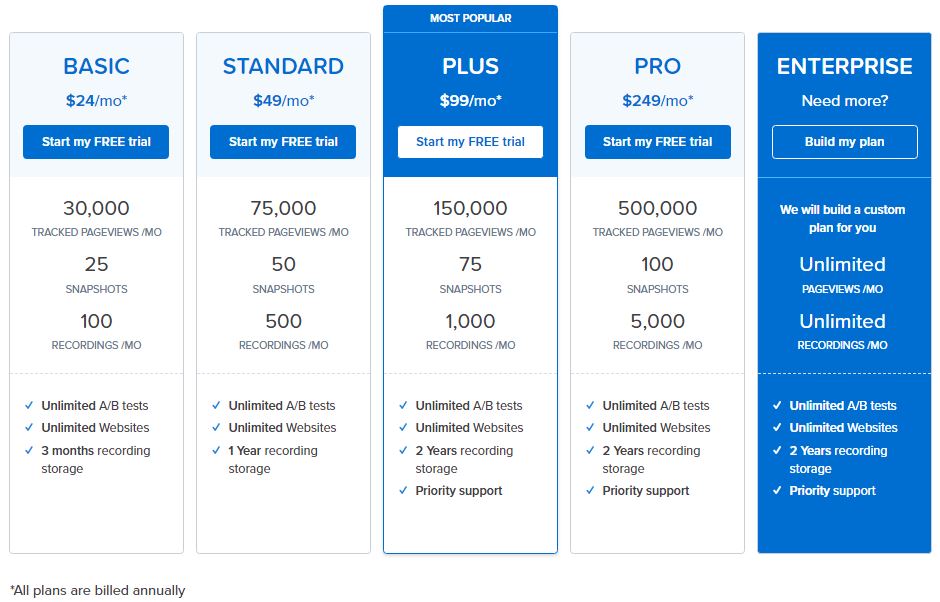 This tool doesn't offer a free plan, but all the plans include a 30-day free trial. Also, keep in mind that there are CrazyEgg alternatives that provide more session recordings per month at a lower cost. For example, the basic plan only includes 100 recordings monthly, which won't provide you meaningful insights if you have a high-traffic website.
CrazyEgg Review: Pros And Cons
We've checked online CrazyEgg reviews and came up with the following pros and cons, most mentioned by reviewers. While there are benefits in using Crazy Egg for analyzing your website visitors' behaviors, some disadvantages are reported by its users. Here are the captured relevant reviews from sites like Capterra, Getapp, and TrustRadius:
CrazyEgg Pros
Crazy Egg seems to be easy to use, install, and get started with it,
It is believed that Crazy Egg has a good UX and UI,
Also, this platform allows for customer segmentation based on their referrer, location, etc.,
Seemingly, it integrates well with external software, which is beneficial for users.
CrazyEgg Cons
According to the Crazy Egg pricing page, its users get billed annually and don't have a monthly payment option,
Some reviews have mentioned that this platform doesn't capture some users' activities in the analytics,
Moreover, this service can slow down page load, according to some reviews,
Reviewers also reported that customer support was relatively weak.
CrazyEgg Review on G2 & TrustRadius
This platform has got many reviews on websites like G2 and TrustRadius, and here we are to mention some of the users' comments and see to what extent Crazyegg is trustable.
Based on reviews, the session recordings could perform better, and some believe that it is not reliable at all.
Plus, A/B testing on this platform seems difficult to use sometimes.
Some users also believe that A/B testing could be more effective if it were integrated with other tools as well.
Finally, setting up snapshots becomes tricky when users want to track complicated processes on different devices. Moreover, some users state that CrazyEgg doesn't provide enough information on how to use the tool to its full potential.
CrazyEgg Alternative
Now, you may wonder what other options you can have instead of this platform. That's why we'd like to introduce an excellent CrazyEgg alternative for your analytics needs.
WatchThemLive provides tools and services to website owners and digital marketers and paves the way for the ones who want to progress in their niche. In the next section, we discuss all you must know about this platform.
WatchThemLive: The Best CrazyEgg Alternative
WatchThemLive, the best among user behavior tools, provides similar yet better solutions for optimizing the conversion rate on your website. It's an easy-to-use-and-install tool for any website. You can sign up and get started with your session recording and heatmap tools in just a few minutes.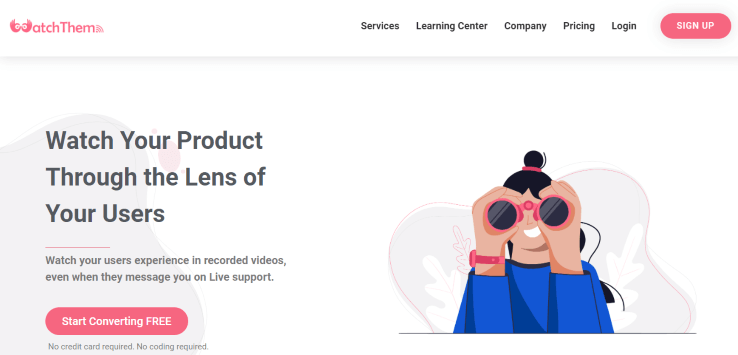 WatchThemLive's Session Replays are great for observing visitor actions, clicks, and engagements. So, you will have enough data to plan advertising and retargeting campaigns.
Similarly interesting is the Heatmap tool of WatchThemLive, which enables you to see which sections of your pages attract attention. In the following, you're gonna find out more about this CrazyEgg alternative.
WatchThemLive Features
Apart from session recordings and heatmaps, other features of this Crazy Egg alternative include:
Website analytics using an all-inclusive dashboard,
Creating goals and tracking their conversions over time,
Adding as many websites as you have to one single dashboard,
Visual live chatting to ask questions and resolve console errors by watching recorded sessions at the same time,
Event tracking and recording video testimonials,
And user tracking and gaining visitors' information like the type of device, OS, language, etc., they use.
WatchThemLive Pricing
WatchThemLive offers a free plan, and the paid plans are more affordable than Crazy Egg pricing, while they provide more features. For example, you can record 5,000 session recordings with this tool's free plan. Here's the pricing for WatchThemLive packages:
WatchThemLive Pricing
This CRO tool helps you understand how users interact with your website and where it needs improvement. So, what are you waiting for? Try WatchThemLive right now!

FAQs on CrazyEgg
Now that we've had a complete Crazy Egg review, it's time to take a look at other frequently asked questions regarding this platform. Let's go!
1. What Is CrazyEgg Used for?
I is an analytics tool that helps website owners optimize their conversion rate, keep track of user behavior, find errors, and improve their website features.
2. When Was CrazyEgg Founded?
This CRO tool was founded in 2006 by Hiten Shah and Neil Patel.
Conclusion
Throughout this article, we reviewed Crazy Egg, an online user behavior analytics tool. Considering its features, pricing, and online reviews, it can be an effective product for small teams.
All these digital marketing tools have relative pros and cons. That's why they should be checked individually based on unique analytic requirements. However, there are other better alternatives to CrazyEgg, such as WatchThemLive.
So, what are you waiting for?
Sign up on WatchThemLive right now and enjoy analyzing your customer behavior!