LogRocket started its business aiming to provide its users with everything they need to deliver a great user experience. They promise to help you understand the problems affecting your users so you can fix the bugs and keep everything on track.
They started their business as a session replay tool and gradually developed themselves to deliver better solutions for tracking users' errors and improving user experience. But, are they as good as they claim?
You are in the right spot if you have the same question and wish to learn everything about LogRocket. In this review, we're going to look at where LogRocket shines (and where it doesn't) to help you decide whether it's worth a shot.
In the end, we are going to introduce you to the number one LogRocket alternative. If you already did some research and wish to eliminate all the headaches, you can sign up for WatchThemLive right now and skip the article. It's totally free and only takes two minutes to sign up.
Enough with the introduction. Let's start the real business, shall we?
What Does LogRocket Have to Offer
LogRocket believes by combining session replay, error tracking, and product analytics, they can empower software teams to create the ideal web and mobile product experience. They promise to help you deliver a bug-free experience for your website or app users.

This tool is actually a customer analytics software equipped with user behavior monitoring features such as session recording. Although session recording is an essential UX analytics tool, it's not enough to deliver the perfect product experience.
So, LogRocket decided to develop itself and added some other analytics features like heatmaps and performance monitoring to top its game. But, what are the main features of this platform?
LogRocket Features
Let's take a closer look at LogRocket capabilities to help you decide whether it's worth a shot.
Session Recording
We already mentioned LogRocket's best feature. The company takes pride in its session recording and claims to be one of the best in the market.
Just like any other session recording tools in the market, with LogRocket session recorder, you can visit users' interactions on your website. It also reports the issues users encounter during their navigation on your web page or web application. This can give you an understanding of how engaging is your website's UI/UX design.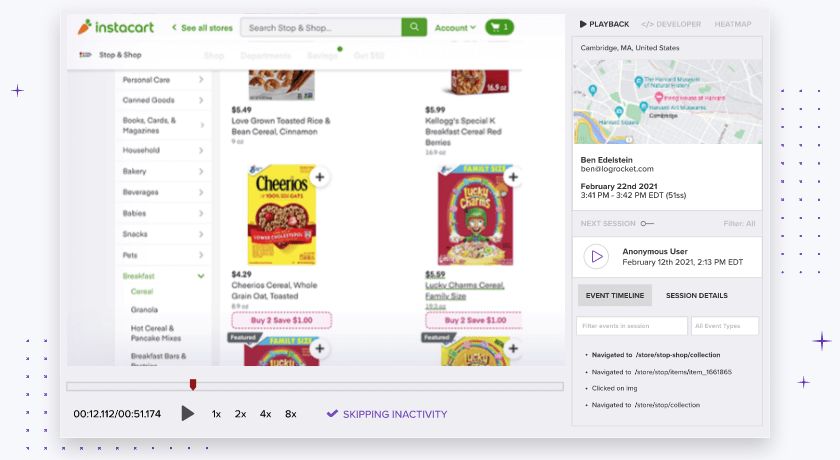 In addition, you can filter and search sessions based on user information, error, location, IP address, name, etc. They promise with looking at session recordings and searching for issues users encounter, you can fix the bugs in your website.
What Users Disliked about LogRocket Session Recording
Sometimes LogRocket session recording misses some users. In other words, when your website has 1000 visitors there should be 1000 session recordings as well. But there is not. We don't know why something like this should happen with a tool that claims to be one of the best.
Plus, when the number of sessions increases, it takes too much time to search for a specific session playback. Just imagine searching for one session between 10,000 sessions. It's like searching for a needle in a haystack!
Moreover, the amount of time LogRocket stores the data is too short. Since there is no way to extract the data unless you sign up for their large plans, you have just one month to analyze the generated data. Just imagine reviewing 10,000 sessions in a month!
Frontend Performance Monitoring
To create a smooth user experience, you need a website optimization tool to measure website performance and detect issues. LogRocket promises to help you improve user experience by measuring page load time, inspecting the logs, tracking javascript errors, and network activity. The platform is going to notify you through email whenever performance metrics drop below the threshold that you've set. However, their alerting system is fairly elementary and you have limited control over it.
LogRocket considers its frontend performance monitoring a high-level feature. Therefore, you have to move to its larger plans and pay 5 times more to use it. It's probably a huge jump especially when you are in a seed round.
User Experience Analytics
As an online business owner, you need to know how your users interact with your website. Is your landing page interesting enough for them? Is there any leak in your sales funnel? Are they noticing important content on your website?
To evaluate your current situation and analyze users' behavior you can use heatmap tools to find a better insight.
Apparently, LogRocket offers a heatmap tool to help with tracking user activity on your product. There are also clickmaps and scroll maps to give you a better insight into how far users have scrolled down and where they had clicked the most.
Plus, there should be a path analysis and funnel builder software in their user behavior analytics package. But very few people mentioned these features! They are not very popular compared to LogRocket's other features.
LogRocket Pricing & Plans
Besides its free plan, LogRocket offers three different tiers: team, professional, and enterprise. Each of them has some advantages and disadvantages. We'll discuss them from bottom to top.
LogRocket Free & Team Plans
Both of these plans basically offer the same thing but in different quantities (and prices). There is not much difference in the features between these two plans.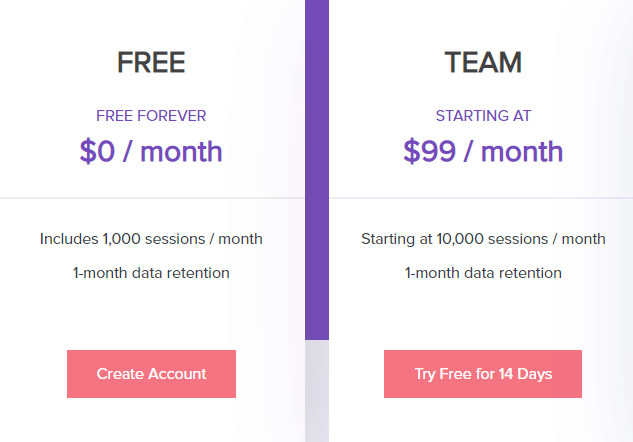 LogRocket's free plan includes 1,000 sessions/month and 1-month data retention. You can add 3 team members. And there is only email support available if you encounter any problems.
There is no need to mention that everything is too limited in this package. Therefore you might think upgrading to LogRocket's team package is a good idea. But, believe me, it's not!
LogRocket pricing jumps from zero to $99 per month just by upgrading to team plan. And what features are added to your plan? NOTHING! With the team package, your session recording numbers increase to 10,000/month, you can add 5 team members, and there is live chat support in addition to email support for you. That's what you get for paying $99 per month for LogRocket.
There is no sign of heatmaps, clickmaps, funnel builders, product analytics, page load speed test, advanced recording options, and advanced filtering. You can't even export the data you generate with LogRocket. You need to upgrade to other plans and pay even more money to activate these features.
LogRocket Professional & Enterprise Plans
Their professional plan starts at $500 per month for 25,000/month session recording. Most of the LogRocket features will be activated with this plan. However, for exporting data you still need to pay extra money. This is kinda unreasonable since every professional webmaster needs to store the data and analyze them through other apps.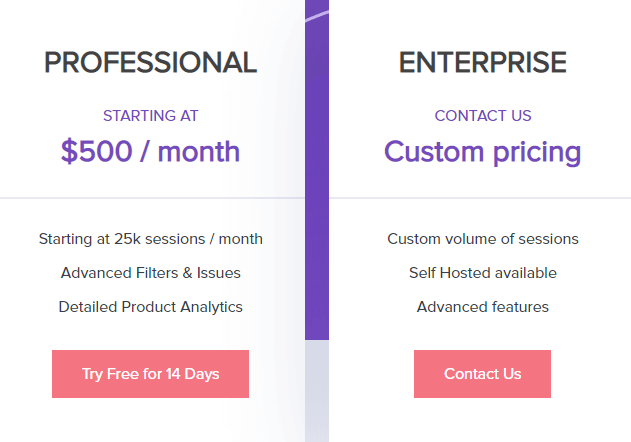 In addition, LogRocket won't keep the data for long unless you pay for a longer data retention period. Therefore it's necessary for its users to save the analytics and session data on their personal storage.
If you want to use LogRocket with no limitations, you have to sign up for its Enterprise plan. The number of sessions and data retention duration is customizable in this plan. But, you need to contact them to find out how much it's going to cost. And it's available only for annual subscriptions.
In terms of LogRocket's plans and pricing, we can conclude that their affordable plans are too limited and their more advanced plans are too expensive. Especially when you compare LongRockedt to other competitors such as WatchThemLive analytics.
LogRocket Pros & Cons
Taking a glance at strengths and weaknesses of anything is a fast and easy way to understand its value. Below is a list of positive and negative points of this product analytics software.
LogRocket Pros
Recording log errors and network status,
Tracking JavaScript errors,
Monitoring rage clicks and dead clicks,
Easy to set up and user-friendly environment.
LogRocket Cons
Rigid pricing structure,
No live chat support for helping the customers,
Slightly decreasing the website performance,
Finding a specific user among all the sessions is difficult,
Limited number of seats (3 agents for free and 5 agents for team plan),
Limited number of sessions (only 1000 recordings for free and 10,000 for team plans),
Data export limitation (exporting data is available only in enterprise plan).
LogRocket Reviews: Final Verdict
As a product analytics software, LogRocked tries to monitor website/web-based app performance mostly through user perspective. They hope they can enable you to deliver a bug-free user experience.
However, according to LogRocket reviews, this platform is more suitable for engineering and product teams to detect the bugs and fix front-end issues rather than eCommerce marketers searching for ways to improve conversion rates. If you plan to use LogRocket on your eCommerce, there are many other CRO tools with better pricing and more advanced features for you.
There are big jumps between LogRocket's tiers. You have to pay five times more to switch from team plan to professional plan. And if you wish to use anything but a simple session recording, you have to purchase their larger plans.
Therefore, it's better to search for an alternative if you wish to stretch your budget. The good news is we have the best LogRocket alternative ready for you. Keep scrolling for a surprise!
WatchThemLive: A Free LogRocket Alternative
WatchThemLive is an all-in-one user tracking and behavior analytics tool that provides you with everything you need for analyzing users' behavior and troubleshooting your website.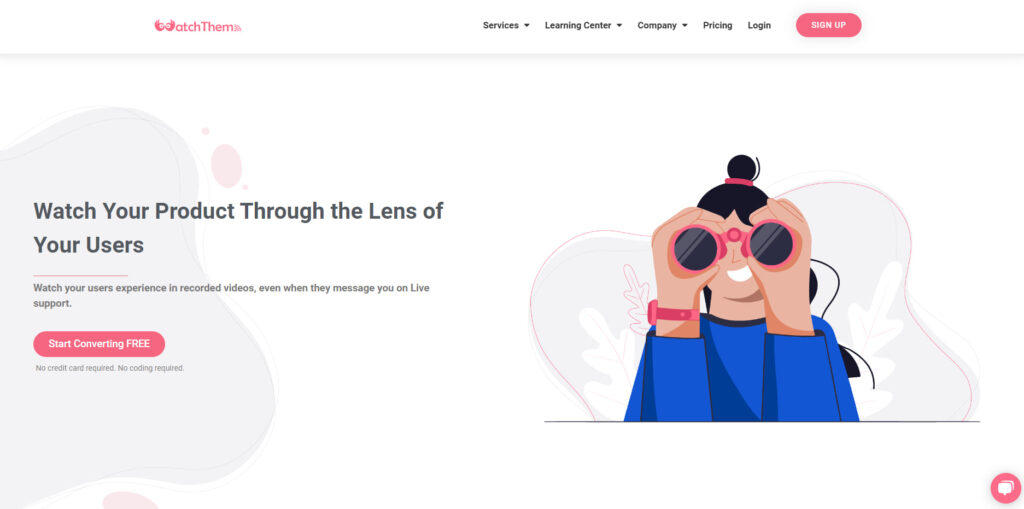 WatchThemLive's number one feature is its session recording. It records every movement of the users like a CCTV. you won't lose any detail with this tool. In addition, to make it easier for you to search between sessions, you can filter them according to the user's location, name, email address, browser, browser language, device, operating system, and even screen resolution.
Besides, it's going to notify you about every error that has occurred on the user's browser. And, there is no time limit for data storage. Plus, you can extract the data whenever you want.
Take the WatchThemLive Team Silver plan as an example. It grants you with: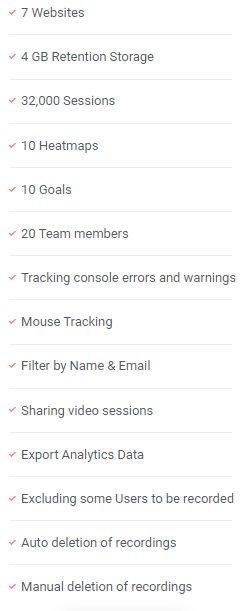 And It costs only $58/month! Compare it to what LogRocket is offering at $99/month! With their plan, you could just use their raw session recording with only 10,000 sessions. But WatchThemLive provides you with everything to monitor your website and detect every issue the users might encounter.
Let's take a look at WatchThemLive's other features.
WatchThemLive Features
Session recording,
Heatmap,
Console recording,
Analytics dashboard,
Goal tracking,
Visual live chat,
Video testimonial.
Heatmaps
WatchThemLive heatmaps give you a crystal clear vision of which areas of your web page are more appealing to the users and create more engagement. With this tool, you can track how far customers have scrolled down, track their mouse movement, and detect rage and dead clicks. This way, you'll realize which parts of your website are interesting to the users and which parts are distracting and requires improvement.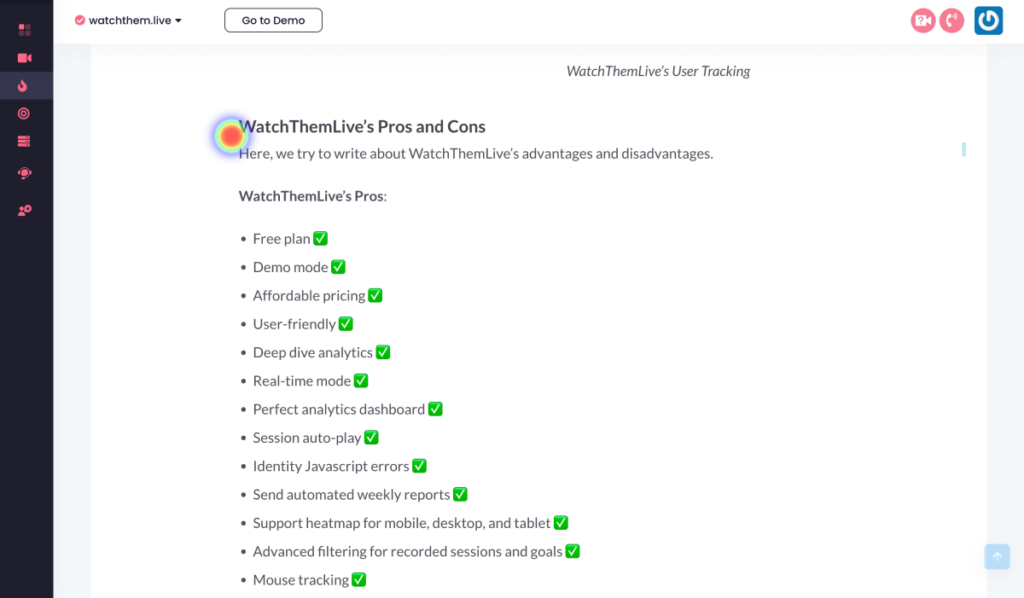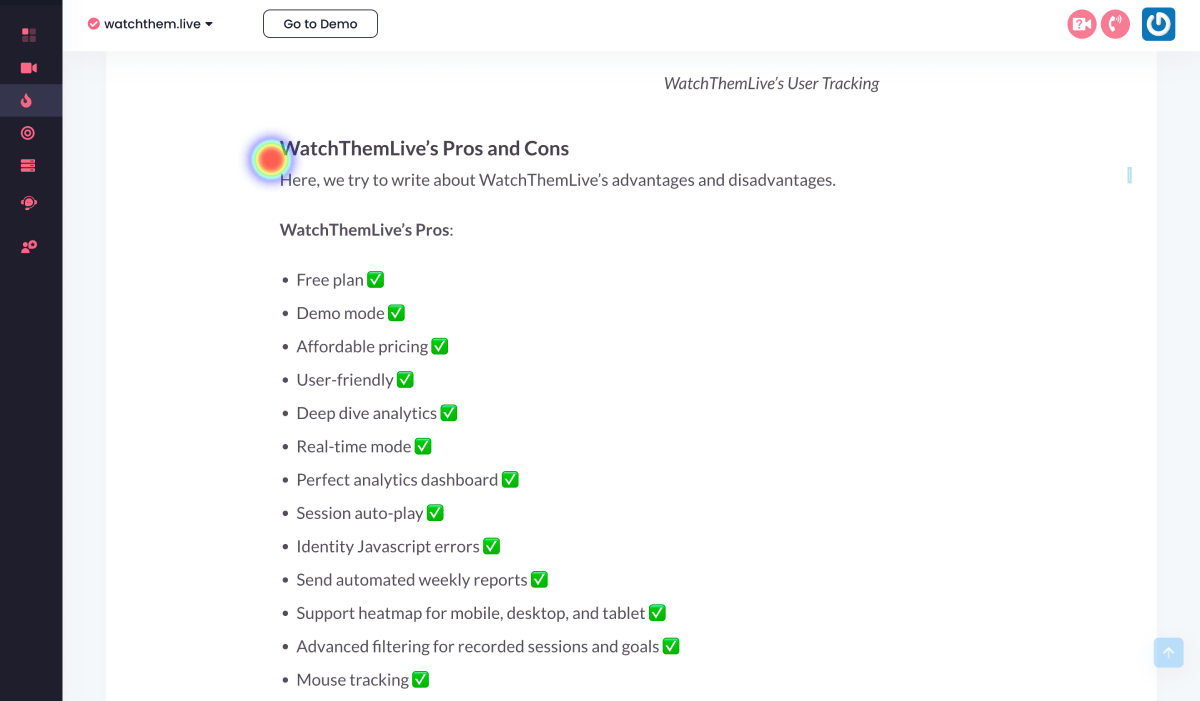 Analytics Dashboard
By collecting and analyzing website data, you can understand your target market better and optimize your website.
WatchThemLive's analytics tool allows you to see what devices your visitors use. This way, you will know what devices you should consider when designing your website.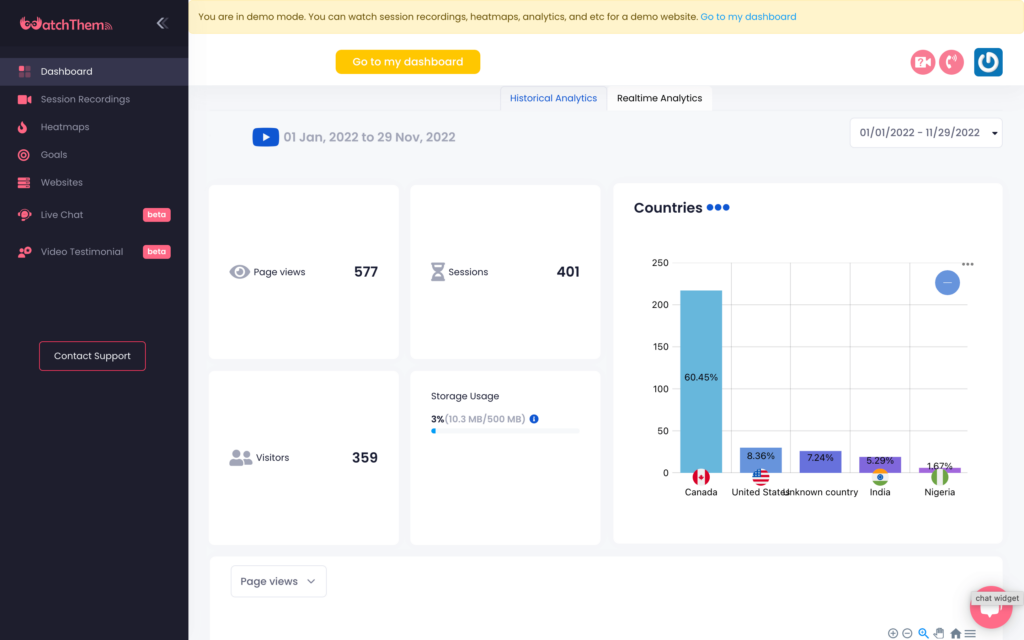 In addition, the analytics dashboard tells you where the visitors are from and what their browser language is. Then, you can create more targeted content to boost your ranking and impression.
Visual Live Chat
Around 85% of the websites in the world use live chat tools. Through live chats, users reach out to you and report the issues they have encountered. If you want to provide a comprehensive instruction and detect the issue, you have to watch the user's season recording to understand what is holding them back.
WatchThemLive's visual live chat pairs users' session recordings to your live chat. This way, you can watch the customer's recording while answering to their questions. And there is no need for you to search for a specific recording between all the sessions.
FAQs on LogRocket
Since we wanted to offer a comprehensive LogRocket review, we are going to answer some of the frequently asked questions regarding this analytics tool here.
What Is LogRocket?
This platform is a cloud-based web page and product analytics software that helps you understand problems affecting your users through reporting error logs, analyzing network data, and recording session replays.
Who Is the Owner of Logrocket?
In 2016, Matt Arbesfeld and Ben Edelstein, co-founders of LogRocket, decided to start their company aiming to facilitate troubleshooting customers' reported issues.
Conclusion
In this article, we tried to answer all your questions regarding LogRocket and its alternative. We discussed what LogRocket does, what its features are, and mentioned its strengths and weaknesses.
And in the end, we introduced WatchThemLive as the best replacement for LogRocket. Thanks to its advanced features and better pricing, WatchThemLive can be considered as one of the best user analytics tools in the market. If you want to monitor everything on the customers' screen and improve your website's UX design, waste no time and sign up right now.