Website analysis has become a crucial step that you should consider in order to understand which part needs to be improved and which is working perfectly well. If you're looking for a way to analyze your website performance, web analytics tools are the solution.
Like CRO tools, these tools can be a valuable asset for businesses and organizations that want to identify potential areas of improvement, optimize their web pages for better user engagement, and maximize conversions. Above all, you can optimize your visitor's journey through the features they provide you with.
Here, we have made a list of the top 20 website analytics tools, along with pricing details and pros and cons. The information can help you choose the best tool for your website. Meanwhile, if you're too busy to scroll down, we won't let you leave empty-handed.
WatchThemLive is absolutely one of the best web analytics tools that give you a better understanding of what users go through. SIGN UP now and take your page optimization to the next level with us!
What Is A Web Analytics Tool
Analytics tools offer a range of advantages that can help businesses optimize their websites for increased engagement, conversions, and ROI. A web analytics tool is a software program that measures, monitors, and analyzes Internet traffic to a website. The data collected by the web analytics tool can be used for website optimization and user experience. The data includes where visitors are from, how long they stay, and what activities they have while they are on your website.
There are many different types of web analytics tools available, each with its own set of features and capabilities. To choose the right one for your needs, it is important to understand what type of data you want to collect and what features are most important to you. In the following, some popular web analytics tools are introduced.
How Do Web Analytics Tools Work
We can categorize web analytics metrics into onsite analytics and offsite analytics.
Onsite analytics: Uses site-specific data to track visitors to a specific website. This is the type of web analysis used by marketers to know about an individual's website performance. Onsite analytics works on the basis of page tagging. The code helps in collecting information from different web pages and their visitors. The information is then further passed on to web analytics organizations to create reports.
Off-site analytics: Uses internet-wide information to determine the most visited pages. This is the type of web analysis based on complete industrial-based website performance.
Nearly all analytics tools 'tag' their web pages using a snippet in that web page code. This tag can help the analytics tool to count every time the page gets a visitor or a click. It can also gather information like the user's device, browser, and location.
Some web analytics services use cookies to track individual sessions and repeat visits from the same browser, but some users delete cookies. As a result, the browser faces many restrictions around code snippets. So, no analytics tool can claim that they have full accuracy of data, and different tools can sometimes produce different results.
The 20 Best Web Analytics Tools in 2023
In the following sections, we have introduced some top web analytics tools. We have tried to list the best tools for web analytics or those that offer a freemium model.
1. WatchThemLive
Our number one suggested tool is absolutely WatchThemLive. This tool includes outstanding features like heatmaps, session replays, web analytics, etc. These features enable you to analyze which content is performing best and which pages need more optimization so you can drive more traffic and engagement to those pages. 
With the help of this web analytics tool, you are also able to identify user behavior patterns in order to improve the product experience. Let's take a look at some of its key features. Shall we?
Web Analytics
This can be done by collecting and analyzing a website's data in order to measure its effectiveness. The data you receive enables you to better understand your target market, optimize your website, and measure the performance of your marketing campaigns.
You can also gain valuable information about your visitors' behavior and boost your business growth. By performing a website analysis, you can simply deliver a better user experience, as it can give you insights into how to improve user experience.
WatchThemLive's website analytics can answer all questions that you have in your mind about users. It offers nine widgets, including:
Pages,
Referrers,
Countries,
OS,
Devices,
Browsers,
UTMs,
Screen Resolutions,
Browser languages.
So, you can gain information like what device your visitors are using, which country they are from, what their browsing language is, and what operating system they are using.
Watch this video to learn more about the WatchThemLive analytics dashboard.
Watch the video below to learn more about the WatchThemLive analytics dashboard.
Session replays
Session recordings are great for seeing the whole journey each customer takes. WatchThemLive's session replay software is a perfect way of gathering qualitative data, and you can set filters such as name, device, location, etc., to check the exact data you are looking for.
Good news for developers! WatchThemLive enables you to identify and fix any errors and warnings that are reported in the user's console.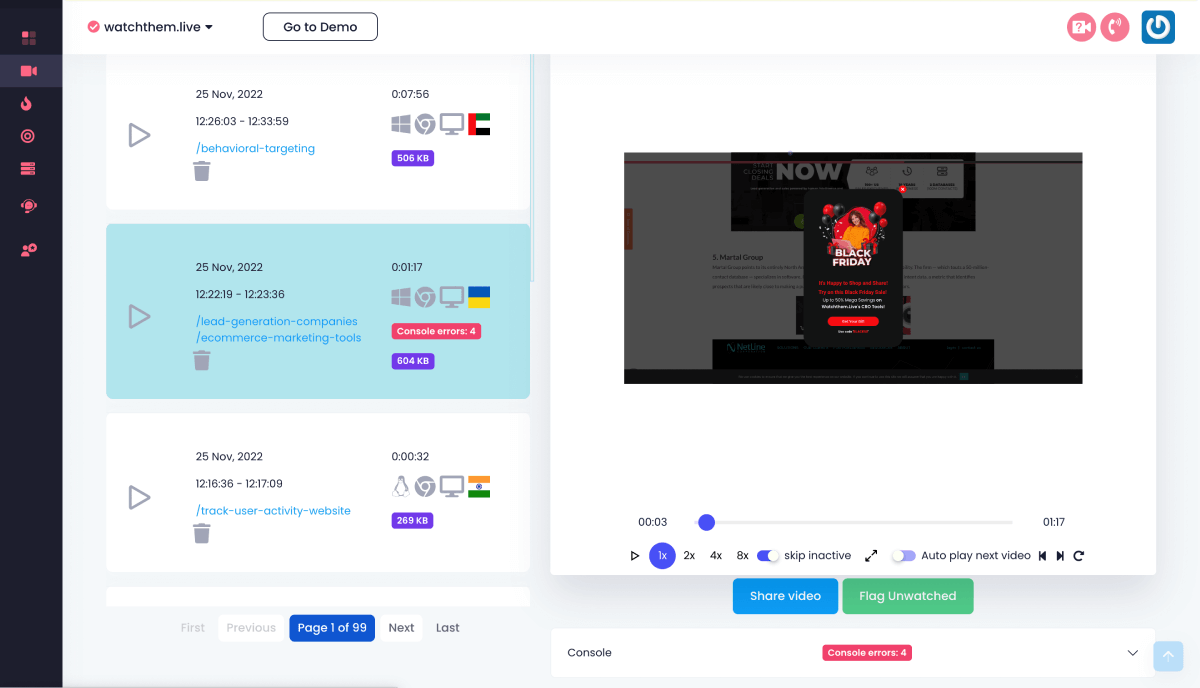 Heatmaps
A Heatmap tool is a graphical representation of data in which different colors are used to display the data and its different values. This analytics tool uses colors on the scale from red to blue to make complex data easily understandable.
Besides clickmap, WatchThemLive provides a mouse tracking tool that helps you track mouse movement. So, you can easily find bugs and glitches that might be preventing your users from effectively using your product.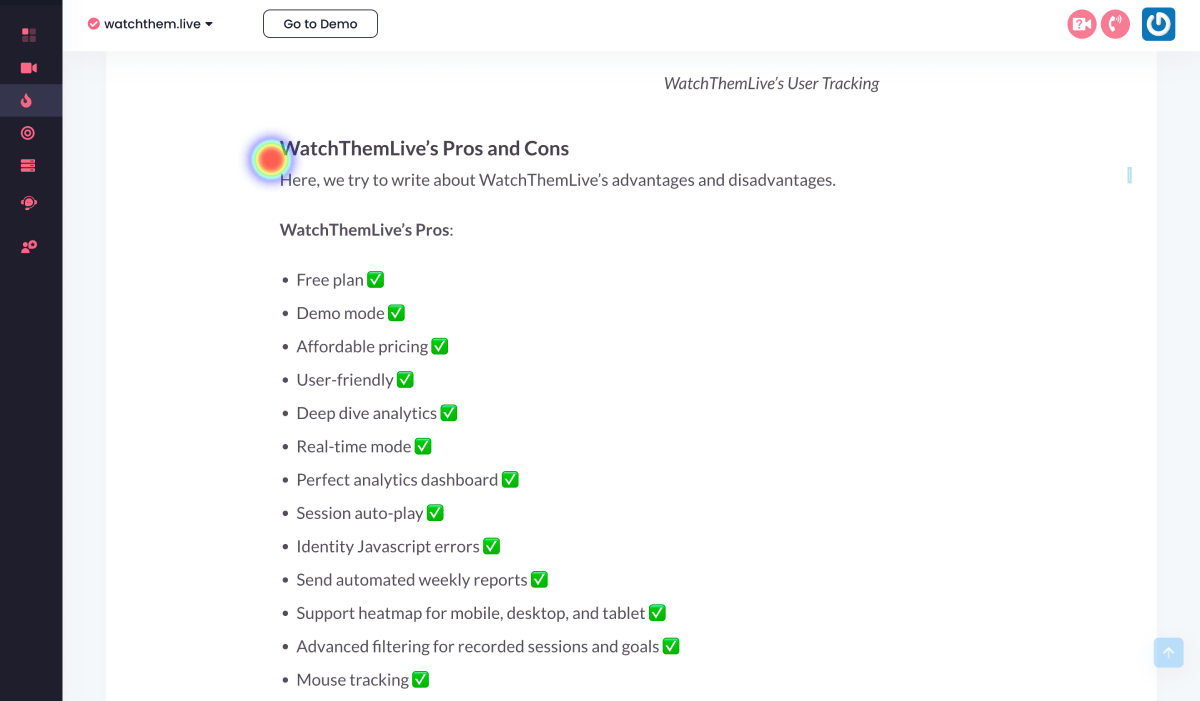 In the picture below, we've tried to gather some advantages and disadvantages of WatchThemLive to help you analyze your website and make better decisions: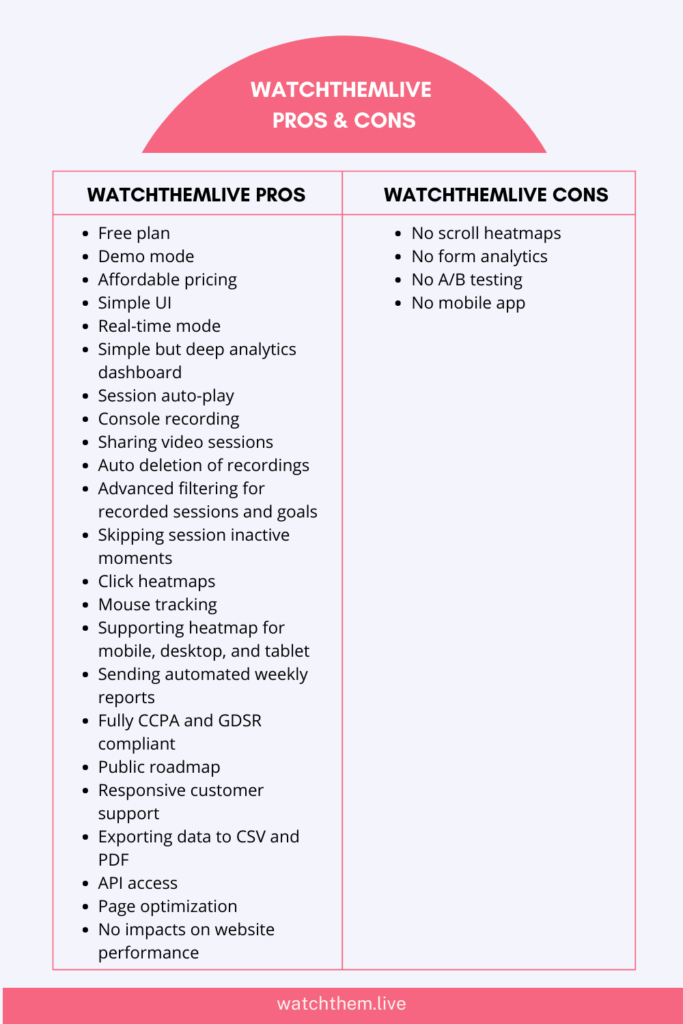 Pricing: Free plan is available. The pricing plan is as it is categorized below: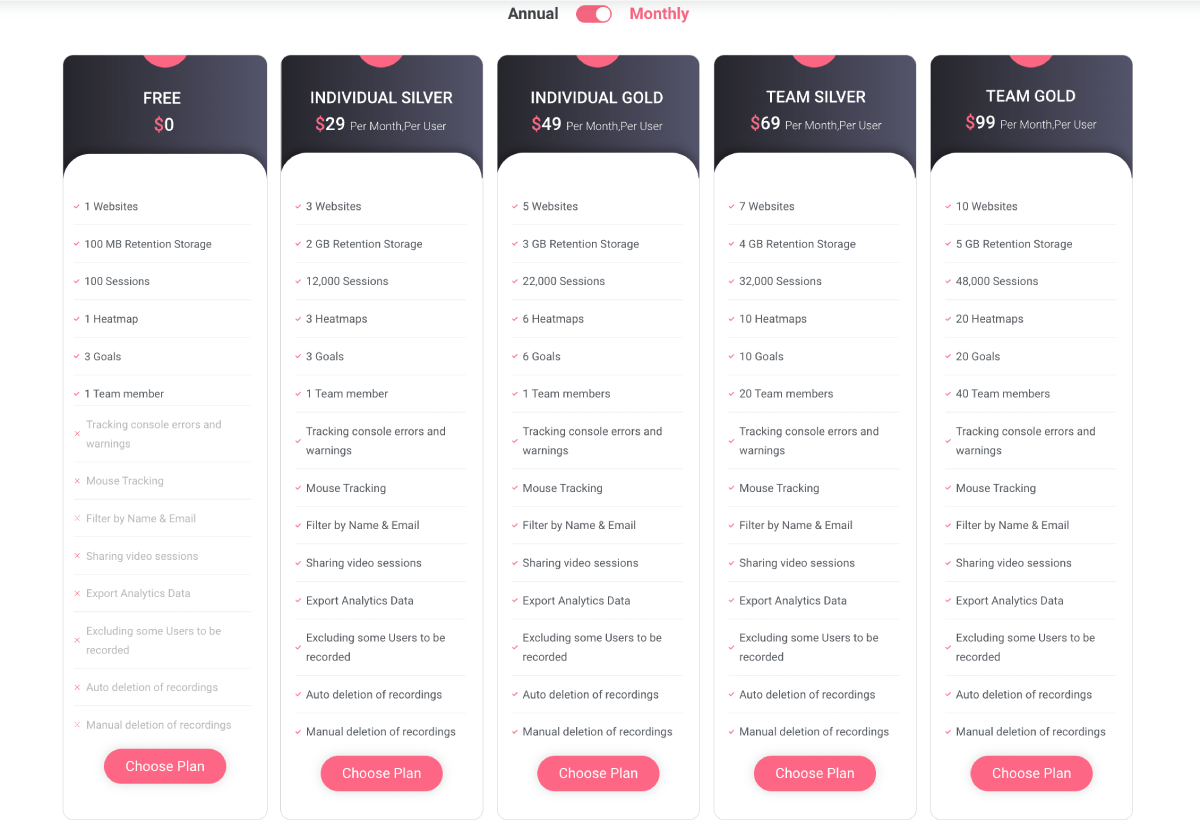 If you want to track the success of marketing campaigns in real-time and make informed decisions about where you should focus your resources.
2. Google Analytics
Google Analytics is a free popular web analytics tool from Google. It is used to measure web traffic, bounce rates, conversion rates, real-time number of visitors on your page, etc.
Once you enter the Google analytics code into your website's HTML, it can start measuring the mentioned goals for you. After completing each goal, Google logs the conversion into your analytics reports.
It can also report the keywords that direct people to your website along with the browser they use. But it can only provide you with quantitative data, so WatchThemLive has a priority over Google Analytics in terms of measuring both quantitative and qualitative data.
Related article: Tracking Users in Google Analytics: The Complete Guide
Google Analytics Key Features
Funnel analysis,
Tag management,
Smart goals,
Data activation,
Audience report,
Flow visualization.
Google Analytics Pros
It's free.
You can easily set up Google Analytics.
It manages multiple properties under the same account.
It shows you real-time traffic data.
It allows you to know how people find you.
Google Analytics is continually developing and introducing new features.
Google Analytics Cons
Google analytics offers a substantial amount of data, which may be daunting to those new to the platform.
As a novice user, you may find yourself having to search for unfamiliar terms at times.
It gives you a limited number of hits per month.
It has no customer support.
Google Analytics offers limited keyword data.
It is not to be fully trusted – there have been times when wrong information has been presented in the Google Analytics dashboard, led by bot traffic.
User session recordings are not available.
It has 10M hits/month for free properties.
It has limited goal tracking. (20)
GA360 Pricing: The cost of Google Analytics 360 starts at $150,000 per year and is billed at $12,500 a month!
3. Yandex Metrica
This is one of the web analytics tools you can use to collect data about your visitors' sessions. Yandex Metrica can give you insights into web traffic and user behavior. Another feature is that you can access click maps and scroll heatmaps. To start working with this tool, you need to create and install a code (which is called a tag) to insert onto your webpage and set up strategies.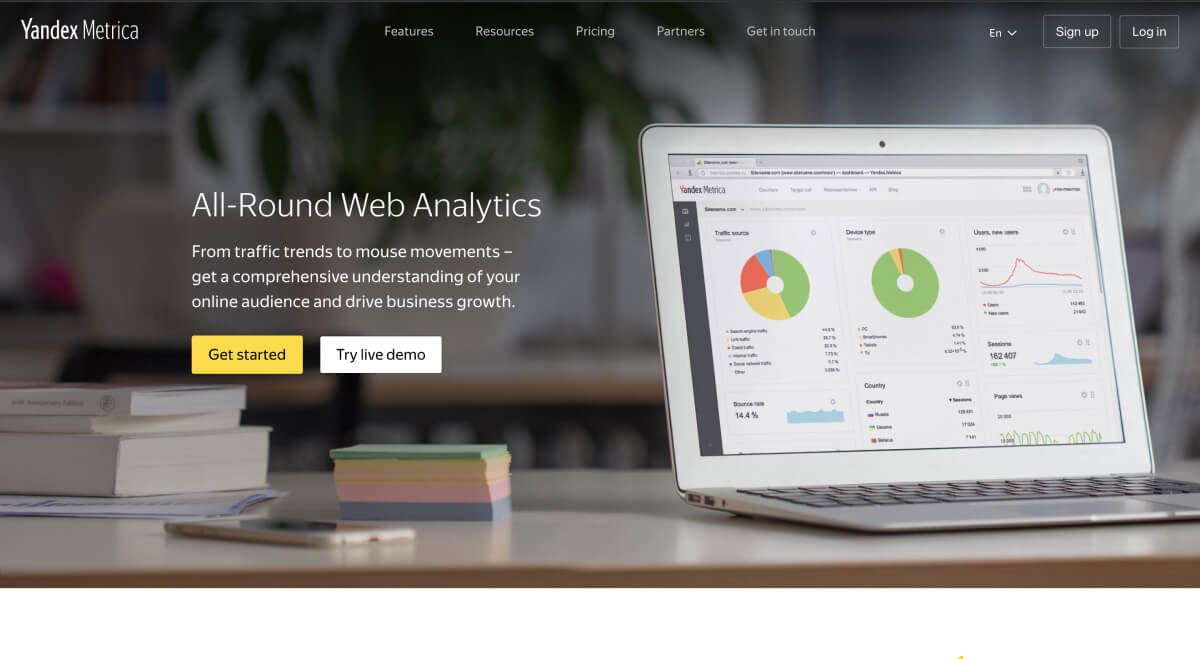 Yandex Metrica is a great analytics tool you can use to collect data about your visitors' sessions. The tool can give you insights into web traffic and user behavior. Another feature is that you can access click maps and scroll heatmaps. To start working with this tool, you need to create and install a code (which is called a tag) to insert onto your webpage and set up strategies.
Yandex Metrica Key Features
Session replay (webvisor),
Heatmaps,
Form analytics,
Advanced reporting tools.
Yandex Metric Pros
It's free.
Compared to Google Analytics, it has session replay.
Click and link maps can be very helpful.
It's complicated to start using it as a beginner.
Yandex makes it incredibly simple to set goals and its multi-step goal setting feature is extremely helpful.
While there is no requirement to connect your Search Console and Analytics accounts in order to monitor visit keywords, Yandex Metrica can provide you with this information.
It has session capture and replays for your visitors in the past two weeks.
eCommerce plugin is also helpful.
Yandex Metric Cons
Sometimes, it doesn't track Google keywords.
Unfortunately, there was no option to translate the Yandex Metrica menu by default.
Usually, when content is translated into Russian and then back to English, strange translations can occur.
You can't recover your account if you don't link your phone number.
It lacks integration functionalities.
Yandex Metrica has complex reporting mechanisms.
You may have difficulty navigating the platform and understanding the features.
The interface does not support different languages.
The system reduces the speed of loading the site.
It's difficult to find certain reports.
There is a limit on the number of segments.
Yandex Metrica Pricing: Free!
4. Mixpanel
It is a web analytics tool that allows you to analyze how users interact with your online product. Mixpanel actively tracks visitor behavior and marketing KPIs for companies. It also offers real-time insights into people's interactions with a particular product.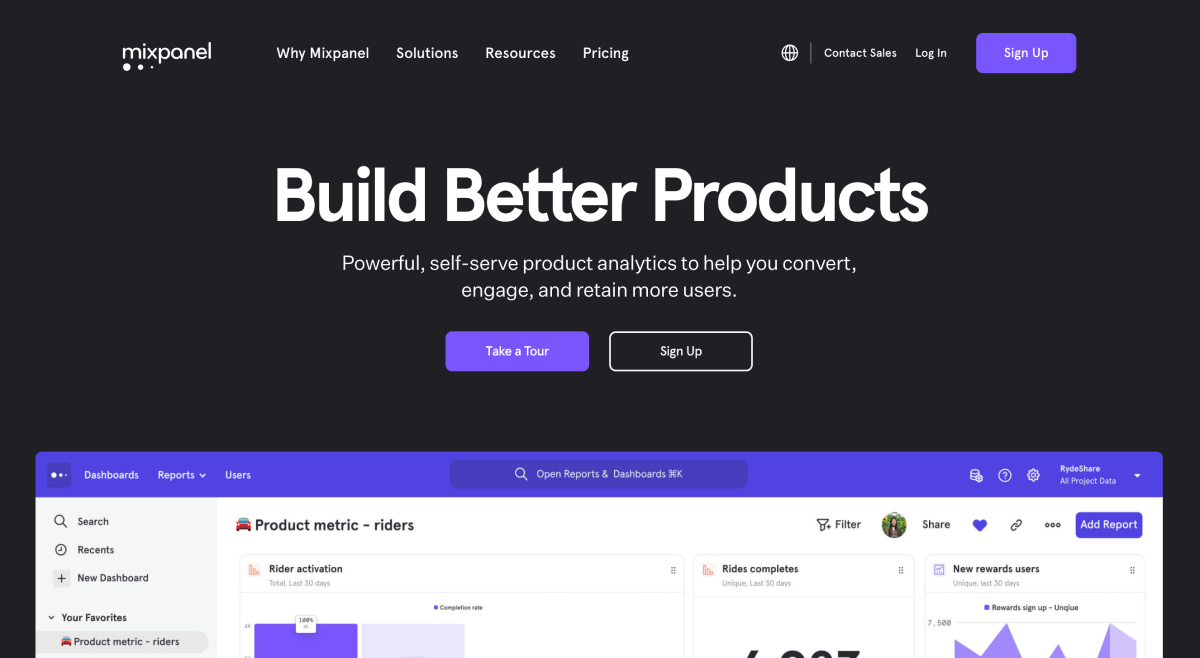 Mixpanel's funnel reports claim that you can know who converts and why. It allows you to build and optimize sales funnels and break down the users based on any attribute or behavior to get a better understanding of which user converts best.
Mixpanel Key Features
Interactive reports,
Limitless segmentation,
Group analytics,
Team boards and alerts.
Mixpanel Pros
It gives you excellent analysis of your funnel with the help of diagrams, panels, and graphs reports.
Mixpanel enables you to segment customers, prioritize their recommendations, prioritize their tastes and store all that vital information for your work performance.
The funnel offers you the opportunity to set segmentation, target audiences, automate campaigns, and send notifications.
Mixpanel Cons
As a non-experienced user, you may be overwhelmed with so many features and tools.
Sometimes, sending individual messages may be a challenge.
It lacks some function to manage alerts.
The customer service or support system is inadequate and ineffective.
Subscription fees for Mixpanel are expensive.
There may be some lags when your internet connection is low.
There should be an interactive search for menus like an event search.
Mixpanel doesn't provide phone support, you can reach them through email.
Mixpanel Pricing: They can provide you with a limited free plan, and the paid plans start at $25 per month.
5. Matomo
Formerly known as Piwik, Matomo is one of the famous web analysis tools that can provide detailed reports, including the visitors' browsers, the keywords they use, the language on their devices, and the files they download.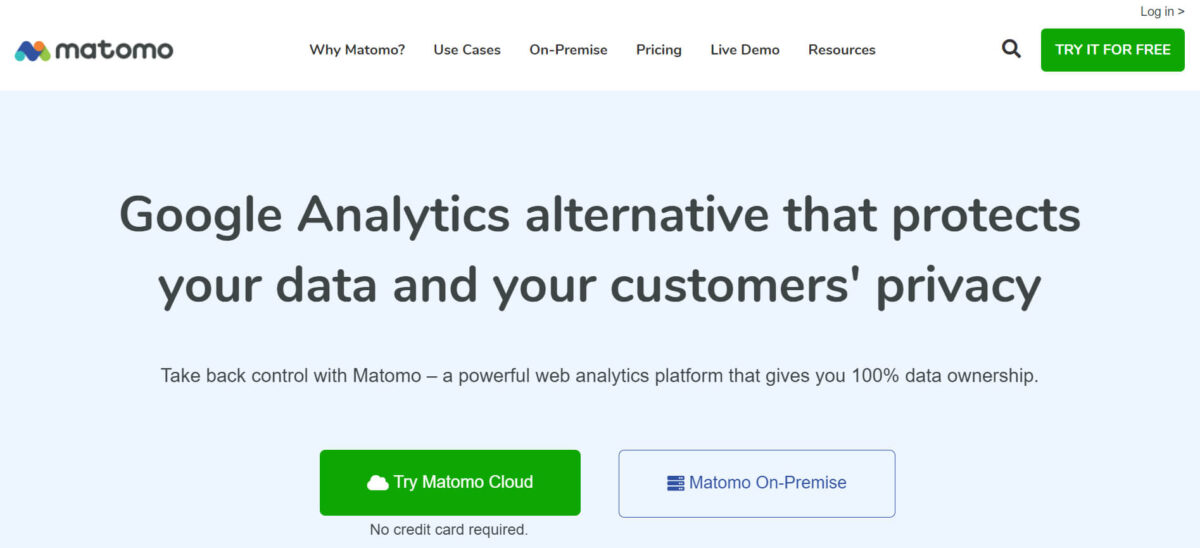 Matomo Key Features
Heatmaps,
Session recording,
A/B testing,
Form analytics,
User segmentation,
Matomo Pros
It supports multiple logins and sites.
100% ownership of data.
It uses first-party cookies.
There's no target limit.
Matomo Cons
Their interface must be updated.
Charts and graphs are not very intuitive.
We must note that while Matomo is open source, it is not as free as it seems.
Matomo Pricing: They have a free plan version and the pricing starts from $9 per month.
6. Statcounter
It is a free web analytics tool for up to 500 page views monthly. Statcounter is used for tracking website traffic, session analysis, page views, and real-time visitors. The premium account version includes features like landing page analysis and paid traffic tracking.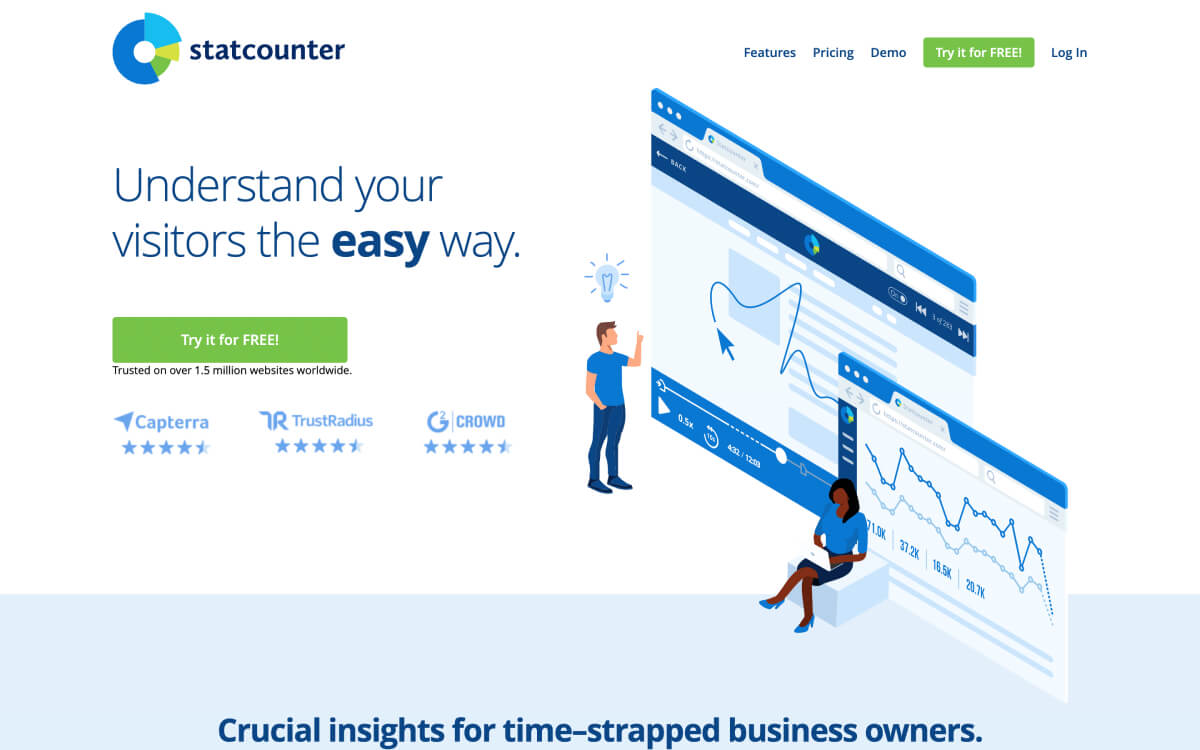 Statcounter Key Features
Summary Stats,
Paid traffic analysis,
Custom email reports,
Powerful filters,
Data export.
Statcounter Pros
You can monitor my website in real time, allowing you to see the pages that have been visited and the duration of the visit.
It allows you to assess the effectiveness of promotional campaigns.
You can track customer activity in real time.
It has graphical maps of users.
Statcounter Cons
Although the design has been recently updated, we believe it still appears to be somewhat behind the times.
Unfortunately, they do not have the capabilities to perform more advanced analytics such as audience segmentation.
The interface is not quite as intuitive as other tools.
It would be great if the csv file you can download includes all of the data that is currently being collected.
Statcounter Pricing: A 30-day free trial is available. Pricing starts at €7 per month and €69 per year for 100,000 page views.
7. Amplitude
Amplitude is a product analytics platform that helps with visitor tracking and tracking user behavior. This platform uses behavioral reports in order to understand users' interactions with products and provide insights into the customer experience.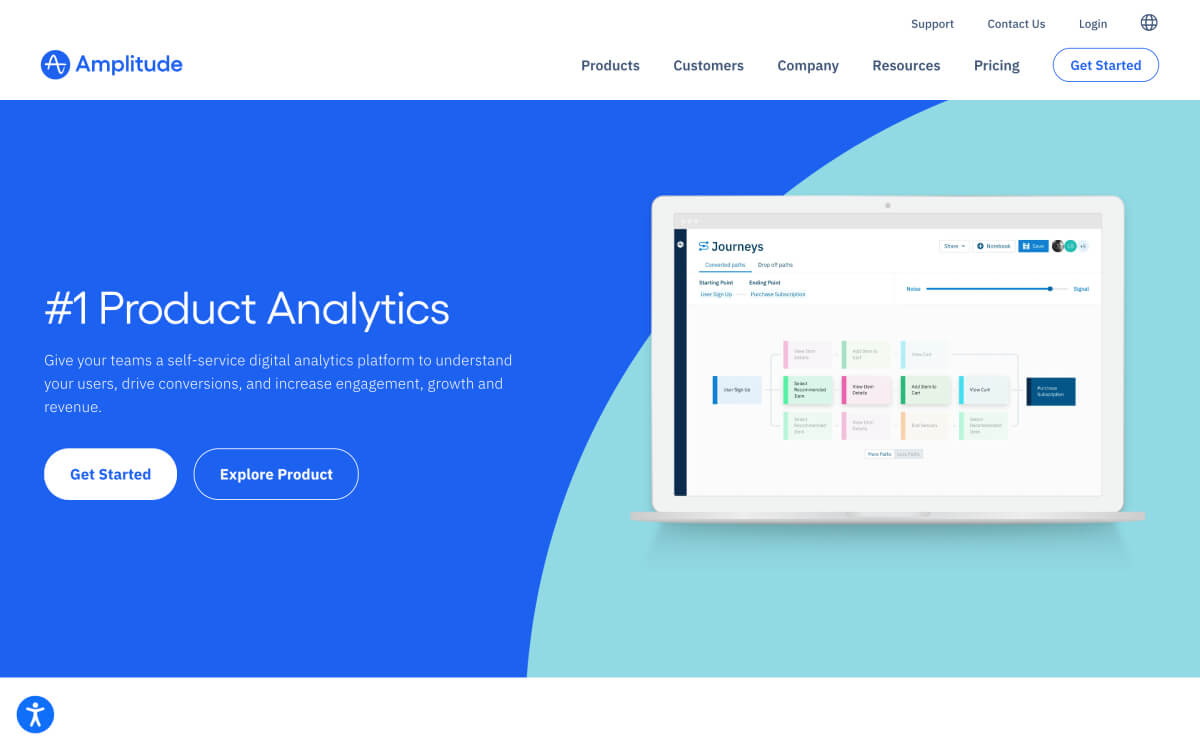 Amplitude Key Features
Custom event tracking,
Analytics dashboard,
Event segmentation,
Analytics funnels,
Retention analysis,
User cohorting.
Amplitude Pros
It gives you the number of users who have uninstalled the app.
Amplitude enables you to share analytic data with multiple team members.
It is simple to customize analytics without any previous coding knowledge.
The customer support team is good at resolving customers' issues.
Graphical representation of data can be very helpful.
Cohorts make segmenting data easy.
Amplitude Cons
It is possible that Amplitude may appear overwhelming to those who are not analysts.
We believe that the historical charts could be improved.
Mobile app views for dashboards are not good.
It would be great to have more third-parties integrations.
Some segregation inside user properties can be difficult to implement.
It is an easy platform to navigate; however, its ability to organize events in an orderly manner could be improved.
It would be better if the loading time for dashboards containing large amounts of data and visualizations could be optimized.
Amplitude Pricing: If you are a startup with under $5M in funding and fewer than 20 employees, you can ask for a yearly free growth plan at Amplitude's Scholarship Program, and for the exact pricing, you need to contact them.
8. Baidu Analytics
This is a free tracking tool that collects and reports visitors' traffic data. Baidu Analytics monitors the web statistics of your website and allows you to view the number of visitors to your site, the time of their visit, and their entry point. Like other analytics tools, Baidu analytics provides information that can give you insight into the performance of your website.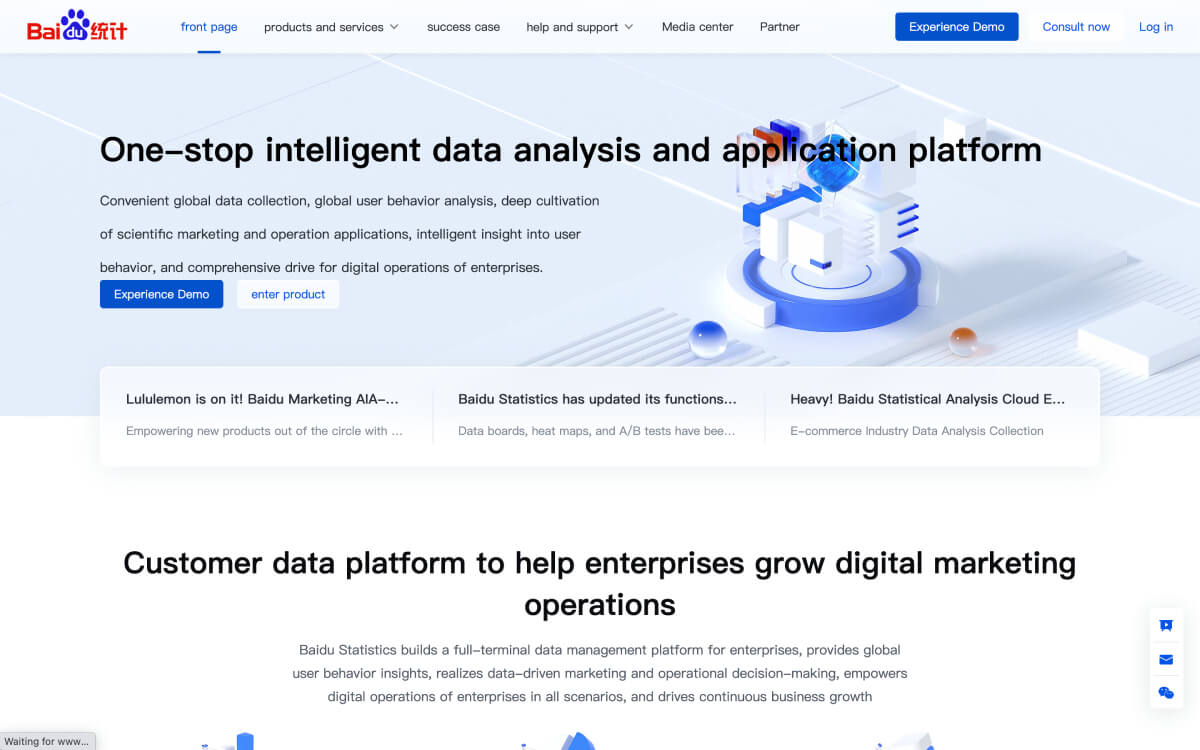 Baidu Analytics Key Features
Audience tracking,
Ad tracking,
Heatmap,
eCommerce tracking,
Audience insights.
Baidu Analytics Pros
Users have the opportunity to give useful information and ideas on a number of subjects by utilizing the filters available.
Baidu is easy to understand because it's similar to Google Analytics.
You can understand how China's online research market works.
It gives you insight into which products are most popular.
You have the option to decide which pages on your website are most important for you to invest money in fixing.
Baidu Analytics Cons
Setting up a PPC account with Baidu can be quite challenging for international businesses.
It also needs payment conversions through the Chinese currency.
It lacks Google AdWords integration, site search, and multi-touch attribution reports.
Baidu Analytics Pricing: They have a free trial, but you should contact their community to obtain current pricing.
9. Bitly
It is mainly known as a free link shortener, but it also gives you the tool to analyze your visitors' performance. How? Bitly can report the number of clicks that links generate, track the time of clicks, and the platforms that were used to share the links. This can give you an insight into which social media platform drives you the most traffic.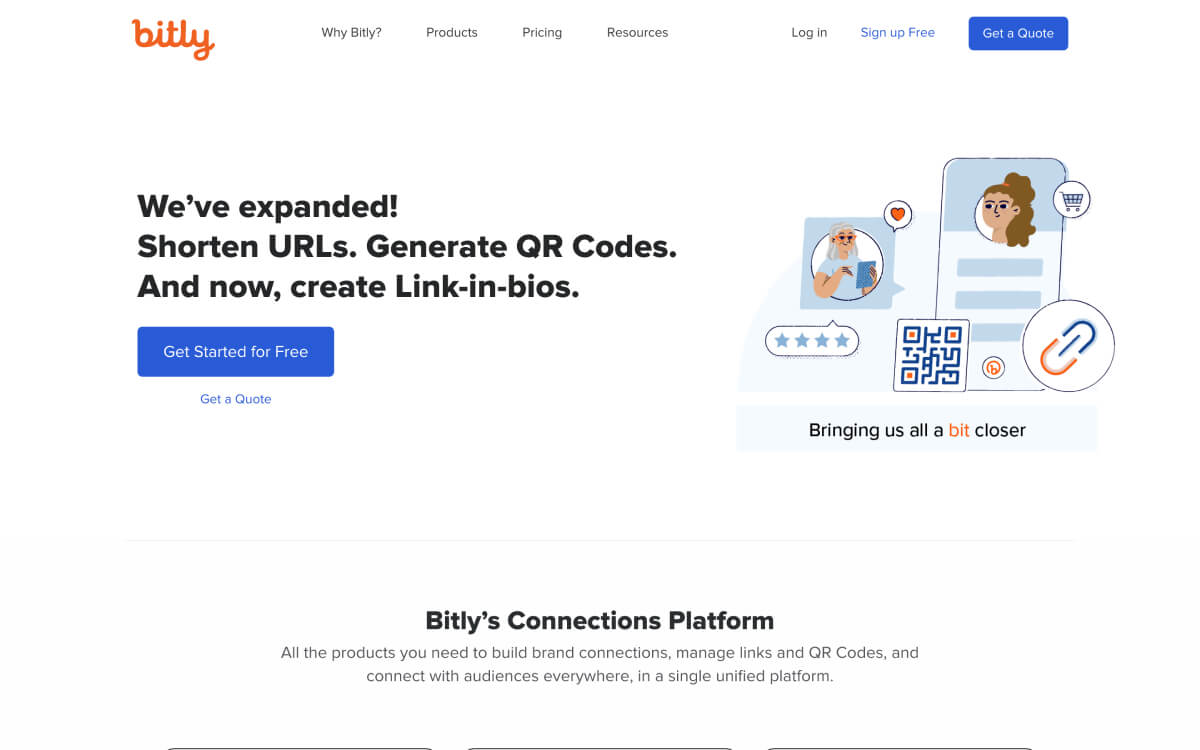 To be honest, you cannot get as much information as you can get from Google Analytics, but there are still advantages to using this package. For example, it tracks app opens, mobile web visits, store visits, and the number of times people download your app.
Bitly Key Features
Audience insights,
Link analytics,
Historical short link tracking,
Bulk URL creation.
Bitly Pros
URL tracking is very helpful.
It allows you to shorten URLs.
Bitly allows users to quickly view the performance of their links with only a few clicks.
It gives you the option to create a QR code.
Bitly Cons
It would be better if they could consider adding more features to the free version.
You can't integrate it with Hubspot.
They need to add more filtering options.
It's more expensive than alternatives.
Unfortunately, there may be a delay when it comes to redirection.
Editing links is not currently possible.
You can't expire short URLs after a predefined length of time.
Bitly Pricing: Bitly offers a limited free plan, and the pricing starts from $8 per month. It offers three plans as follows:
Starter: $8 per month
Basic: $29 per month
Premium: $199 per month
10. Open Web Analytics
Open Web Analytics (OWA) is a free and open-source web analytics tool that can track and analyze the way people use your website. It can track page views, visits, and repeat visitors over time.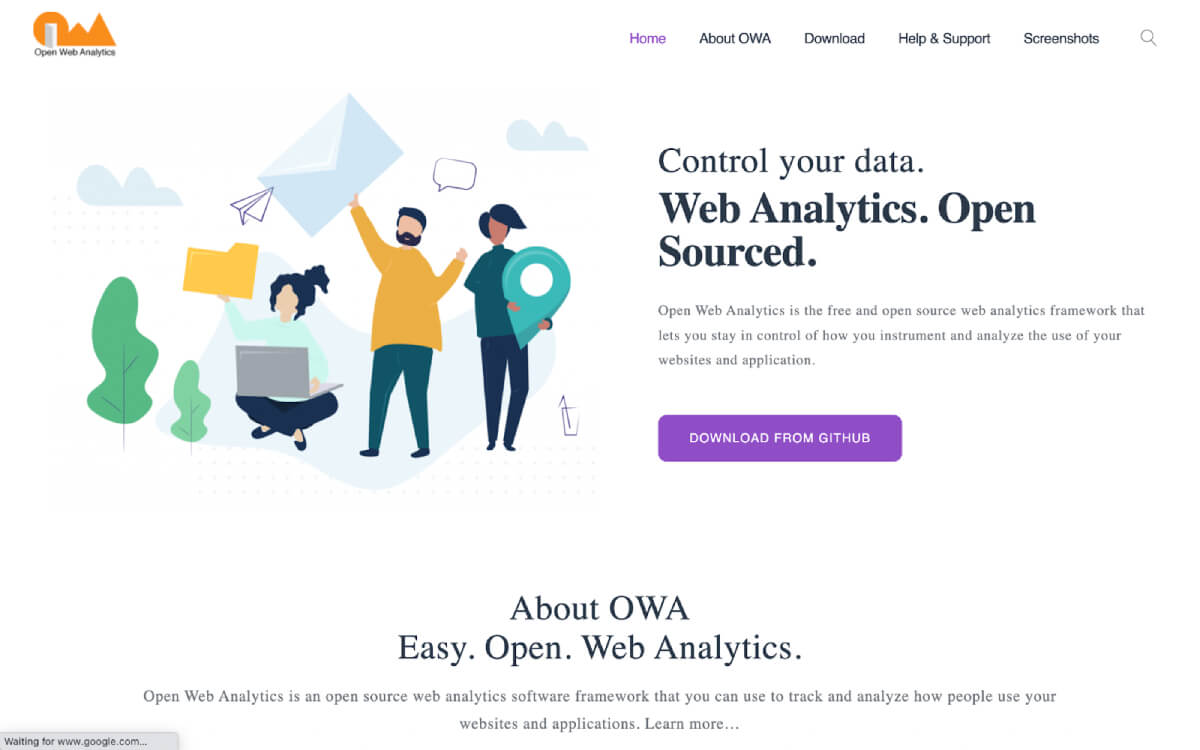 Open Web Analytics Key Features
Javascript tracker,
Click heatmaps,
Referring page analysis,
Multiple website support.
Open Web Analytics Pros
They support best practices for content management frameworks built on WordPress or MediaWiki.
OWA can additionally be used to monitor any website, no matter its host, by embedding JavaScript into the HTML code.
Open Web Analytics provides a nice dashboard offering two sections, including content and traffic, where you can see top pages, entry pages, inbound link text, referring websites, etc.
Open Web Analytics Cons
They offer integration of Open Web Analytics to anyone using either a PHP- or Javascript-based Content Management Framework.
It sets browser cookies.
It assigns every visitor a unique owa_visitor_id and tracks them forever.
Pricing: Free!
11. SimilarWeb
This is one of the well-known web analytics tools. It can gather information about users' performance, the spent time on your website, page views, and website traffic. SimilarWeb will also give you the opportunity to see the current trends and strategies to boost overall success and revenue. You may also want to use this tool in order to see what can be implemented in your business and what can be changed to witness improvement.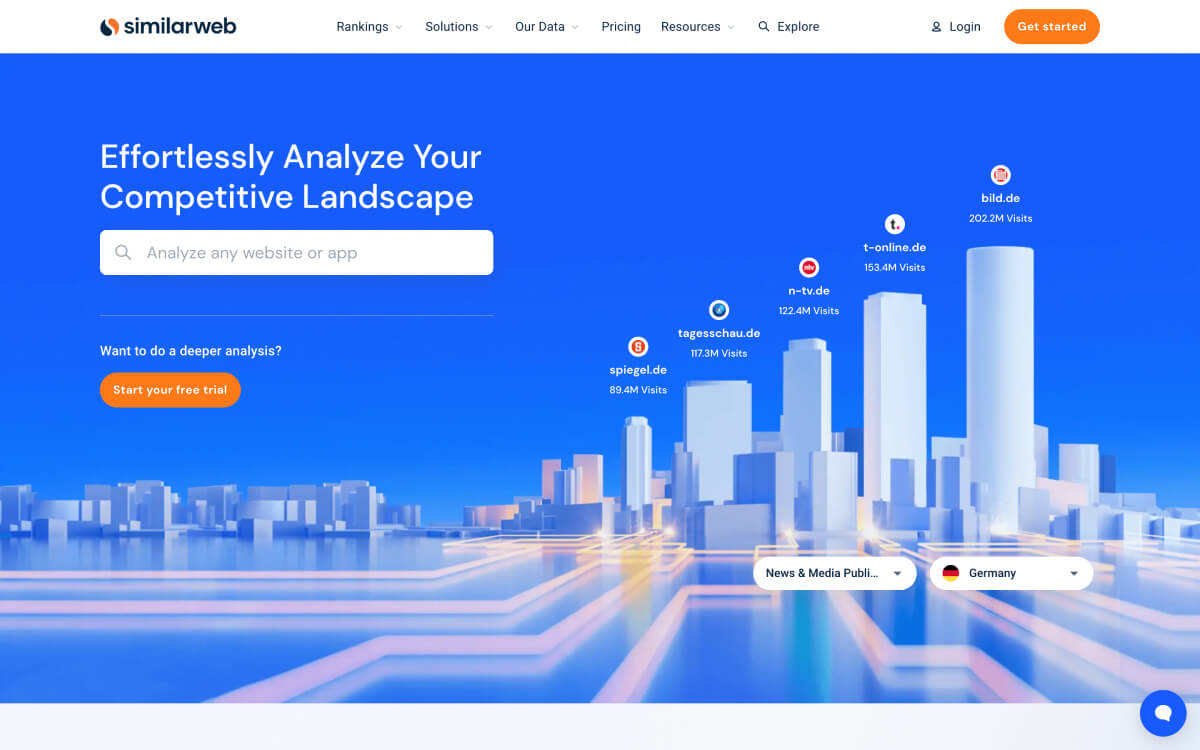 SimilarWeb Key Features
Website data,
Engagement metrics,
Mobile app industry analysis,
Competitors display ads and networks,
Side-by-side website traffic comparison,
In-depth competitor keyword analysis,
Competitor website traffic analysis.
SimilarWeb Pros
It helps you identify search competitors and get keyword ideas.
You have the opportunity to use the Competitive Research area to compare your clients' sites with competitors.
By search interest analysis, you can choose the right keywords for the organic search.
You can book a demo which is helpful.
You can identify different traffic sources.
SimilarWeb Cons
It has no free plan.
There is no similarity between Similarweb metrics and GA metrics.
Trend graphs can be improved.
Tracking social media accounts is limited.
Reports are just shown on the desktop version.
The number of organic keywords is limited.
SimilarWeb Pricing: For small businesses, the pricing starts from $167 per month, but most businesses need to contact them to find the best relevant solution.
12. Adobe Analytics
With Adobe Analytics, you will be able to measure visits, page views, and click in real-time. You can also create segments on a single data point, and it changes these segments into intuitive visuals.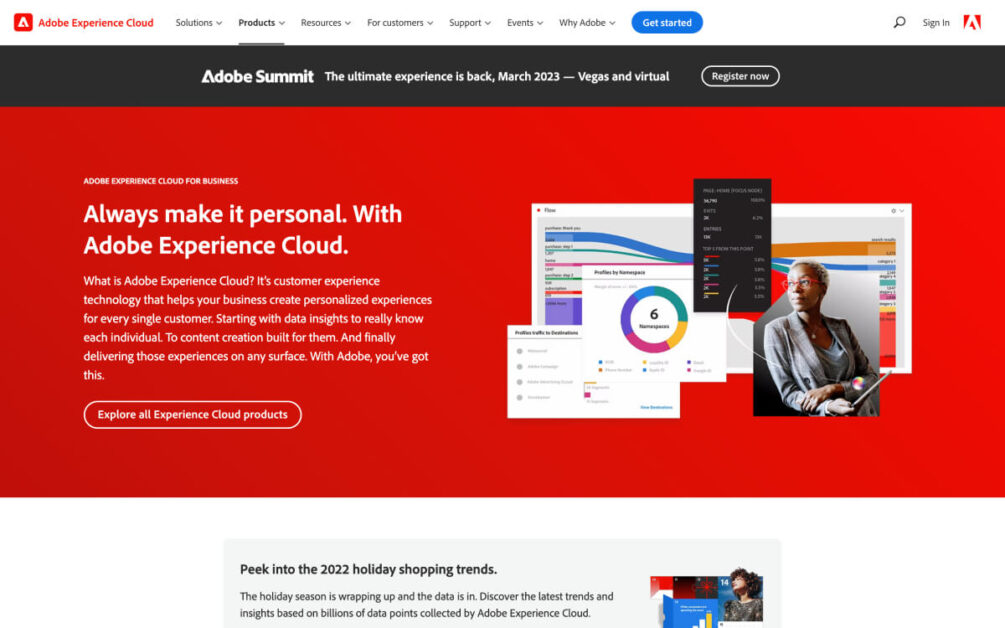 Adobe Analytics Key Features
Real-time CDP,
Journey optimizer,
Audience manager.
Adobe Analytics Pros
It allows you to import and export data to excel.
It builds automated reports.
The customer support team is 24/7 responsive.
It provides quick report creation with a workspace.
Adobe Analytics enables you to use preset templates and visual graphs.
You can integrate it with other Adobe products.
It allows you to apply global filters to multiple reports.
Adobe Analytics Cons
In order to use the product effectively and get the most out of it, you need to be well-trained.
Although features and integration work, sometimes, you need to pay more and reach Adobe consultants for help.
It would be great if they offer a simplified version of the software that is specifically designed for beginners.
The user interface needs to be improved.
That would be great if the report feature loading could be improved with increased refresh rate and speed.
Custom video tracking can be improved.
Adobe Analytics Pricing: There is no free version and you need to reach them to get more information.
13. Woopra
Woopra is an analytics platform used to understand the customer journey from the very first moment a visitor sets his foot on your site. This is helpful for analyzing users' behavior, learning how to engage them, and finally turning them into loyal customers.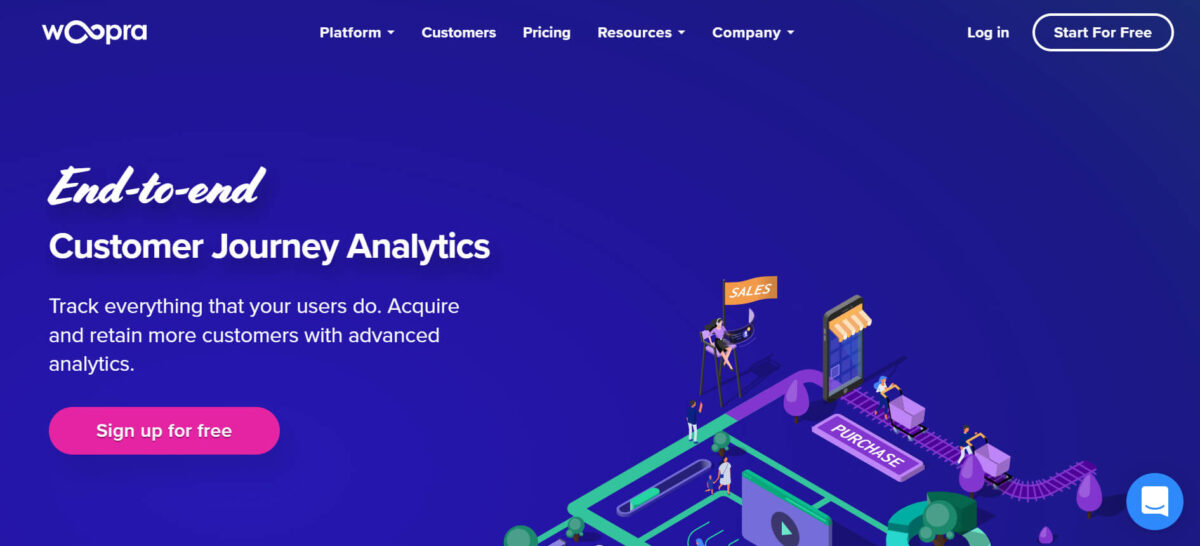 Woopra Key Features
Real-time reporting,
Custom event tracking,
Funnel reports,
Live KPI dashboard,
Customer segmentation.
Woopra Pros
It provides funnel analytics reports, and you can filter them.
You can export data in CSV.
It shows you stats for specific site visitors.
The installation and setup process is quite straightforward and easy to understand.
It allows you to understand where a user is located.
Funnels are customizable.
Woopra Cons
It takes too much to load reports.
There should be more integrations with third-party tools.
The mobile app could be enhanced with faster accessibility and a more user-friendly interface.
Woopra Pricing: The price ranges from free to $999 per month. An enterprise plan is also available and you have to contact them for its pricing.
14. VWO
Visual Website Optimizer (VWO) is a web testing and conversion optimization tool that enables you to record visitor sessions and also, to perform experiments by A/B testing different graphical and textual on-page elements.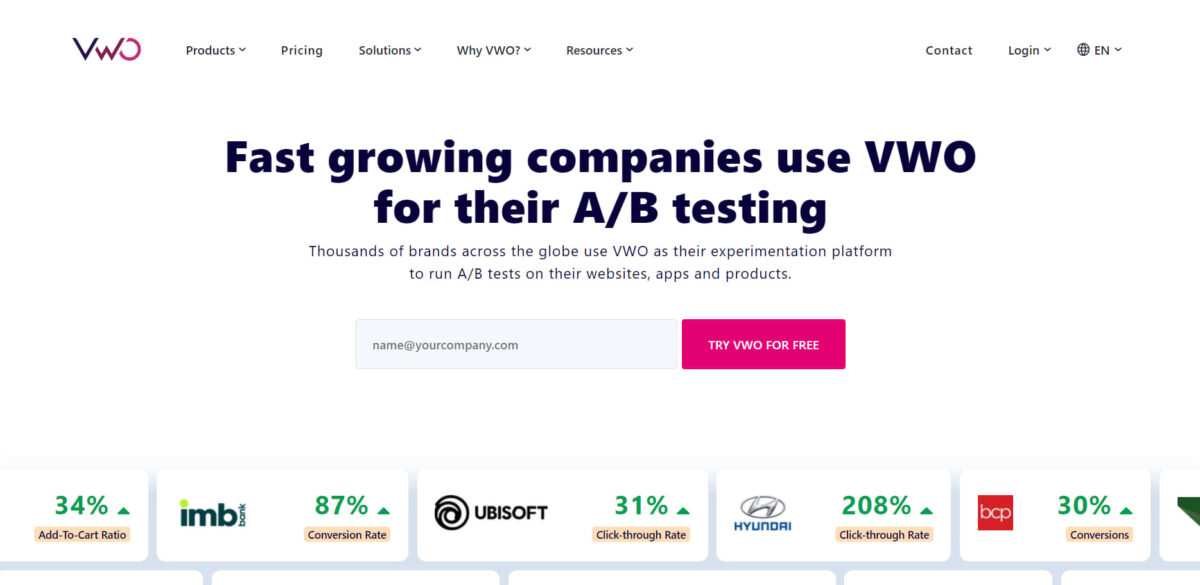 VWO Key Features
Multivariate testing,
Heatmaps,
Surveys,
Visual analytics,
Engagement tracking.
VWO Pros
It enables you to use heatmaps, clickmaps, and pop-up surveys to analyze users.
It's one of the best A/B testing and multivariable testing tools in the marketplace.
You can use personalization tools to create a better user experience.
VWO Cons
You can't integrate it with Google Analytics.
Visual Editor doesn't work great with all sites.
There are a lot of bugs on PDP pages.
You can't implement more advanced A/B tests.
There is a lack of transparency in their pricing.
Their pricing plans are not clear.
They have a poor cancellation policy.
VWO Pricing: It offers a free trial of its web analytics tool. For the exact pricing, you need to contact their team.
15. Google PageSpeed Insights
PageSpeed is another free Google tool that lets you check the speed your web pages require to load; are they fast, or slow? You need to keep the speed up in the age of high-speed internet. Despite your high-speed internet connection, your website might experience a long loading time and that can negatively affect your web page; not many users wait for more than two seconds for your page to load.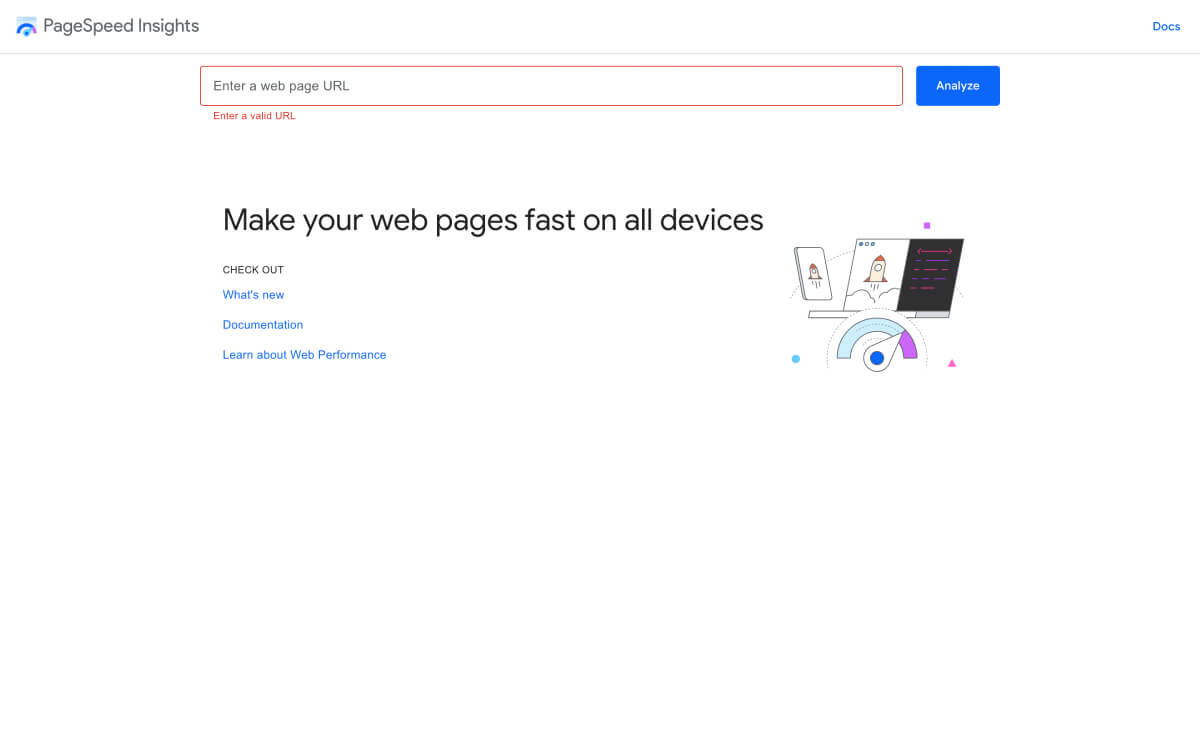 Google PageSpeed Insights Pros
It allows you to analyze mobile page load speed.
You can also analyze desktop page load speed.
It enables you to identify sub-optimal web page attributes that slow down page loading.
Google PageSpeed Insights Cons
You can't set up monthly reports.
It doesn't allow you to test stats from different locations.
Their interface is tailored for more experienced technical users and might be a bit too much for novice users.
Google PageSpeed Insights Pricing: It's free.
16. PaveAI
If you've used Google Analytics, you've probably noticed referrer spam line after line that is shown up in your reports. PaveAI is a free tool that can remove fake web traffic from your reports and give you precise traffic data. It works in conjunction with Google Analytics and uses the Management API to add new filters once referrer spam is detected continually.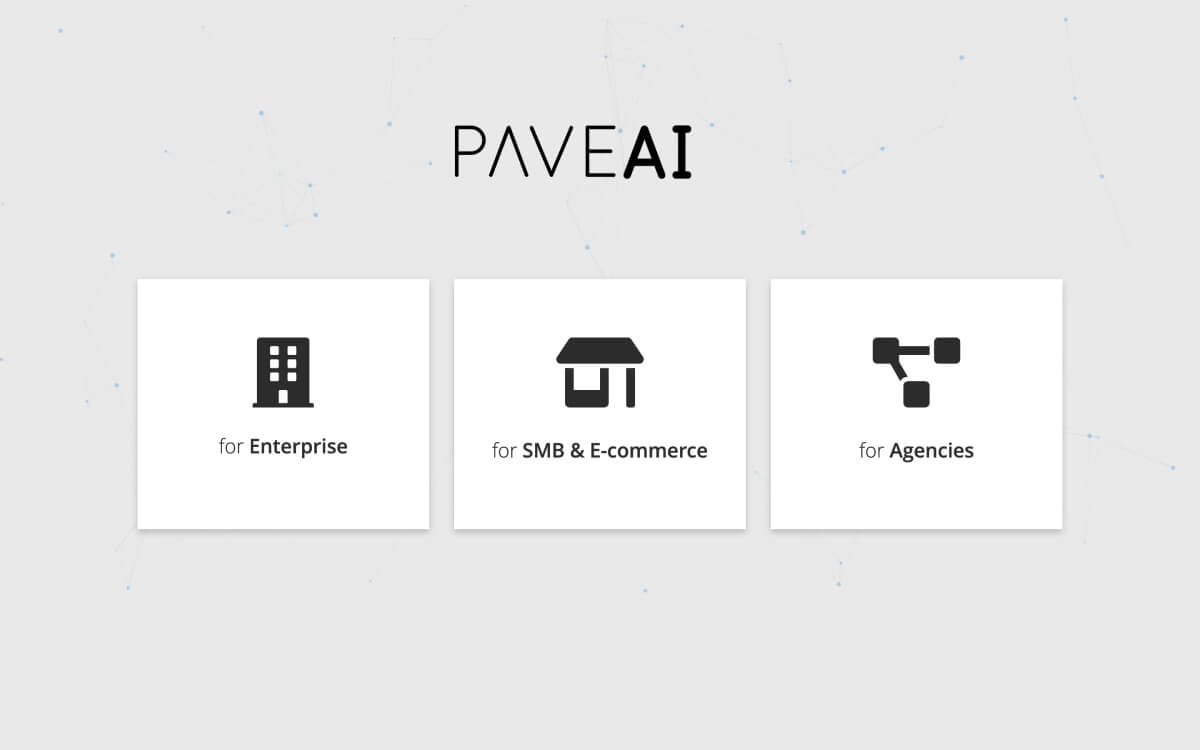 PaveAI Key Features
Campaign management,
Keyword tracking,
Site search tracking,
Pageview tracking,
User interaction tracking.
PaveAI Pros
Their reports show not only the data but also provide the client with an insightful review of what happened and suggestions for improvement.
The automated insights are reliable, fast, and actionable.
PaveAI Cons
It would be great to have more integrations.
The onboarding might take time.
PaveAl Pricing: PaveAI offers two different plans, including business plans and agency plans. Here are business plans:
Starter: $39 per month
Growth: $79 per month
Professional: $179 per month
Custom: Contact them
And the agency plans are as follows:
Starter: $199 per month
Growth: $499 per month
Professional: $999 per month
Custom: Contact them
17. Pingdom
This is another web analytics tool that tests your website for different factors that might affect it to perform slowly. The Pingdom Javascript library should be added throughout your site to collect the data, and then it can monitor your site and server for latency issues. Pingdom allows you to monitor your website's performance through transaction monitoring, page speed monitoring, and uptime monitoring.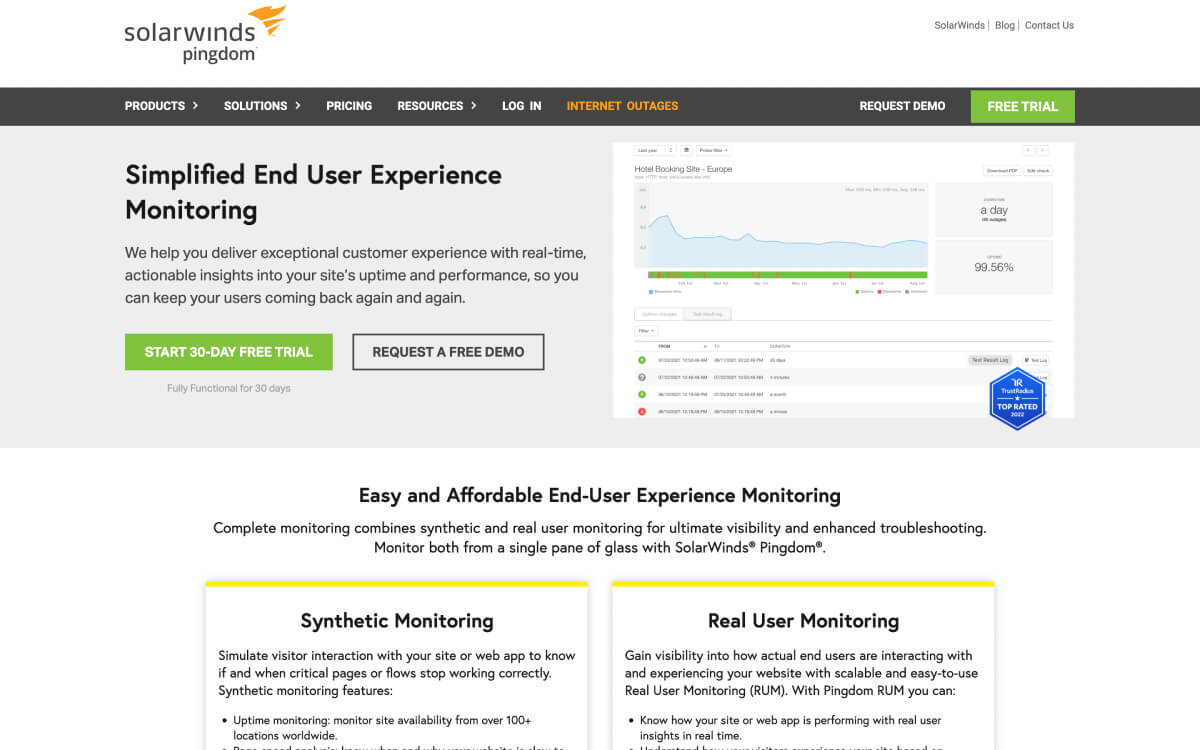 Pingdom Key Features
Page speed monitoring,
Real user monitoring,
Immediate alerts,
Root cause analysis.
Pingdom Pros
It provides a strong end-user monitoring tool.
It enables you to run synthetic and real-time user tests to measure a website's performance.
It gives you insight about what is the cause of the page's long load time.
Pingdom facilitates the administration of website performance.
Pingdom Cons
It doesn't provide heatmaps and session recordings.
It has no free version.
There are a limited number of integrations.
It has expensive prices at the higher tiers.
Pingdom Pricing: There is a 30-day free trial, and their pricing starts at €13 per month for 100,000 pageviews, to €15,890 per month for one billion pageviews.
18. Screamingfrog SEO
Screamingfrog SEO is a web analysis tool that not only lets you see who your website visitors are but also uses a bot and promises to provide insightful data to find errors. All you need to do is enter the URL of your website and wait for some minutes to get a comprehensive technical SEO audit. Then, you will be able to find and fix broken links, check 404 pages, and analyze your onsite SEO.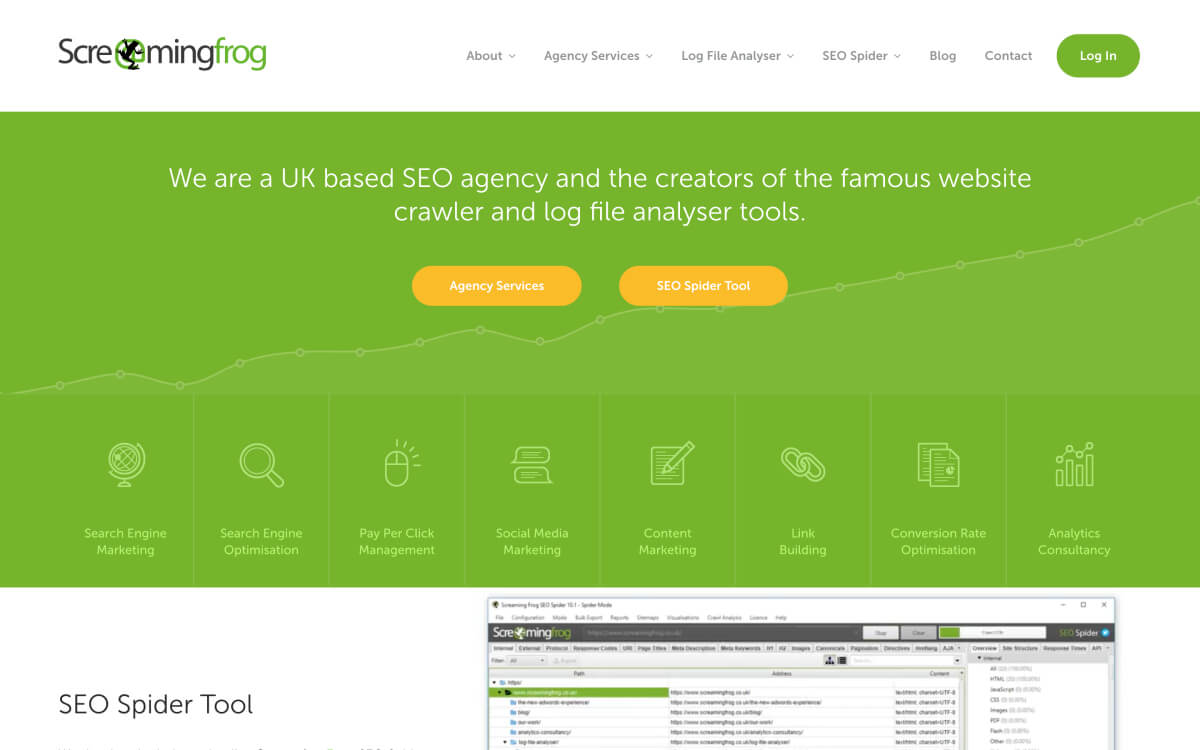 Screamingfrog Key Features
Unlimited list mode,
The crawl path report,
Page title & meta description editing via the SERP snippet emulator,
XML sitemap auditing,
Canonical errors.
Screamingfrog Pros
You can find broken links, redirect chains, and technical errors.
It can be integrated with Google Analytics and Google Search Console.
You can export data in CSV.
Screamingfrog Cons
The number of tabs on the top can be a bit overwhelming for first-time users.
It doesn't have a tutorial guide.
It takes too long to crawl large websites.
They need to improve their user interface.
Screamingfrog Pricing: This analytics tool has a free version for up to 500 URLs, and the paid version's cost starts at $209 per year.
19. MOZ
It lets you view the backlinks, analyze the competitions, and explore potential linking opportunities. You can use this tool to find new keywords and content ideas by keeping an eye on your competitors.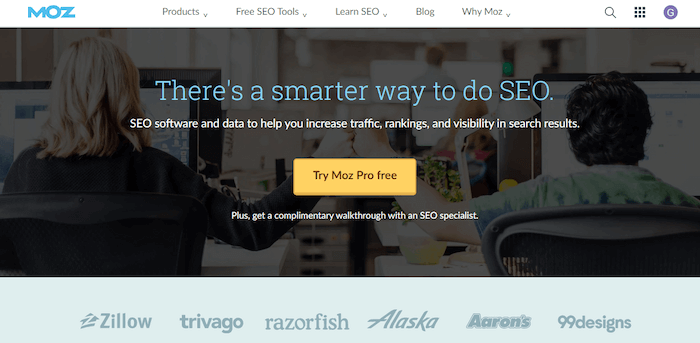 Moz Key Features
Rank tracking,
Backlink analysis,
Keyword research tools,
Site audits.
Moz Pros
It allows you to improve SEO rankings and identify website issues.
It helps you audit your current site for any technical issues.
It's so helpful to be able to track keyword progression over weeks and months.
It helps you keep track of your most important keywords.
Moz Cons
Their navigation could be more user-friendly.
The On-Demand Crawl toolset is not as robust as Ahrefs.
Moz Pricing: There's a 30-day free trial, and pricing starts at $99 per month.
20. Google Search Console
And finally, last but not least, Google Search Console. This is a powerful tool available to all websites that are part of Google Search results, free and paid. Google Search Console helps you track your website's performance, and with the help of Google's Webmaster Guidelines, you will learn to attract new visitors to your site. Also, it provides a number of tools to assist you in finding and fixing the issues.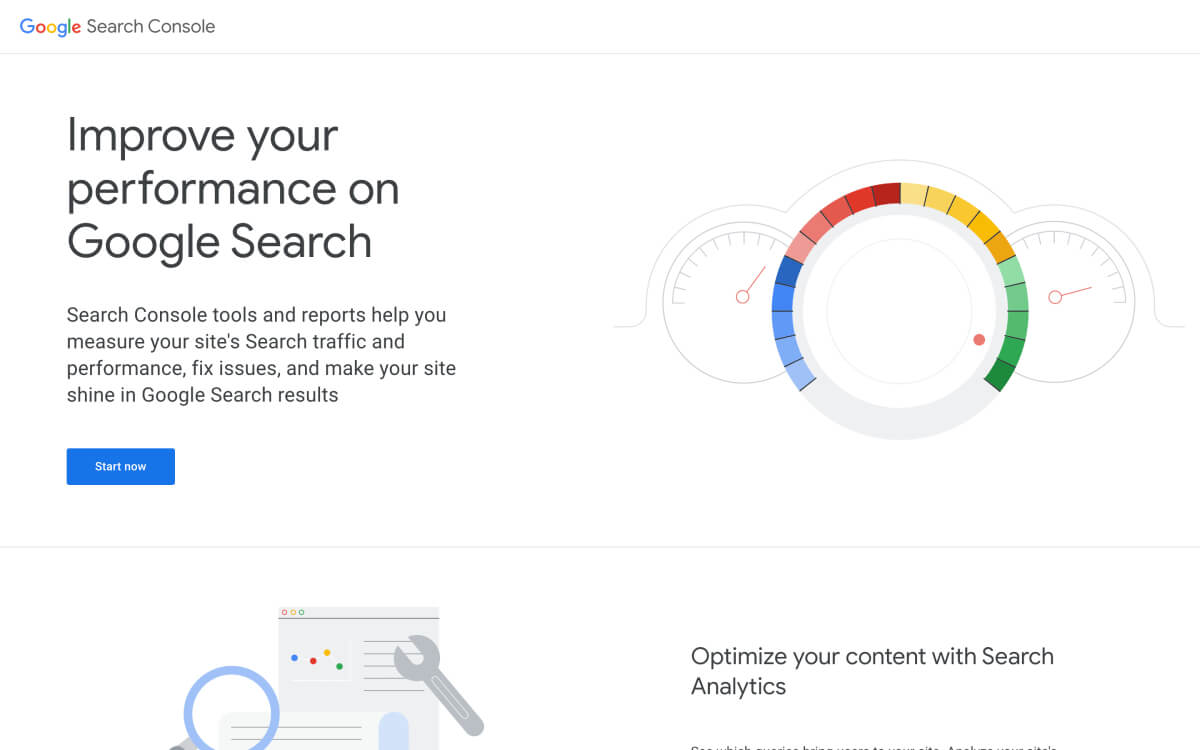 Google Search Console Key Features
Keyword analysis through search queries,
Indexing,
Sitemaps,
URL inspection.
Google Search Console Pros
It provides Search Terms for what real people are searching for.
You can fix new or updated content indexing issues.
It enables you to track position, CTR, and impressions.
It gives you a list of all the keywords for which your site is ranking.
Google Search Console Cons
Non-technical users might be confused.
Recrawling of pages is slow.
It would be better to give you more details on why pages are not indexed.
Sometimes, the average position it shows for a particular webpage is not that accurate.
Google Search Console Pricing: And yes, Google Search Console is free!
FAQs on Web Analytics Tools
Since we've covered 20 web analytics tools, Now, it's time to answer some of your frequently asked questions.
Q1: What Are the Types of Web Analytics Tools?
Here are nine types of web analytics tools:
Content analytics tools.
A/B and multivariate testing tools.
Social media analytics tools.
SEO analytics tools.
General enterprise analytics tools.
Open source web analytics tools.
Product analytics tools.
Q2: Why Are Web Analytics Tools Important?
These tools provide you with invaluable insights into your target audience allowing you to track user activity on every page with detailed reports showing which pages visitors land on first, which ones they spend the most time in and why some pages may have higher bounce rates than others.
So, you can optimize the customer journey across different devices, generate more leads, and grow your business faster.
Conclusion
Generally, understanding customers' behavior and needs should become a priority, especially when it comes to improving your product and website in order to convert occasional visitors into loyal customers. We have made a list of the 20 most popular analytics tools here, as they can help you maximize your business ability by informing you about your customers' needs, habits, and expectations. Among all the web analytics tools we have introduced in this article, WatchThemLive is our first suggestion. Don't waste a second and Sign up for free and see what's next!