Looking for a way to watch over your customers and see everything they've ever done with your business? Then, customer Journey Analytics is all you need! Basically, it enables marketing, sales, and customer service teams to track and analyze every touchpoint a user has with a brand. These touchpoints can be viewed on a customer journey map within a sales cycle.
In today's marketplace, companies try to make customers feel heard by providing an excellent customer experience. They must explore the causes of negative reviews and poor brand image to discover CX issues impacting the current customer experience and increasing conversions.
More importantly, customer journey analysis gives you better insights into detailed qualitative and quantitative interactions across different touchpoints and helps you handle them for improving your customer experience and increasing lifetime value and revenue.
If you're looking for an ultimate guide to learning how to use customer journey analytics, we're here to give you a hand. However, if you don't have much time and are in need of a straightforward solution to access these analytics, you can sign up on WatchThemLive and see the results.
What Is Customer Journey Analytics
Customer journey analysis is all about making sure your customers have the best customer experience possible, no matter what they're doing or where they are on each step of the user flow.
To put it another way, it's the process of understanding and optimizing the customer experience at every touchpoint in their journey in order to make their journey even better.
According to G2 Crowd, a customer journey analytic 'tracks, weaves together, and analyzes customer interactions across all channels so that businesses can react in real-time and execute behavior-driven strategies.'
In the next part, we'll explain more to make it clear.
How Does Customer Journey Analytics Work
Customer journey analytics is the process of understanding customer behavior across numerous pain points, beginning with the awareness stage to the advocacy stage.
Furthermore, customer analytics tracking expands beyond the purchase point to analyze post-purchase behavior because the customer journey does not end with the purchase.
Customer journey analytics combines both quantitative and qualitative data and enables you to map out the customer journeys that have the most impact on specific business goals – such as revenue growth or customer churn reduction – and make data-driven decisions to influence those outcomes.
For example, a company might discover a crucial set of problems that most leads have just before completing a purchase. Therefore, it can use that information to improve interactions at those points to generate more leads and convert them to customers.
Customer Journey Analytics Examples
Let's dive into some examples and clarify the whole concept better.
If you find that users are dropping off your mobile app at a higher rate than on your website, this could be an indication that you need to change the elements of your mobile app design!
But how? You can use heatmaps or session replays, which help you visualize what users are doing on your website, to discover what they clicked on or interacted with.
If you're excited to start with heatmaps and session replays, you can use WatchThemLive to analyze your customer journey map.
Heatmaps
Heatmaps are a great way to know what works and what doesn't work on your website. WatchThemLive's heatmaps enable you to identify underperforming CTAs and understand why they aren't working to fix them quickly. Then, you can improve your website's UX approach by redesigning poor design elements and eliminating distractions.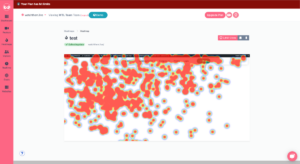 Session Replays
With WatchThemLive's session replays, you can track and watch users' navigation paths in real-time to better determine which paths are most likely to lead conversions.
Imagine you have received a ticket about a specific problem that has occurred to your customer. How would you address that if you don't understand the problem?
The best part of using WatchThemLive's session replays is you can filter session recordings by name, email, page, country code, screen resolution, device, etc. And you can turn on the toggle named "Auto-play next video" in your dashboard without playing sessions back to back.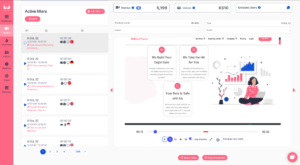 The Good news is you can use WatchThemLive's free plan to make up your mind better. This free plan offers:
3 user journey/mo,

50,000 visitor event tracking/mo,

1500 page view limit/mo,

1,000 session video recordings/mo,

2 snapshot retake/mo,

1 heatmap/mo,

1 goal tracking/mo.
Moreover, its pricing is also affordable. It offers:
Individual Silver: $29/mo

Individual Gold: $49/mo

Team Silver: $69/mo

Team Gold: $99/mo
Ready to increase your conversion rate? WarchThemLive is an all-in-one customer journey analytics tool that can see every detail of your customer journey. Don't waste a second and sign up on WatchThemLive to watch every detail that affects your user experience.
Benefits of Customer Journey Analytics
All of us know how important customer journey analytics is, but what's the reason? Here, we'll tell you some benefits of customer journey analytics.
1. Improve Customer Experience
In order to improve customer experience, you need to track customer behavior and see how they navigate your website. So, you can make the necessary changes, meet their needs, and improve the overall customer experience.
2. Reduce Customer Churn Rate
As the competition among businesses continues to grow, it is more important than ever to make your customers satisfied. By customer journey analysis, you can identify areas where customers are struggling and make some changes. You can also discover at-risk customers so that you can take steps to keep them from leaving and reduce the churn rate.
3. Increase Revenue
Companies that are able to effectively leverage customer journey analytics can increase revenue and drive business growth.
By understanding the various touchpoints that customers have with your company, you can:
Identify patterns and trends in customer behavior,

Make decisions about how to engage them throughout their journey better,

Optimize and

measure the customer experience,

Build customer loyalty,

Improve conversions,

Increase revenue.
4. Boost Customer Acquisition
Through customer journey analytics, you can observe the customer journey from the moment users arrive to the moment they leave. This includes understanding how customers find your brand, their first impressions, what motivates them to purchase, and what causes them to repeat their purchases.
When you understand the customer journey, you can identify opportunities to improve the customer experience and boost customer acquisition.
For example, if you realize that many customers are dropping off at the top of your funnel, you can invest in creating better content or increasing your SEO efforts.
5. Create Personalized Experiences
Personalized customer experiences are created by knowing users' unique tastes and preferences. This allows you to deliver tailored messaging, offers, and products to each person.
As previously mentioned, with customer journey analytics, you can discover which pain points are most important to customers and where they are likely to drop off. This information can then be used to create more personalized and effective customer experiences.
Best Practices for Customer Journey Analytics
Looking for a way to elevate your user experience? Don't worry, use these five proven strategies and create an amazing buyer journey map!
1. Start with a Customer Journey Map
How can you be confident you're gathering data from the critical stages of the buyer's journey if you don't know what problems your consumers have?
As the customer journey becomes increasingly complex, the journey map can be a valuable starting point to understand clients' needs and pain points.
2. Listen to Your Customers
Paying attention to your customer reviews and feedback is one way of listening to your buyers. You can use these simple methods to get customers' feedback on your website:
Create polls and surveys,

Use social media channels,

Create and send feedback emails,

Use user-testing.
Don't overlook qualitative data, and don't go for a solution that focuses solely on numbers. You'll be missing a vital piece of the puzzle if you don't use customer feedback.
3. Set Clear Goals
In this stage, you need to set goals to get more insight into the customer journey. By setting goals, you can define what you truly want in the business and prioritize them.
4. Create Different Types of Buyer Journey Map
As a business owner, it's important to create different types of buyer journey maps in order to visualize the story of your customers' experiences with your brand.
First, let us dive deep into the buyer journey map.
There are three main types of buyer journey maps:
The Awareness Map

: It allows you to realize how customers become aware of your product or service. And it's important because it shows you where you need to focus your marketing efforts and attract more customers.

The Consideration Map

: It helps you understand what factors influence a customer's decision to consider your product or service. This allows you to address any problems a customer may encounter.

The Decision Map

: It enables you to understand what finally convinces a customer to complete your desired action and make a purchase.
5. Consistently Update Journey Maps
There are a few key reasons why updating your customer journey map is essential.
First, it helps you discover new opportunities and ensure that your map is up-to-date. You can identify new opportunities to engage with potential customers more easily.

Second, if you want to be ahead of the competition, checking your competitor's map helps you understand whether their journey map is outdated or not, they may be missing out on critical insights about how their customers interact with their brand.

So, updating your map regularly ensures that you have a competitive edge.
Third,

Be not afraid of growing slowly; be afraid only of standing still

. A lot of things may change over time; this is the reason you need to be updated. And if you want to see a change for the better, you have to design a better experience.
Customer Journey Analytics vs. Customer Journey Mapping
If you're one of those people who use these two terms interchangeably, keep reading to find out the difference.
Customer journey analytics and customer journey mapping are not the same. Customer journey analysis helps you identify the missing touchpoints by integrating data into the overall experience.
On the other hand, customer journey mapping develops a visual map or depiction of the touchpoints throughout the buyer's journey, which is an essential step before customer journey analytics.
Customer Journey Analytics FAQs
Let's answer some of your frequently asked questions, shall we?
Q1. What Is Customer Journey Mapping?
A customer journey map is a visual storyline of how a customer interacts with your brand, product, or service. It starts from how they first find you through social media or ads, to their direct interactions.
When you create a journey map, you're basically putting yourself in your customer's shoes; so, you can see and understand their journeys, needs, and preferences.
Q2. What Are the Five Stages of the Customer Journey?
Here are five stages that help you design each stage of the customer journey better: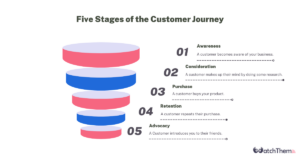 Q3. What Are the Four Pillars to Create a Customer Journey?
If you want to create a great customer journey map, first, you need to set a goal. Then, work on the four areas below. These areas help you accomplish your goals more specifically before you start mapping your journey.
Audience

Data

Content

Channel
Q4. What Is Journey Analytics?
It's the solution that makes you understand and transform your journeys, at scale. With it, you can easily realize whether your website needs improvement or not.
Q5. What Does Advocacy Stage Mean?
In this stage, your customers become your fans and brand advocates because they feel appreciated for providing an excellent customer experience.
Conclusion
Customer journeys nowadays are more complex than ever. So, you need a deeper understanding of your customer behavior and keep up with the shifting consumer taste.
Moreover, if you're looking for a fast way to map out your customer journey, WatchThemLive can give you a great hand! Make sure to sign up.