Many eCommerce store owners use journey mapping tools worldwide because it provides insights to develop strategies to understand your customers' expectations. They have many advantages that help you walk in customers' shoes and see what's disturbing them and what are their touchpoints.
If you're reading this article, you are probably looking for the best customer journey mapping software, so keep on reading to know everything about them.
WatchThemLive is the best tool to help you build your customer journey maps. With heatmaps, you can see where your customers have more interactions with your website. And session replays lets you see customers' activities on your website. Want heatmaps and session replays? Sign up for FREE and get started.

What Is Customer Journey Mapping?
Customer journey mapping visualizes your customers' interactions with your brand or product and gives you insight into the pain points preventing them from purchasing your products. Customer journey maps help you see every stage your users go through on a diagram.
What Features Should Customer Journey Map Tools Include?
A customer journey map is a visual representation of what your customers go through. It creates the opportunity to solve the pain points they're experiencing or let you know which parts of your website they love more so you know where to put more attention to. Here are some of the features of a user journey mapping tool:
Customer persona tools
Sharing and collaborating functionalities
Action trackers
Omnichannel customer service
What Are the Best Customer Journey Mapping Tools?
Customer journey mapping software shouldn't be complicated to work with. Here are the best journey mapping software:
1. WatchThemLive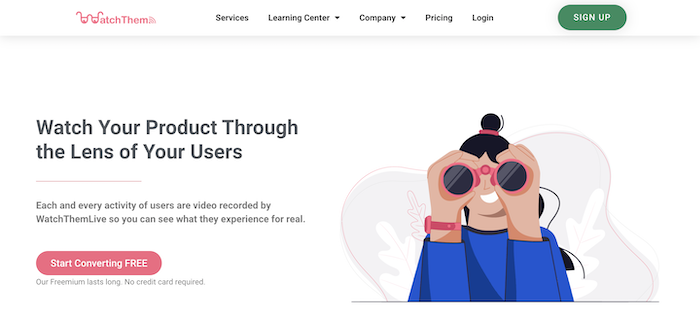 WatchThemLive is an excellent website tracking tool that helps you analyze and track your users' behavior and gives you access to real-time data. This tool is one of the best free customer journey mapping tools and has many useful features, including:
User Tracking
With user tracking, you can see your customers' overall behavior. You can see what pages your customers' visit, how long they stay on a page, and their activities such as clicking on a link.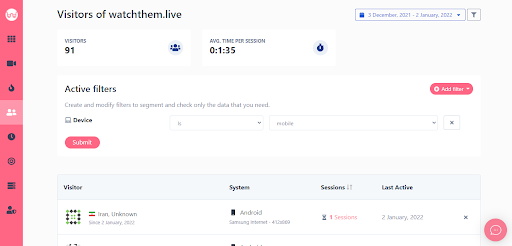 Why Should You Use WatchThemLive User Tracking?
User tracking can help you in so many ways. Here we introduce some of them:
Improving your product
Increasing customer retention
Increasing marketing effectiveness
Automating the customer journey
A great guide for business
Session Replay
Session replays record every action of your website's visitors; each and every interaction users have with your website, such as clicks and mouse movements. Basically, you can put yourself in the users' shoes and see their whole journey.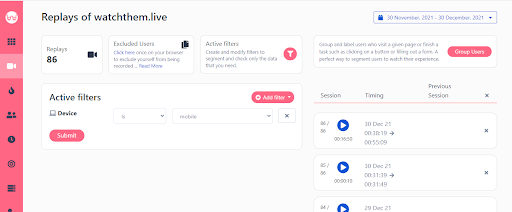 Why Should You Use WatchThemLive Session Recording?
There are so many advantages to using session recordings. Here we're going through some of them:
Identifying and fixing your problems quickly
Offering better customer service
Increasing your conversion rate
Improving your users' experience
Tracking your users' interaction with key elements
Heatmaps
Heatmaps give you a visual representation of your website data. It shows you the most clicked area in using colors. These colors give you clear insight and understanding into complex data, and unlike other data visualization methods, it doesn't require extra information to understand them.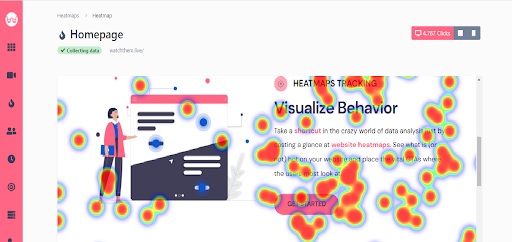 Why Should You Use WatchThemLive Heatmaps?
Here's how heatmaps can help you:
Improving click-through rates
Improving the usability of your website
Giving you new ideas about web design
Making better decisions
Identifying distractions in your website and improving your CTAs
Detecting and fixing problems
Making user testing easier for you
Increasing your conversion rate
Pricing
WatchThemLive has two types of packages. One is completely FREE, and you should pay for the other one.
Free Package
The free package gives you 5,000 pageviews, 5,000 video replays, unlimited heatmap pages, and unlimited goal tracking.
Premium Packages
WatchThemLive has three premium packages: monthly, annual, and lifetime which have three types: pro, advanced, enterprise.
The pricing for the monthly packages are as follows:
pro: $9 per month
Advanced: $39 per month
enterprise: $149 per month
But if you buy any of the annual and lifetime packages, it will be cheaper per month. If you want to know more about WatchThemLive's packages' pricing, you can follow the link.
What more could you be looking for? Sign up to WatchThemLive for FREE and see what's waiting for you!

2. Microsoft Visio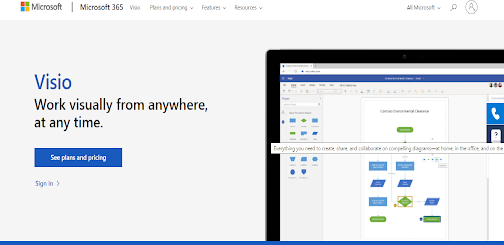 Microsoft Visio is one of the good mapping tools for designing simple flowcharts. You can draw
any kind of diagram, including floor plans, process floor diagrams, 3D maps, flow charts, etc.
Pros
It has drag-and drop-visuals
Visio has interactive elements
It connects to a variety of data sources
Cons
It doesn't support macOS
Elements can be selective in their movements
Pricing
This tool offers two plans. The first plan only includes a web app, and the pricing is $5.00 per month. The other plan includes all the previous plan's features plus additional integrations, and the pricing is $15.00 per month.
3. PowerPoint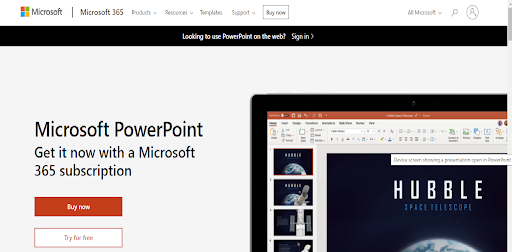 You must have heard of PowerPoint. We all used it for studying and making presentations, but it has other features such as creating customer journey maps. We're going to review the pros, cons, and pricing.
Pros
It supports offline presentation
It's easy to use
Cons
It does not support real-time collaboration
Converting the file type is hard
Pricing
PowerPoint's pricing is $6.99 per month.
4. InDesign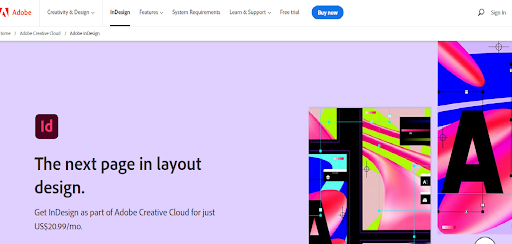 InDesign is one of the best tools for complex and graphical designs.
Pros
Customizable and flexible
Graphic designs are pleasing
Lots of professional templates
Cons
Working with this tool is hard
It does not support real-time collaboration
Pricing
InDesign's pricing starts at $79.99 per month.
5. LucidChart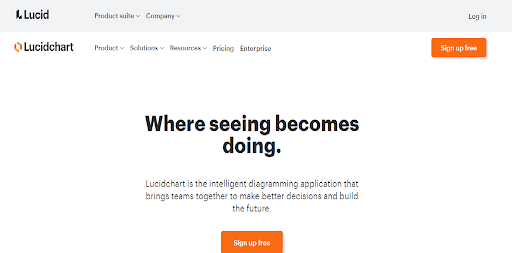 LucidChart is a diagramming platform that turns seeing into doing and can help you with your mapping process. You can style shapes, create diagrams, and more using this tool.
Pros
It's easy to use
Supports sharing features
Offline web app
Cons
The pricing structure is complex
The free version's features are limited
Pricing
The price for an individual per month is $6.95, for a team $8.00 per user, and for an enterprise, well, you have to contact them to see the pricing.
6. Gliffy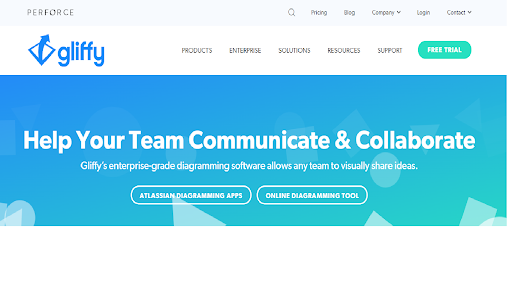 Gliffy is a journey mapping tool that enables you to create wireframes, flowcharts, and diagrams.
Pros
The best for simple diagrams
Has a wide range of shapes and icons
The menus are helpful
Cons
More extensive charts cause it to slow down
There are some restrictions on connector placement
Pricing
Gliffy offers two packages: professional and enterprise. The professional package starts from $6 to $8, and you have to contact them for the enterprise package pricing as it's not on their site.
Conclusion
Customer journey analytics and mapping are important for maintaining an eCommerce shop. So you need to find the best tool to do this for you.
This article talked about customer journey mapping, its features, and the best customer journey mapping tools.
Among the six tools, we introduced WatchThemLive which is all you could ask for. It has all the features the other ones combined and almost no flaw. If you want this excellent tool, sign up for FREE and choose the plan that suits you best!

Good luck!