Marketing automation tools are not just about automating workflows and making them easier to manage. They also create processes that will help you scale your marketing efforts and take your business to the next level.
Marketing Automation is a process that automates and streamlines your marketing processes. It ensures your marketing activities are consistent, reduces the number of touch-points you need to manage, and ensures the right people get the right information at the right time. It's also the most cost-effective way to scale your marketing efforts when incorporated with market research tools.
In this article, we will share with you the top 20 marketing automation tools for your startup in 2023, and introduce you to WatchThemLive, the best marketing automation tool on the market.
What Are Marketing Automation Tools
They are software applications that help businesses streamline their marketing processes and automate repetitive tasks. These e-commerce marketing tools are designed to simplify and accelerate marketing activities, making it easier for businesses to reach their target audience, build brand awareness, and generate leads.
Marketing automation tools can be used for a variety of purposes, including email marketing, social media marketing, lead generation, customer segmentation, and campaign management. These tools can help businesses create personalized, targeted campaigns that resonate with their audience, while also tracking the performance of those campaigns to optimize future efforts.
By automating routine tasks such as email blasts, social media posts, and lead nurturing, marketing automation tools allow businesses to focus on more strategic activities, such as developing new products and services or refining their marketing strategies. With marketing automation, businesses can save time, increase efficiency, and ultimately drive better results.
Overall, marketing automation tools are an essential component of any modern marketing strategy. By leveraging these tools, businesses can improve their marketing performance, generate more leads, and ultimately grow their bottom line.
Now, let's get familiar with the top 20 marketing automation tools on the market. Keep scrolling!
Top 20 Marketing Automation Tools
Here are the best marketing automation tools to boost your business growth:
1. WatchThemLive: User Behavior Tracking Tool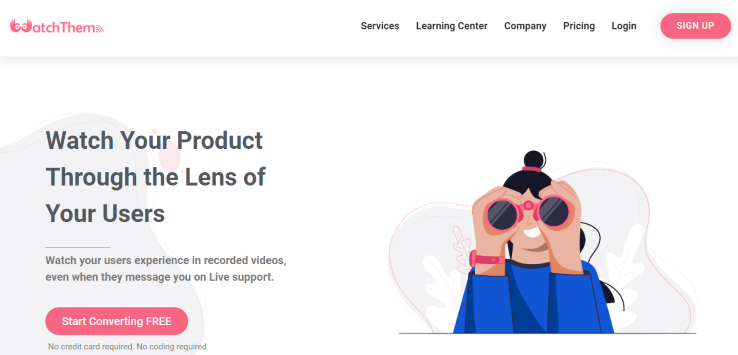 Do you want to know what your users are doing on your website? Wondering why they aren't completing tasks, leaving comments, or buying products? Do you want to know how to improve your site's usability? Or maybe you're a marketer who wants to optimize your website's performance. Whatever your needs, they're all possible with WatchThemLive.
WatchThemLive's User Tracking feature is the real deal. It lets you track users as they move through your website, from the moment they landed on your website to when they finally closed the tab or completed their action.
WatchThemLive is also one of the best session replay software on the market. With this feature, you can see what your users do on your website, down to the last mouse click. This feature will help you identify where your users are dropping out and improve the usability of your website.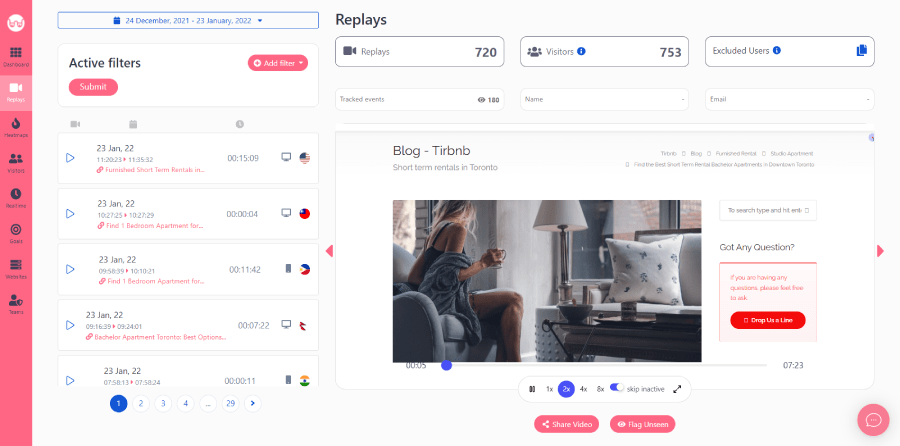 Along with the ability to monitor your users' behavior, it also has a feature called heatmaps, which lets you create heatmaps for individual pages on your website. Heatmaps are useful because they reveal the strengths and weaknesses of your site's functionality so that you can make changes and improve it.
Pricing
Free: $0
Individual Silver: $34 per month
Team Silver: $86 per month
Team Gold: $141 per month
You won't lose any customer movement with WatchThemLive. Sign up now for FREE and get started! 
2. Ainfluencer: Instagram Influencer Marketing Tool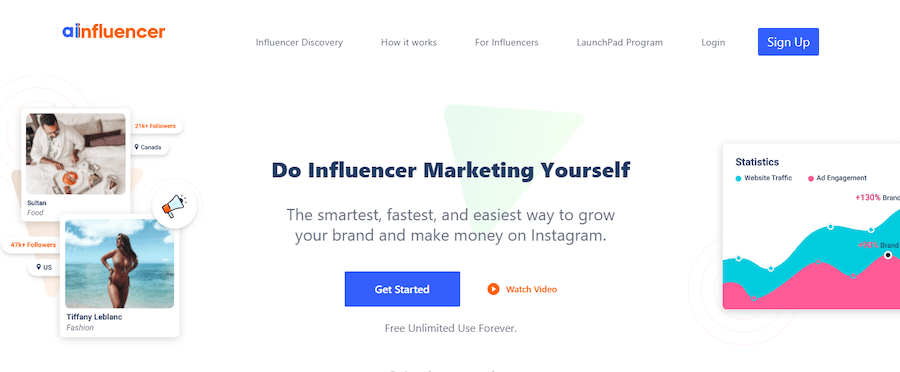 Ainfluencer is an easy way to promote your brand through Instagram influencers. It's a tool that allows you to easily find and contact relevant Instagram influencers.
With Ainfluencer, you get access to the world's most-followed Instagram Influencers; no more surveys in hopes of finding the perfect influencers.
Ainfluencer also helps you manage and track your influencer marketing campaigns. It helps you get the most out of your Instagram influencer marketing strategy and budget.
Influencers can also use this platform to find brands related to their niche for free and collaborate with them. This will help save time and energy, and is the easiest way possible!
Pricing
3. Attest: Customer Insight Platform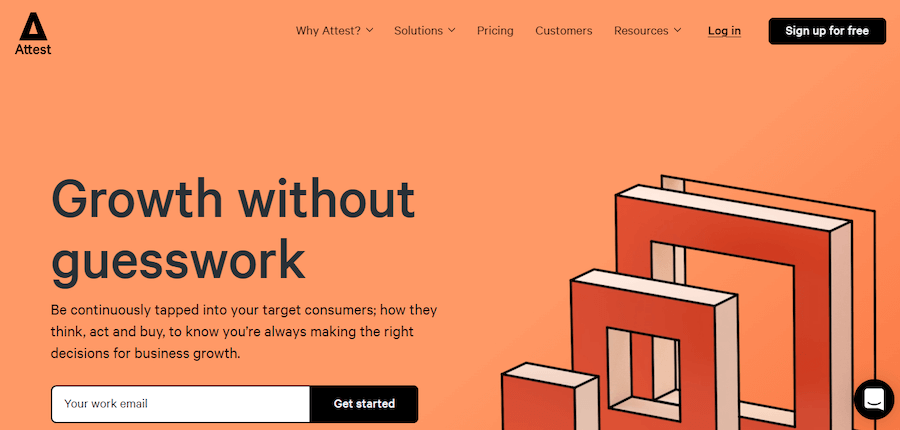 Attest is a consumer insight platform that provides insights for any-sized businesses through an easy-to-use platform. With these customer insights, you will be able to understand and reach your customers. Also, you'll be able to create better marketing campaigns.
Attest's Brand Tracking feature allows marketers to track the performance of their brands and see what changes need to be made. They can also see how well they're doing in terms of organic search results and return on investment (ROI). This feature makes the process of marketing with insights more seamless, automated, and strategic.
Attest's Market Analysis feature allows you to get insights into key competitors and new markets. This feature enables marketers to analyze their competitors for information on how they market themselves and their target audiences.
Pricing
Free
Professional: $0.50 per response
Premium: $0.44 per response
Enterprise: custom pricing
4. Flodesk: Email Marketing Tool
Flodesk is an excellent email marketing tool for marketers who want more creative control over their marketing efforts. It has powerful features like unlimited templates and automation that let you get the most out of your time spent designing emails.
Flodesk's automation feature helps you create emails that are personalized and individualized. For example, if you want to send a welcome email to new customers when they sign up for your service, this is a powerful option. You can choose a welcome email template and set it up so that the welcome email goes out automatically on the day they first use your service.
Flodesk lets you create powerful opt-in forms that are easy to customize, collect email subscribers, and grow your list. You can use templates and design emails to help people join your email list or use an opt-in form as a lead magnet on your website. This is an effective way to capture the information needed for future follow-ups with new prospects and enhance your website strategies.
Pricing
Email: $38 per month
Checkout: $38 per month
Everything: $64 per month
5. HubSpot: Marketing Automation Tool
There are numerous marketing automation tools, each different from the others based on functionality and features. One of these tools is HubSpot
HubSpot's marketing automation software allows businesses to increase their sales, improve their conversion rate optimization strategies, and nurture their leads.
It provides tools so that businesses can create customized digital marketing plans. Its features include user tracking, social media management, live chat, ad tracking & management, landing page builder, email marketing, etc. Note that HubSpot integrates with many apps, tools, and software.
Pricing
Free: $0/month
Starter: $45/month
Professional: $800/month
Enterprise: $3,600/month
6. Customer.io: Automated Messaging Platform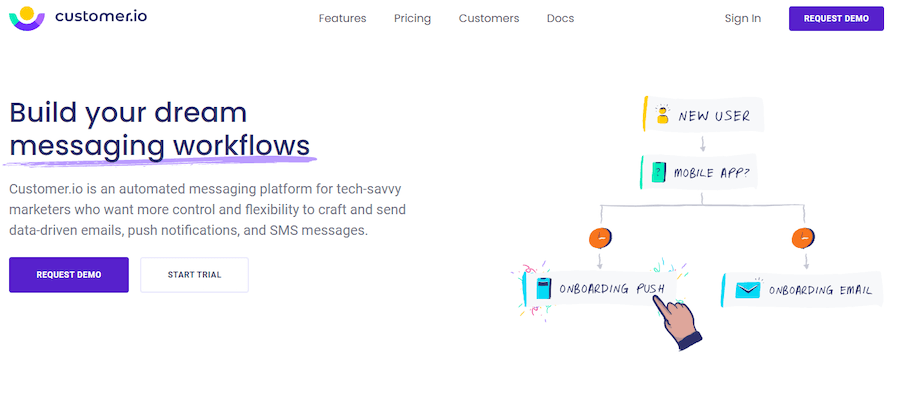 Customer.io is the perfect solution for marketers who want to send messages that are more personalized and relevant to their audience.
Customer.io is an automated messaging platform that uses algorithms to process your data and then delivers a personalized message in real-time or when your event triggers it.
The platform provides multiple integrations with your product or service, so you can get real-time business data from your product into the platform to power all of your automated messaging and keep your user database up-to-date.
Customer.io allows you to narrow down your audience and target the right users with highly relevant content. This feature makes it easier to create an exceptional customer experience for each audience member.
Most automated systems send the same message to all users, but with Customer.io, you can create different versions of the same message and send them at different times.
Pricing
Essentials: $100 minimum per month
Premium: $995 minimum per month
7. Omnisend: Email & SMS Marketing Automation for eCommerce
Omnisend is the perfect marketing automation tool for businesses that need to automate their email marketing campaigns or can't spend hours on repetitive and tedious tasks involved in email marketing.
Omnisend allows you to have one powerful workflow that combines your email, SMS marketing, and web push notification marketing efforts into a single workflow. This saves time by making it easier to set up workflows across your different channels easier.
Another benefit of using Omnisend is that you don't have to create one message for every campaign you send out. Instead, you can use pre-built messages, subject lines, and workflow settings customized specifically for your business needs. This will save you a lot of time while providing your customers with a better experience.
Pricing
Free: $0/month
Standard: $16/month
Pro: $59/month
8. Buffer: Social Media Automation Tool
Buffer is a social media automation tool that makes it easy to schedule and publish posts on all your social media accounts. You can use Buffer to automate your content, so you don't have to post manually.
Buffer has a great feature that lets you easily analyze your social media performance. You can see how many people have seen your posts, the number of likes and retweets, and even the total engagements per day.
Pricing
Free: $0/month per social channel
Essentials: $6/month per social channel
Team: $12/month per social channel
Agency: $120/month per 10 social channels
9. Hootsuite: Social Media Automation Tool
Hootsuite is one of the most popular social media management tools available. It helps you schedule, automate, and analyze social media activity.
One of the best things about Hootsuite is its publish feature. This feature allows you to share your content and schedule it for future publishing across all your social networks.
Hootsuite also helps you engage with people that are contacting your business. This includes responding to comments, sending messages, scheduling posts, and organizing your feed.
Pricing
Professional: $99/month
Team: $249/month
Business: $762/month
Enterprise: custom pricing
10. CoSchedule: Marketing Scheduling Tool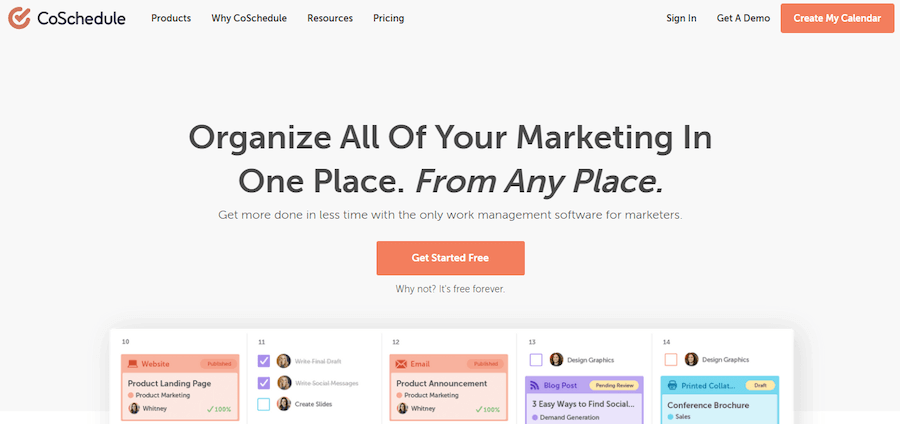 CoSchedule is a powerful tool for managing and scheduling your marketing tasks and automating much of the process. 
Whether you're a small business owner scaling your marketing efforts, or a marketing manager responsible for a large budget, CoSchedule can save you time and energy while giving your marketing the support it needs.
CoSchedule's Marketing Calendar allows you to plan your marketing efforts by setting deadlines for specific tasks. You can also set up milestones and create 'what-if' scenarios with the calendar so you can explore different outcomes and discover new opportunities.
Pricing
Free: $0
Pro: $29 per user/month
Business: custom pricing
11. ActiveCampaign: Customer Experience Automation Software
ActiveCampaign is a platform that offers a suite of tools for email marketing, marketing automation, sales automation, and CRM. It is designed to help businesses of all sizes engage with their customers and prospects at every stage of the customer lifecycle.
ActiveCampaign enables users to create targeted email campaigns, automate sales processes, and track customer interactions. It also offers features for lead scoring, web tracking, and social media integration. Users can segment their contacts based on various criteria, such as behavior and demographics, to create personalized marketing campaigns.
Pricing
Lite: $29 per month
Plus: $49 per month
Professional: $149 per month
Enterprise: custom pricing
12. Klaviyo: E-Commerce Marketing Tool
This software allows businesses to expand their companies, generate new leads, and deliver exceptional customer experience.
By offering features such as email and SMS marketing, website analytics, and A/B testing, Klaviyo can be part of your conversion rate optimization strategies.
Businesses can use Klaviyo to create and send email campaigns to their subscribers, with options to customize the design and content of the emails based on the audience and goals of the campaign.
Klaviyo also allows businesses to automate certain aspects of their email communication, such as sending welcome emails to new subscribers, abandoned cart reminders, or personalized recommendations based on customer behavior.
Pricing
Free: 5000 monthly email sends
Email: $45 for 1,001 – 1,500 contacts per month
Email and SMS: $60 for 1,001 – 1,500 contacts per month
13. Braze: Customer Engagement Platform
It's a cloud-based customer engagement platform that enables businesses to communicate with their customers through various channels such as email, push notifications, and in-app messages. It offers features such as audience segmentation, A/B testing, and personalization to optimize messaging campaigns.
Braze can integrate with various third-party tools, including CRM and marketing automation software, to provide a comprehensive solution for businesses to manage their customer engagement.
While Braze has received positive reviews for its features and ease of use, it may not be the best fit for every business, and it's essential to consider the cost and features carefully before choosing it as a customer engagement solution.
Pricing
You need to connect with their sales team for pricing
14. Mailchimp: Email Marketing and Automation Platform
Mailchimp is a web-based marketing platform that provides businesses with a variety of tools for managing email campaigns, creating landing pages, and automating their marketing efforts. The platform has gained popularity among small and medium-sized businesses for its user-friendly interface and its range of features.
With Mailchimp, users can create and send emails to their subscribers, and track the performance of their campaigns through detailed analytics. They can also use the platform to automate certain tasks, such as sending welcome emails to new subscribers or following up with customers who have abandoned their shopping carts.
However, Mailchimp has received criticism for its pricing structure, which can be expensive for businesses with larger email lists or more advanced marketing needs.
Pricing
Free: $0
Essentials: $13 per month
Standard: $20 per month
Premium: $350 per month
15. Sendinblue: Digital Marketing Tool
Sendinblue is a digital marketing platform that provides businesses with email and SMS marketing solutions. The platform offers a suite of features that enables businesses to create, manage, and automate their marketing campaigns. Some of the core features of Sendinblue include contact management, segmentation, A/B testing, and performance analysis.
The platform allows businesses to create targeted and personalized campaigns, which can help increase engagement and drive conversions. Additionally, the automation features of Sendinblue can help businesses save time and streamline their marketing processes.
While Sendinblue can be a useful tool for many businesses, it is important to note that it may not be the best fit for everyone. For example, some businesses may require more advanced features or integrations with other tools, which Sendinblue may not offer.
Pricing
Free: $0
Starter: $25 per month
Business: $65 per month
Enterprise: custom pricing
16. Bloomreach: Digital Experience Automation Tool
It's a software company that provides a digital experience platform for businesses. The platform uses machine learning algorithms to analyze customer behavior and provide personalized recommendations.
Bloomreach aims to optimize search results and enhance online experiences for customers. However, the efficacy and reliability of its technology remain subject to evaluation and potential scrutiny.
Pricing
Bloomreach pricing is customized to the number of customers you serve, the size of your product catalog, and the number of events you execute.
17. GetResponse: Online Marketing Platform 
Now, let's get to the next tool on our list! GetResponse is an online marketing platform that provides businesses with tools to create and manage their email marketing campaigns, landing pages, webinars, and other marketing activities. 
It offers various features such as email templates, autoresponders, list management, A/B testing, and analytics. GetResponse claims to help businesses increase their conversion rates, but its effectiveness may vary depending on the user's marketing strategy and target audience.
Pricing
Free: $0
Email marketing: $15.58 per month
Marketing automation: $48.38 per month
E-commerce marketing: $97.58 per month
18. Keap: CRM tool
This platform is a cloud-based customer relationship management (CRM) and business automation software. It is designed to help small businesses manage customer interactions and automate repetitive tasks.
Keap provides features such as contact management, lead capture, email marketing, appointment scheduling, and invoice creation. 
Note that Keap's features may not be suitable for all businesses, as some features may not be relevant to their operations. Additionally, the complexity of the software may require time and resources for businesses to learn and implement effectively.
Pricing
Pro: $149 per month
Max: $199 per month
Max classic: contact sales
19. Thryv: Small Business Management Software
It's a business software platform that provides a range of features to assist small businesses in managing their operations. The platform includes tools for managing customer communications, scheduling appointments, generating invoices, and tracking payments.
Thryv also offers marketing features, such as email and social media marketing, as well as reputation management tools. The platform is designed to be user-friendly and customizable, allowing businesses to tailor it to their specific needs.
Pricing
20. OneSignal: Omnichannel Messaging Platform
This tool is a cloud-based platform that provides push notification services for mobile and web applications. OneSignal allows businesses to send messages to users even when they are not using the application.
OneSignal can be integrated into an application through a software development kit (SDK) and offers features such as A/B testing, segmentation, and personalization. The platform also provides analytics to help businesses track the performance of their push notifications. 
However, businesses should be aware that push notifications can be disruptive and may result in users disabling notifications or uninstalling the application altogether.
Pricing
Free: $0
Growth: $9 per month
Professional: $99 per month
Enterprise: custom pricing
People Also Asked About Marketing Automation Tools
In this article, we introduced you to the 20 best marketing automation tools and elaborated on each platform to provide you with deep insight into how they work. Now, let's review some frequently asked questions about our topic.
Q1. What Are the Key Features to Look for in a Marketing Automation Tool?
When selecting a marketing automation tool, it's important to consider the features that will be most beneficial to your business needs. Here are some key features to look for:
Lead generation and scoring: Look for tools that can help you capture leads and assign scores based on their behavior and interests, allowing you to prioritize them and customize your messaging.
Email marketing: A robust email marketing feature is essential for building and nurturing relationships with your leads and customers. Look for a tool that offers email templates, automation workflows, and A/B testing.
Social media management: A marketing automation tool that includes social media management can help you schedule posts, track engagement, and analyze performance across multiple platforms.
CRM integration: Integration with your customer relationship management (CRM) system can help you streamline your sales and marketing efforts, allowing you to better target and engage with prospects and customers.
Analytics and reporting: To measure the success of your marketing efforts, look for a tool that provides detailed analytics and reporting, including metrics such as website traffic, lead generation, and campaign ROI.
Q2. How Can Marketing Automation Tools Help Businesses Save Time and Increase Efficiency?
Marketing automation tools can help businesses save time and increase efficiency in several ways:
Automated workflows: Marketing automation tools can automate repetitive tasks, such as sending follow-up emails or scheduling social media posts, freeing up time for more strategic activities.
Lead scoring and segmentation: By scoring and segmenting leads based on their behavior and interests, marketing automation tools can help businesses better target their messaging, resulting in more effective marketing campaigns.
Personalization: Marketing automation tools can personalize messaging based on each individual lead or customer's behavior and interests, increasing engagement and conversions.
Analytics and reporting: Marketing automation tools provide detailed analytics and reporting, allowing businesses to quickly identify what's working and what's not, and make data-driven decisions to optimize their marketing efforts.
Multi-channel marketing: Marketing automation tools enable businesses to reach customers across multiple channels, such as email, social media, and SMS, from a single platform, streamlining the marketing process and saving time.
Improved lead-to-sale conversion: Marketing automation tools can help businesses nurture leads through the sales funnel more efficiently, increasing the chances of conversion and shortening the sales cycle.
Reduced errors: With automation, businesses can reduce human error and improve accuracy, leading to more effective and consistent marketing efforts.
Conclusion
Marketing automation is a crucial part of growing your business. It's the key to ensuring that your marketing is consistent, targeted, and efficient.
In this article, we have given you a rundown of the top 20 marketing automation tools to keep an eye out for this year and the coming years. We've also discussed how these tools can help you improve your marketing and make your business more scalable.
With its easy-to-use interface and advanced features, WatchThemLive is the ideal solution for businesses looking for a great marketing automation tool to increase their conversion. Join the thousands of businesses already improving their conversion rates with WatchThemLive – Sign Up for FREE Now!