Did you know every second of load time costs you a 4.42% decrease in website conversion rates? That's why you might want to sign up for speed testing tools like Pingdom to fix that problem.
But is that enough to prevent conversion rates from dropping? Does Pingdom tell you what your users think while browsing your web pages? NO! That's why you need CRO tools to have an insight into users' behavior and turn them into potential customers.
In this article, we'll examine everything about Pingdom speed test and its other features.
Then, if you find the service insufficient to improve your website conversions, we'll discuss an alternative. WatchThemLive is an all-in-one behavioral analytic service that monitors everything about website visitors. You can sign up for WatchThemLive free plan right now.
What Does Pingdom Do
As a website optimization tool, monitoring website performance and running different tests to analyze digital experience is what Pingdom is trying to offer.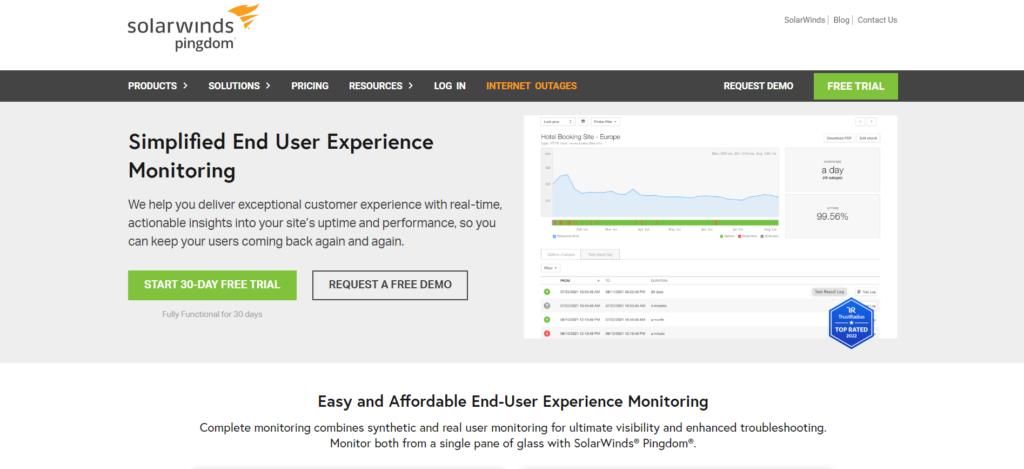 Pingdom speed test tool runs multiple tests on your web pages from multiple locations. This way, web application response time and network performance will be available to you.
In addition, this service claims to report to you some information about who your users are, where they are, and what kind of web performance they are experiencing.
However, this information might not be the data you are expecting from a website optimization tool.
What Does Pingdom Monitor
You probably think that knowing what users are experiencing is exactly what you need to create an exceptional user experience. Yes! You are precisely correct. BUT, Pingdom tools provide you only with end-user experience!
End user experience management (EUEM) allows IT teams to monitor the website performance from the end-user perspective. In other words, the data Pingdom collects is related to how your host performs and how fast your website is.
Therefore, to have a thorough comprehension of user experience, the Pingdom speedtest is not enough to satisfy you.
So, If you want to fully understand your user's behavior and monitor the website's UX/UI design, you need behavioral analytic tools such as WatchThemLive.
This CRO tool provides you with amazing features, including heatmaps, session recording, goal tracking, and video testimonial so you can track customers' activities and improve conversion rates. You can sign up for free and start your free trial right now. Don't miss the opportunity!!!
Who Should Use Website Optimization Tools Like Pingdom
Many people might believe in the old saying, 'patience is a virtue', but certainly, online users aren't among them. Around 70% of users have reported that page load time affects their willingness to buy from an online retailer.
If that's the case, you can use SolarWinds Pingdom to detect what is decreasing your website's loading time. However, page load time isn't the only thing to frustrate customers. Fixing that issue is just the beginning of creating an exceptional user experience.
As Jeff Bezos says: 'If you build a great experience, customers tell each other about that'. So, you can start by utilizing free website optimization tools to analyze customers' behavior. This way, you can exceed customers' expectations.
SolarWinds Pingdom Overview
We already talked about what Pingdom website speed test can do. Now, we are going to discuss its features, pros, cons, and pricing.
Pingdom Features
Real user monitoring,
Transaction monitoring,
Page speed monitoring.
Despite the fact that all Pingdom tools and features are related to monitoring, its status page doesn't have an SSL. Another disappointing point about the Pingdom status page is its design, which has not been updated for a long time.
Pingdom Pros
Having multiple servers in different locations to run synthetic monitoring to simulate user interactions.
Detecting what elements on specific pages can cause loading issues with a quick search.
Providing full reports on the errors that slowed down the webpage.
Pingdom Cons
There is no free version.
Despite its confusing dashboard, there is no live online training for Pingdom website speed test.
Its pricing is expensive for monthly payments. At first, the pricing might seem affordable. However, Pingdom follows a tiered pricing model, which has a relatively big jump between the tires.
Pingdom mostly provides you with raw and numeric data analytics, which are less digestible compared to visualized ones. Therefore, Pingdom reports are complex to study.
Some users have reported this service gives occasional false alarms during the tests.
Pingdom Pricing
SolarWinds offer two different monitoring plans for its website speed test tool: synthetic monitoring and real user monitoring.
Pingdom synthetic monitoring enables you to simulate visitor interactions and get alerted when critical pages and site flows are not working correctly.
On the other hand, with Pingdom real user monitoring, you can view your website performance in real time.
To enjoy Pingdom speed test, you can sign up for one or both of the plans. However, the price is going to be a big con if you don't have a sky-high budget. Especially when you compare the prices with other Pingdom alternatives.

Their starting plan will cost £264 a year, which might sound fair. But believe me, it's not! 100,00 page views and only 10 uptime monitoring are barely enough for even small websites.
So you have to go for more advanced plans, and the prices give you the feeling that SolarWinds doesn't care about its users at all.
According to Pingdom reviews in Capterra, the high pricing of this platform made some users run away from it.

So, if you planned to user speed test Pingdom to optimize your website, maybe it's better to reconsider your decision.
In the next section, we'll wrap everything up about this website testing platform, and then we'll introduce you to the best alternative.
Pingdom Speed Test: Final Verdict
Considering that around 2.14 billion people buy items online, it's totally logical to do everything you can to improve your website performance. However, going for the services that are not necessary for you only results in wasting your time and money.
SolarWinds Pingdom is a website performance monitoring tool. It promises to give you insight into users' experiences. But it's limited to website speed testing. Well, it's called speed test Pingdom for a reason!
So it doesn't tell you which parts of your website need improvement or why you don't get many clicks? NO!
None of Pingdom's tools can help you understand how to increase sales. So, if you are looking for a service to analyze your websites and boost conversion rates, you should search for other services.
But lucky for you, we have the number one Pingdom alternative ready for you. Let's waste no time and get down to business!
WatchThemLive: The Best Pingdom Alternative
WatchThemLive is an all-in-one user behavior monitoring tool that provides you with everything you need to boost revenue in a user-friendly dashboard.
This platform has recently entered the marketplace and, in a short while, has more than 500 happy customers, including the University of Toronto and Shopee, with 343 million monthly visitors. It's worth mentioning that WatchThemLive has rated 4.7 in TrustPilot.
WatchThemLive always puts its users first. Therefore, it provides you with a 30-day free trial to try everything and see for yourself.
Enough with rambling, what is WatchThemLive going to offer?
WatchThemLive Features
WatchThemLive provides you with everything you need to improve your website's performance. It's ideal for digital marketers, UX designers, and eCommerce managers.
Console & session recording,
Website analytics,
Heatmaps,
Goal tracking,
Visual live chat,
Video testimonial.
Let's take a closer look at some of its features.
Console & Session Recording
Looking for a tool to fix the bugs in your website? WatchThemLive's console recording is here for you. You can track all the warnings that happen on user's browser so that you can fix the error as fast as possible.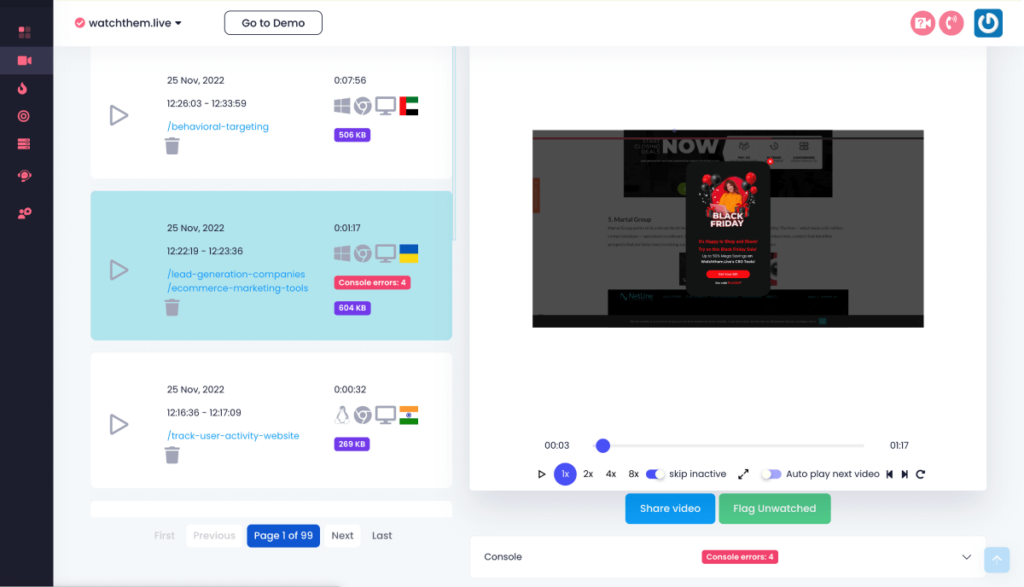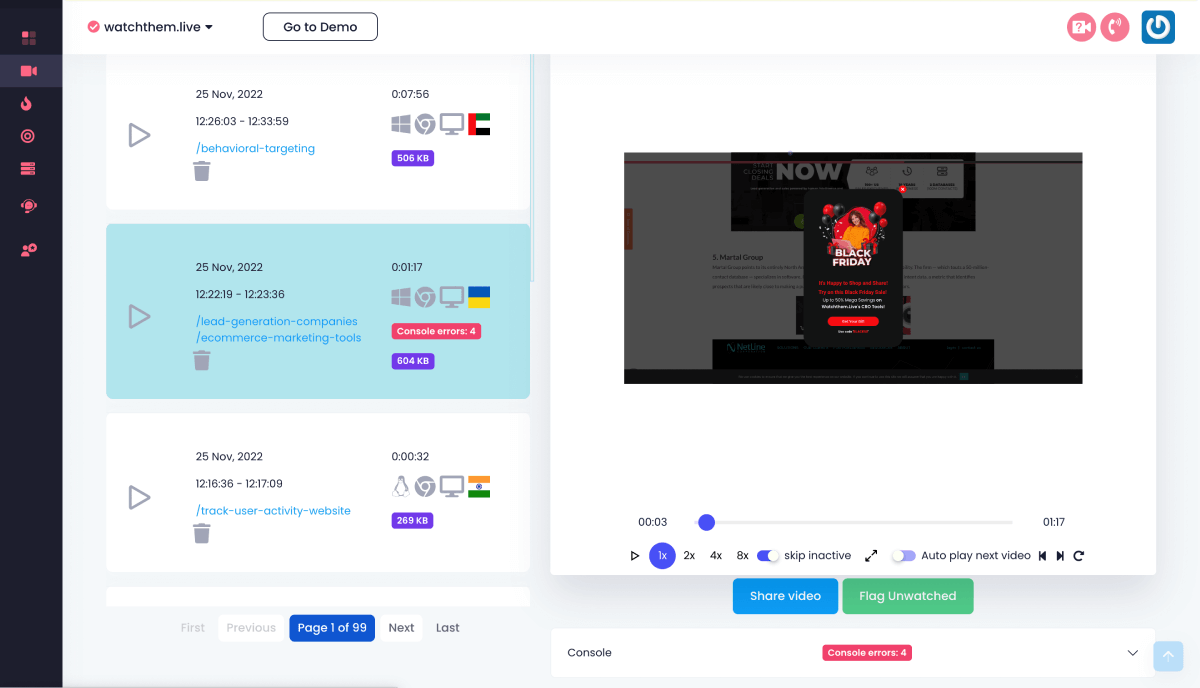 In addition, WatchThemLive's session replay enables you to watch user's journey from the customer's perspective. You can watch users' session replays to understand how they interact with your website.
That's precisely what Pingdom is missing. It can't show you what users are experiencing.
Website Analytics
Collect and analyze data for a better user experience. WatchThemLive's website analytics informs you about customers' countries, devices, browsers, browser languages, screen resolutions, and operating systems in a user-friendly dashboard.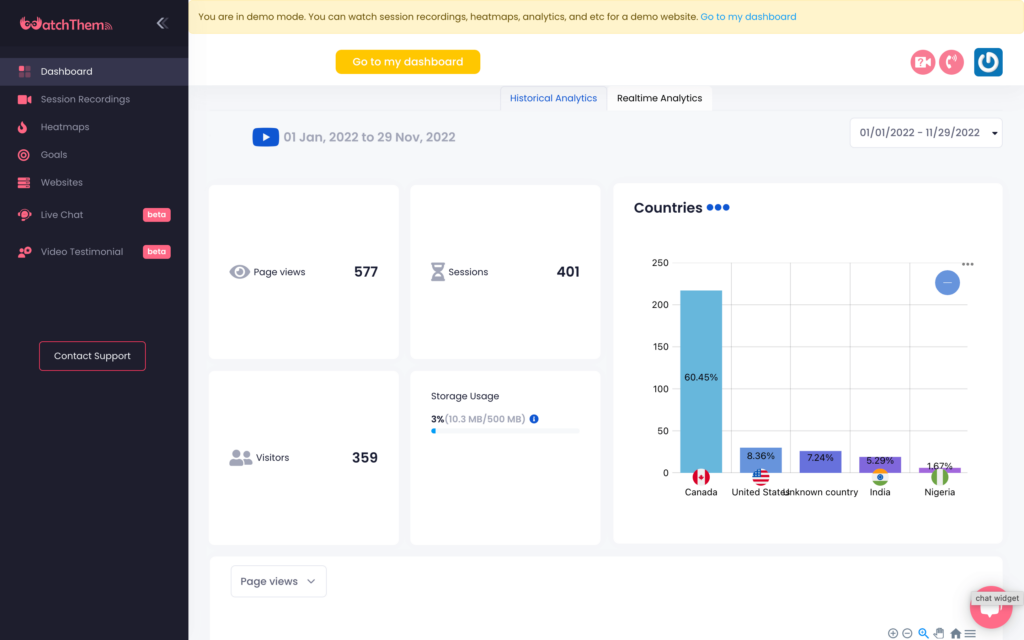 With this information, you can:
Customize the website's content based on the target audience's country and language,
Increase brand visibility by improving the website's SEO,
And track every single website performance metric.
Heatmaps
One of the most essential features that any website optimization tool must have is heatmaps.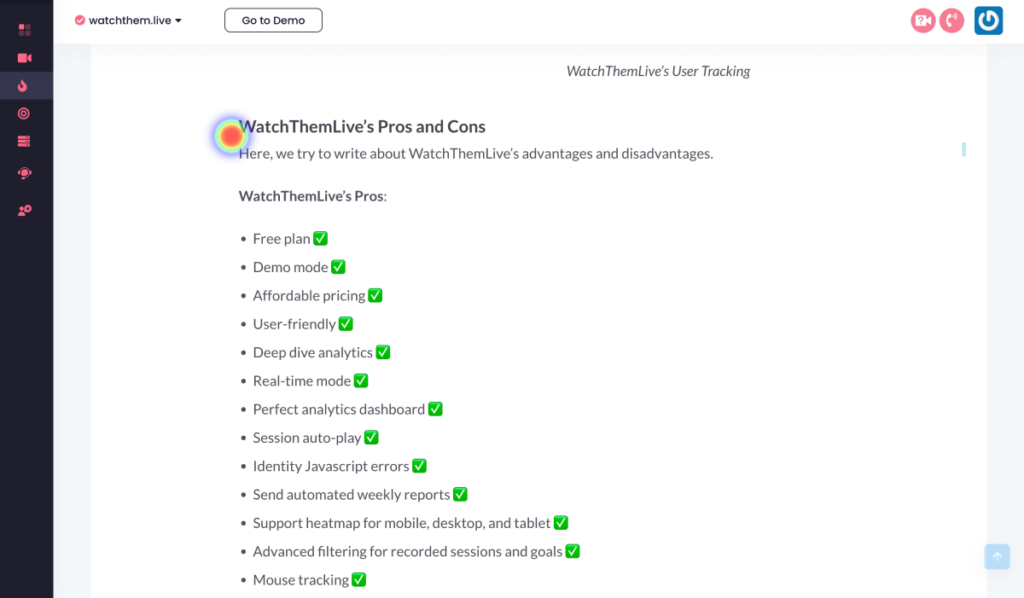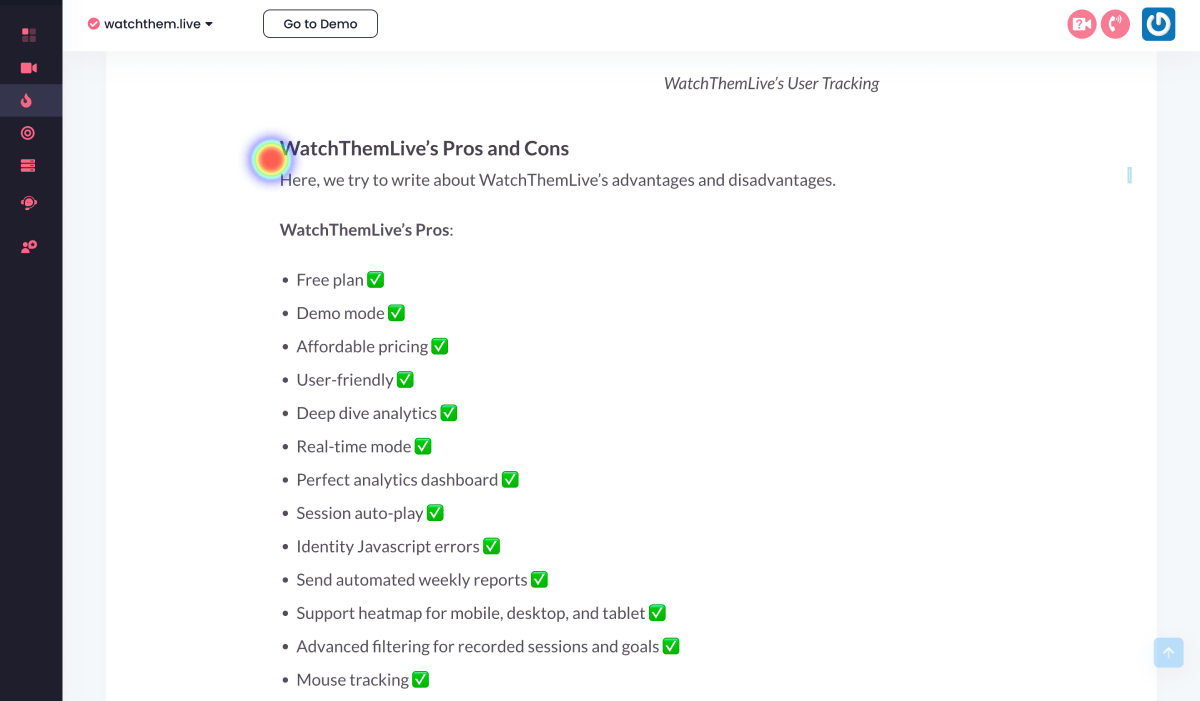 WatchThemLive's website heatmap tool is an excellent tool for visualizing user behavior. You can monitor users' interactions with different areas of your website, such as buttons, links, and images.
In addition, you can track how far users scroll down on your web page. This way, you can optimize your web pages and calls to action to increase conversions.
Main Benefits of WatchThemLive
Tracking console errors and warnings,
Recording more than 40,000 sessions,
Integratable with other services,
Exporting all the data to CSV or PDF,
Sending automated weekly reports,
Advanced filtering based on many factors and a combination of them,
Demo version,
Having a free plan.
WatchThemLive Pricing and Plans
Unlike Pingdom, WatchThemLive's plans are affordable for all businesses, and it also has a free plan. Whether you are an individual website owner, or you work as a team, WatchThemLive has something special for you.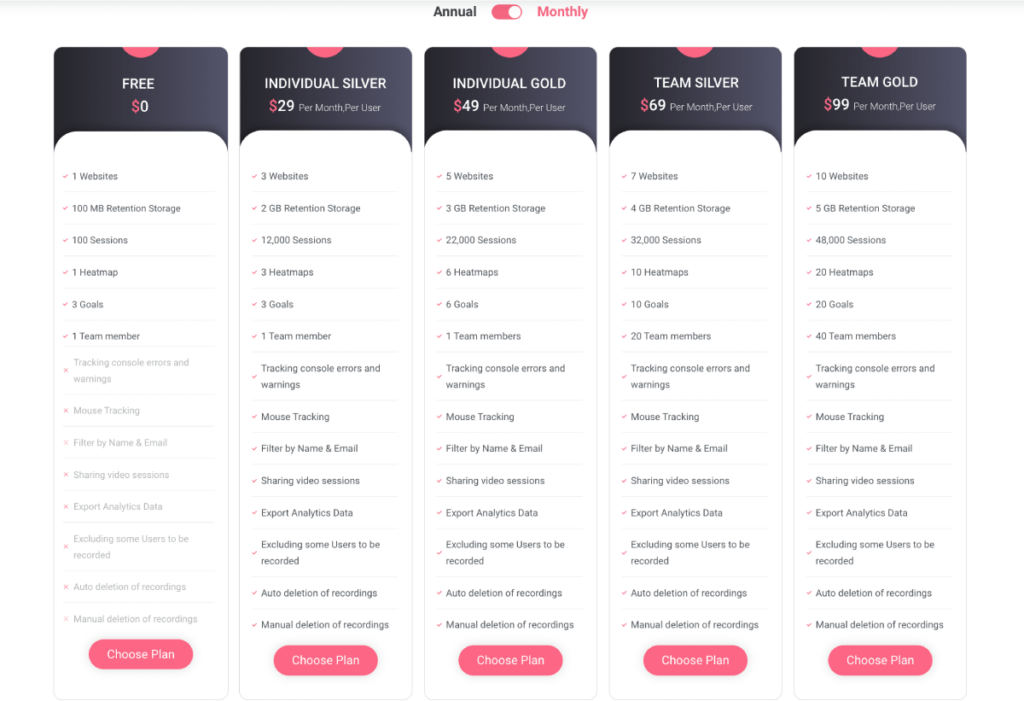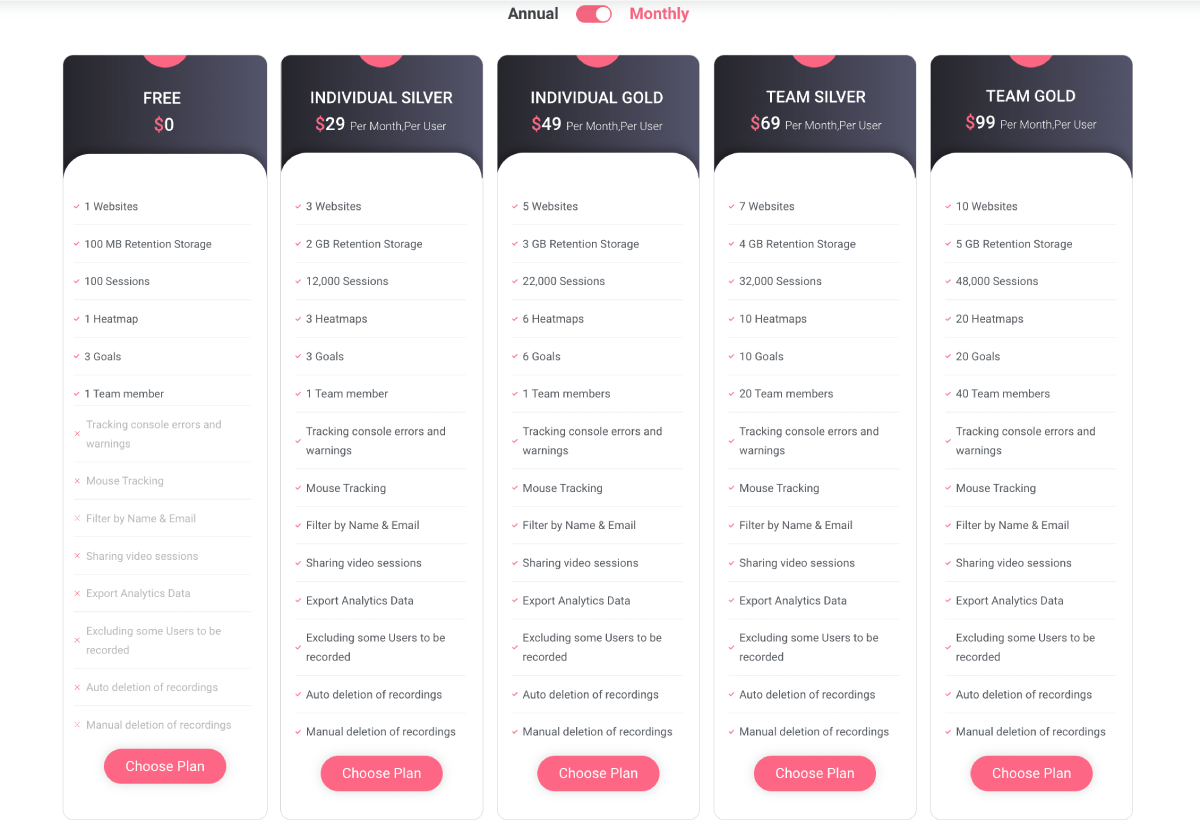 Altogether, we can safely conclude that WatchThemLive is the number one Pingdom alternative. So, What are you waiting for? Start optimizing your website RIGHT NOW!!!
Pingdom Speedtest FAQs
Now that we introduced you to this website performance optimizer tool, it's time to answer some of the frequently asked questions related to Pingdom.
Q1. Is Pingdom Free?
No, it is not. However, Pingdom offers a free trial for 30 days. After finishing your trial, they are going to offer their service according to the tiered pricing model. And they charge £ 22 a month for their basic plan.
Q2. Is Pingdom SolarWinds?
Yes. This service is part of SolarWinds application management solutions. Along with Pingdom, there are some other well-known SolarWinds tools, such as:
Network Performance Monitor,
Server & Application Monitor,
Log Analyzer,
Service Desk.
Conclusion
These days, using website monitoring tools to track and gather extensive data on website performance is very common among eCommerce business owners. Therefore, in this article, we sliced and diced everything about SolarWinds speed test Pingdom.
And then, we introduced you to WatchThemLive as the best alternative for this website performance monitoring tool.
WatchThemLive is the best solution to improve your website's performance and boost revenue. Do you want to skyrocket your business? Activate your free plan today!