How can you measure the performance of your website? Definitely, the number of clicks is the thing that matters the most. Therefore, click tracking will give you insight into which page or content is getting the most attention. That's why you need to use a website click tracker so that you can increase your chances for better conversion rates.
Although these tools are just a small part of CRO tools, it is usual for head managers to ask for detailed information and specific returns for their expenses. And website click tracking tools will give you these answers besides lots of other benefits. 
Here in this article, we will discuss how these tools work and how they benefit your business. Then, we'll make a list of the best website click tracking tools accessible on the market right now.
So, let's begin our journey with some definitions.
How Do Website Click Tracking Tools Work
These services are very similar to website visitor tracking tools because the main purpose of using such tools is to monitor and analyze how visitors click on your website. In general, website click trackers have the ability to track clicks on your website, allowing you to observe user behavior in real time. This means that when someone visits your site, the tool records when they click on a link or button and tracks where they go after that. 
Now, there are three methods for using a click tracking tool:
Email tracking,
Link tracking,
UX click tracking.
Each one of these has its unique usage and benefits. For example:
Email click tracking will provide information about how many people have opened your mail and where they clicked.
UX click tracking will gather data about how your UX design is performing, such as which part of your website is more interactive or where your website conversion points are.
However, the way link tracking works is a bit different. Link tracking works by adding a unique identifier or parameter to a URL on your website or campaign. This parameter indicates where a visitor comes from, what content they clicked through, and which campaign this content relates to.
For instance, the link you use on social media and the one you add to the email marketing can land on the same page but each has a specific parameter. Therefore, whenever you want to analyze your campaigns, the click tracker measures the clicks on social media and email separately to find out which has a better performance. 
This process will help us count the clicks and where they come from.
Website Click Tracking Tools: How Do They Benefit Your Business
You must assess how everything works to ensure that your marketing activities are productive and yield a great return on investment. Website click tracking tools help you see the direct impact of marketing efforts such as ad campaigns on your company's growth.
Instead of sifting through mountains of data to figure out where your visitors are coming from, you can use click tracking to do it quickly. You can observe which links your visitors are clicking and where they are coming from, and calculate your conversion rates with click tracking tools.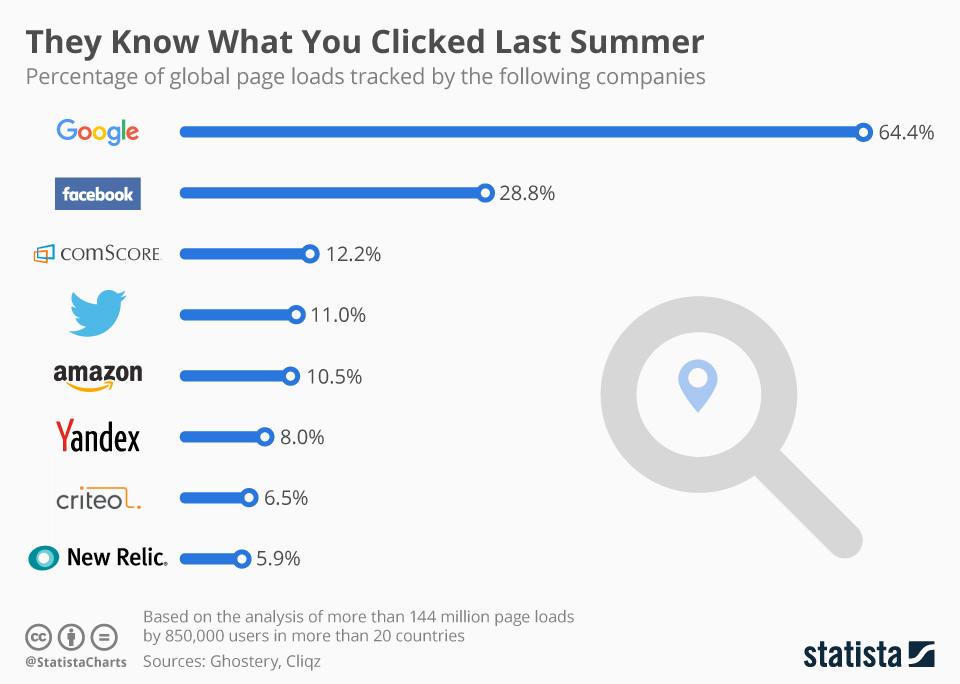 As shown in the picture, all big tech companies use tracking tools to analyze customers' behavior and make better decisions. So, why shouldn't you get the advantage of this technology?
Top 15 Website Click Tracking Tools
The benefits of tracking user activity on a website is not deniable. Here we are going to list the best website tracking tools in the market. Since there are many click tracking software solutions, we try to apply strict conditions to our list. So, you will find out about the very best in the market.  
These are our top 15 website click tracking tools for your business:
1. ClickMagick: Extensive Click Tracking Software Solution
Take any list of the best website tracking tools, and ClickMagick is there. It's a comprehensive platform that allows you to track and optimize links and ads within your marketing campaigns.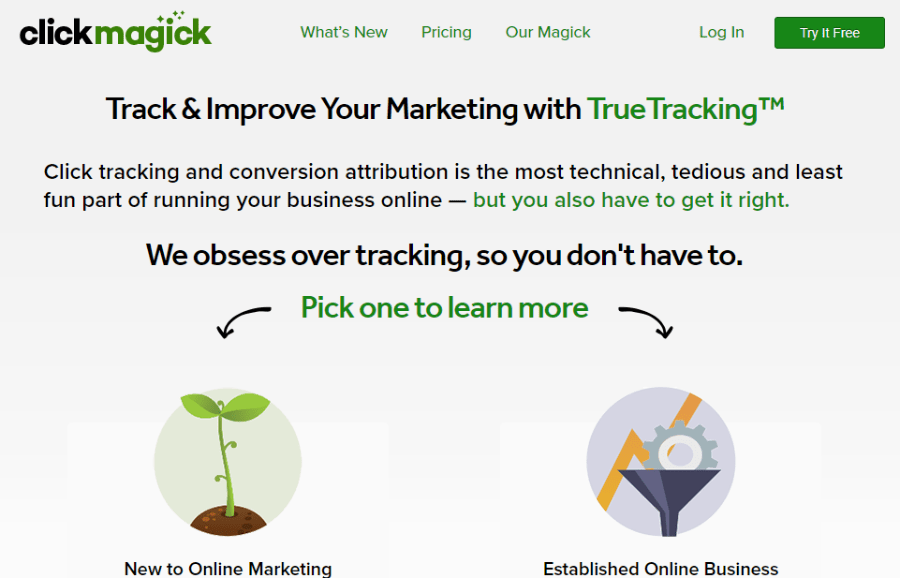 The link tracking tool in ClickMagick is extensive, allowing you to track an entire sales funnel. Especially if you are doing affiliate marketing, you can easily manage your sales with this tool because you can now separate the sales based on the links you give to your marketers. 
One of the best features that this web click tracking tool has is its geo tagging, which allows you to customize your landing pages for each visitor based on their location.
Although it offers four different rotator modes and helps you track entire sales funnels using campaigns and rotators, as a newbie, it's really hard to understand all its features and you need to require some tech skills.
Clickmagick Key Features
Link clocking,
Automatic bot filtering,
Funnel tracking,
Clickmagick Pricing
This tool offers three plans, including:
Starter: $37/mo
Standard: $97/mo
Pro: $197/mo
Clickmagick Pros
Using UTM and cookies to follow links.
Complete campaign tracking.
Different types of tracking features.
Clickmagick Cons
No free plan.
No livechat support.
2. ClickMeter: Tracking Clicks on a Website in Real-Time
It is another prominent website tracking software solution in the present digital market that can track the viewer's location, browser type, language, IP, and other data besides telling from which source you have received a click.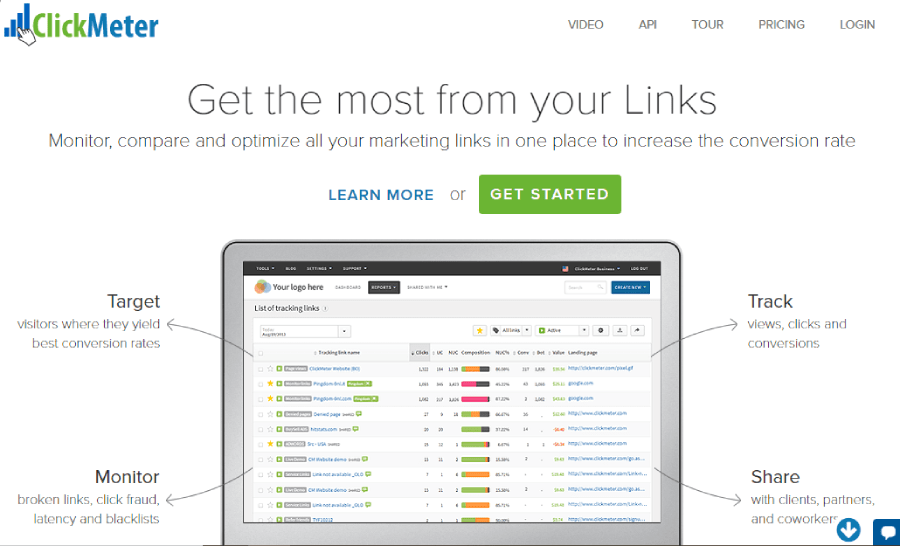 Furthermore, you can analyze each visitor's performance on your website from the first click they make and enter your website to the last page they visit and exit. Therefore, all this insight can help you discover the obstacles that may have made a visitor leave your website without purchasing anything.
ClickMeter Key Features
Analytics and reporting,
Custom links,
Fraud detection,
Campaign management.
ClickMeter Pricing
Although ClickMeter has no free plan, it has a 30-day money back guarantee that increases trust. It provides three plans, including:
Medium: $29/mo
Large: $99/mo
X-Large: $349/mo
ClickMeter Pros
Powerful Features,
Providing Detailed Reporting about Clicks,
Supporting Affiliate Marketing.
ClickMeter Cons
Not Suitable for Beginners,
No Free Option.
3. Bitly: Click Tracking Tool for Companies 
This link tracker, formerly known as Bit.ly, continues to conquer the marketing industry with its benefits. Bitly is a website tracking tool that helps marketers to create short links to fuel digital marketing campaigns. It is designed for small or more significant companies with no limitations. And currently acts as a fantastic tool for monitoring the performance of links through analytics, among other things.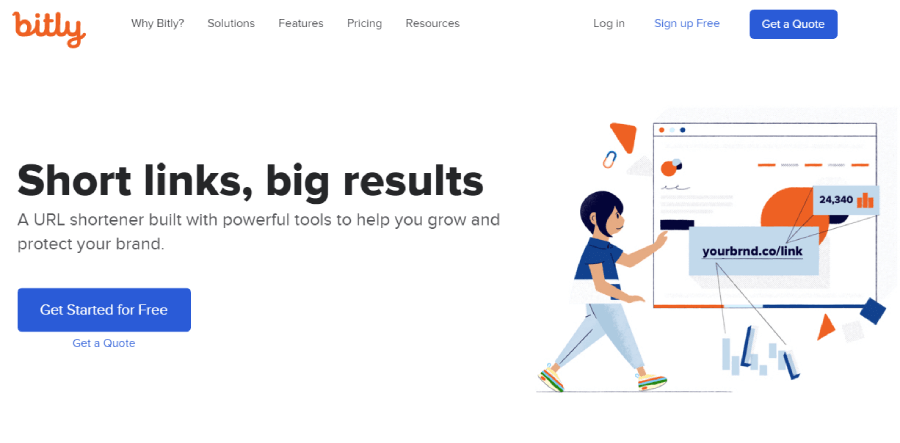 It is designed for small or more significant companies with no limitations. And currently acts as a fantastic tool for monitoring the performance of links through analytics, among other things.
According to their claim, you can customize the URLs; so, you can add or remove the characters based on your preferences. But there's no way to edit links. 
Moreover, you can create up to 50 short links per month on its free version, which is might not be enough for some users. That's why it is believed that Bitly is more useful for small businesses and startups that usually don't have many links to check.
Bitly Key Features
Audience insights,
Link analytics,
Link Shortener,
URL creation.
Bitly Pricing
This tool has a free plan that includes 50 bitly links per month, and other plans, including:
Basic: $35/mo
Premium: $300/mo
Enterprise: Custom
Bitly Pros
Creating Easy-to-Manage Links,
Customizable QR Code,
Easy to Use.
Bitly Cons
No App,
Expensive Price Planning,
Link Expiration.
4. Click.org: Significant Tool for Website Click Tracking
A few well-known marketers use Click.org as a secret weapon. It is regarded as one of the most significant link-tracking tools in the world. It allows you to track your links in real-time.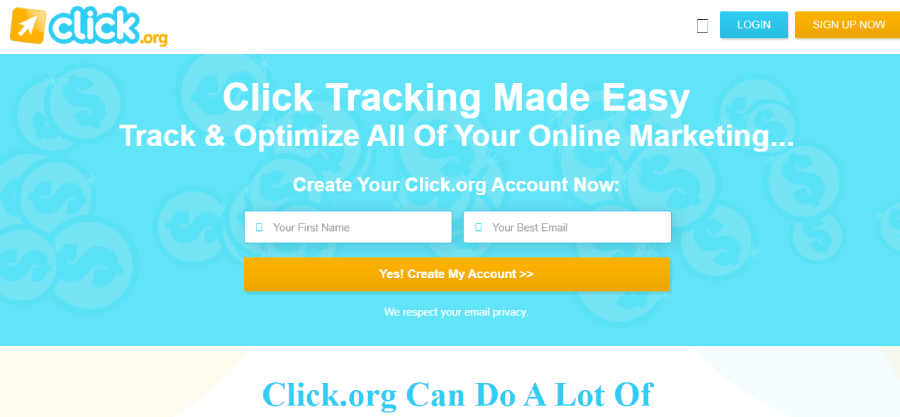 To grow your business, you may effortlessly target and retarget your traffic. That is to say, click.org can help you with email marketing, affiliate marketing, CPA marketing, blogging, and more.
Click.org Key Features
Advanced link tracking
URL shortening and link cloaking,
Conversion tracking,
Email Open & Click Tracking,
Social media marketing.
Click.org Pricing
They promise to give your money back within 30-days, so you can choose your plans based on the needs of your business. Paid plans includes:
Basic: $7/mo
Pro: $23/mo
Plus: $39/mo
Extreme: $79/mo
Click.org Pros
Easy to Use,
Enhanced Click Tracking,
Optimization Tool.
Click.org Cons
No Free Plan,
Too Many Upsells that May Be Overwhelming,
Poor Customer Support.
5. Voluum: Click Tracking Tool for Optimizing Your Advertising
Like other tools mentioned on the list, Voluum is a website click tracker that has several features to track users and optimize websites. Furthermore, it is one of the useful tools for affiliate marketing management.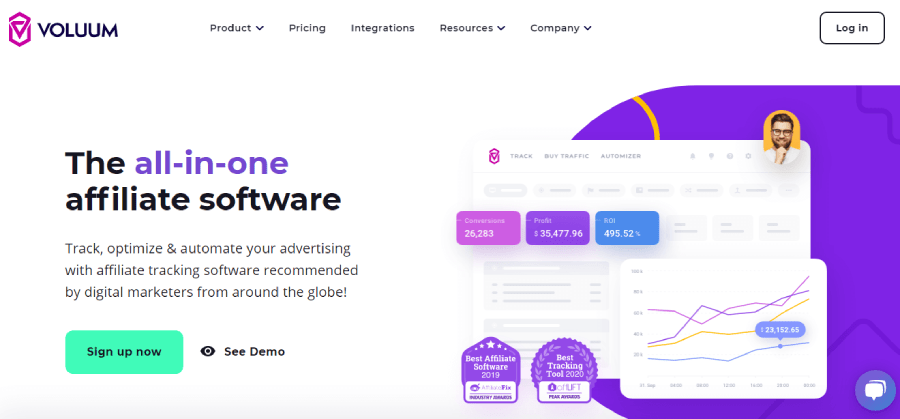 No matter where you put your email, Voluum helps you discover on which campaign or platform you receive more clicks. In addition to the number of clicks, this tool gives you more than 30 more metrics about each visit and click. Therefore, you can analyze your campaigns in detail.
The first thing that might discourage visitors is that this tool has no free plan. On top of that its pricing is too expensive which means only well-developed companies with an enormous budget can use it.
Voluum Key Features
Promotional tools
Event tracking,
Push notification alerts,
Automatic campaign optimization.
Voluum Pricing
Unfortunately, Voluum's pricing can be expensive for startups. This tool offers three plans, including:
Start-up: $599/mo
Agency: $999/mo
Enterprise: $1999/mo
Voluum Pros
Real-Time Reporting,
Easy to Integrate,
User-Friendly Dashboard,
Great Customer Support.
Voluum Cons
No Free Plan,
Expensive Pricing.
6. ClixTrac: Free Click Tracking Software Solution
This free website click tracking software is being used by many new businesses to track the number of views and clicks for their promotional banners and links. ClixTrac is extremely simple to use. No installation or scripts are required for its setup. Therefore, anyone with a simple technical knowledge can implement this tool to a website.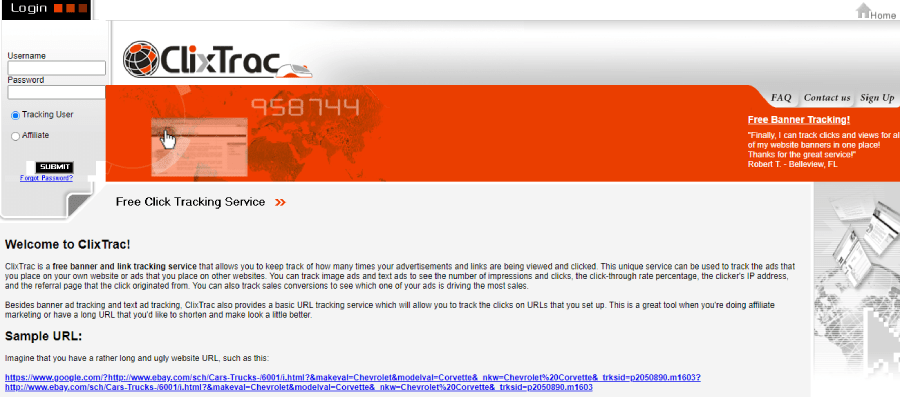 On the downside, if you want to track your ads, ClixTrack can't be a good option. Why? Because this tool only provides 100 clicks for 7 days, and when you use all the clicks provided for you in the span of seven days, the link will expire.
ClixTrack Key Features
Banner ad tracking,
Link shortening,
Link management tools.
ClixTrac Pricing
It offers a free plan with unlimited banners and links. ClixTrac Premium pricing starts at $4.95. And its Professional plan starts at $9.95.
ClixTrac Pros
Free,
User-Friendly Interface,
URL Shortening.
ClixTrac Cons
Limited Features,
No Advanced Options.
7. Improvely: Tool for Detailed Website Click Tracking
Many different types of website click tracker software have been developed all around the world. However, Improvely is one of the best link trackers. It which can assist you in a variety of ways.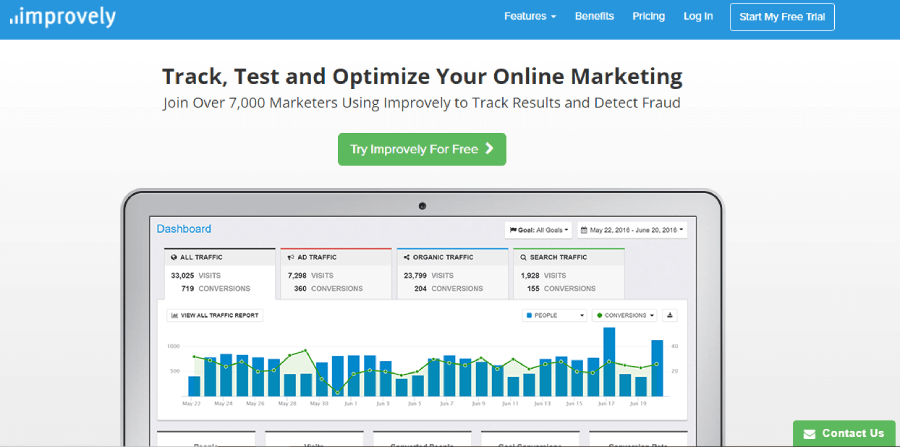 One of the best features that this tool has is the ability to create a profile for each visitor, so you can analyze their previous performances as well. As a result of this data, you can discover where they have more conversions and what makes them leave your website.
Additionally, Improvely keeps track of which traffic sources are working well and which ones are not. You can adjust the test rules even though it has an A/B test built-in.
However, not providing a documentation or video tutorial may make this tool a little bit confusing to beginners.
Improvely Key Features
Action tracking,
Conversion tracking,
Real-time campaign tracking,
A/B split test.
Improvely Pricing
All plans come with a 14-day free trial. You can also cancel your plan any time. It offers four plans, including:
Freelancer: $29/mo
Startup: $79/mo
Small Agency: $149/mo
Large Agency: $299/mo
Improvely Pros
No Installation Is Required,
Recognizing Abnormal Click Activities,
Detailed Reports.
Improvely Cons
Expensive Pricing,
No Documentation and Tutorial,
No Live Chat Support.
8. ClickGum: Free Click Tracking Software for Marketing
Looking for free link tracking software? Then, ClickGum can be another option on the list, which is helpful for affiliate link tracking. It improves the speed and profitability of your website.

As mentioned, this tool is free to use. However, you will not be able to use all of the tool's features in the free version. 
With all the features it provides, it would have been better if this tool provided services in languages other than English as well. Furthermore, this tool is a suitable website click tracker for small businesses.
ClickGum Key Features
Tracking tools,
Block click fraud,
Optimize marketing,
A/B split test.
ClickGum Pricing
Although they promise to provide you with a full refund within 30-day, you can use their free plan which gives you 3k monthly clicks, unlimited links, unlimited rotators, and unlimited custom domains. Other paid plans are as follows:
Manager: $9/mo
Executive: $29/mo
Enterprise: $49/mo
ClickGum Pros
Ease of Setup,
Comprehensive Features,
Free Plan.
ClickGum Cons
English Only,
Poor Visual Reporting.
9. AdsBridge: Click Tracking Software for Your Campaigns
AdsBrige is among the best affiliate website click tracking software programs. Their worldwide coverage is among top-tier companies right now.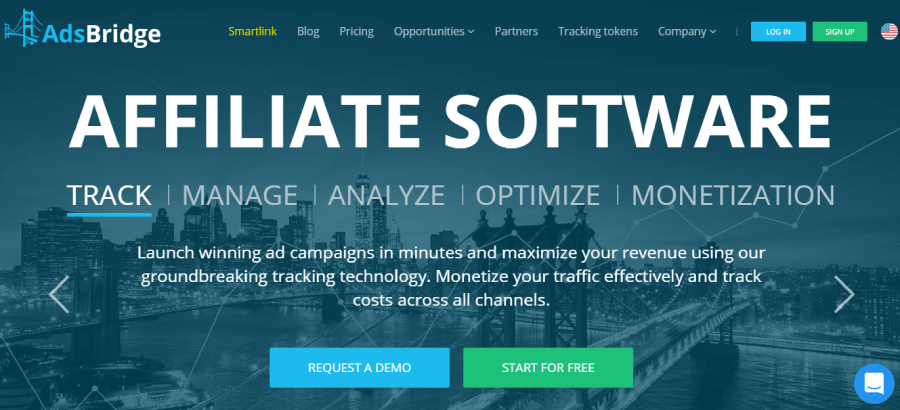 So, traffic can quickly travel through the shortest route. Moreover, AdsBridge has global coverage. They cover more than 160 countries.
But you need to know that there are limits on visits per month. And you're not allowed to return or get refunds for services you have purchased.
AdsBridge Key Features
Conversion tracking,
Split testing,
Landing page builder,
Ad tracking.
AdsBridge Pricing
You have a 14-day trial with 50,000 visits limit. There are six plans provided by AdsBridge:
Starter: $29/mo
Professional: $89/mo
Advanced: $199/mo
Business: $379/mo
Agency: $499/mo
Enterprise: $799/mo
AdsBridge Pros
Quick Integration,
Automatic Campaign Optimization,
Generous Free Version.
AdsBridge Cons
Poor Mobile Version,
Slow Speed.
10. TinyURL: URL Shortener with Website Click Tracking Abilities
Another free click tracking software service that is popular among many companies is TinyURL. It enables you to shorten your URLs and monitor its clicks and interactions. Data provided by this click tracking tool includes the number of clicks, unique visitors, referrers, traffic by region, and so on.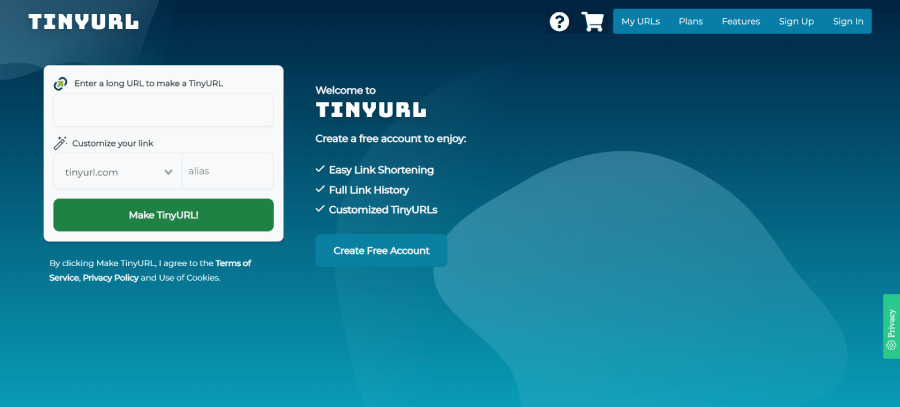 If you are in search of a free link shortening tool, TinyURL is an excellent option, though it only provides limited features and you need to upgrade your plan in order to get features like tagging capabilities and detailed analytics.
TinyURL Key Features
Activity dashboard,
Click tracking,
URL shortener,
Website analytics.
TinyURL Pricing
Besides it free plan, it offers two other plans:
Pro: Starting at $9/mo
Bulk 100k: Starting at $99.00/mo
TinyURL Pros
Free Plan,
Affordable Pricing,
Easy to Use,
Quality Support.
TinyURL Cons
Limited Features,
Security Concerns.
11. Fathom: A Tool for Website Analytics
Being known as an alternative to Google Analytics, Fathom offers great reports including, event tracking, content interactions, campaign tracking, goal tracking, and roll-up reporting. Therefore, it is not a simple click tracker tool, it can do much more.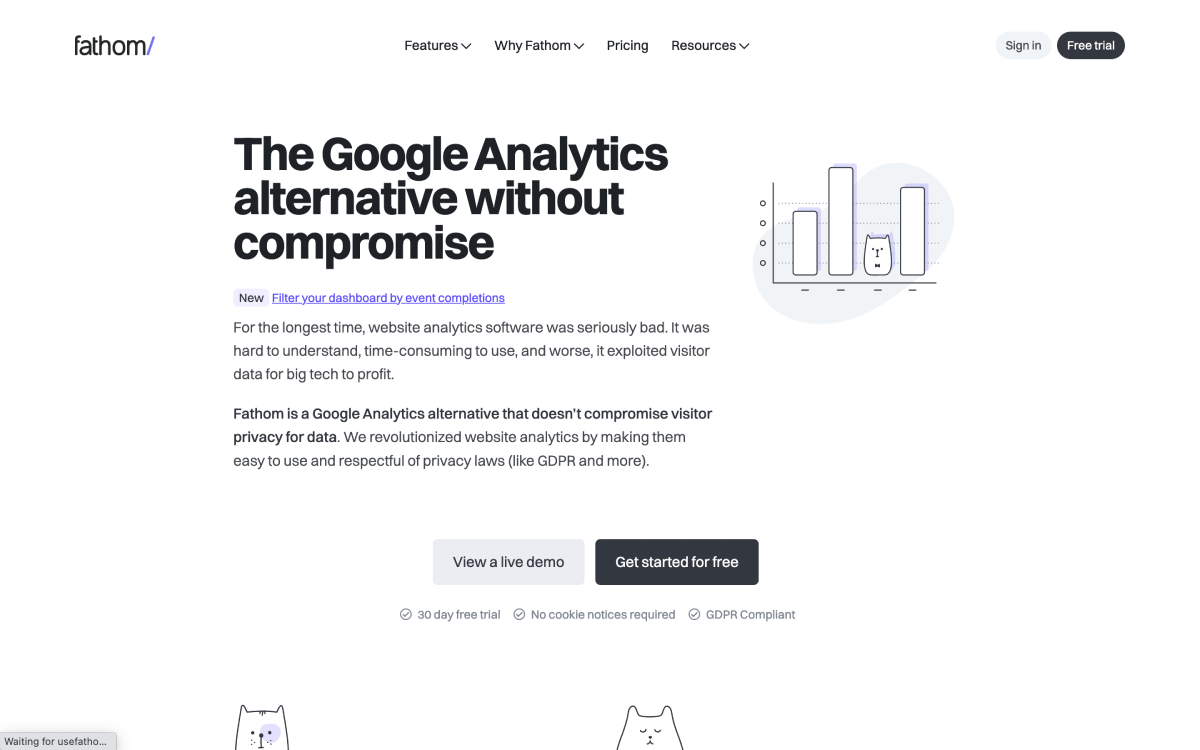 Unfortunately, this tool lacks integration with Google Search Console, Google Ads, Google Analytics. Although it allows you to add unlimited users, goals, segments, and 50 websites, you can only track 6 metrics.
Fathom Key Features
KPI analysis,
Report editor,
Business roadmap,
Trend analysis.
Fathom Pricing
Its pricing is based on the number of companies you connect to Fathom. It has no free plan, but you can try it for 14 days for free. Other paid plans, including:
Starter: $48/mo, one company included
Silver: $250/mo, ten companies included
Gold: $360/mo, twenty five companies included
Platinum: $650/mo, fifty companies included
Fathom Pros
Detailed Analytics,
User-Friendly,
Responsive Customer Support,
Ad-Blocker Bypassing.
Fathom Cons
Lacks Integration with Other Tools,
Expensive Pricing,
Short Free Trial.
12. RedTrack: The Best Ad Tracking Tool
RedTrack is an ad tracking tool that was founded in 2015. This tool provides you with affiliate & performance campaign tracking and analytics. So, it can help you automate your ad tracking and set rules in order to get notified if the benchmark KPI isn't met.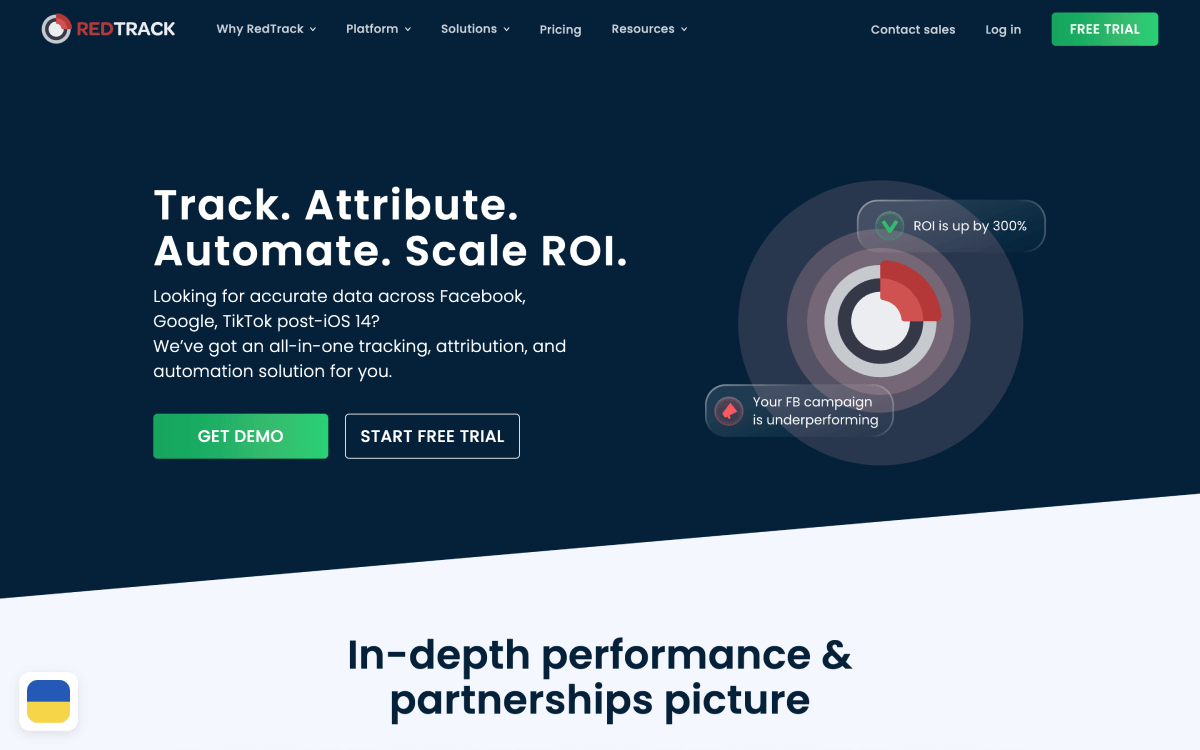 It might be beneficial to consider that certain plans include features that are not necessary at this point. Additionally, team sharing is only available on their two most costly plans.
RedTrack Key Features
Custom dashboards,
Autoscale,
Ad Automation,
AI-smartlinks,
LP pixel.
RedTrack Pricing
Its pricing is a bit more expensive than other solutions on the market. It offers two kinds of plans, namely Affiliate and Advertiser.
The affiliate plan offers:
Solo: From $149/mo
Team: From $249/mo
Enterprise: From $749/mo
The advertising plan is as it follows:
Grow: From $149/mo
Scale: From $299/mo
Prevail: From $749/mo
RedTrack Pros
Ease of Use,
Wide Range of Features,
Multilingual,
Responsive Customer Support.
RedTrack Cons
Slow Reporting,
Poor Mobile App,
Expensive Pricing.
13. Rebrandly: Track Social Media Campaigns
The main feature of Rebrandly is social media management. However, the ability to track links that come from different platforms is the power that makes it unique. Therefore, whenever you run an Instagram ad, or affiliate marketing on social media, you can easily find out which has a better revenue for your business by allocating different links to each of them.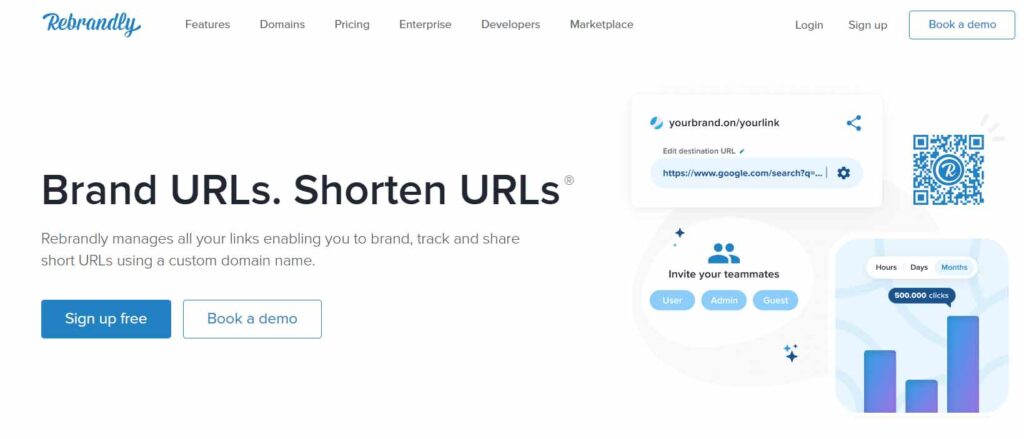 The other features this website click tracker has is shortening URLs and creating customizable brand URL. However, all these features come with high pricing, especially when it comes to detailed reporting.
Rebrandly Features
Link Analytics,
UTM Builder,
Traffic Routing,
QR Codes.
Rebrandly Prices
Free (Limited Features)
Lite: $13/mo
Essentials: $32/mo
Professional: $99/mo
Enterprise: $625/mo
Rebrandly Pros
Easy to Use,
Powerful Features,
Team Management.
Rebrandly Cons
Limited Free Version,
Limited Geographical Analytics.
14. T2M
Although it was created for universities and survey tracking, T2M could become a great website tracking tool, especially for small businesses. Its features are pretty basic, including URL shortening and UTM building, but it can be helpful for startups who don't have much budget to use other tools with expensive pricing plans.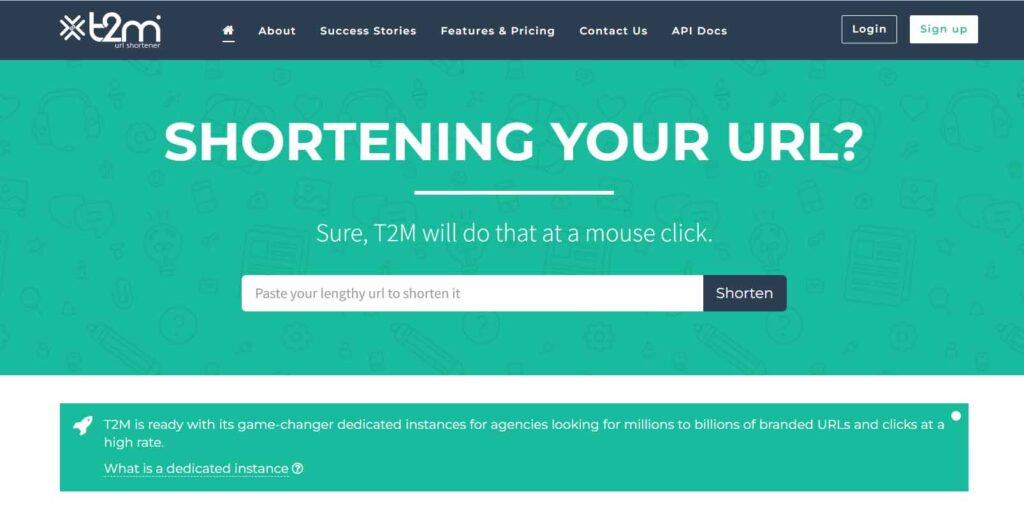 T2M Features
Shorten URL,
QR Code Branding,
UTM Builder,
A/B Testing.
T2M Pricing
Basic- $5/mo
Standard- $9.99/mo
Pro- $29.99/mo
Premium- $89.99/mo
Dedicated- Customizable
T2M Pros
Cost-Effective,
Easy-to-Use,
Customization.
T2M Cons
No Free Plan,
Not Suitable for Large Companies.
15. Peerclick
Another great website clicks tracker tool that can collect useful data from users' clicks is Peerclick. Whether you want to follow an affiliate program or track the visitors that come from social media platforms, you can count on Peerclick.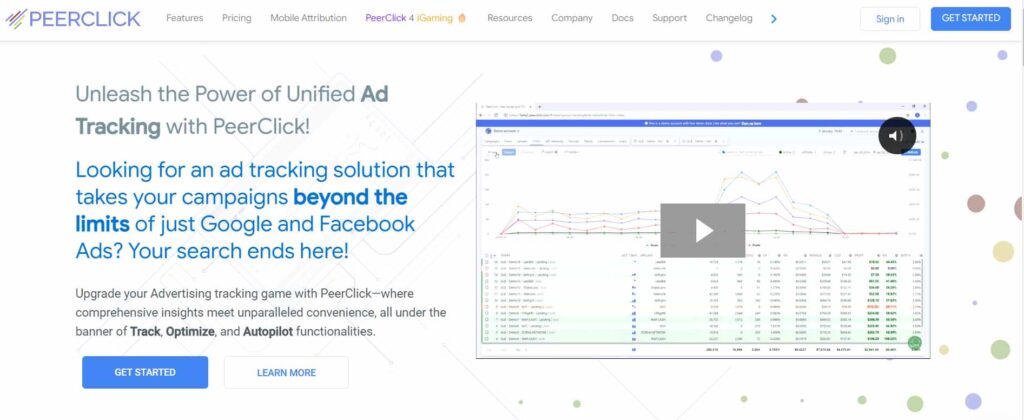 Peerclick Features
Tracking Multiple Conversions,
Analyzing Data Collected from Click Tracking,
Optimizing Ad Performance.
Peerclick Pricing
Basic: $99/mo,
Advanced: $249/mo,
Exclusive: $649/mo.
Peerclick Pros
Accurate Ad Tracker,
Comprehensive Tracking,
Tracking Expenses.
Peerclick Cons
No Free Version,
Poor Customer Support.
FAQs on Website Click Tracking Tools
So far, we've discussed the great 13 tools to help you understand why users come to your website and how they behave by analyzing their experience. Now, we want to answer some of your frequently asked questions.
Q1: How Do I Track Clicks on a Website?
Tracking clicks on a website is an essential part of understanding its performance. It can help identify areas for improvement and provide insights into user behavior. Fortunately, we've covered several easy-to-use tracking tools that can help you monitor your web traffic, and track clicks with ease.
By using these powerful tools, you will be able to gain insight into your users' behavior akin to analyzing footfall in a store – quickly gaining clarity into areas where improvements can be made or opportunities may exist.
Q2: What Is Click Tracking in SEO?
This is an important concept in search engine optimization (SEO). It is a process that allows digital marketers to measure the effectiveness of their SEO campaigns. By monitoring website clicks, digital marketers can gain insight into various aspects of their SEO efforts, including which keywords are driving the most traffic and where visitors are coming from.
The click tracking process begins with setting up a tracking code on the website. This code records each time someone visits the site and provides information on what has been clicked during their visit.
The data collected can help businesses identify which pages are receiving the most clicks, as well as any patterns or trends in visitor behavior. Additionally, businesses can use this data to adjust their keyword strategies or even create new content to better meet customer needs. With click tracking, digital marketers have access to valuable insights about how visitors interact with their website and how they respond to specific marketing efforts.
Q3: Can I Track Link Clicks?
Several website click tracker tools offer UTM building, which gives you a unique code at the end of your URL. Therefore, you can put that specific link in Email campaigns or other platforms and check out the visitors that those campaigns bring. Link click tracking can help you discover how effective your campaigns are.
Conclusion
With the strict competition in the online market, it is essential to analyze every move to improve your website as much as possible to make more customers. There are several tools you can use to optimize your web and check out the visitors' behavior. Especially if you want to land different campaigns to one URL, using such tools can help you find out which channel or campaign performs better. Out of all the available options, click-tracking tools for websites are exceptionally useful.