Today, our main purpose is to introduce you to business strategy and share with you its top trends. But before that, there are some things you should pay attention to.
Once a business has been established, it needs new business strategies to be expanded. Moreover, every small and large business has to look at improving its website traffic and online sales. They can do this by using some effective eCommerce marketing tools.
Did you know that over 20% of businesses fail in the first two years of starting out? It takes a while for businesses to get going – and using the right strategies can help.
So, do you know what those business development strategies are? Or what are the latest trends that you can apply to expand your business this year? Just check out the below section to get all your answers within a few minutes.
Boost Your Knowledge in Conversion Rate Optimization: Top 20 Web Analytics Tools You Must Know About
What Is Business Strategy
It's impossible to make a profit without careful planning. Therefore, every company should define an outline for its vision. And that's exactly what a business strategy gives you.
We can define business strategy as the organization's main plan to achieve its goal. In other words, a business strategy is a series of actions you take to accomplish an objective.
Based on the business strategy definition, you may mistake it for another broadly used term, business tactics.
What Is the Difference between Business Strategy and Business Tactics
Any actions a company takes as part of its strategy are considered as business tactics. In fact, business strategy is the final destination, while tactics are the steps that will get you there.
For example, imagine you are an eCommerce business owner. And your strategy plan for business is to increase your sales.
Therefore, you might ask other websites for promotions, use CRO tools, or offer customer discounts. All these steps get you closer to your main goal.
So, you used three different business tactics to accomplish your objective.
However, the tactics you are going to acquire must be in line with the business strategy level. But don't worry! We're here to make everything clear for you.
You might be interested: 7 Best Tools to Record Website Visitors for FREE
Different Levels of Business Strategy
Any marketing strategy consists of three main levels. And these levels must work together to drive your business toward success.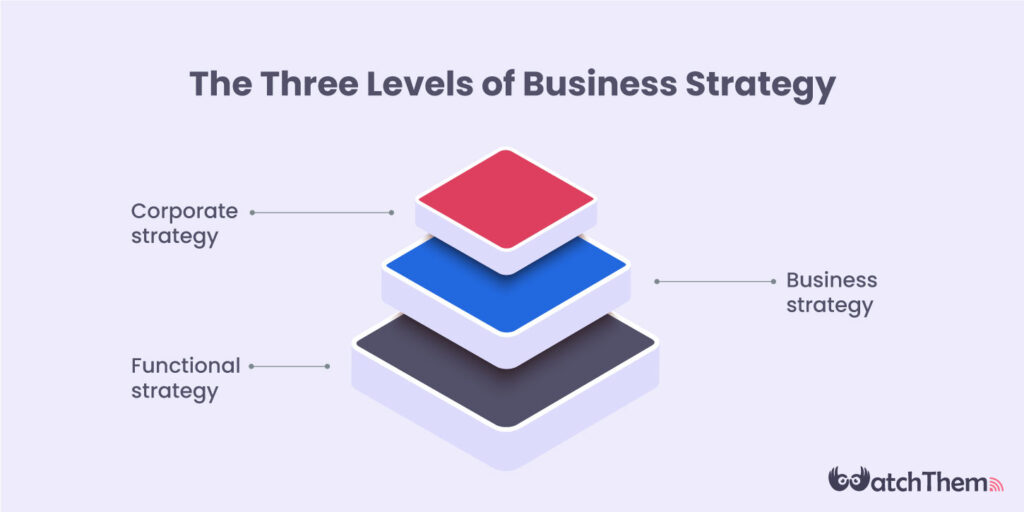 Therefore, a clever business strategy planner must consider every aspect of the business to design a winning strategy. But what are these three levels?
1. Corporate-level strategy
This level of strategy is at the top of the business strategy hierarchy. So, the main purpose of your business will be defined here.
The broad nature of corporate strategies makes them suitable for long-term planning. Therefore, companies define the framework and foundation of their business operation at this level.
2. Business-level strategy
At this level, you'll select how you want to compete in the market. In other words, you'll discuss how to achieve the goal you defined in the previous stage.
At this level, the main strategy is broken down into smaller pieces. Consequently, planning at the business-level strategy is not as broad as the corporate level.
3. Functional-level strategy
It is at the bottom of the planning hierarchy. The actions will be planned and executed at the functional-level strategy. Every department can choose its own method to achieve its objective.
Example: Here is an example. A company plans to increase its sales at the corporate-level strategy. So, how can they reach this goal? They might decide to run an eCommerce website at the business-level strategy. This way, they can increase their market share.
In the end, at functional-level strategy, website managers decide to use customer behavior analytic tools to improve their website user experience. And consequently, increase the company's sales.
4 Signs Your Business Strategy Plan Is Working
Since a strategy is planned for the long run, you might wonder whether you are on the right track. If you see any of these signs, it is guaranteed that your strategy for business growth is paying off.
1. Your Industry Is Growing
Before you rush to expand your business, you must study the industry and market. The market you want to capture should be a growing one.
Let's say you are a new startup selling dog collars. Before you expand, you must know that there are new customers every day in the market you want to capture. If people are not interested in your industry, then there is no benefit to expanding in it.
2. You Are Profitable
Being profitable as a business is a sign that people are interested in your product. This is proof that there are people who are willing to buy your product. Another benefit of being profitable is that you get the money which you can reinvest back into the business. To increase your conversion and sales, there are, of course, eCommerce marketing tools that can help you along the way.
3. Your Customers Are Asking You To Grow
Having customers who are asking you to expand is a great sign that you should expand further. This growth can be demographically or even product oriented. One example of this kind of growth is Facebook. It began just for Harvard. Later on, it expanded to other universities because the people asked for it.
4. Clear Grasp On Your Brand
You must know your brand inside out. You should know all the strengths and weaknesses of the brand. These factors can help you plan out which strategies you want to execute and set idealistic goals for your brand.
Business Strategy Examples That You Should Know About
Now that we sliced and diced everything about what a business strategy is it's time to discuss it's top trends in 2023.
1. Starting an ECommerce Website
One of the most important examples of marketing strategy is starting an eCommerce website. A website will get you more exposure to the people of your city as well as the whole world. You can even start selling your products online.
However, if you want your website to perform as you desire, you need an analytic dashboard to keep an eye on everything. You don't know what services you should use? Don't worry! We'll introduce you to one of the best options in the market.
WatchThemLive: The Best Analytic Service To Start an ECommerce
WatchThemLive is an all-in-one behavioral analytic tool that gives you everything you need to create a profitable website.
This service provides you with useful features such as:
Analytic dashboard,
Heatmaps,
Session recordings,
Goal tracking,
Console recording,
Visual live chat,
Video testimonial.
You might think WatchThemLive, with all these amazing features, must be too expensive. However, it offers a better pricing plan than any other service in the market.
Also, this service provides you with a free plan. So you can try everything for yourself and enjoy the outcome. So, what are you waiting for?
Sign up for free and start your journey.
Now let's check on the best business strategy examples of this year.
2. Market Disruption
Market disruption or market innovation is when a brand starts from the bottom of an existing market with a new innovative idea. Market disruption is a good expansion strategy if you are just starting a business.
Disruptive products tend to catch people's eyes more easily and grow to the path of success. TikTok is a great example of market disruption. Videos were already a part of everyone's daily dose of entertainment. TikTok came up with the idea of endless scrolling of short-form videos.
3. Market Penetration
Market Penetration is when you take your existing product to an untapped market. This requires the knowledge of identifying new markets where you can sell your product. A good example of this is a car company which is now beginning to start selling its car in a new country.
4. Product Expansion
Once your business is set up, you can expand your product line. If you are a phone company, you can expand by launching more models and variants. If you are a software company, you can expand the features of your software.
You might be interested: Top 11 Website Click Tracker Tools
5. Product Diversification
Product diversification can be a good option if you already have a product that is successful in the current market. If you are a software company that is only available on android right now, you can diversify by making your software available on iOS as well. This business strategy is complementary to the previous one.
6. Strategic Partnerships
Another business strategy is to look for a brand that will complement your product. A well-thought and executed partnership can help you improve the brand image of your business as well as the company you are partnering with. A sketchbook manufacturer partnering up with a color maker is an example of a good partnership. a strategic partnership is an example of a business-level strategy.
7. Create New Distribution Channels
A new distribution channel is one of the best and most effective ways to expand your business. Your supply chain is a crucial part of your product's life. A good supply chain ensures that your product is shipped in a cost and time-effective way. This method increases your revenue without any change in your product.
8. Learn How To Pivot
When you are in a business, pivoting can be part of your business strategy plan. Sure, you may have an initial goal in mind when starting out. But with time, you may see you're ending up doing something other than what you initially thought to do. In these cases, you pivot your business.
In the beginning, Amazon sold just books, later on, Jeff Bezos realized that they could sell other items as well, and they started doing that. Amazon, later on, improved its logistics so much that it provided just logistics services as well.
9. Acquiring Companies
If you have enough money, you can acquire another company which will be helpful for your business. Then, you can acquire other companies as well. However, this business strategy is only suitable for big businesses.
Some businessmen even acquire their competitors so that their companies can thrive. For example, if you are a company that manufactures something, then acquiring a logistics company can be helpful for you.
10. Create A Brand Image
Start social media accounts for your business to create your brand image in public and to reach out to people. You can even start vlogging about your business. A good brand image will attract more customers to your brand. You can have a mascot as your brand image, or you can even be your brand's image, just like Elon Musk!
Learn more: 15 Free Website Heatmap Tools to Track User Activity
11. Pricing Strategies
Businesses can either charge lower rates to attract more people or charge higher costs to give their items a premium value. Some companies keep the prices of their products dirt cheap so that more and more people can buy them.
These companies have a small profit margin on their product and earn by selling as much as they can. On the other hand, some companies keep their product prices so high that only a small group of super-rich people can afford to buy them. The companies have huge profit margins such that even if only one item is sold, they still earn from it.
Pricing schemes are also related to business level strategies.
12. Differentiate Your Product
If you are in a business where other companies sell similar products, you will need product differentiation. You would need some qualities in your product that will make it stand apart from them and better than them as well. This differentiation is important. This differentiation is called Unique Selling Point (USP). If you are a phone company, your USP can be a faster processor, a larger screen, or a better camera.
13. Widen Your Age Appeal
If you are selling a popular product among a specific age group, improving this age appeal should be part of your business strategy. One-third of the current population is Gen Z. If your product was originally targeted at millennials, try to modify it. That way, Gen-Z can also be a part of the target audience.
14. Use Freemium Policy
Freemium is composed of two words 'free' and 'premium'. Freemium products work on a very simple principle that all of the base features would be free for everyone. But certain special features can only be accessed only after paying a premium fee.
15. Improve Customer Service
It is a straightforward business strategy yet one of the most effective ones. When you are in a business, a customer's feedback becomes very important to you. These feedbacks are a good way to measure your strengths and shortcomings. This will help you in fixing what's wrong with your product.
One of the best ways to improve your customer support is to optimize the live chat on your site. To do so, you can use tools that let your live chat go hand in hand with session recordings. And if you're unsure what tool you can use, check out this WatchThemLive review to make an informed decision.
Boost Your Knowledge in Conversion Rate Optimization: 10 Superior UX Analytics Tools to Create the Best User Experience
16. Automate The Tasks
When you automate your tasks, you save time which you can invest in the business and the product. For example, if your brand is active on Twitter, you can use sites like Hypefury.
17. Reward Loyalty
It's easy to retain old customers rather than acquire new customers. It's almost three times more costly to acquire a new customer than retain an old one. Start loyalty programs where people who are loyal to your brand get extra benefits.
18. Join Online Communities
Facebook or Discord are among communities that can be great options for getting organic traffic.
You don't always need to talk about your business only in these communities. You can simply help others as well. For example, you can teach someone how to screen record on Mac. Using software like Movavi, the process becomes a whole lot easier, and you can do a lot more than just record screens. You could create training manuals.
19. Observe Others
Just like knowing your strengths and weaknesses are important, you must know the same about your rival. When you know where your rivals are lacking behind, you can use that to your advantage and get ahead of them. Similarly, you can learn something good from them as well.
20. Cross-Selling
Are you a product-based company that deals with only one kind of customer? You can expand your business by catering the same product to different kinds of customers. If your customers are offices or other businesses, you can try selling your products in retail.
21. Keep Innovating
If you are a product-based company, then one of your primary focuses is to improve your product and introduce new products. For you, this business strategy will bring limelight to you and your company.
Take Apple as an example. It is known for its innovative products and features. They started by selling computers. Then, they innovated and created new products like iPods, iPads, Apple Watch, AirPods, and so many popular products.
Keep learning: Top 20 ECommerce Marketing Tools
22. Sponsor Events
If you have the budget, then sponsoring events is also one of the most popular ways of expanding your business and bringing in new customers. You don't need to sponsor highly valued social events, but you can simply sponsor small events like a college fest or a neighborhood fair.
23. Put Customers First
Amazon is one of the most valuable companies in the world – maybe because it's also one of the most customer-centric companies in the world. When a customer is unhappy with your services, they will not be your customer.
If you treat your customers well, they will become your permanent customers. For example, adding live chat support on your website is an easy way to provide good customer service.
24. Promote Using Micro-Influencer
Micro-influencers are the people who are a little famous on social media apps like TikTok and Instagram. These influencers will advertise your product to their audience at a relatively affordable cost. Also, you can direct your audience to these social media campaigns through your offline store locations by displaying a social media QR code. Nowadays, people enjoy using social media and their decisions are shaped by influencers. Having a social media call-to-action will encourage them to buy your product.
As a business owner, there are certain qualities that you need to have along with the above business strategies. These qualities not only complement these strategies but also reinforces them to work properly. These qualities are:
Have control—You need to have control over yourself. Your strategies may fail or work. However, if you lose control over yourself, you may make an impulsive decision, which might turn out wrong.
Have a clear goal —When running a business, you must have a clear mind which is focused on the end goal. While you are focused on the goal, having a clear path will help in making effective and calculated moves.
Healthy company culture—Having a healthy company culture creates a positive impact on everyone when they are working. If an employee is happy about their job and career, the results will be much better than those who hate their job and work.
Business Strategy FAQs
After discussing everything about business strategy, it's time to answer some of the frequently asked questions regarding this matter.
Why Is Business Strategy So Important?
Every company follows an objective. Therefore, they need a business strategy to align everything toward their ultimate goal. Without careful planning and choosing the correct strategy, it's impossible to reach the target.
Who Is Responsible for Business Strategy?
CEO and executive team are at the highest level of the business strategy pyramid. However, a successful strategy requires dedication at every stage of the plan.
Conclusion
These business strategies will surely help you grow your business. If you who is going to decide which business strategy or market trend you need to pick up. Investing in one good strategy can lead to better growth than multiple strategies at once. You may have the best business strategies for 2023, but which strategies will you choose?
If you are an eCommerce business owner, you can plan your business strategy by using a CRO tool to improve your conversions.
WatchThemLive is one of the best CRO tools in the market. This web analytic service provides you with everything you need to plan a winning strategy. So, sign up right now and start your free plan!