Increasing website traffic and online sales is a common goal for many large and small companies. With eCommerce marketing tools like BigCommerce and Shopify, launching a new online store is not a difficult task. But keep in mind that in order to succeed and survive in business, you need to know how to market your website and generate lots of traffic so that orders and sales increase.
You may have seen an entrepreneur recently who runs a successful store using eCommerce analytics and tries to make money online. If so, in this article, we are trying to introduce the best marketing tools for eCommerce and make your path easier.
If you want complete control over your site in the early stages, gather valuable information about your customer's journey, and create a more targeted and optimized website, click here to get directly to what you want!
What Is an eCommerce Marketing Tool
ECommerce marketing tools are programs that help businesses to maintain their online store. ECommerce marketing applications come with every instrument needed to sell the products. To sum up, the best marketing tools for eCommerce enable the store manager to establish product prices and run promotions.
Why Are eCommerce Marketing Tools Important
Before we want to introduce the best eCommerce marketing tools to check the growth of internet business, let's first see why they are important.
When you're first starting your business, you can probably do everything yourself, but if you're thinking about growth and optimization, you should let the best marketing tools for eCommerce do a lot of the work for you. But why?
Because eCommerce marketing tools allow you to better understand your customer behavior. These tools will find the correct answers to the most common questions you have about your website analytics. These analytical questions include your churn rates, who your active customers are, and which items on your website work best.
By using eCommerce marketing tools, you will have more money to invest in marketing campaigns. In other words, they can help your online stores flourish.
According to research conducted by The Harris Poll, represented by Sprout Social, 73% of businesses are currently participating in social commerce, while 79% expect to do so in the next three years. If you haven't already started eCommerce marketing or selling on social media, you should know that your competitors already have or are planning to.
Important Categories for eCommerce Marketing Tools
To be successful in your business and gain sustainability, you should have eCommerce marketing tools that help you to navigate and grow your business. The problem is that there are so many tools out there that it's hard to know what to do and what to focus on in the beginning.
To help you get started, we provide a list of eCommerce marketing tool categories to help you choose the best eCommerce marketing tool that your business needs the most.
Analytics Marketing Tools for eCommerce
Have you ever wondered why some visitors come to your website and leave it immediately or never complete the checkout process? This question is the concern of every website owner, and the solution is using an Analytics tool. Analytics Tools give you data-driven insight into market trends and customer behavior. Using eCommerce analytics, you can optimize your website and its performance.
Email Marketing Tools for eCommerce
Since all customers have access to email, email marketing is one of the cheapest and most successful digital marketing methods and will increase your sales significantly. Different companies provide different types of email marketing services that are similar in some features. But sending the right content to the right audience (and at the right time) is not an easy task. That's why you need to find the best email marketing software that fits your business and needs.
Email marketing Tools are a tested marketing strategy for eCommerce that has solved this problem. These tools provide the ability to create audience lists and automate the process of producing and editing email content and sending them.
This way, you will increase your workflow's speed, and you will no longer worry about your emails being spammed. Using these types of tools, you can promote your products and services. In other words, Email marketing informs your customers about what you are offering, so it will enhance your website's traffic.
Website Builders for eCommerce
Selling your products through a website is a great way to increase sales. You have a permanent and easily accessible online storefront. The website has a strong influence on the trust of potential customers. So, a professional design, well-written text, relevant product information, and appropriate contact information will increase customer trust in your company.
As a result, It lets people know that you are knowledgeable and up-to-date. Therefore, If you spend money on designing a quality website with useful information, people will definitely be impressed.
Without an eCommerce platform, your business is impossible to compete and thrive online. All eCommerce platforms and website builders have their unique set of built-in tools to help you build your eCommerce store.
Customer Service Tools for eCommerce
It must have happened to you that your customer leaves a website before completing the purchase process. But why? This may happen in cases where the customer has a question, or the conditions of buying and using your store's facilities are incomprehensible to him, but he does not find a communication way to resolve these ambiguities, and this increases the probability of an incomplete purchase. Then what is the solution? Be careful about choosing a customer service tool to give a positive customer experience.
ECommerce Tools for Optimization
Optimization, from website optimization to SEO and conversion rate optimization, plays a crucial role in your business's success. Optimizing all aspects of your website will help customers make the most out of what you're offering.
Social Media Marketing Tools
The question that needs to be answered is why eCommerce businesses need to have accounts on multiple social media for marketing. The answer is that each social media is suitable for a specific purpose and attracts some people. Therefore, social media marketing tools help you find, connect, and engage your target audiences. It lets you find brand ambassadors, create content, and more.
Marketing Automation Tools for eCommerce
Automation includes a lot of grounds, like workflow automation, ad automation, and task automation. Marketing automation tools for eCommerce can enhance productivity, increase employee engagement, and give you more opportunities to deliver a better experience for your customers.
Top 20 eCommerce Marketing Tools
In the following, we enlist 20 eCommerce marketing tools that can take your eCommerce marketing efforts to another level.
1. WatchThemLive: Best Analytics Marketing Tool for ECommerce
One of the best eCommerce marketing tools is WatchThemLive. It is a behavioral analytics tool that monitors customers' journeys on your website. This is one of the best eCommerce marketing tools that have several services, such as Analytics, Heatmaps, Session replay, User tracking, etc. These various services will give you crucial information about your customers' interactions on your website. Using these items, you can optimize your eCommerce business for the best and maximize your conversion rate and income.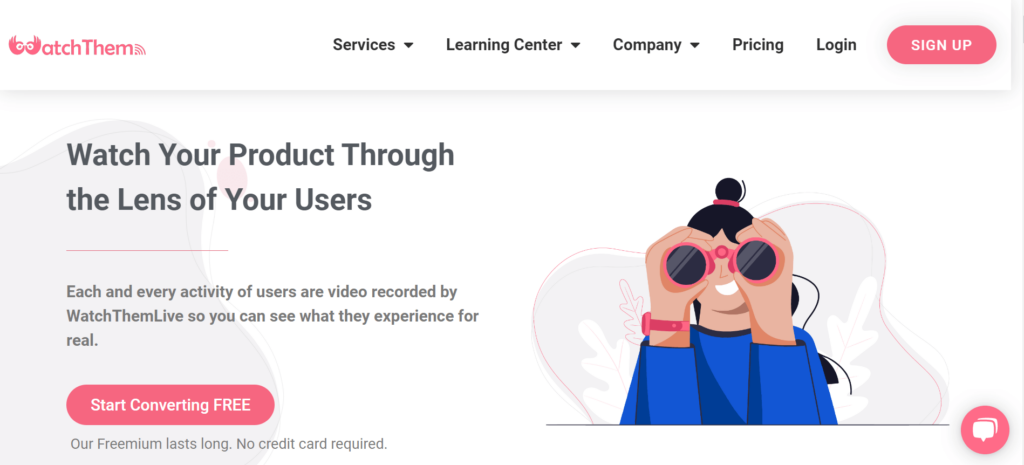 In the following, we will look at each of these services.
1. Website Analytics
WatchThemLive's website analytics helps you measure the success of your eCommerce business. This service enables you to develop more strategies and understand how to improve customer experience by giving you valuable information about your visitors' behaviors and boosting business growth.
Using website analytics determines which content on your website attracts more attention. Hence, using these data, you can concentrate on successful types of content and stop wasting time creating the wrong content.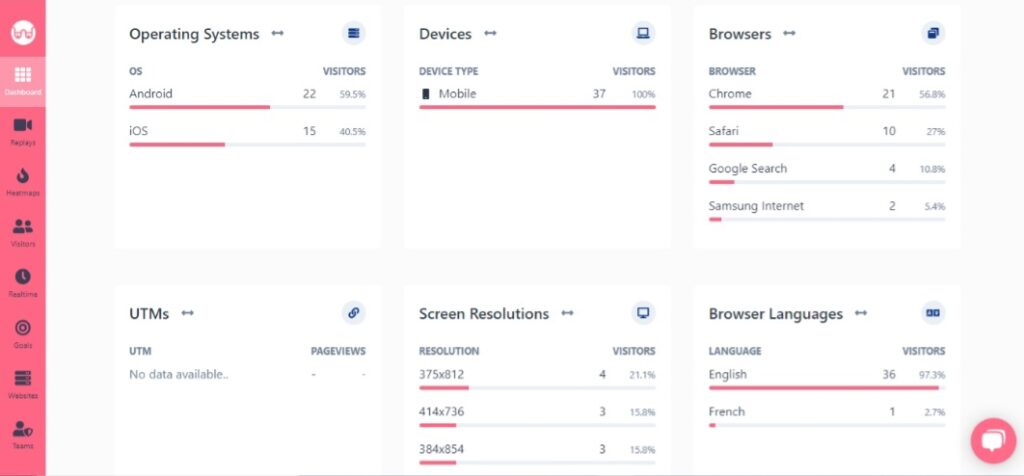 WatchThemLive website analytics gives you other helpful information about your website and visitors, including
The performance of your marketing campaigns via UTMs,
Domains that led visitors to your website (the numbers and percentage of visitors),
Statistics on your visitors' operating systems, browser language, and screen resolutions,
The percentage of visitors from each country.
This valuable information helps you optimize your website in the best way.
2. Heatmaps
A heatmap is a visualization of complex data that gives you valuable information about visitors' interactions with your website. Website heatmaps are used to analyze visitors' behaviors on your web page and provide information about their interactions, including clicks.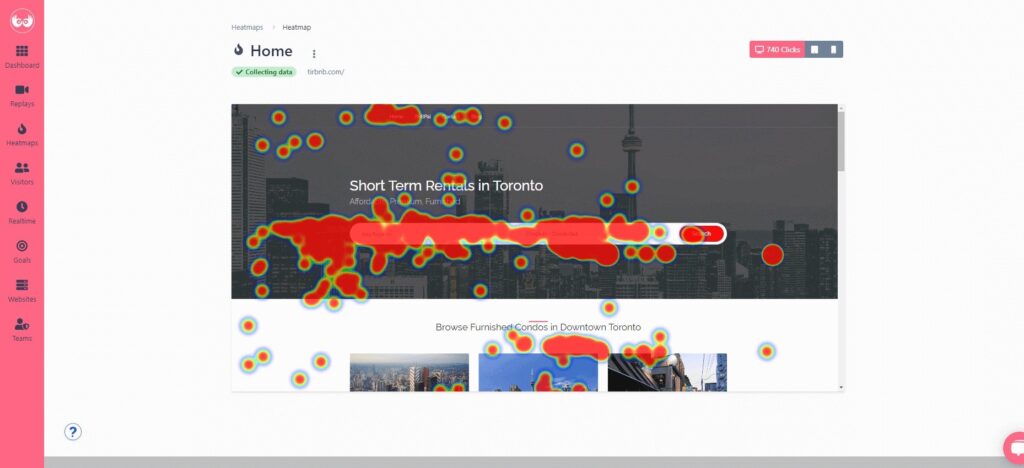 This visual data helps you identify whether the website design is engaging enough for visitors and how efficiently they interact with your website. The analysis of these data will result in improving your website usability, CTR, and conversion rate.
3. Session Replay
WatchThemLive's session replay lets you watch every move of your visitors from when they enter your website. Filtering the recorded sessions by your visitors' devices is an option. This option made the WatchThemlive session replay more fascinating. Using this, you can focus on different aspects of your designs.
This tool also lets you filter the recordings based on country codes, browsers, screen resolution, and more. It will give all this valuable information without violating customers' privacy.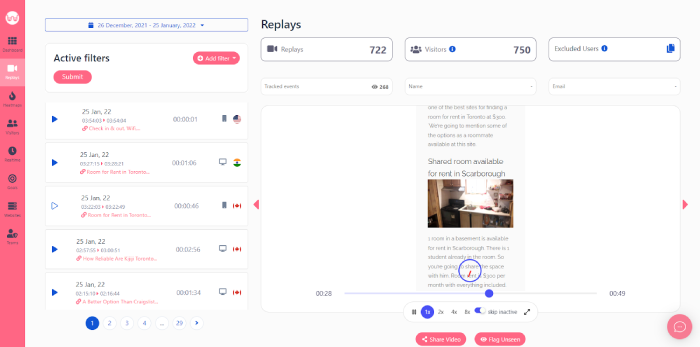 By watching your visitors' journey on your website, you will gain perfect insights into your users' behaviors. You can use this knowledge to deliver a better experience.
4. User Tracking
The primary way to gather your customers' behavioral information is through user tracking. It will give you a lot of information, such as how long your customers stay on a page, how many pages they visit, and how many activities they perform.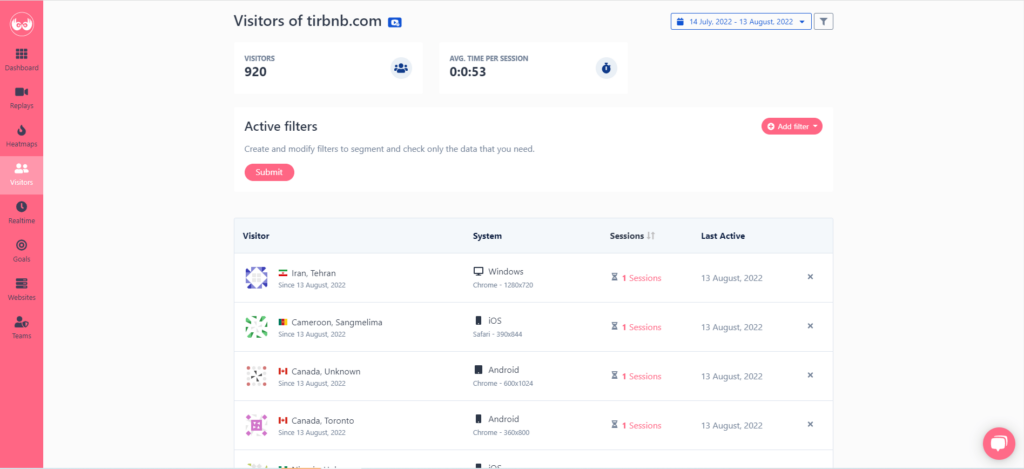 By employing WatchThemLive user tracking, marketers can link their effort, like emails and discount codes, to specific individuals and their actions. Marketers can adapt based on the channels or marketing efforts, bringing them the most profitable customers. Analyzing the data will give you insights into your marketing optimization plan to increase conversion.
WatchThemLive Pros:
Data exportation
Free plan
Annual plans with discounts
Intuitive interface
real-time analytics
WatchThemLive Cons:
According to users' feedback, there are no serious issues with it.
Pricing:
WatchThemLive provides a free plan that includes heatmaps, team members, and Session replays. The prices are listed below:
Individual silver – $29 per month
Individual gold– $49 per month
Team silver– $69 per month
Team gold- $99 per month
2. Shopify: Top eCommerce Platform or Website Builder
Shopify is a well-known company that offers a user-friendly platform for creating an eCommerce store. Shopify is the best choice for small businesses because it offers clear functionality, Amazon Integration, free hosting, and flexible price options. Shopify also lets you connect to third-party apps and external selling platforms. This all-in-one eCommerce marketing tool is intuitive to set up and easy to navigate.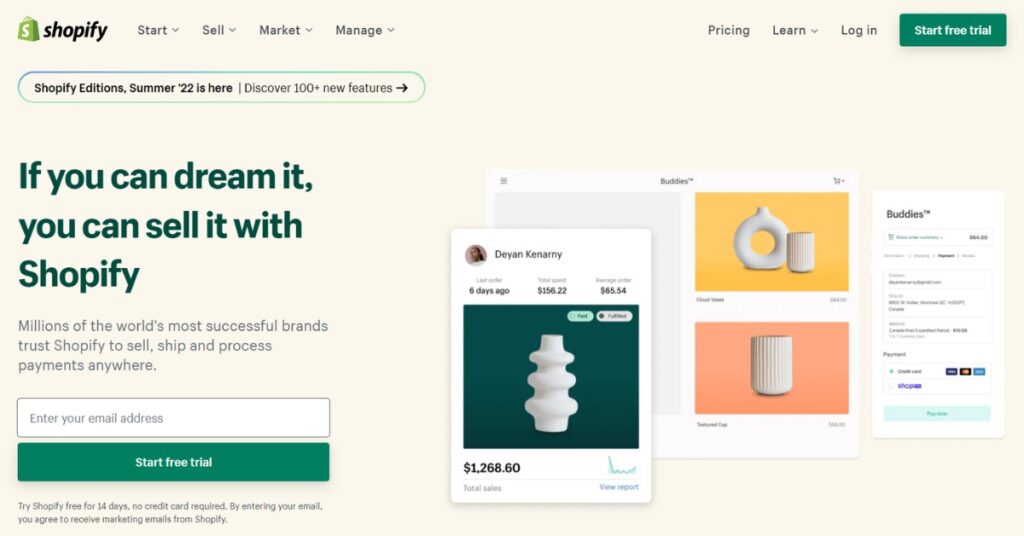 Shopify's Pros:
It is optimized for mobile users
It is quick to set up
It supports all popular modes of payment
Shopify's Cons:
Poor SEO
It charges a transaction fee (using non-Shopify payments)
Customers can not use multiple discounts (only one discount per order is available)
Pricing:
The basic plan for new eCommerce businesses: $29 per month
Shopify plan for growing businesses selling: $99 per month
Advanced plan for scaling businesses with advanced reporting: $399 per month
3. Woocommerce: ECommerce Tool for Website Building
Woocommerce is one of the best free eCommerce marketing tools for those who want to integrate eCommerce features into their WordPress sites. Woocommerce is very popular among web managers and performs as a WordPress plugin. This tool is easy to navigate and straightforward, and it will help you drive more sales.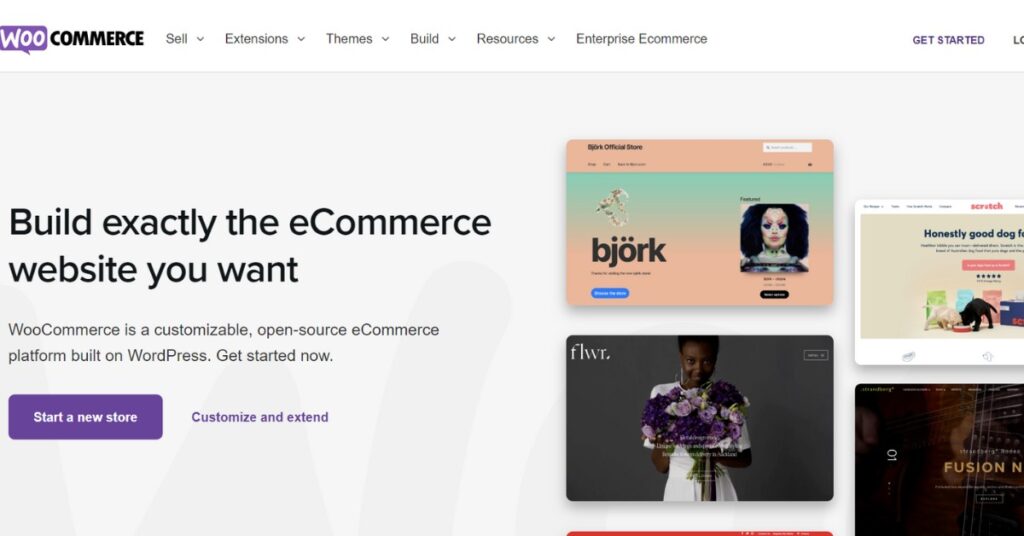 Woocommerce's Pros:
Free eCommerce marketing tool
SEO optimized
Access to WordPress experts that can respond to your questions
Seamless scalability
It has free and paid extensions
Woocommerce's Cons:
Certain extensions require a punctual payment or even a monthly fee
Pricing:
It is free with a WordPress account. Hosting and plugins have additional costs
4. Magento: Website Builder for eCommerce
Magento is one of the best eCommerce marketing tools to provide customers with a great shopping experience. Some of the biggest names in eCommerce marketing, like Hp Inc. and Nike, are drawn to Magneto.
You can build your online store by tracking orders and managing operations on one platform using magneto software. It will give you reports on analytics to inform your marketing strategies and customers' experience. This software also can optimize how you offer products and customer services online.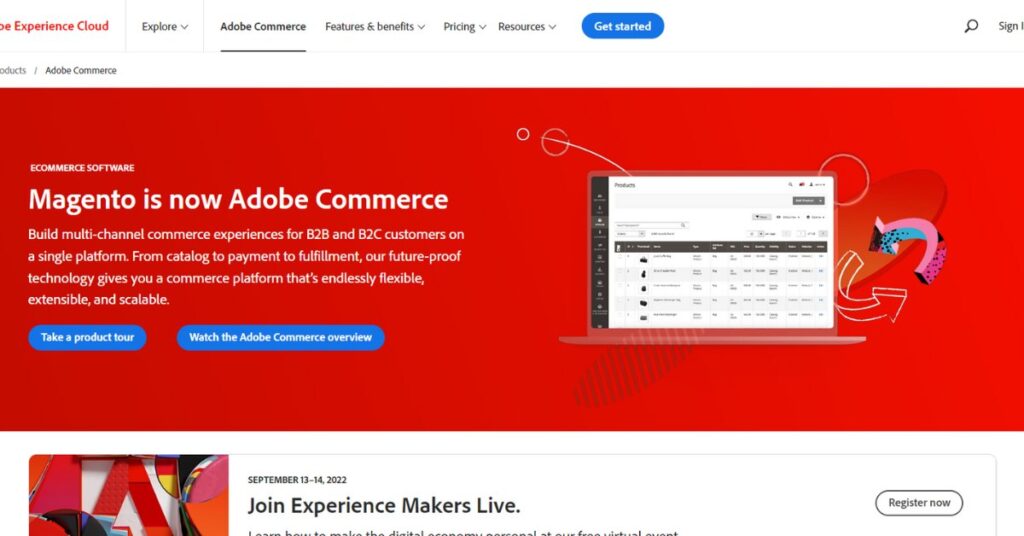 Magneto's Pros:
Efficient SEO: Its SEO provides lasting solutions for all users.
High degrees of customization
Large user base
Magneto's Cons:
It is time-consuming (some additional features are complex because there are a variety of them)
It is slow sometimes
It needs a proper hosting environment
Pricing:
The community version is free, but upgrading to the Enterprise version is chargeable. You can contact Magneto's sales team to get a quoted price based on your business requirements.
5. Wix: ECommerce Platform for Building Website
If you have just started eCommerce marketing, Wix is a great alternative among other eCommerce marketing tools. It offers user-friendly tools that make it easy for anyone without technical expertise to launch an eCommerce business. It enables you to customize your online store by using drag-and-drop techniques.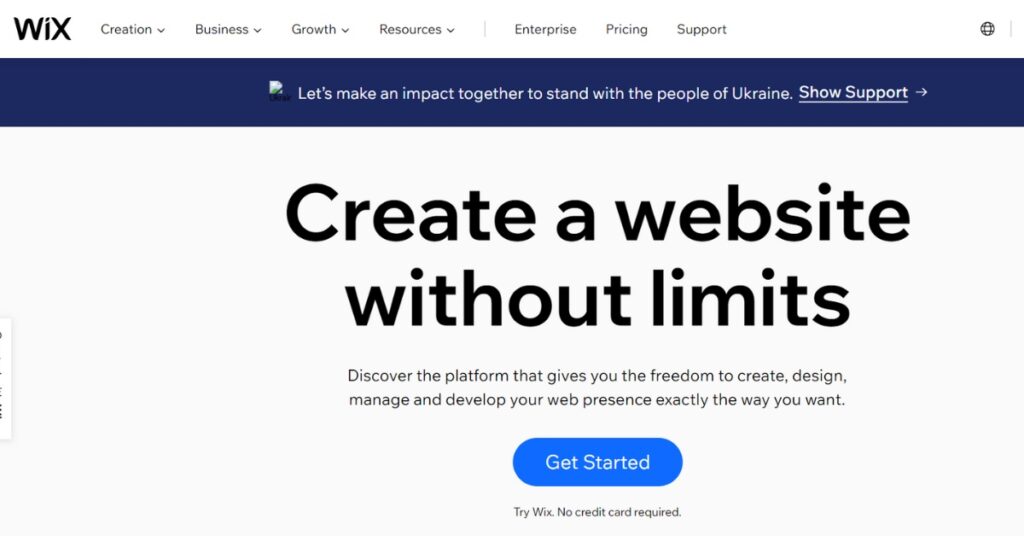 Wix's Pros:
Easy to use
Providing a selection of creative templates
It has automatic SEO optimization
Wix's Cons:
Lack of few features (For example, lack of interchangeable templates)
Poor performance in SEO test compared to its competitors
Not suitable for large to medium-sized businesses
Pricing:
You can upgrade to Premium Plan, and if you release that it is not suitable for you, you can cancel it and receive a full refund. This platform's plans start from $4.5 per month to $35.
6. Squarespace: Website Builder Platform
Squarespace is a good alternative among other eCommerce marketing tools for website design, but it also applies to eCommerce. Using Squarespace, you can easily create a beautiful eCommerce site. This platform has various drag-and-drop templates that come with modern designs. Beginners can use these template choices to easily build an eCommerce website. Squarespace's all-in-one hosted platform can be used to create video ads and run email marketing campaigns.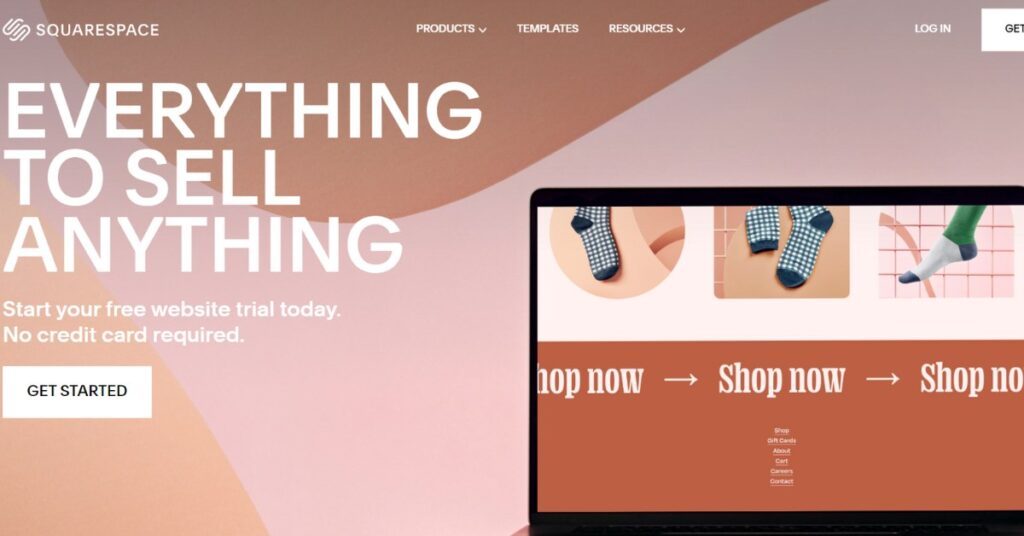 Squarespace's Pros:
Easy to install
It is one of the best choices for creating a portfolio
It has a lot of template designs
Squarespace's Cons:
Does not offer phone support
Limited integration capabilities
It has a low page speed (based on Google's Page Speed Tool)
Pricing:
This platform has 4 pricing tiers:
Personal: $16 per month
Business: $23 per month
Commerce: $27 per month
Advanced Commerce: $49 per month
7. X-Cart: ECommerce Tool for Website Building
X-Cart is a fantastic open-source eCommerce marketing tool that provides several lifetime memberships. It will deduct your earlier payment if you decide to upgrade to a different plan.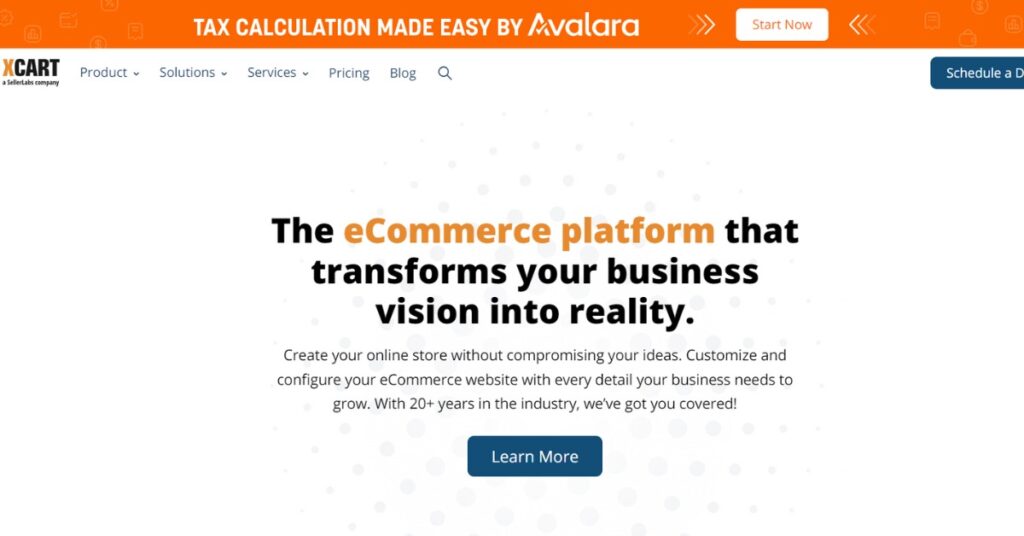 X-Cart's Pros:
It offers 24/7 support via live chat, phone, and email
Offering extensive scalability and customizability
X-Cart's Cons:
Development experience is required
Pricey customer support
It requires an annual upgrade fee
Pricing:
X-cart's pricing packages are various depending on the size of your business operations. Aside from a free plan, X-cart also has a Platform package ($199 per month), an Auto package ($299 per month), and a Marketplace package ($399 per month)
8. Zendesk: Customer Service Tool
Zendesk will help you answer all your customers' queries, create a message template and streamline communication with them. It provides multi-channel support and easy-to-use tools that scale as your eCommerce business grows and gains an exceptional customer experience. This reliable tool will empower your sales teams to keep reps selling with a one-stop sales CRM.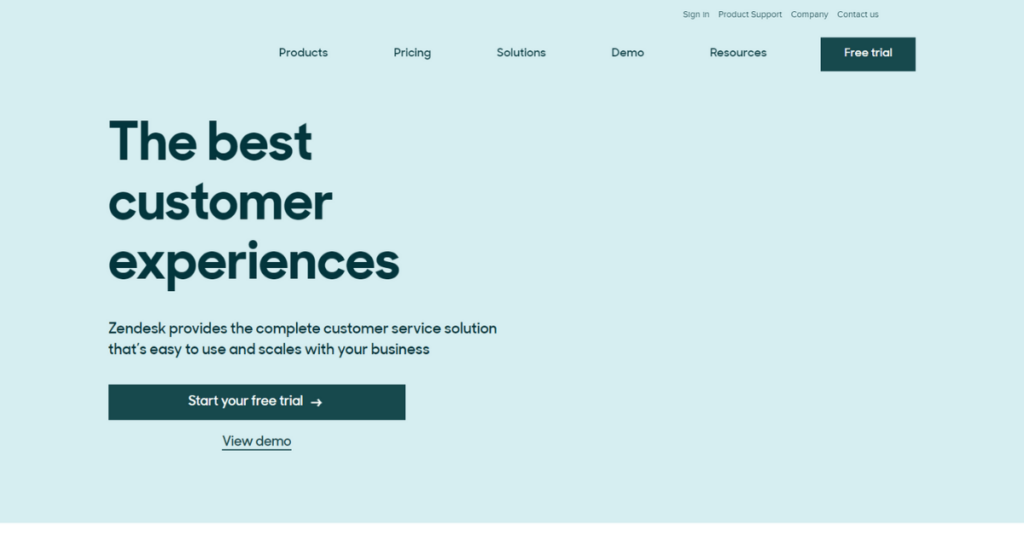 Zendesk's Pros:
Extra chat features (for example, ticket creation via chat)
It offers email updates to customers
Zendesk's Cons:
It is not easy to grasp immediately
There are challenges in utilizing Zendesk( For example, sometimes uploaded data is lost without any reason).
Collaboration with your coworkers becomes difficult because there are basic collaboration tools.
Pricing:
Its enterprise plan starts at $150 per month.
9. Mailchimp: Email Marketing Tool for ECommerce
Mailchimp is one of the best ecommerce marketing tools for email marketing. This tool allows you to boost your email marketing by automating email marketing campaigns and connecting with your customers using personalized email content. You can use Mailchimp software to send reminder emails to customers who abandoned their shopping carts.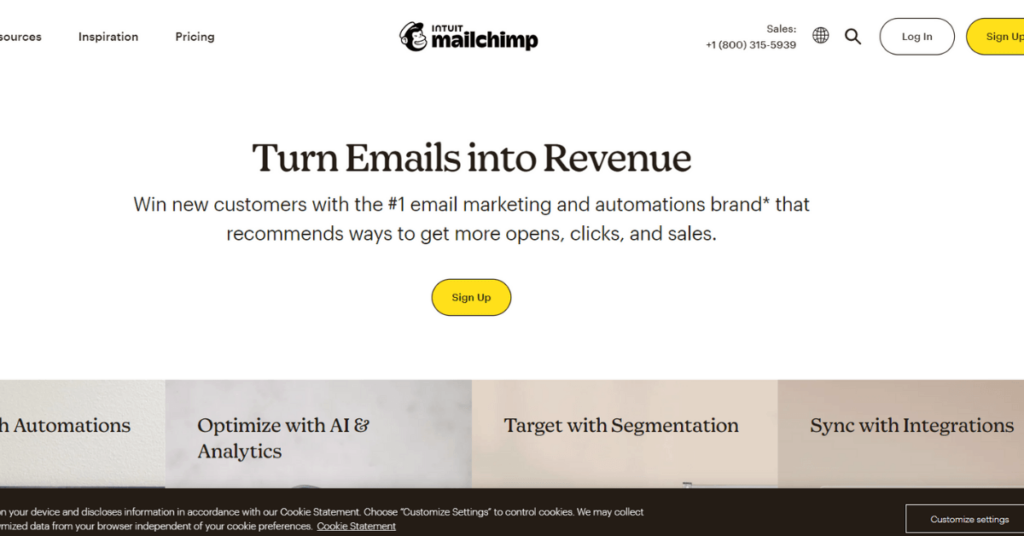 Mailchimp's Pros:
Custom form creation
Campaign reports
MailChimp's Cons:
It has a small library of pre-built automation workflows
Paid plans are expensive
The format of content sometimes ruins after importing from Microsoft word
Pricing:
It offers a free service for small business owners with a small mailing list. Its other pricing packages begin at $15 per month to $420 per month (for the premium version)
10. SEMrush: SEO Tool
SEMrush software helps you manage your marketing strategies and campaigns. This all-in-one marketing software allows you to boost your SEO strategies, do keyword research, and track analytics.
SEMrush performs domain analysis either on your own website or on your competitor's website. SEMrush provides metrics such as authority score based on backlink data, organic search data, and website traffic data.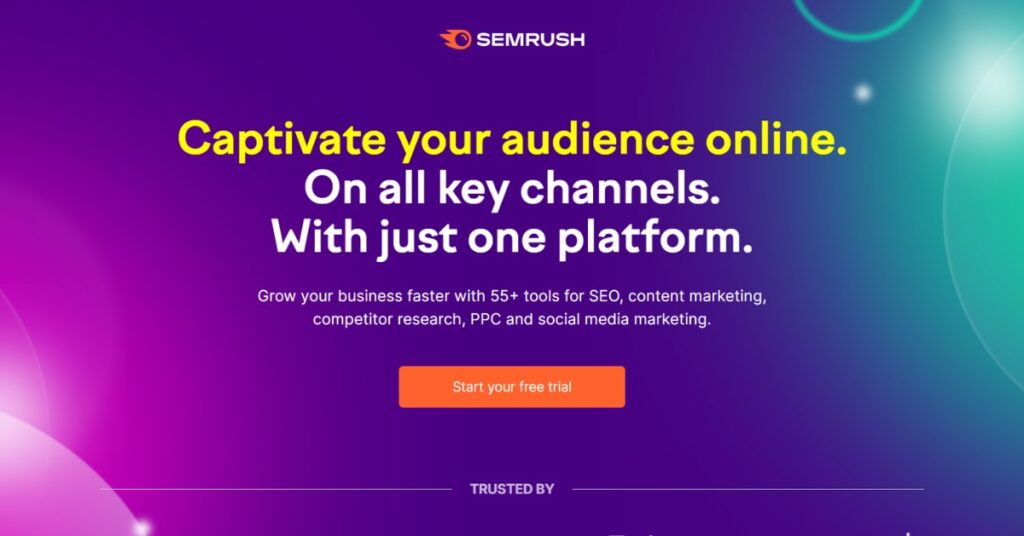 SEMrush's Pros:
Monitor website traffic
It provides metrics required to evaluate keyword and backlink opportunities
It has the largest keyword database and fastest backlink crawler
SEmrush's Cons:
Its traffic analytics data is not correct always
Its data only covers Google
Pricing:
Besides the free trial, SEMrush has three tiers, including the Pro ($119.95), Guru ($229.95), and Business ($449.95) per month.
11. Moz Pro: Analytics Marketing Tool for ECommerce
Moz Pro is a very powerful SEO enhancement tool that you can use to check your site's SEO performance and problems in the shortest possible time without the need for Google AdWords to be on the top SERP of Google. Moz Pro allows you to find free and effective backlink-building opportunities, evaluate your competitors and enjoy countless other benefits.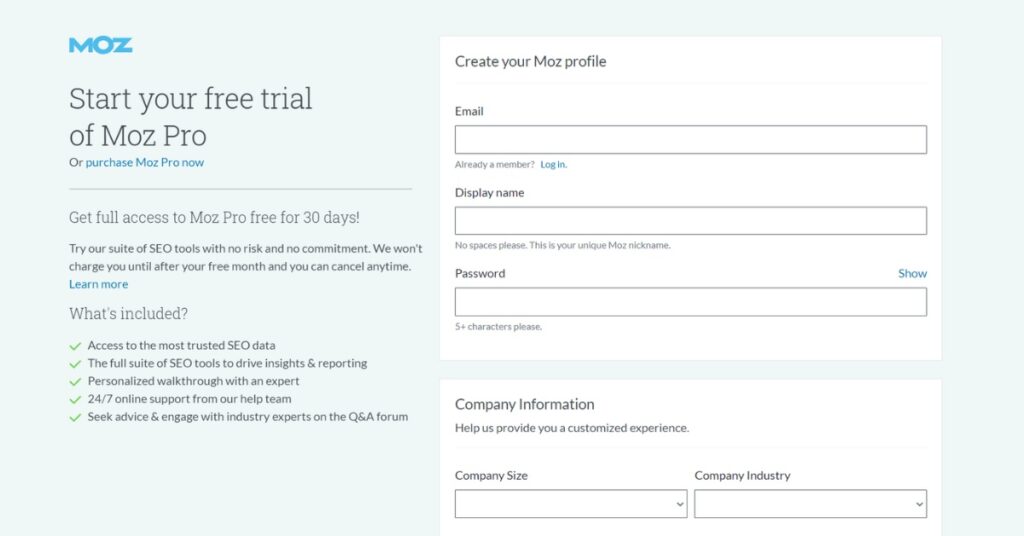 Moz Pro Pros:
You can save the information as PDF or CSV.
Page analytics
It provides a Rank tracking feature
It offers a Chrome extension
Moz Pro Cons:
It can be pricey
Its technical SEO tools are limited
Pricing:
It offers 4 paid plans, including
Standard: $99 per month
Medium: $179 per month ( It is the most popular one)
Large: $299 per month
Premium: $599 per month
If you pay for a subscription for a year, you will save 20%.
12. GrooveHQ: Customer Service Tool for ECommerce
GrooveHQ is a customer service software that provides a better customer experience for small businesses. It serves as a unified platform for keeping track of customer emails, task assignments, and ticket management, allowing you to respond faster to customer inquiries and save time by 24/7 self-serve.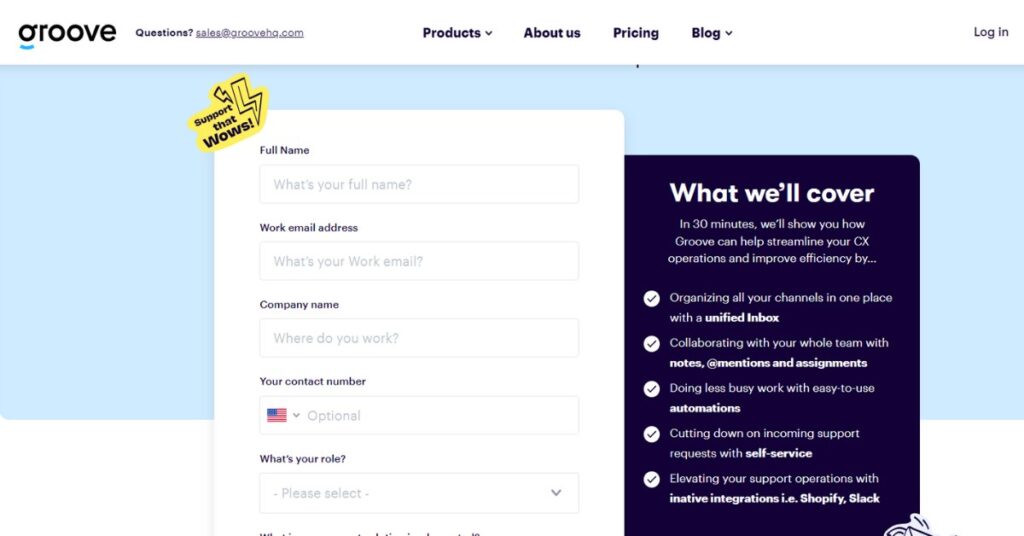 GrooveHQ Pros:
User-friendly
It has a slick design
Simple interface
GrooveHQ Cons:
Its email read receipts are too vague
Messy dialer
There are a lot of bugs, and you often don't get a reply from the support
Pricing:
It has a free trial for all of its plans. GrooveHQ's pricing packages including:
Starter: $15 per user (monthly)
Plus: $25 per user (monthly)
Pro: $40 per user (monthly), It is the most popular plan for larger teams
Enterprise: Custom, You should contact them
13. CrazyEgg: ECommerce Tool for Optimization
Looking for a website performance tracker? Do you want to find your website's weak ares to improve on? How about a conversion optimization tool? CrazyEgg claims to give you insights into your website's performance. In general, it offers heatmaps to see where your visitors tend to click.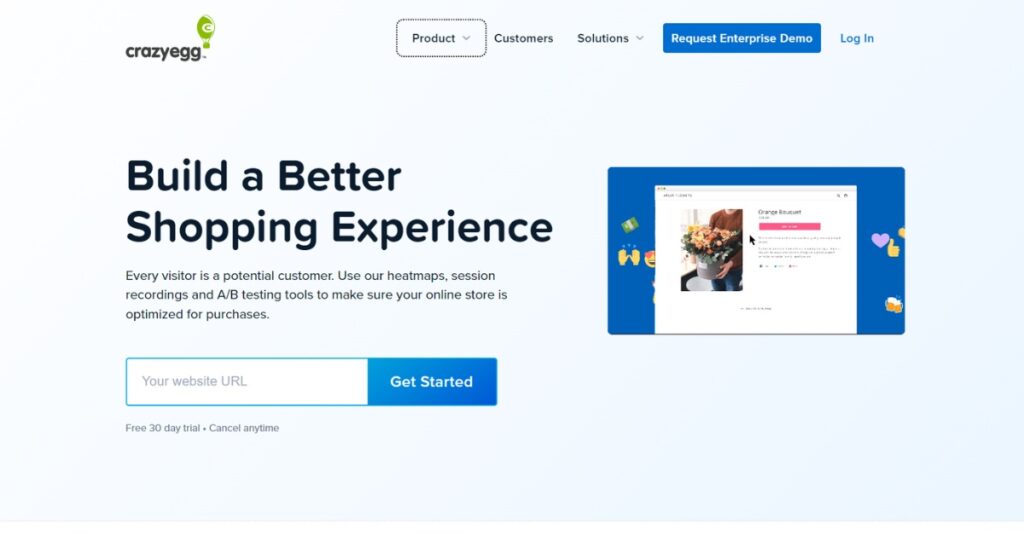 CrazyEgg Pros:
Easy to use and understand
Heatmapping
Easy to set up, manage and track your user behaviors
CrazyEgg Cons:
Lack of high-level reporting
Its session recording is not very reliable
Hard to target some features; it is too broad
Pricing:
It offers 5 plans with a free trial, including
Basic: $29 per m months
Standard: $49 per month
Plus: $99 per month
Pro: $249 per month
Enterprise: You should build a custom plan
14. BuzzSumo: Social Media Marketing Tool for ECommerce
Want to know the plan and strategy of your competitors correctly? Do you need to know what content they post? What response do they receive from their audience and users? How do they attract their audience?
BuzzSumo is the right social media marketing tool for you. This tool allows you to find the best blogs and posts related to keywords related to your business. Using this tool, you can quickly get the needs of your users and audience.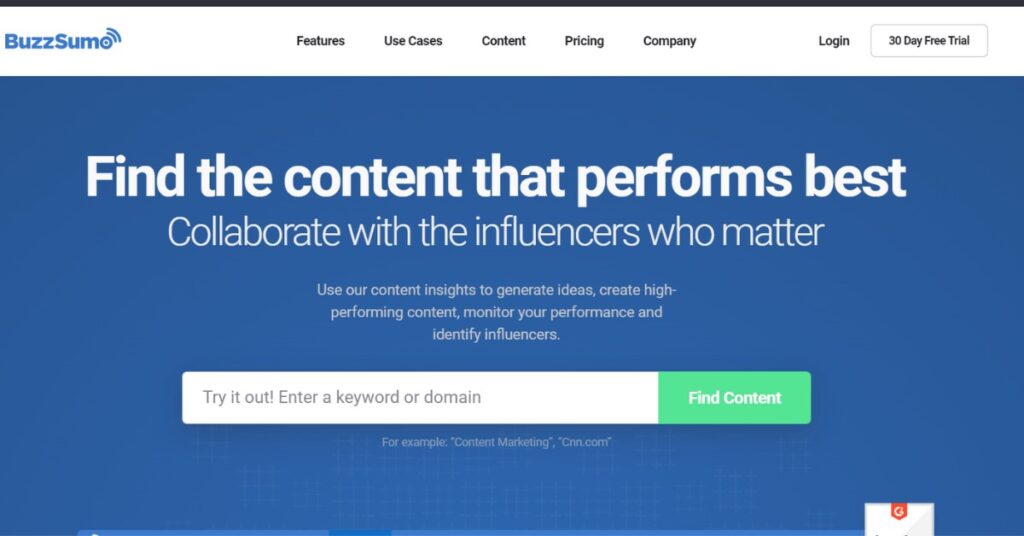 BuzzSumo Pros:
Great for PR professionals and content marketers
It provides deep competitive analysis
It is a powerful discovery toolkit that can convert all types of content.
BuzzSumo Cons:
It does not offer data for every social media (Instagram, Snapchat, and TikTok)
It is not a good backlink checker because of limited backlink metrics
Pricing:
BuzzSumo comes in 4 Plans:
A free plan that offers ten free searches a month
Pro: $99 per month for small start-ups and freelancers with a limited budget
Plus: $179 per month for growing businesses and small agencies
Large: $299 per month for marketing teams
15. Hootsuite: Social Media Marketing Tool for ECommerce
One of the best parts of social media management platforms is their analytical reports. Using the Hootsuite platform will no longer need other social media management tools to analyze different social media accounts. Why? Because this platform covers all the reports you need, including the number of views, the number of potential visitors, and more.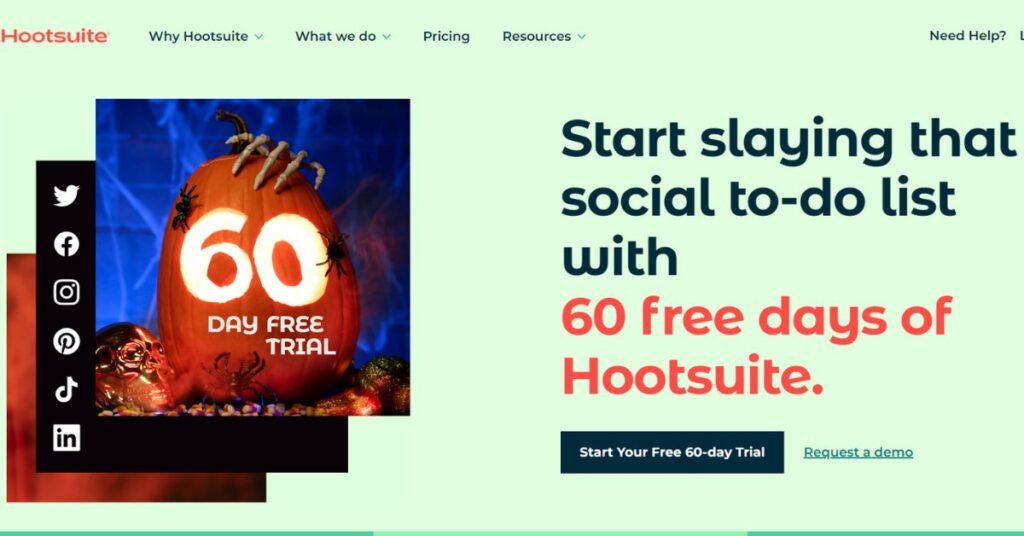 Hootsuite Pros:
Easy to manage all accounts in different tabs
Auto-schedule posting on your social media accounts
You can easily make analytics reports
Hootsuite Cons:
There is a monthly or yearly fee for its Pro or Enterprise plans
The limited free plan (manage three accounts, and basic analytics)
It is overwhelming for people that are not all that computer savvy
Pricing:
Hootsuite offers three tiers with a 30-day trial:
Professional Plan: $49 per month for each user and ten social accounts
Team Plan: $179 per month for three users and 20 social accounts
Enterprise Plan: you should contact for pricing; it is for more than five users and 50 social accounts
16. Ominsend: Marketing Automation Tool for ECommerce
Among these eCommerce marketing tools that have been introduced, Omnisend is essential for users who own online stores. This tool offers powerful automation workflows; you can get started with its pre-built templates.
Using this marketing automation tool, you can add several channels within the same workflow, such as email, SMS, Facebook Messenger, push notifications, and more. The free version of this eCommerce marketing tool with basic email marketing automation is the ideal option for small businesses, but you will miss out on many unique features.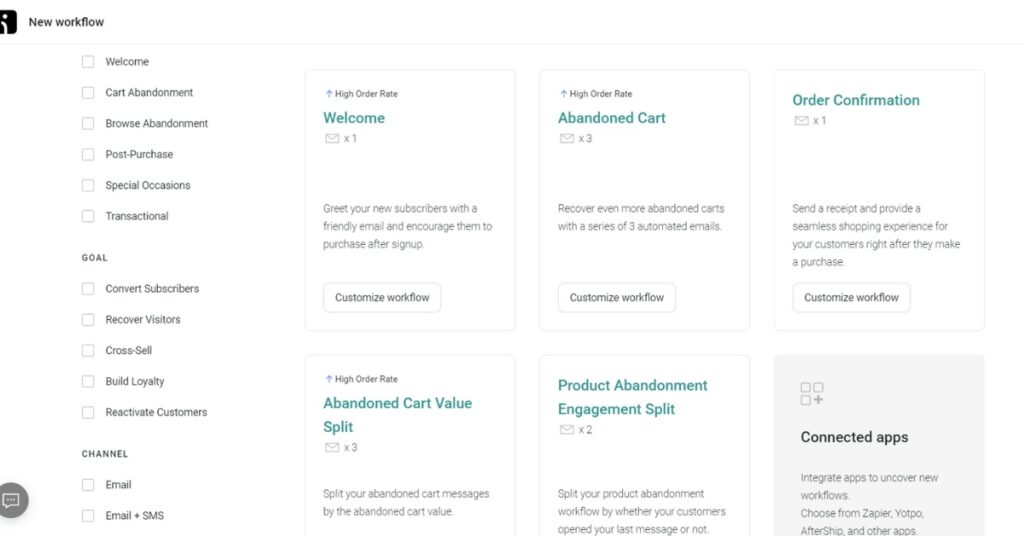 Omnisend Pros:
It is user-friendly
It allows you to send 500 free messages monthly
Omnisend Cons:
It doesn't have any customizable themes for holiday marketing
You have to input data every time you launch a social media campaign
Pricing:
It has a free plan and 2 types of paid plans, including
Standard: $16 monthly
Pro: $59 monthly
17. ConvertKit: Email Marketing Tool for ECommerce
ConvertKit is an e-commerce marketing software that is very affordable and user-friendly, and you will definitely like it. Why? This tool offers advanced sequences and automation with API integrations. ConvertKit is a customizable marketing tool that is designed for eCommerce marketers, creators, influencers, and bloggers.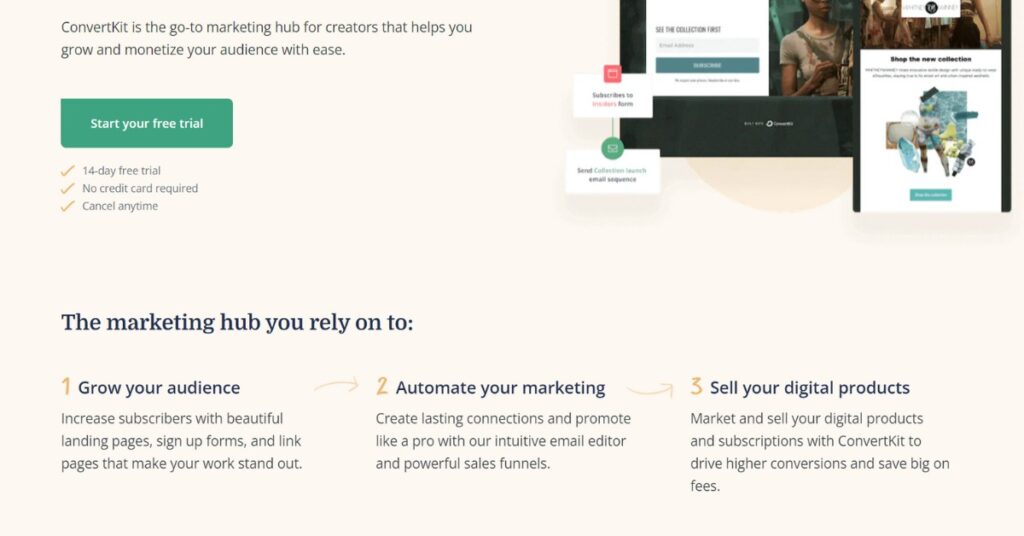 ConvertKit Pros:
Simple and easy to use
Tag-based subscriber system
There are great support channels
ConvertKit Cons:
It is expensive compared to competitors
Not great software for managing multiple clients
Very limited A/B testing functionality
Pricing:
It has a free plan and 2 paid plans for 300 email subscribers. If you change the number of email subscribers, the plan costs will be changed.
Creator: $15 monthly for up to 300 subscribers
Creator Pro: $29 monthly for up to 300 subscribers.
It offers a free trial for both plans.
18. Qualaroo: Customer Feedback Tool
Have you ever wondered why feedbacks are so important? Your customers' Feedbacks are an essential part of any CRO (Conversion rate Optimization) strategy. Surveys allow your customers to tell you why they don't convert. They will give you a practical plan of what needs to change.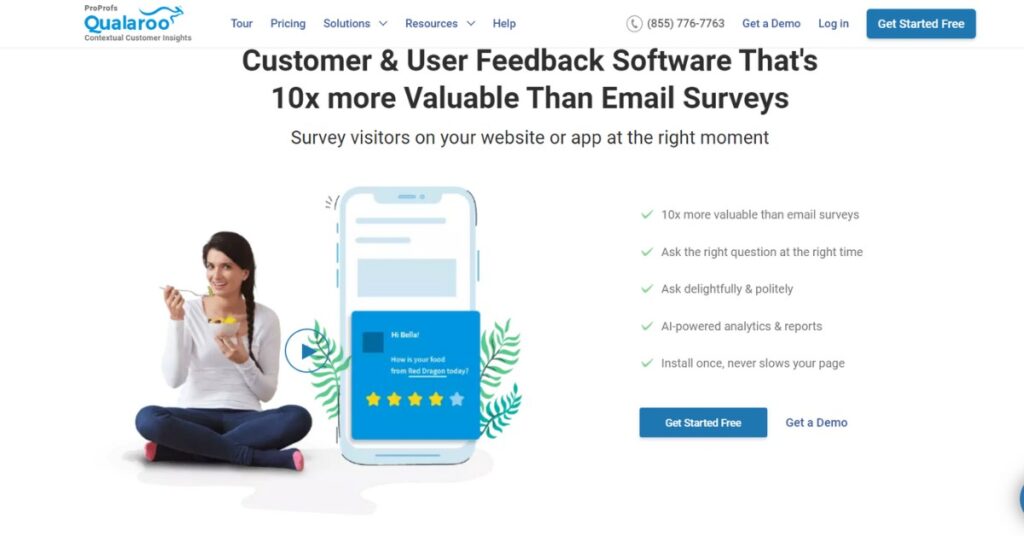 Qualaroo Pros:
You can use it without necessarily hiring a marketing savvy
Targeting options (You can select options, then it will create pre-defined questions)
It offers regular expressions
Qualaroo Cons:
Not response rate
Instead of a drag-and-drop interface, it offers a click-to-edit interface
Pricing:
It offers a 15-day free trial for each plan. There are 3 tiers:
Essentials: $100 monthly up to 100K pageviews
Premium: $200 monthly up to 100K pageviews
Enterprise: customizable pricing
19. Google Analytics: Analytics Marketing Tool for ECommerce
Google Analytics is one of the free eCommerce marketing tools that allow you to analyze analytical data for SEO or marketing campaigns. Moreover, This tool is able to monitor the performance of your website content, marketing, and products.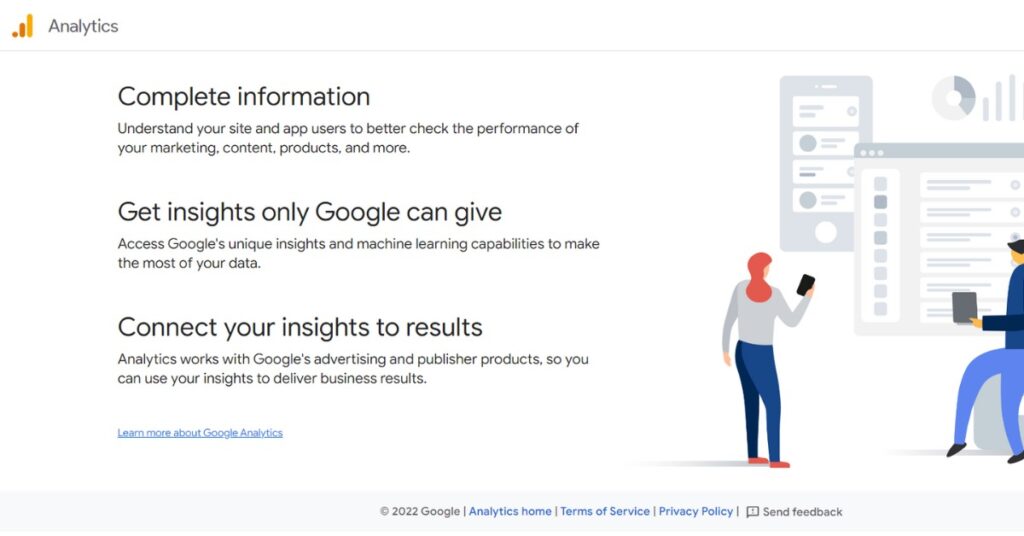 Google Analytics Pros:
Easy to use and set up
It offers out-of-page analytics
Google Analytics Cons:
It overwhelms you with too much information
It has confusing navigation and unfamiliar terms
Pricing: Free
20. Canva: Social Media Marketing Tool for ECommerce
Is content production a big challenge for you? Don't worry! Canva is here to help you make content creation easier through its drag-and-drop graphic design platform. You can also use its basic tools and pre-built templates to create posts for your social media.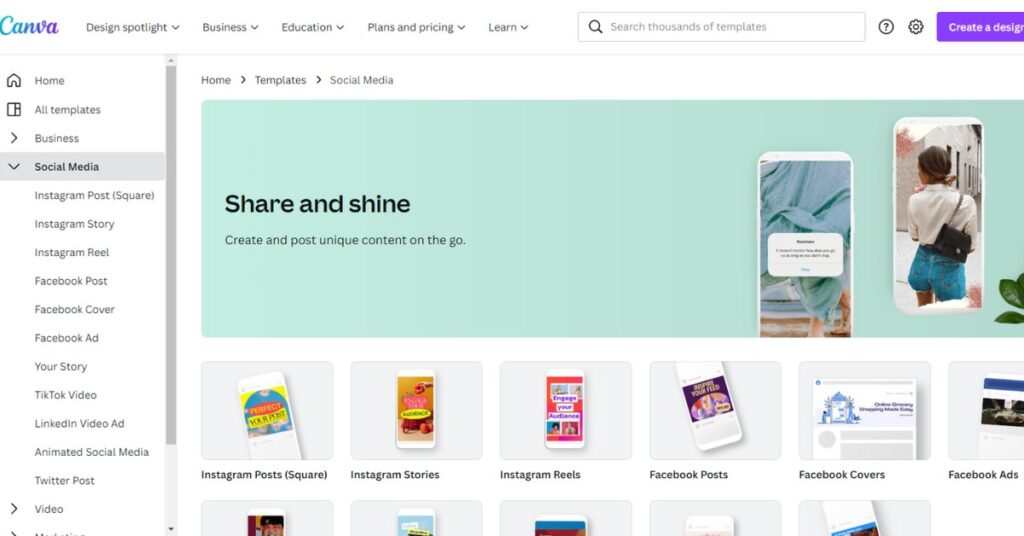 Canva Pros:
Fast downloading
It has thousands of customizable templates
Canva Cons:
There is a limitation on the number of templates with its free version
You can not download the" Raw" file
Pricing:
It offers a free plan and 2 paid ones:
It has a pro version that costs $12.99 monthly for a personal user. Canva has a plan for a team that costs $14.99 monthly for the first five people.
Conclusion
There are many possibilities for business owners looking for a top eCommerce marketing tool. While one tool could be well-known, others may provide more suitable qualities for your organization. Choosing an eCommerce marketing tool requires careful consideration because business owners rarely switch platforms more than a few times every few years. Therefore, it is essential to select the best one before wasting time and devoting resources to something.
WatchThemLive is a behavioral analytics tool that helps you monitor how your visitors engage with your site, understand what they need, and show you opportunities to attract more customers and increase conversion rates. Sign up now and don't miss out WatchThemLive's excellent features!