Conversion rate optimization, or CRO, should be the focus and goal of any business. Most companies don't have any problems with the amount of their traffic. However, that's not the case for their conversion rate. Even if they attract many visitors to their website, there is a high possibility that many of them won't convert. CRO contains many subjects such as customer experience, landing page design, CTA design, and more. 
In this article, we're going to tell you 51 CRO statistics that can help you get inspired and update your knowledge about the market. Stay with us if you want to know more.
Note: WatchThemLive is web analytics software that helps you complement your CRO strategies and improve conversion rates. Keep reading to learn how.
Conversion Rate Optimization Statistics: How to Improve Conversions
In this section, we're going to talk about the CRO stats regarding improving it.
More than 90% of visitors who read headlines also read the CTA copy. (Marketing Experiments)
Businesses use videos on their landing pages to boost conversions by 86%. (Wishpond)
More than 20% of businesses report that they do not have an effective landing page testing strategy. (Ioninteractive)
When companies increase the number of landing pages from 10 to 15, they see a 55% increase in leads. (HubSpot)
Companies that improved their conversion rates last year performed 50% more tests and used 47% more strategies to boost conversions. (Econsultancy)
Businesses with more than 40 landing pages generated 12 times more leads than those with 1-5 landing pages. (HubSpot)
User-generated content (UGC) has been shown to increase conversion rates by up to 200%. (Yotpo)
96% of B2B marketers agree that segmentation is the most effective method for increasing conversion rates. (SessionCam)
Multiple offer landing pages generate 266% fewer leads than single offer landing pages. (Wishpond)
Businesses that optimize their websites to be mobile-friendly increase their mobile conversion rate up to %5 or more. (Adobe)
Personalized CTAs convert users 202% more than the default versions. (HubSpot)
46.9% of digital marketers run one or two tests per month. (CXL)
56% of CRO professionals have no more than three years of experience. (CXL)
In two years, the use of AI increased by 190% by marketers. (HubSpot)
With an adoption rate of 69%, web analytics tools are the most used tools to increase conversions. (Decibel)
As you can see in the stats, having web analytics software is crucial for businesses. One of the best web analytics tools that can help you increase your conversions is WatchThemLive. WatchThemLive gives you valuable information such as the most devices used to navigate your website, users' browser type, and what source is driving the most and least traffic to your website.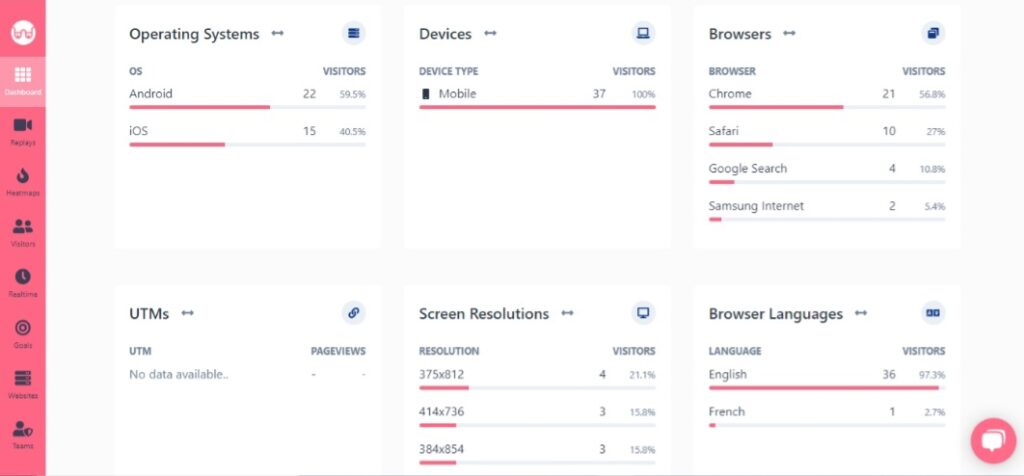 You can also track any conversion goal. You just have to name the goal, and WatchThemLive will start tracking it for you. For example, you can set a goal and see how many customers are bouncing during a period of time. This is how you can get started with WatchThemLive's goal tracking.
a) After opening the WatchThemLive dashboard, click on the goal icon.

b) Click on "Create."

c) Choose a goal type: pageview or custom event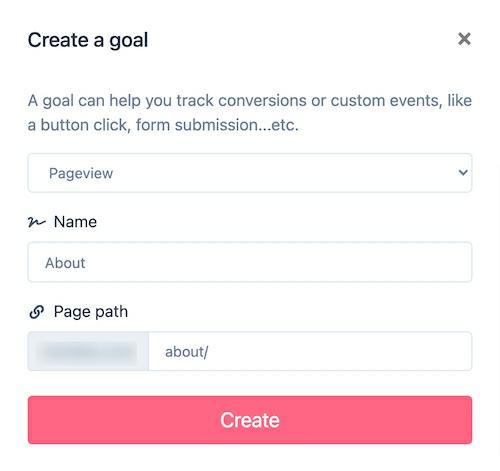 d) Enter a name for your goal and if you are creating a custom event goal, use the JavaScript code to trigger the event.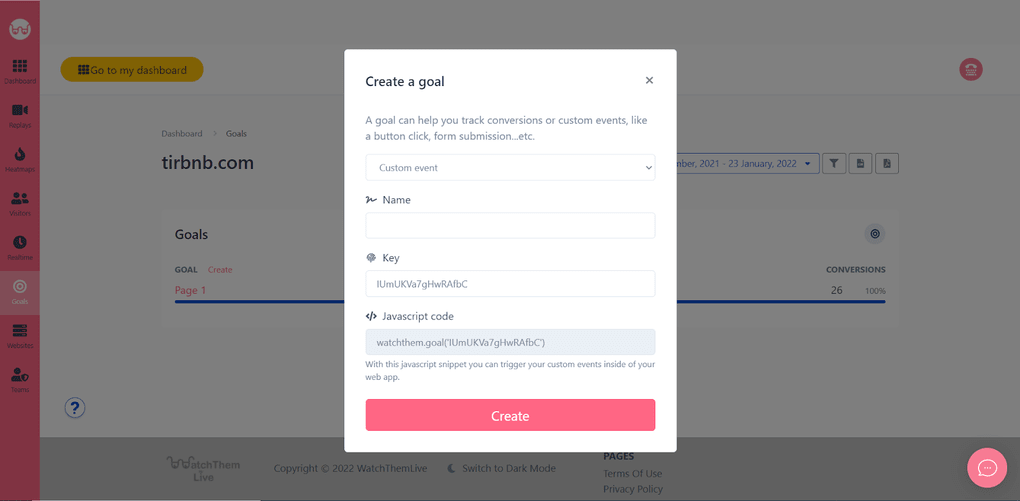 e) Now you can start tracking unlimited conversion goals.
This tool also offers session replays and heatmaps, allowing you to track user interactions with your website.
WatchThemLive has every tool you need for improving the customer journey, CTA placement, designing high-converting landing pages, and conversion rate optimization in total. What are you waiting for? Sign up for FREE and see what's next!
16. The average conversion rate of businesses that use optimization software lifts by 30%. (Unbounce)
17. Most popularly, conversion rate is calculated for sales/qualified leads' conversion. (Databox)
18. According to 57% of digital marketers, web development is the most impactful function in conversion rate optimization. (Decibel)
19. A personalized sales call within two days of initial contact can boost conversion by more than 200%. (Databox)
20. Emails with only one CTA increase sales up to 1,617%. (WordStream)
21. Implementing marketing automation increases the number of qualified leads by 452%. (Fronetics)
22. 76% of marketers come to an agreement that improving the digital experience has an effect on conversions and increases them up to 76%. (Decibel)
23. The average return on investment for those businesses using CRO tools is 223%. (Outgrow)
Conversion Rate Optimization Statistics: Average Conversion Rate
This section will inform you about CRO statistics regarding the average conversion rate among industries and marketing channels.
24. Only about 22% of businesses are happy with their conversion rates. (Marketing Experiments)
25. The Facebook ad's average conversion rate is 9.21%. (Instapage)
26. The typical conversion rate is between 1% and 3%. (Mountain)
27. The average conversion rate among industries is about 2.35%. However, the top 25% of companies convert more than 5.31% of their leads! (Wordstream)
28. The average conversion rate of websites is 2.35%. (Wordstream)
29. The average close rate of consumer products is 55% which is the highest in the market. (HubSpot)
30. The average close rate of financial services is 18%. (Unbounce)
31. The average close rate of the software/IT industry is 15%. (Unbounce)
32. The highest referral conversion rate goes to the travel industry with a 9.5% of conversion rate. (Ruler Analytics)
Conversion Rate Optimization Statistics: The Importance of It
If you want to truly understand the importance of conversion rate optimization, keep reading these CRO statistics.
33. Only $1 is spent on converting customers for every $92 spent on acquiring them. However, only about 22% of businesses are content with their conversion rates. (Econsultancy)
34. Most websites have a bounce rate of 26-70%. (CrazyEgg)
35. Conversion rate is the most useful metric for analyzing landing page performance, according to 57% of B2B marketers. (Ascend2)
CRO Statistics: Businesses Implementing CRO
Here, we're going to talk about conversion rate optimization statistics for businesses and stats for CRO tactics and tools.
36. Companies spend up to $2,000 per month on CRO tools on average. (Forbes)
37. Approximately, half of the landing pages are not tested to boost conversions. (Marketing Experiments)
38. A/B testing is the most widely used CRO tool. When asked which approaches marketers used for CRO, 58% said A/B testing, and 35% said they plan to use A/B testing for conversion rate optimization. (Invesp)
39. 79% of marketers believe website personalization is extremely difficult or, to some point, difficult. (Econsultancy)
40. 7 out of 10 marketers practice CRO to use the results for other marketing initiatives. (Marketing Experiments)
Conversion Rate Optimization Stats: Benchmarks
If you want to know the CRO statistics regarding benchmarks, keep reading.
41. The average conversion rate of desktops is 3.9%. (Statista)
42. The average conversion rate of tablets is 3.5%. (Statista)
43. The average conversion of mobile devices is 1.8%. (Statista)
44. Among all the acquisition channels, referrals have the highest conversion rate. (Marketo)
45. The average completion rate of single-page forms is 4.5%, while multi-page forms convert at 14%. (Formstack)
46. With an 18.2% conversion rate, catering and restaurants have the highest conversion rate. (Unbounce)
47. The average conversion rate of media and entertainment is 18.1%. (Unbounce)
Take a look at the table below to know the average conversion rate of different businesses:
| | |
| --- | --- |
| Industry | Average Conversion Rate |
| Automotive | 2.02% |
| Sports | 3.01% |
| Health and pharmacy | 4.06% |
| Arts and crafts | 3.79% |
| DIY and tools | 1.07% |
| Agency | 3.03% |
| Cosmetic and dental | 2.03% |
| Real state | 1.07% |
| Petcare | 3.28% |
| Travel | 4.07% |
| Baby and child | 0.99% |
| Fashion clothing and accessories | 2.44% |
| Food and drink | 2.37% |
CRO Stats: Landing Pages
Landing pages can have a drastic impact on your conversion rate. Keep reading the CRO statistics regarding it to find out more.
48. 44% of B2B clicks are directed to the company's homepage rather than a specific landing page. (MarketingSherpa's Landing Page Handbook)
49. Only 48% of digital marketers create a new landing page for their new marketing campaign. Not creating a new landing page and reusing old ones for new campaigns is not a good practice. (KyLeads)
50. Long landing pages can generate up to 220% more leads than landing pages with CTAs in the above-the-fold section– but test to see what works best for you! (Marketing Experiments)
51. Only 16% of landing pages do not include navigation bars, however, removing the navigation bar can increase the conversion rate up to 100%. (Instapage-VWO)
Conclusion
Having a solid conversion rate optimization strategy is important if you want to follow the path to success. Knowing the CRO statistics can help you set conversion goals more effectively. If you are a big company with lots of sales and revenue, then great, but if you own a small business and are struggling with your conversion rate, then this article is for you.
One way to start your conversion rate optimization is using web analytics software like WatchThemLive. Don't waste any more time, sign up and snag your FREE package now!