Wondering how to grow your work environment through online platforms and, especially, your website? Here's the key to your success. Landing page optimization tools are software packages that businesses can (and should) use to improve the conversion rate of their landing pages and, generally, their website.
Landing pages are where you promote distinguished features and campaigns and are supposed to help you progress in your business. Therefore, a CRO tool would be of use in this matter.
Even free landing page optimization tools can assist you in creating pages that attract a lot of visitors. With the proper software, you may also acquire dozens of landing page layouts and customization options.
In this article, we will provide you with a list of landing page tools that you can use for free. However, if you want to get down to business quickly and use the best of these apps, sign up on WatchThemLive Right Away and optimize all your landing pages.
What Is Meant by Landing Page Optimization
If you already own a website, you probably know what that means. However, considering you have created a website recently, here is the definition.
Landing page optimization means enhancing or improving each element on your landing page to boost conversions. And to do so, you may use statistics and anecdotal evidence instead of redesigning the entire page.
The best part is that you can gather data before your landing pages go live. How? For example, surveying your audience will assist you in understanding what they want and anticipating their needs.
However, you might not be able to design the ideal landing page right away. So, instead, you must go live with the page and then make changes to evaluate the data and track your conversion rate.
Here is where WatchThemLive comes to your help. Our service provides you with detailed and comprehensive heatmaps.

WatchThemLive also provides session replays, analytics, and a lot more. Moreover, we offer the most impressive options when it comes to pricing, functionality, and maintainability. Sign up for free and boost your business in the easiest way possible!

In the following sections, we provide more information on how this platform works.
What Are Landing Page Optimization Tools
By a simple search, you'll find out there are many landing page optimization tools available out there. However, having too many options is not different than having no options at all since you get confused about which one to use.
That's why we will introduce some of the best landing page optimization tools here—to make it easy for you to choose.
Let's walk you through it, shall we?
1. WatchThemLive: The Best Landing Page Optimization Tool
Finally, here we are to talk about the best of these services, which is our behavioral analytics tool, WatchThemLive.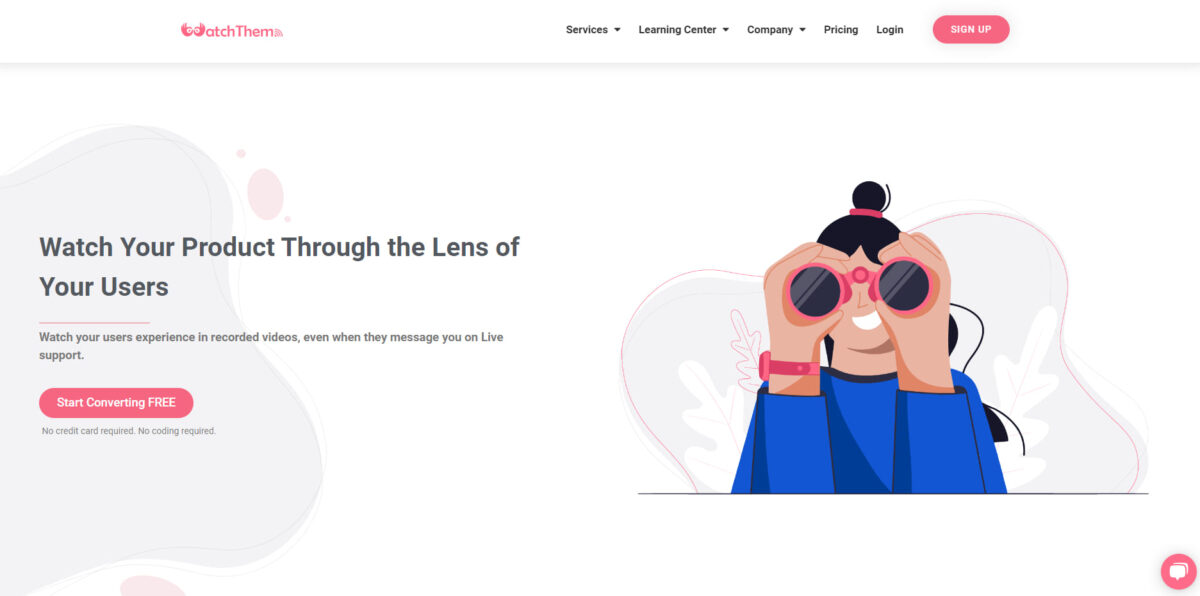 Our service allows you to optimize sites depending on the requirements and expectations of your users. Therefore, it is the best among landing page optimization tools for FREE.
WatchThemLive provides you with incredible tools and services such as detailed analytics, heatmaps, and session replay tools, but providing these landing page optimization tools are just some of our services.
WatchThemLive enables you to improve a page by setting up filters for all people who have viewed it. Then, you may observe their behaviors and interactions to identify areas for improvement.
To be more specific, you'll view a list of all the activities each visitor has made, as well as video playbacks of what they do while exploring the website.
Also, you may add heatmaps to the pages you wish to optimize. This data visualization approach assists you in determining the most popular and least popular portions of your web pages. Additionally, you can learn how customers interact with your content.
WatchThemLive provides some key landing page optimization strategies. These strategies are as follows:
Make

y

our

p

ages

m

obile-

f

riendly

as well as desktop-friendly,

Increase

p

age

s

peed,

Customize y

our

w

eb

p

age

c

opy,

Improve the

u

ser

e

xperience,

And

test

y

our

c

ontent.
Landing page optimization is a never-ending process. However, by having a good tool in hand, you can take care of all your needs.
WatchThemLive Features
First, let's see what you can do on WatchThemLive. These are some steps we suggest you take for better landing page optimization, and they are all possible on our platform:
Understand

y

our

t

arget

a

udience,

Track

u

ser

b

ehavior,

Develop a

h

ypothesis,

Prioritize

p

age

o

ptimization

t

ests,

Start

t

esting,

Analyze

t

est

r

esults,

And

optimize

y

our

w

eb

p

ages.
Pro tip: Our platform also offers these tips for better landing page optimization:
Optimize

i

mages,

Use a

CDN

,

Run

o

ne

t

est at a

t

ime,

And c

reate

c

ontent

t

hat

o

ffers

v

alue to

y

our

a

udience.
Moreover, WatchThemLive gives a detailed, in-depth explanation of website optimization. Here are some other features of our service:
Session recordings and session replays of your website users' activities,

Providing a

Heatmap tool

and website analytics on your dashboard,

User tracking and analyzing visitors' data such as their OS, languages, locations, devices, etc.

Setting up goals and keeping track of the conversion rate of your goals over time,

Tracking events and visual live chatting for asking questions,

Adding multiple websites to the same dashboard,

Resolving console errors by simultaneously looking at the recorded sessions,

And finally, recording video testimonials for those who want to talk about their experiences using your service.
Get started with landing page optimization for FREE, and start using WatchThemLive to record your viewer's sessions! You can boost your conversion rates like never before!
2. Instapage
This is a platform that allows marketers to create landing pages and offers a drag-and-drop builder and several landing page templates (500+).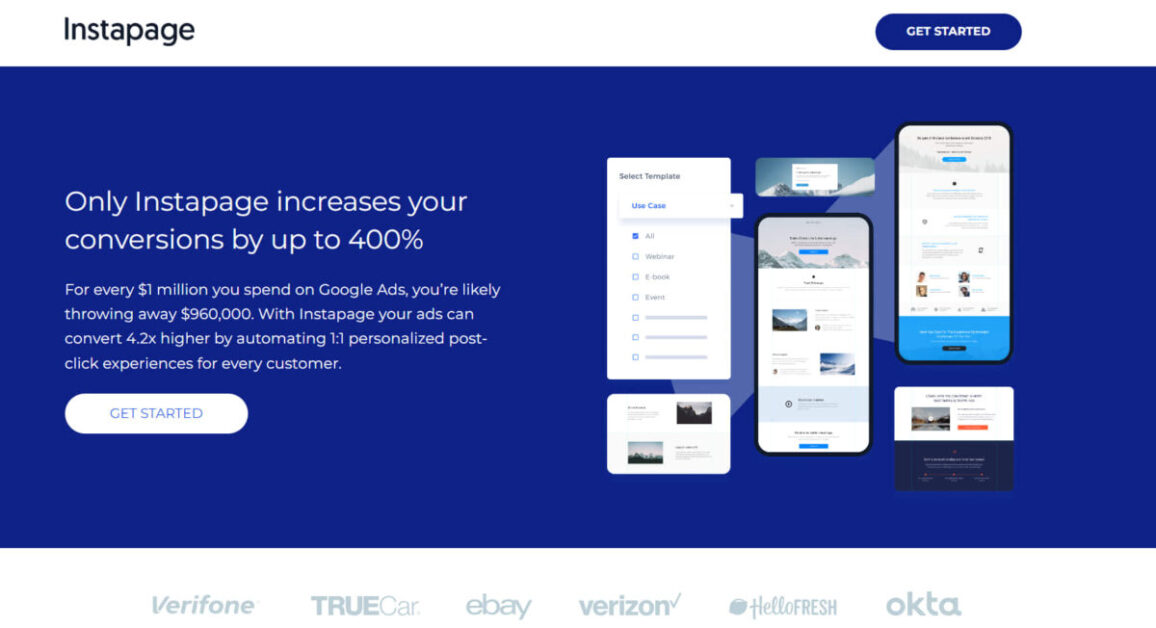 You can use this tool to do A/B testing on your landing page elements and look at heatmaps to see how users behave.
Instapage features industry-specific landing page templates that are mobile responsive. It offers a real-time visual editor that gives previews while creating, editing, and testing on mobile devices directly in your browser.
Users can design and customize landing pages for visitors from specific geographical locations and drag and drop a call-to-action button anywhere on the landing page.
The user on Instapage can direct traffic from their landing page to an email signup page, a mobile app download page, and so on with a call-to-action button.
However, based on customer reviews, Instapage is more expensive than it must be regarding the services it offers.
3. Leadpages
This service is a landing page optimization software that promises to convert website visitors into customers using drag-and-drop elements. It supports A/B testing, SEO components like meta titles, Google Analytics, and Facebook Ad builder.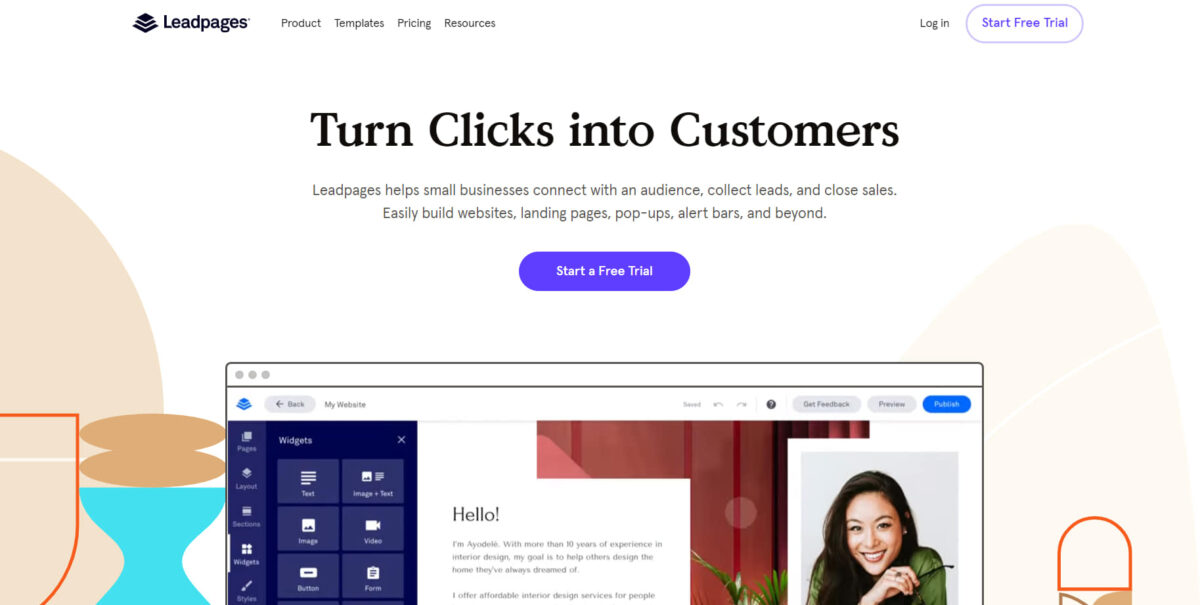 Leadpages supports automated SSL encryption, GDPR compliance, and landing page previews by device type (mobile, tablet). It also provides services like collecting email addresses from website visitors and survey forms that allow customers to be polled.
Using this service, you can create landing pages with sliding pictures or movies.
Additionally, it provides a drag-and-drop landing page builder (which, however, seems to operate slowly) and capabilities for adding email capture popups and notifications (alerts) bars to enhance conversion rates.
Leadpages has a marketplace where marketers can customize templates for their products. However, you'll have to pay for these templates, which typically start at $10 per.
This service interacts with some other apps, allowing users to work from a single location. Also, Leadpages may be integrated with email marketing tools, CRM solutions, and webinar platforms to route all of your leads automatically. Your sales funnel will be substantially more efficient as a result of this.
4. EngageBay: A Free Landing Page Builder
A landing page technology, EngageBay is designed to boost conversion rates. Users may create landing pages using the drag-and-drop editor or import an existing template from EngageBay's landing page templates collection.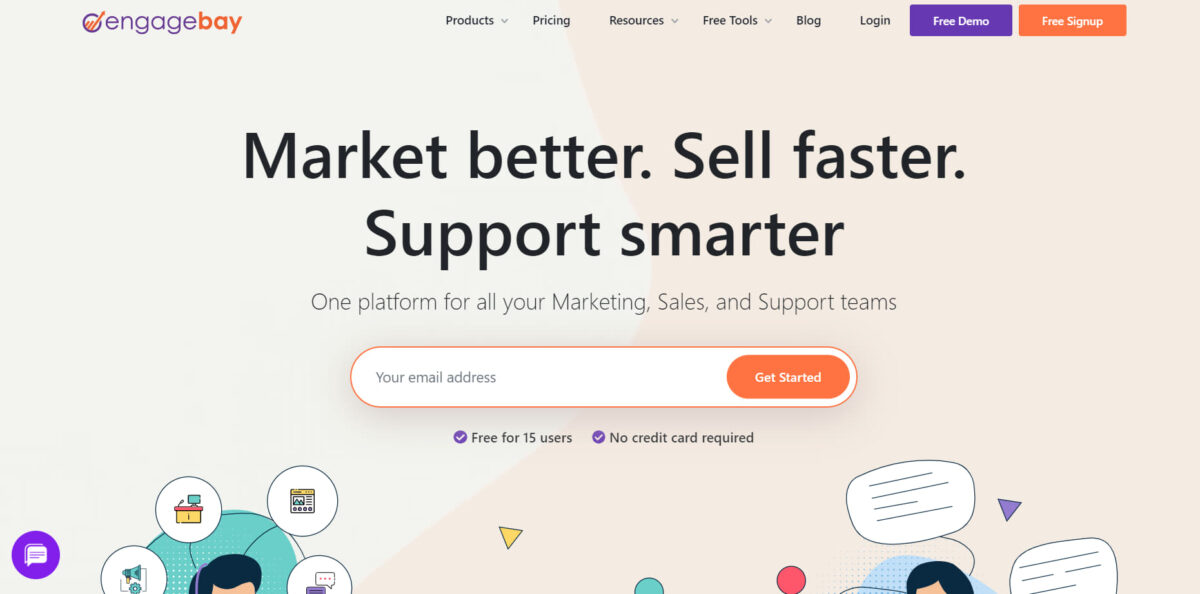 EngageBay provides multiple landing page templates that can also be coded. It includes an A/B testing tool that allows users to improve their landing pages. Seemingly, you can test CTAs, headers, footers, pictures, and meta tags as well.
Users also gain access to the EngageBay mobile app, which allows them to track the performance of their landing pages in real-time on their smartphones.
5. Google Optimize
A/B testing is a tried and tested method for increasing conversions while limiting the risk and disadvantage of executing page changes that negatively impact performance. It lets you determine which parts of a website are the most essential and how you can show them, from content to graphics.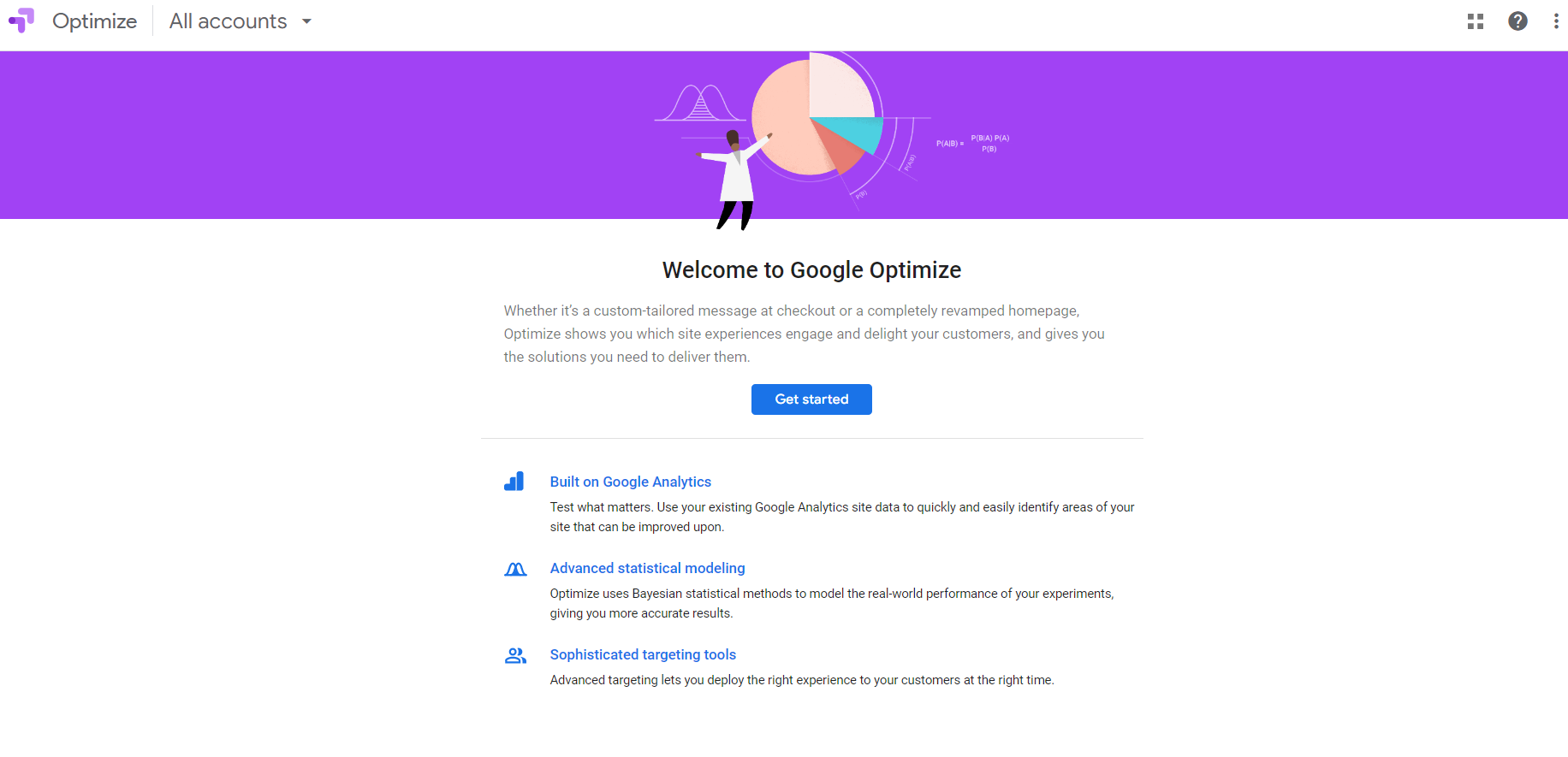 However, Google Optimize is a bit complex regarding the underlying analysis and randomization models. Using this service, you can then export your data to Google Analytics for further segmentation (something that A/B testing tools make difficult, if not impossible.)
On Google Optimize, you can optimize a landing page without using A/B testing. Generally, A/B testing requires a particular traffic volume to be worthwhile. So, it is advantageous to use a specialized A/B testing platform if you're gaining enough traffic on your platform.
Google Optimize is on our list because it's free, widely used, and has acceptable documentation. They now provide customization technologies, multi-page funnel trials, and split URL testing. Nevertheless, it is a difficult-to-use service for beginners.
6. Unbounce
Another landing page optimization tool is Unbounce, providing users with a drag-and-drop visual editor and templates. Unbounce offers two types of landing page builders: Classic and Smart builders.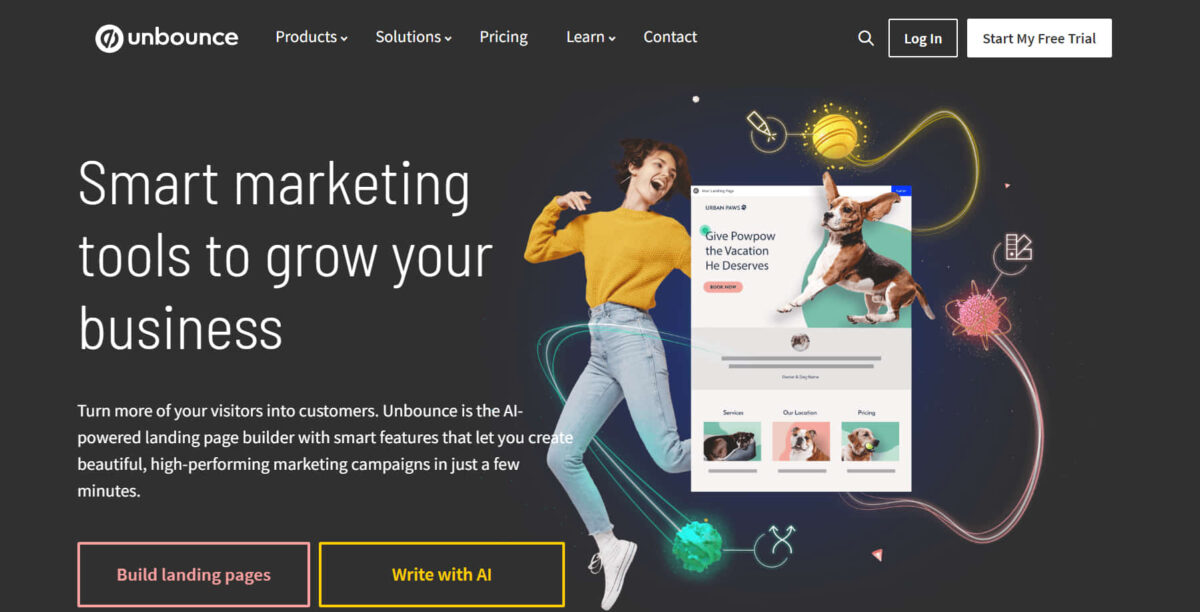 The classic one uses customization options and coding, while the smart builder provides data-based suggestions. Using Unbounce, one can use popups and sticky bars also to have optimized landing pages.
Moreover, it is possible to integrate this service with other apps or add text to your pages, emails, etc., using its AI copywriting feature.
According to some reviews, one issue with using this tool is the fact that it's difficult to make a balance between web layouts and mobile.
7. Hotjar
The other landing page optimization service on our list is Hotjar. This platform provides users with session recordings, heat maps, surveys, form analytics, live feedback, A/B testing, tracking custom events, sending frustration signals, and finally, tracking conversion rates for different purposes.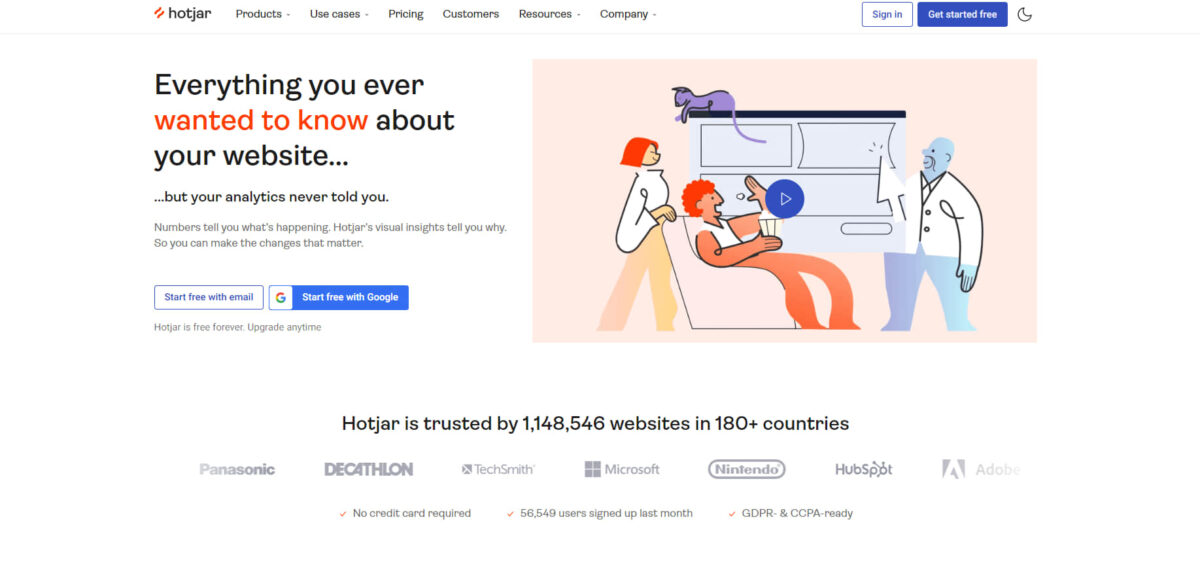 Using this landing page analyzer, one may be able to design an acceptable UI by gaining the needed data from the above features and enhance UX to some extent.
But, using this service, you can't create conversion funnels and forms, and you won't know when exactly users give up on your website. So, you have no choice other than to use another tool to analyze different funnels.
8. CrazyEgg: A Landing Page Analyzer
If you want to optimize a landing page on your website, then CrazyEgg would be another reasonable option. This platform gives you data by the means of heatmaps, session recordings, A/B testing, traffic analysis, error tracking, and surveys.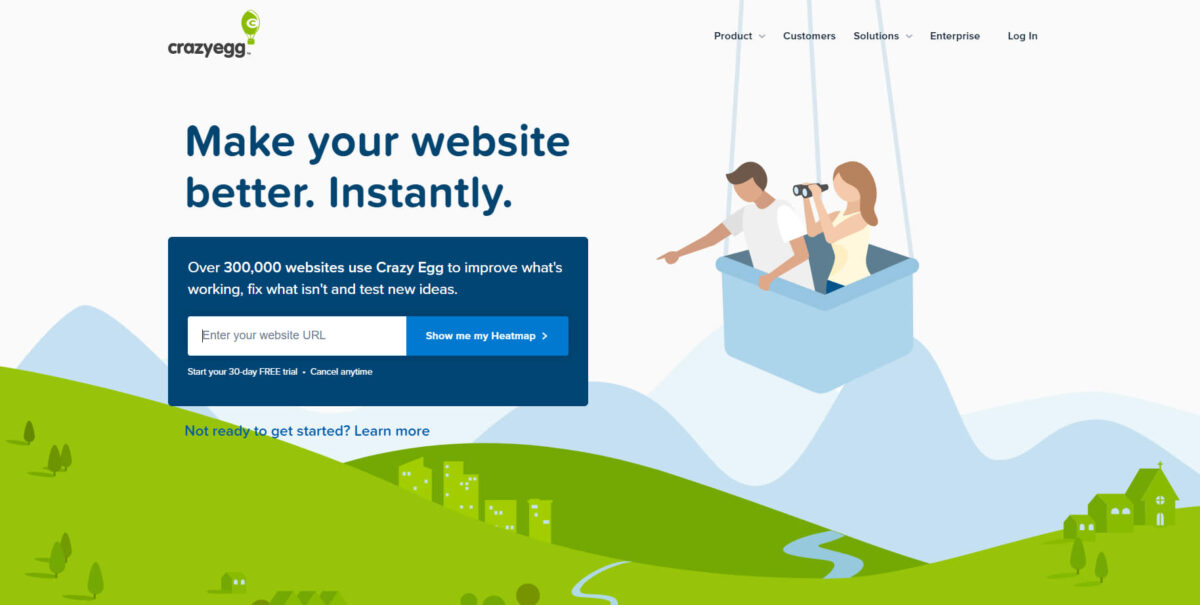 CrazyEgg offers different types of heatmaps just to make users somehow sure which parts of your website or landing pages are more essential to take care of. These heatmaps give you five reports, including a common heatmap report, scrollmap, confetti, overlay, and finally, a list report.
Apart from good services on CrazyEgg, remember that you don't get to have a free plan, and you can't analyze your conversion funnels. If you are interested to know more about this service, you can also read our Crazyegg review.
9. VWO
Among landing page optimization tools and services, VWO might be a familiar name to you. This platform provides its users with push notifications, session replays, heatmaps, and pop-up surveys.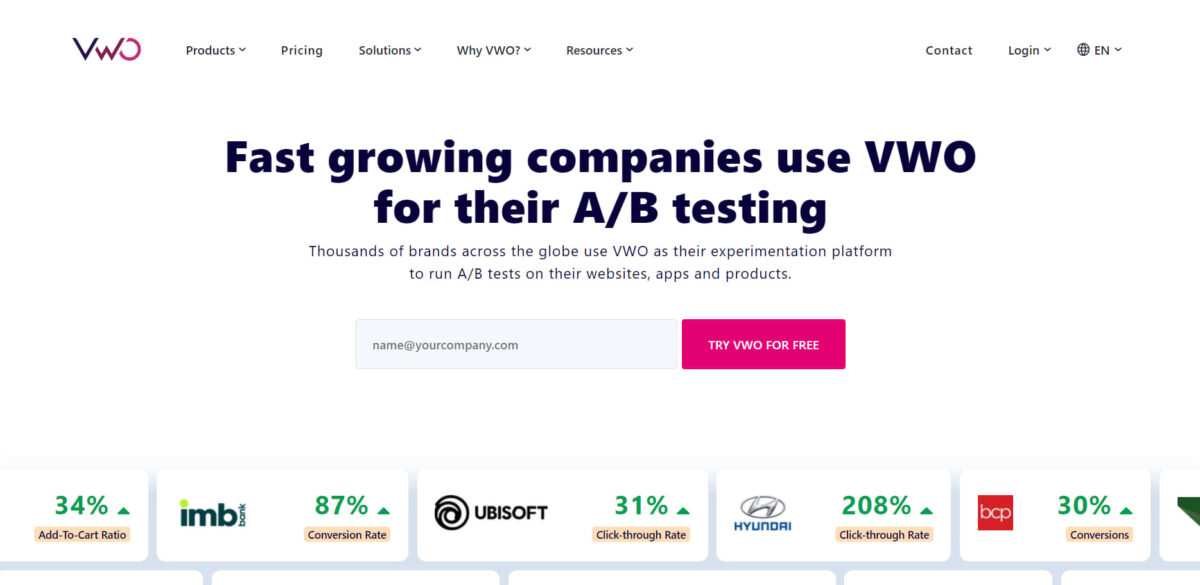 Among other features for landing page optimisation, VWO gives users the choice to test two options on landing pages by the means of A/B testing.
But on the other hand, some customers have stated that they've faced some bugs while working with different features like VWO's visual editor.
For more information, you can also take a look at our VWO review.
10. Hubspot
The tenth service among landing page optimization tools is Hubspot. This platform, like many other previous tools, gives you insights about what works better by taking advantage of A/B testing and real-time analytics.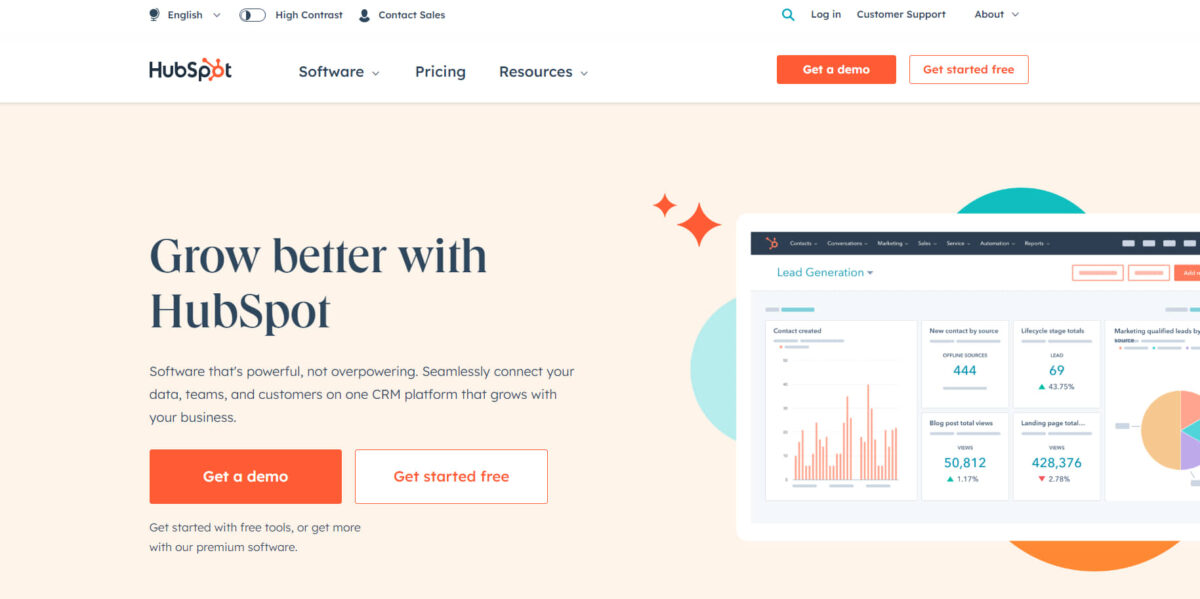 On Hubspot, one may also keep track of different campaigns or use the service in integration with other services. Based on reviews, the main problem with Hubspot is that the templates for landing pages are not as expected for some users.
11. Wynter
This free landing page analysis tool simply cares for two purposes: testing and messaging. By sending messages to website visitors, Wynter users may figure out what works best by receiving direct feedback.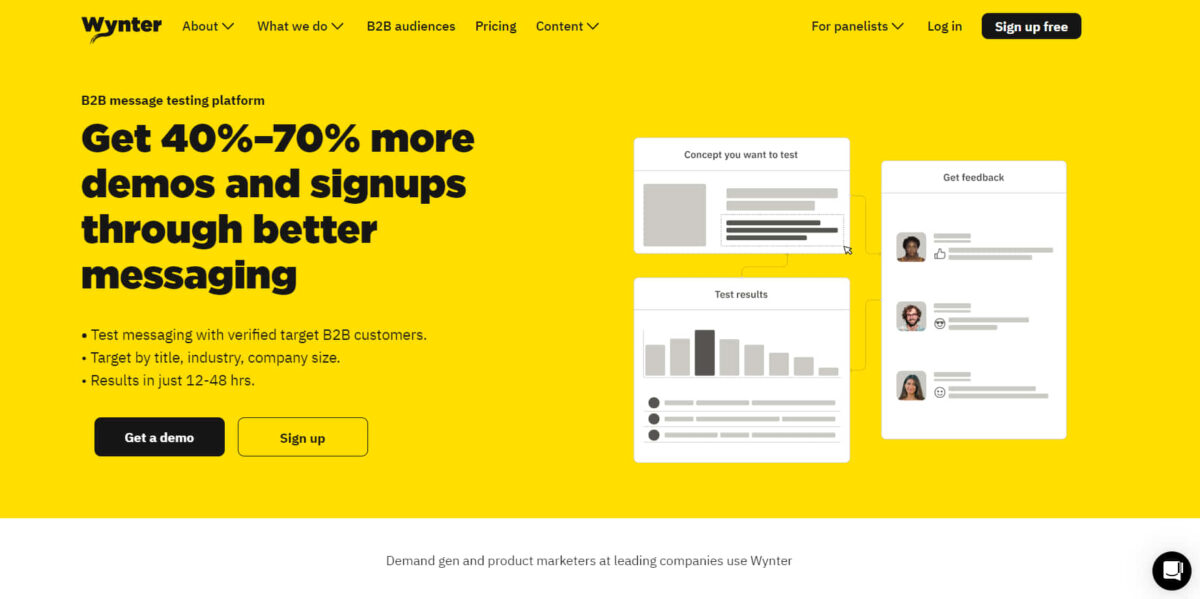 As a landing page optimizer, Wynter gives its users the chance to test texts and see which ones are appropriate for a specific landing page. However, this testing feature doesn't seem to satisfy many users.
12. Popupsmart: Free Landing Page Analysis Tool
The last option on our list of landing page tools is Popupsmart. As the name also suggests, this platform mostly focuses on creating pop-ups and believes to play an important role in optimizing landing pages. Nevertheless, some users argue about limited options regarding where to display pop-ups on the screen.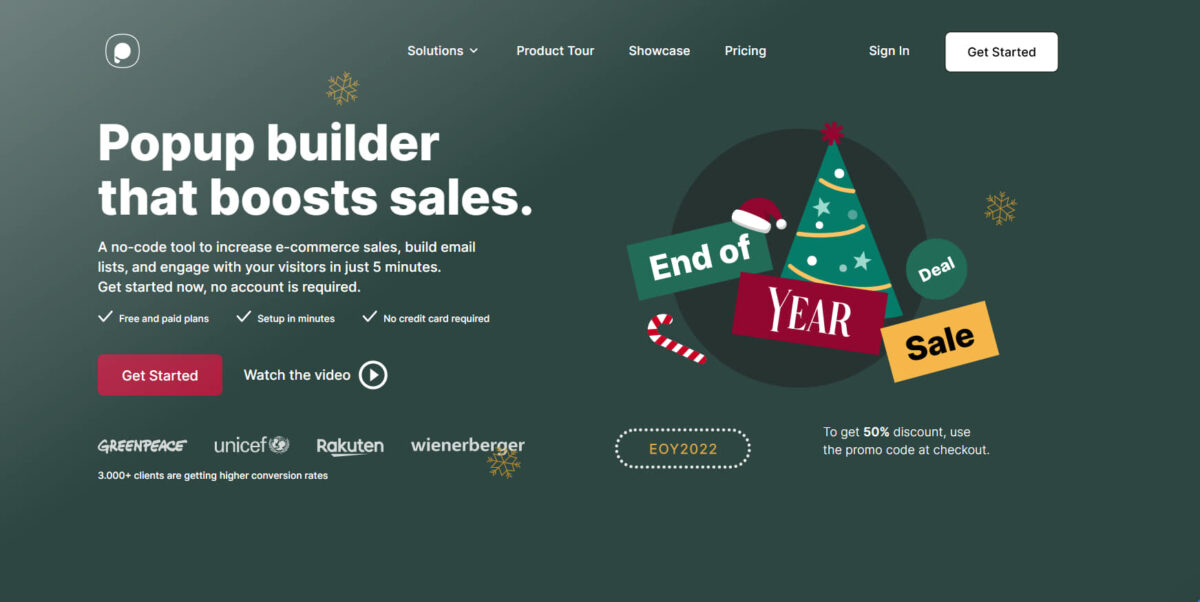 Using this service, one can use features like customization options (including A/B testing), exit intent, setting goals, location targeting, and event tracking. Finally, Popupsmart can integrate with some other apps as well.
FAQs on Landing Page Optimization Tools
Now that we've introduced you to different CRO tools for on-page optimization, it's time to take a look at other frequently asked questions regarding our topic.
#1 How Do You Optimize a Landing Page?
There are a few steps to take here:
Take care of your

SEO landing page optimization

. That is to say, pay attention to keywords and optimize the best of them to get higher traffic.

Decrease page loading time to minimize the bounce rate on your website.

Try to make a bond between you and your audience. This way, they are open to trusting you. So, provide them with proof of your validity.

Keep the landing pages simple and clear, and put CTAs right in front of the eyes of your audience. Designing and coloring are the other factors impacting your landing page success.

Use videos and images to attract attention and boost the conversion rate on your website.

Use a

landing page optimizer

like

WatchThemLive

and track your goals over a specific period.
#2 How Do I Optimize My SEM Landing Page?
To do so, you may pay attention to the following tips:
First of all, be careful where you insert call-to-action buttons.

Try to put your best offers in front of users' eyes.

Remember to optimize conversion keywords and to the point.

Finally, using a

landing page tester

, try different options to find the best one.
The Best Landing Page Optimization Tools Wrap Up
In short, here is why you need landing page optimization tools. These platforms are vital for marketers who recognize that marketing strategies are constantly changing.
Savvy marketers use landing page optimization tools to reach people in creative ways, using high-impact, time-tested components.
All free landing page optimization tools listed in this article are great places to start with your marketing initiatives. However, WatchThemLive covers all your needs not only for landing page analysis but also for growing your business.
Our technologies allow you to concentrate your efforts on optimizing each landing page to maximize ROI. As a result, you can enhance conversion rates, cut the cost per client acquisition, and spend more on revenue-generating organic content by improving landing pages.
So, what are you waiting for? Sign up on WatchThemLive Right Away and claim your free plan!