Lead landing page optimization tools are software packages that businesses can (and should) use to improve the conversion rate of their landing pages. Even free landing page optimization tools can assist you in creating landing pages that attract a large number of visitors. You may also acquire dozens of landing page layouts and customization choices with the proper software.
This article will provide you with a list of landing page tools that you can use for free.
Related Article: Page Optimization [The Complete Guide]
What is meant by landing page optimization?
The act of enhancing or improving each element on your landing page to boost conversions is known as landing page optimization. You use statistics and anecdotal evidence instead of redesigning the entire page based entirely on a hunch.
What's the best part? You can gather data even before your landing page goes live. For example, surveying your audience will assist you better in grasping what they want and anticipate.

WatchThemLive provides you with detailed and comprehensive heatmaps. WatchThemLive also provides session replays, analytics, sales funnels, and a lot more. We offer the most impressive services when it comes to pricing, functionality, and maintainability. Sign up for free and boost your business in the easiest way possible!
However, you won't be able to design the ideal landing page right away. Instead, you go live with the page and make changes to evaluate the data and track your conversion rate.
What are landing page optimization tools?
There are many landing page optimization tools available out there. However, having too many options is not so much different than having no options at all. We will introduce some of the best landing page optimization tools here to make it easy for you to choose.
1. WatchThemLive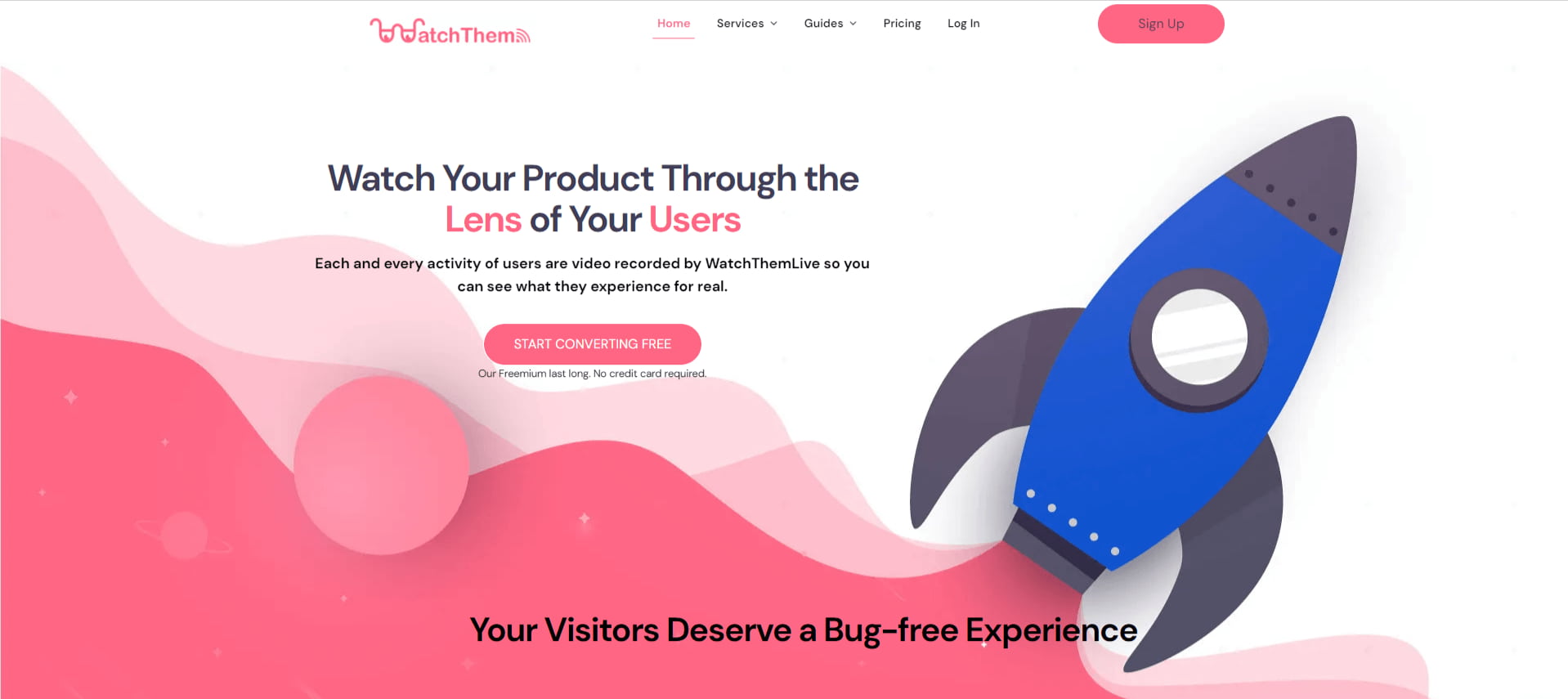 Now that you're searching for a page optimization tool to help you understand how to enhance your web pages, you may utilize a behavior analytics tool like WatchThemLive. WatchThemLive allows you to optimize sites depending on the requirements and expectations of your users.
It is the best tool you can use for your landing page optimization for FREE. Moreover, WatchThemLive provides you with incredible tools and services. Detailed analytics, heatmaps, session replays, and landing page optimization tools are just some of WTL's services.
WTL enables you to improve a page by filtering all people who have viewed it. Then you may observe their behaviors and interactions to identify areas for improvement. You'll be able to view a list of all the activities each visitor has made, as well as video playbacks of what they do while exploring the website.
You may also add heatmaps to the pages you wish to optimize. This data visualization approach assists you in determining the most popular and least popular portions of your web pages. You can also learn how consumers interact with your content.
WatchThemLive provides some key landing page optimization strategies. These strategies are as follows:
Make Your Pages Mobile-Friendly
Increase Page Speed
Tailor Your Web Page Copy
Improve the User Experience
Test Your Content
WatchThemLive believes that landing page optimization is a never-ending process. These are some steps we suggest you take for better landing page optimization:
Understand Your Target Audience
Track User Behavior
Develop a Hypothesis
Prioritize Page Optimization Tests
Start Testing
Analyze Test Results
Optimize Your Web Pages
WatchThemLive also offers these tips for better landing page optimization:
Optimize Images
Use a CDN
Run One Test at a Time
Create Content That Offers Value to Your Audience
Optimize All the Stages in the Customer Journey
Moreover, WatchThemLive gives a detailed, in-depth explanation about page optimization.

Get started with landing page optimization for FREE and start using WatchThemLive to record your viewer's sessions! You can escalate your conversion rates in a way you have never seen before!
2. Instapage
Instapage is a platform that allows marketers to create landing pages in a matter of minutes. It also offers a drag-and-drop builder and a large number of landing page templates (500+). Users can also use this tool to do A/B testing on their landing page elements and look at heatmaps to see how users behave.
Instapage also features industry-specific landing page templates that are mobile responsive. It is renowned for having a real-time visual editor that gives instant previews while creating, editing, and testing on mobile devices directly in your browser. Users can also design landing pages for visitors from specified countries or locales using Instapage. This allows advertisers to customize landing pages for some geographic regions.
Another advantage of Instapage is that it allows users to drag and drop a call-to-action button to any location on the landing page. The user can direct traffic from his landing page to an email signup page, a mobile app download page, and so on with a dynamic call-to-action button.
3. Leadpages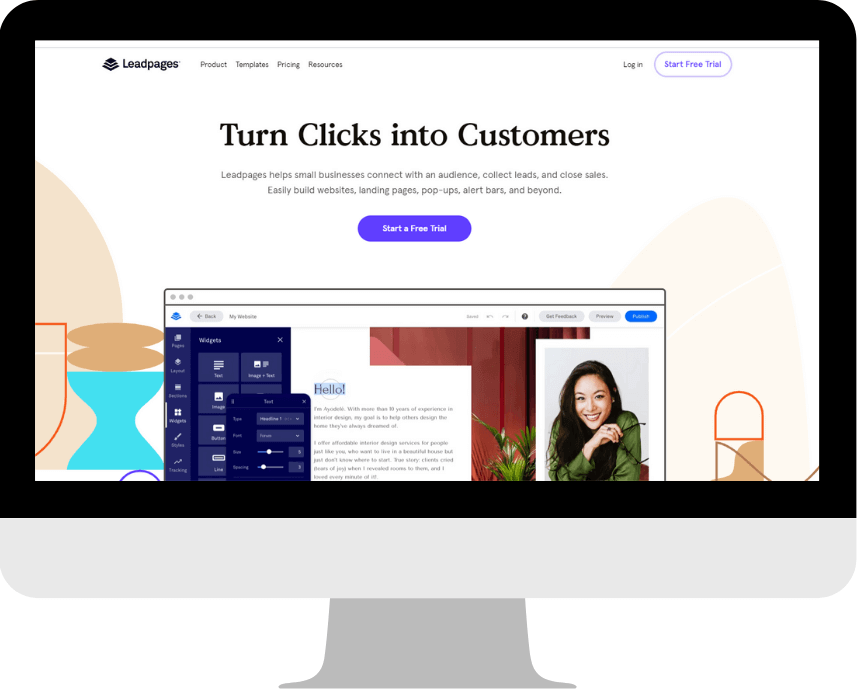 Leadpages is a landing page builder that makes it simple to convert website visitors using drag-and-drop elements. It supports A/B testing, SEO components like meta titles, Google Analytics, and Facebook Ad builder. Furthermore, it supports automated SSL encryption, GDPR compliance, and landing page previews by device type (mobile, tablet). They also provide some facilities, such as collecting email addresses from website visitors and survey forms that allow customers to be polled. You can also create landing pages with sliding pictures or movies. Additionally, it provides a drag-and-drop landing page builder and capabilities for adding email capture popups and notification (alert) bars to enhance conversion rates.
Furthermore, it has a marketplace where marketers can customize hundreds of templates for their own products. Of course, you'll have to pay for these templates, which typically start at $10 per, but it's fantastic to have such a wide selection.
Integrations are a breeze with Leadpages. It interacts with over 1,000 apps, allowing you to keep things simple and work from a single location. Leadpages may be integrated with email marketing tools, CRM solutions, and webinar platforms to route all of your leads automatically. Your sales funnel will be substantially more efficient as a result of this.
4. EngageBay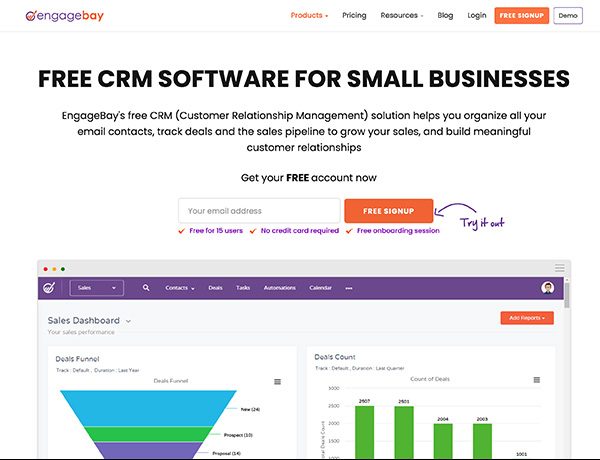 EngageBay is a landing page technology designed to boost conversion rates. Users may simply design landing pages by using the drag-and-drop editor or importing an existing template from EngageBay's landing page templates collection. EngageBay provides a plethora of landing page templates that are simple to use and personalize. You can even code your own landing pages if you're savvy!
It's also straightforward to evaluate the performance of all the aspects of your landing pages using EngageBay. EngageBay includes an A/B testing tool that allows you to improve every part of your landing pages. Using the "what works best" strategy is quite beneficial in optimizing your landing pages. You can test CTAs, headers, footers, pictures, meta tags, and everything else.
Users also gain access to the EngageBay mobile app, which allows them to track the performance of their landing pages in real-time on their smartphones.
5. Google Optimize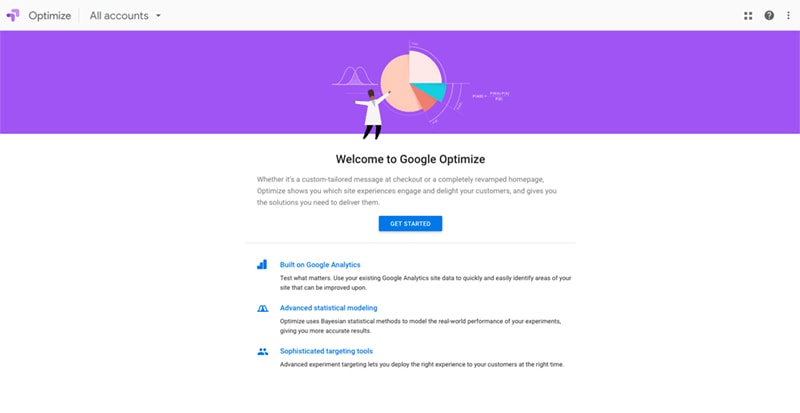 A/B testing is a tried and tested method for increasing conversions while limiting the risk and disadvantage of executing page changes that negatively impact performance. It lets you determine which parts on a website are the most essential and how you can show them, from content to graphics.
Granted, Google Optimize is a bit of a black box regarding the underlying analysis and randomization models. Still, at least you know you're getting a proper proportional allocation to each experience. You can then export your data to Google Analytics for further segmentation (something that native A/B testing tools make difficult, if not impossible).
You can optimize a landing page without using A/B testing. A/B testing requires a particular volume of traffic to be worthwhile. However, if you do have traffic, it is advantageous to use a specialized A/B testing platform.
I included Google Optimize on our list since it's free, widely used, and has excellent documentation. They've gone a long way from their inception. They now provide decent customization technologies, multi-page funnel trials, and split URL testing.
Conclusion
Finally, let's talk about why you need landing page optimization tools.
Landing page optimization tools are vital for marketers who recognize that marketing is a constantly changing profession. Savvy marketers use landing pages to be creative and reach people in novel ways, using high-impact, time-tested components.
We looked at five free landing page optimization tools in this blog article, and they're all great places to start with your marketing initiatives. These technologies allow us to concentrate our efforts better on optimizing each landing page to maximize ROI. We can enhance conversion rates, cut the cost per client acquisition, and spend more on revenue-generating organic content by improving landing pages.