B2B SaaS marketing is a highly competitive arena where many companies struggle to stand out. With all those products and ads, you can easily get overlooked in the increasing competition. Therefore, marketers need to constantly come up with new ways to catch the attention of today's picky customers.
The rise of technology has made digital marketing strategies a must for businesses of all sizes. B2B SaaS offers unique opportunities for companies to streamline their marketing communications and reach their target audience more effectively. On top of that, with the help of eCommerce marketing tools, you can improve your customer engagement and increase revenue.
In this blog post, we'll discuss some of the best B2B SaaS marketing strategies that can help you boost sales and get ahead of the competition. So read on and find out how to elevate your marketing strategies.
Meanwhile, if you have no time to read the whole article, we can introduce one of the best CRO tools for Saas companies, WatchThemLive, which helps you optimize your website and boost your conversions in a flash. SIGN UP now to get immediate access.
What Is B2B SaaS Marketing
It refers to a type of marketing in which SaaS companies promote their software as a service to other businesses. The products these companies offer are designed to help businesses improve their efficiency.
These days, many companies are using SaaS products such as website analytic tools as it helps them save time and money and even cut human resources costs. In addition, businesses can optimize their sales funnel, offer better customer service, and improve their marketing strategies with these products.
How to Design a B2B SaaS Marketing Plan
Designing a B2B saas marketing plan is essential for businesses to reach the right audience and maximize their return on investment (ROI).
To develop a SaaS B2B marketing plan, you require research into target markets, industry trends, and competitive analysis. Fastest growing SaaS companies all have a well-thought-out marketing plan, and you should keep up with the competition!
Additionally, you need to set measurable and actionable goals to ensure maximum effectiveness in reaching desired outcomes and building the best B2B SaaS sales strategy for your business.
So, if you want to ensure the success of your efforts, take these steps to create your B2B SaaS marketing plan: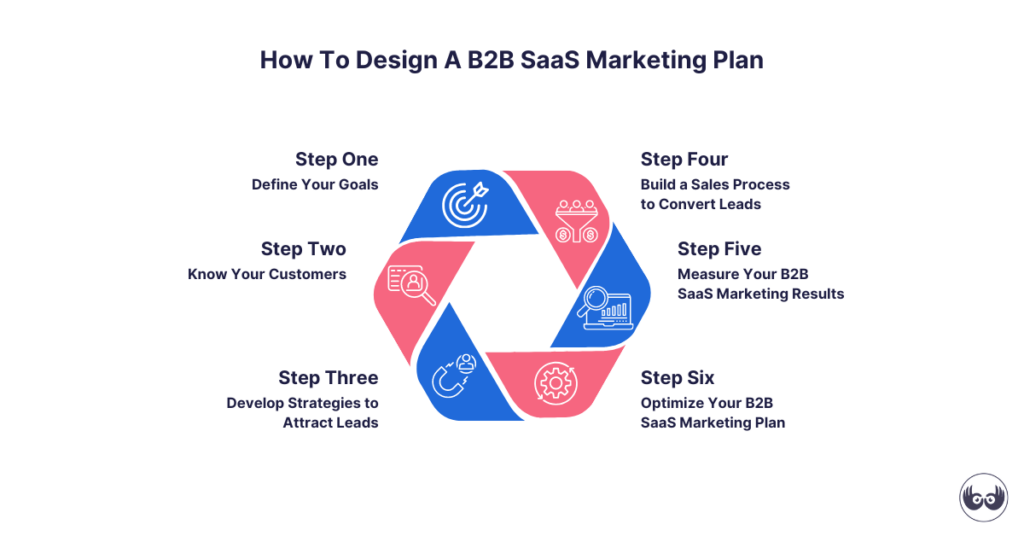 1- Define Your Goals
For any business, setting goals is a key component to success. The same is true for marketing. As the demand for software-as-a-service (SaaS) products grows, B2B saas marketing needs to be managed in order to succeed and reach its target audience.
Defining specific objectives and creating strategies around them helps you focus on achieving your goals and ultimately grow your business.
These are the areas you should consider for defining your B2B SaaS marketing goals:
Lead generation,
Marketing contribution to the sales pipeline,
Converting your customers,
Reselling to existing customers,
Revenue growth.
2- Know Your Customers
No B2B SaaS marketing strategy would be complete without understanding your customer demographic. Knowing who your customers are and what they want from a product or service can be the difference between success and failure.
Building a clear, detailed picture of your customer base is essential. This means analyzing not only age, gender, or location but also their preferences and spending habits.
With this information, you can create tailored strategies that effectively meet their needs than generic ones. Furthermore, it has been proven that people tend to remain loyal to products they feel connected to; so learning about the people behind them should be one of the core goals of any SaaS company's marketing strategy.
Also, without knowing your target audience and customer profiling, you won't design the right strategies. What you need to do is create your ideal customer profile. Here are some of the things your ICP should include:
Company size,
Industry or niche,
The goals they want to achieve,
Pain points.
3- Develop Strategies to Attract Leads
Now, you need to design strategies to attract attention to your business. Attracting leads is an important part of any successful B2B saas marketing strategy. Without a steady stream of qualified leads, a business risks stagnation or failure. Here are some reasons why attracting leads in SaaS marketing is essential.
First and foremost, having many potential customers on hand increases your chances of making sales. Proper lead generation allows you to identify those who are most likely to become paying customers, thus increasing the efficiency of your efforts.
Content marketing is one of the best ways for B2B SaaS companies to generate leads. You must create valuable and relevant content that answers customers' pain points. Companies can use content marketing tools and offer the best content to keep their customers satisfied and engaged.
Related Article: Best B2B Lead Generation Techniques You Should Know
4- Build a Sales Process to Convert Leads
You probably have captured leads by offering a free trial or demo, but you need to guide those leads to become paying customers.
If you use the free trial approach, show the users the value your product offers and how it can help them. And if you are offering a free demo, you have to be ready to address the customers' problems and concerns.
5- Measure Your B2B SaaS Marketing Results
Converting your leads is not the end. Are customers coming back to buy your services? Are you successfully attracting more and more customers? The answer to these kinds of questions will help you measure your marketing results.
If you don't track and analyze the key metrics, you won't identify the success of your marketing strategies. Here are some of the metrics you should keep an eye on:
Churn rate,
Customer lifetime value,
Revenue per user,
6- Optimize Your B2B SaaS Marketing Plan
After measuring the results, it's time to optimize your B2B SaaS marketing plan. First, track your customers' preferences continuously to meet their needs. Then, determine what's working well and what's not to improve your marketing strategies.
What Are the Most Important Metrics to Measure Your B2B SaaS Company's Performance with
There are a few factors that you should always keep an eye on to keep track of your progress and have a successful business. Here are B2B SaaS marketing performance metrics you should pay close attention to.
#1. Conversion Rate
Put simply, conversion rate is the number of customers who complete a desired goal such as signing up for a plan, purchasing a product, or even downloading music from your website!
It's an important indicator of how satisfied and happy your users are with your company, and how successful your B2B SaaS marketing efforts have been.
If you're wondering how to calculate conversion rate, you should know that conversion rate is calculated by dividing the number of conversions in a specific time frame by the total number of visitors and multiplying it by 100 to get a percentage.
#2. CPL
Cost per lead (CPL) is another metric that measures the average cost you need to get a new lead for your business. This metric indicates the success of your efforts and sales funnel in turning leads into customers. A high CPL shows that a business is spending more than it should on generating new leads. So you should always try to keep it as low as possible!
CPL is calculated by dividing the total marketing spend by the total number of leads.
#3. Churn Rate
It shows the percentage of customers who stop doing business with a company, and is a great way to determine how well your SaaS company can engage and keep the customers.
If your churn rate is high, it's a huge red flag. And you should go over your sales funnels to find out why your customers don't want to purchase from you anymore.
CPL calculated by dividing the number of users who cancel their subscriptions, or churn by the total number of customers you had on the first day of a specific time frame.
#4. Organic Traffic
It's a given that the more organic traffic your business gets, the more potential customers you're gonna have. That's why it's a crucial metric that you should always pay attention to and think of new strategies to boost it even more to generate new leads.
A decreasing number of organic traffic shows that you need to work on the accuracy and relevancy of your content more!
#5. Retention Rate
One of the primary metrics to measure in B2B SaaS Companies is retention rate. It shows the percentage of customers who continue doing business with you over a period of time.
The more you can fulfill your customers' needs and desires, the more the return to you for further businesses is. So, be updated and show your customers that you're always willing to help!
Best B2B SaaS Marketing Strategies
Now, let's take a look at some of the best B2B SaaS marketing tactics that you should consider to increase revenue: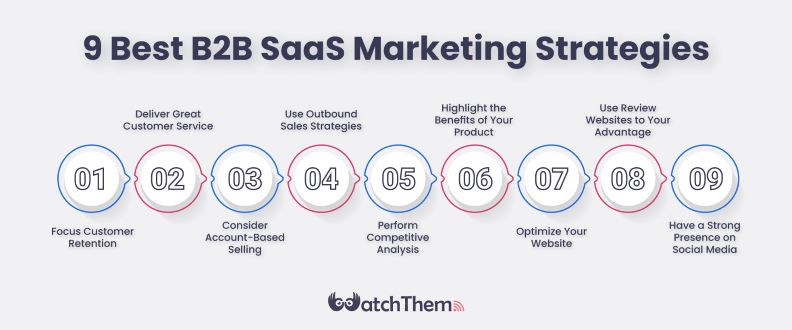 1- Focus on Customer Retention
Attracting a new customer costs five times more than keeping an existing one. That's why you should put more effort into developing customer retention strategies than customer acquisition.
Create your content marketing strategy to build customer loyalty. Try to educate your customers about your SaaS product to engage them more with your business. Aside from creating valuable content for your blog, add a learning center to your website to clarify confusion and help customers find the answers to their questions.
2- Deliver Great Customer Service
The success of your B2B SaaS business takes more than offering great products and services. Delivering strong customer service has far more benefits than you think. It will satisfy your clients better, leading to more long-term customer relationships. And loyal customers are what really matter for a SaaS company.
Ensure your customer service agents know enough about the software to help customers. Additionally, it's an excellent idea to provide multiple communication channels to enable customers to contact you most conveniently.
3- Optimize Your Website
Optimizing your website is a surefire way to increase your conversions. But first, you need to identify the right leads to create relevant offers and a better user experience. This way, you will turn more prospects into leads.
Remember to create and use different types of compelling calls to action to increase your sales opportunities. These are some CTAs you can use on your website:
Blog post banners,
Form submissions,
Social sharing,
Newsletter subscription.
It's also a great idea to use a user behavior analytics tool like WatchThemLive to find out how you can improve your website. Let's look at some of this tool's features and how they can help you.
WatchThemLive: The Best Website Optimization Tool
WatchThemLive, as we mentioned earlier, is a great option for companies who are looking for an all-in-one optimization tool. It helps you gather all the necessary information, analyze them, and make the best decision for your business!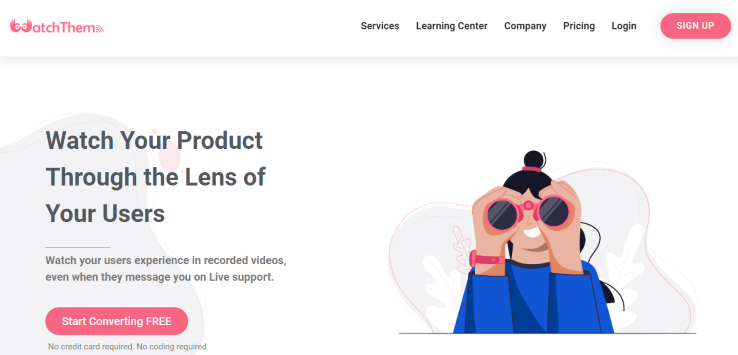 Here are WatchThemLive's features to help you better understand why we always recommend this tool as the ultimate solution for all businesses.
Heatmaps
Website heatmap tools provides a visual representation of your visitors' clicking behavior. It's an excellent way to figure out how your CTAs are performing. Moreover, this feature enables you to see how users are engaging with them to optimize your sales funnel. For example, if your call to action is not getting many clicks, maybe you need to change the color or size.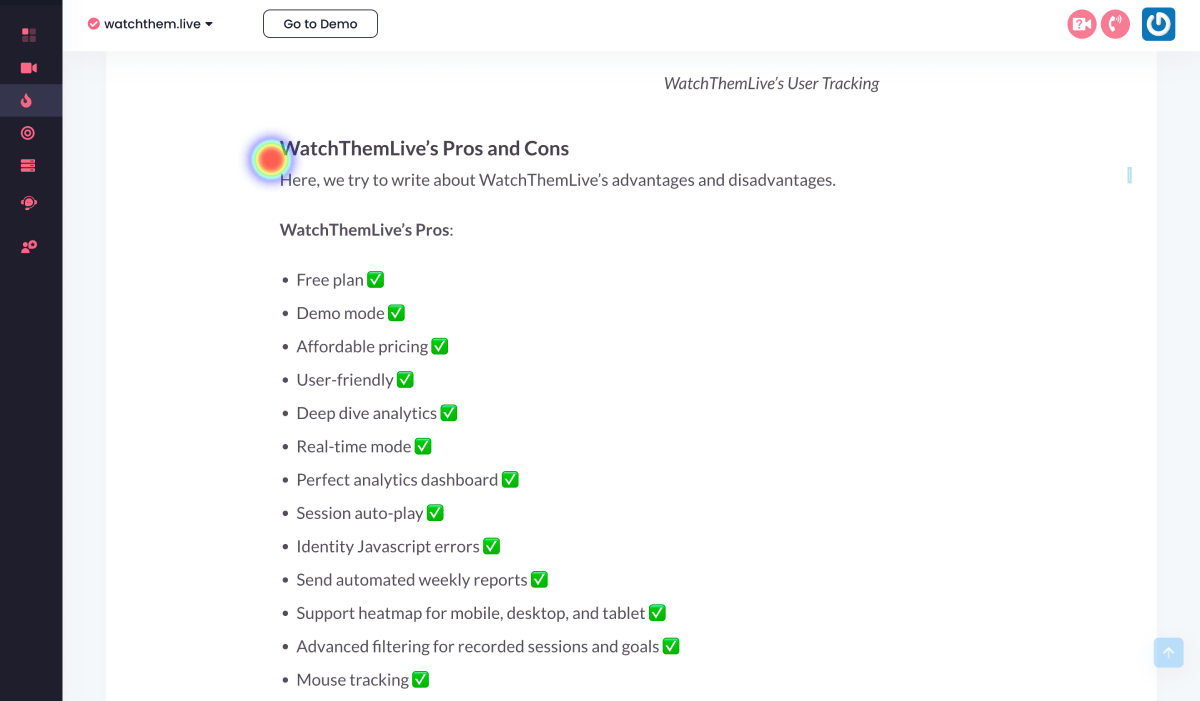 Session Replay
The session replay software allows you to monitor your visitors' journey on your website. You can see each user's mouse movement, clicks, scrolls, and any other on-screen activity. Watching session replays is definitely one of the best ways to understand visitors' experiences on your website. You will easily detect pain points and conversion barriers to fix them as soon as possible.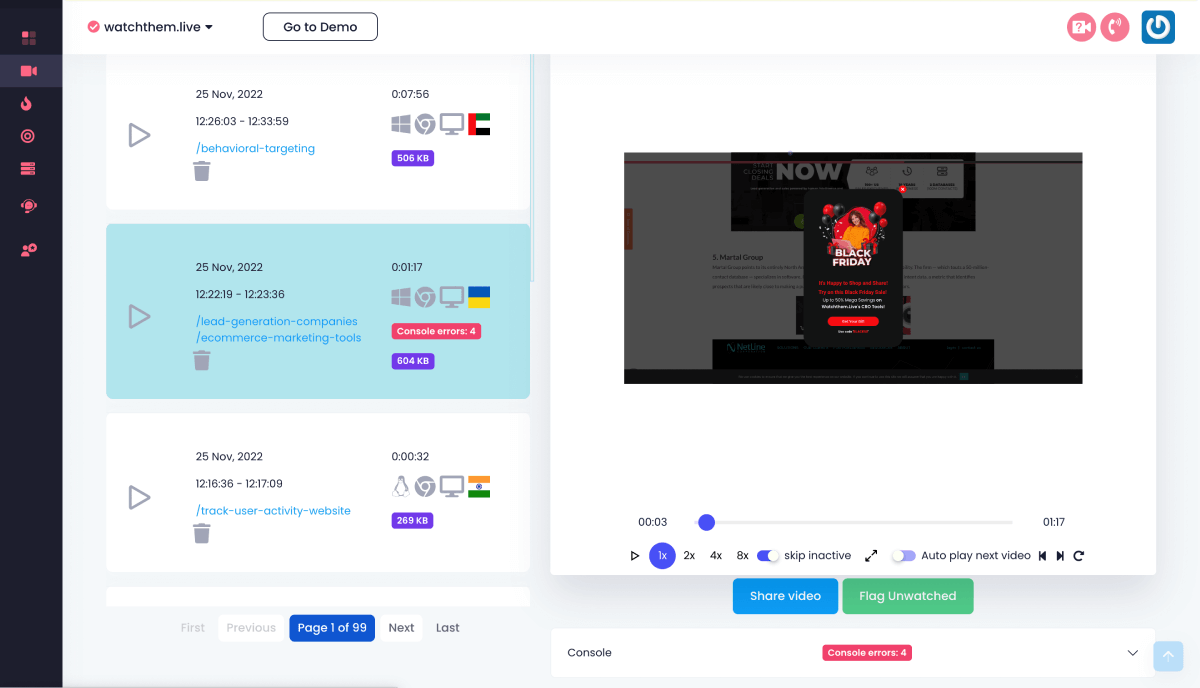 Goal Tracking
Setting and tracking goals is an important part of life for people at all stages of their personal or professional journeys. Goal tracking is the practice of monitoring user behavior on a website or app to determine if they have taken desired actions, such as signing up for a newsletter or buying a product.
By examining this data, it becomes easier to track goal progress and identify opportunities for improvement. For example, tracking visits to specific pages can help with assessing what content resonates with visitors the most.
This feature is especially helpful when it comes to B2B SaaS marketing as it's an extremely competitive arena and it's easy to lose sight of your path.
WatchThemLive enables you to create goals and track them in order to look into the future and decide the results you want.
Visual Live Chat
WatchThemLive assists you in monitoring the user's journey by pairing your live chat and session replay. This enables you to see and interact with customers in real time. So you can provide an immediate response to customer queries and complaints. This eliminates the need for lengthy emails or phone calls, resulting in greater customer satisfaction.
4- Consider Account-Based Selling
SaaS products are generally subscription-based. Therefore, using the account-based selling model can be a winning strategy. Just keep in mind that this model doesn't suit all B2B businesses; otherwise, it's absolutely worth giving a shot.
An account-based sales model helps you detect the leads that are more likely to convert. Then, you can create personalized content for each of them to make them interested in your offer more effectively.
Implementing this strategy will save you a lot of time and money since you focus on converting high-quality leads.
5- Highlight the Benefits of Your Product
One of the most important aspects of successful B2B SaaS marketing is highlighting the benefits you offer. It's necessary to understand your customers and their problems to show how you can help them with your services.
What you need to focus on in your content and campaigns should be the benefits of your SaaS product. So, you can impress the decision-makers.
6- Use Outbound Sales Strategies
We didn't mention inbound sales, as you probably use it already. On the other hand, some businesses overlook outbound sales believing it's outdated.
Outbound marketing involves contacting prospects yourself to encourage them to convert. This strategy can offer many advantages, such as having full control over your leads and generating them much faster.
7- Perform Competitive Analysis
As mentioned before, with the tough competition in the B2B SaaS marketing space, it's not easy to outperform competitors. Running competitive analysis is an excellent strategy for finding new opportunities by identifying gaps in the market.
Competitive analysis helps you figure out what your competitors are doing right and what they are doing wrong. Therefore, you can learn from them to elevate your business.
8 – Use Review Websites to Your Advantage
Review websites such as G2 and Trustpilot are great platforms that connect sellers and buyers and are a great avenue to generate new leads whose intents are close to your niche. So don't forget to have an active presence on legit review websites.
Keep these B2B SaaS marketing strategies in mind to surpass all your competitors in no time!
9 – Have a Strong Presence on Social Media
It's no secret that social media users keep increasing with each passing day. Therefore, as one of the B2B SaaS marketing strategies, it's important to be updated and have an online presence on different platforms such as Instagram, Facebook, and LinkedIn. This way you connect with your customers on a personal level and stand on top of your rivals and generate new leads.
B2B SaaS Marketing FAQs
So far, we've tried our best to cover everything you need to know about B2B Saas marketing. Now, let's look at some of your frequently asked questions.
Q1: What Does SaaS Mean in Marketing?
SaaS, or software as a service, is an increasingly popular technology model in the business-to-business (B2B) marketing space. It enables companies or individuals to access software applications hosted and managed by third parties. Companies can use SaaS for various purposes, ranging from customer relationship management (CRM) systems to data analysis tools.
Q2: How Do I Get Leads for B2B SaaS?
With the right approach, you can reach your desired target audience and turn prospects into customers. To maximize lead generation efforts, there are several key steps to take and strategies to consider.
One of the most effective ways to generate leads for a B2B SaaS business is through content marketing. Creating valuable content such as blog posts, whitepapers and infographics can help attract potential customers while simultaneously positioning your business as a thought leader in your industry.
Additionally, leveraging SEO tactics to improve organic visibility can be an effective way to drive targeted website traffic that will likely convert into leads more quickly than other methods.
Another successful technique is using social media channels such as LinkedIn or Twitter for lead generation purposes.
Q3: What Are the Four Types of B2B Marketing?
There are four different types of business customers in B2B marketing, including producers, resellers, governments, and institutions.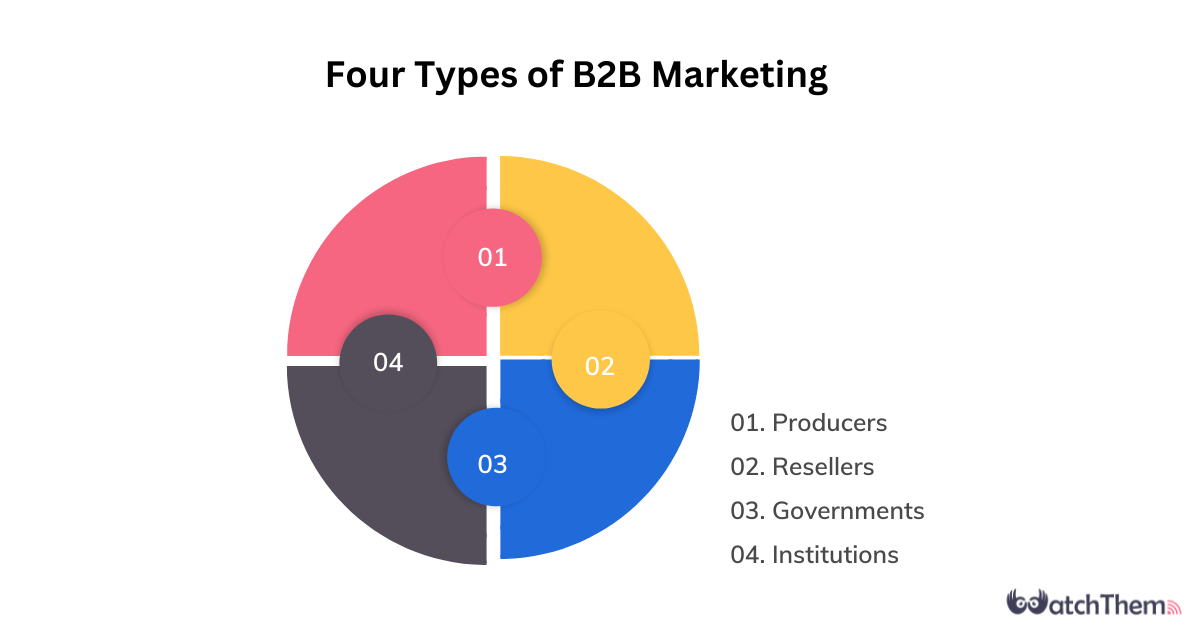 Related article: 7 Amazing B2B Marketing Trends for 2022
Conclusion
Successful B2B SaaS marketing requires effective strategies. You also need to stay updated on the trends and monitor your competitors to survive the competition.
In this article, we discussed some great B2B SaaS marketing strategies that can certainly help you take your business to the next level if used correctly. Meanwhile, WatchThemLive promises to stand with you and help you see what you can't with your naked eyes. Don't waste a second and SIGN up to move towards success.