The last two years feel like a fever dream, and the economic impact of the COVID-19 pandemic on business sales is not deniable. The Aviation industry is a good example. When travel demand reduced, airlines lost $201 Billion due to COVID-19 in 2020-22.
Besides, B2B marketing is constantly changing, especially since the pandemic, not only because of the emergence of new technologies and techniques but also because of the changes in customer behavior. In the last 24 months, we have witnessed unexpected changes and trends in the B2B marketing landscape. So what will be trending this year? As an industrial marketer, you need to stay up to date with B2B marketing trends if you want to be successful and grow your business.
In this article, you're going to discover seven B2B marketing trends that are popular in 2022.
Note: Are you looking for sharp eyes to find growth opportunities for your business? WatchThemLive is one of the best behavior analytics tools that enables you to track your user's activity on your website. So you can identify pain points on their way and fix them as soon as possible. Keep reading to understand how it can be helpful.
What Are the Four Types of B2B Marketing?
Before deep diving into B2B marketing trends, you need to know what B2B marketing is. Business to business (or B2B) marketing is when one business sells its products and services to another business; in contrast to B2C marketing, where a business sells its products to a customer.
Three major types of B2B marketing companies are product-based, service-based, or software-based.
Product-based B2B business: It refers to businesses that sell physical products to other businesses.
Service-based B2B business: It refers to businesses that supply services to other companies.
Software-based B2B business: It includes businesses that sell software to a certain business to fulfill a certain task or need, such as B2B Saas marketing which helps many companies improve their efficiency.
Moreover, business buyers do it either for profit or non-profit purposes. There are four types of B2B marketing buyers which we'll discuss below:
1. Producers
These companies purchase certain products or goods to create their own products, such as Starbucks, which needs milk, mocha sauce, brewed espresso, whipped cream, and sugar to make Caffè Mocha.
2. Resellers
Resellers are companies such as retailers and wholesalers who purchase products and services to resell them at a higher price to make a profit.
3. Government
They are the biggest buyers of products and services in the world. They might purchase all sorts of goods ranging from fruit and vegetables to weapons for the sake of their people.
4. Institutions
These are non-profit organizations such as churches, hospitals, and private colleges that purchase goods and services to help people who are in need. They try to keep costs low so more people can profit from them.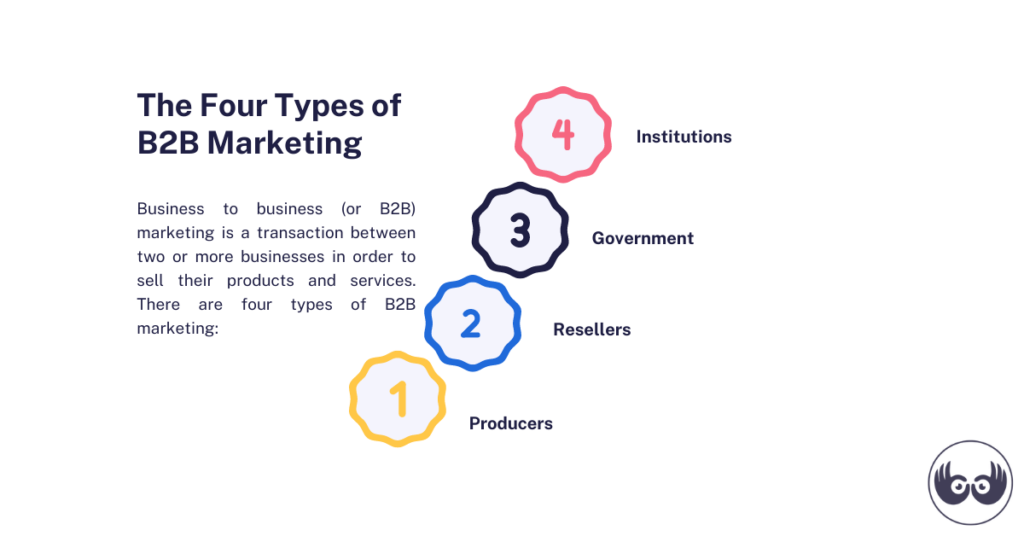 What Are the Seven Trends Affecting B2B Marketing?
Today, digital media highly impacts B2B marketing. In 2021, 45% of B2B marketers decided to increase their use of social media to reach out to the right target audience and increase their engagement. Here are 7 B2B marketing trends that you should consider for 2022:
1. Monitoring Users' Intent
One of the popular B2B marketing trends is monitoring user's intent. Intent-based marketing refers to marketing a product or service based on customers' purchase intents. The most important thing for B2B marketers is to understand why their customers drop out of purchasing cycle before they convert. So they try to decode online customers' intent based on intent data to realize when they are considering buying your products or services.
Besides using intent data, a behavior analytics tool can help you understand when and where your customers leave your conversion funnel. WatchThemLive's session replay or screen recording is an easy-to-use feature that detects any UX problem your website faces. Just lean on your chair and watch recorded videos to identify your website's drop-off points. Give WatchThemLive's session replay a try and sign up to see with your own eyes.
2. Using Video Marketing
Video marketing is the use of videos to promote your product or service. We spend the most time on social media platforms, especially Instagram and Youtube. So using innovative videos can help attract customers' attention, those who like watching online videos. 82% of online customers said they are willing to buy a product or service after watching.
Besides, 82% of online traffic comes from videos. So B2B marketers can use Instagram or Tiktok to not only share their videos with millions of users and showcase their new products but also emotionally connect with them. To be honest, Facebook still has all the power even though Instagram and Pinterest get a firm foothold in social media marketing.
According to Statista, Facebook has reached 2.234 billion monthly active users, whereas Instagram has over one billion. So you can share short videos on Facebook and build your business with word-of-mouth marketing.  Use modern video tools – convert and compress mp4 videos and surprise your users!
3. Using Consumer Neuroscience Marketing
Neuromarketing refers to the study of how customers' brains respond to branding and advertising. According to social psychology, behavioral economics, and neuroscience, B2B marketers execute marketing campaigns to create catchy ads and powerful CTAs to grab their customers' attention.
4. Using Customer-Focused Content Marketing
In order to provide a great B2B customer experience for your target audience, you need to fulfill their expectations. Customer-centric marketing is an approach that prioritizes customer needs and interests. In 2022, content marketing will undergo continuous changes but still has its own power.
Previously, marketers spent time creating search-engine-friendly content, but now they're trying to create helpful content that addresses their customers' needs. As a marketer, you must keep up to date according to B2B content marketing trends if you want to meet their needs. First, you should create audience-specific content, then optimize your content for higher Google rankings.
5. Designing Mobile-Friendly Websites
Humans can live three weeks without food and 3-7 days without water, but I'm not sure they can survive a day without smartphones. Up to now, the number of smartphone users is around 6.648 billion, including 83.72% of the world's population. Moreover, many people turn to online shopping during the pandemic. So many B2B marketers focus on optimizing their websites for mobile devices and digital interactions to ensure that they provide a superior customer experience.
6. Using Referral Marketing
Referral marketing refers to promoting your products and services through referrals to gain more customers. Different types of referrals include direct referrals (or word of mouth), email referrals, and social media referrals. For example, 92% of online purchases are conducted by word of mouth, which means customers trust recommendations from family and close friends.
The power of digital platforms is increasing day by day. During the pandemic, many businesses reached their target audience through these platforms. Besides, 91% of B2B customers said they prefer the digital self-service model over human interactions. So focus on B2B digital marketing trends.
7. Using Micro-Influencer Marketing
Influencer marketing is still considered one of the trending topics in 2022. Many B2B marketers cooperate with Instagram influencers who have between 1000 and 10,000 followers on social media to promote their products and services to grow their business. Now you know seven B2B marketing trends affecting your business growth.
Conclusion
In this article, we discussed seven B2B marketing trends. New B2B marketing trends are evolving every year because of significant changes in digital channels and B2B lead generation techniques, so you need to be prepared to adopt new changes in digital marketing channels in order to reach your target audience. Moreover, WatchThemLive can help you be one step ahead of your competitors, so you can stay up to date just by understanding your users' behavior. Try WatchThemLive and sign up for FREE.