Have you ever been taught what is important besides product and price in B2B marketing? In B2B businesses , customer experience is an important factor which highly impacts revenue. Providing poor customer service experience can be detrimental to any business. When you fail to meet your customers' expectations, your competitors can win your customers in the blink of an eye. In this article, we're going to discuss 7 B2B customer experience best practices that you should adopt if you want to stay ahead of the game.
Note: Even if you identify your bad customer experience service points, how could you know where your customers encounter a problem in their journeys? WatchThemLive is a behavior analytics tool that can help you identify all obstacles in their journeys and fix them quickly. Read on to figure out how.
What Is B2B Customer Experience?
B2B stands for business-to-business. As its name suggests, it means that your selling products or tools are designed for the use of companies instead of consumers. So B2B customer experience is the experience of B2B prospects while interacting with B2B products and services.
How Important Is Customer Experience In B2B?
Nowadays, many companies compete on having the best customer experience and prioritize it over other marketing aspects. Previously, only 3% of b2b businesses cared about CX but as time goes by, at least 86% of companies understand the importance of customer experience and its impact on their business. A positive B2B customer experience overshadows your brand loyalty; so you can satisfy your customers and turn them into advocates.
The problem is you can't understand each customer to become familiar with their needs and meet their expectations. So if you don't want to waste your time and money and understand your audiences' perspectives, we highly recommend WatchThemLive which is one of the best tools in the market for customer experience analytics. This behavior analytics tool provides all features you need to understand your target audience and identify any problems they encounter through their interaction with your website.
One of their helpful features is session replay software which works like circuit cameras and records your customers' activities on your website. Imagine you want to track one of your customers' journeys to fix their problems and improve your CX. You can replay the recorded video and see where they encounter a problem or what distracts them. Sign up before it's too late.
What Are B2B Customer Experience Best Practices?
Here are seven best practices for B2B customer experience that enables you to create a good CX in the b2b space.
1. Prioritize Your Customer Experience
To provide a good b2b service, you should make your customer experience a priority. If you want to keep your business alive, you must know what motives your customers and what they expect from your business. Then, you can enhance your customer experience in b2b by meeting their expectations. As Shep Hyken says, "the best advertising you can have is a loyal customer spreading the word about how incredible your business is."
2. Communicate with Customers in Real Time
Many customers demand real-time interactions. You have no idea how much it can impact  your customers purchasing decisions. Imagine your customer struggling with a problem and trying to contact you via email; they expect instant responses to their questions and complaints. If you don't meet their expectations, you can lose them in no time. NOBODY WANTS TO BE LEFT WAITING. So, try to respond to their needs at every moment to improve your customer journey. Integrate PBX telephone systems in communications with your customers for more timely and satisfactory responses.
3. Map out Customer Journeys
Besides measuring customer experience metrics, if you want to get detailed insights about customers' interactions with your brand, you need to map out their journeys to take a closer look at each touchpoint in their ways.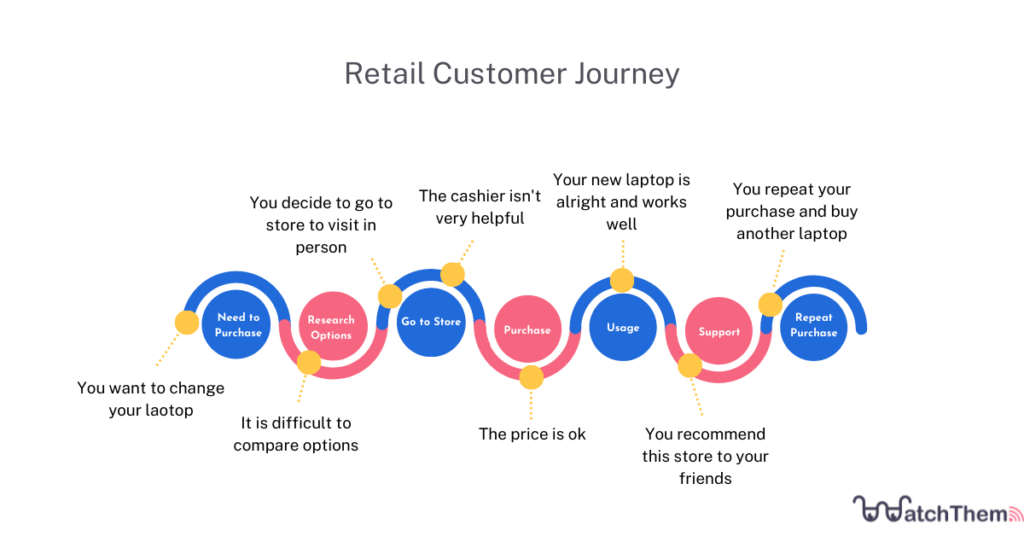 4. Invest in Right Technology and Customer Experience Training
Besides using a strategy, you need to deploy the right customer experience software that allows you to capture your customer's interaction and improve your b2b customer service. So keep up to date to choose the right one for your business.
Furthermore, if you want better results, you should prepare your marketing teams by necessary training courses. For example, you can create a customer service coaching plan to ensure each member of your customer service team improves their customer experience skills.
5. Take Advantage of Social Media
Social media is an integral part of B2B customer experience. You can use social media channels to reach your target audience and create a bond with your customers. As a result, you can become familiar with their needs, behavior, and preferences. Moreover, people aren't afraid of sharing their bad experiences on social media; a poor CX can endanger your reputation equally as much as when a superior one would contribute to more effective communication in terms of public relations.
6. Collect Customer Feedback
EVERY COOK PRAISES HIS OWN BROTH. As Craig McVoy says, "80% of CEO's believe they deliver superior customer experience but [in fact] only 8% of their customers agreed." No matter how hard you try, it doesn't have any value when you ignore your customers' feedback. So try to listen to them, not only does it help you improve the customer experience but also helps you build a strong relationship with them.
7. Collect Competitive Insights
Sometimes you may try so hard to provide a superior B2B customer experience but the results were not as you expected. In this case, you can scrutinize what your competitors are doing, what are their marketing strategies, what differentiates you from them, and what types of shopping experience they are offering. So you're able to fill your brand's gaps and develop a well-defined CX.
Conclusion
In this article, we discussed how B2B customer experience can affect your business. As Vince Lombardi says, "it takes months to find a customer… seconds to lose one." After planning a customer experience strategy, ensue that your customers receive proper services and products.
If you want to deliver a superior customer experience, WatchThemLive can help you. Don't miss the boat and sign up.