In today's world where any little aspect of marketing and sales can have a big impact on the margin of progress and profit, B2B lead generation plays a big role. That's the main goal for this article, using this fact in our favor.
Read more:
Let's see how to use and get the profit of these techniques
What is B2B Lead Generation?
B2B Lead Generation simply can be defined as the process of finding and contacting the customers who would like and have the potential to do business with you and your company.
What Is the Importance of B2B Lead Generation?
Remember that we are talking about sales and marketing, so the people who are working in your business area that are willing to buy services from you are super important.
These people that we call leads spend lots of their time interacting with your website and deals. So, new leads mean more opportunities and more sales. As a result, lead generation is super essential for a B2B business.
More specifically, lead generation helps sales and marketing in these ways:
B2B lead generation helps you identify your target market and how much of it will respond favorably to your pitch.

It helps you contact and engage with the right customers by providing you with the most recent data of your customers

With the awareness of your customer's interests, you can create targeted content that is valuable and relevant.
Who Are These Leads?
These leads in Lead Generation terms are people that have the potential to do business with, and in some ways are interested in the services that your business provides. To narrow them down we can make them into 2 groups:
1. Marketing-Qualified leads or MQL
These are the people who are very likely to become a customer, and you know this because they usually visit your website or attend your webinar or events.
2. Sales-Qualified leads or SQL
These are MQLs that have progressed and are ready to participate in your business.
What Are the B2B Lead Generation Methods?
We can categorize the lead generation methods into 4 major groups with the tools that can be used in each of them.
1. Inbound Lead Generation
This method is usually useful for leads who are already interested in your business area and can be pursued to visit your website or channel and start the business with them.
Some tools that can be useful for fulfilling this goal are:
SEO – Search Engine Optimization – so your website can be in top searches resulting in the topic you are working on.

Quora

: best place for providing information and facts about your business and contact with your audiences.

Linkedin

: you can track potential customers who visit your profile and make contact with them.
2. Outbound Lead Generation
Working with outbound tools like phone calls and emails are still effective and can be used to be in touch with your potential customers.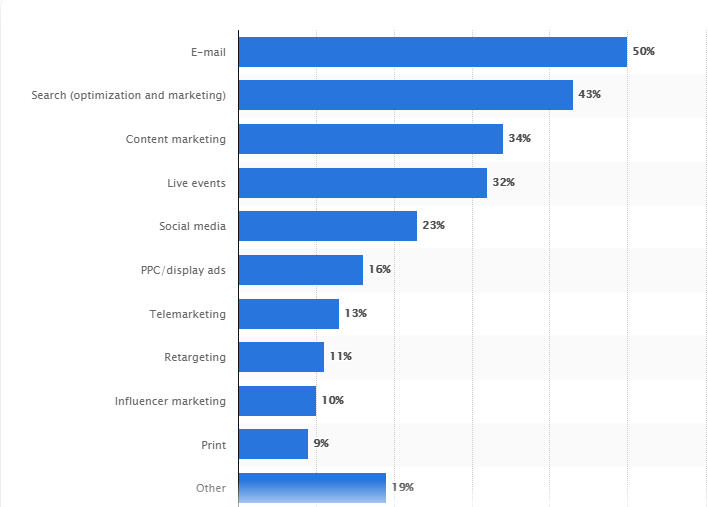 3. On page Lead Generation
You can be more attractive when the leads visit your website by using tools like unbound or online chats on the site.
4. Search Marketing
Like we said before, SEO is very important in the process of finding leads and making their way easier toward your site.
Some tools that can help you in maintaining your website traffic and monitoring its health are:
SEMRush: for on-site auditing and monitoring website health

Ahrefs: for link building with bodybuilder checker
How can outsourcing B2B Lead Generation help?
Outsourcing is a double-edged knife. It can be very profitable and make everything simpler; on the other hand, it can also make big problems that can affect its profit.
For doing it in the right way and procedure you should know who your target is and what type of services their business wants so you can share this detailed information with the third-party company that is working on your B2B lead generation.
When you know your customers and can provide data about them for your partner, it's more likely that they can boost your business by increasing your visitors and so your leads.
Outsourcing can also make it possible to focus your attention on the other parts of your business or perhaps growing its domain.

How to get started Fast with B2B Lead Generation?
Usually, the best way for making progress in B2B Lead Generation is actually giving this process to the companies that are mainly working on this topic, outsourcing. This can make a big difference in your total leads and customers.
But still, there are some ways that can and maybe should you do to make things smoother in this process.
Here are some of them that can help you:
Identifying your audience
This is the subject that we covered the most in this post. Knowing what your audience wants is the main factor. Their business type, industry, their job types, locations, etc.
These all can help you to make contact with the right person that can take benefit of your service and be a loyal customer.
Linkedin and email that have a dataset for about millions of people around the world are the best places to dig and find the treasure you're looking for, a partner with the right dataset service to find information for the right circle of people and make more deals and opportunities.
Launching Linkedin and email campaigns
now that you have the right information about the targeted business area, it's the best time to launch campaigns in the segments that are related.
What are the best ways for B2B Lead Generation?
Now that you started the basic process its time for you to develop more leads in this process by some ways that come next:
1. Write blogs
Most websites and the business behind them have a section under the names of blogs or tutorials and so on. This is where you can give the most needed information to your leads, and also you can be entertaining and educational so your audiences will be happier to come back to you.
2. Working with a reliable Lead Generator company
As said before, outsourcing is very important and useful so make sure to consider it. The help of professionals can make so much difference.
3. Create Effective CTAs
Optimize your landing pages and provide a clear message through it with the help of a Call-To-Action (CTA) button to drive focus towards it. To encourage your visitors to click on these and turn them into leads, make sure the button is cleverly designed with the proper shape, color, and size.
Conclusion
B2B lead generation is an essential part of your business's growth, allowing you to engage with your targeted business audience. With this access to your target audience, you can turn them into potential leads and later into loyal customers, increasing your profits.