Product testing is a no-brainer when it comes to evaluating your progress. Nothing can provide you with the insight you need to optimize your conversion the way product testing does. It's a key strategy in every marketing management plan, and you can use this method to guarantee a safe passage to functioning sales funnels!
Utilizing the data you gather using CRO tools, you can launch tests and get the feedback you need in order to improve your products or services. But what's the best way to collect your necessary data? Here's our recommendation!
WatchThemLive is a great analytic tool that allows you to gain deep insight into every detail of your website so that you can gather the data you need, and base your tests and experiments on solid facts so that they never fail!
So make sure to sign up today and score your free plan!
In this article, we tried to provide all the necessary information you need to know to conduct practical tests and boost your revenue!
What Is Product Testing
As we mentioned earlier, product testing is the act of executing tests to determine a service or product's functionality, safety, or overall concept. Testing your products helps you gather informative feedback from real users and potential customers.
These feedback are a great source of statics you need to keep an eye on to offer the best version of your products! This method of research uses both qualitative and quantitative data. These data collection methods are why the results you get are mostly accurate and can be relied on.
Why Is Product Testing Important
Before we get to the different types of this research method and find out how Adidas product testing has taken their products to another level, you should know why product testing is a critical solution in every business.
By conducting a well-thought product test, you can determine your product's functioning and flexibility to survive in the real world. No matter how hard you try, or how much effort you put into your products, the results might differ from what you expect them to be.
That's why behavioral analytic tools are of utmost importance as they help you better understand the 'why' behind your customers' actions. Participants who want to apply for product testing jobs should know that this procedure needs a lot of attention to work properly.
Product testing ensures that your efforts are going to the right place! By testing your products before releasing them in the market, You can avoid any additional cost of correcting issues and flaws your products might have.
Product testing saves you from having to go back to previous phases and work on any possible issues or difficulties. You'll be able to identify and choose the best-performing version of your products and introduce them to the public.
Generally, each product is made out of different components, and you have no way of knowing how customers are going to react to it beforehand. In the real world and in different environments, customers might have contracting perspectives from what you had in mind. Therefore, they might use your products differently.
Using the data you gathered with UX analytic tools, you can identify and target different segments of customers, and find out how each individual perceives your products or services.
With a powerful product testing strategy, you can get the insight you need to improve your products and services, meet your customers' needs and demands, and boost your conversion.
It's a given that customers trust the tested products more and are more likely to commit to proven brands. That's how Nike product testing is helping them gain credibility amongst consumers!
What Are the Steps of Product Testing
There are 4 main steps for product testing that are described below: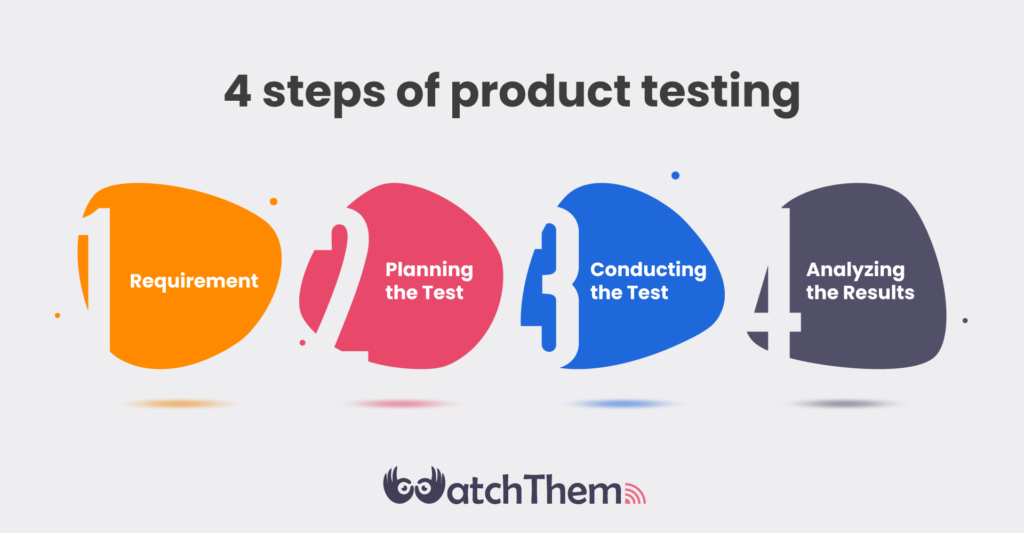 #1 Requirement
At this stage, you should decide which product should undergo the tests, and what features you need to focus on to get your desired results. When done properly, the results will determine whether your product is fulfilling its intended purpose.
#2 Planning the Test
Before conducting any experiments, you should write a detailed test plan. This plan should cover everything related to your testing, including the methodology you choose to use, the timetable, and the resources.
By writing a well-thought-out testing plan and following each step carefully, you can get accurate and reliable results to use in your business strategies. But how should you gather the data you need to write the best test plan?
It's actually easier than you think! All you need is an exceptional analytic platform to help you determine what method of testing works best for your target customers.
WatchThemLive is an all-in-one analytic tool that allows online businesses to monitor and analyze every action the users take throughout the website. Using WatchThemLive, you can gather all the necessary information for writing the most efficient test plan.
So, how does WatchThemLive help you with your business and product testing? To answer that question, let's go over some features that we offer!
Session replay. WatchThemLive captures every session on your website so that you can monitor how users interact with your website. Session replays offer valuable insight and you can see which parts of your website engage customers more, where to put your CTAs, and identify areas for improvement.
Heatmaps. One of the best ways to visually represent data is by generating heatmaps. They show you which parts of your website are getting more clicks or scrolls by using colors. It's easy to understand and extremely helpful as you can better understand where to put your conversional content, CTAs, sign-up buttons, etc.
Video testimonials. Using WatchThemLive's video testimonials, you can ask your customers to share their feedback and review through video testimonials. Then, you can share these videos on any platform you want and generate new leads, gain credibility and trust, and show your customers that you're willing to get better!
User tracking. Get real-time data on all your users, and keep track of them throughout your website pages so that you can understand the 'why' behind their actions and purchases. This will allow you to personalize your website based on your target audience.
Visual live chat. Show your customers how much you care about them using the latest customer support method. This feature allows you to access a real-time session replay of users who reach out to you through live chat support. By observing their session, you'll know where and how they're having problems and will be able to provide the help they need.
In addition to all that, WatchThemLive offers a freemium plan so that you can use all these great features without any payment! So make sure you don't miss out on this great offer. Sign up right away and start optimizing your business!
#3 Conducting the test
After completing the previous steps, it's time to start your test. The environment will be set up according to the parameters in your plan. Documenting the findings and comparing them is the key to getting the best out of your testing.
Make sure to stick to your plan to the very end and monitor the tests so that you don't miss any crucial detail.
#4 Analyzing the Results
Now it's time to put the data you gathered to use! Now you can make important decisions regarding your product development based on concrete facts. You can determine whether a product or feature needs improvement or if the test itself needs modifying.
Things to Keep in Mind for Victorious Product Testing
You must keep various factors in mind to conduct successful product testing and get the best results. So keep reading to learn more!
Timing is important! You can't just start the tests whenever. You need to think carefully before executing any product testing. There are two schools of thought when it comes to the timing of testing your products: waterfall methodology, and agile methodology.
In the waterfall method, tests take place during the initial stages of product development. After that, no tests will be launched until the product is built and ready. Then, one final test will be conducted to evaluate the new product after its release.
On the other hand, in agile methodology, various tests will be conducted in all the phases of product development, and won't stop even after the final product is released.
Use different methods. Don't just rely on one type of product testing. Use various ones to reach a number of different goals. By using more than one testing method, you'll have more concrete facts and data to work with.
Don't forget about your successful products! Product testing is not just for the prototypes or the products that are in the initial stages of development. By testing your successful products, you can better understand where to put your focus and how you can fulfill your customers' needs more efficiently.
Use audience segmentation. Your products are specific to a certain market and so should your tests. Use the data you gathered based on demographic and psychographic segmentation, determine your target group carefully, and increase the accuracy of your results.
8 Types of Product Testing
Now that you know what product testing is, it's time you learned about the different types of this procedure!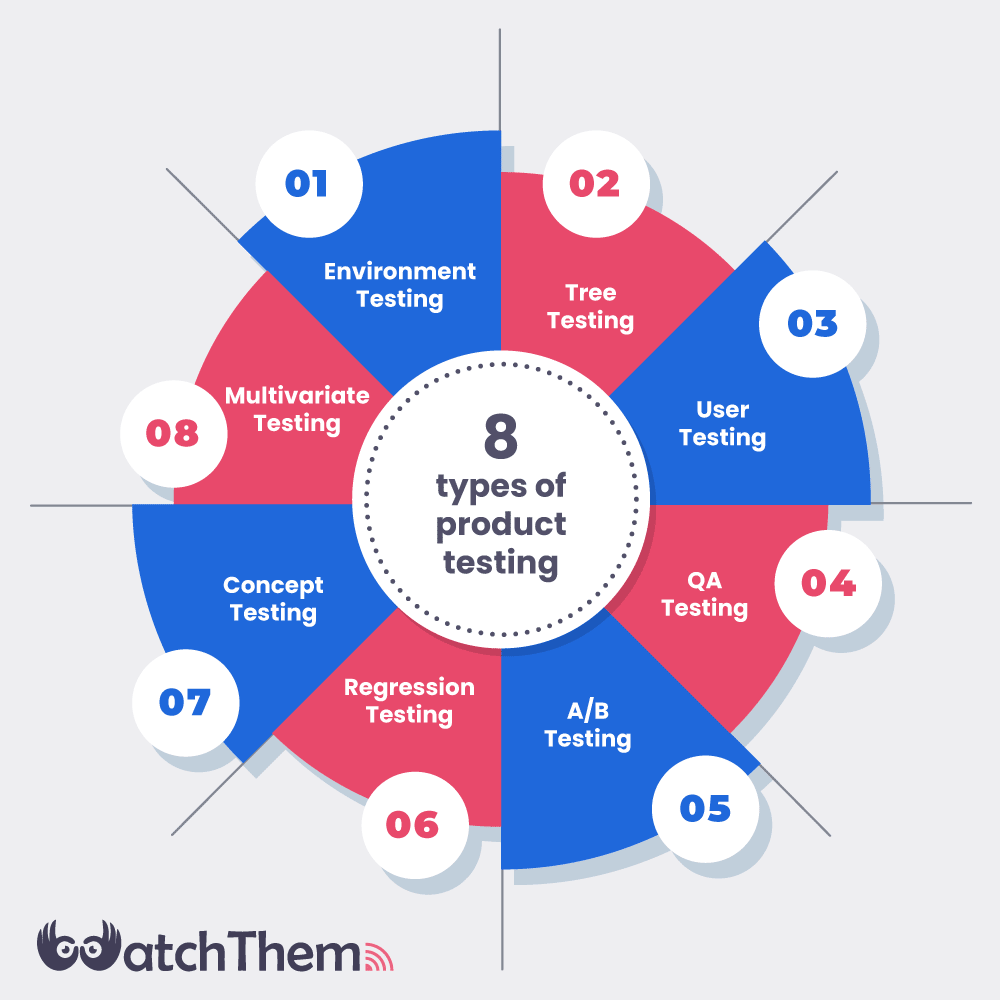 #1 Environment Testing
This testing method is a way of evaluating your product in different environments and analyzing how it's being used. By testing your products in the most common and possible environments, you can keep any problems or issues in check.
#2 Tree Testing
In this method of product testing, customers are faced with a streamlined sitemap based on hierarchy. Participants should complete specific tasks so that testers can determine how customers navigate their way to finding the functionality of the product.
Even though the tree testing method only uses quantitative data, it's a great way of understanding the findability of your website topics, allowing you to optimize your funnels.
#3 User Testing
One of the most commonly used product testing types in software development is user testing. These tests occur when a product is released to the public and developers want to identify areas for improvement or fix any possible issues.
Software companies use this method to decide when a new feature or update is needed so that the product is more relevant and helpful to its users.
#4 QA Testing
Quality assurance testing ensures that your product is functioning the way you expect it to before releasing it to the public. This test takes place in a directed environment to simulate the way customers interact with a certain product. This way, companies can identify and fix any issues before launching a new product.
In another scenario, companies can use quality assurance testing after launching a new product or update to imitate a customer's experience.
#5 A/B Testing
In this method, testers create two different versions of the same product and share them with participants to determine which version customers prefer more. A/B testing is mostly used in designing and is a way to build the product as engaging and fulfilling as possible.
A/B testing allows teams to gain insight into their target customers' preferences and needs and build the most relatable product.
#6 Regression Testing
These tests take place after releasing a product to the public and help companies determine whether a new feature or update is affecting the existing ones, unintentionally. In that case, developers should come up with new solutions to ensure the functionality of products after updates or new releases.
#7 Concept Testing
Based on this product testing method, testers evaluate the practicality of a product idea or concept. During this stage, customers' responses to a product or idea are analyzed. It helps marketers know what their customers expect from them.
#8 Multivariate Testing
Just like A/B split testing, multivariate testing also experiments with different combinations of a product to decide which version leads to more conversion. As you can see in Under Armour product testing, the traffic is split between all the versions, which leads to valuable data on recognizing the successful variation.
What Are the Goals of Product Testing
You might be wondering why you need product testing in your business plan. What's the point of testing your products and why is Adidas product testing so popular? Well, you're about to find out!
Generate New Leads
Marketing is a competitive environment, and making the public eye notice you is the key to surpassing your competitors. The more you stand out, the more potential leads you'll have. That's the reason why lead generation companies are on the rise now.
By testing your products before releasing them to the public, you can achieve many goals at the same time. As the participants use your products, you can communicate the purpose of your product successfully and ensure that your customers are feeling satisfied with what you offer.
Determine Whether You're on the Right Path
When you test your products throughout the development process, you won't need to rely on guesswork and will be able to determine how close your product is to what your customers have in mind.
One of the worst things that can happen to a newly launched product is failing to fulfill its target customers' needs. That's why it's important to test your products continuously and make sure you're on the right track!
Identify and Solve Any Issues With New Products
The primary goal of product testing is to point out and fix any issues your customers face using your product. Using the feedback you gain from real users, you can exactly see how your product is functioning, and whether an update or improvement is needed.
New products need product testing even more as they haven't been used in different environments, and you can't always predict what will happen once they're released to the public!
Saves You From Unnecessary Costs
We all want to offer the best version of our products with many great features and characteristics. But the truth is, more features don't necessarily mean more customer satisfaction.
You need to know which features or services customers use more in order to prioritize your next updates. Product testing will allow you to put your focus on what matters, and help you decide which features are worth investing in.
Examples of Product Testing
Now that you know what product testing is and how it works, it's time to go over some examples of this testing method to gain deeper insight.
As we mentioned earlier, Adidas, Nike, and Under Armour are some of the most famous companies that use this technique to increase the functionality and efficiency of their products. So how do these companies use product testing in their business strategy?
Adidas Product Testing
Successful companies which test their products are a great example of how crucial testing is. Adidas product testing is a hot topic these days and many testers volunteer to participate in it. According to their website, testers should have the following requirements:
Passion for sports,
Specific body measurements,
Respect the confidentiality of the information,
Be at least 18.
Individuals who are searching for product testing jobs can apply and take their shot! Once you qualify, you will receive the product, and you're obliged to provide detailed and accurate feedback. After that, you should mail back the product. Easy, right?
Website Designing
The heart of every online business is its website. The more engaging it is, the more customers convert. Designers should pay extra attention to different elements of their websites so that they can deliver an exceptional customer experience.
Product testing lends a helping hand in this subject, too! Using A/B testing, you can test different versions of a variant on your website and determine which version is more compelling to users and customers.
Teams can share and analyze this data to find the best working variant and use it to boost their conversion more than ever!
WatchThemLive allows you to better understand your customers' preferences so that you can build the most striking user interface.
People Also Asked About Product Testing
We hope you found answers to all your questions regarding product testing! If not, here are some frequently asked questions to help you better understand this testing technique.
Q1. What Is Meant by Product Testing?
It refers to a kind of testing in which products are tested by customers before being released to the public. It's a method of evaluating your products in the early stages of development and before releasing the final product.
Q2. How Do You Test a Product?
There are different ways to test a product which include tree testing, A/B testing, QA testing, etc. Even though the methods vary, the final goal is to test and evaluate the products before launching them onto the market.
Q3. Can You Earn Money With Adidas Product Testing?
Actually, no. you won't be paid if you become a tester at Adidas. You only get to use the products they send you to test for a limited time. But there is no payment.
Final Words
Product testing is an excellent beneficial technique for businesses of all kinds. Using this strategy, you can gain valuable insight into how successful your products will be in the real world with real customers.
Whether you want to launch a new product or update an existing one, you can use product testing to cut off extra costs on correction, generate new leads, and discover any pain points before it's too late!
Use WatchThemLive to identify any issues with your tests, monitor your users' interactions with your products, and increase your conversion rate like never before! So sign up now and start your optimization journey!