Without gathering data, you can't call yourself a successful marketer or even a marketer at all. Data and marketing are two inseparable elements. Data-driven decisions make your business grow. Therefore, marketing analytics tools can be life saviors. They give you insight into designing your next campaign, solving customers' problems, and optimizing your marketing efforts overall.
However, choosing the best web analytic tools might be challenging. Before selecting a tool, you must have some information about it. That's what we're giving you here.
In this article, we're going to introduce the best free marketing analytics tools that will take the burden off your shoulders. Keep reading to find out more.
But just to give you a heads up, you can use WatchThemLive as one of the best free marketing analytics tools to help you measure your marketing efforts in every aspect possible. Interested? Sign up now and see for yourself!
What Are Marketing Analytics Tools
If you want to ensure that your business is on the right track, these tools can get the job done. Marketing analytics software is a tool that measures the effectiveness of your marketing campaigns. These tools are mainly one type of marketing software solutions that help advertisers track and forecast campaign performance.
The data provided by marketing analytics software is necessary for optimizing marketing strategy. They give insight into how successful the marketing campaign was, how people connected with it, how much the benefit-to-cost ratio of the campaign was, and how to accomplish better results.
What Are the Different Types of Marketing Analytics Software
Marketers look for customers through all the platforms. Therefore, there are different types of digital marketing analytics tools, including:
Email marketing analytics tools,
Content marketing analytics tools,
Social media marketing analytics tools,
SEO analytics tools,
Web analytics tools tools.
However, some marketing analytics platforms cover more than one channel. These platforms are among the best eCommerce analytics tools to boost sales.
Best Analytics Tools For Digital Marketing
It's almost impossibe to be prescriptive about what is the best tool for a business. Because, what is best for you is highly related to your company's objectives and budget.
Therefore, we'll discuss the seven best marketing analytics tools that have free plan and provide you with everything you need to analyze the data. So, let's waste no time and get down to business!
1. WatchThemLive: Best Marketing Analytics Software
WatchThemLive is equipped with useful features such as heatmaps, session recording, goal tracking, visual live chat, and video testimonials. Thanks to these features, WatchThemLive is the best marketing analytics platform for any business.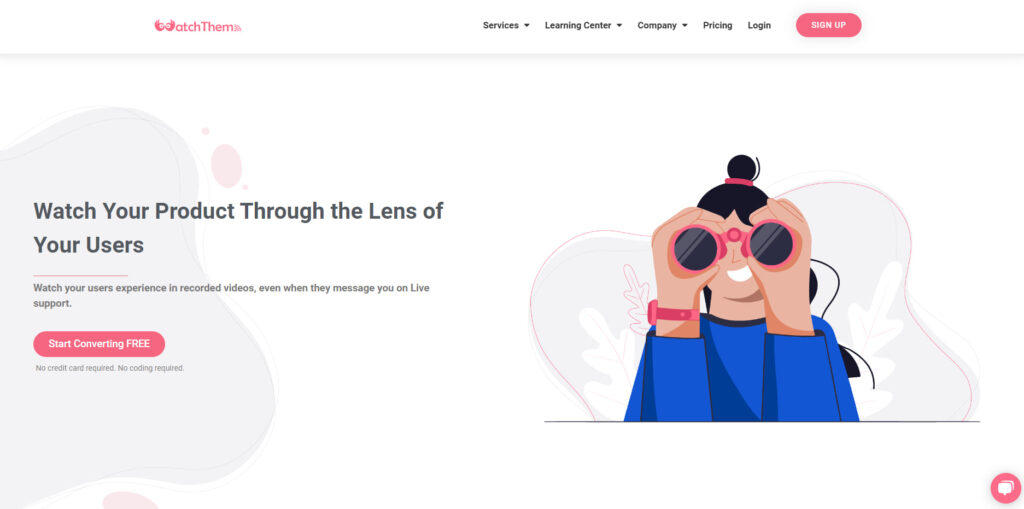 By the aid of WatchThemLive, you can improve your content, personalize your website, find exactly what your visitors are doing on your website, and optimize your conversion. How? Stay with me to find out more.
WatchThemLive Features
WatchThemLive provide you with features that you can't find in any other digital marketing analytics tools. WatchThemLive features includes:
Heatmaps,
Session recording,
Web Analytics,
Visual livechat,
Consule recording,
Goal tracking,
Video testimonial.
Heatmaps
WatchThemLive's heatmaps are visualized forms of data that give you essential information about your website's visitors. They show you areas that your visitors mostly interact with. The tracked interactions include taps, clicks, or any mouse movement.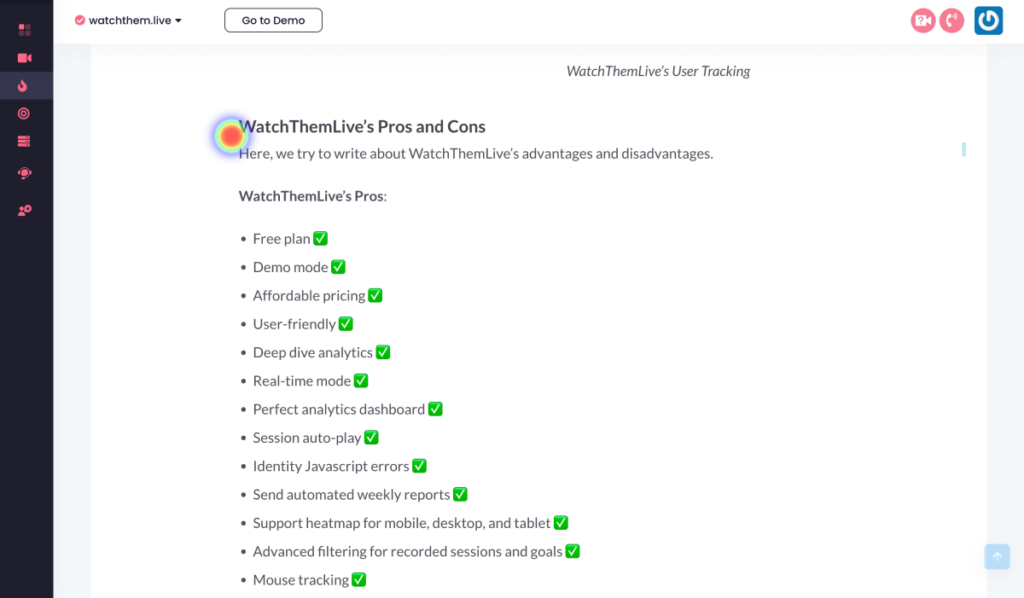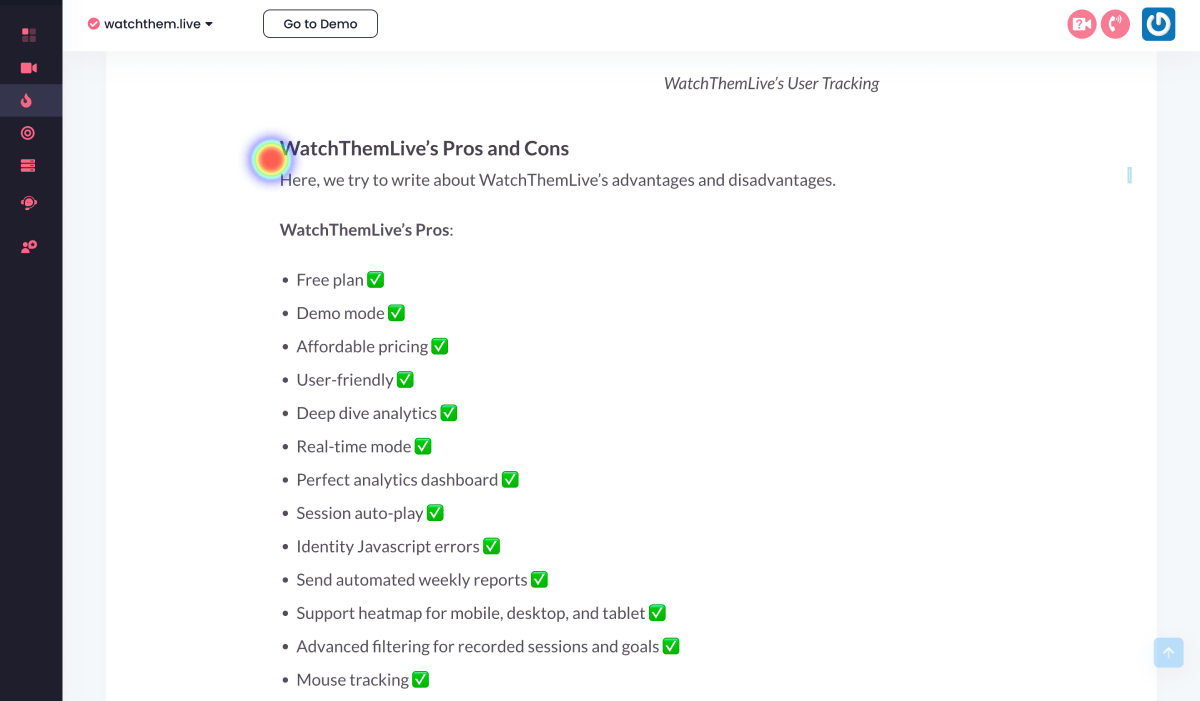 Another good thing about heatmaps is that they don't need extra information to be understood, unlike other visualization methods.
Also, with WatchThemLive, you can create heatmaps for any pages you want; the number is unlimited.
Heatmaps show you the most popular areas on your website so you can place your CTAs there, which results in driving more conversion. In addition, based on your visitor's needs and behavior, website heatmap tools give you ideas about how to optimize your website.
Session Replays
There are very few digital marketing analytics tools that are equipped with an amazing feature like session replays.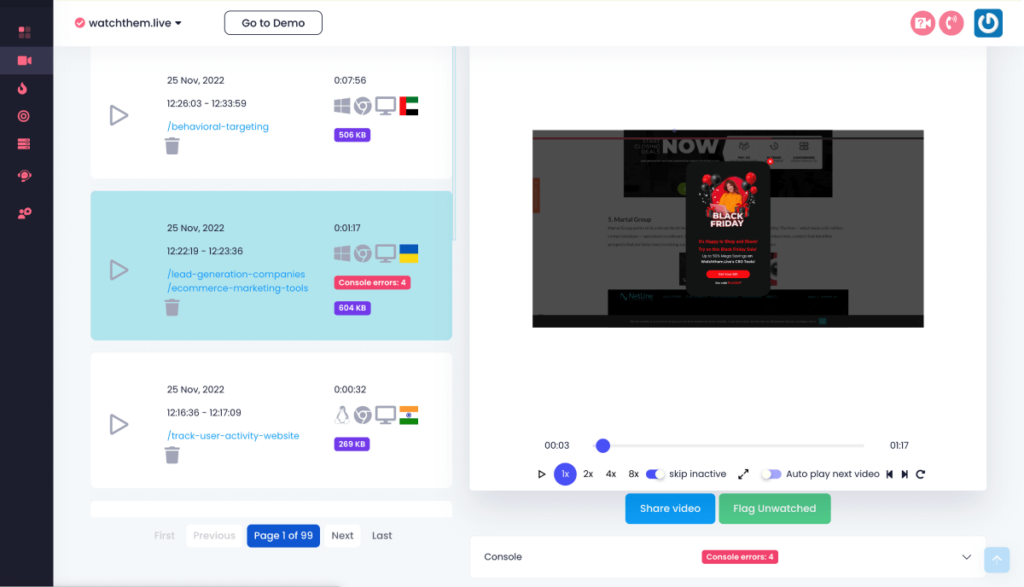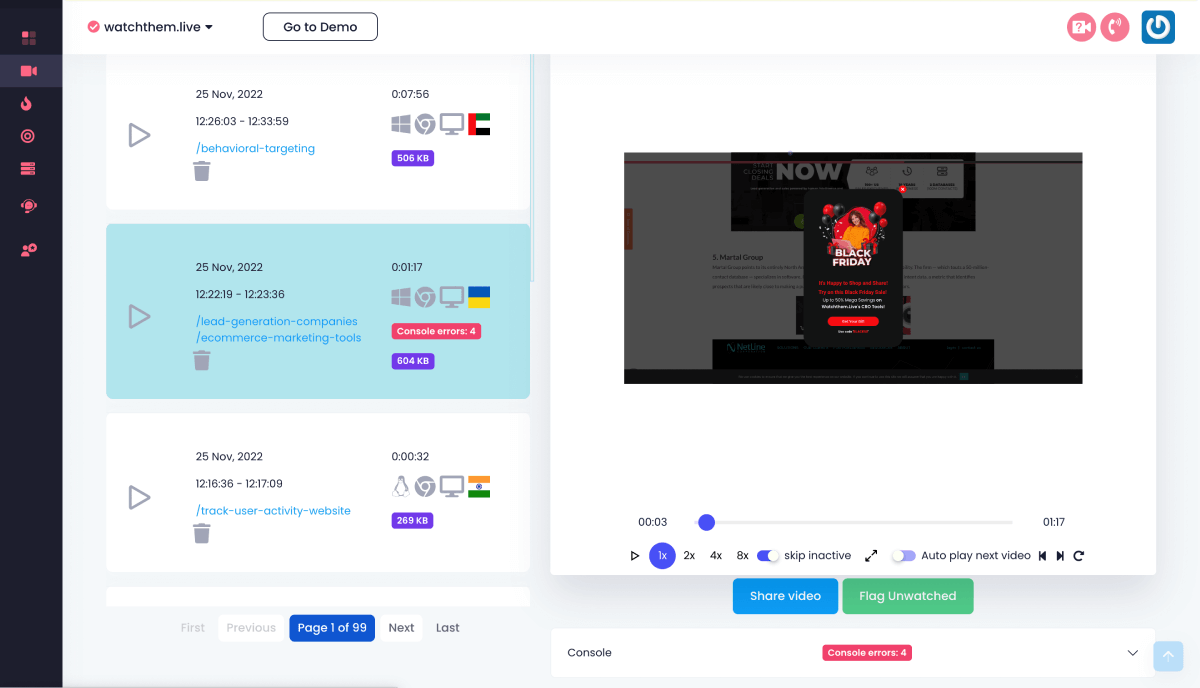 Session replays are useful tools that show your visitors' whole journey as if you're the one taking it. With this data, you can detect and fix any problem on your website as soon as possible and give your users a better experience.
Web Analytics
WatchThemLive's web analytics allows you to gather valuable information about your website's visitors' behaviors. Web analytics give you data about visitors' devices or operating systems, so you can design your website considering that.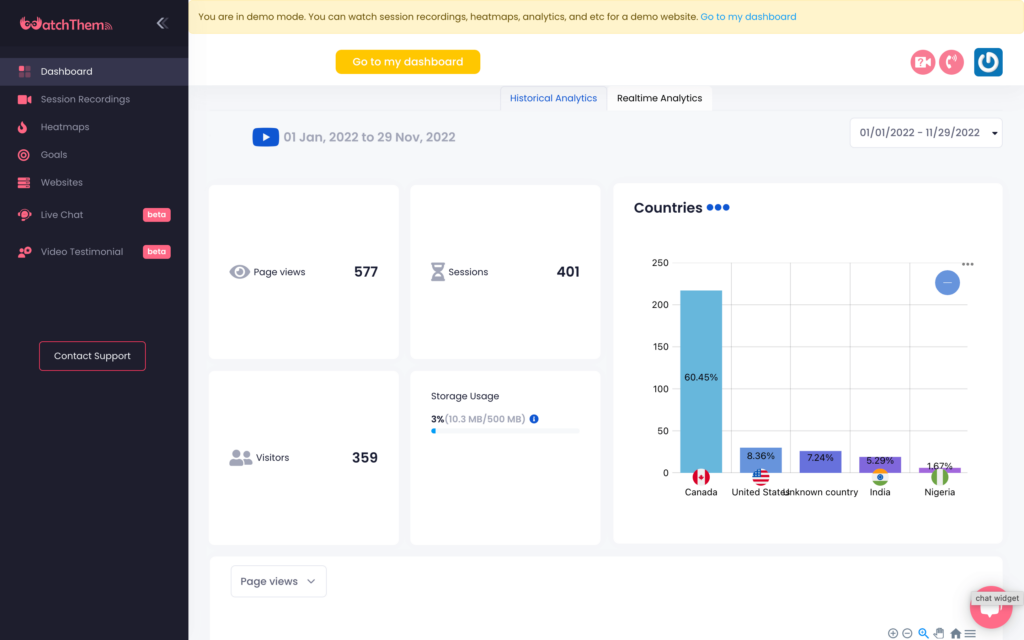 Web analytics also show you the pageview and the bounce rate of each page on your website. By doing this, you understand what content is actually getting more clicks to create more content based on that. You should know that the key to success in your marketing efforts is making excellent content.
Visual Live Chat
Keeping the customers happy and satisfied must be the main point of your marketing strategy. Customers need to be heard and respected. That's when a service like WatchThemLive's visual live chat comes in handy.
Visual live chat is the advanced form of live chat apps and services. This feature pairs the session recordings of customers to the live chat. Then, whenever users reach out for help, the support team can watch the session recording and detect the problem.
This way, the customers don't even need to explain what was holding them back. Because, WatchThemlive's visual live chat makes everything crystal clear for your support team.
What Is WatchThemLive Used for
This marketing analytics software improves your website in all aspects. So, you can use WatchThemLive to:
Personalize and improve your website's design.
Find the best ad placement on your website.
Increase the effectiveness of your marketing campaigns.
Create more relevant and engaging content.
Track website visitors and analyze their behavior with heatmaps and session replays.
Increase your conversion rate by having a deeper understanding of your visitors.
WatchThemLive Pricing
WatchThemLive has a free plan and different premium packages.
Free Plan: ✅
Individual Silver: $29/mo
Individual Gold: $49/mo
Team Silver: $69/mo
Team Gold: $99/mo
All these amazing features and you're still thinking? Sign up to WatchThemLive right now and see what's next!
2. Google Analytics
With Google Analytics, you can track all your website's performance, such as monitoring where your traffic is coming from.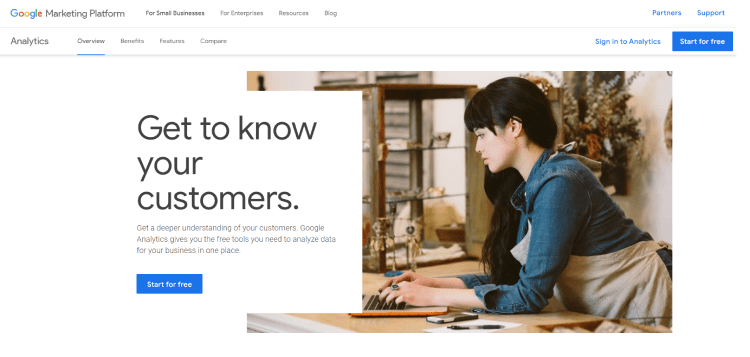 This marketing analytics software can also be considered a conversion rate optimization tool thanks to its features. This service offers a variety of features such as:
Goal tracking
Visitor demographics
Predictive analysis
Moreover, you can share this data with your team members. However, many businesses make the mistake of only using Google Analytics, but you should know that marketing is so much more than numbers and charts.
Google Analytics Pros
Creating a customizable dashboard
Tracking campaigns
Integrating with other tools
Google Analytics Cons
It doesn't tell you the reason why a customer took an action,
For new users, there's a learning curve,
It should be more intuitive,
The premium Google Analytics (Google Analytics 360) is too expensive.
Google Analytics doesn't tell you why cart abandonment happened or why nobody is clicking on the CTA button. Because, there is no session replay to help you understand the user experience.
Google Analytics Pricing
It is for free, but Google Analytics 360, the upgraded and unlimited version of google analytics, costs $12,500 per month and $150,000 per year.
Recommended Reading: Google Analytics Heat Mapping in 2023: Complete Review and Alternatives
3. HubSpot CRM
Making data-driven decisions for your marketing plan requires customer analytics software solutions. We already mentioned two of the best marketing analytics tools, and now we'll discuss HubSpot.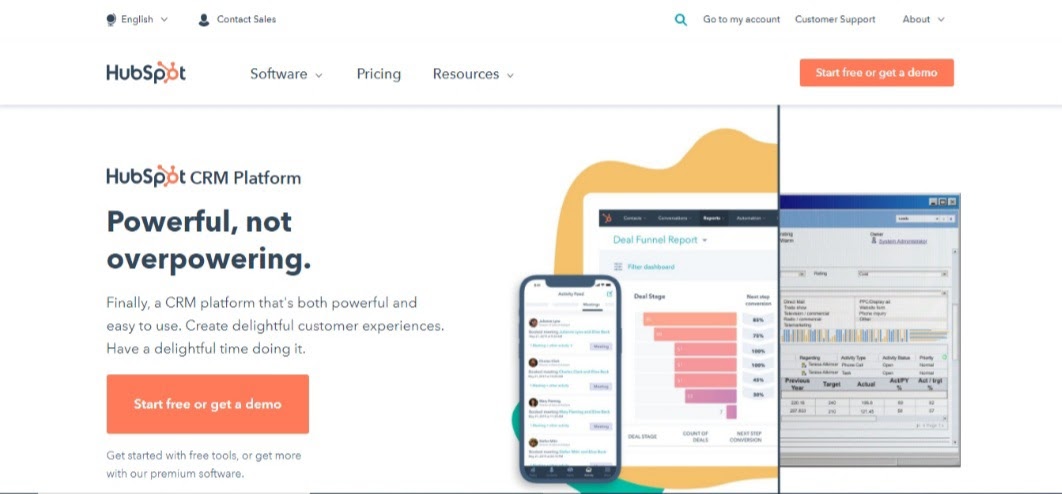 HubSpot includes CRM tools for your sales teams, email marketing, customer service, social media management, and marketing automation software. You can also use the CRM to create content for your website.
HubSpot Pros
If you purchase their growth package, you can run A/B testing for your landing pages.
You can keep all your sales and customer service marketing data in one place.
HubSpot Cons
Working with it is hard.
Their lower-priced packages don't involve A/B testing.
Reporting is limited. For example, it doesn't provide data about how mobile users navigate your website.
HubSpot Pricing
HubSpot has a free plan and some premium packages.
Their marketing package pricing is as follows:
Starter: $45 per month
Professional: $800 per month
Enterprise: $3,200 per month
4. Cyfe
This service is among the well known marketing analytics tools in the marketplace.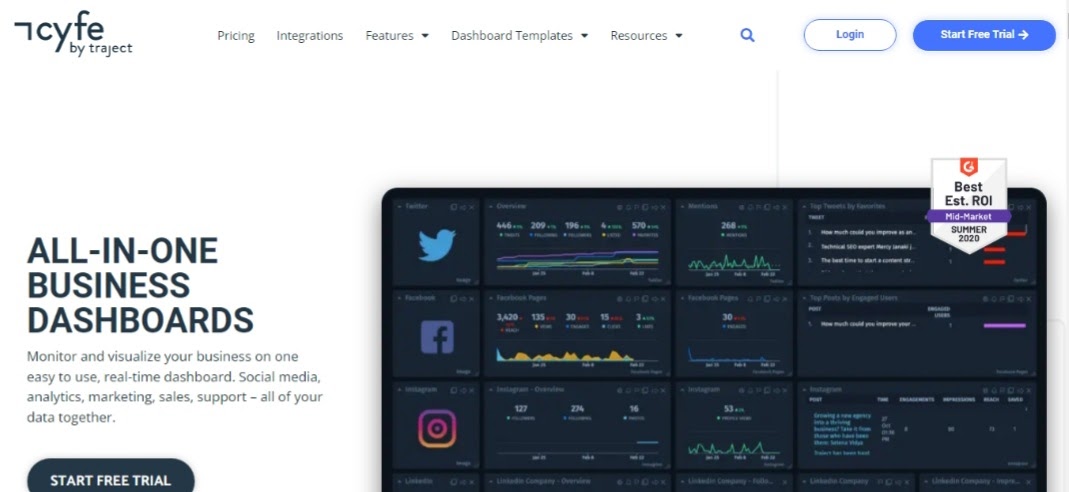 Cyfe measures your website analytics, social media, sales, and IT. Moreover, it brings all your data in one place to help you improve your marketing campaigns.
This marketing analytics platform is integrable with some other services including Google Analytics, Facebook, SalesForce, and MailChimp.
Everything seems nice about Cyfe, but some of the customers complained about some issues about this marketing analytics software on G2.
On Cyfe reviews, customers reported that It doesn't keep the historical information safe. So, if you are not careful enough, you'll lose the data you have collected.
More importantly, Cyfe is more like a simple marketing analytics tool. Therefore, the data it provides is limited in some aspects.
Cyfe Pros
Cyfe lets you search by date or other metrics so you can see your growth over the previous month.
They have a combined dashboard that lets you track your activity from all your platforms.
Cyfe Cons
It doesn't offer as many integrations as its competitors.
Sometimes widgets are glitched.
If you want to change the size of widgets, you might face some difficulties.
Cyfe Pricing
Cyfe offers a 14-day free trial. You can find the premium plans' pricing below:
Starter: $19 per month
Standard: $29 per month
Pro: $49 per month
Premier: $89 per month
5. SEMRush
It is one of the marketing analytic tools that helps you increase your visibility on search engines.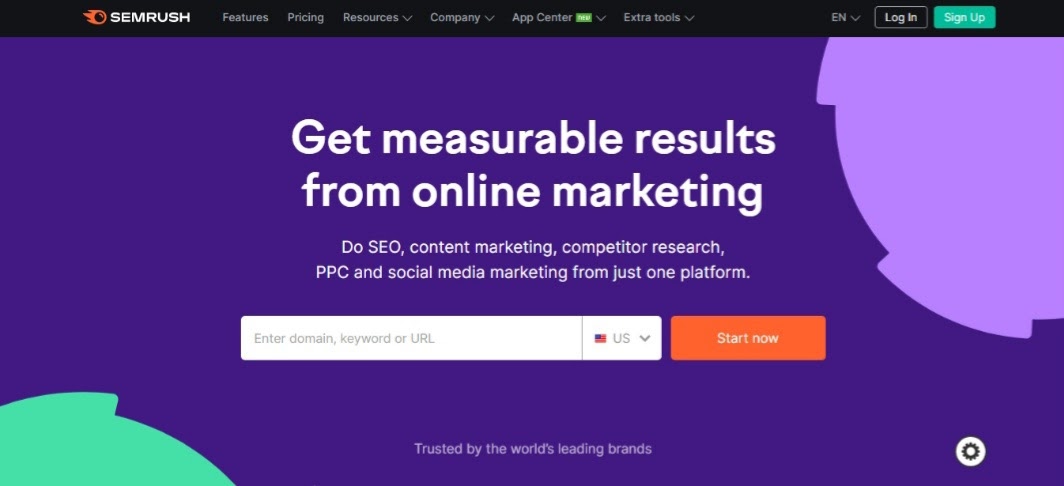 SEMRush helps you with content marketing analytics, social media marketing, paid media, and overall marketing strategies.
In addition, SEMRush promises to analyze competitors' performances and provide you with opportunities to keep ahead of the competition.
It's also suitable for link building because it has a backlinking feature analysis.
Unlike other market analytics tools, SEMRush is often used for keyword research and online ranking data. We can't deny that these data are related to digital marketing analytics, but they are not the priority.
SEMRush Pros
With the backlink feature, you can easily find the broken links.
Their keyword research tool offers useful keywords ideas.
SEMRush Cons
The reporting on paid search is not always correct.
Sometimes, the social media posting tool won't connect to social media accounts.
It may not give you accurate data for some metrics.
SEMRush Pricing
SEMRush has a free limited version. You can see the price for other packages here:
If you are a marketing newbie you have to pay: $119.95 per month
For growing agencies: $229.95 per month
For large agencies: $449.95 per month
6. Hootsuite
Social media is one of the top channels to get more customers. Therefore, it shouldn't be left unnoticed.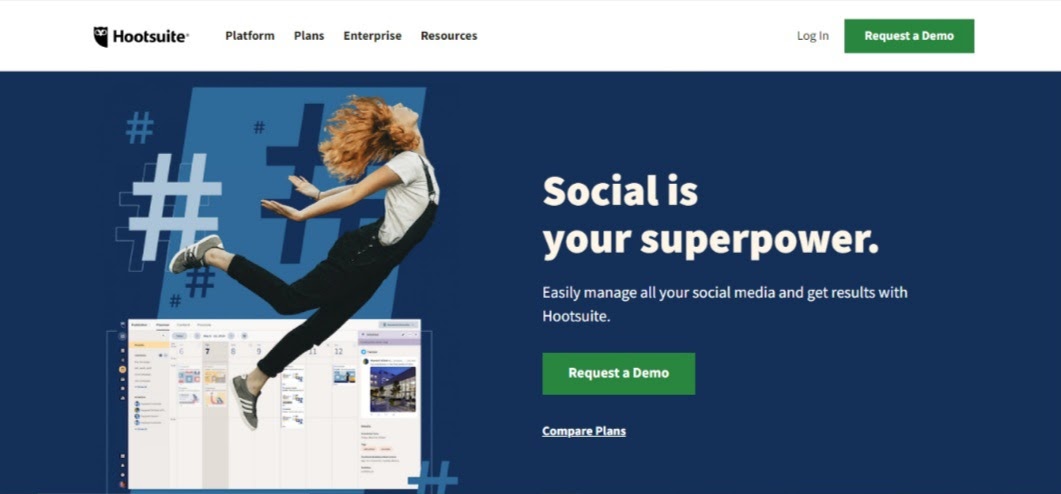 Hootsuite is one of the marketing analytics tools for posting content and analyzing social media updates. It gives you complete analytics of all your social media efforts.
Something we don't like about this marketing analytics software is that it's only focused on social media. So, your website won't benefit from this tool.
Therefore, if you want to increase sales, collect data about the customers, and measure the effectiveness of your marketing campaign, we suggest WatchThemLive as the best marketing analytics software for you.
WatchThemLive is an all-in-one package to skyrocket your website's conversion rates. You can sign up for FREE by clicking the button below!
Hootsuite Pros
It shows you all your replies, mentions, and messages from all your social media platforms in one dashboard.
It has a mobile application.
Hootsuite Cons
The analytics feature is not available on the free version.
Auto-scheduling for all your platforms sometimes doesn't work.
Working with it can be tricky.
Hootsuite Pricing
Hootsuite has a free plan with limited options. Here are the other plans' prices:
Professional: $49 per month
Team: $129 per month
Business: $739 per month
Enterprise: You have to contact the Hootsuite team to get more information.
7. Domo
Digital marketing analytics tools like Domo, try to collect all the available data in one place. Therefore, Domo is more suitable for advanced companies that wish to create a database.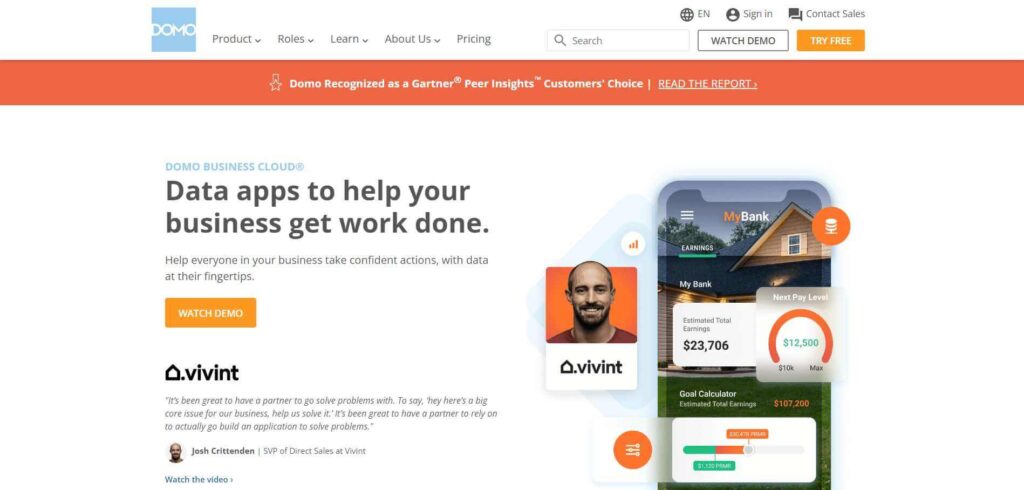 Domo is not just focused on marketing campaigns. It generates lots of reports for more general business data.
This marketing analytic tool uses business intelligence (BI) for the data analysis and management of marketing information. Using BI and sales intelligence software to increase sales is definitely going to boost revenue and improve sales processes.
But Domo might be too expensive for most businesses to justify the cost-benefit ratio. The company is more focused on enterprise plans. And there is no transparency about its pricing.
Domo Pros
You can set up an automatic email on Domo to update you every day.
Domo uses BI for analyzing marketing data.
It has a customizable dashboard.
Domo Cons
The platform's marketing data visualization is not as advanced as other services in the market.
Domo UI design needs some improvement. It's sometimes difficult to find what you are looking for in their dashboard.
There is no way to export the generated data.
Running this digital analytics software is time-consuming and might be more complicated than anticipated.
Domo Pricing
Domo offers a free plan with limited features. But for its enterprise plans, you have to call its sales team. However, according to Domo reviews on Gartner, the pricing is too expensive, even for medium-sized businesses.
Best Marketing Analytics Tools FAQs
Now that we discussed the best free analytics softwares, it's time to answer some of the frequently asked questions regarding this matter.
Q1. What Is Content Marketing Analytics?
In content analytics, the content marketing efforts will be tracked through users behaviors. This way, you can understand how much users are interacting with the content you produce, and how to create more engagement.
Q2. What Should You Look for in Marketing Analytics Tools and Software?
It's essential to know what to look for when you are buying a product. In case of online marketing analytics tools you should consider:
Business objectives,
Analytic features,
Pricing,
Integration,
Security.
Q3.How Is Marketing Analytics Useful?
Scouting in customers data reveals a greater understanding of what's working and what needs to be improved. In other words, studying marketing data gives you a clear insight into customers' satisfaction and their behavior, which results in evaluating the performance of the marketing activity.
Q4. What Are The Best Marketing Analytics Tools?
Although lots of different marketing analytics services exist out there, only a handful of them are worth your time and energy. According to our researches top 3 Marketing analytics services includes:
Whatagrapgh,
Improvado.
Read our article to get the full list of the best marketing analytics tools and software.
Conclusion
In order to survive in a competitive marketing atmosphere, you need some tools to help you on your way. Nowadays, all marketers use at least one marketing analytics software. Because things can't be done manually, or it will be time-consuming even if possible.
This article introduced seven marketing analytics tools, such as social media marketing tools, website analytics, CRM, and SEO. We also explained these tools' pros, cons, and pricing. Take your time to test their demo and see what suits your business best. Don't give up along the way, be patient and consistent, and you will see the results.
If you want a tool that can be your marketing data analytics software and conversion rates optimizer all at the same time, WatchThemLive is the best ever! Its exceptional features make your job so much easier without needing to spend lots of time learning to work with it. Sign up now and see what's next!