In eCommerce marketing, some strategies work well; others don't. That is what marketing optimization is for. Marketing optimization looks at your marketing data and decides which ads or spends (time or money) should keep running and which should be paused. This article will provide you with the best practices and tools for marketing optimization.
Note: One of the best marketing optimization tools that give you a glimpse of users' experience is WatchThemLive. This platform is one of the top analytics tools to understand your users fully. Keep reading to learn how.
What Does Optimization Mean in Marketing?
Marketing optimization is defined as the process of making adjustments to your marketing strategies. Optimization aims to improve the effectiveness of your spending (both time and money) to achieve your eCommerce target goals. These goals can be a certain number of qualified leads, income, or any other meaningful purpose.
Digital marketing optimization varies from company to company because every company has its own marketing strategy.
How Do You Optimize Marketing Efforts?
To start optimizing your marketing efforts, you must collect data from all your marketing channels. The second step is to analyze this data for insights and take action within your digital marketing campaigns. The last step is testing all parts of your marketing funnel to discover better-performing options. Marketing optimization may be time-consuming, but it does not mean resting and giving up.
The Best Practices to Optimize Your Digital Marketing Efforts
Digital marketing optimization is all the things you do to achieve your marketing goals from encouraging visitors to complete sales or increasing revenue.
Here are the best practices for marketing optimization. After that, we will introduce the best tool in this regard.
1. Research and Know Your Target Audience
Marketing optimization begins with your target audience, who are the foundation of your business. You already have recognized your target audience, meaning you know to whom you want to sell. The critical point is that your research on them should be up to date. The followings are the data you may want to explore:
What do they tend to buy?
How do the target audiences make purchases? Online, cash, credit card, or online payment portals?
What are the related products your customers want to buy?
What news, celebrities, or entertainment do your target audiences enjoy?
How much do they spend on social media? Which platform do they use?
When do your target audiences tend to make more purchases?
This kind of data will help you grasp buying habits and preferences. By using this information, you will understand when, where, and how to reach them.
2. Use Analytics Tools and Use The Data
The second step in optimizing your marketing efforts is to use analytics tools to monitor your users. There are various tools you can use to monitor your efforts. Most of these tools are pre-built into the digital ad networks you may be using. Google Analytics is a standard tool in this regard.
But the best tool to monitor everything from website traffic to conversion rate is WatchThemLive. WatchThemLive is a behavior analytics tool that helps your eCommerce business, increase your conversion rate by understanding what users go through. It offers session replay software which records the whole customer journey from the moment they enter your domain. This allows you to understand what they like, dislike and what they struggle with. This information helps you to improve your customer experience. . You can sign up now and try it!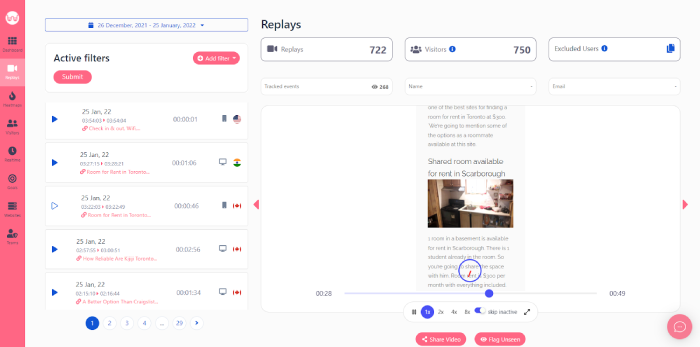 When you are using analytics tools, keep several key performance indicators (KPIs) in your mind:
Conversion rate: This shows the number of times a visitor completed a desired action compared to the number of times the users visit your website.
Cost per conversion: This indicator determines how paid ads are performing. A high cost per conversion means that the ads are not performing well and need to be adjusted.
Click-through rate: CTR is an excellent indicator of how well the ads resonate with your target market. A higher CTR means your messaging and targeting align with your landing page. A lower CTR implies an issue with messaging, targeting, etc.
Traffic: Website traffic indicates the number of people visiting your website. This metric is less important than the conversion rate, but it is good to look at it. You should also monitor where the users come from and which sources tend to drive more conversions.
Bounce rate: How often a visitor enters your site only to exit immediately? A high bounce rate determines that there is an issue with messaging. This indicator is less important than the others, like traffic, but bounce rate can give you essential insights into what is wrong with your website.
There are other marketing KPIs that can be monitored closely. It is better not to focus on just one metric because it does not show you the entire picture of your website.
3. Adjust Your Marketing Strategies
Optimizing your marketing activities gives you a chance to adjust your marketing strategies. If it seems like something is not performing well in your marketing, optimization is an excellent chance to turn things around. Challenges and roadblocks are all parts of the optimization process, but these are not reasons to rest on your laurels. Marketing optimization is a process to adjust, measure, and improve your marketing goals over and over again.
Optimizing all the aspects of your marketing efforts is crucial. These include landing pages, organic channels, paid channels, and post-conversion touchpoints.
4. Test Over and Over
The fundamental strategy in all areas of digital marketing is testing. You must try all parts of your marketing to discover better-performing options. . Some tests might fail, but you should learn from these failures because you can use weak points to inform future marketing strategies and difficulties.
Optimization is an essential part of your business. Make sure you or someone in your organization is monitoring your marketing efforts. The person who tries to optimize marketing activities should be experienced and knowledgeable in marketing.
The Best Tool for Marketing Optimization
Now, what you need is a tool that helps you in the process of optimization. Remember when we defined optimization as a process of data collection, data analysis, taking action, and finally testing?
We are sure that you can analyze your marketing data, drive clear insights, and adjust strategies. In short, you know how to optimize your digital marketing efforts. But the imperative to marketing optimization is more of data collection optimization. The question is, what is the solution? How do you optimize your marketing optimization?
WatchThemLive
This platform gives you deep insight into users' interactions on your website by monitoring their activities and generating actionable insights.
WatchThemLive gives you a great perspective on your customer's behavior and conversion points to make better decisions. It will help you realize how your customers behave on your website, why they do it, and how to optimize your conversion. There is no other more accessible way to connect with your audience.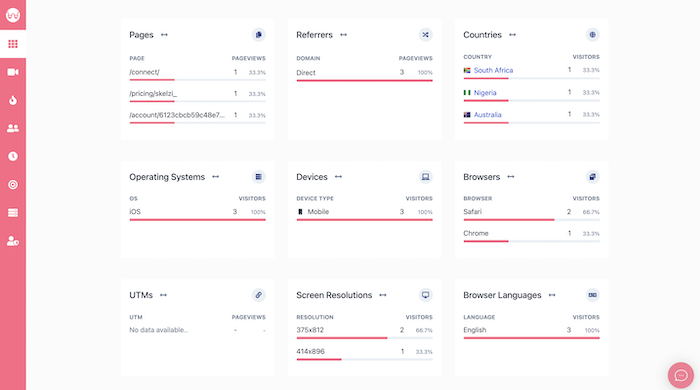 WatchThemLive is the best tool for digital marketing optimization because it can provide you with A to Z of your users' behavior, including mouse movement, taps, hovers, page scrolling to clicks, etc., and can increase conversion rate by giving you these crucial details about your customers.
As you know, conversion is one of the primary purposes of any startup. By knowing what's working well and what isn't, you can adjust strategies to attract more attention, convert visitors, and make more sales. It is an analytics tool that can help you increase your conversion rate.
By using WatchThemLive, you won't be worried about data collection anymore. We did our best to gather as much data as required for optimization. Sign up and track your users' whole customer journey.
Conclusion
Marketing optimization is the process of adjusting your marketing strategies. First of all, you should collect data and monitor them closely. If you know what method works well and what does not, it becomes straightforward to optimize your website and increase conversions. There are various analytical tools to gather as much data as needed. The best means to maximize your marketing is WatchThemLive which can provide you with all your users' behaviors and help you increase your conversion rate. Sign up to WatchThemLive now and give it a try.