Ever wondered how other websites manage to keep their users while attracting new ones? It's frustrating to put all this effort into your platform and not get the desired result. That's when you should consider using CRO tools, and on your journey to find one, you might encounter Mixpanel.
There is no way you can survive in this vast sea of meticulous audiences without understanding and analyzing them, let alone being able to turn them into potential buyers. Sticking to basic methods is necessary for online businesses, but it's not enough. You need equipment like CRO tools to be able to compete.
As humans, we have this undeniable urge to always get better at what we do. Better than anyone else. Thankfully, we don't have to do it alone anymore! Even though Mixpanel can be an option, it's not your best bet! WatchThemlive is a great alternative to Mixpanel and many others, and in this article, we'll go over them both.
So keep scrolling to learn more in this Mixpanel review!
What Is Mixpanel
As a product analytics tool, Mixpanel promises to help marketers better understand their users' behavior. It does so by providing services like interactive reports, data integration, group analytics, etc. there are a few Mixpanel valuation articles online, but in this one, you'll find all you need to know.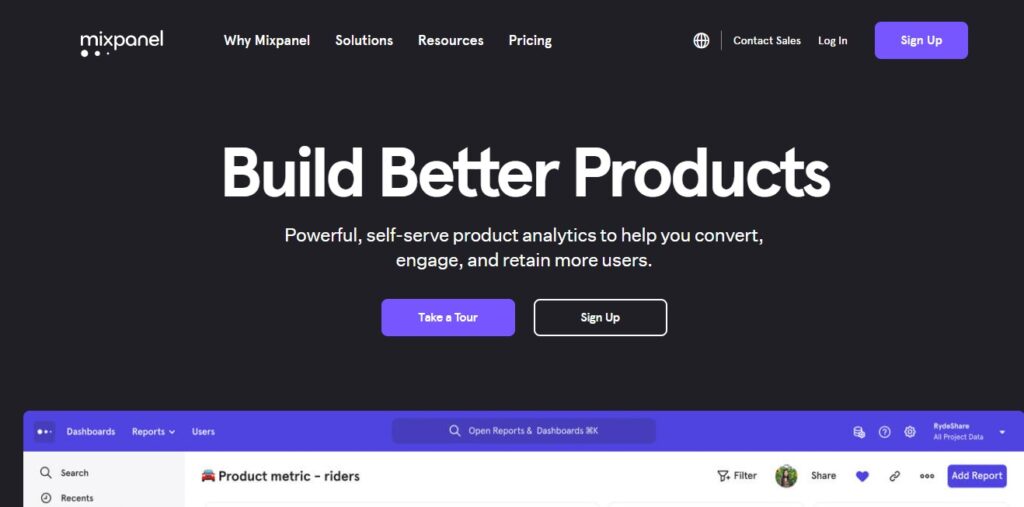 By observing your target viewers and how they interact with your website, you'll be able to focus on your strong points and decrease your weak points. This is allegedly what Mixpanel helps you with.
How Does Mixpanel Work
In order to analyze your data, Mixpanel needs to receive them first. The data needed will be sent to it directly from your user's devices or your data servers. After that, Mixpanel will operate an event-based model to analyze your data more specifically. Each meaningful action that your users take is considered an event.
Gathering these pieces of information will provide you with data such as funnels, retention rate reports, and segmentations.
Even though this event-based model can help those who are looking to analyze only a limited aspect of their performance, it can be quite a disadvantage too. We'll elaborate more on this matter later on.
Working with Mixpanel needs a lot of training and prior knowledge, so you need a well-skilled developer, as it's not a self-service app.
In this article, we'll introduce the best Mixpanel alternative, but first, let's delve into its services.
Mixpanel Features
In the following, we'll learn more about this tool's features and how they work. The more you learn, the better you can decide whether to purchase it or not.
Analytic System
Mixpanel has an analytic system that gathers information on the targeted users and gives you data such as the number of active users, bounce rate and exit rate, CR and retention rate, etc.
As we said earlier, Mixpanel uses an event-based model to gather data. If you make a mistake in describing an event or its details, once it starts tracking, you can't change it anymore!
So all you'll be left with are wrong or useless data, and you won't be able to do anything about it.
Here, you can see a Mixpanel review left by a confused user. There are many reviews regarding its difficulty, and this is only one of them.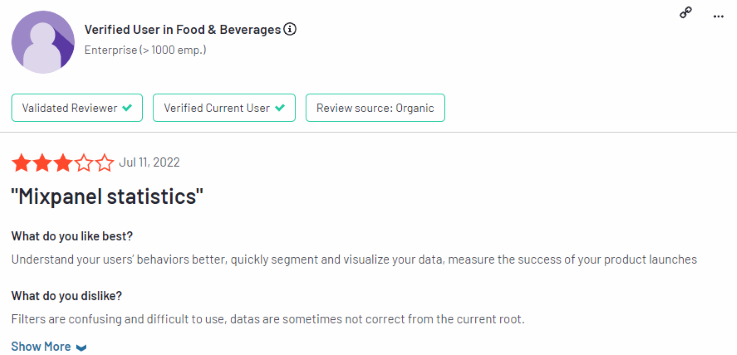 Custom Dashboard
You can customize your dashboard in a way to monitor the metrics you need. You can also get alerted every time each one of the metrics changes numbers.
Data Integration
You can Integrate your data using Mixpanel connectors and export them to get further analysis. You can import data from Snowflake, BigQuery, and Redshift.
Segmentation
Mixpanel allows you to segment your users by different traits, such as location, devices, etc. You can also do so in real-time and avoid gathering any unnecessary data.
Customer Service
One of the most important services of a company is customer service. It doesn't matter if you own an e-commerce business, a chain store, or even a bakery. Customers should always feel comfortable expressing their issues and expect a professional response to solve their problems and answer their questions.
Mixpanel offers a free plan in which you can track 100k users per month. But the disappointing part is that you get no customer service. The only thing you get is a membership in the Mixpanel community, which is not really helpful or fast in responding to you.
In this picture taken from their website, you can verify yourself.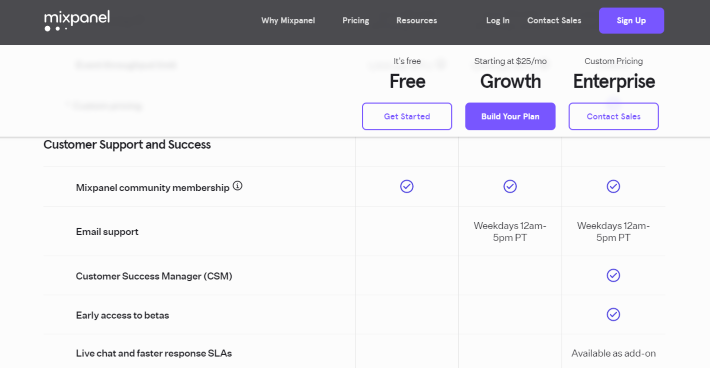 Even when you get the Growth plan, you get email support which works from 12 am to 5 pm on weekdays.
Only by buying their enterprise plan can you have a customer success manager. But if you want faster responses and live chat, you must purchase it AGAIN as an add-on feature!
There are no phone numbers on their website, so you don't have any way to connect with them except for emails, which usually take time.
Mixpanel Pricing
Now that we know what Mixpanel is and what services it provides, it's time to take a look at its pricing. Pricing is an important matter when purchasing a conversion optimization tool. You should carefully examine each plan and compare it to other tools to find the best option.
Unfortunately, you have to choose and pay for each feature separately, and there is no all-in-one package.
With all the Mixpanel evaluation we did, we figured their prices are also somewhat expensive compared to other CRO tools with more features.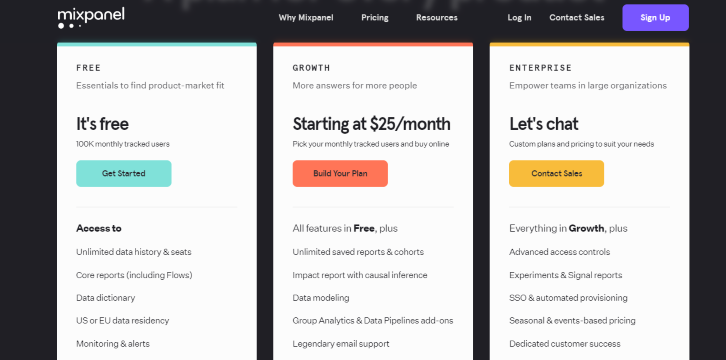 Those who want to buy their enterprise plan should fill out a form, send it to their marketers, and then discuss the prices. This lack of transparency in Mixpanel pricing concerns many users who wish to make a wise choice.
Mixpanel Pros and Cons
There are pros and cons to whatever tool you want to purchase. It is important to know them and decide whether they are suitable for our business. Here, we'll go over a list of advantages and disadvantages of Mixpanel.
Mixpanel Pros
It has data integration,
Real-time data analytics,
Helps build funnels,
Visualizes data,
Sends messages to targeted customers.
Mixpanel Cons
It is difficult to use,
You won't be able to change events once you start tracking them,
It's not a self-service app,
It's expensive compared to similar tools,
It doesn't capture missed events,
There is no available feature to help track emails,
It doesn't have an auto-track option.
The Best Mixpanel Alternative: WatchThemLive
Although Mixpanel is among user behavior analytics tools, it is not your best bet. As we saw, it's difficult to use, and you either need an advanced developer on your team, or you should have a training plan for all your employees before using Mixpanel to get the best out of it.
WatchThemLive is a conversion rate optimization tool that helps companies analyze their visitors' behavior and enhance their overall revenue.
There are many features that are unique and set WatchThemLive apart from other CRO tools. We'll get more familiar with its features and services in the following.
What Is WatchThemLive
Whether you're a big company or a start-up, you need to pay attention to the 'how' behind your viewers' actions to maximize your revenue. WatchThemLive is a great tool to help you increase your conversion rate and get the result you have always desired.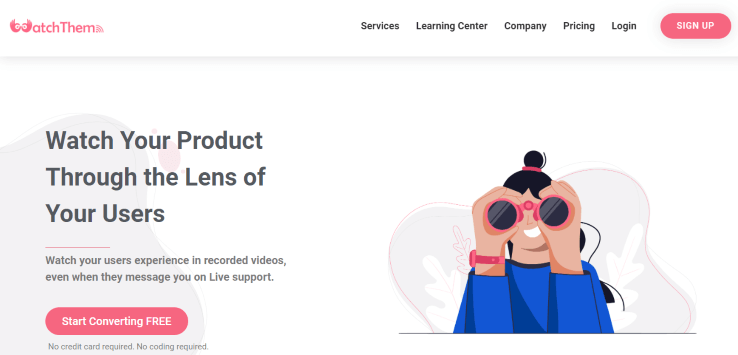 WatchThemLive gathers both quantitative and qualitative data through session replays, heatmaps, and web analytics and gives you information about your users' behavior on your website.
WatchThemLive Features
Many CRO companies offer services such as web analytics tools or session replays, but few of them are as complete as WatchThemLive. In the following, we'll review the features provided and how it helps optimize your website.
Session Replays
Why rely on numbers and graphs when you can directly 'see' users' interaction with your website? Session replays help you monitor every single action a viewer takes, from entering your site to the moment it leaves. Nothing stays hidden from you!
By going over each recording, you'll know exactly where viewers click on most, their scrolls, and navigation. You can also use various filters to segment your recording archive based on country, devices, browser, etc.
Heatmaps
Want to know which parts of your website catch the attention of your audience? That's when heatmaps come to your aid! A heatmap is a data visualization tool that shows the most engaging parts of your pages based on the clicks they get.
Analyzing these heatmaps gives you a better insight into your website's strong and weak points. Focusing on your strong points and enhancing your weak points allows you to get a higher click-through rate.
Goal Tracking
Set your desired goals in WatchThemLive and monitor and pave the path to reach them! By focusing on your goals, you will never get off track.
Doing so lets you know exactly what strategy to take and how to perform. That's what distinguishes you from your rivals.
Video Testimonial
Now you can see how users feel about your website through videos! Ask your users to leave feedback about their experience with you through a video. Better seeing than hearing, right? And you can share them on any other platforms to promote your business.
Generate over 1000 videos and use them to your advantage to stand out even more.
Visual Live Chat
Show your customers how much you care about them using the latest customer support method. This feature allows you to access a real-time session replay of users who reach out to you through live chat support. By observing their session, you'll know where and how they're having problems and will be able to provide the help they need.
Give your customers a journey they'll never forget! Show them how much you care and earn yourself loyal buyers.
Page Optimization
Figure out which parts of your website are more engaging to your viewers and which parts are not getting the attention they should.
Then, you can optimize your pages to improve your conversion rate and prevent your visitors from bouncing.
User Tracking
Get real-time data on your users, such as their actions, purchases, and behavior. Monitor all their actions through your pages with exceptionally accurate data.
WatchThemLive Pricing
Amongst all the CRO tools you might have encountered, WatchThemLive has the best prices and all the necessary features! You won't ever need another tool because you'll get everything you require in WatchThemLive. It's easy to set up and has various filters to ease your journey.
By comparing each plan of WatchThemLive and Mixpanel, you better understand which one is worth your money.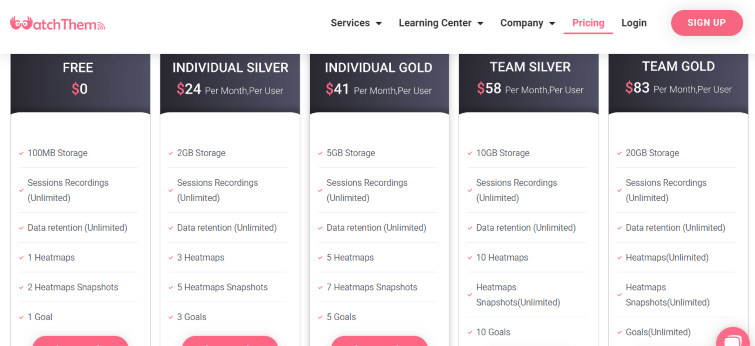 As you can see, there is a big difference between the features WatchThemLive provides and the ones Mixpanel does.
In their free plan, you can access services such as unlimited session recordings, unlimited data retention, heatmap, and goal tracking. And that's just on the free plan!
By paying only 83$ a month, you can have unlimited credit for all our services. You'll never have to worry about running out of credit.
In addition to that, you can enjoy new features, including visual live chat and video testimonials, without having to purchase any extra plans.
What are you waiting for?! Sign up on WatchThemLive right now to take advantage of all these incredible features for such low prices!
Mixpanel Vs. WatchThemLive
Now that you know all about Mixpanel and WatchThemLive, you can better decide which tool fits your business better. If you want an easy-to-use tool that fulfills all your needs and increases your conversion rate, WatchThemLive is great for you.
The lack of proper customer service and needing advanced training about using the tool are things you can avoid once you sign up for WatchThemLive.
In addition to that, you can purchase each plan at a reasonable price and more features to help your business reach its fullest potential.
Satisfied users of WatchThemLive on legit websites such as Trustpilot leave many positive reviews. Take a look at this review, for example: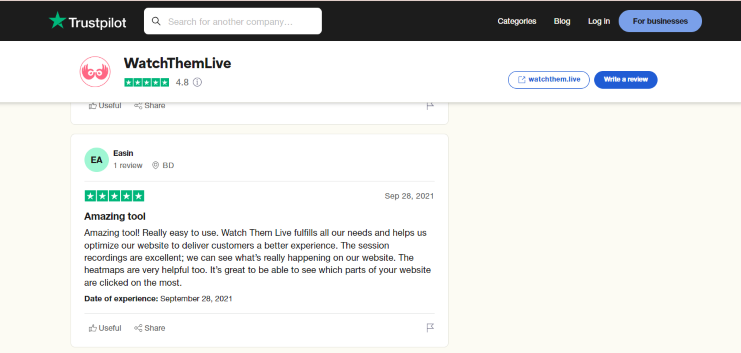 FAQs on Mixpanel
Now that you learned what this tool is and how it works, let's look at other questions people ask regarding this tool.
Q1. What Is Mixpanel Used for?
Mixpanel is an analytic tool that tries to help users understand customer journeys throughout their e-commerce business.
Q2. Is Mixpanel Better Than Google Analytics?
Both these tools can benefit you based on the kind of data you're more interested in.
Google Analytics gives you a better insight into where your visitors are coming from, while Mixpanel shows you the 'how' behind their actions.
But WatchThemlive can do both as it provides deep analytic services and user tracking features to skyrocket your conversion.
Q3. What Kind of Tool Is Mixpanel?
It's an analytic tool that provides information on how users interact with your website and products.
Conclusion
Which of these various CRO tools with different features should you choose? It depends on your business, but there are virtues that make some of them more useful and worthy. That's what we tried to clarify in this article. We learned about Mixpanel pricing and compared it to another tool.
Watchthemlive is great for all e-commerce businesses and provides the best and newest features at the lowest prices! So make sure to sign up now to flourish your business more than ever!