Want me to use my BLACK MAGIC and reveal a fact about you? You're here because you're looking for Hotjar alternatives!
In the past few years, the importance of using website analytics and user tracking tools has been acknowledged by most web developers and marketers more than ever. Now in this competitive marketing world, there is a low chance of success and staying ahead of competitors without understanding what users do on your website and analyzing their behavior.
One of the well-known conversion rate optimization tools for this purpose is Hotjar. Like any other product, Hotjar is not perfect and has some shortcomings in various fields. That's why so many other developers have stepped forward and created similar tools with better performance and can be considered Hotjar competitors.
If you're curious about other Hotjar alternatives, this article is for you. Here, we've compiled a list of the top 10 alternatives to Hotjar to help you make up your mind. Taking a look at this list will surely help you make up your mind and make an informed decision.
Are you looking forward to getting started with the best Hotjar alternative right now?! Don't miss out and sign up on WatchThemLive!
Now, let's get started!
Why You Need Hotjar Alternatives
Hotjar claims to be an efficient user behavior analytical tool. But, some marketers prefer Hotjar alternatives for a variety of reasons, including the need for more detailed and thorough data analysis, ease of use, flexibility, and so on.
But this tool has some limitations, and we're here to cover everything, right?! So, here we go!
Hotjar Shortcomings
Although Hotjar is one of the behavior analytics tools in today's marketing world; some limitations haven't been resolved yet:
Short 14-day trial,
Less user-friendly and welcoming for teammates with different skill sets,
2-day wait to get your answer on customer support.
Now, let's take a look at Hotjar's shortcomings and bugs that are not to be resolved:
It's challenging to fix Hotjar issues because there is no responsive customer service.
Multiple workspaces can be created for one website, which can be redundant.
The heatmap tool is less user-friendly in comparison to Hotjar competitors. Moreover, they need to be more accurate.
Hotjar doesn't enable you to customize the dashboard view, so you're not allowed to re-order or hide widgets that aren't being used.
It would be good to have integrations with ticketing platforms like JIRA, Github, and Bugherd; if you encounter a bug, you can easily raise a work ticket.
Although Hotjar's surveys are great for quick insights, they are similar to third-party applications which makes your device less secure.
You can't access session replays instantly; it takes a while before they appear on your dashboard.
Hotjar's artificial Intelligence isn't great at categorizing sessions.
If two videos belong to the same or different sessions, there is no way to track them.
You can't download session recordings.
Session recordings are limited to 500 a day; no matter what pricing plan you have chosen, it stops recording on any plan.
It's not easy to use on mobile apps.
It doesn't always show the heatmap below the scroll fold, regardless of the activity.
But the most important thing here is that Hotjar is not suitable for small businesses based on its business model. Hotjar isn't doing much to fix it, and therefore, it wouldn't benefit small companies to start with this tool.
So, now that you know why using Hotjar wouldn't be in your best interest, it's time to let the ten Hotjar alternatives come in.
10 Best Hotjar Alternatives
In this list, we introduce the ten Hotjar competitors that can serve your needs better for a lower price.
#1 WatchThemLive
Remember Hotjar limitations? WatchThemLive is a user-friendly behavior analytics tool and one of the best alternatives to Hotjar. It is an excellent tool for effectively analyzing user behavior on your website.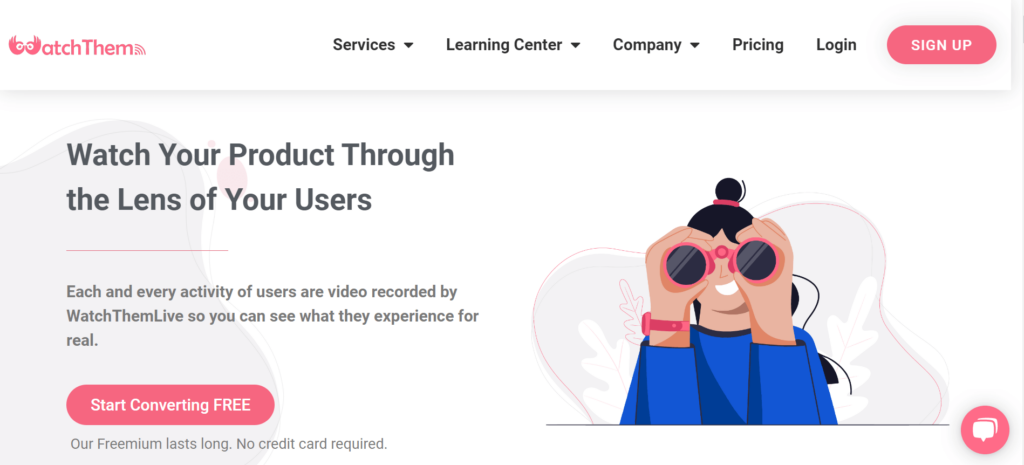 It provides analytics, heatmaps, session recording, user tracking, and other services. What these features do is give you extensive data on how your visitors interact with your website. And having access to such data will subsequently lead to a better conversion rate and a highly optimized website.
Let's take a look at each of these aspects and see what kind of information they will provide.
Session Recording
WatchThemLive's free plan allows you to have up to 1,000 session recordings each month, and the team gold version gives you access to 60,000 session recordings per month. The option to filter recorded sessions by your visitors' countries, browsers, devices (desktop, tablet, or mobile), screen resolution, and other criteria is another feature that makes this tool even more interesting.
Good news! You can play all your sessions back to back without having to play them one by one. Also, WatchThemLive's session replay tool can record your users' browser consoles, so your dev team can easily troubleshoot any issues by tracking and watching all the warnings and errors that happen on your users' browsers.
Heatmaps
Heatmaps will assist you in figuring out if your design is appealing to your audience and how well they interact with it. If you analyze these insights correctly and use the data, you will be able to improve your website's usability, as well as the CTR and conversion rate. Heatmaps are available for desktop, mobile, and tablet, and WatchThemLive lets you create three heatmaps for free. If heatmaps are what you're looking for, I suggest you read our article on the best heatmap tools.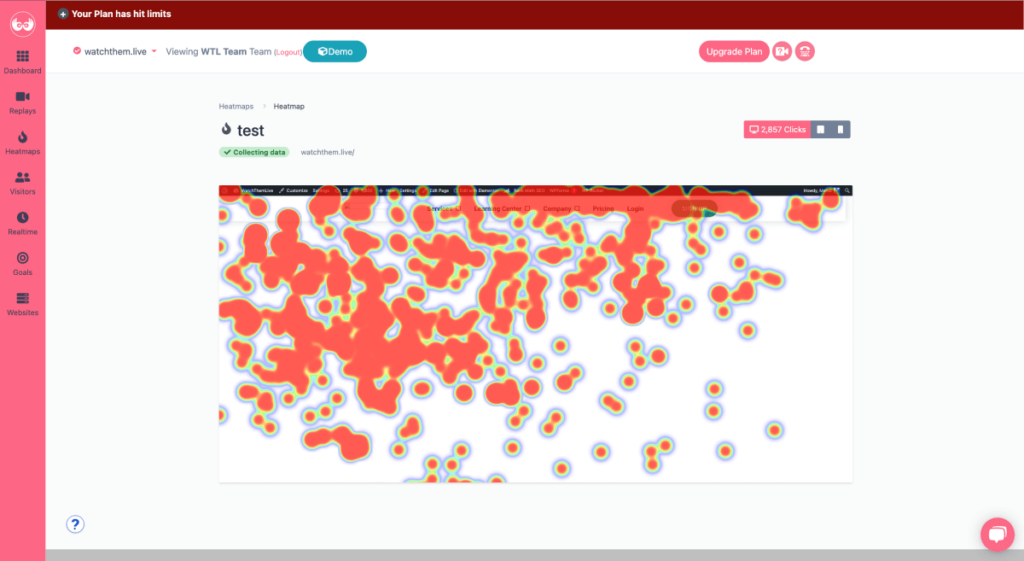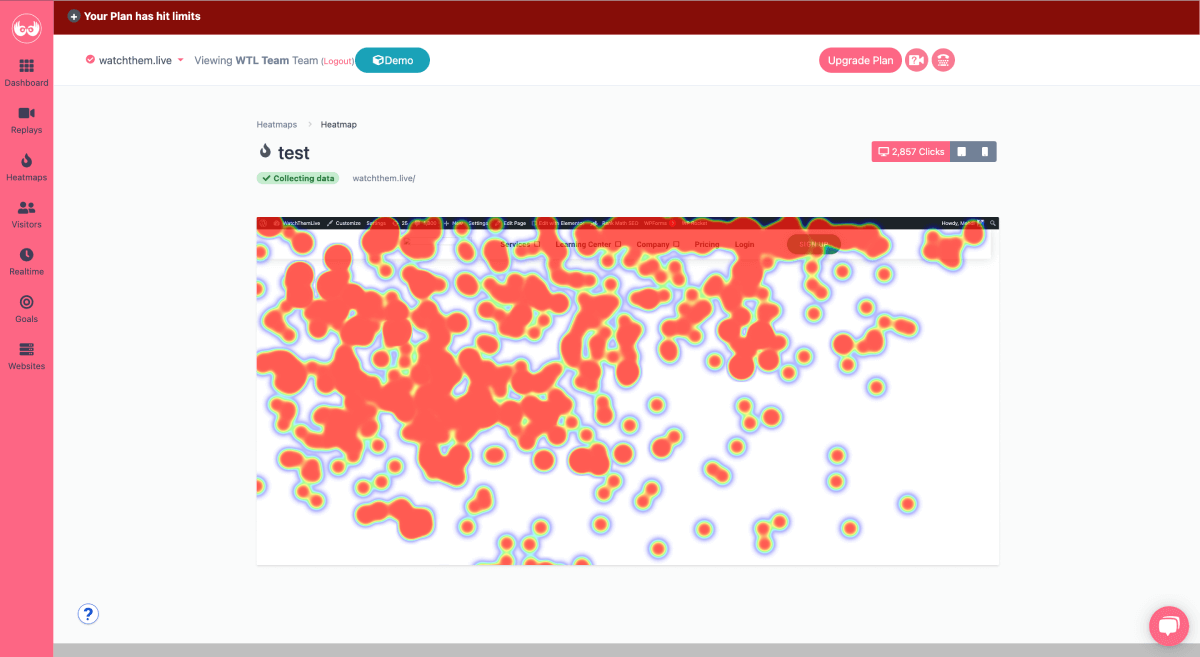 Analytics
The statistics provided by WatchThemLive give lots of helpful information about your website and visitors, including:
A list of all of your pages, ordered by the number of visits they've received
A list of domains that have sent visitors to your site, sorted by the number of visits from each one
The percentage of visitors from each country who visited your website
Data about your users' browsers, devices (desktop, tablet, or mobile), screen resolution, OS, and browser language
The amazing part about using WatchThemLive is you never get confused when you see the dashboard. Compared to other tools like Google Analytics and Hotjar, WatchThemLive has a simple analytics dashboard; all you need to do is scroll down to see the data you need.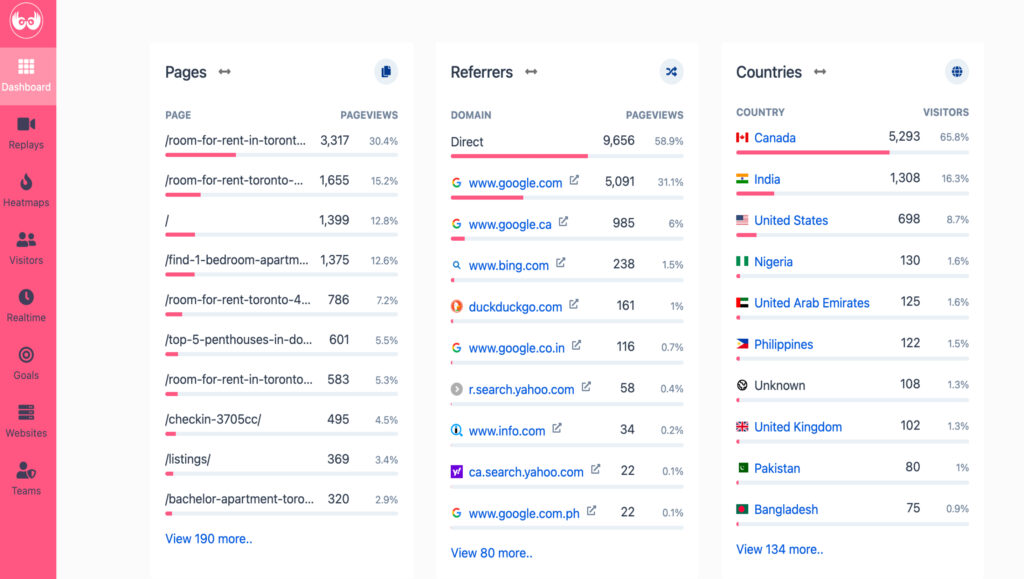 Goal Tracking
A Goal is something you'd like to track but your statistics aren't set up for it. It might be anything from a single button click to downloads and particular page views (such as a thank-you page after a purchase), among other things. With WatchThemLive's free plan, you can create only pageview goals, but premium plans also include custom event goals.
Set conversion targets, track your marketing success, and see how many visitors complete the required action using this tool.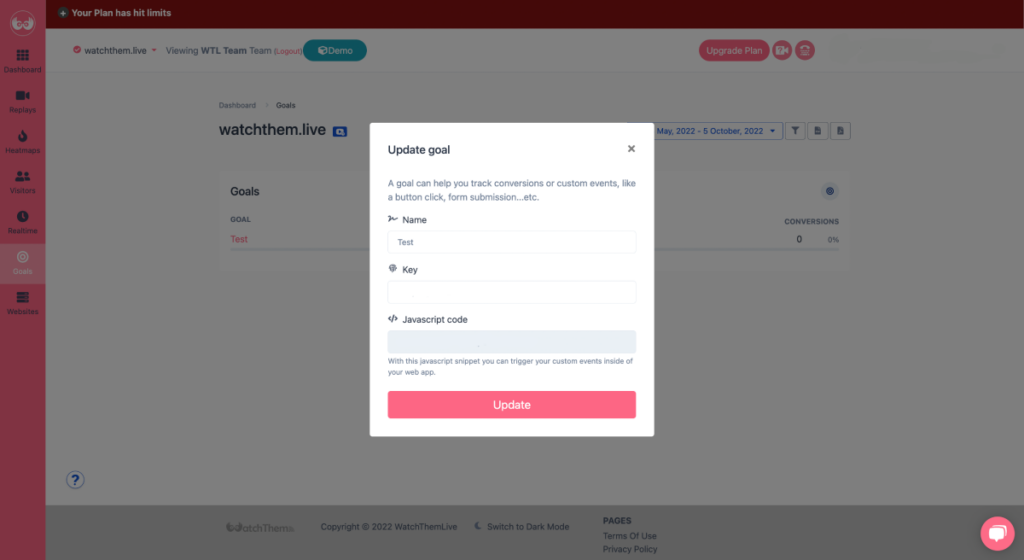 WatchThemLive's Features Wrap-up
Analytics,
Heatmaps,
Session replays,
Conversion & Goal tracking,
User tracking,
Page optimization,
Browser console recording.
Wait! Check this out!
WatchThemLive's free plan provides you with:
3 user journey/mo,
50,000 visitor event tracking/mo,
1,500 pageview/mo,
1,000 session video recordings/mo,
2 snapshot retake/mo,
1 heatmaps/mo,
1 goal tracking/mo.
It also offers:
Individual Silver: $29/month
Individual Gold: $49/month
Team Silver: $69/month
Team Gold: $ 99/month
WatchThemLive can be a good Hotjar alternative that reduces the guesswork of user journey optimization by providing a transparent way to understand the behavior of users on a web application. Enable it and get actionable insights right away.
WatchThemLive vs. Hotjar
One of the distinguishing features of WatchThemLive is the live chat feature which enables you to view the session recordings of the user you're chatting with simultaneously and assists you in offering the best support. So your customer support team can monitor the users' journey on your website and provide them with clear-cut answers or solutions.
Furthermore, it offers video testimonial automation that allows you to create one or more questions and asks your users to answer your questions while recording them. Therefore, you can use them anywhere you want, including your web pages, emails, and social media channels.
Compared to Hotjar's short 14-day trial, WatchThemLive allows you to choose a free plan that helps you make a better decision. Moreover, its customer support responds as quickly as possible to deliver excellent customer service.
If you feel like you can't make a choice, take a look at this table: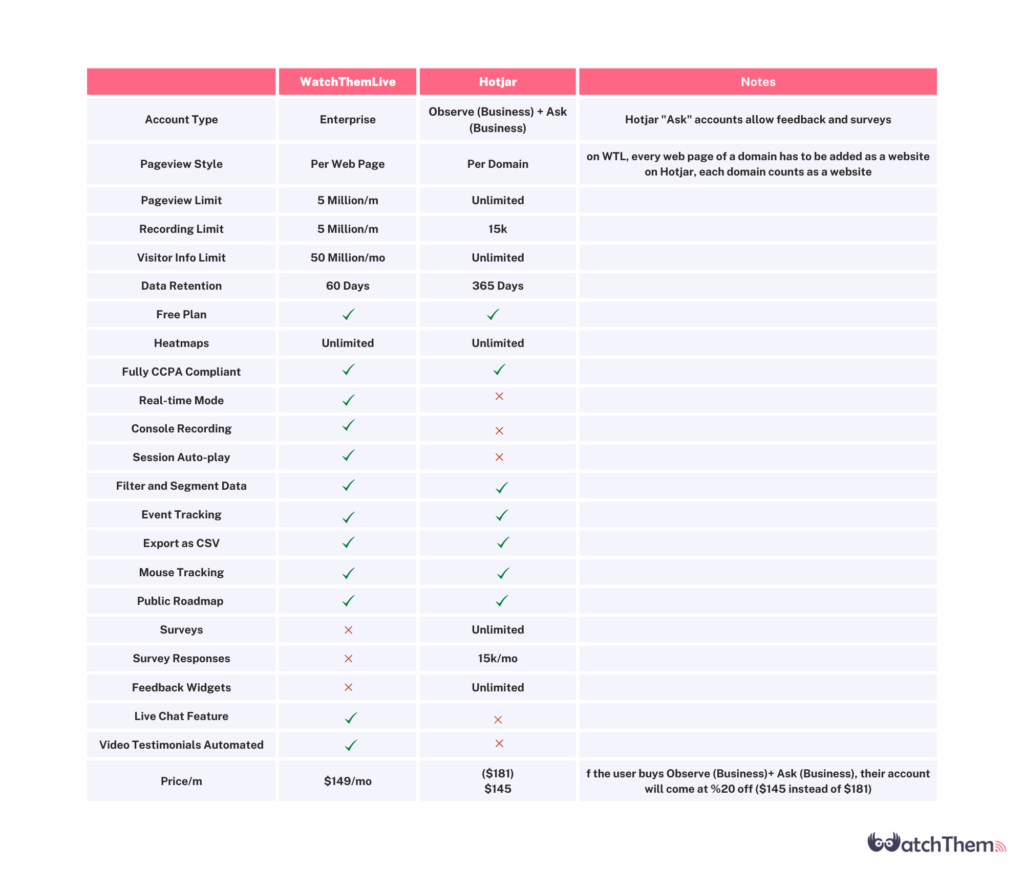 #2 Plerdy: Hotjar Alternative
Plerdy is a multipurpose SaaS Hotjar alternative. It does a great job of helping you identify user pain points and deliver a better experience to users.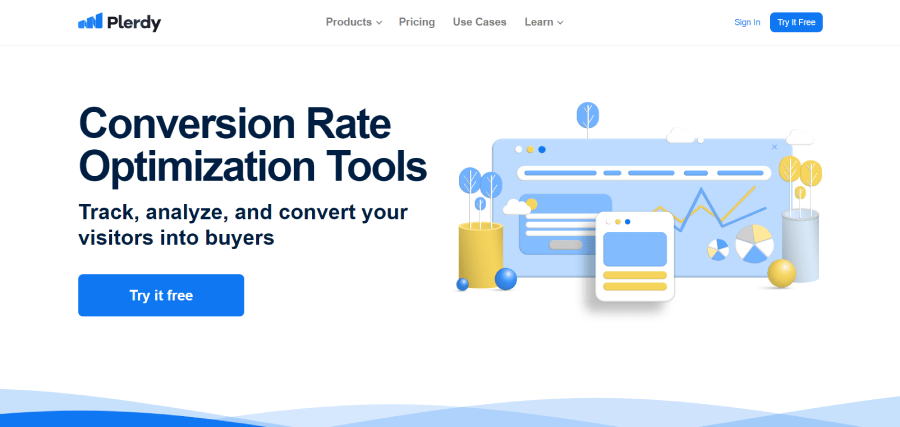 This tool claims to assist professional internet marketers in detecting any issues that might be slowing down the conversion process or reducing the conversion rate.
Plerdy can provide website owners, especially eCommerce companies who want to measure their sales performance, with precise information on what users do on their websites. This service promises to help you answer the following questions with the help of its sales performance:
What's the conversion rate for your online store?
What's the average cost of a single order?
Plerdy's Net Promoter Score (NPS) embeds a survey form on your website that appears at specific times. It creates an NPS score after receiving replies. This feature may assist you in improving various elements of your website.
No tool is perfect, and plerdy is no exception. Unfortunately, it takes too long to upload sessions when you want to look at the list of recordings.
Plerdy's Features
Heatmaps,
Event tracking,
Conversion funnel analysis,
Session replays,
Plerdy's Plans and Pricing
Free plan: Forever
Start: $23/month
Business: $47/month
Premium: $79/month
#3 Crazy Egg: Hotjar Competitor
Crazy Egg is one of the alternatives to Hotjar. It allows you to filter clicks and view how up to 22 distinct groups interact with a page to understand visitor behavior on your website better and discover where your users are visiting. Using Crazy Egg, you can analyze the funnel and understand what is happening.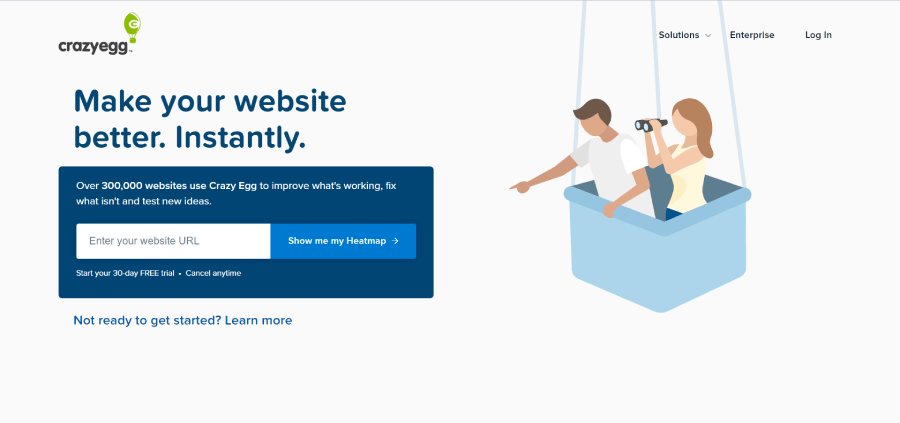 It also enables you to export data which is good for sharing and presentation in meetings. Plus, the A/B testing on this tool may be used alone or in conjunction with other A/B testing tools like Google Optimize, Optimizely, and others.
But don't let the reviews fool you! Despite many reviews, Crazy Egg is not a usability testing tool. Let us tell you why!
Although Crazy Egg allows you to identify pain points, it doesn't explain why. For example, Plerdy can help you identify the underperforming CTAs. But it doesn't give you any information about why people ignore them.
Moreover, you can only compare two snapshots via the heatmap view. So if you decide to see the comparison of specific clicks and pages, it becomes really difficult.
Crazy Egg's Features & Pricing
Snapshots,
Session Replays,
A/B Testing.
Unfortunately, Crazy Egg has no free plan. Still, it offers the plans below:
Basic: $29/month
Standard: $49/month
Plus: $99/month
Pro: $249/month
*All of Crazy Egg's plans are billed annually
#4 Freshmarketer
This is the next tool on our list of Hotjar alternatives. It's a conversion rate optimization (CRO) tool that allows you to run A/B testing in heatmaps to get a more specific analysis of your users and measure the success of the changes you make on your website. This testing tool is a Freshworks product.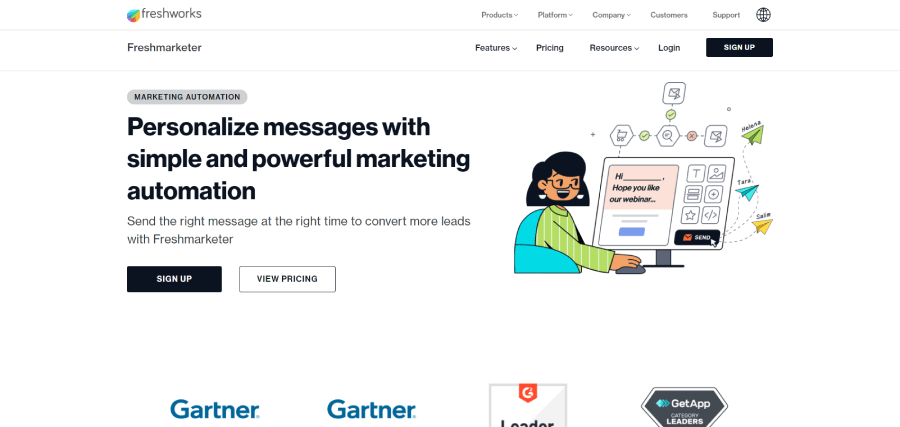 Freshmarketer isn't the most complex testing tool on the market, and we could say it's relatively user-friendly. This tool claims that you can build and create any design journeys. So you can facilitate the prediction of how users will interact with your website.
It also offers some basic customization options and tools that can come in handy for capturing consumer feedback via polls and triggered messages.
Freshmarketer's Features & Pricing
Heatmaps,
Conversion optimization,
Replays,
Customer Segmentation,
Event Tracking,
Email reports.
As a startup business, you can use Freshmarketer's free plan, but it's too basic. And you can't use its main features. Other plans and their pricing include:
Growth: $19/month
Pro: $149/month
Enterprise: $299/month
#5 UserTesting
UserTesting is one of Hotjar alternatives that focuses on human insight, and it's one of the first software solutions that primarily revolves around user recordings.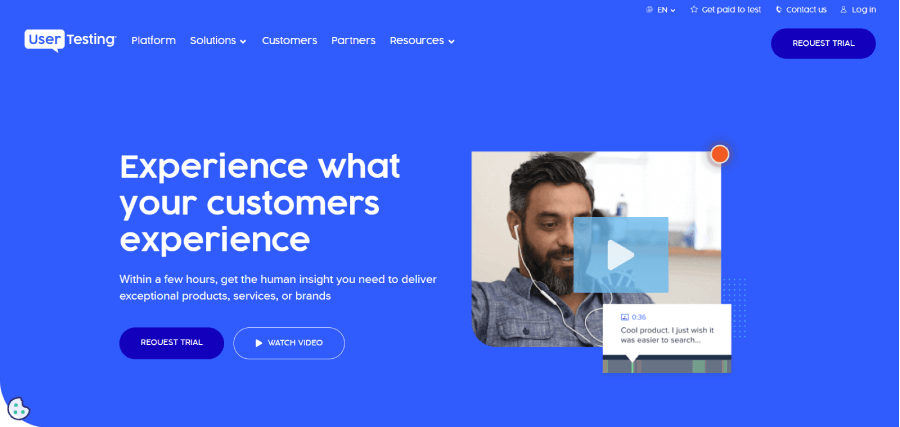 UserTesting, unlike other tools, allows you to ask actual people to test your website or app. Simply give them a task to accomplish and ask specific questions about the experience. You can use this tool to gain immediate feedback and first-hand insight into how your target audience responds to your product in real time.
But there's a problem; you always need to log in to your account and constantly watch your dashboard for any new tests.
UserTesting promises to better wrap your head around their behaviors and challenges by gathering customers' responses and observations. By doing so, you can incorporate client feedback into each choice you make. UserTesting essentially allows you to see your design through the eyes of the users. But its mobile version is quite slow and takes too long to load.
UserTesting's Features & Pricing
Sadly, UserTesting's pricing is not provided by the developers.
#6 Hockeystack
Another alternative to Hotjar is Hockeystack. It's a tool that's been designed to boost landing page conversions while providing a quick method to track website visits.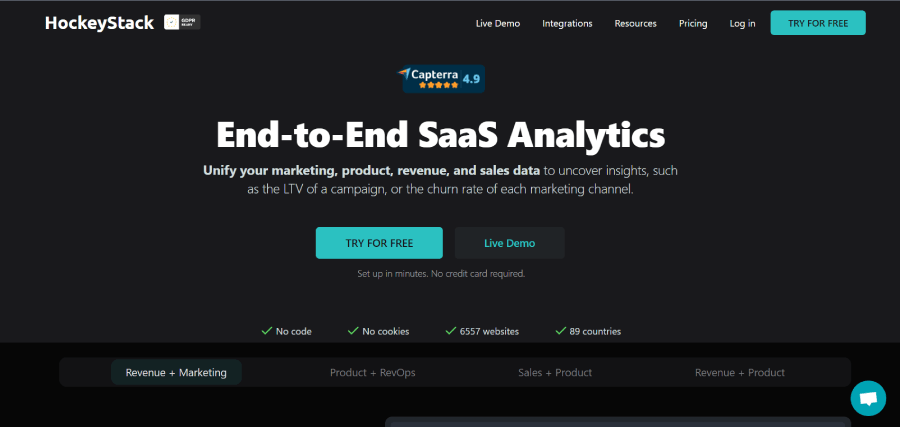 According to their claims, it helps you determine which visitors will most likely fulfill your objectives, filter visitors depending on your aims, and uncover and solve pain points.
HockeyStack traces a user's journey by eliminating the need to write event tags. It records scrolls and clicks to construct a user journey. It also allows you to filter users by page views, goal completion, devices, session, country, and user properties.
HockeyStack stresses the importance of automation above programming. You can figure out who will convert better while working on the platform.
But because of the high pricing, we can't recommend it to startup businesses. Especially, when it doesn't provide heatmaps or session replays.
Also, we think that HockyStack's customer support team must urgently work on their dashboard's design and make it mobile-friendly as soon as possible.
Hockeystack's Features & Pricing
Conversion Tracking,
User Interaction Tracking.
HockeyStack's pricing starts from $599/mo (billed annually) for 10k tracked users per month.
#7 Inspectlet
If you're one of those eCommerce managers interested in conversion tracking and lead generation to figure out how many of your users are making a purchase, Inspectlet might be your option. Inspectlet is a user behavior tracking software that provides website heatmaps, session recording, and form analytics.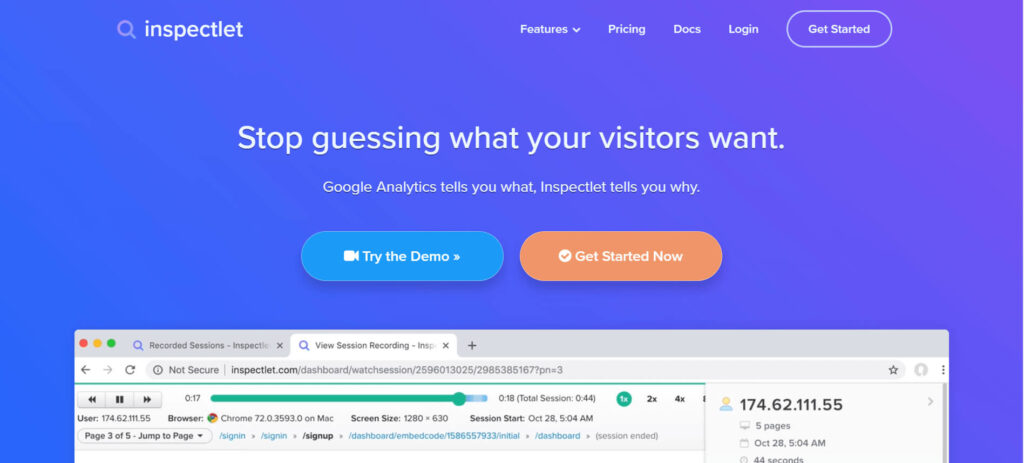 It also provides conversion funnels that enable you to watch the entire conversion path and realize how users complete your desired action.
Inspectlet's session recording and site visit playback can help you fix your website bugs before they become problematic for your users. But searching through sessions might be glitchy and slow, and you should wait to see the result you want.
Indeed, as a website owner, it can be expensive if you want to add more than three websites.
Inspectlet's Features & Pricing
Heatmaps,
Session replays,
A/B testing,
Form analytics.
Besides its free plan, Inspectlet provides you with:
Micro: $39/mo
Startup: $79/mo
Growth: $149/mo
Accelerate: $299/mo
Enterprise: $499/mo
#8 Mouseflow
Now, it's time to present to you what users think of Mouseflow. This tool has heatmaps, session replay, form analysis, and many more features.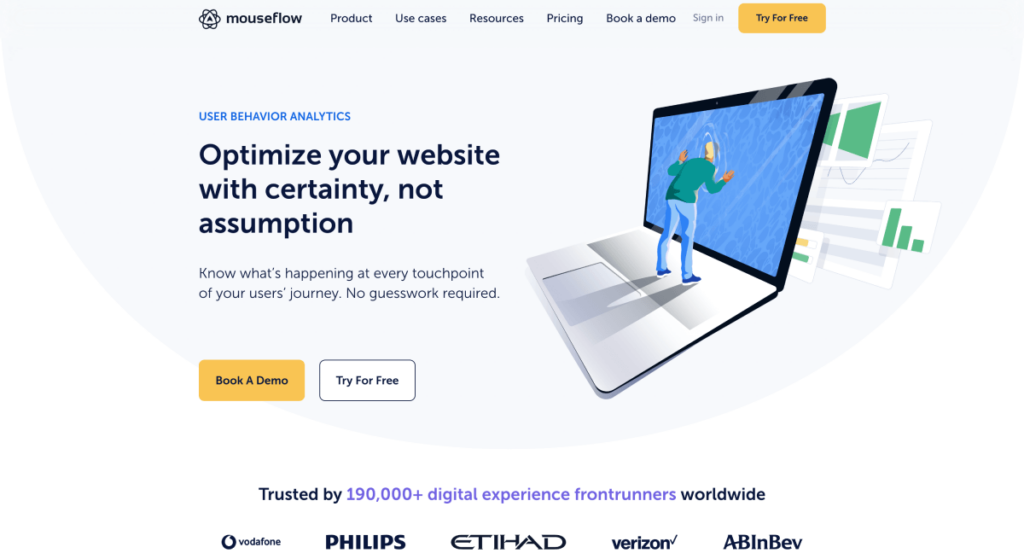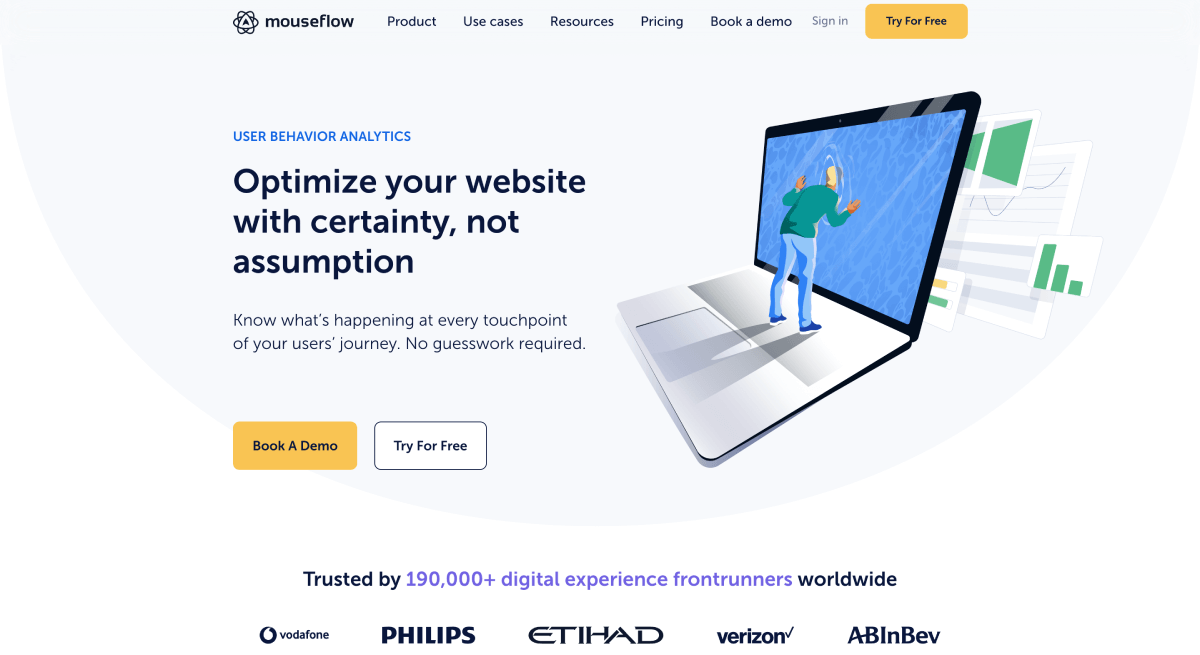 If you want to know why your conversion is low, you just need to analyze your conversion funnel, which helps your marketing team be more effective. And Mouseflow allows you to build, monitor, and optimize your user's funnel to ensure you provide a superior user experience.
Seemingly, you can see your users' activities in real-time with Mouseflow's Live Streaming feature as if you're stalking them.
Sad to say, but Mouseflow's free plan has very limited features. And you can't add more than one website.
Mouseflow's Features & Pricing
Funnels
Heatmaps
Form analytics
Session replay
User feedback and surveys
Mouseflow's plans and pricing:
Starter: €24
Growth: €79
Business: €159
Pro: €299
#9 FullStory: Alternative to Hotjar
FullStory is a digital experience intelligence platform that is one of the top Hotajr alternatives. It combines web analytics, session replay, and collaborative tools to improve your digital experience.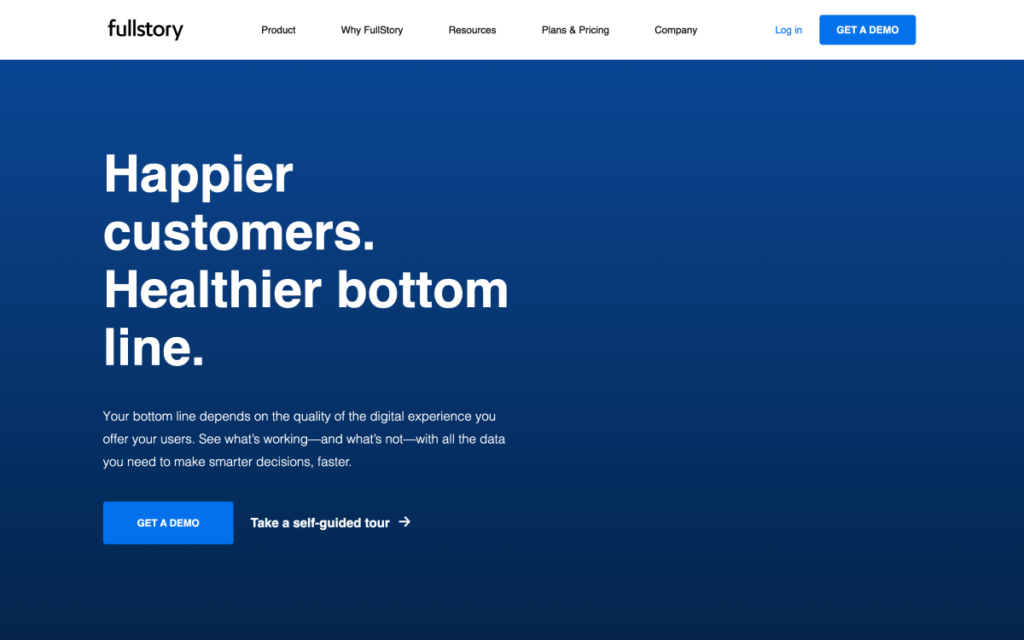 Fullstory's session replays give you the user's specific loading time, Location, Referrer, Device, and Browser and allow you to leave a comment on chosen timestamps and share it with your colleagues. You can also see slow page loads and their sessions to discover specific visitors' experiences.
Unlike Hotjar, Fullstory isn't afraid of overwhelming users with new information. So you may get confused at first sight.
Let us put it another way, Fullstory isn't for you if:
You are a novice user with no web development background.
You need a tool that provides user Feedback, Live Chats, surveys, etc.
You want to watch your users' sessions Live.
You're a startup business and don't have enough budget.
You have no time to learn how to work with Fullstory.
You want to try a free plan to evaluate the tool and make a better decision.
Small businesses try to monitor their users' experiences to identify fundamental issues. That's why we can't recommend Fullstory to startup businesses.
Fullstory's Features & Pricing
Session replay
Funnels
Heatmaps
Journey mapping
Also, this tool's plans and pricing are unclear, which makes you more hesitant to understand which plan is better for you.
#10 Smartlook
This is the last one from our list. Smartlook provides many analytics features, including recordings, heatmaps, and funnels.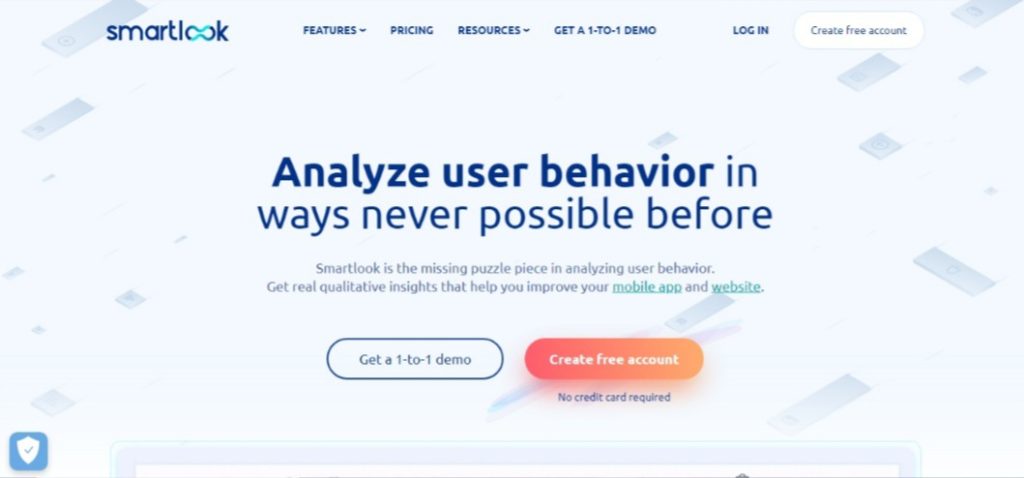 Smartlook offers three types of heatmaps, including click, move, and scroll heatmaps. In addition to providing them, it enables you to track different types of visitors in them. You can also analyze heatmaps by device in order to understand the visitor's performance on different devices.
Furthermore, if you're looking for the answer to why people drop out without completing your desired action, Smartlook's funnels can give you meaningful insight into each step your user takes to complete an action.
Up to now, do you think Smartlook is one of the top Hotjar alternatives? The answer can be both yes and no. If you're looking for a way to collect your users' feedback, Smartlook can not be a good option, but if you don't need a user feedback feature and you want to analyze your user's behavior with the help of session replays and heatmaps, it can be a good option.
Unlike Hotjar, you can't filter session recordings by user feedback with Smartlook. This is just one of the most significant differences between Hotjar and Smartlook. The point is we're not here to question different tools; we're here to help you make up your mind based on your specific goals and needs.
Although Smartlook doesn't provide any user feedback, in contrast, Hotajr doesn't provide you with funnel analysis.
Smartlook's Features & Pricing
Events
Heatmaps
Funnels
Session replay
Smartlook pricing plan is divided into four plans – free, startup, business, and enterprise. Here are more details on each plan:
Free plan for personal use – includes 1500 monthly sessions
Startup – starts at $31/month with 5000 monthly sessions
Business – starts at $93/month with 15000 monthly sessions
Ultimate – a customized plan.
The Best Hotjar Alternatives Overview
Your priorities and business model will determine the answer to this question! Yet, if you're looking for an all-in-one, reliable tool with affordable costs, WatchThemLive is our best suggestion. Who doesn't look to see low cost and high quality going hand in hand for the best results? So, sign up on WatchThemLive right now!
But in case you're looking through other options as well, this table will surely help you compare all Hotjar alternatives in just one look.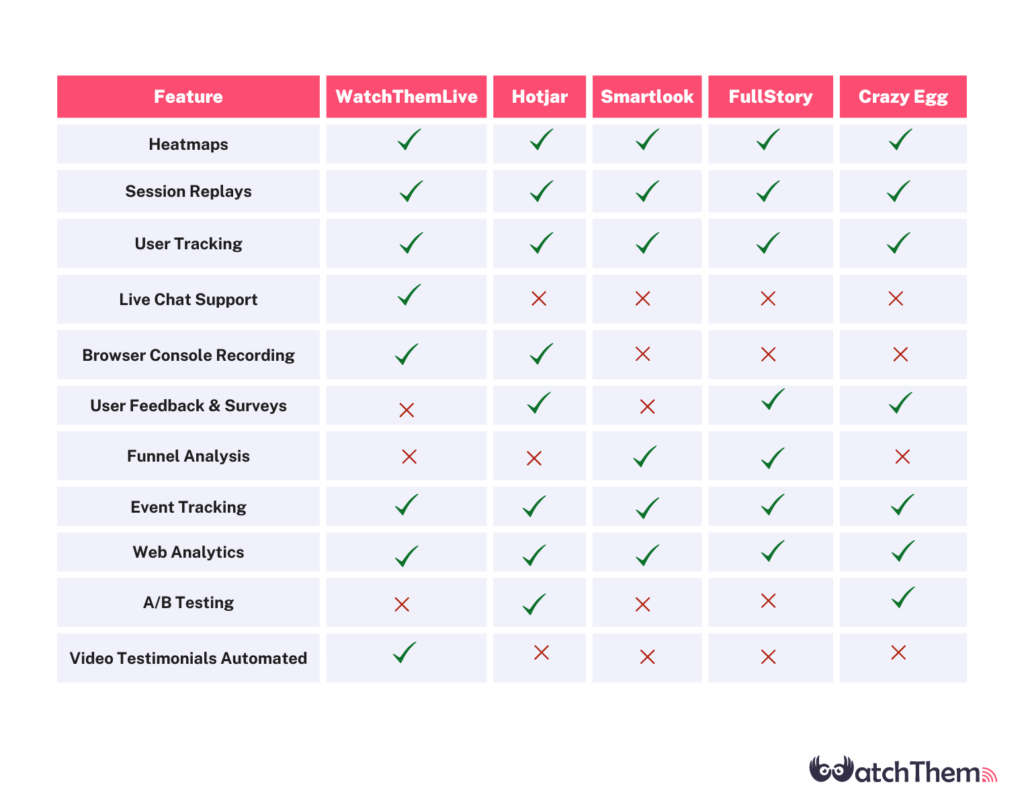 FAQs on Hotjar Alternatives
Now, let's answer some of your frequently asked questions.
1. What is the Difference between Hotjar and Google Analytics?
Hotjar is a web analytics tool that lets you see how users interact with your website. Google Analytics is a free web analytics tool that shows you how much traffic your website gets and where it comes from.
So, what's the difference between Hotjar and Google Analytics? Hotjar gives you a more user-centric approach to how users interact with your website, while Google Analytics focuses on giving you an overview of your website's traffic.
If you're looking for a tool to help you understand how users interact with your website, Hotjar is a great option. If you're just interested in getting an overview of your website's traffic, then Google Analytics will suffice.
2. What Are Free Hotjar Alternatives?
For sure, there are some free alternatives to Hotjar, like Google Analytics. But you should do a lot of research to find a suitable replacement. The best free Hotjar alternative is WatchThemLive as of now. And its free plan provides you with three heatmaps and 1000 session video recordings for free.
Conclusion
In 2022, user tracking tools are as important as web analytics tools such as Google Analytics were back in the mid-2010s. You shouldn't overlook the importance of understanding how your users interact with your product. Hotjar is one of the old hands in this field, but, of course, not free of flaws. This article went through six Hotjar alternatives and discussed each of them, their features, and their prices.

WatchThemLive has always been our first suggestion to those who are looking for a Hotjar alternative that is easy-to-use, user-friendly, comprehensive, and cost-effective.
Make sure to SIGN UP and start with your FREE plan.